These Oatmeal Raisin Cookies are perfectly crisp on the outside and soft and chewy on the inside, exactly the way you would want them to be.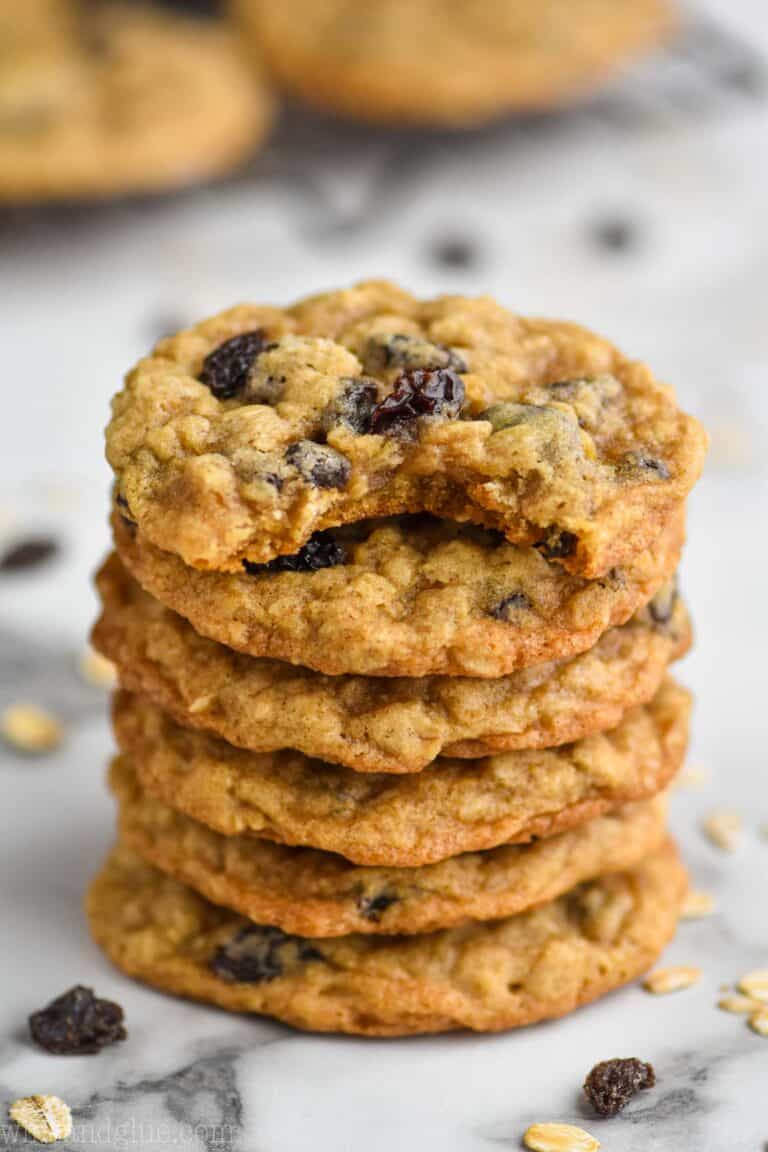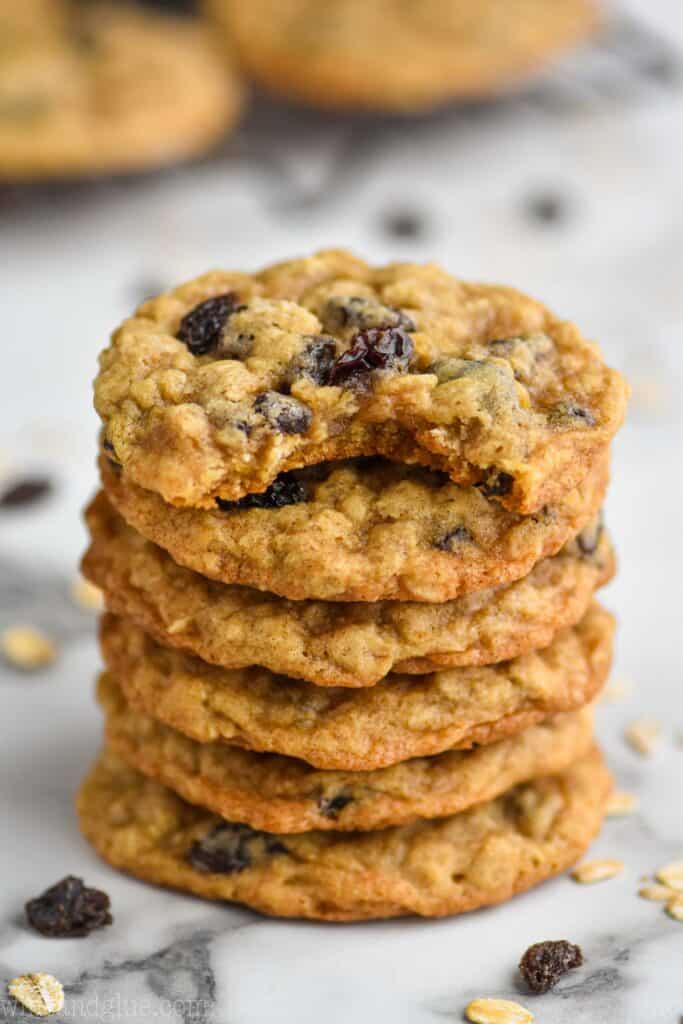 I have a SUPER excited announcement. Nathan has come to work with me full time! After more than 15 years with the same company, he left his position as CTO there to help me run my business and see where we can take it together.
This is exciting for so so SO many different reasons. It is providing more freedom for our family, it is allowing him to pursue some of his passions, and it is a huge help to me.
I will also say that it is a pleasant surprise to find that after all this time with one person, I not only like spending my days working with him, I really love it.
Hard to believe that something that started as a fun little hobby 8 years ago is now able to support our family. It is incredible and in no small way thanks to all of you. We can't say enough how much we appreciate you following along.
In order to celebrate, I made you Nathan's very favorite, chewy oatmeal raisin cookies.
And you will be happy to know that Nathan is already working on quality control. These cookies are the result of lots of taste testing on his part until I made the perfect cookie. He's already hard at work.
READER REVIEW
Oh My Word!!! Look no further. The best oatmeal raisin cookie receipe I've ever made. Followed receipe exactly. I'll never use another receipe. Thank you soooo much.
What Makes this Oatmeal Raisin Cookies Perfect
The crispy exterieor, perfect spread, and delicious chewiness of this cookie is due to one main thing: the perfect balance of white and brown sugar.
The brown sugar gives it the chewiness, while the white sugar helps them spread and form their crispy exterior. The result is a perfect cookie.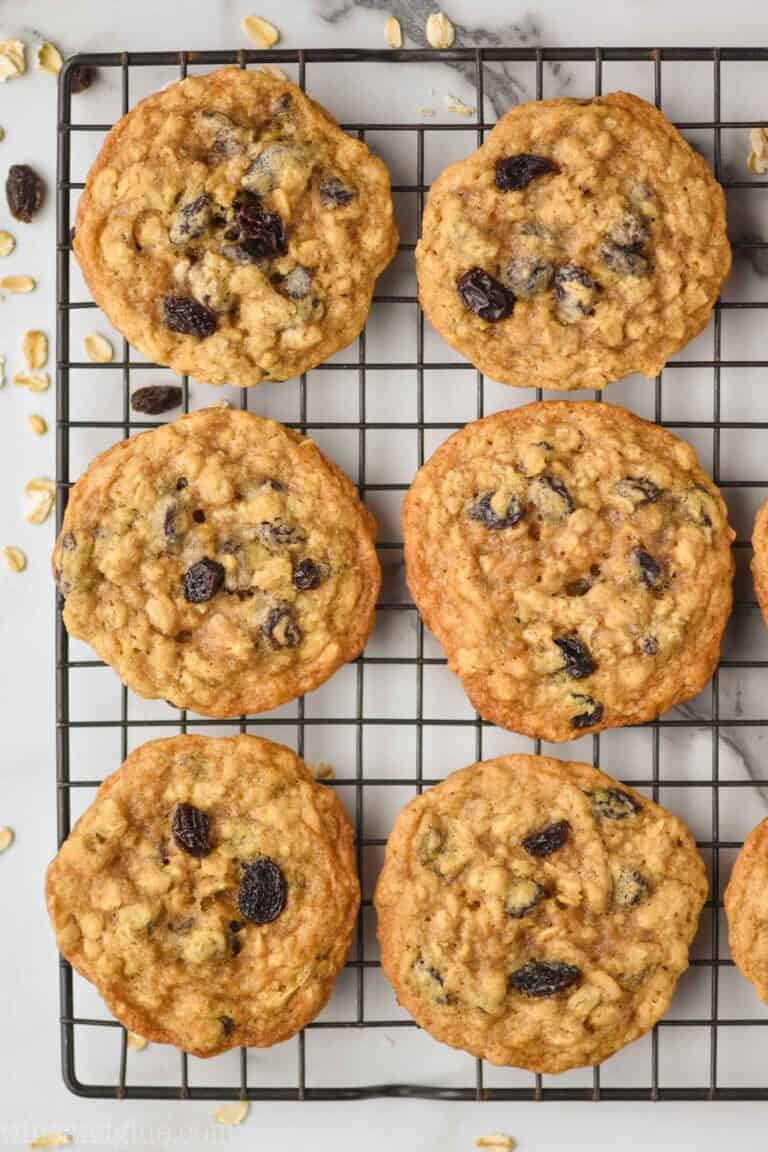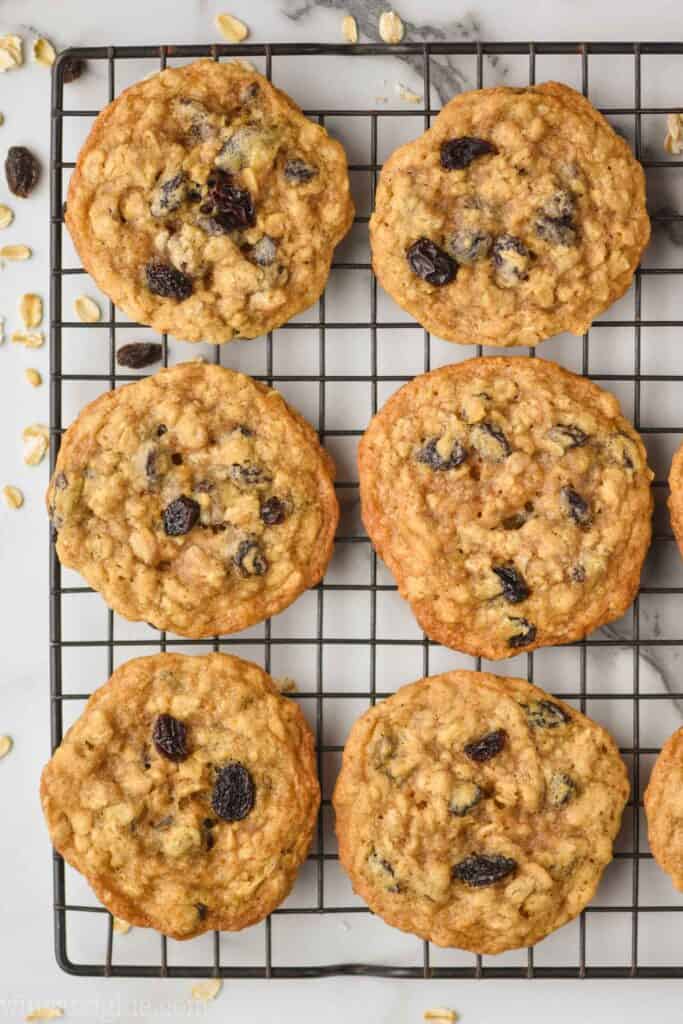 Cookie Making Tips
Use a good baking sheet lined with parchment paper. The baking surface changes how they bake. I love these sheets for Nordic Ware.
Measure the flour by scooping it into the measuring cup and then leveling it off. Do not scoop directly from the container with the measuring cup. This avoids packing the flour and using too much.
Use fresh baking soda. Test it by dropping a little in vinegar; it should bubble immediately.
Room temperature butter helps the cookies spread the right amount. You should be able to push a finger in to dent the butter but not all the way through. And the butter will actually feel cold still.
Make sure you cream your butter and sugar together enough. The sugar adds air to the butter and is essential for a good cookie.
Pour in all the flour at once. Mix on low just enough to get most of it into the batter, and then turn to high for a few seconds to incorporate the rest. This prevents over beating the dough.
Use a 1 1/2 tablespoon cookie scoop to get uniform sized cookies that will bake evenly.
Additionally the cinnamon in this recipe is an easy indication of how well the dry ingredients are mixed. You don't want to see any patches or clumps of brown cinnamon.
Measuring Flour
PLEASE NOTE: I've received several comments about these cookies not spreading. After having them tested by several people and watching my 12 year old make them, I think the issue is in the measuring of the flour.
As mentioned above, it is critical to this recipe that you use a spoon to scoop your flour from whatever container you keep it in.
Use a spoon to scoop the flour out of your flour container.
Scoop it into a dry measuring cup. (A measuring cup meant for dry goods.)
Level it off with something that has a straight edge – like a spatula.
If you use the measuring cup to scoop out the flour you will end up with up to 25% more flour, which will greatly impact this recipe, and likely will result in cookies that don't spread.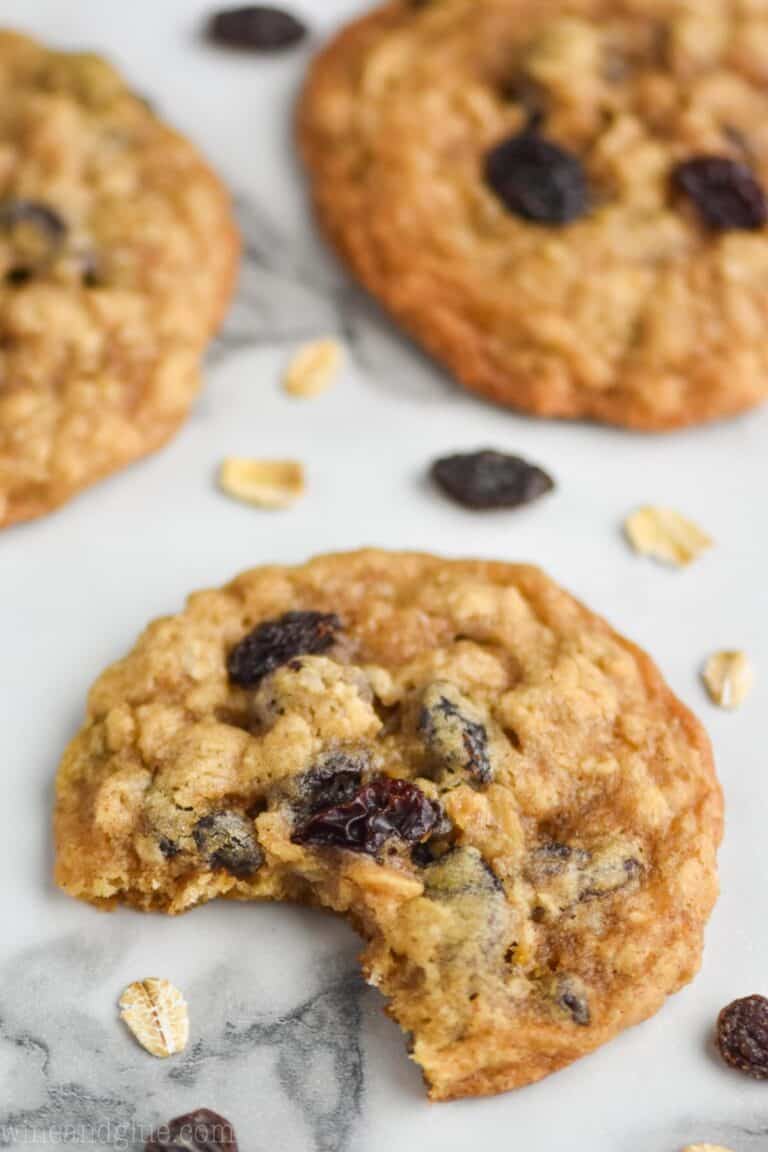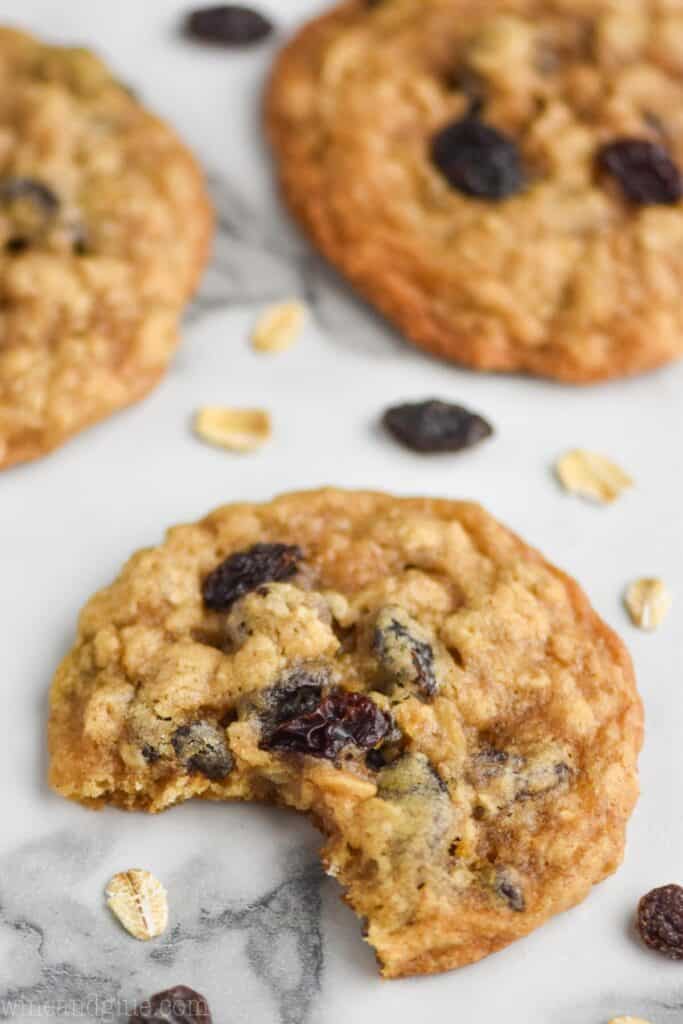 Freezing the Dough
You can bake these cookies right away without chilling or you can freeze the dough balls for later.
To freeze, form the dough into balls as instructed in the recipe card. Place the dough balls on a piece of wax paper in the freezer and freeze for 1 hour. Then transfer to an air tight container until you want to bake them.
When ready to bake, place directly from the freezer onto a parchment lined baking sheet and into the hot preheated oven. Bake for 12 minutes at 350 degrees.
Please note that the frozen dough balls won't spread quite as much as when baked immediately, but they will still be delicious.
Storing
Eat these cookies warm from the oven or store in an air tight container for up to one week.
This is a pretty solid cookie and would work for shipping if you are a sweet soul who does that sort of thing.
Other Delicious Cookies
If you make these soft oatmeal raisin cookies or any of my other recipes, please leave me a comment and let me know how it went!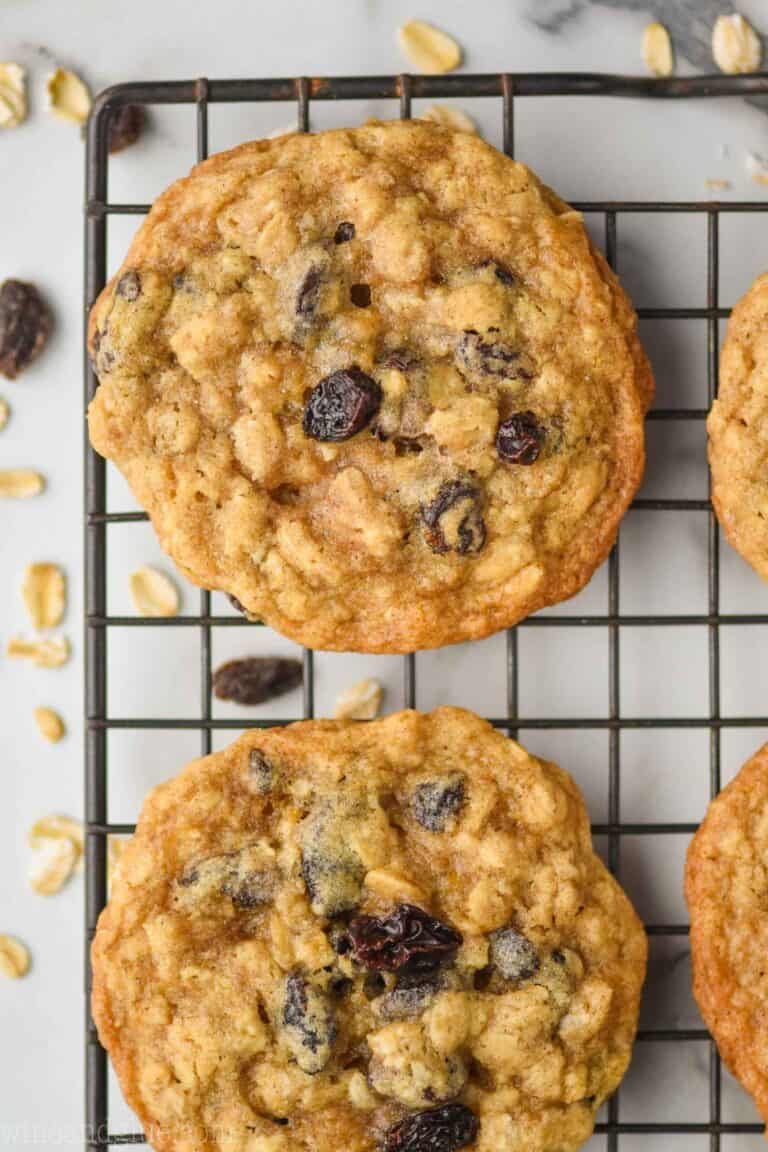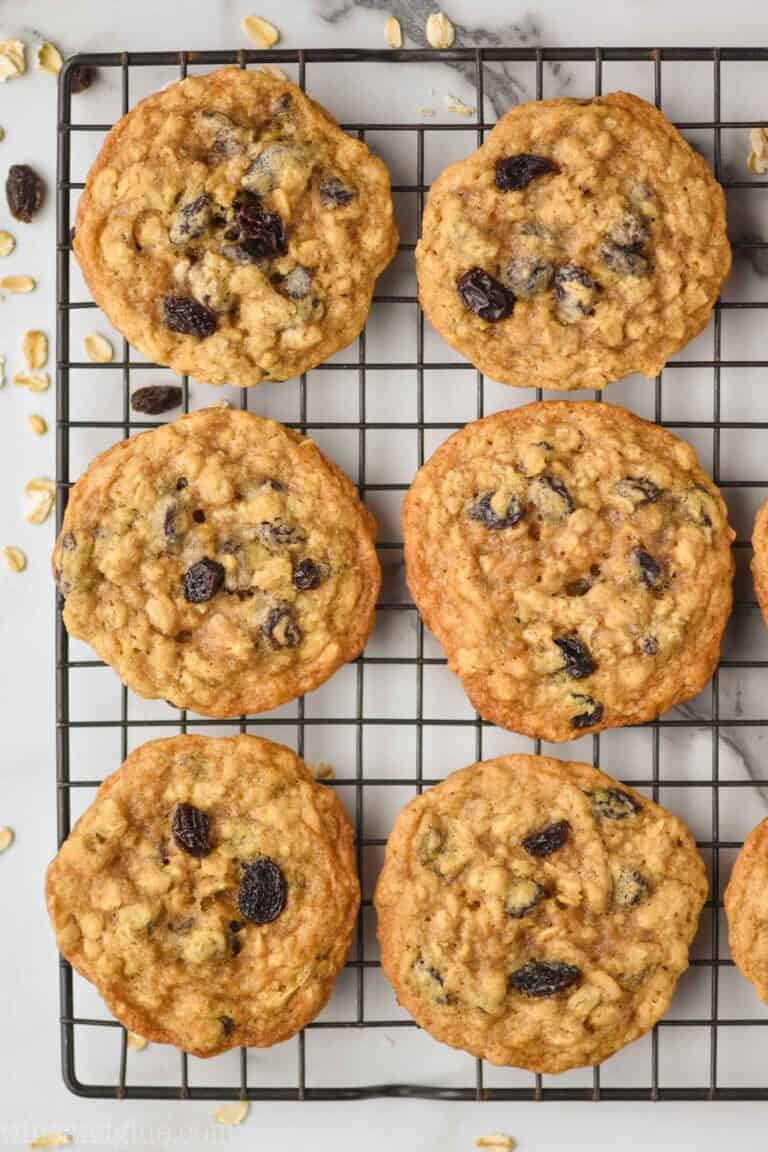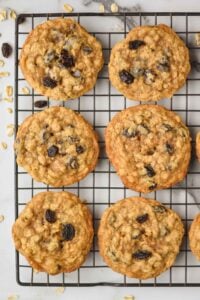 Oatmeal Raisin Cookies
These Oatmeal Raisin Cookies are perfectly crisp on the outside and soft and chewy on the inside, exactly the way you would want them to be.
Ingredients
2

cups

all purpose flour

see note

1

teaspoon

baking soda

1

teaspoon

cinnamon

1/2

teaspoon

salt

14

tablespoons

unsalted butter

room temperature

3/4

cup

granulated sugar

3/4

cup

light brown sugar

(packed)

2

large eggs

room temperature

1

teaspoon

pure vanilla extract

2

cups

old fashioned oats

1

cup

raisins
Instructions
Preheat to oven to 350 degrees. Line rimmed baking sheets with parchment paper and set aside.

In a medium bowl whisk together the flour, baking soda, cinnamon, and salt, until compltely mixed.

In a large bowl, with a hand held mixer or using a stand mixer, beat together the butter brown sugar, and granulated sugar until the mixture is light and fluffy. This will take between 3 and 6 minutes.

Add the eggs one at a time. Then add in the vanilla. Be sure to scrape down the edges of the bowl with a spatula before each addition.

Add in the flour mixture. With the mixer on it's lowest setting, beat the flour mixture into the wet ingredients until it just begins to combine. Then turn the mixture up and finish combinging it until it is just combined. Be careful not to continue mixing after the flour is combined in.

Mix in the oats and then the raisins.

Using a 1 1/2 tablespoon cookie scoop, scoop the cookies and roll them into balls. Place 2 1/2 inches apart on a baking sheet. Bake for 11 to 12 minutes or until the edges of the cookies begin to turn golden brown. For best results, rotate the pan half way through. Remove fro the oven, let cool on the baking sheet for two minutes, and then transfer to a cooling rack to cool completely.

Enjoy right away or store in an airtight container for up to 1 week.
Notes
Make sure to measure the flour by scooping it with a large spoon from the container into a 1 cup dry measuring cup and then leveling off. If you use your measuring cup to scoop from the container, you will get as much as 25% more flour which will result in the cookies not spreading.
Serving:
1
cookie
Calories:
147
kcal
(7%)
Carbohydrates:
23
g
(8%)
Protein:
2
g
(4%)
Fat:
6
g
(9%)
Saturated Fat:
3
g
(19%)
Cholesterol:
23
mg
(8%)
Sodium:
78
mg
(3%)
Potassium:
76
mg
(2%)
Fiber:
1
g
(4%)
Sugar:
10
g
(11%)
Vitamin A:
168
IU
(3%)
Vitamin C:
1
mg
(1%)
Calcium:
13
mg
(1%)
Iron:
1
mg
(6%)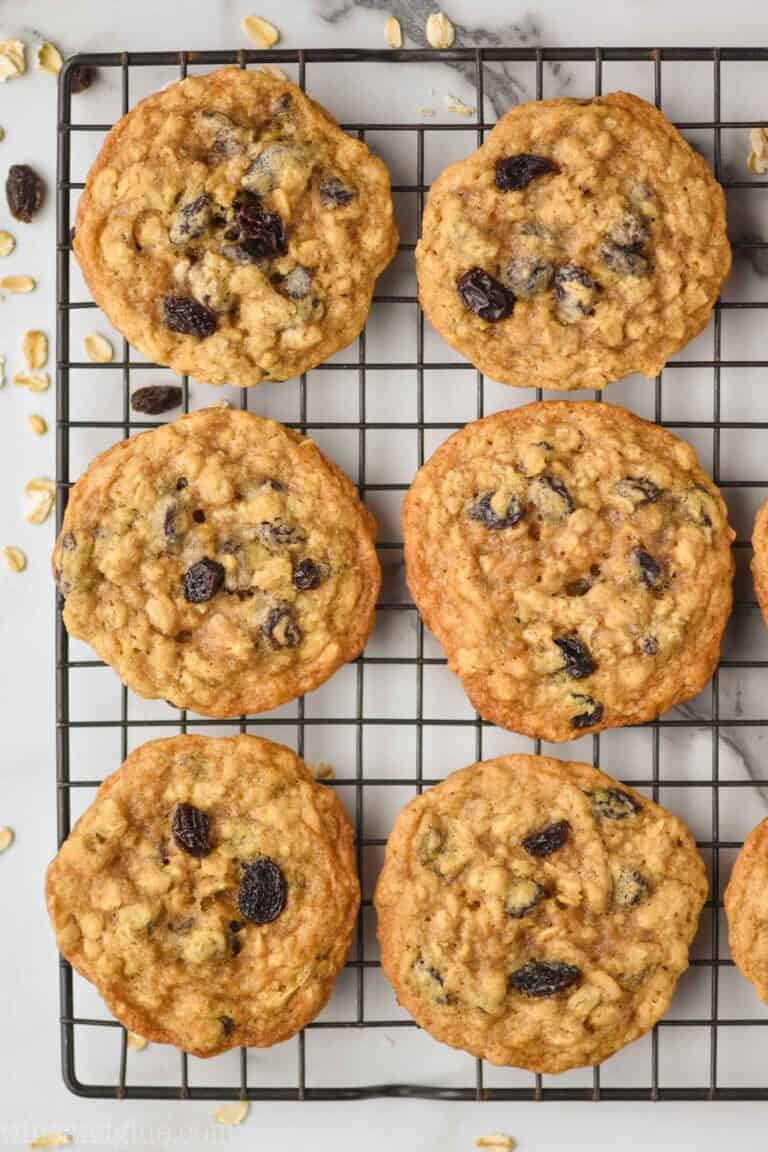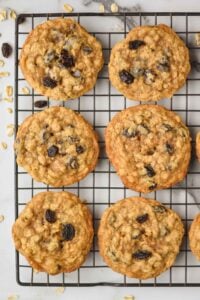 did you make this
Oatmeal Raisin Cookies