My Peach Sangria recipe is easy to make, and will be your new favorite white sangria. Just a few simple ingredients bring this sweet, refreshing summer cocktail to life.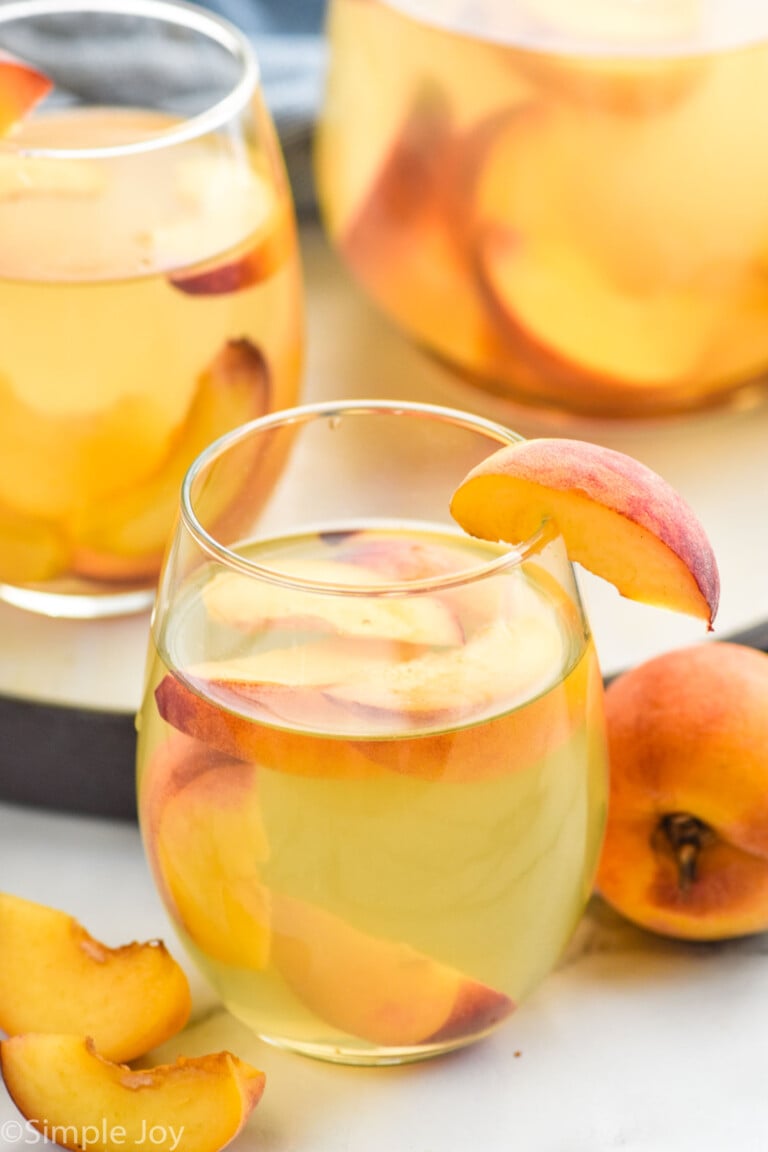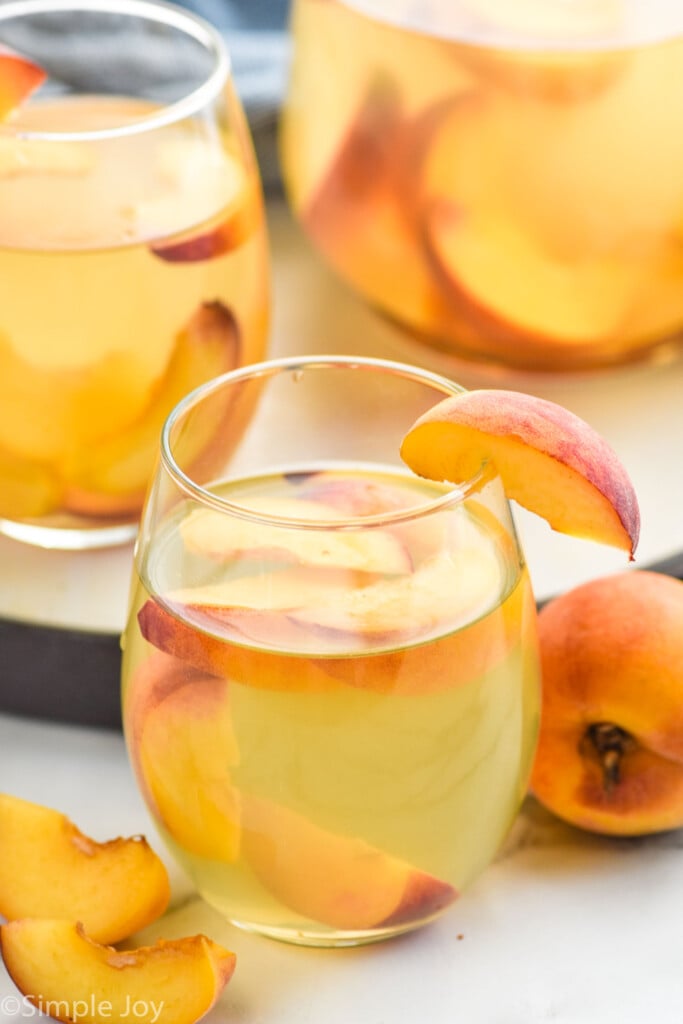 Sangria is my go-to cocktail during the summertime. It is perfect to bring to picnics and BBQs, serves a crowd, is easy to make, and you can make it in so many different flavors. This peach sangria recipe delightful twist on the classic White Sangria Recipe.
This great cocktail uses gorgeous fresh or frozen peaches that are ripe and juicy during hot summer months. Peaches pair perfectly with white wine, and they are in season during the summer months. We then use peach schnapps and peach juice to bring home that great flavor, leaving us with a light cocktail that isn't overly sweet.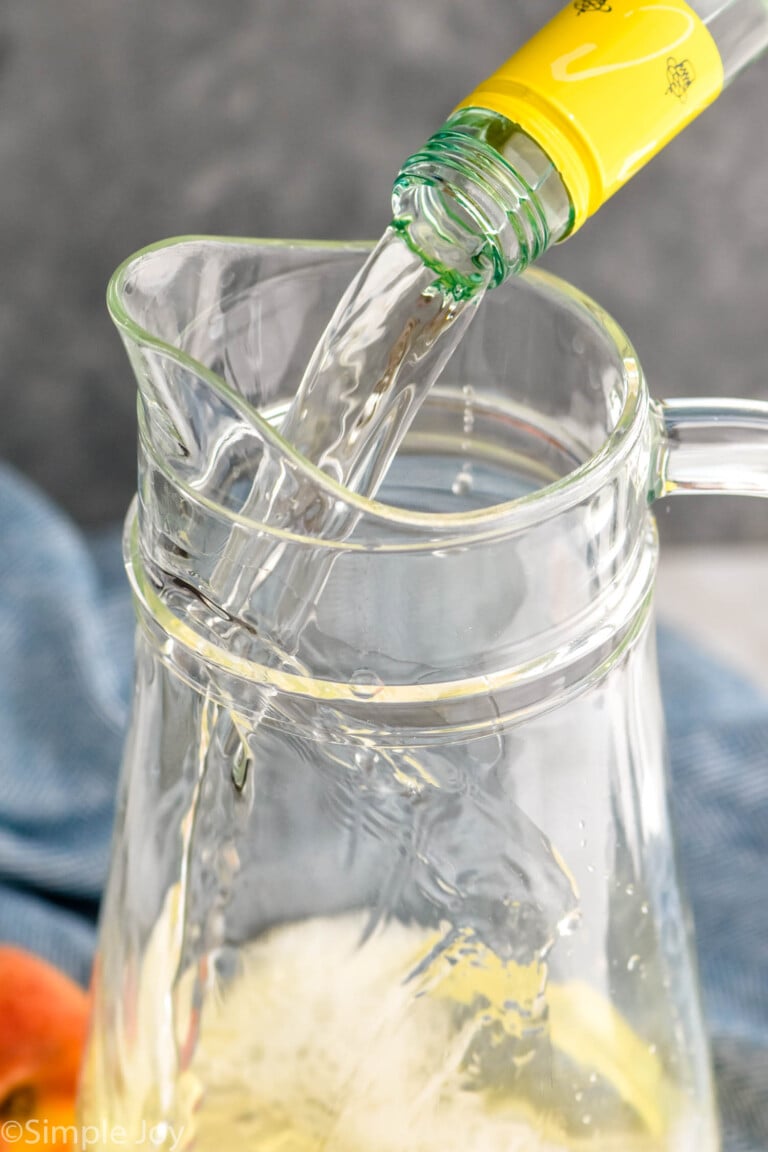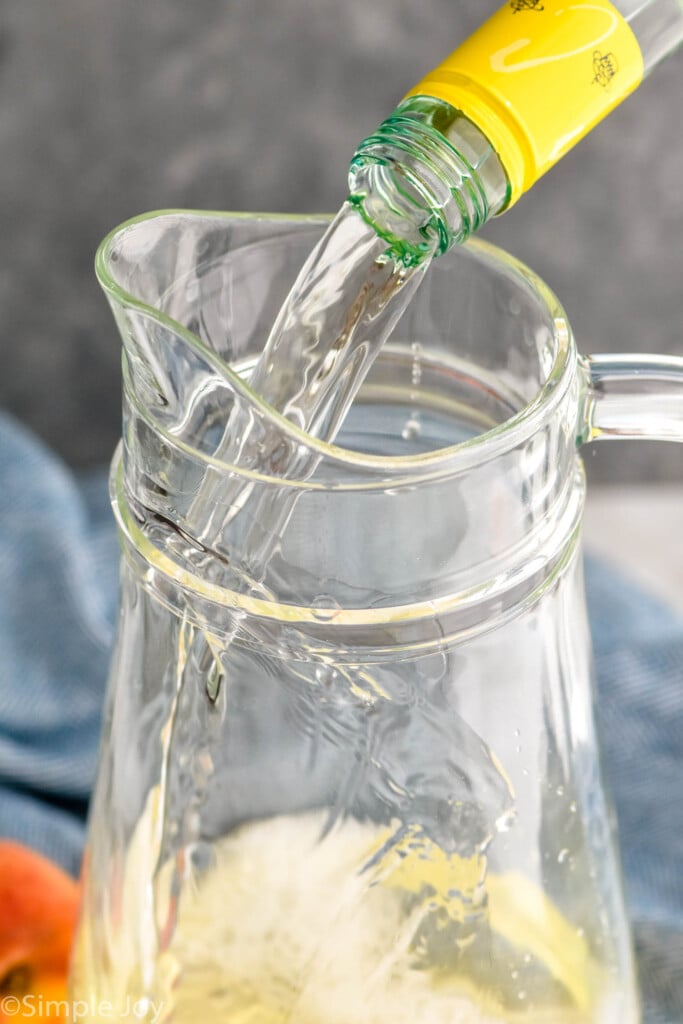 How to Make Peach Sangria
This is a brief overview of how to make this delicious sangria. For the full recipe with all of the measurements, be sure to read the recipe card at the bottom of the post.
Add the ingredients to a pitcher. In a large pitcher, combine the wine, vodka, peach schnapps, and peach juice.
Taste the sangria and adjust. Read more about sweetness in sangria below.
Add the peaches. Enjoy!
Adjusting the Sweetness of Sangria
One thing I've learned in serving guests sangria is that tastes vary greatly when it comes to how sweet people want their sangria. Here are a few tips:
The wine that you pick will greatly impact the sweetness of the sangria. We are using Moscato in this sangria, which is very sweet. I love the end result. If you like your drinks less sweet, start with a less sweet wine. See more on this below.
If you like your drinks sweeter, you can add simple syrup to this recipe. A little goes a long way, so only add it after you've already tasted the sangria. Then start with just 1/4 cup or less of simple syrup.
Orange juice is another great way to add sweetness if you have that on hand and not simple syrup. It will change the flavor of the sangria, but in a delightful way.
Simple Syrup
Learn all you need to know for how to make simple syrup for cocktails! An essential for any bar, it's easy to make. You can even add different flavors.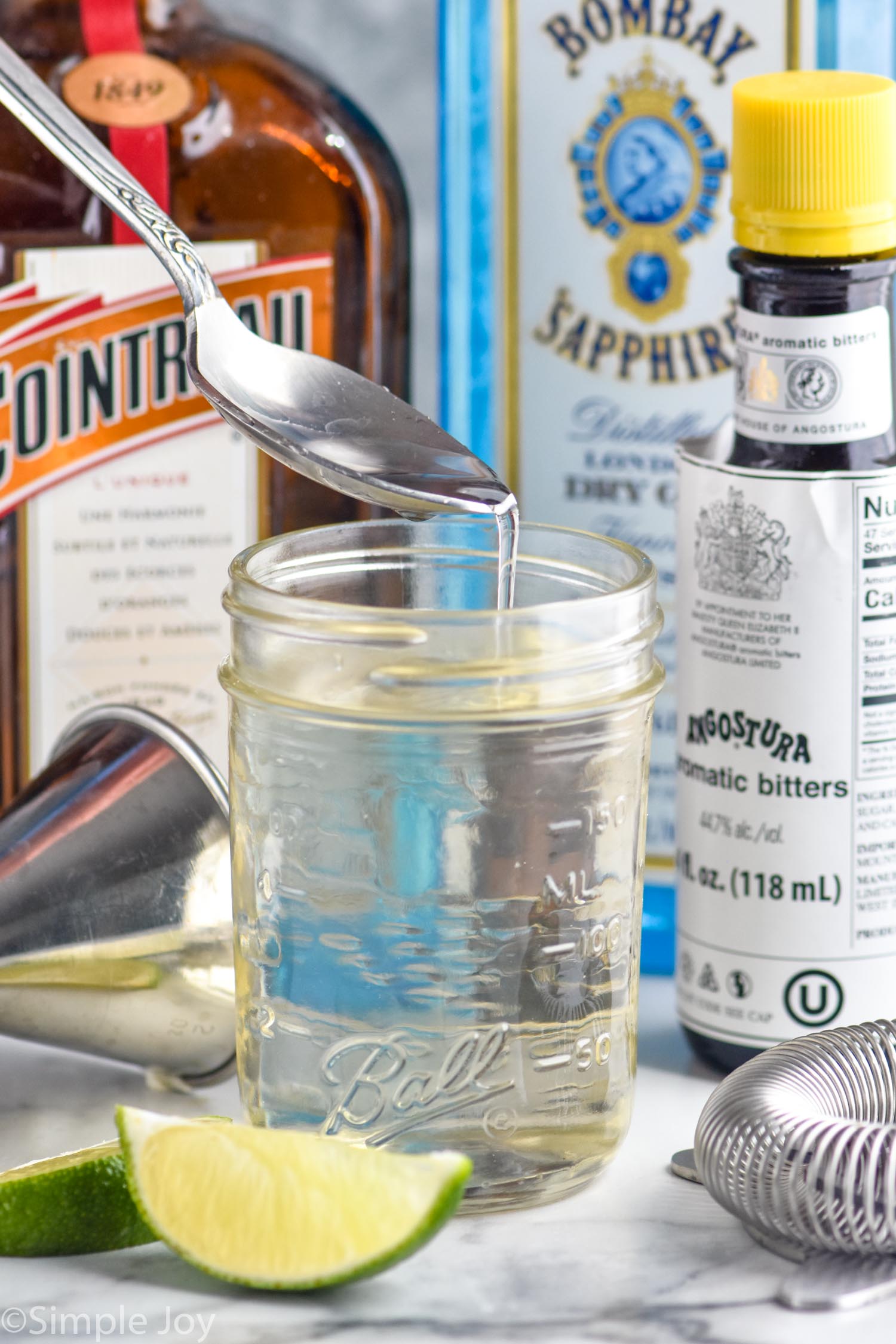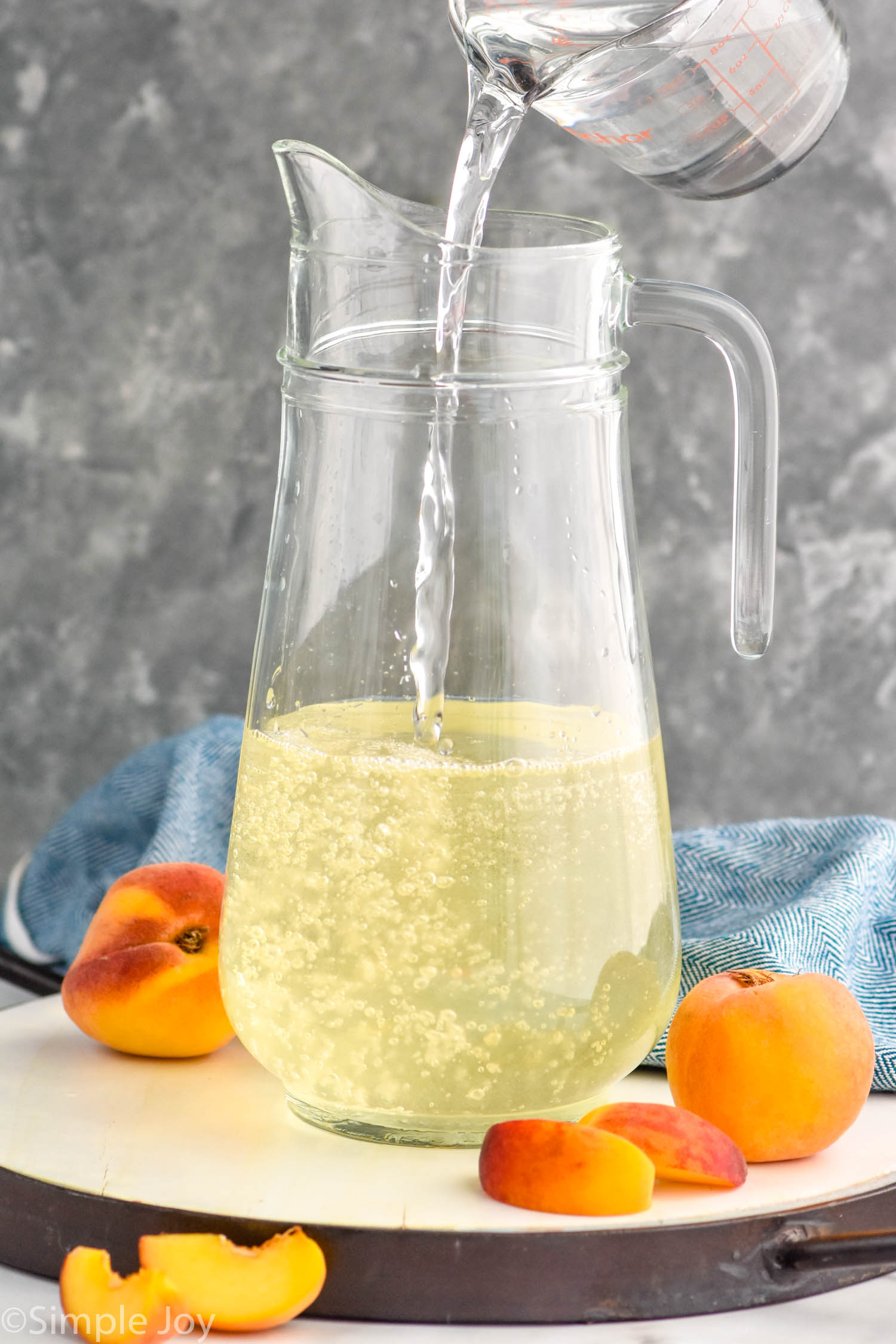 White Wine for Peach Sangria Recipe
As mentioned above, the wine you use will play a major role in how sweet this sangria is.
Moscato is a very sweet white wine. It is what we call for here, and I think that with the other ingredients called for it makes for the perfect level of sweetness.
Riesling isn't as sweet as Moscato, but is still quite sweet. It's a great option for taking the sweetness down a little.
Pinot Grigio is the final option. It is light and crisp, but not very sweet. If you don't like sweet cocktails, that would be a great base for this sangria. You could even keep a small container of simple syrup next to the pitcher so that you and your guests can customize your own glasses to the sweetness you enjoy.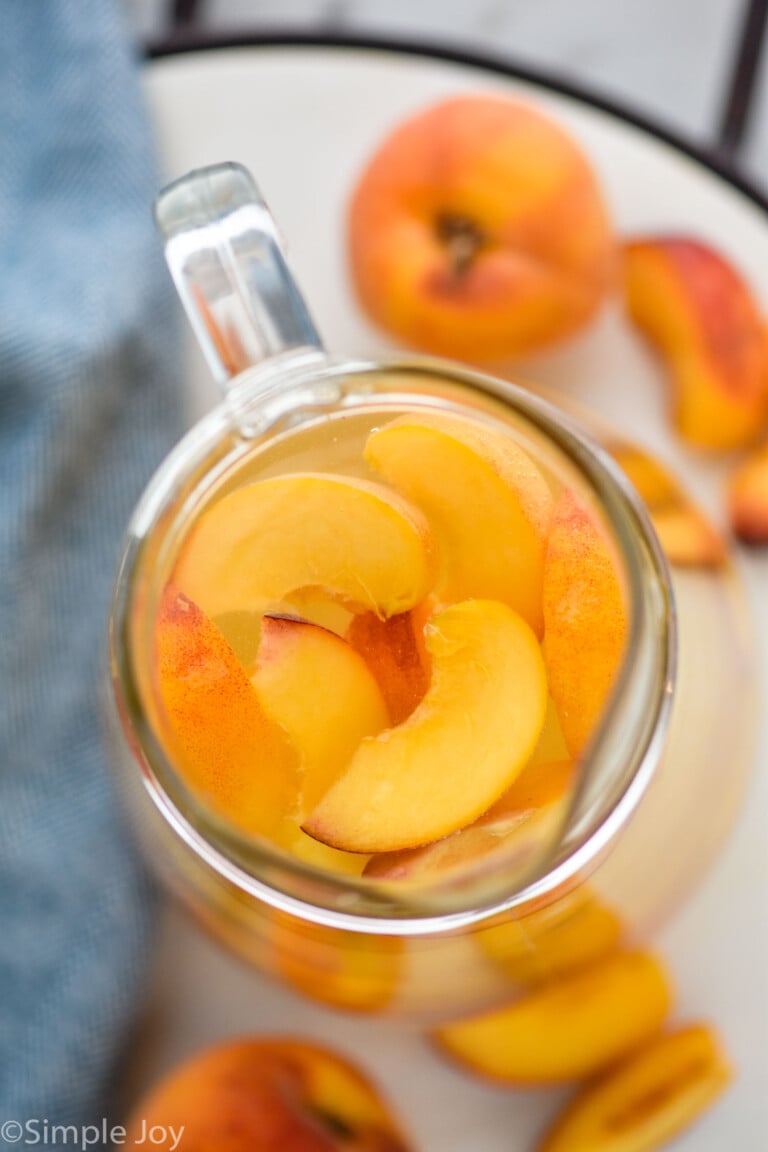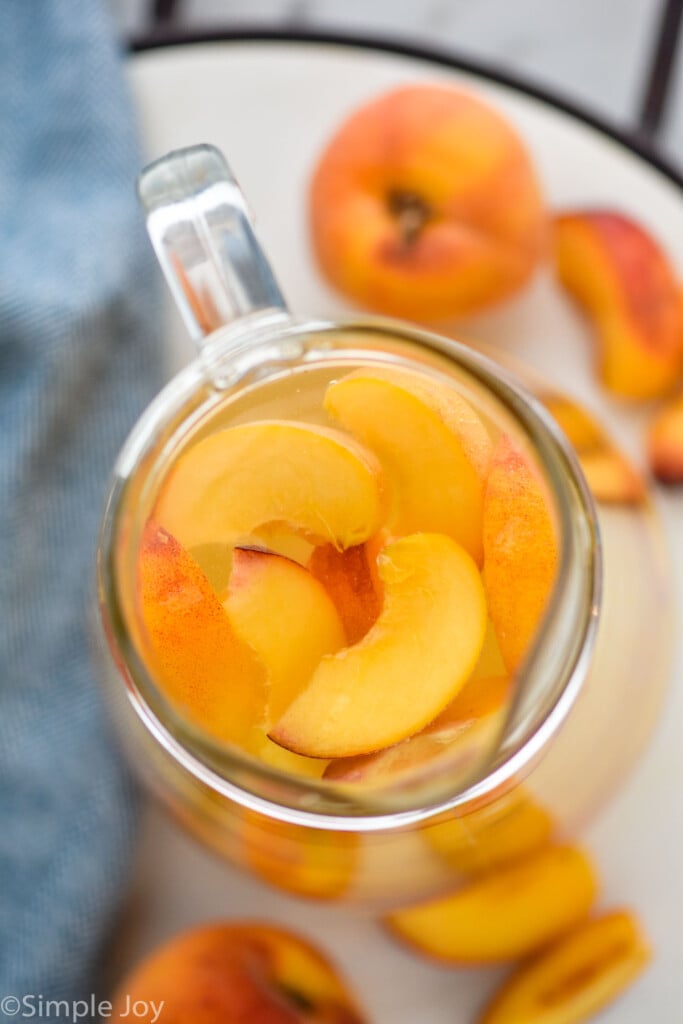 Peach Schnapps
Schnapps in general is a type of liqueur or alcoholic beverage that takes on the flavor of whatever you add to it. With peach schnapps, you have a base neutral liquor that you add peach flavoring to. This gives it a distinct peach flavor and makes it perfect for drinks like this sangria, my Peach Vodka Smash, or the Fuzzy Navel.
Fresh or Frozen Peaches
Both fresh and frozen peaches will work great in this recipe. Please note that frozen peaches, when they begin to thaw, won't keep the crisp look of fresh peaches that you see here, but the taste will be perfect. Additionally, frozen peaches are a great option when fresh peaches aren't in season.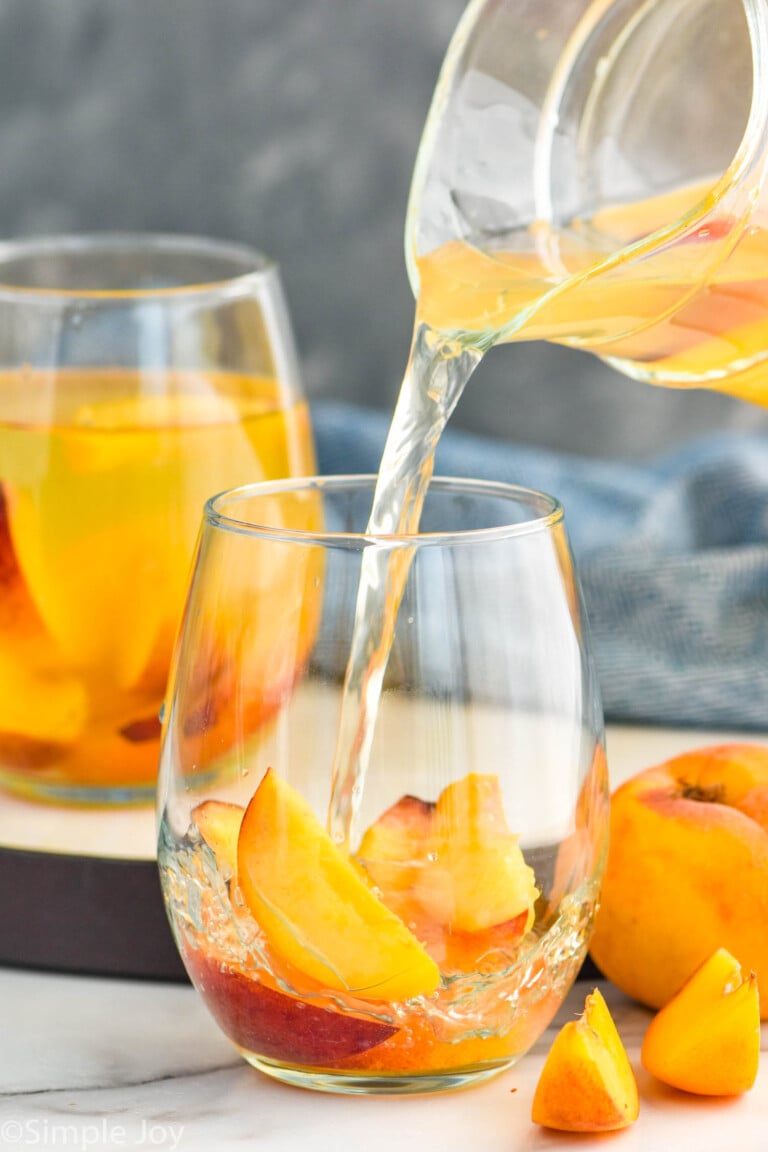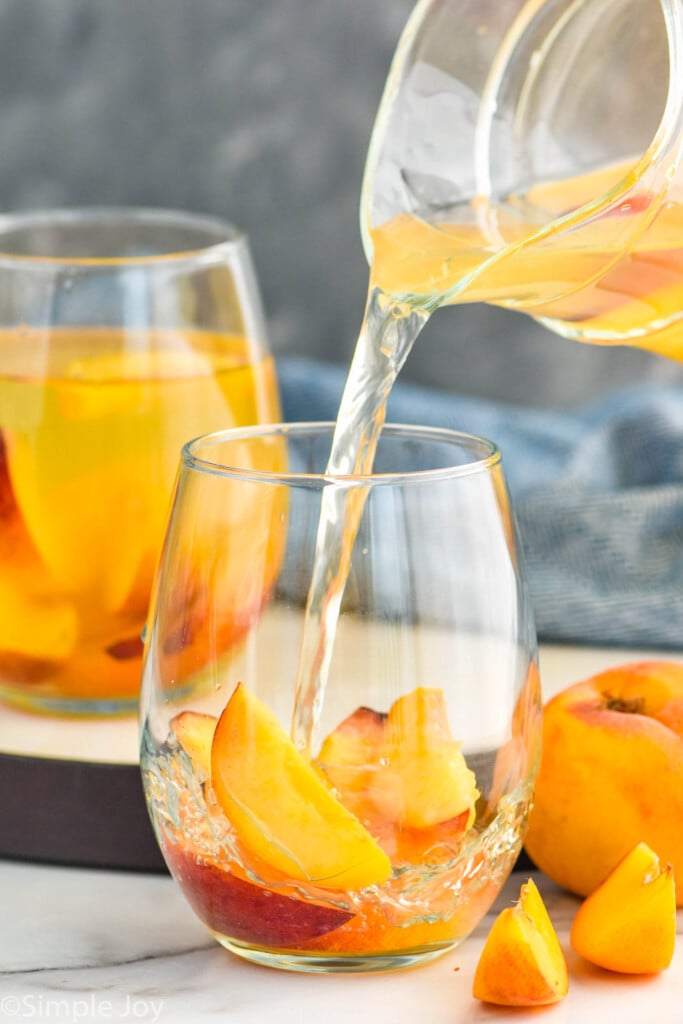 Buying Fresh Peaches
If you are using fresh peaches you want to make sure that you buy peaches that are ripe but not overripe. Peaches get sweeter as they ripen, so you want a nice ripe peach.
Look for peaches at the grocery store that are soft to the touch around the stem with smooth skin.
Peaches that are overripe, however, will deteriorate quickly and make your sangria look unappetizing. Avoid peaches that have wrinkling skin.
If you buy peaches that aren't quite ripe yet, you can place them in a brown paper bag. The peach will release gasses and trapping those gases around the fruit will speed along the ripening process.
Letting Sangria Rest
Traditionally, you let sangria sit overnight to let the flavors combine. Because this is a very simple spin on sangria, that isn't necessary here.
What is more important than letting your sangria rest is starting with chilled white wine. This sangria will be enjoyed most when it is served cold, so it is best to start with chilled white wine.
Serving
I love using stemless wine glasses for summer sangria recipes. They are more casual, which is perfect for laughing on the patio in the sunshine. I love Joy Jolt, they are my go-to for drink ware. You can see their gorgeous glasses linked below.
I like to reserve a few peaches and cut them into wedges for serving this delicious Peach Sangria.
TOP PICK
Stemless Wine Glasses
These white wine stemless wine glasses are perfect for summer sangria recipes!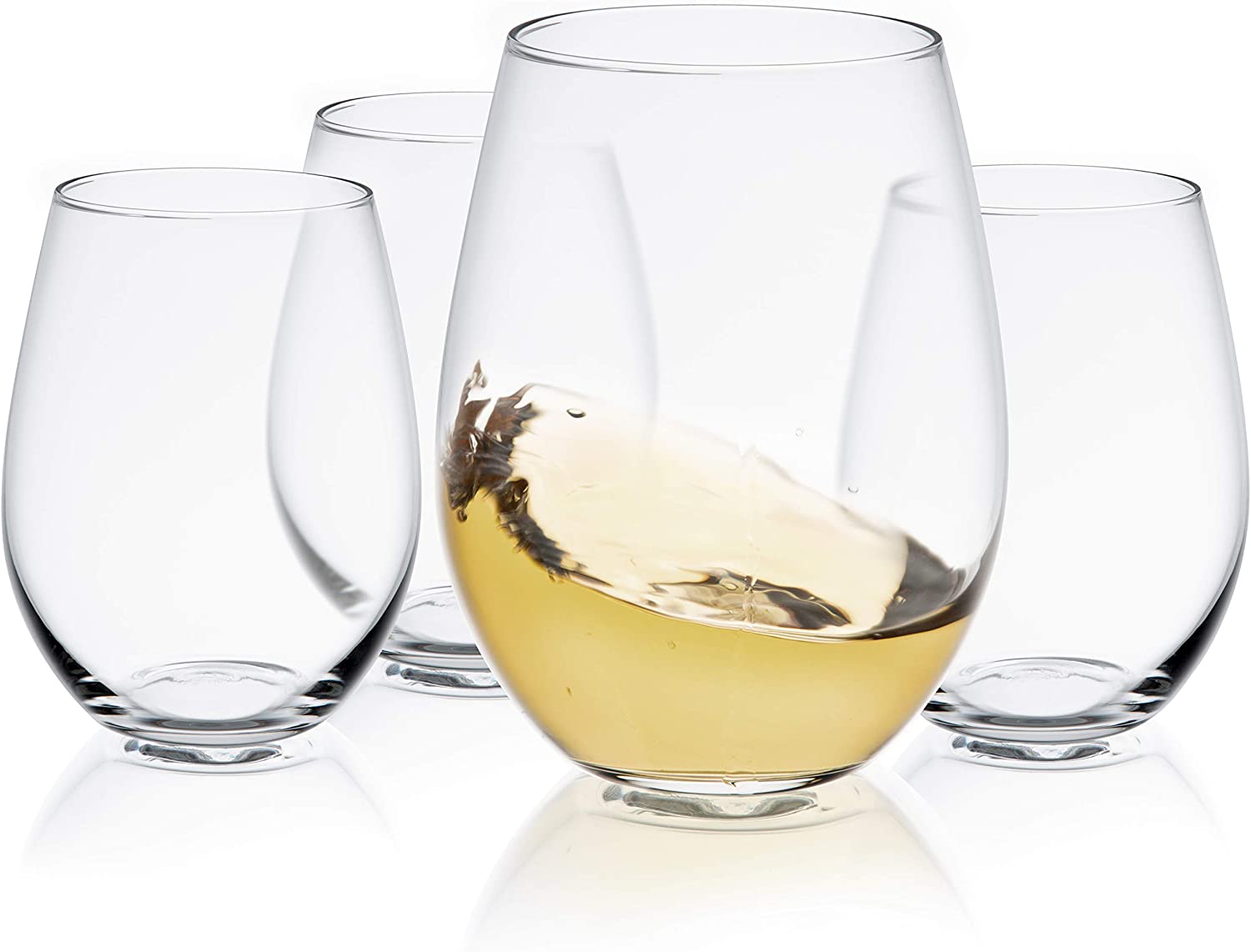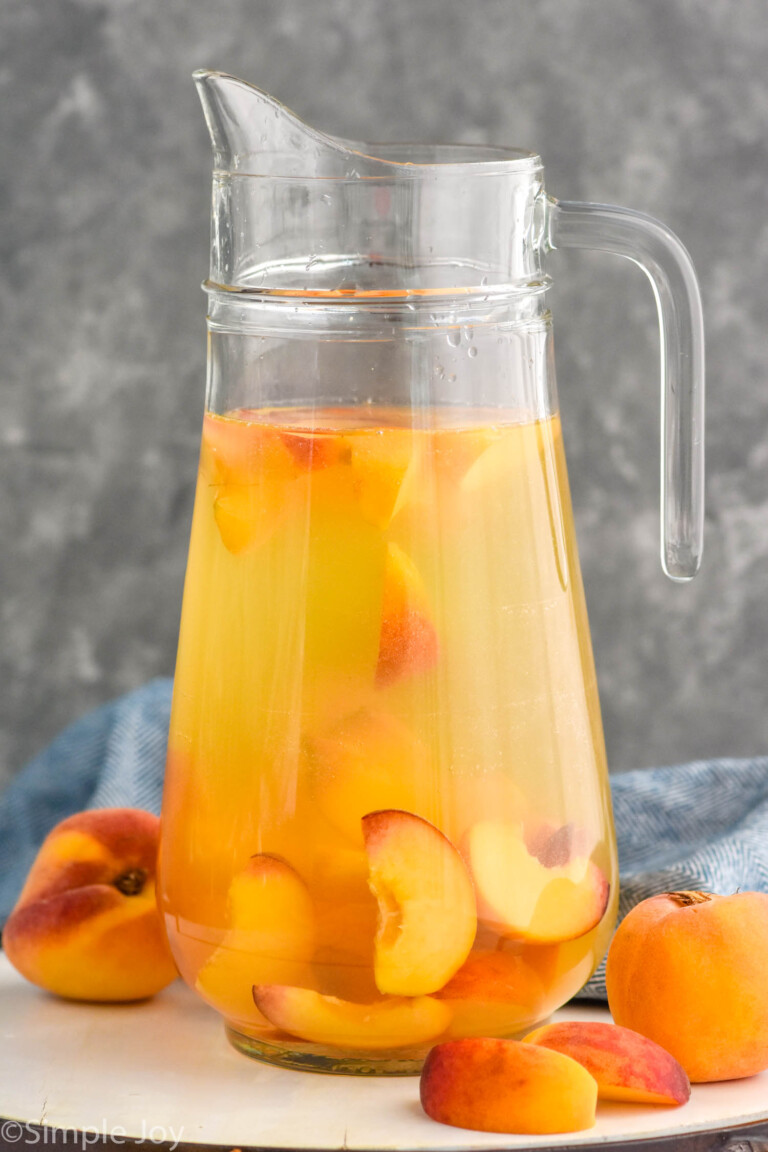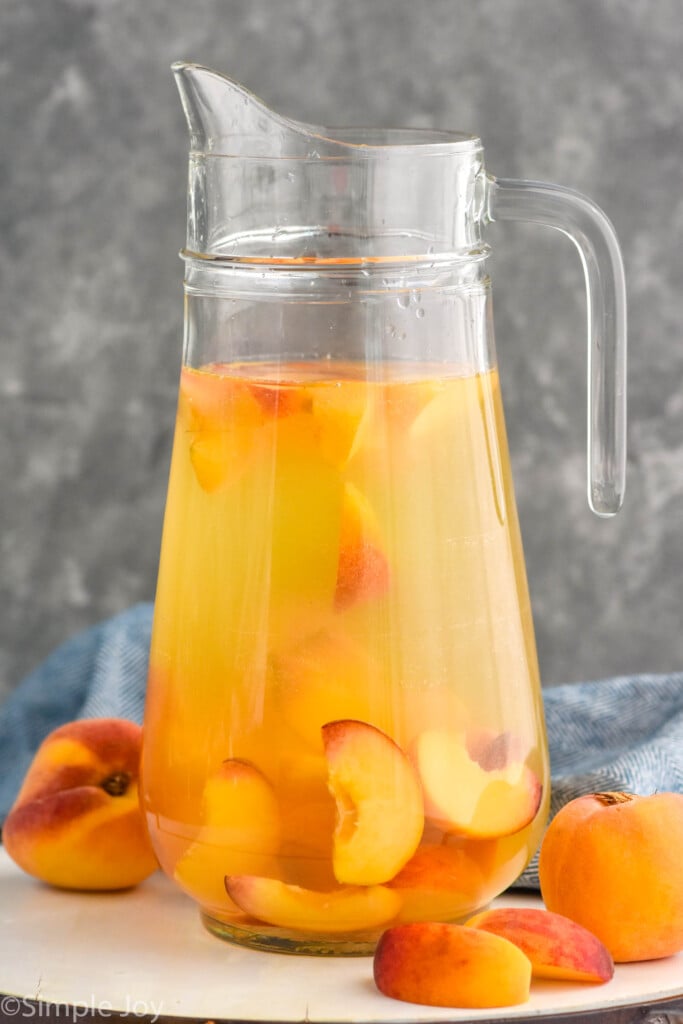 Pairing Peach Sangria
If you are looking for meals to serve this with, here are a few ideas. These dishes are perfect for summer months when we love this sangria the most. They also have a flavor that will be balanced by this slightly sweet cocktail.
If you make my Peach Sangria recipe or any of my other recipes, leave me a comment and let me know what you think!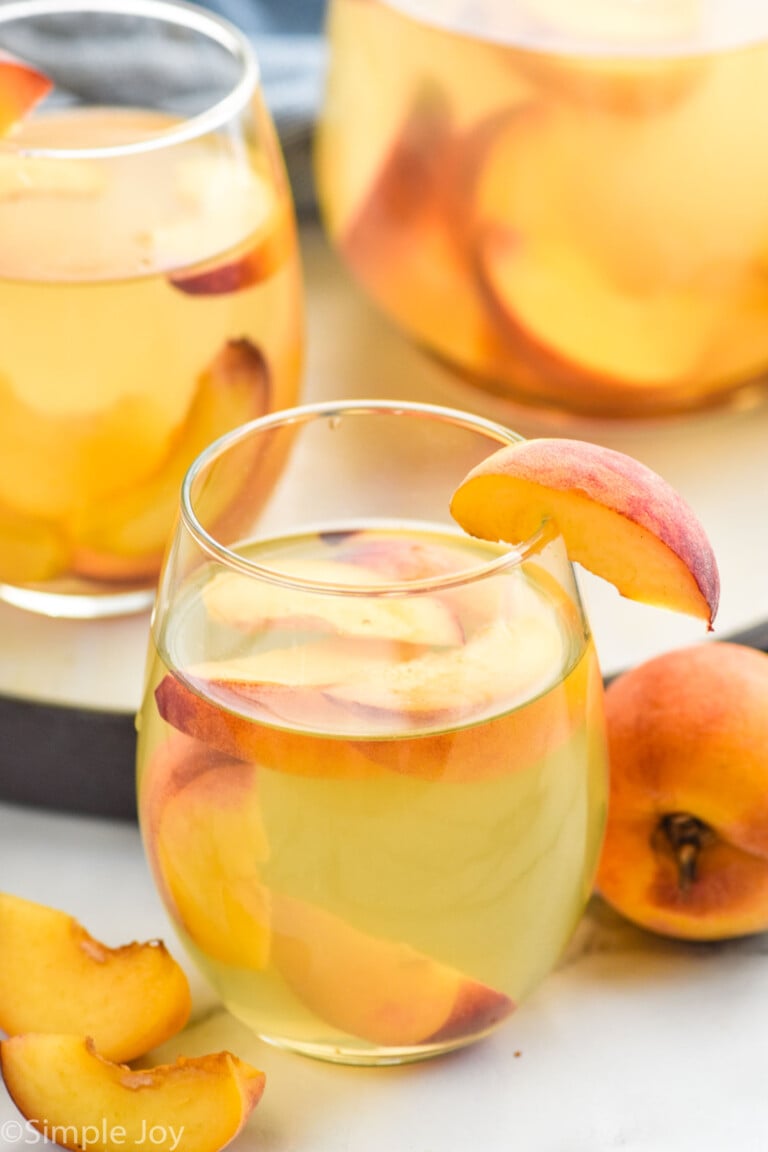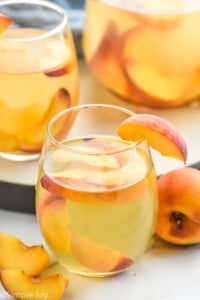 Peach Sangria
My Peach Sangria Recipe is easy to make, and will be your new favorite white sangria. Just a few simple ingredients bring this sweet, refreshing summer cocktail to life.
Ingredients
750

milliliters

Moscato

chilled (see notes)

1/2

cup

vodka

1

cup

peach schnapps

1/2

cup

peach juice

3

peaches

sliced
Instructions
Combine all of the ingredients.

Taste the sangria and adjust for sweetness. (See note.)
Notes
Moscato is a very sweet wine. Using Riesling will make this less sweet, and using Pinot Grigio will lower the sweetness even more. 
If this drink ends up not being sweet enough for you, you can add some simple syrup or orange juice.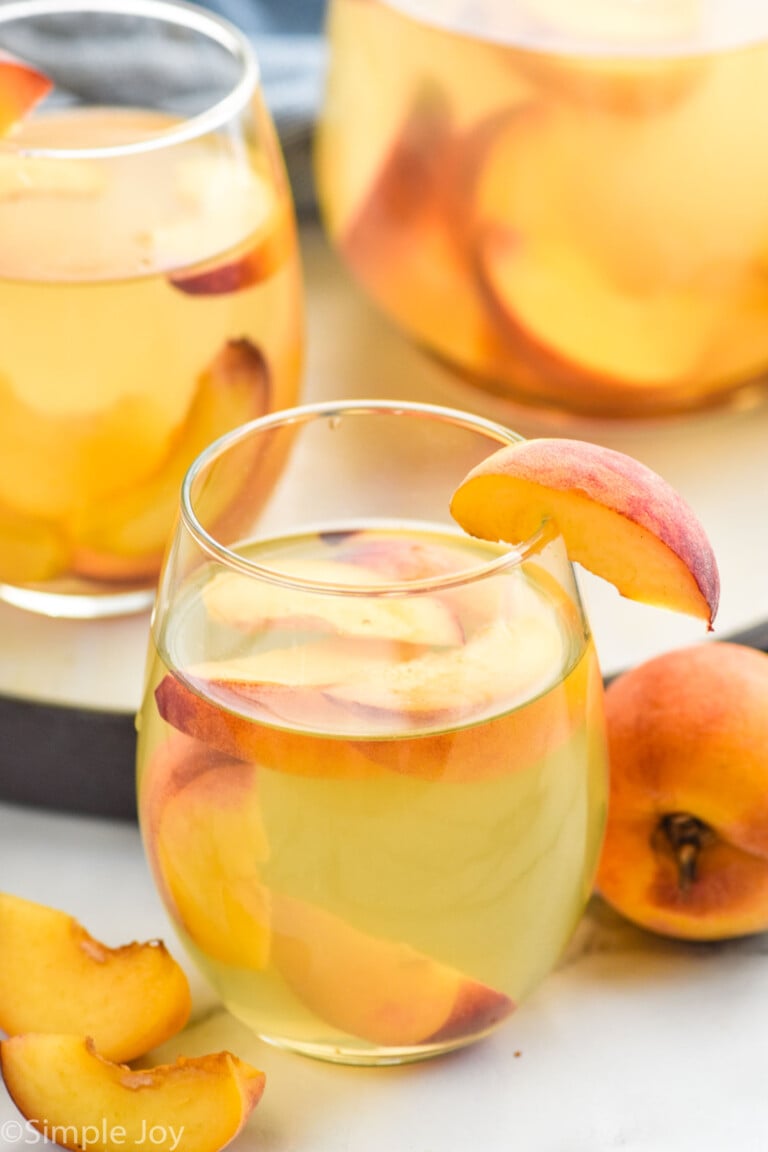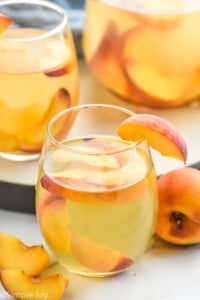 did you make this
Peach Sangria