These Pulled Pork Tacos will rock your world. They have just 15 minutes of hands-on time, and then you come home to the most delicious dinner. My whole family fell head over heels for this recipe, a sure winner.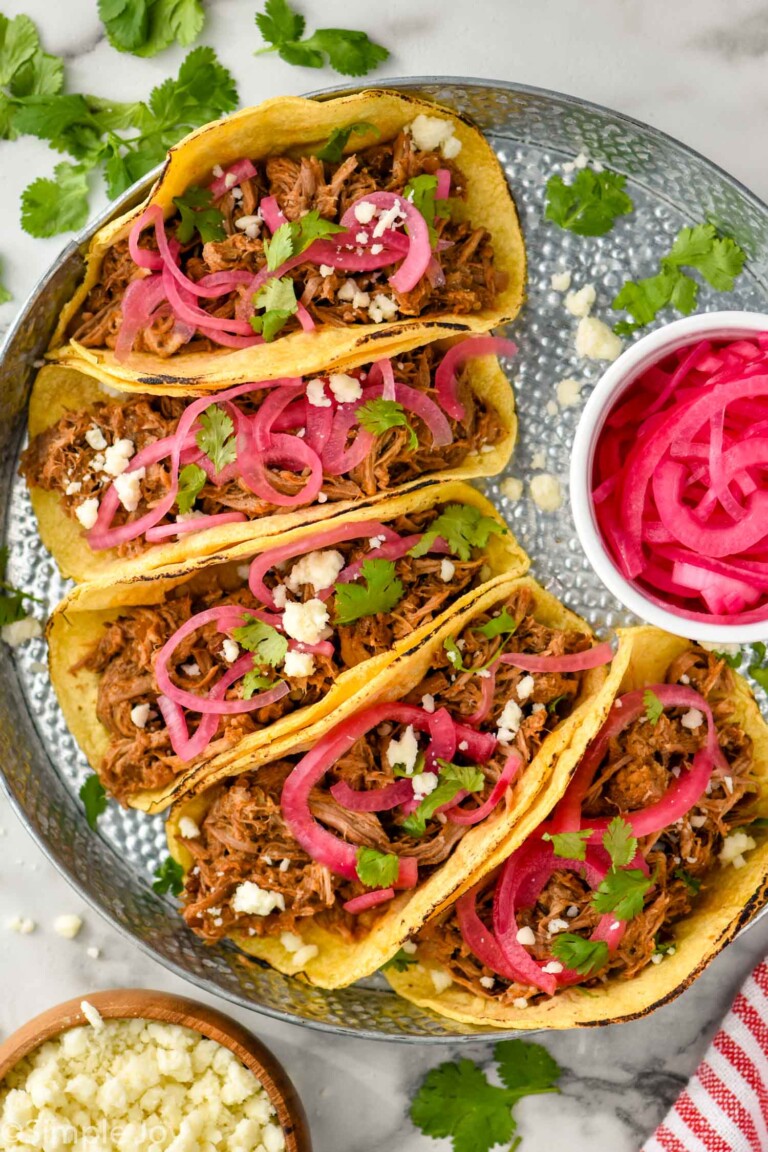 I just have to tell you that I am absolutely in love with this pork taco recipe. I never share anything with you that I wouldn't want to eat myself. But I will be honest, I could eat these every single week and it would take a year for me to even consider if I was tired of them.
This pork recipe comes together in the slow cooker with minimal prep time. Though the ingredient list looks a little long, I would urge you not to get overwhelmed by it. Most of what is listed there is already in your cabinet and just waiting and dreaming for the day it can be made into pork tacos.
Should we dig into how to make this obsession?
How to Make Pork Tacos
This is just a brief overview of how to make pulled pork tacos so you can see how simple this dinner recipe is. For the full recipe with all of the measurements, please see the recipe card at the bottom of the post.
Sear the meat. We are going to season the pork shoulder liberally with kosher salt. (Please note that if you only have table salt, you should cut the amount in half.)
Add the other ingredients to the slow cooker. We have a great combination of broth, onion, garlic, chipotle peppers, lime juice, and spices. They make the perfect sauce.
Cook the pork. Add the pork to the slow cooker and cook on low for 8 hours. The pork will fall apart at this point. Remove the fat and serve it in tortillas.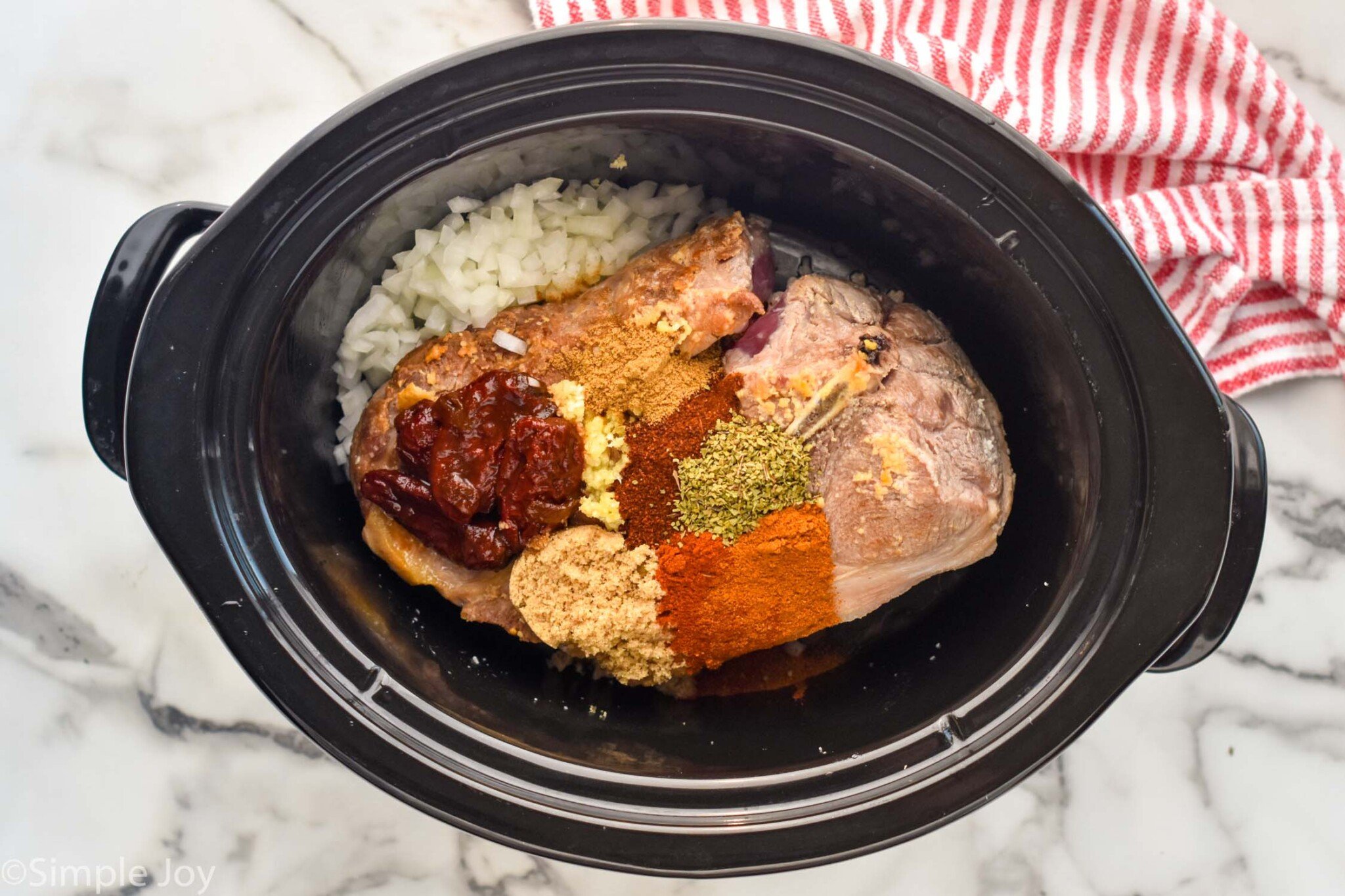 Pulled Pork Taco Ingredients
Pork Shoulder: Read more on this cut below.
Kosher Salt: Please make sure that you are using kosher salt. If you use table salt here, it will be too salty.
Low Sodium Beef Broth: If you are unable to find low sodium, you will want to cut back on the amount of kosher salt you use.
Yellow Onion
Garlic: Don't be intimidated by the amount of garlic we are adding here. It is perfection, and not too garlicy in the end.
Chipotle Peppers in Adobo Sauce: These are found in the canned section of the grocery store. They are jalapeno peppers that have been smoked, dried, and rehydrated. Then the peppers are packed in the smoky adobo sauce. They add a lot of great flavor to this dish.
Lime Juice: This adds another great layer of flavor to the party. A fresh lime gives about 2 tablespoons of juice, so you will want to buy two.
Brown Sugar: This little bit of sugar balances out the heat and the acid that some of the other ingredients bring to the party.
Spices: We are going to be adding in chili powder, cumin, paprika, dried oregano, and a little cayenne pepper.
What to Put on Pork Tacos
I'm going to really pressure you here. You know I'm normally a "you do what works for you" in the kitchen, right? Okay, I still am. I just really think you should take my advice on this.
The pork alone is amazing in these tacos. However, when you add to it the following toppings, they just burst over the top and make you fall in love.
Cotija Cheese: This is a crumbly aged cheese from Cotija, Michoacán. Its flavor is perfect for these tacos.
Pickled Red Onions: These only take about 5 minutes to make, and are a must for serving with this pulled pork taco recipe.
Cilantro: If cilantro does not taste like soap to you, you should absolutely include it on these tacos.
Pickled Red Onions
These Quick Pickled Red Onions only take 5 minutes to make! They are delicious, simple, and the perfect compliment to so many different recipes!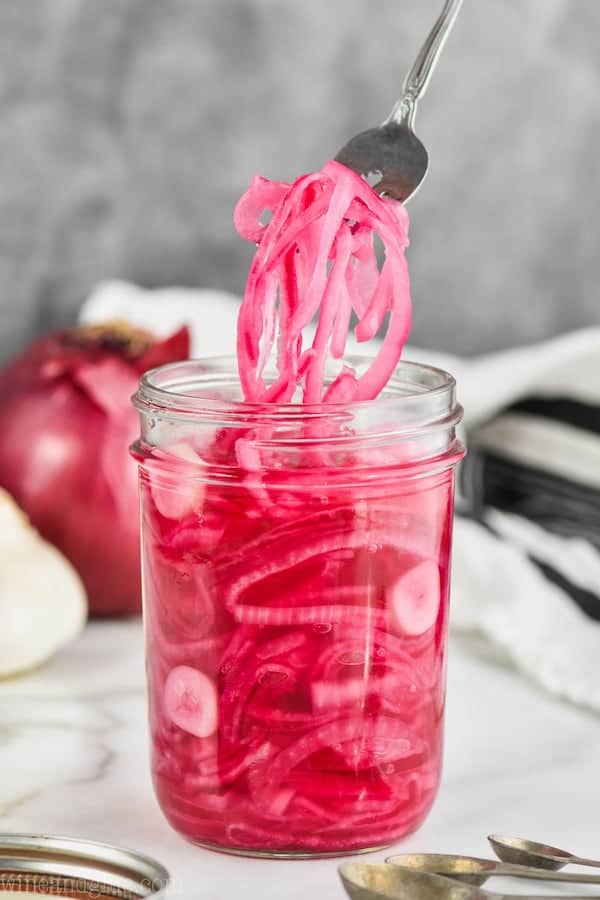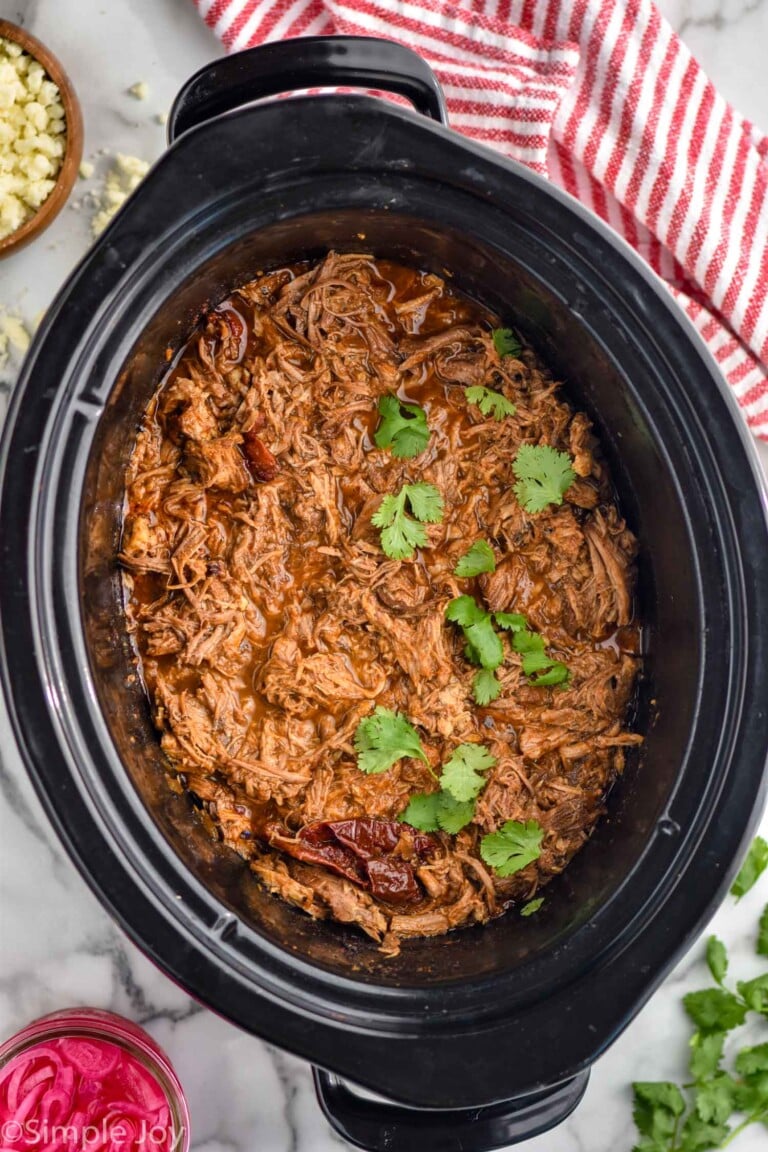 Pork Shoulder
The cut of meat we are using in this recipe is pork shoulder. It is ideal for pulled pork because it is marbled and when cooked low and slow, it falls apart. Pork shoulder is incredibly tender when cooked properly.
Low and Slow Cooking
As mentioned above, because we are using pork shoulder for this pulled pork, it should be cooked low and slow. Oftentimes, slow cooker recipes will give you a cooking range for low and a cooking range for high. I am intentionally not doing that here.
The reason that you only have one cooking time is because the pork really needs to be cooked at a low temperature for many hours in the slow cooker to get the consistency you want. When you cook meat like this on high in your slow cooker, you end up with tough meat. The time saved in this recipe just isn't worth it.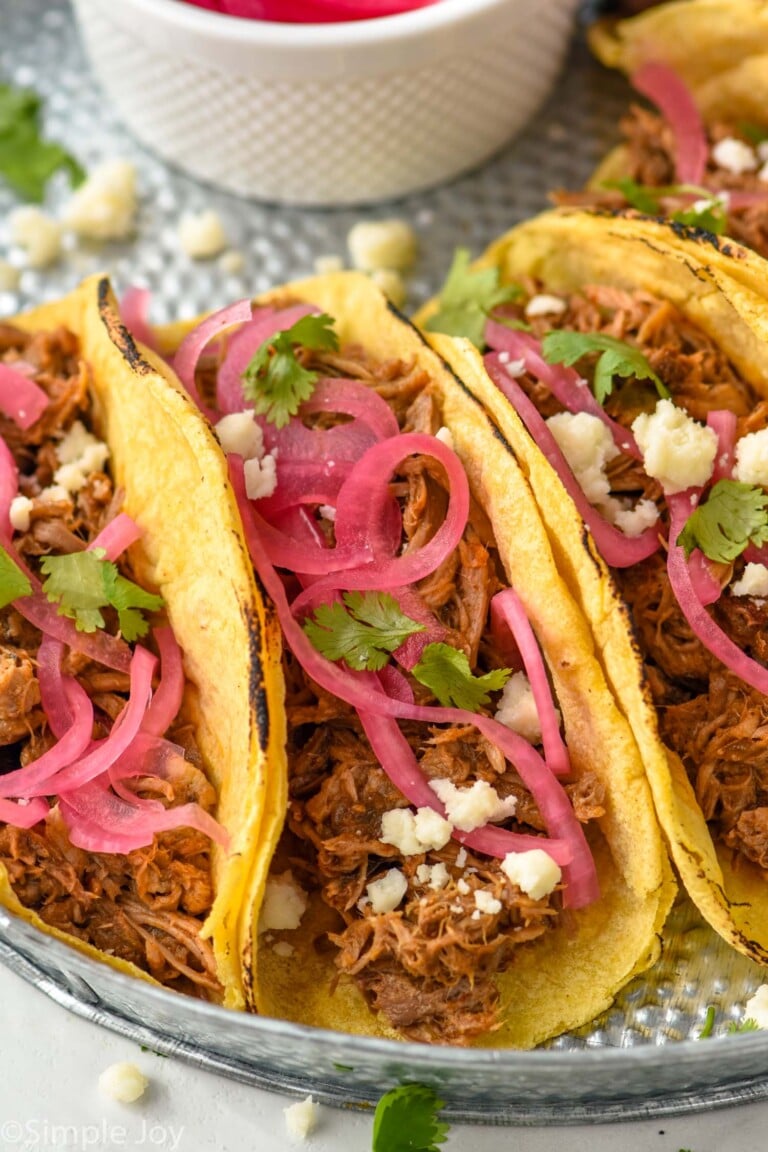 Leftover Pulled Pork Tacos
Storing
Leftovers of this recipe should be stored in the juice it was cooked in. Store it in an airtight container in the refrigerator for up to five days. As with any recipe, use your best discretion when it comes to leftovers.
Freezing
This is a great recipe to freeze as well. Freeze in an airtight container with enough room to expand. For best results, use the juices that the pork cooked in to completely cover the shredded meat when freezing. Store for up to three months in the freezer and thaw in the refrigerator overnight when you are ready to eat.
Reheating
Cover the leftovers in a microwave-safe dish and microwave on half power for 2 to 3 minutes. For best results, stir halfway through reheating.
FAQ
What is the best meat for pulled pork?
Pork Shoulder. It has a high-fat content and when cooked properly, it will fall apart and be fork tender when it is done.
What is the secret to tender pulled pork?
Cooking it over low heat for a long time. This can be done in a dutch oven inside of your oven, but cooking it a slow cooker allows you to leave the house while it cooks.
Is this recipe low carb?
Yes! Even with the small amount of brown sugar, this recipe clocks in at only 9 grams of carbohydrates for one serving, making it a great low-carb dinner option. Instead of serving it on tortillas, serve it over some cauliflower rice with the cheese, cilantro, and pickled onions recommended.
Is this recipe gluten free?
It is! You can keep it gluten-free by serving it on corn tortillas. As with any recipe, check all of your ingredients to ensure that they are gluten-free.
Is this recipe spicy?
I was a little worried about cayenne in this recipe, but my most spice-sensitive kid loved these. If you are very sensitive to spicy foods, I would cut the ground cayenne in half.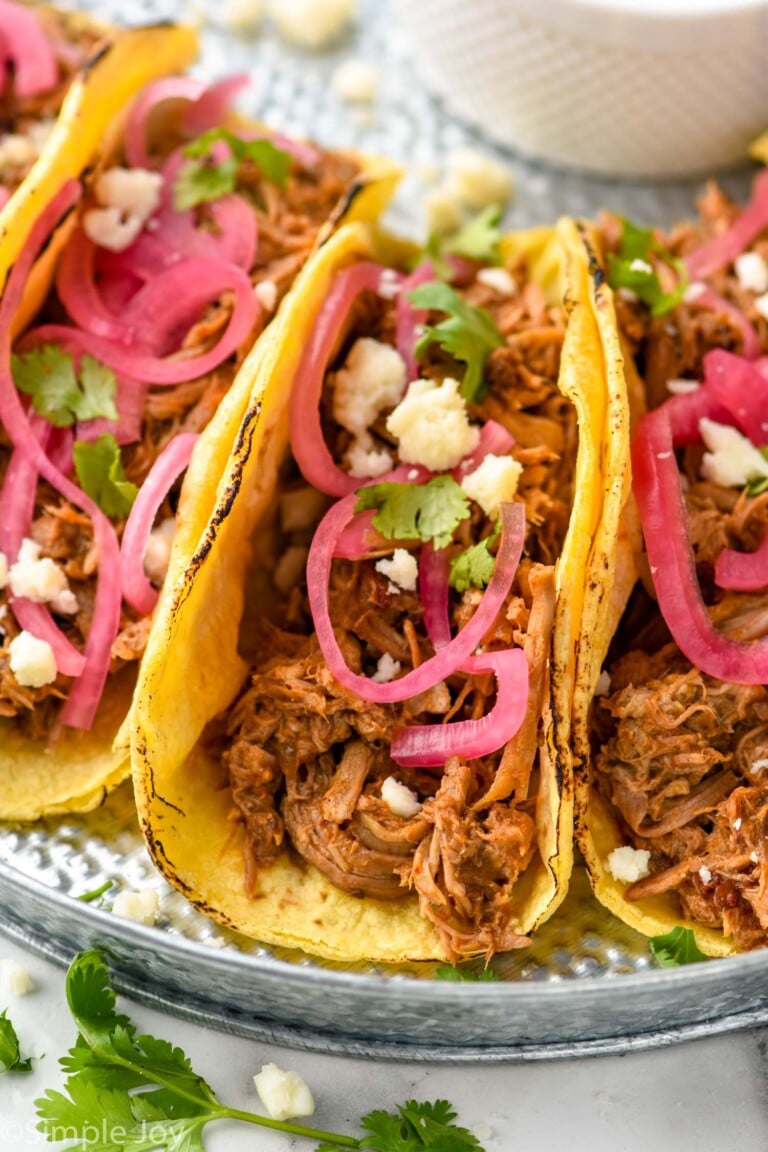 What to Serve with Pulled Pork Tacos
We have so many great options to round out this dinner.
If you make this Pulled Pork Taco recipe or any of my other recipes, leave me a comment and let me know what you think!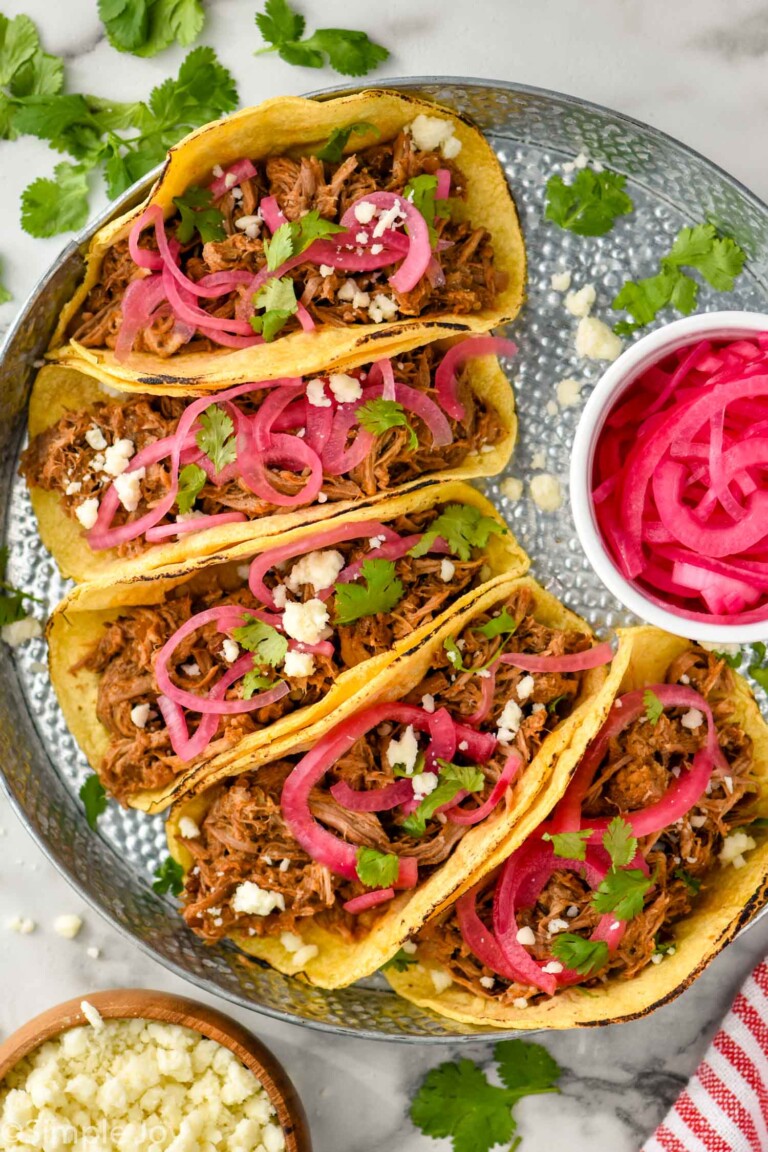 Pulled Pork Tacos
Total:
8
hours
30
minutes
These Pulled Pork Tacos will rock your world. They have just 15 minutes of hands on time, and then you come home to the most delicious dinner.
Ingredients
2

tablespoons

vegetable oil

4

pounds

pork shoulder

3

tablespoons

kosher salt

(if you are using table salt, use 1 1/2 tablespoons)

2

cups

low sodium beef broth

(if you can't find low sodium, use less salt on the pork for browning)

1

small yellow onion

diced

6

garlic cloves

minced

4

chipotle peppers in adobo sauce

3

tablespoons

lime juice

2

tablespoons

chili powder

1

tablespoon

brown sugar

2

teaspoons

cumin

1

teaspoon

paprika

1

teaspoon

dried oregano

1/2

teaspoon

ground cayenne

corn tortilla shells

for serving

cotija cheese

for serving

pickled red onions

for serving

cilantro

for serving
Instructions
Heat the oil in a heavy bottomed dutch oven.

Season the pork with the salt and brown it in the hot oil, making sure to get each side of the pork and working in batches as necessary.

In the bottom of a slow cooker, combine the beef broth, onion, garlic, chipotle peppers, lime juice, chili powder, brown sugar, cumin, paprika, dried oregano, and cayenne.

2 cups low sodium beef broth,

1 small yellow onion,

6 garlic cloves,

4 chipotle peppers in adobo sauce,

3 tablespoons lime juice,

2 tablespoons chili powder,

1 tablespoon brown sugar,

2 teaspoons cumin,

1 teaspoon paprika,

1 teaspoon dried oregano,

1/2 teaspoon ground cayenne

Add the pork to the bottom of the slow cooker and cook on low for 8 to 10 hours or until the pork falls apart easily with a fork (read here why I am only recommending low cooking). Remove from the slow cooker, and remove any large pieces of fat. Shred with two forks and return to the slow cooker for serving.

Serve as tacos, topped with pickled red onions, cotija cheese, and cilantro.
Notes
Please note that the nutritional information only pertains to the pork itself, and does not reflect tortillas or any other toppings.
Serving:
1
cup
Calories:
421
kcal
(21%)
Carbohydrates:
9
g
(3%)
Protein:
46
g
(92%)
Fat:
22
g
(34%)
Saturated Fat:
6
g
(38%)
Polyunsaturated Fat:
5
g
Monounsaturated Fat:
9
g
Trans Fat:
0.04
g
Cholesterol:
148
mg
(49%)
Sodium:
4586
mg
(199%)
Potassium:
1096
mg
(31%)
Fiber:
2
g
(8%)
Sugar:
4
g
(4%)
Vitamin A:
1098
IU
(22%)
Vitamin C:
9
mg
(11%)
Calcium:
73
mg
(7%)
Iron:
4
mg
(22%)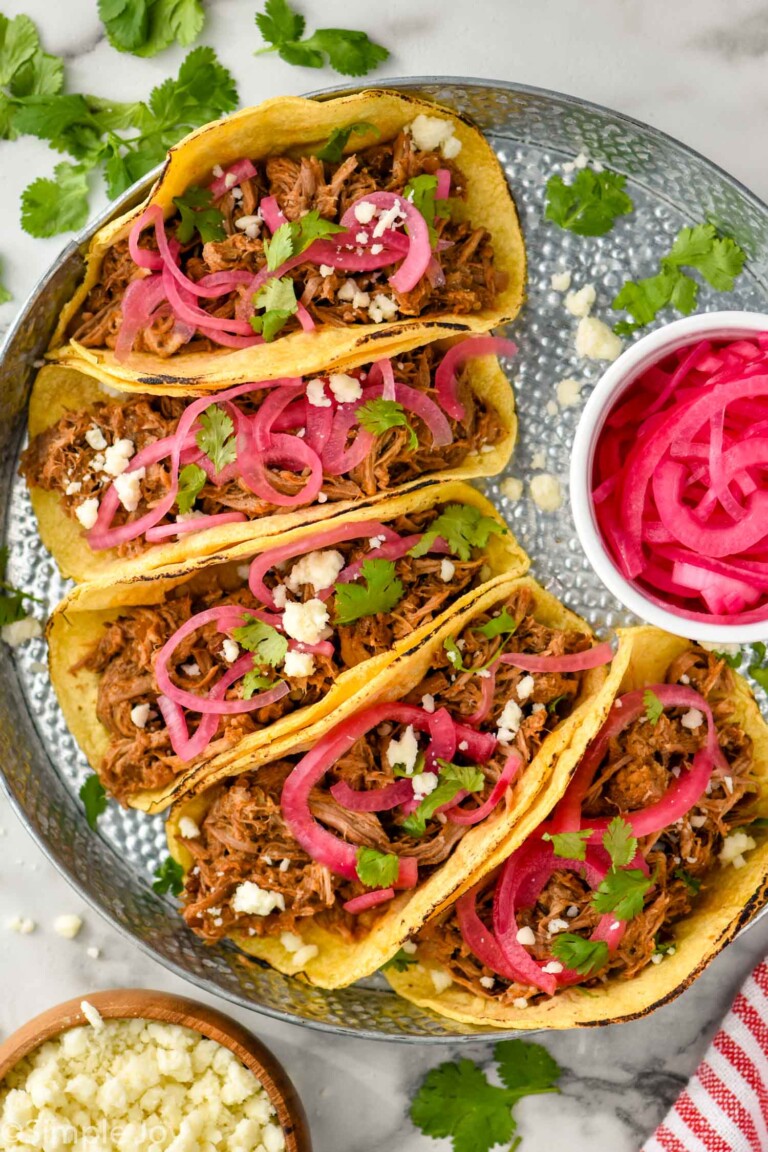 did you make this
Pulled Pork Tacos