I'm proud to be partnering with Meijer to bring you this perfect sangria recipe.
Citrus Sangria is an easy white sangria recipe that is delicious. You will love how easy this sangria is!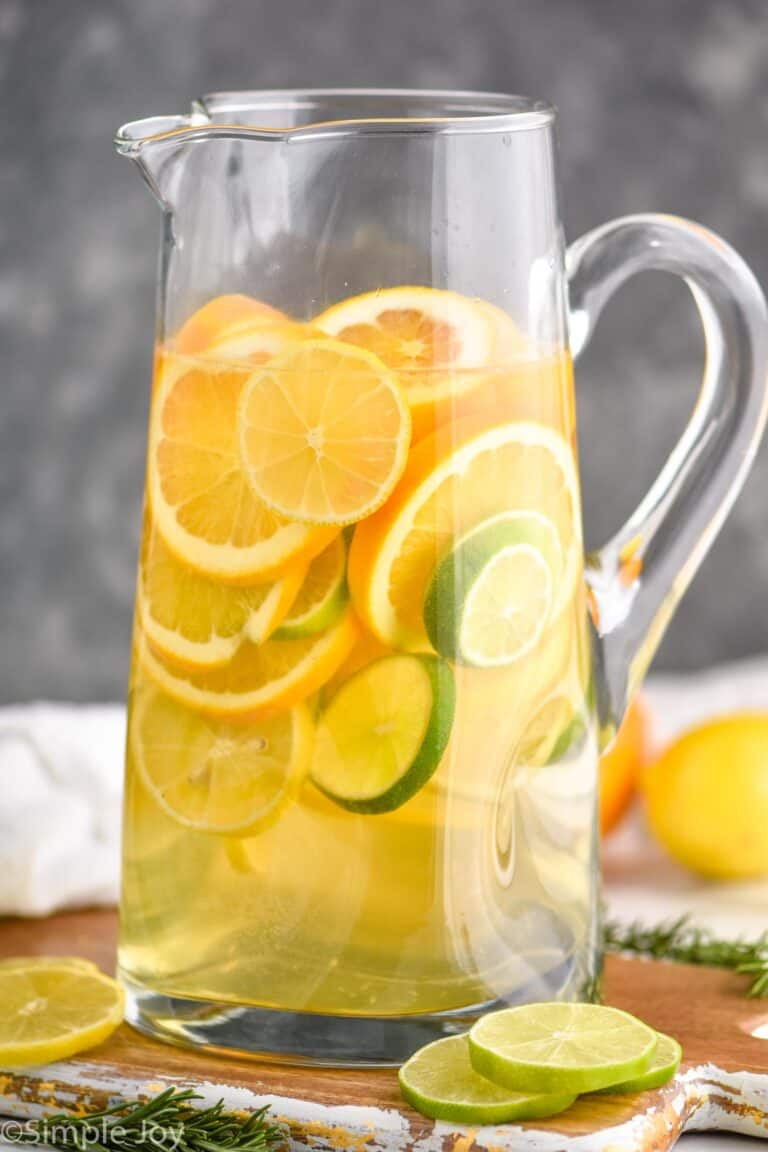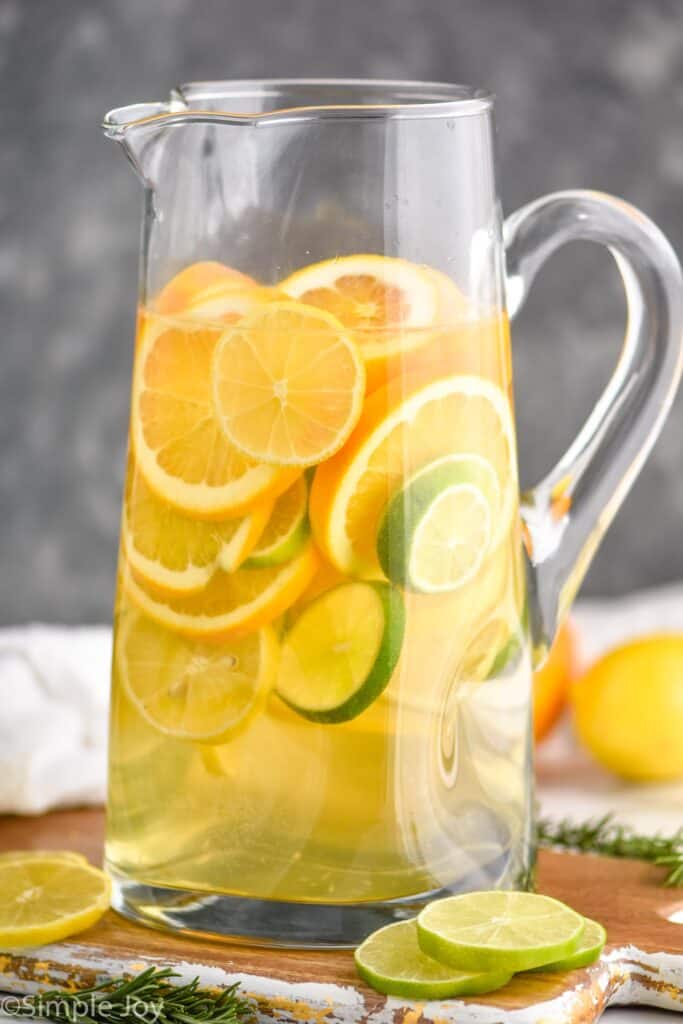 I love making recipes for you all year long, but there is something so special about making recipes for you to use at the holidays. I want them to not just be delicious and amazing, I want them to feel special. This is especially true this year when we are having holidays at home and wanting them to feel extra magical.
This delicious Citrus Sangria fits the bill! This white sangria is made with amazing citrus fruit I got at my local Meijer Store. One of the many things I love about Meijer is their produce selection. Every time I get fruits and vegetables from Meijer I can count on them being fresh and delicious!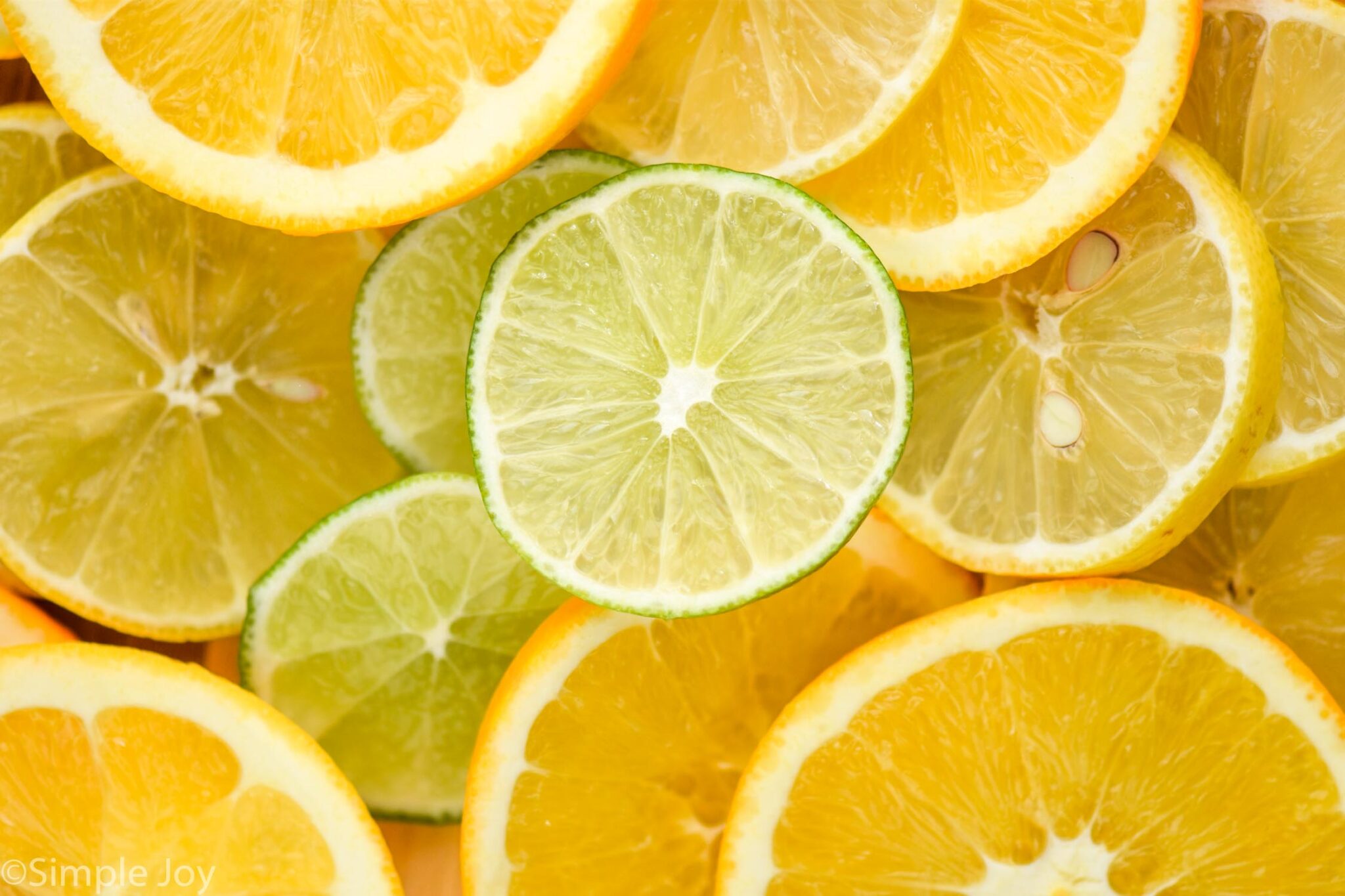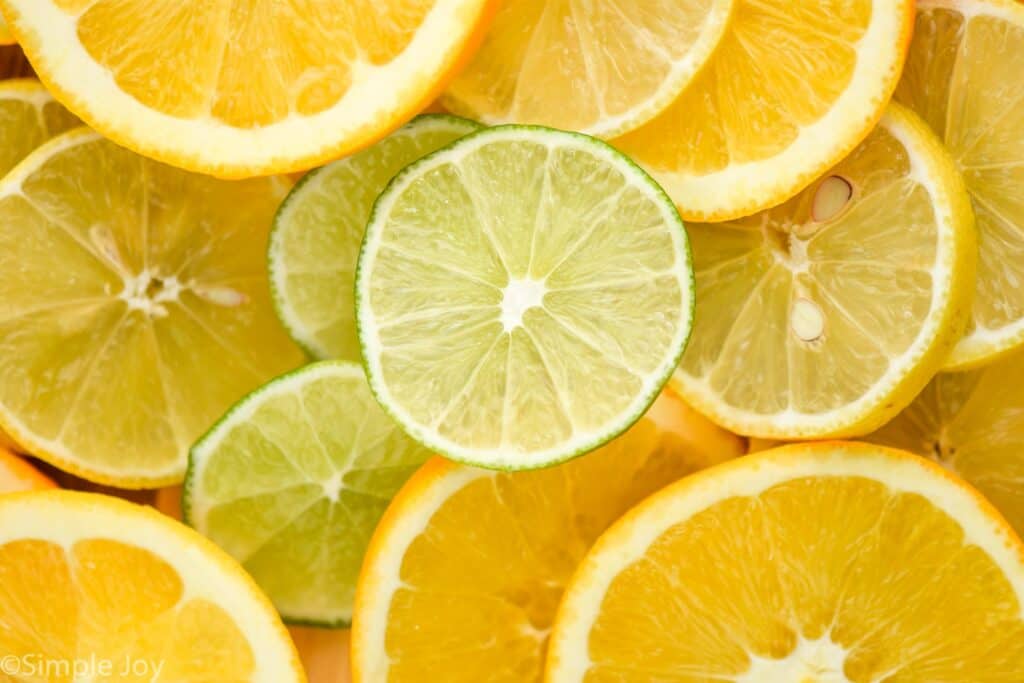 Citrus fruit is in season right now, so you can bet that I will be grabbing lemons, limes, and oranges every time I head to Meijer. I love their oranges and in my Cranberry Relish, and I will be grabbing some lemons too for the dressing in this Brussel Sprout Salad. They are great in so many recipes, full of Vitamin C, and with this unique ability to bring sunshine to the winter months.
Today I'm using my stock pile of citrus to make this simple sangria recipe. It is perfect for a small holiday get together, but would also be great for a book club or a ladies night in.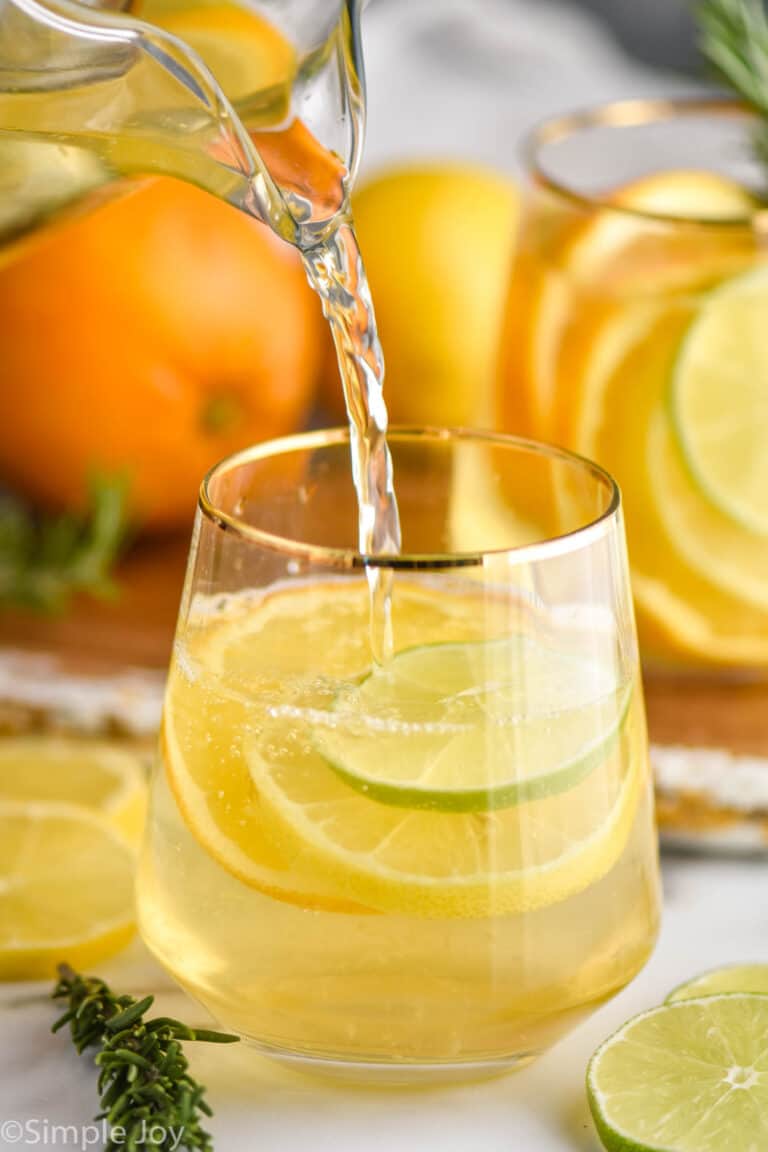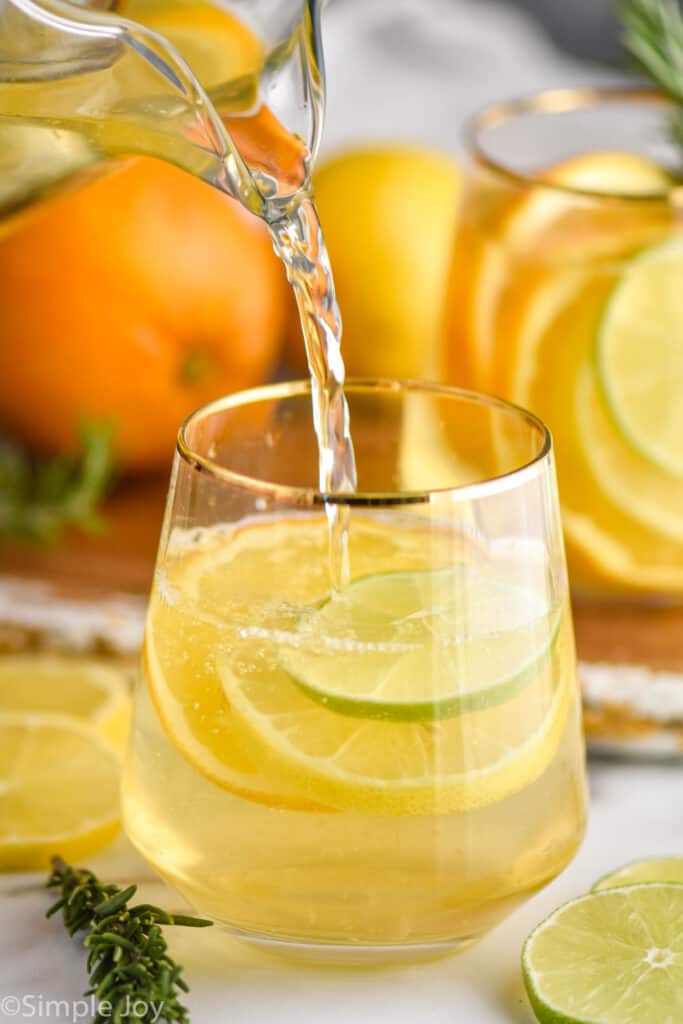 How to Make Sangria
Most sangria recipes consist of a base of wine, liquor, and fruit. There are lots of different things you can do with that simple combination. In this recipe we are taking advantage of in season citrus fruit to make an amazing Citrus Sangria.
Slice lemons, limes and oranges into slices that will easily fit in a wine glass.
Add chilled Riesling to a large pitcher (more on other wine options in a moment).
Now stir in citrus rum and orange liqueur.
Add the fruit to the pitcher and serve.
Orange Liqueur vs. Triple Sec
This recipe calls for orange liqueur. A lot of at home bars will stock triple sec rather than a higher end orange liqueur. The difference between the two is both quality and alcohol content. Orange liqueur has a better taste to it, more alcohol, and is higher quality. I highly recommend stocking your bar with this. It is perfect in my margarita recipe.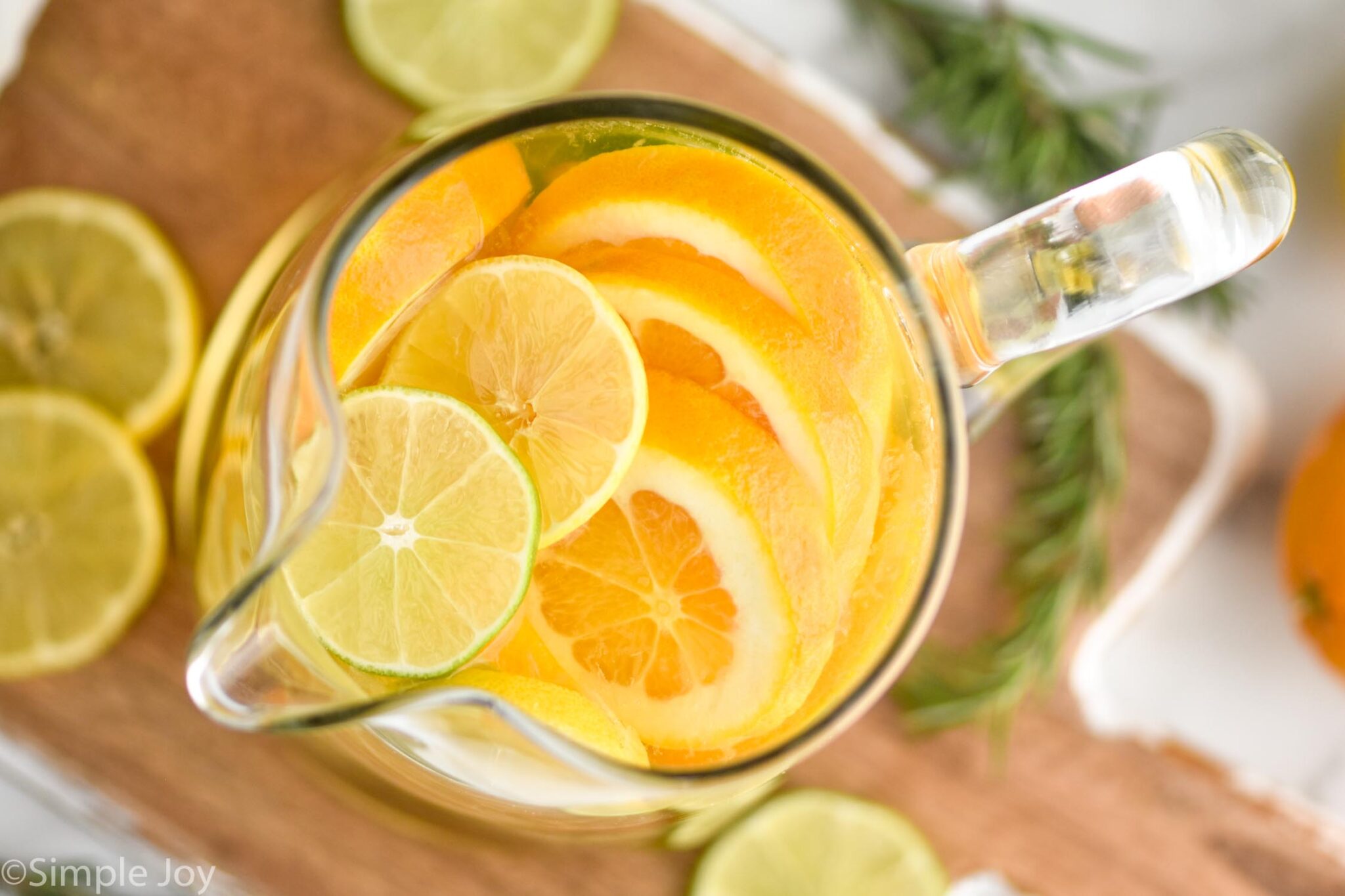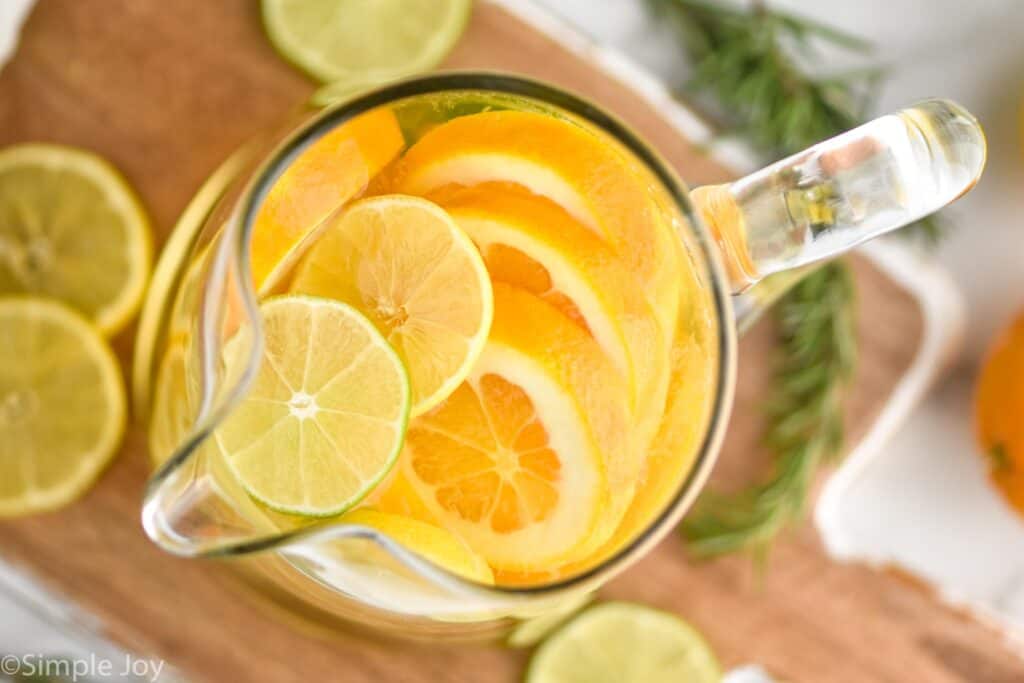 Picking the Right Wine
I love the wine selection at Meijer. I can always find what I'm looking for, and usually grab an extra bottle of something new to try too.
For this sangria recipe, I suggest using a sweet Riesling. It's the perfect amount of sweet for this recipe.
If you are looking for something sweeter, try a Moscato. If you want something less sweet, try using a Pinot Grigio.
If you have guests that run the range of what they like, I would suggest making it with Pinot Grigio and then putting a small carafe of simple syrup on the side for those who like it sweeter. You could also top glasses with lemon lime soda to sweeten things up.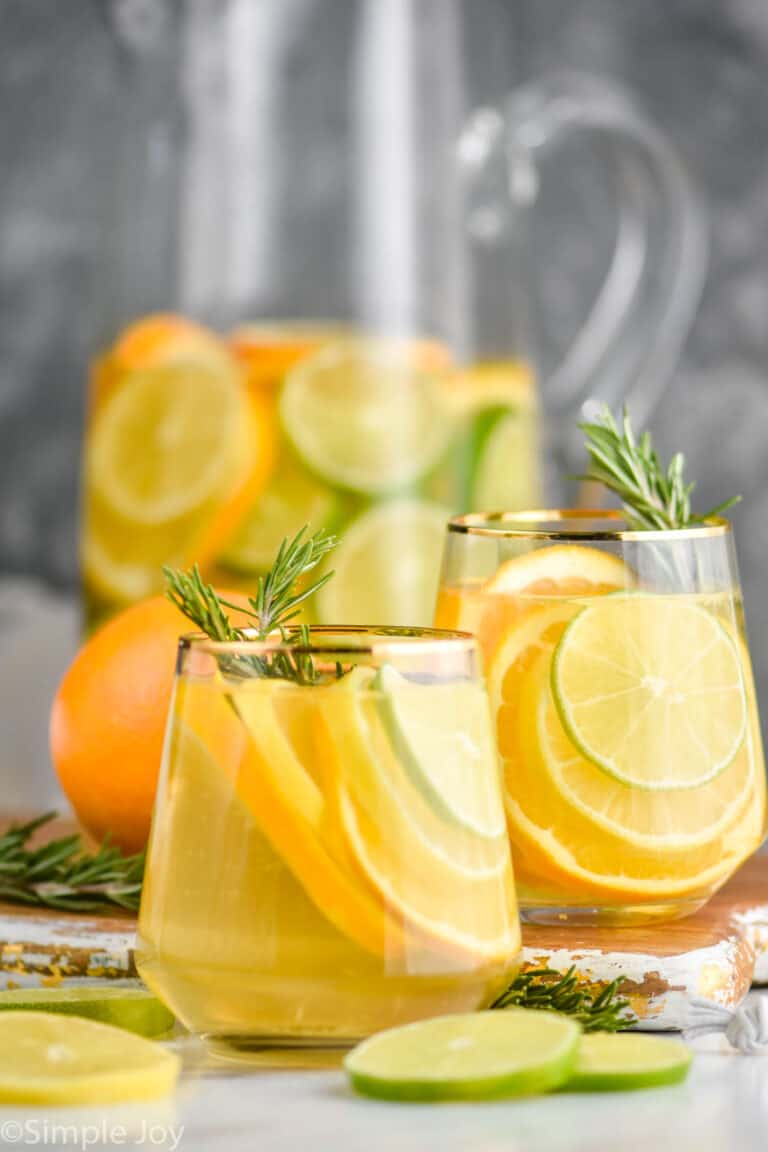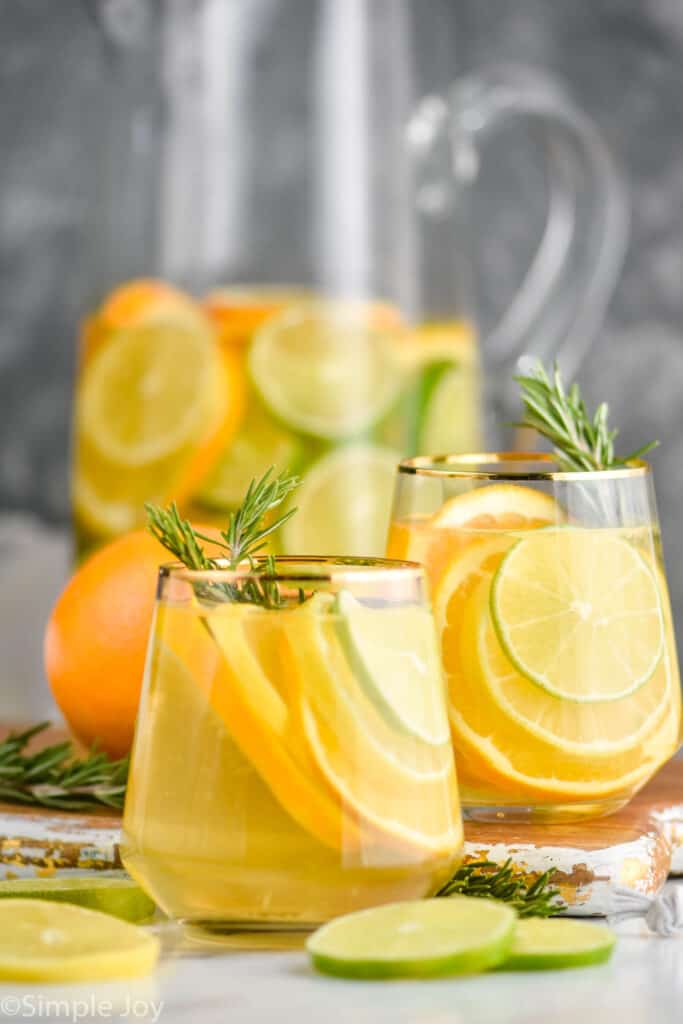 ROSEMARY SIMPLE SYRUP
If you are making this for a sweet little holiday party, you could make Rosemary Simple Syrup! To do this, make simple syrup as usual, and at the end add fresh rosemary sprigs. Allow it to steep in the syrup, come to room temperature, and then pull the sprigs out. Rosemary and citrus go together so well, you will love it.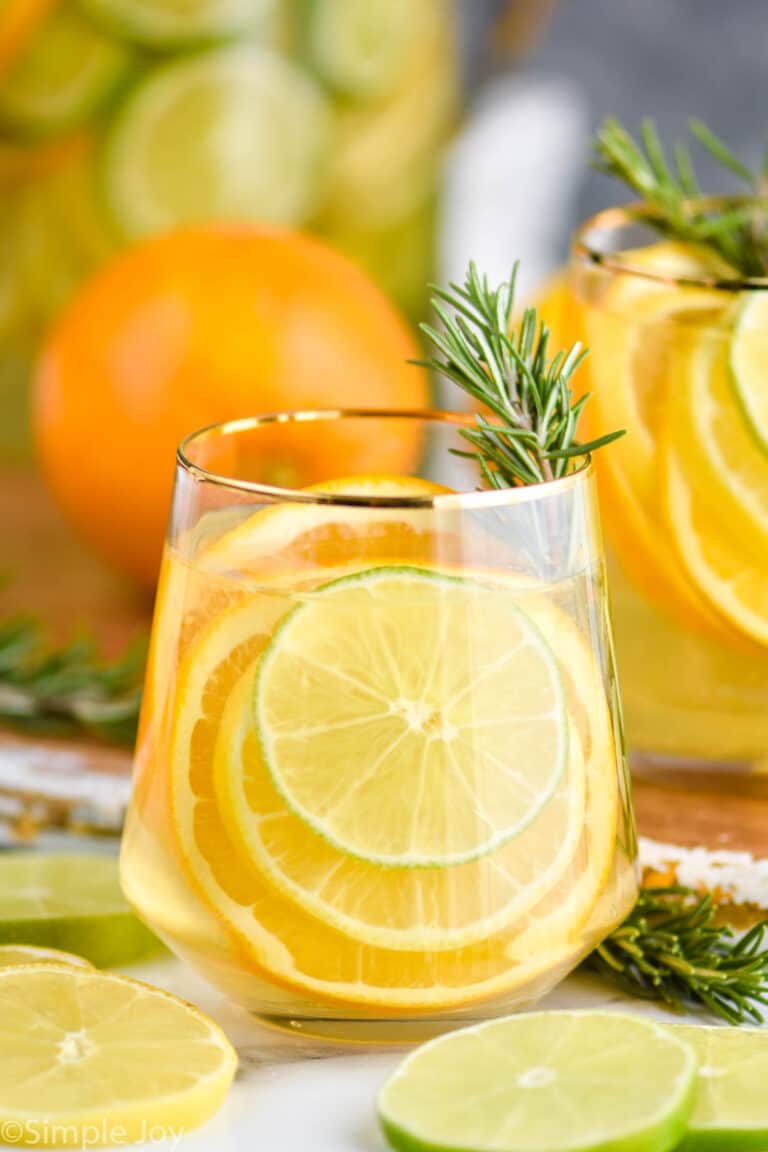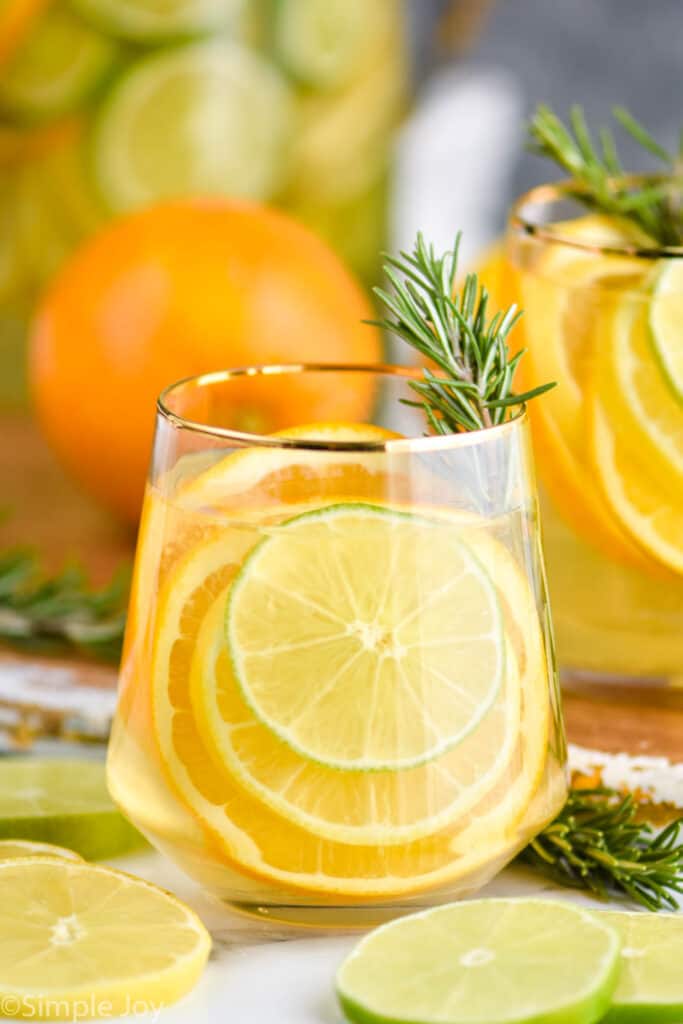 Other Food Fit For Entertaining
If you are hosting small get togethers this holiday season, here are some other great recipes.
Everything you see on this Charcuterie Board was found at Meijer. They have the best selection, and you could make a meal out of this for a few close friends.
My Top Round Roast Beef makes an amazing holiday meal. This is likely what our family of five will eat on Christmas Eve.
This Stuffed Pork Tenderloin is another delicious holiday meal perfect for a small group.
If you make this great Citrus White Sangria, leave me a comment and let me know what you think!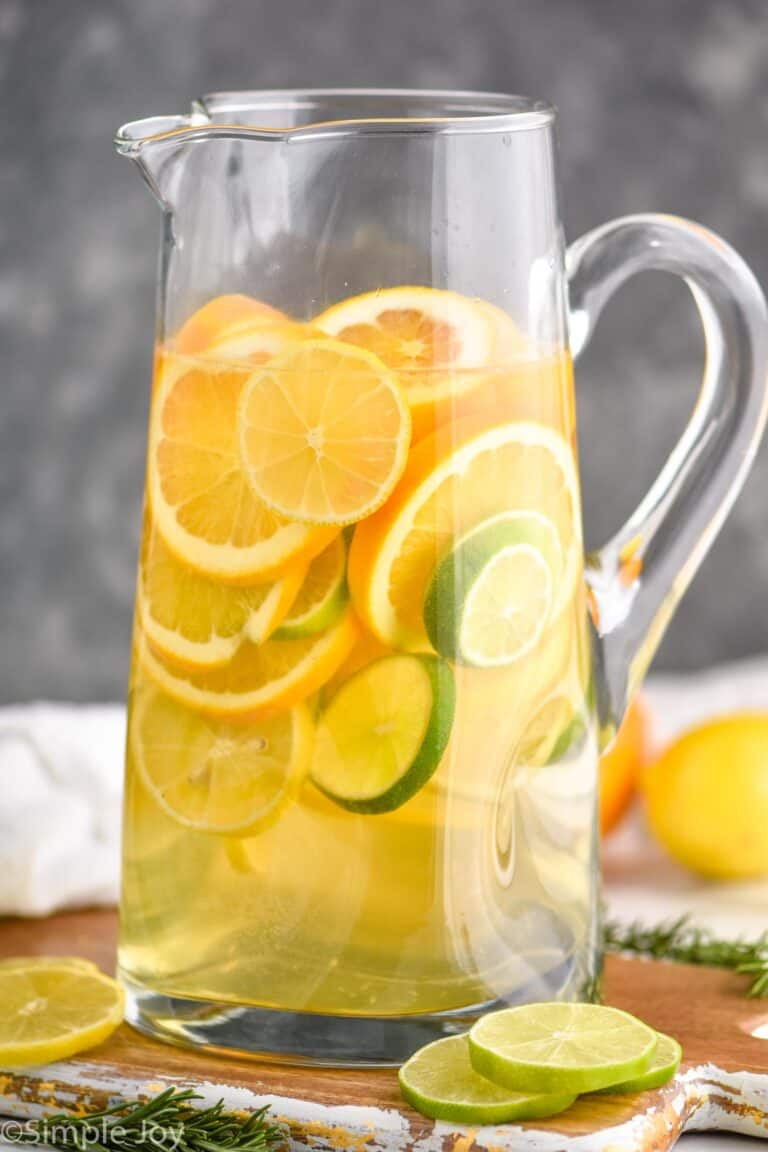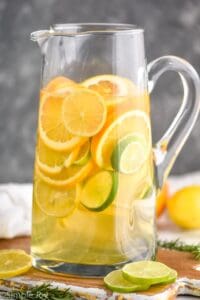 Citrus Sangria
Citrus Sangria is an easy white sangria recipe that is perfect for a book club, ladies night in, or holiday party. You will love how easy this sangria is!
Ingredients
2

limes

sliced

2

lemons

sliced

2

medium navel oranges

sliced

750

milliliters

Riesling

1/2

cup

citrus rum

2

ounces

orange liqueur

lemon lime soda

optional
Instructions
In a large pitcher, mix together the wine, citrus rum, and orange liqueur.

Add the sliced fruit and serve. Top glasses with lemon lime soda, to stretch this recipe further.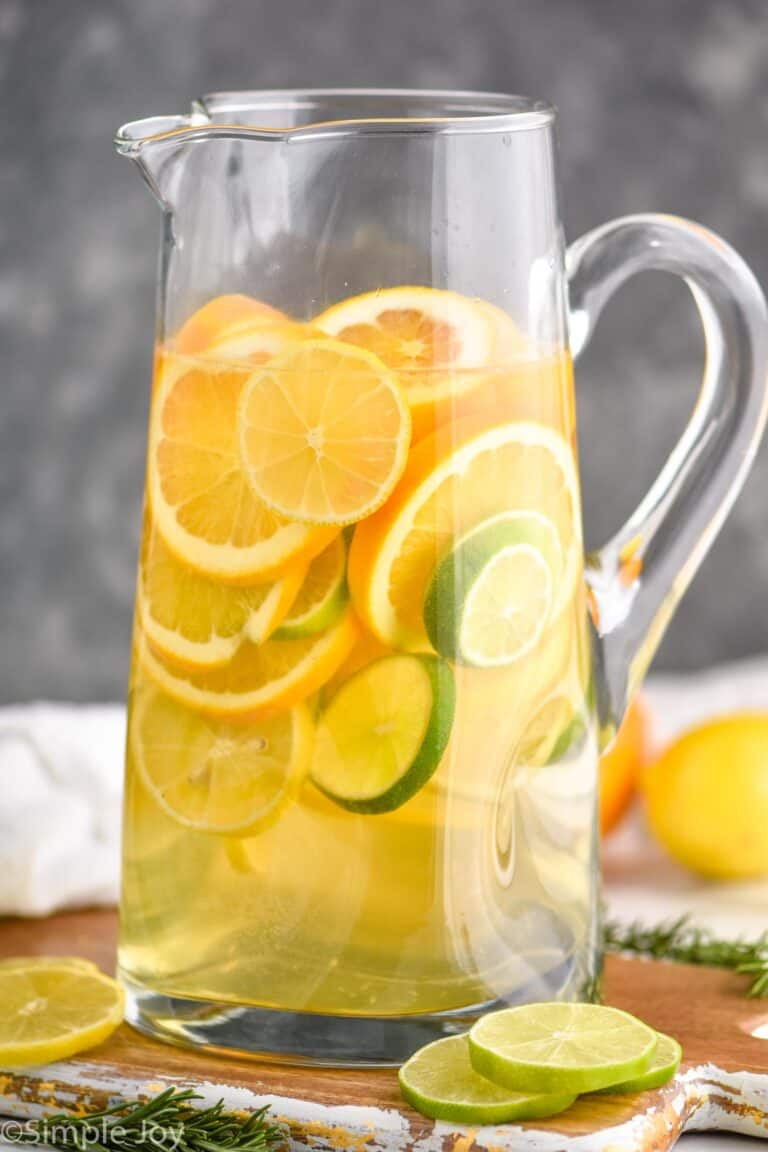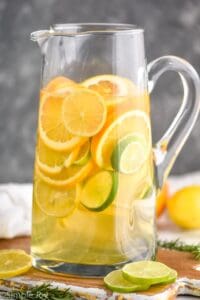 did you make this
Citrus Sangria