This Turkey Burger Recipe is truly delicious! It's lighter in fat than a traditional burger, but moist and full of flavor. A hit for everyone!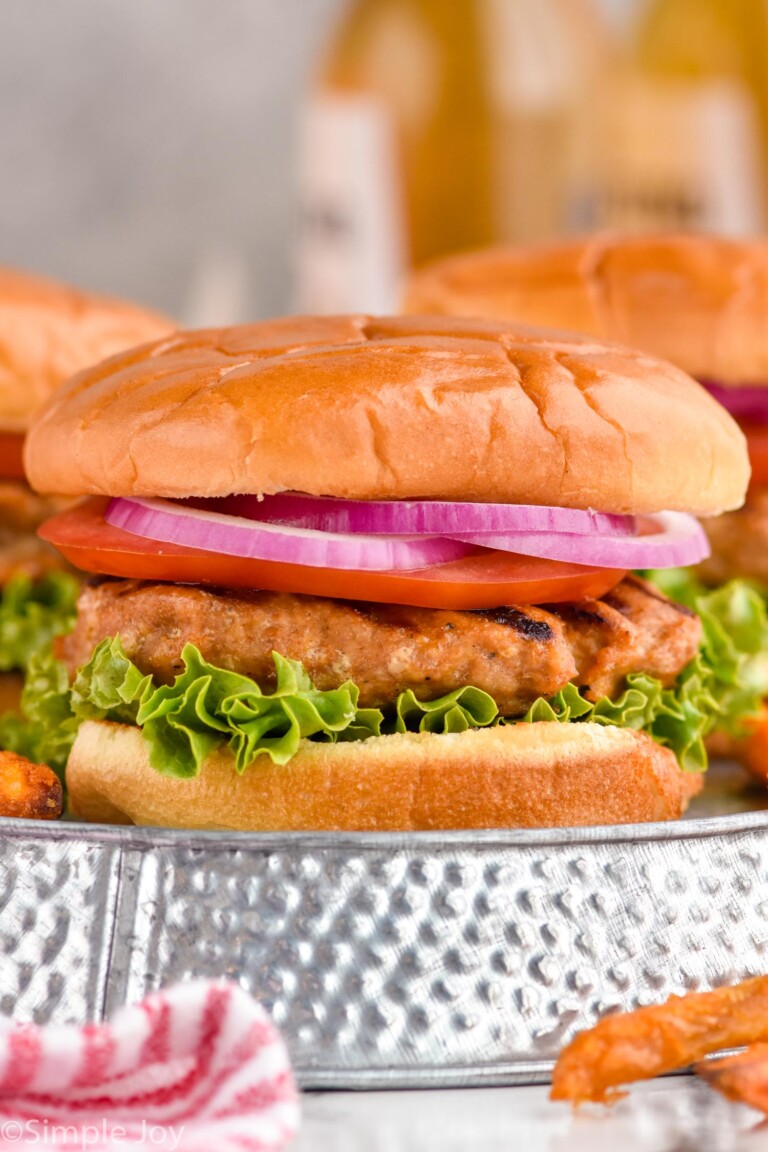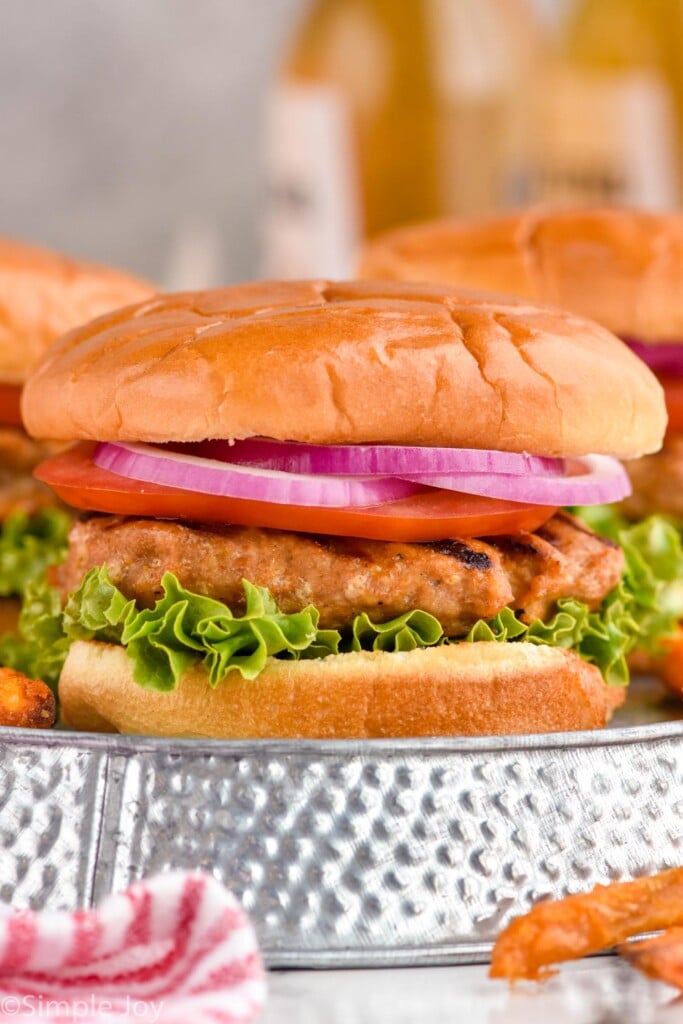 Our grill works over time in summer because it makes for such easy dinner recipes. On the days when we don't want to stand over a stove or heat up our house by turning on our oven, the grill is our perfect solution.
Also, can I just say that eating dinner outside somehow feels like a vacation?
If you need a backyard vacation too, then you are going to love these easy Turkey Burgers. The flavor starts with the seasonings in my Hamburger Seasoning and makes these truly delicious. Your family is going to love this great turkey burger recipe.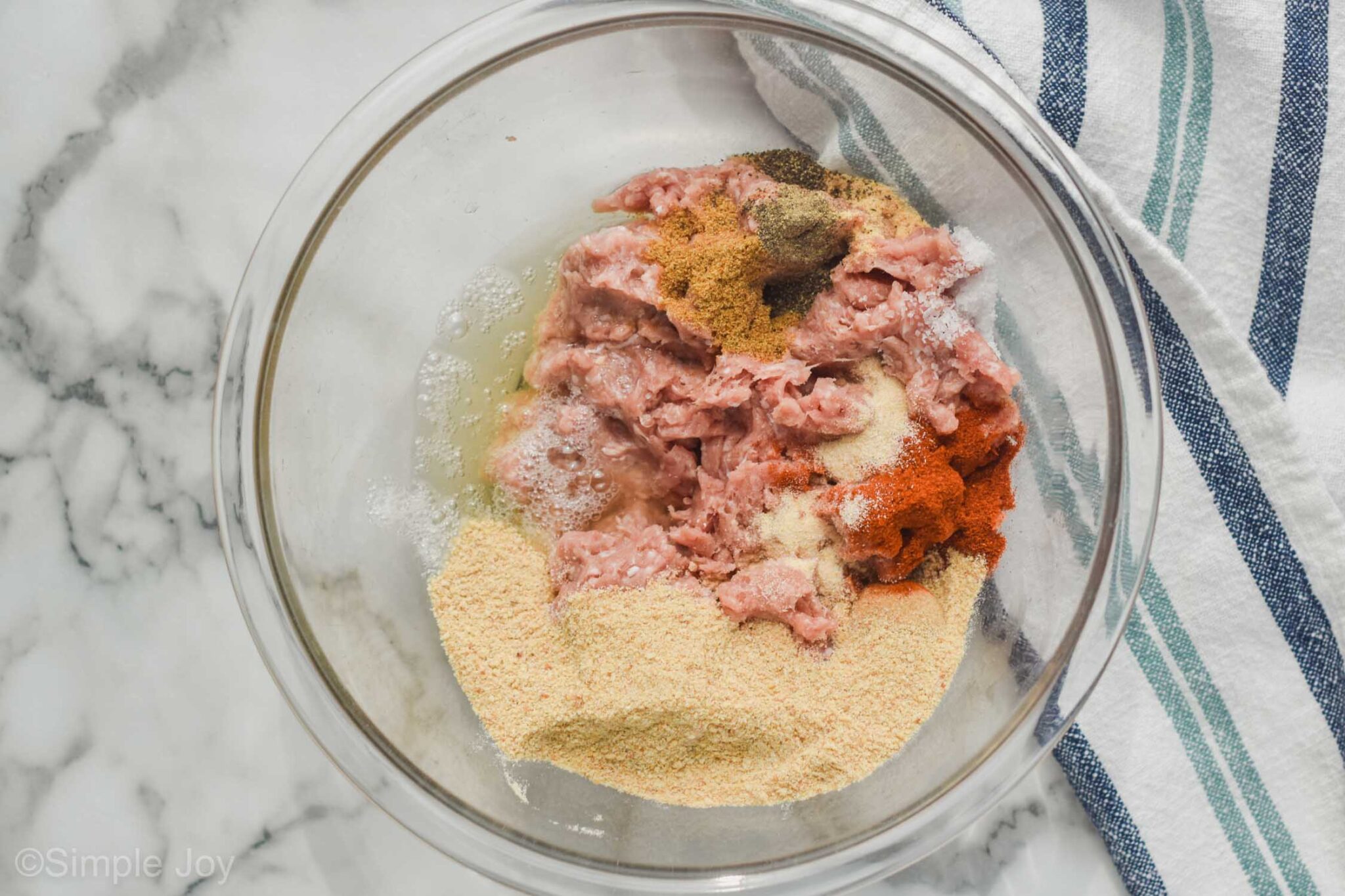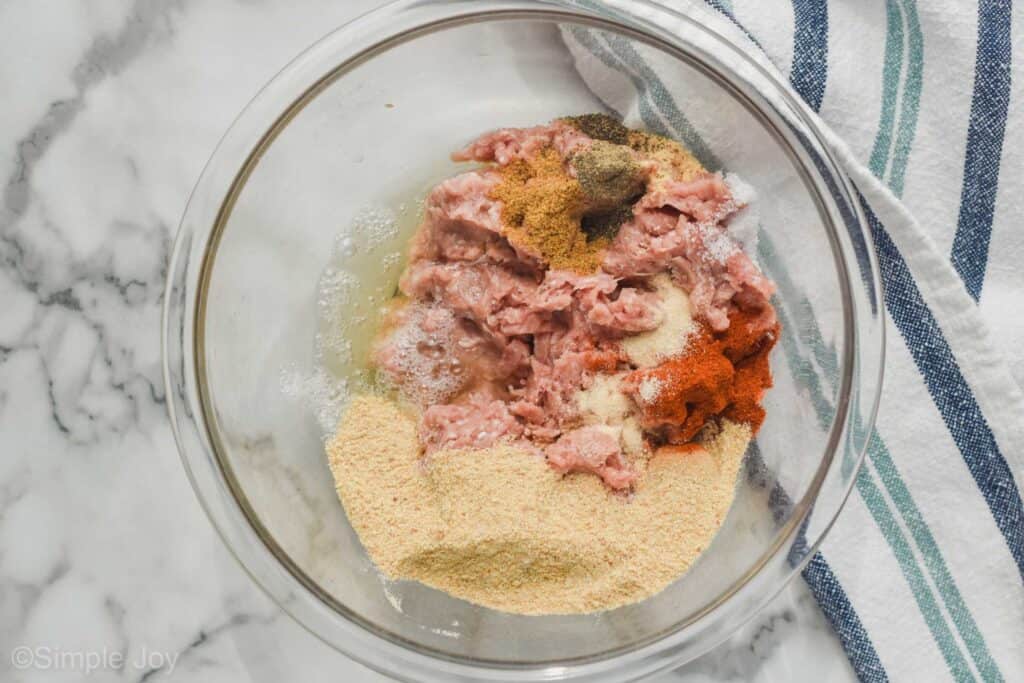 How to Make Turkey Burgers
This is a brief over view of how to make these delicious burgers. For the full recipe with all the measurements see the recipe card at the bottom of the post.
Combine all of the ingredients. Mix very well in a bowl to ensure that the spices are well distributed throughout the burgers.
Divide mixture into burgers. In the same bowl, gently push the mixture down so it is level in the bottom of the bowl. Then divide the mixture evenly into four burgers. (See photo above.)
Shape patties. They will be roughly four inches across.
Grill. For about 5 minutes on each side or until they reach an internal temperature of 165 degrees. Or cook them in a lightly greased skillet.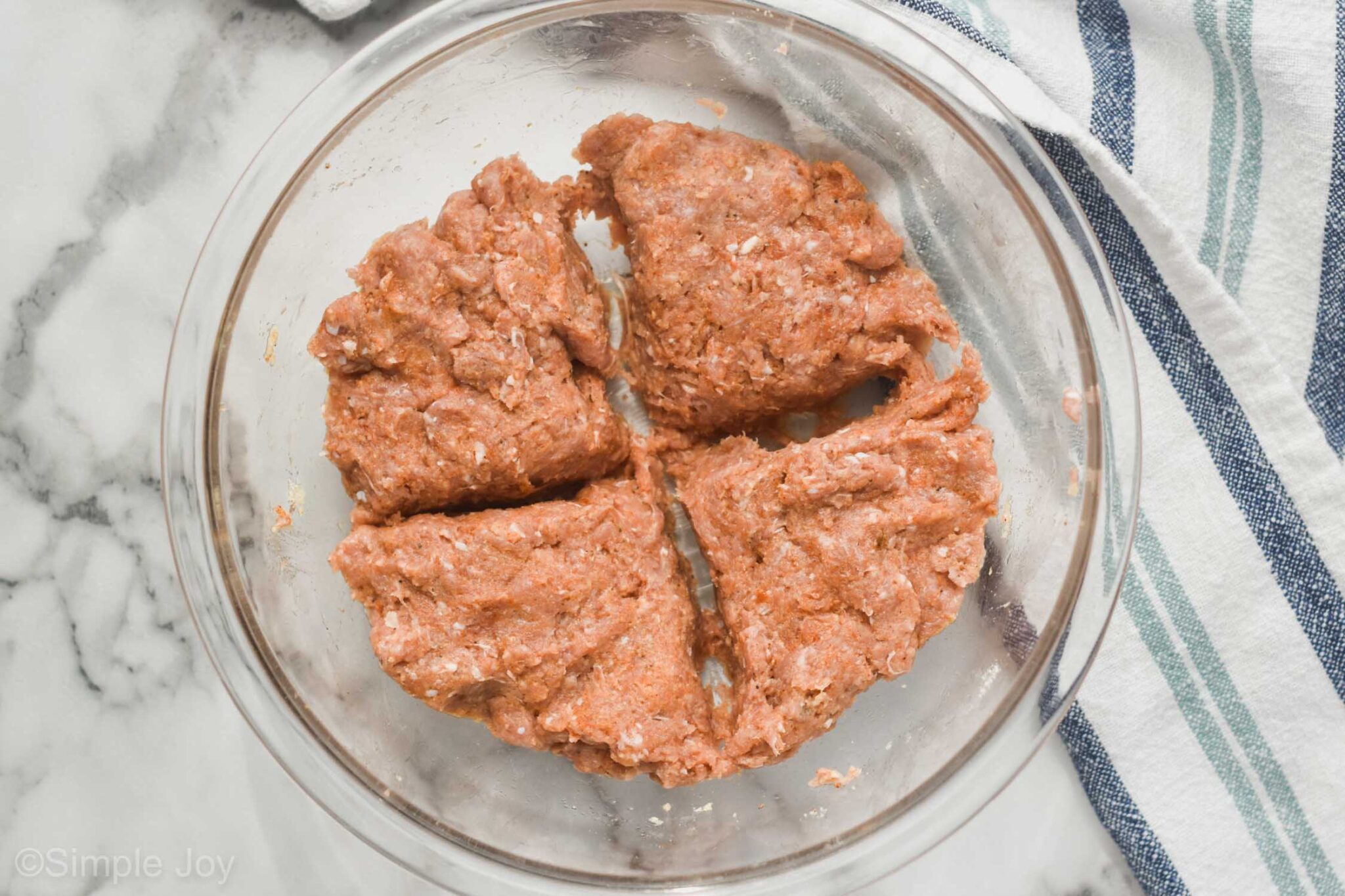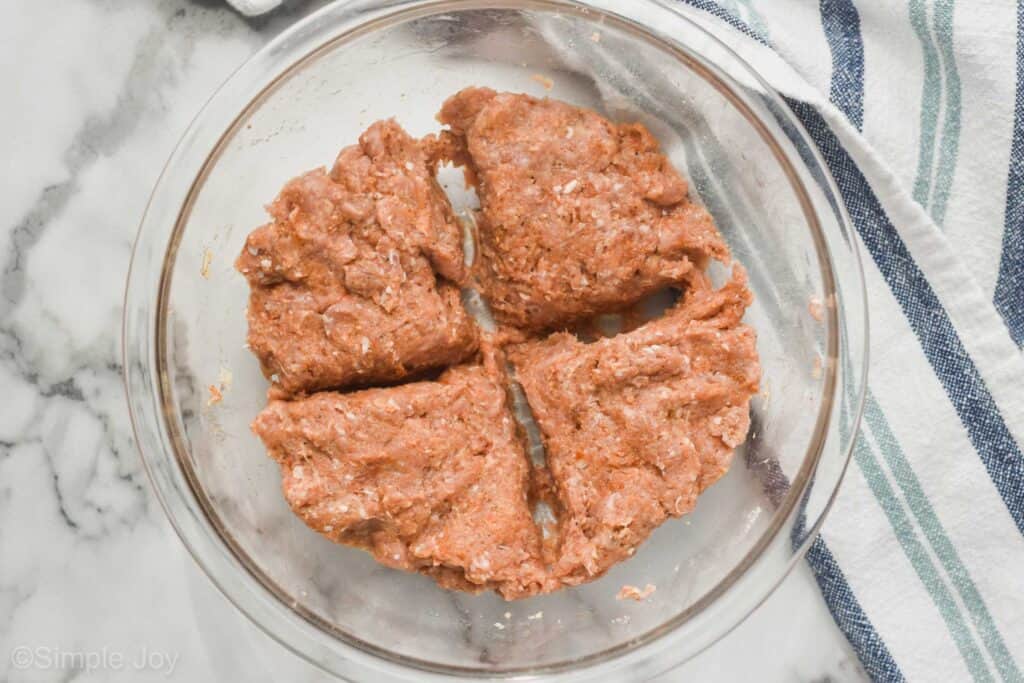 Adding Eggs and Breadcrumbs to Burgers
I initially made this recipe without the bread crumbs and the egg whites, just like we make regular hamburgers. But they just weren't right. They ended up not being moist enough. The breadcrumbs pull moisture from the meat and keep it in the burger, rather than it evaporating during cooking. Egg whites also bring moisture, while helping to bind the burgers together after adding those breadcrumbs. The addition of these make this the best turkey burger recipe.
While they add some calories to your burger, a little bit of bread crumbs and egg whites seem worth it to make a turkey burger you actually want to eat. In addition to making the burger moist, they help to bind the ingredients together and maintain their shape.
Homemade Breadcrumbs
If you are ever running low on breadcrumbs, this is a great substitution! Super easy and comes in really handy.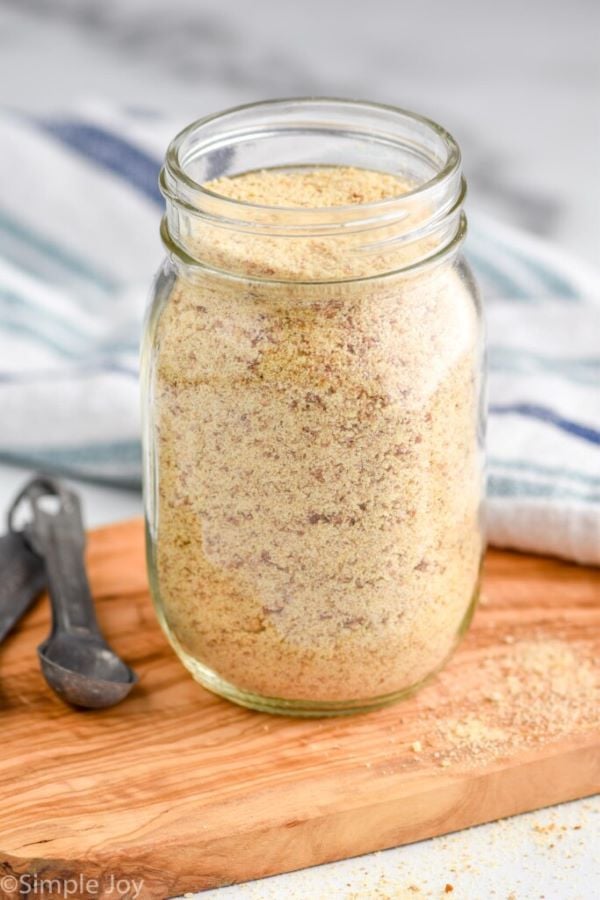 Hamburger Seasoning
You will notice that this recipe calls for a lot of seasonings. That comes from my Hamburger Seasoning recipe. It makes burger perfection. You will notice that for this recipe I break all of the spices down. But you might prefer to make a big batch of my hamburger seasoning to keep on hand. If you do that, skip all those seasonings and add 1 tablespoon of hamburger seasoning.
Hamburger Seasoning
This Hamburger Seasoning comes together with simple ingredients and can be made in a big batch to have on hand all grilling seasoning.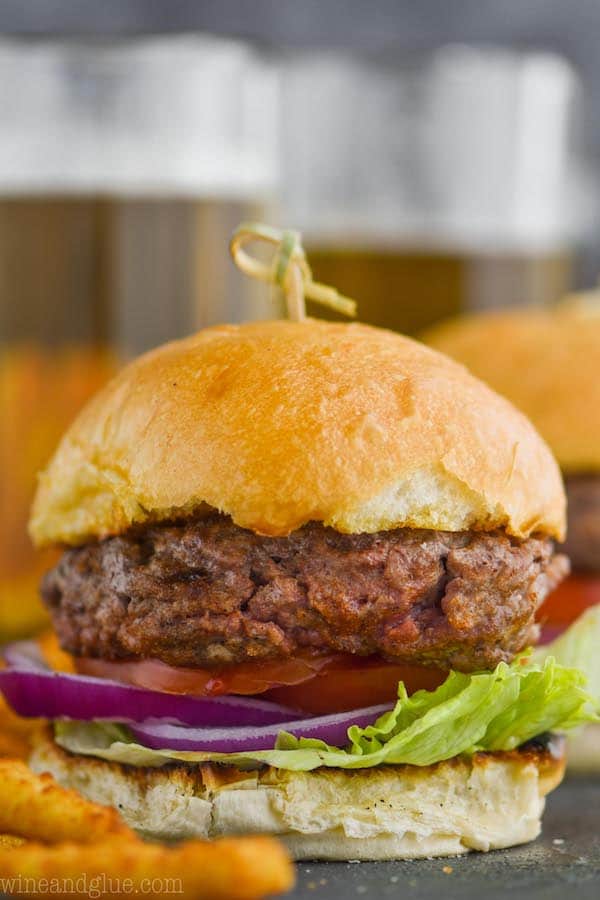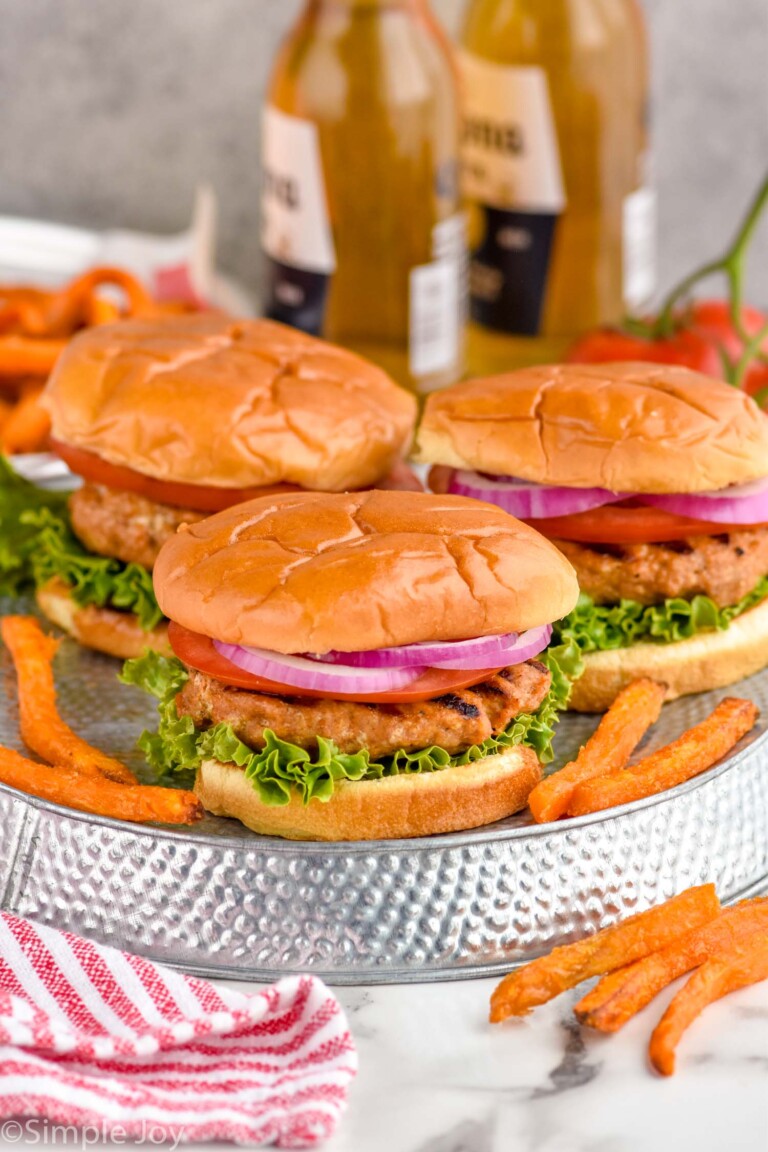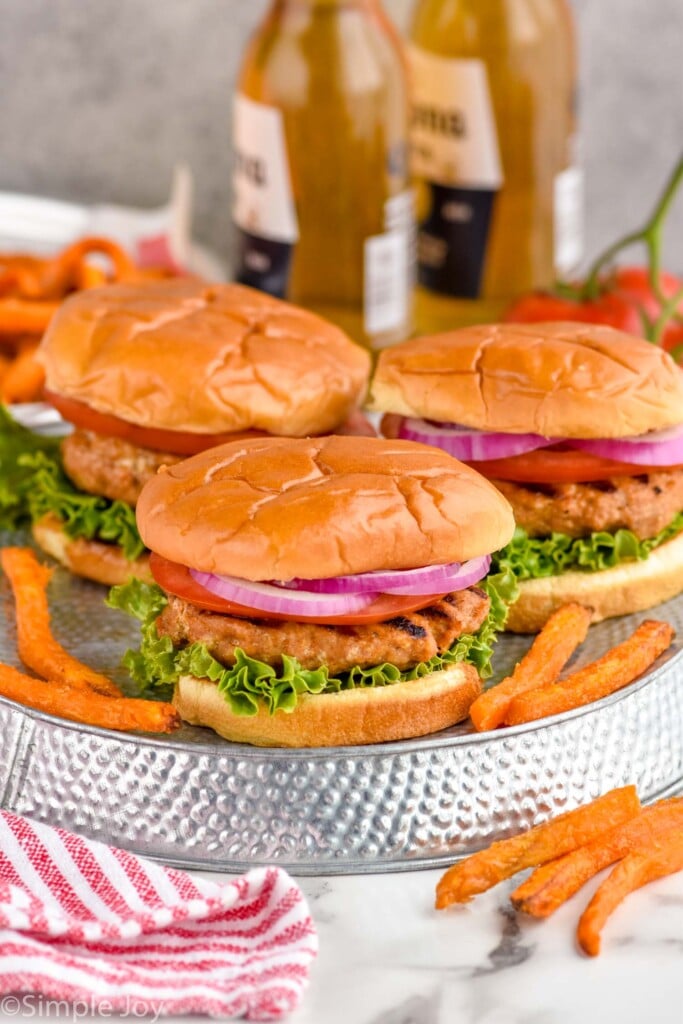 Making Indoors
While these make for a great patio dinner, you can make these all year long on an indoor grill. This is the one that we love, and it is perfect for cooking four turkey burgers.
TOP PICK
Grill Pan
This small grill pan is perfect for making burgers indoors all year long!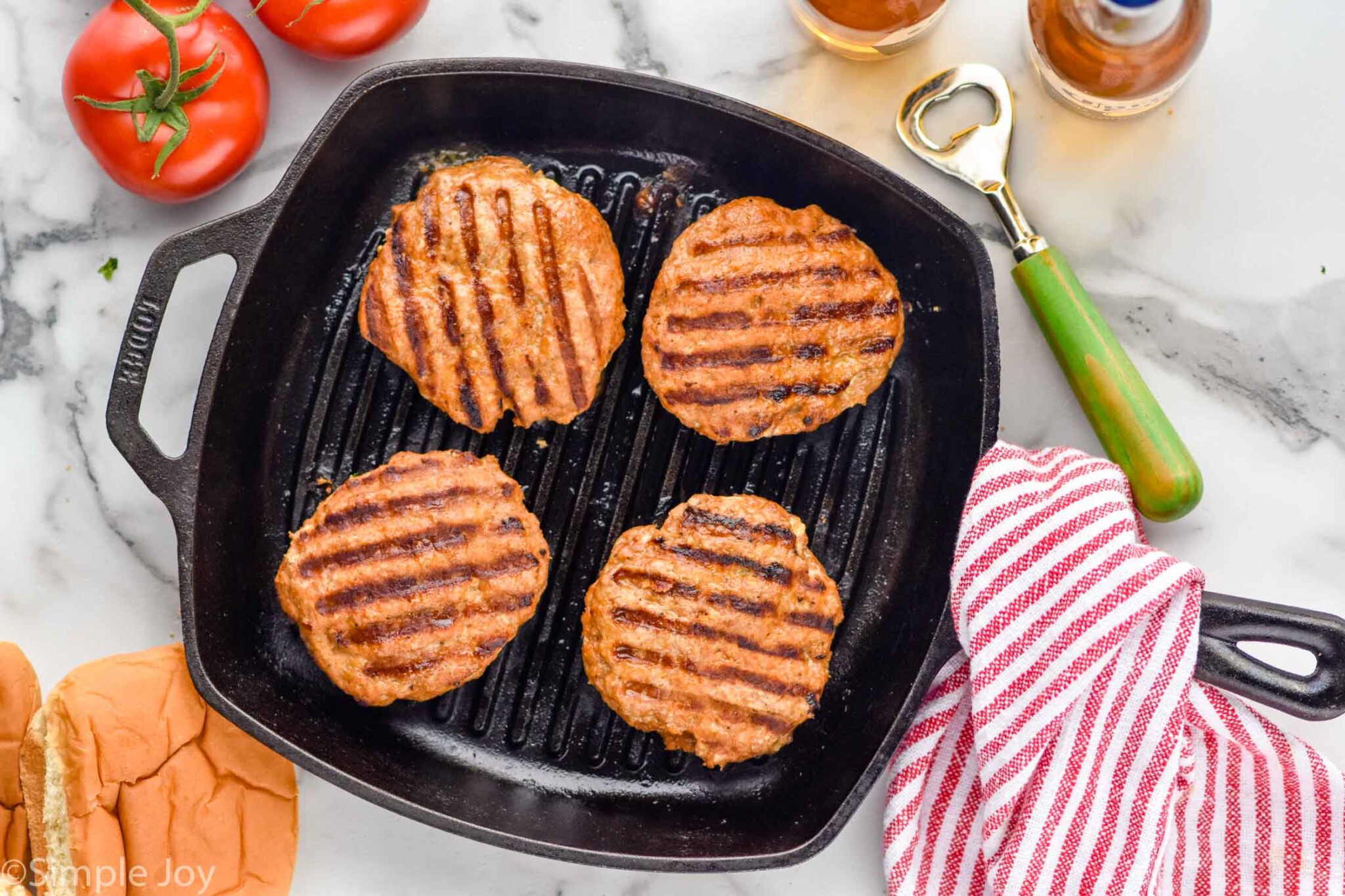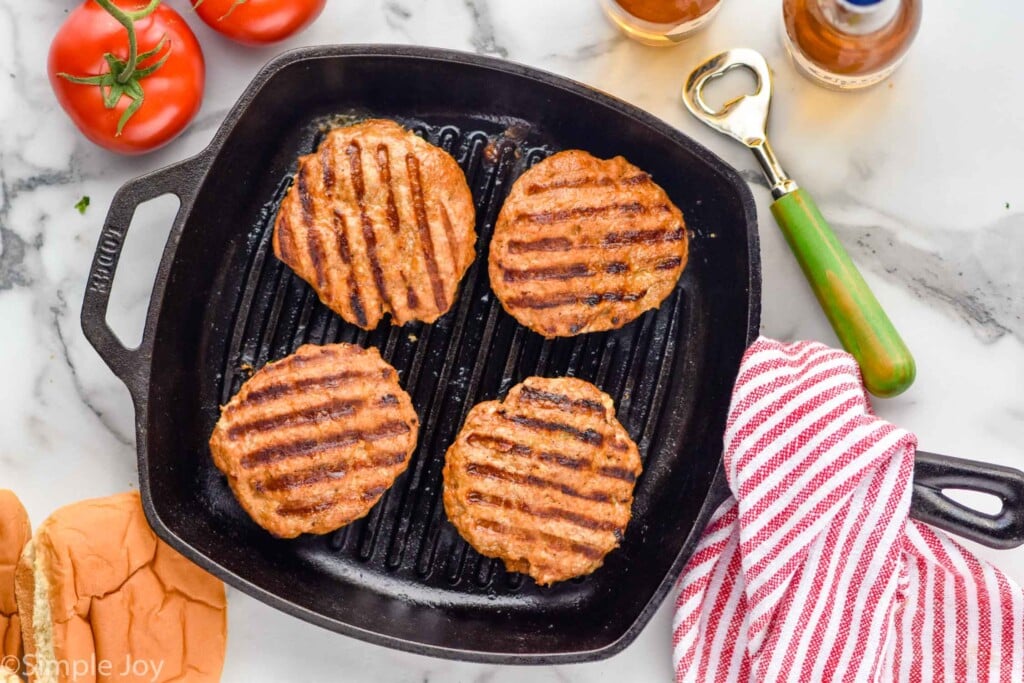 Make Ahead and Freezing
You definitely could mix up the patties for these the night before. Be sure to stack them with wax paper between the patties and store them in an air tight container in the refrigerator so they don't stick together.
Additionally, you could do the same method of stacking and freeze them. These would store in the freezer in an airtight container for up to 3 months. They can be cooked from frozen, just know that you will have to cook them a bit longer and monitor their internal temperature.
Calories in a Turkey Burger
These Turkey Burgers clock in at 197 calories a patty. This is just slightly lower than a beef hamburger. Keep in mind, however, that they have about half the fat content that a beef hamburger has.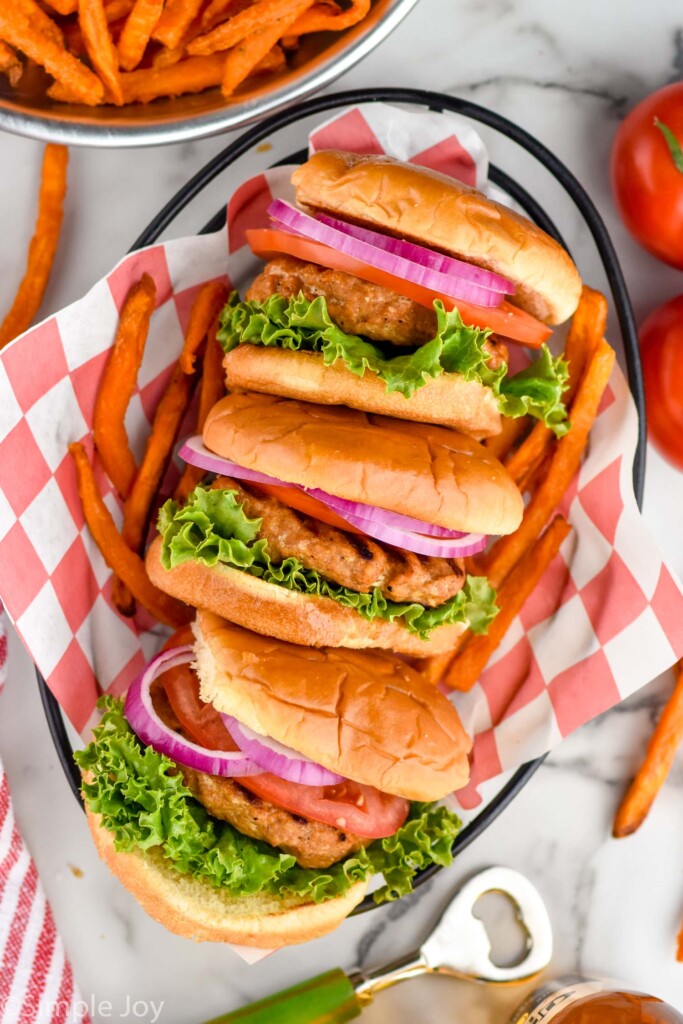 What to Serve with Turkey Burgers
There are so many great recipes that would go perfectly with my turkey burgers. This is what would ideally be in front of me in my backyard vacation.
If you make my Turkey Burger Recipe or any of my other recipes please leave me a comment and let me know what you think!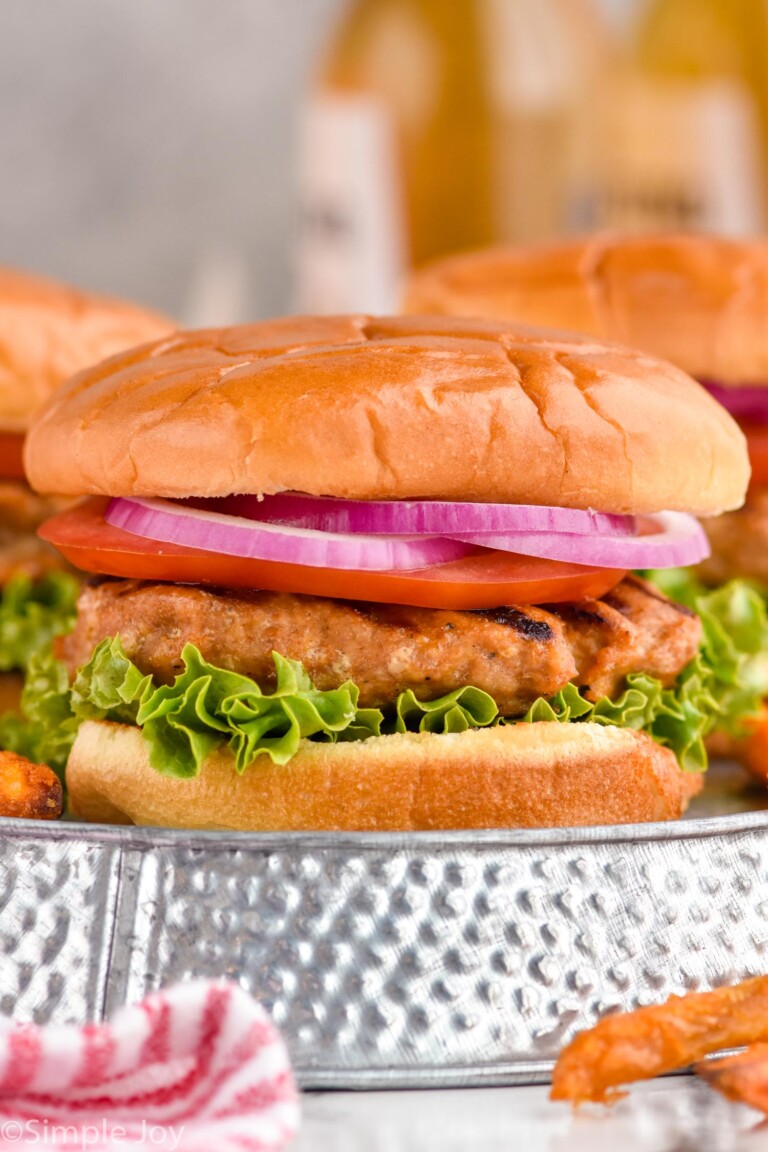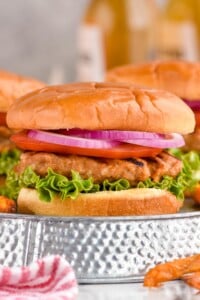 Turkey Burger
This Turkey Burger Recipe is truly delicious! It's lighter in fat than a traditional burger, but moist and full of flavor. A hit for everyone!
Ingredients
1

pound

93% lean ground turkey

2

egg whites

whisked

1/4

cup

bread crumbs

1

teaspoon

paprika

1

teaspoon

brown sugar

1/2

teaspoon

onion powder

1/2

teaspoon

salt

1/4

teaspoon

black pepper

1/2

teaspoons

garlic powder

1/2

teaspoon

cumin
Instructions
Preheat your grill to 375 degrees.

In a large bowl mix together the ingredients until well combined. Divide evenly into four, shape them into four patties that are roughly 4 inches across.

Grill the turkey burgers for 5 minutes on each side or until an internal thermometer registers 165 degrees. (Alternatively, using a small amount of cooking oil, cook in a skillet.)

Serve on a bun with ketchup, tomato, red onion, and letucce.
Notes
Please note that the nutritional information is based on the patty alone and not any toppings or bun as those vary greatly.
Serving:
1
burger
Calories:
198
kcal
(10%)
Carbohydrates:
6
g
(2%)
Protein:
25
g
(50%)
Fat:
8
g
(12%)
Saturated Fat:
3
g
(19%)
Cholesterol:
65
mg
(22%)
Sodium:
479
mg
(21%)
Potassium:
55
mg
(2%)
Sugar:
1
g
(1%)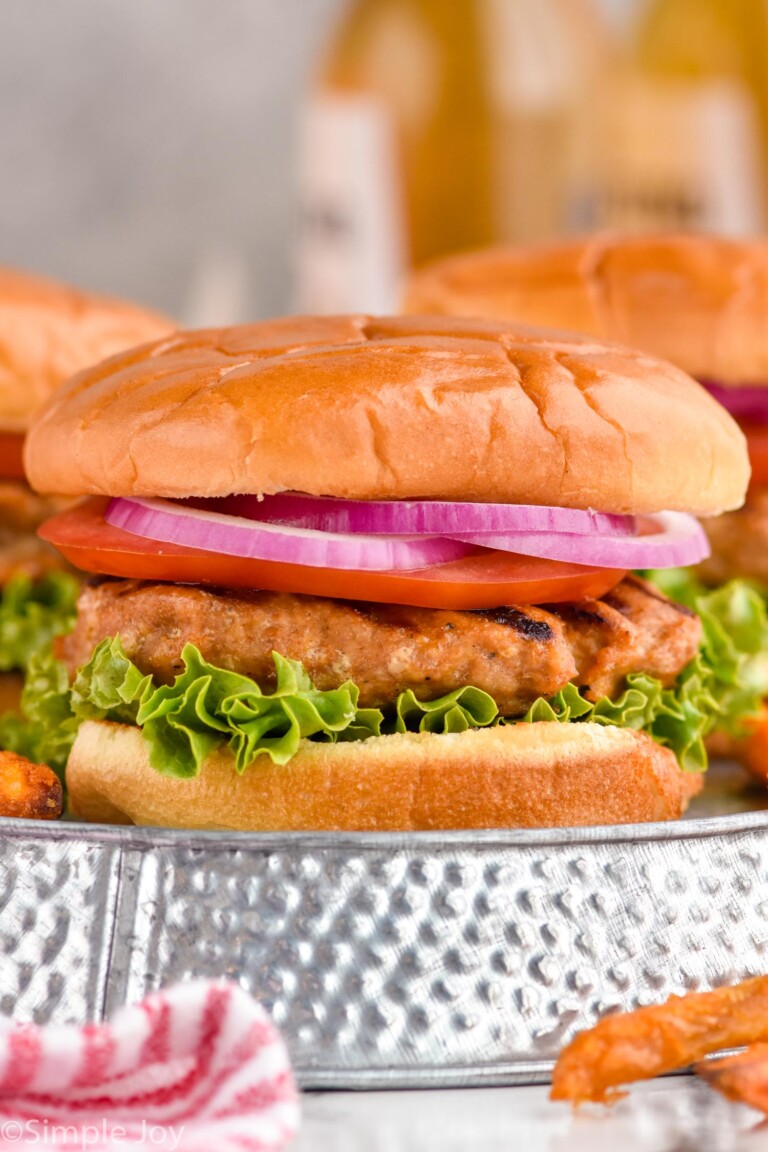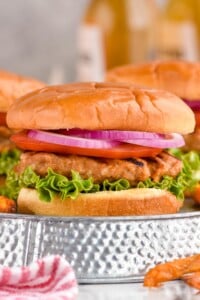 did you make this
Turkey Burger