Even the guest who doesn't like nuts in their dessert will fall head over heels for this delicious and easy Pecan Pie Recipe!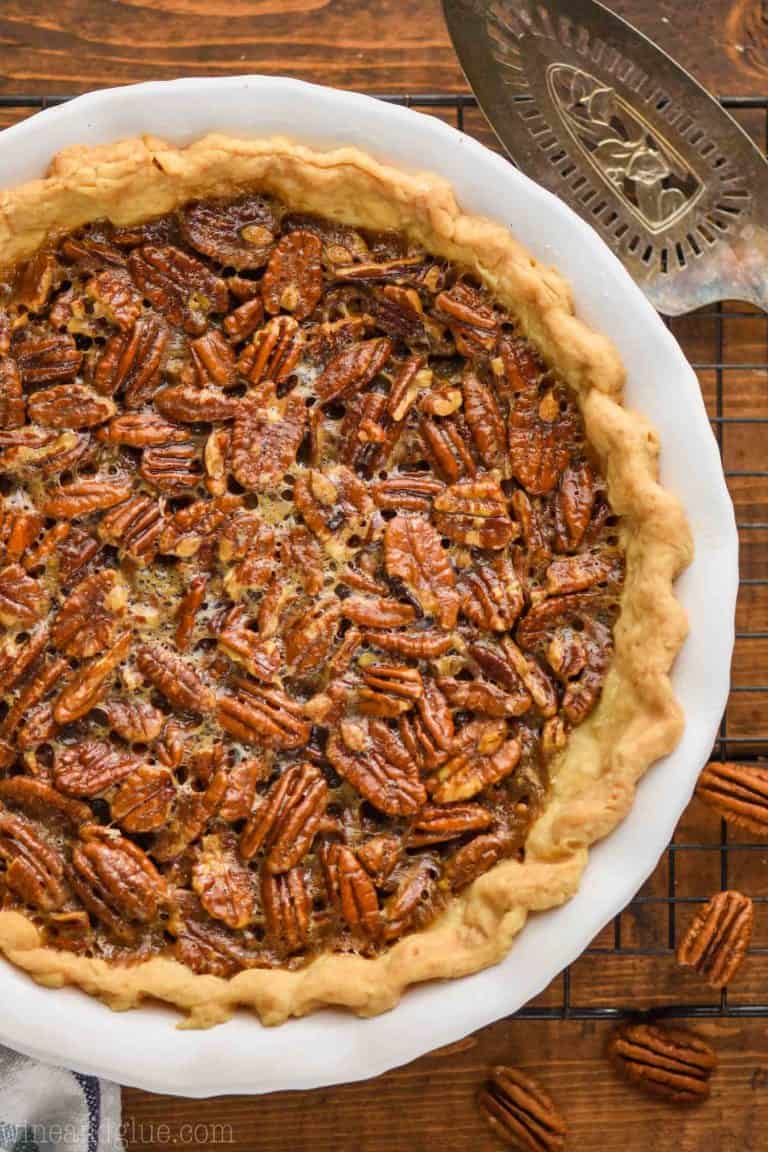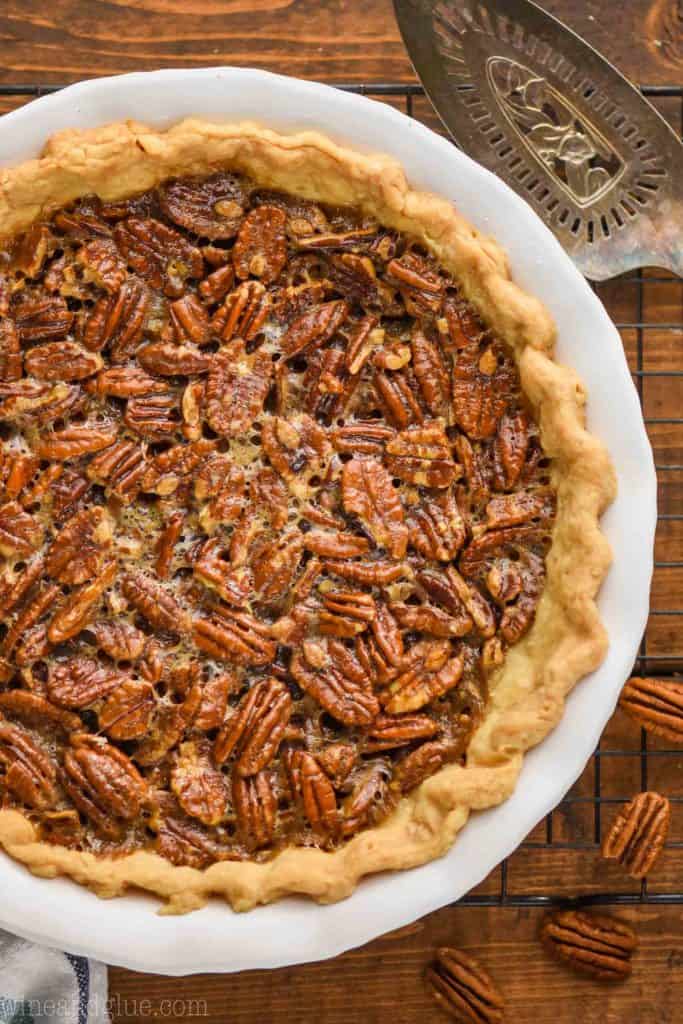 I am embarrassed to admit that it was painfully recent that I first tasted Pecan Pie.
As someone who despises nuts in my desserts, it seemed like an obvious choice to pick pumpkin over pecan. But I can now say that I am a full on convert.
Pecan Pie tastes like your favorite childhood memory dipped in caramel sauce. The brown sugar combined with delicious vanilla flavor and all baked with pecans that soften and deepen in flavor will make anyone a convert to this delicious and amazing dessert.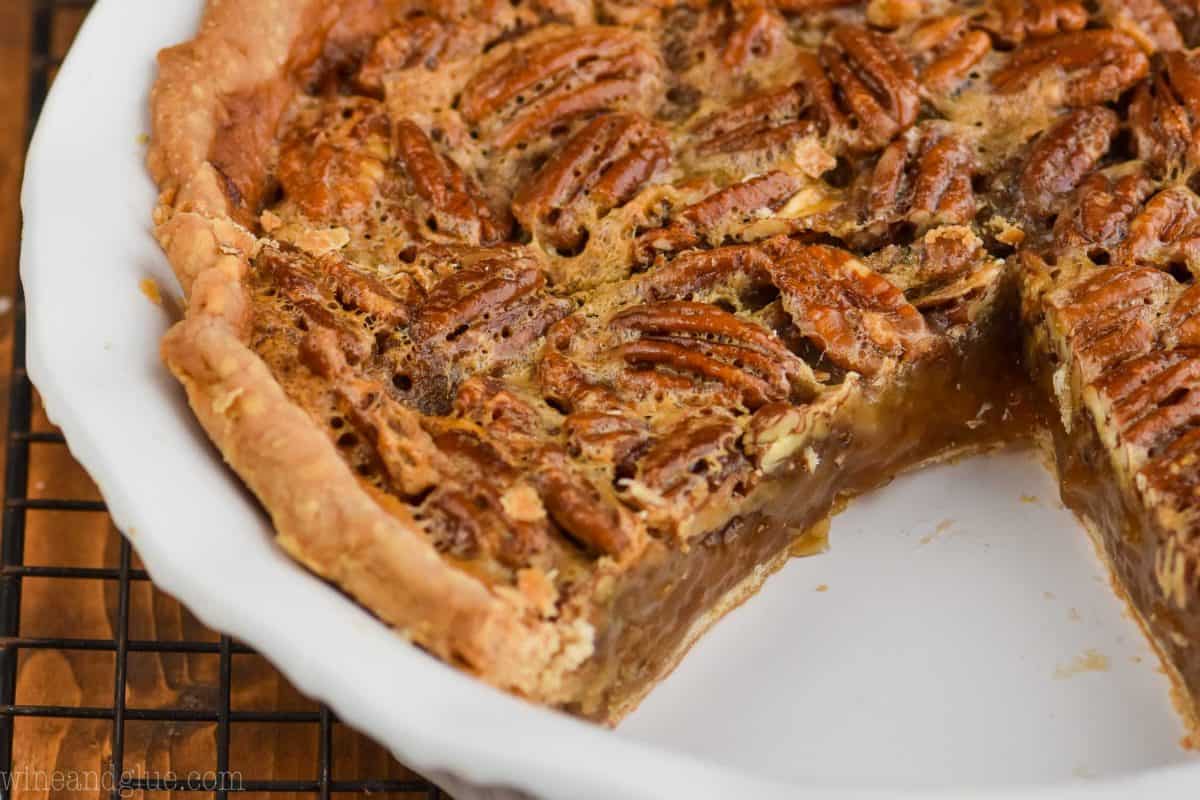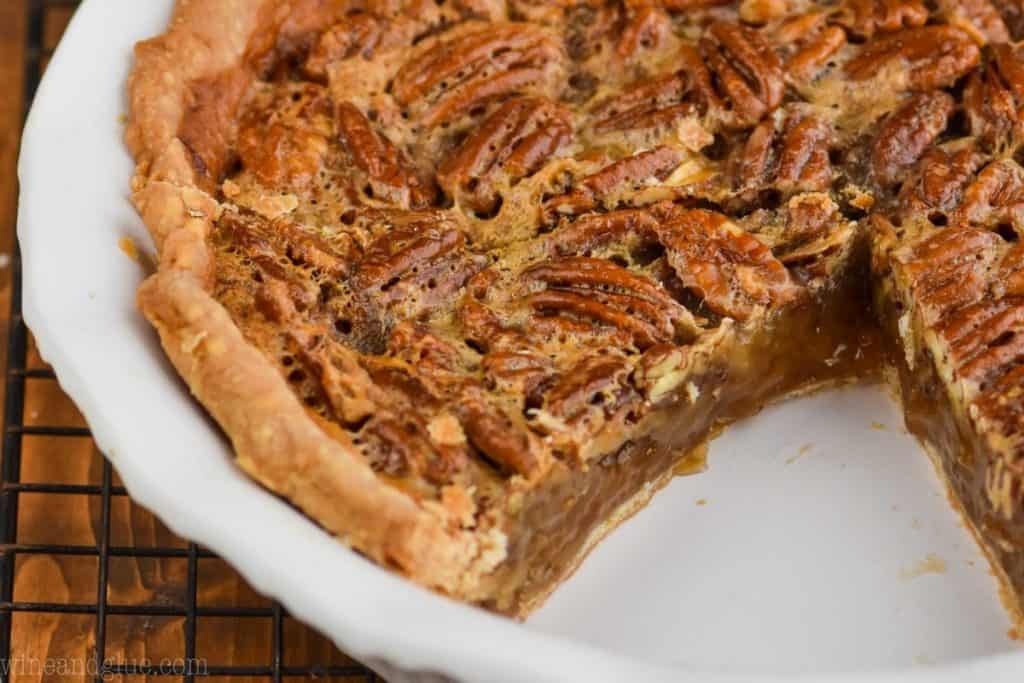 COMMON ISSUES WITH PECAN PIE
Before we start making this pecan pie recipe, I want to address some issues that come up, so you know why we're doing what we're doing.
Some Pecan Pies:
Have crust that doesn't cook all the way through, or doesn't taste great.
Are overly sweet.
Can curdle.
Are shy when it comes to letting their vanilla flag fly.
This pie has none of those issues and is one you will eat right from the pie plate as soon as Aunt Sandy turns her back on you.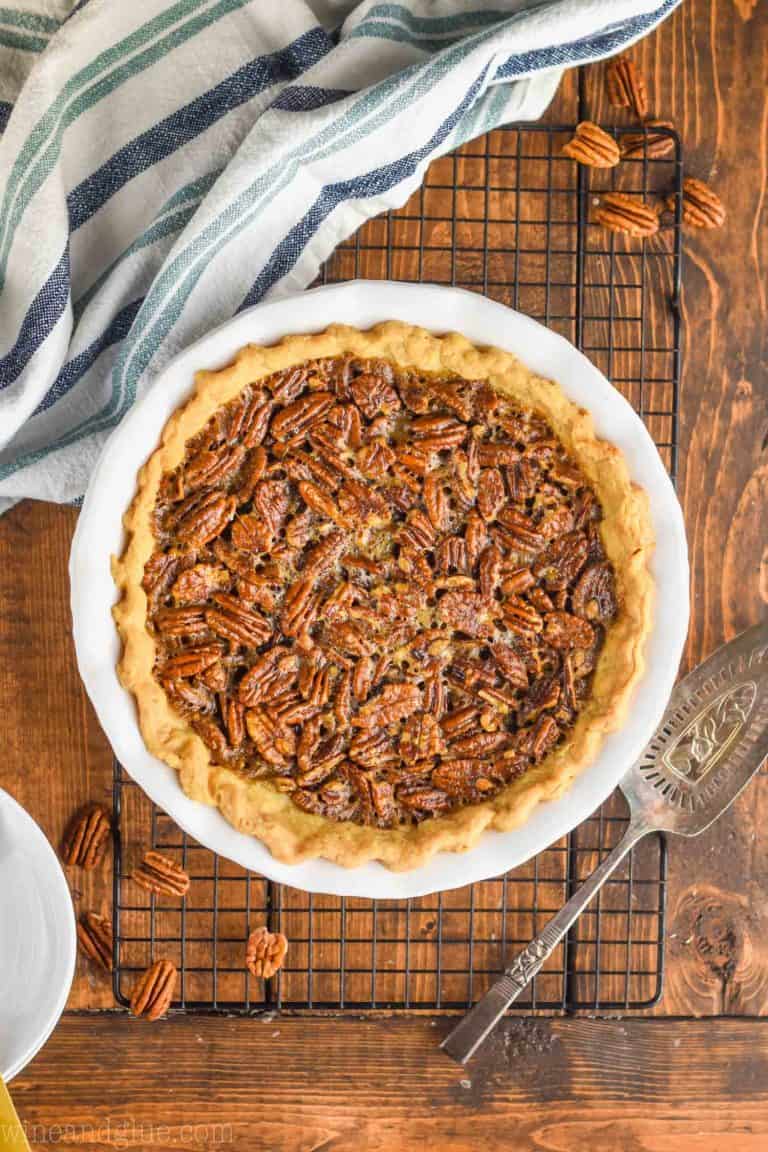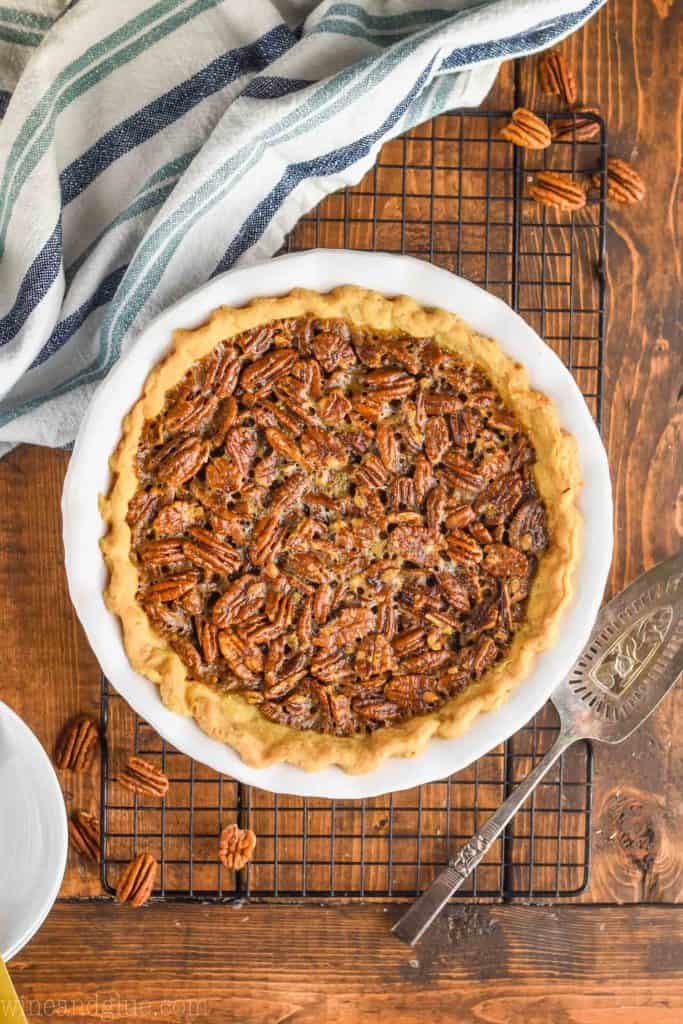 HOW TO MAKE PECAN PIE
Start by making this Easy Pie Crust. It truly is easy to make, it just takes a bit of pre planning. Leave time to let the butter/shortening chill, and the whole crust to chill in the refrigerator.
You will not be sorry. The crust makes this pie perfect.
Partially bake our amazing crust by putting it in the pie pan and then covering it with two layers of aluminum foil and weight. For weight you can put coins, sugar, or pie weights on top of the foil. Bake at 375 degrees for 25 minutes. Lift the weights out of the pan by just pulling out the foil and setting aside.
Blind baking the pie crust keeps it crisp and not soggy.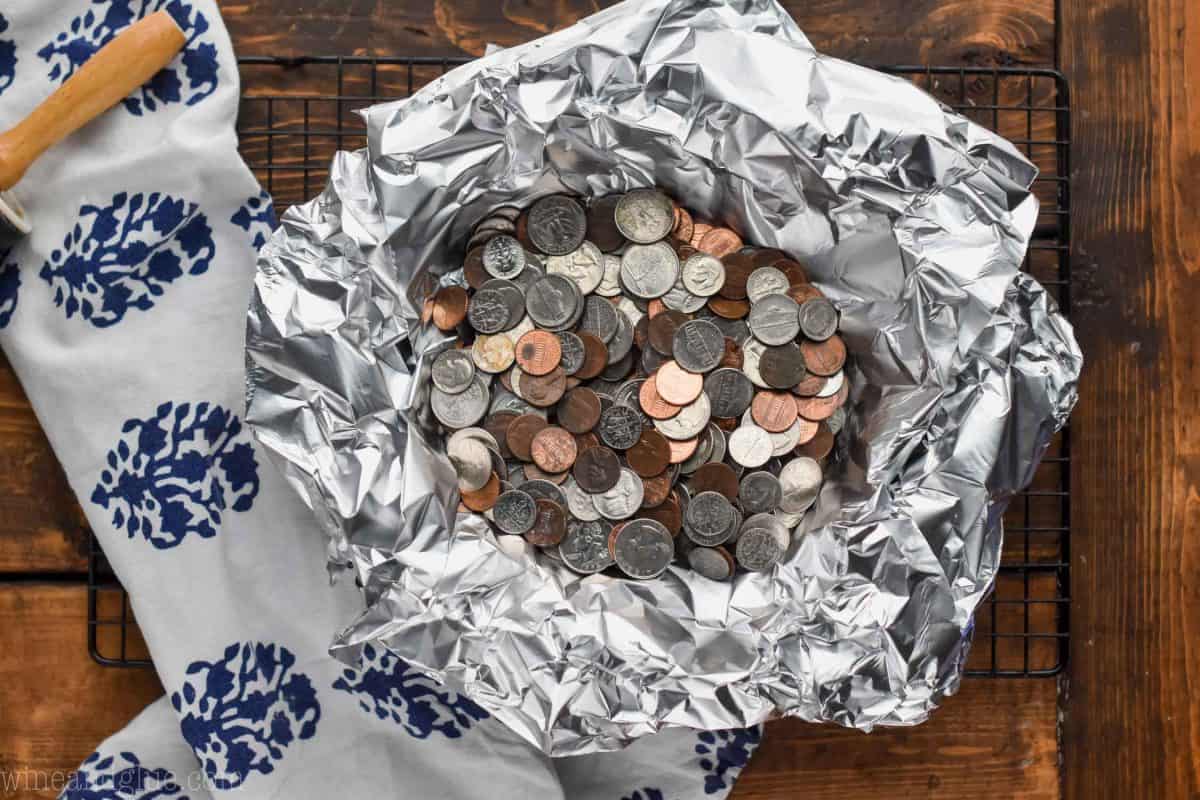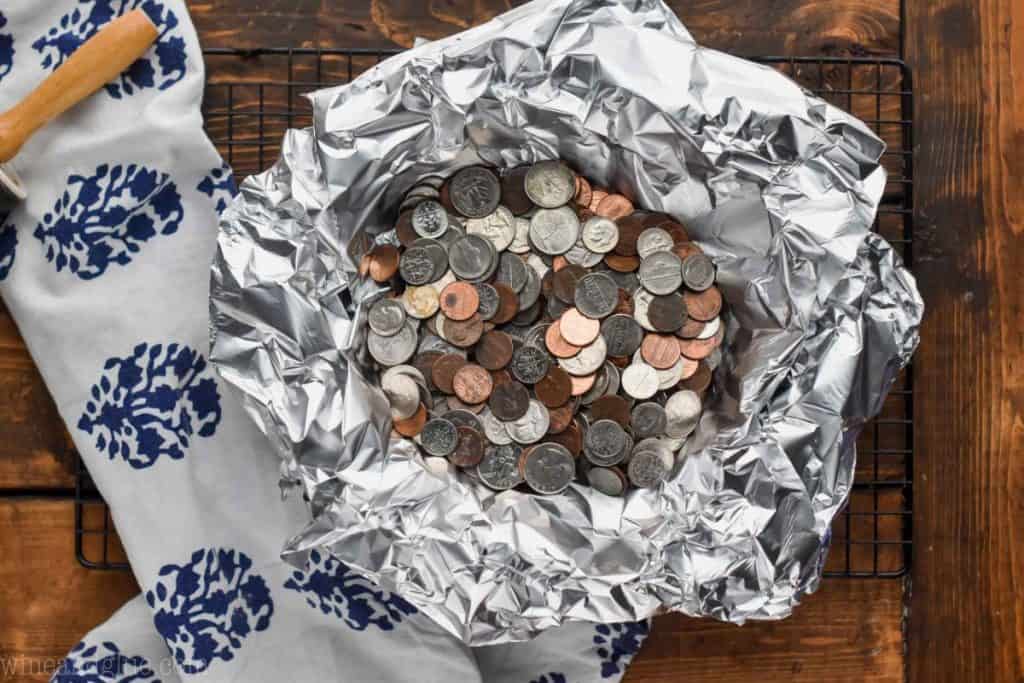 While the pie crust is baking make the pecan pie filling:
Melt the butter over low heat and then whisk in the brown sugar until it is smooth.
Remove from the heat and quickly whisk in the corn syrup, vanilla extract, and salt.
Then add in the whisked eggs – since we used low heat, removed it from the heat, and we are moving quickly we are lowering the risk of curdling.
Finally, pour the hot filling into the warm crust. This is step two in keeping the crust perfect.
Everything then goes into a low temperature oven. The lower temperature is another precaution in making sure that the pie does not curdle.
If your crust begins to over brown, you can cover it with a crust shield. Or just loosely wrap the exposed crust in aluminum foil.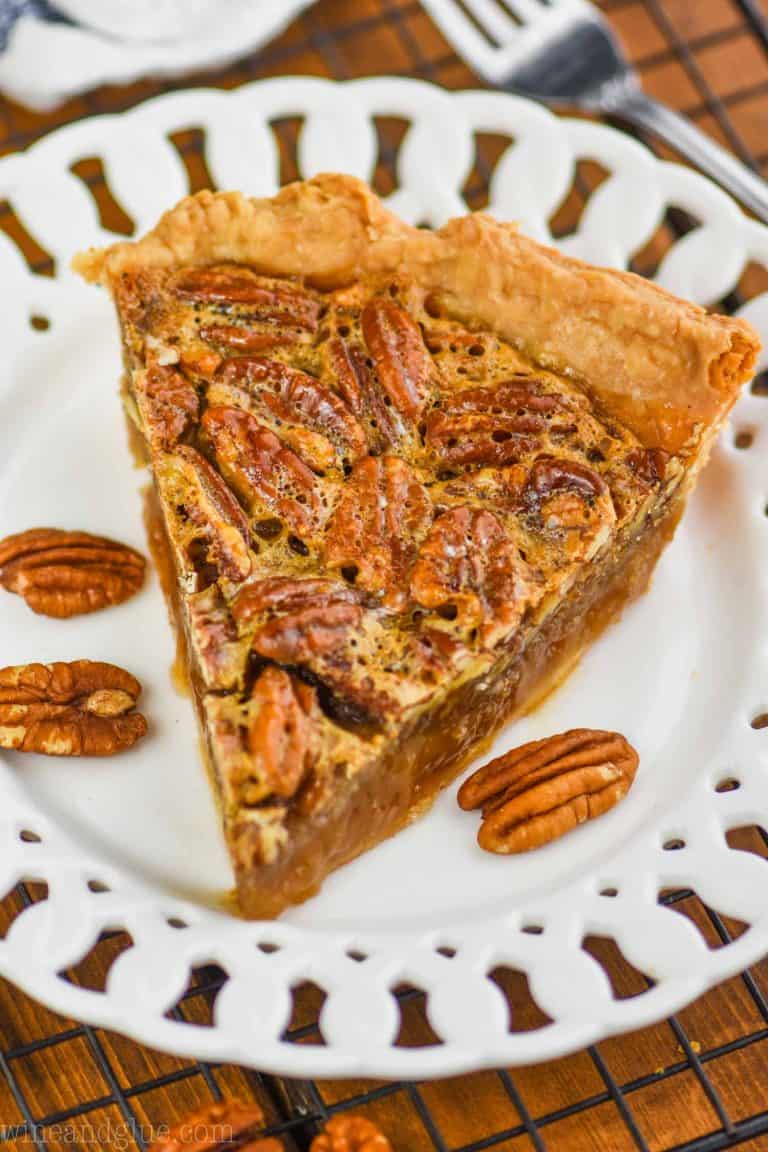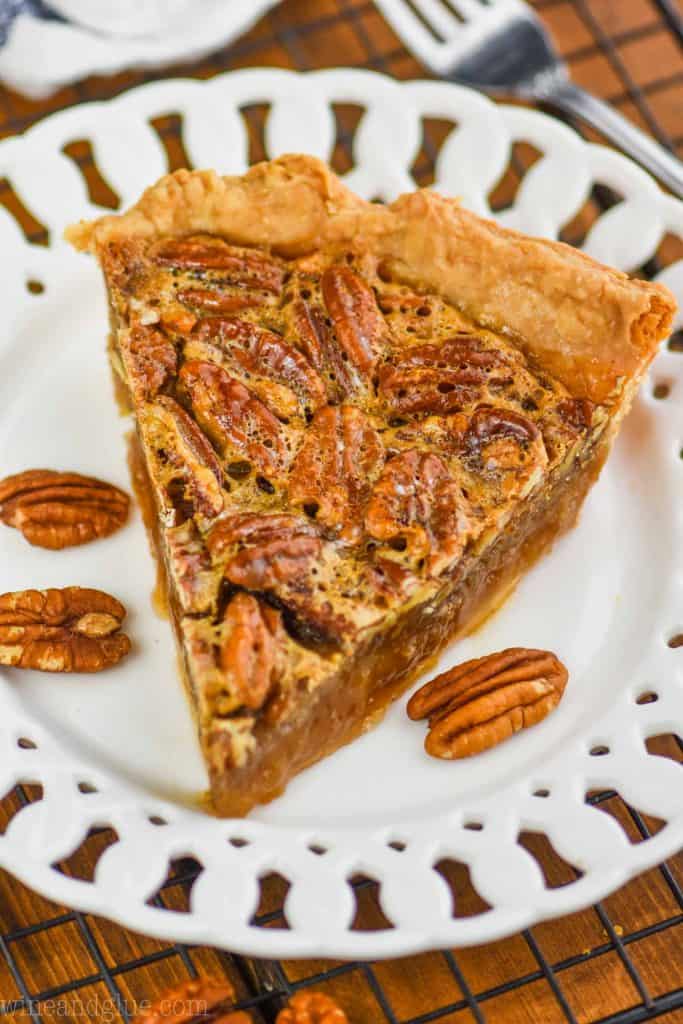 HOW TO TELL WHEN PECAN PIE IS DONE
The first rounds of this pie for me tasted delicious but didn't set. There are two ways I learned to make sure your pecan pie is done.
Method one is from Dorothy of Crazy for Crust: The center of the pie should be puffed up.
Additionally, when you gently push on the center of the pie with the back of a spoon it should spring back.
Method two was a great idea from Erin of Well Plated: Test the internal temperature with an instant read thermometer. It should be 200 degrees.
You will sacrifice the top of the pie with a hole, but it is better than all that wasted effort on a pie that didn't set.
STORING PECAN PIE
After you remove the pie from the oven, you want it to cool on the counter on a wire rack for about 2 hours.
How to store Pecan Pie: Wrap it in plastic wrap and refrigerate until you are ready to serve it.
Pecan Pie should be refrigerated. If you make it in advance, serve within three days of making it.
It is best served at room temperature or slightly warm with a heaping mound of ice cream.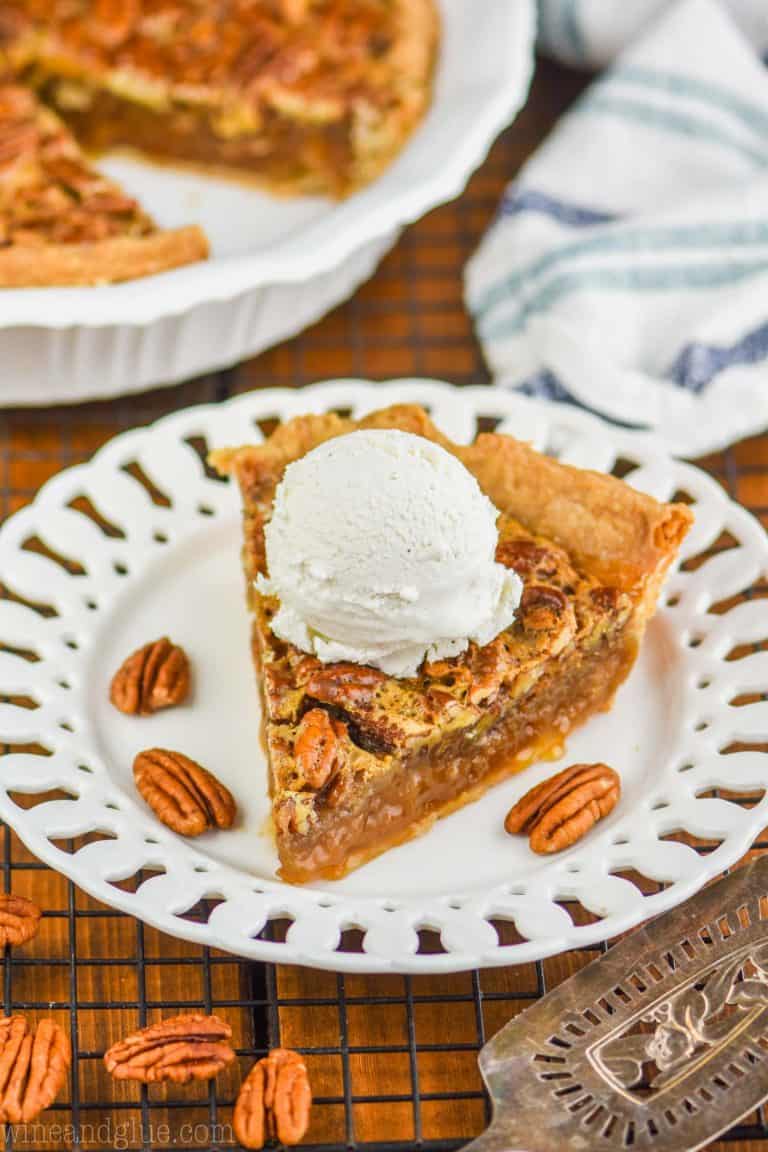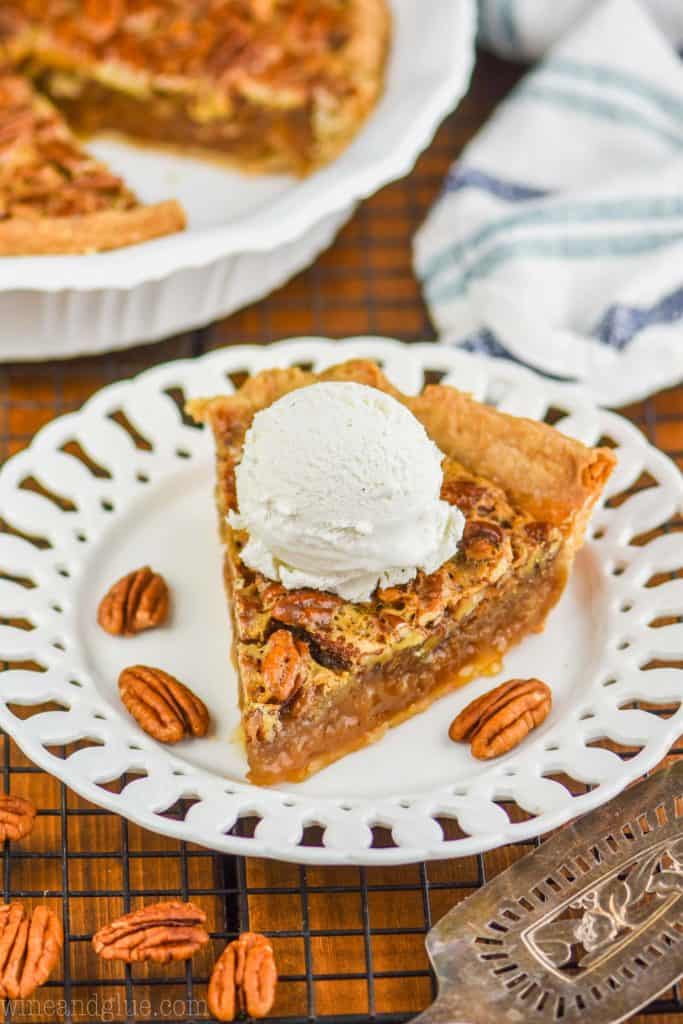 FREEZING PECAN PIE
Pecan Pie is a great dessert to make ahead of time and freeze. It is not as quick of a dessert as my Caramel Apple Poke Cake or my Baileys No Bake Pie.
But! Remember when I made you Green Bean Casserole and told you the holidays are a great time to cook from scratch and take your time? Same applies here.
How to freeze Pecan Pie: Bake completely and allow to cool. Wrap three times in aluminum foil and store in the freezer for up to one month.
Allow it to thaw overnight in your refrigerator before serving.
OTHER BAKING FAVORITES
If baking around the holidays makes you as happy as it makes me, here are some recipes I know you'll love:
If you make this Pecan Pie Recipe or any of my other recipes, leave me a comment and let me know what you think! I love hearing from you!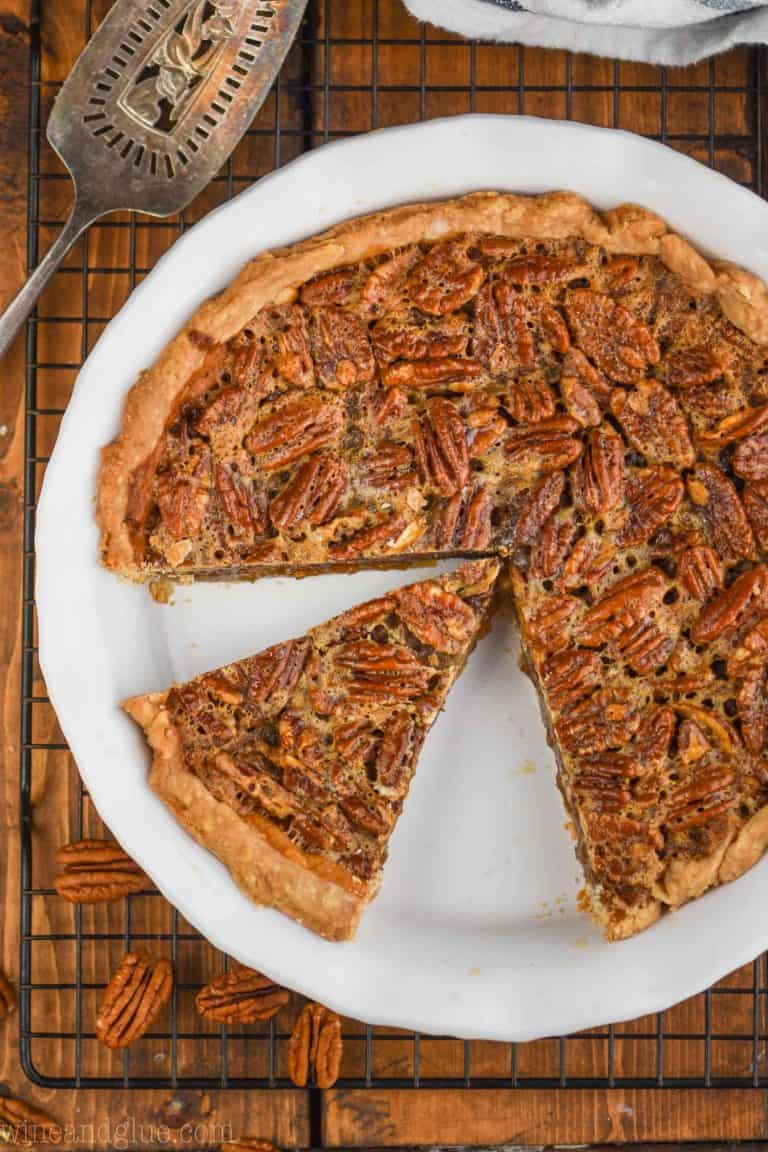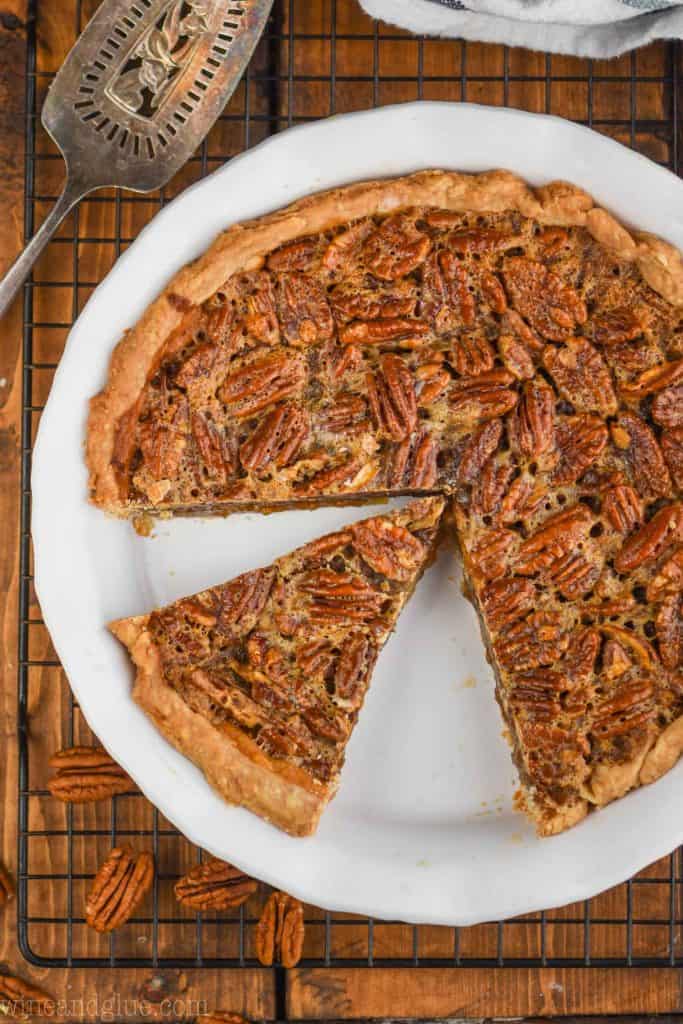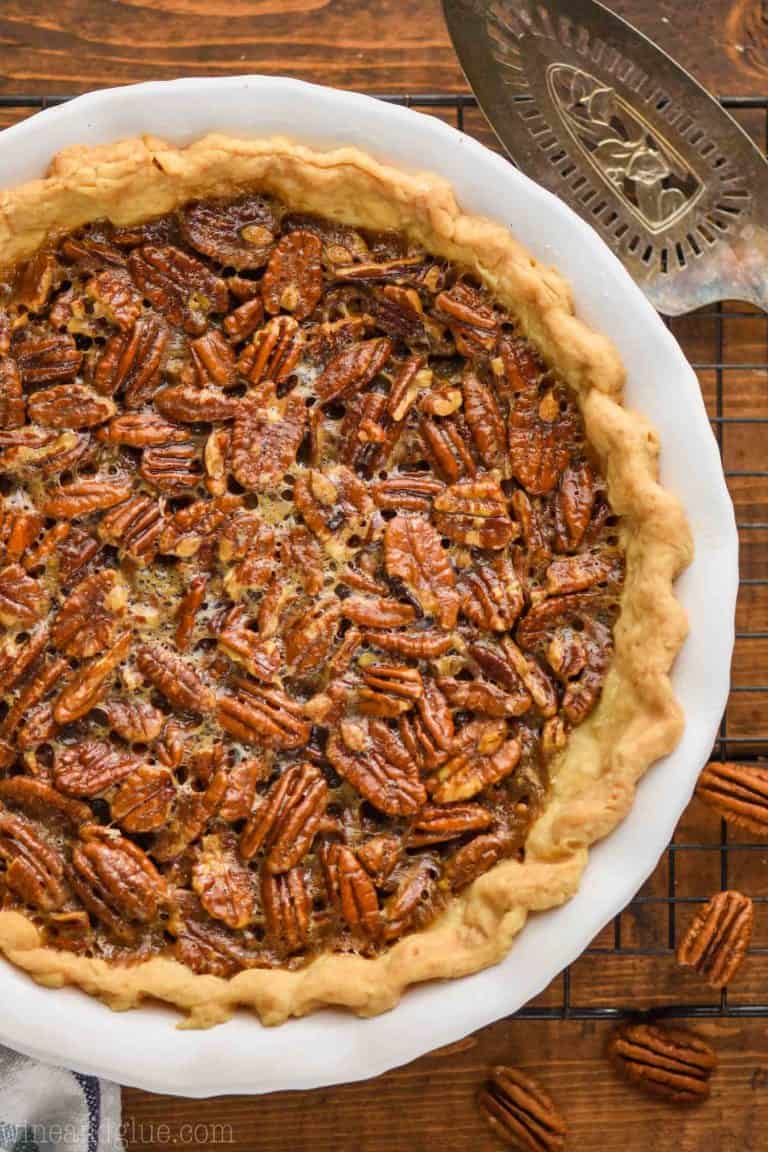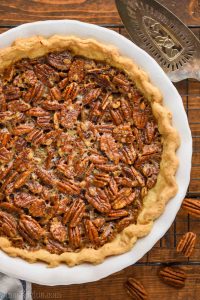 Best Pecan Pie Recipe
Total:
5
hours
30
minutes
Even the guest who doesn't like nuts in their dessert will fall head over heels for this delicious and easy Pecan Pie Recipe!
Ingredients
1

pie crust

(see my post for the best, most flakey pie crust)

6

tablespoons

unsalted butter

1

cup

light brown sugar

packed

3/4

cup

corn syrup

2

teaspoons

vanilla extract

1/4

teaspoon

salt

3

large

eggs

beaten

2

cups

pecan halves
Instructions
Preheat the oven to 375 degrees Fahrenheit.

Roll out your pie crust and line your 9 inch pie pan with it. Line the pie crust with a double layer of aluminum foil, making sure to wrap the foil around the edges of the pie crust. Fill it with pie weights or coins. (If you use coins, make sure to take care when removing them as they will be hot.) Bake for 25 minutes.

When the pie crust is done pre-baking, remove it from the oven and lower the temperature to 320 degrees Fahrenheit. Remove the aluminum foil and pie weights.

While your pie crust is baking, melt butter in a large saucepan over low heat. Once melted, whisk in the brown sugar, stirring until smooth.

Remove from heat and whisk in the corn syrup, vanilla extract, and salt. Then stir in the eggs. Finally, stir in the pecans. Pour the mixture into the hot pie crust.

Bake for 50-60 minutes. The pie should be puffed up in the middle, and when you gently push on it it should spring back. Remove from the oven and allow the pie to set for up to 2 hours.
Serving:
1
slice
Calories:
701
kcal
(35%)
Carbohydrates:
68
g
(23%)
Protein:
7
g
(14%)
Fat:
45
g
(69%)
Saturated Fat:
15
g
(94%)
Polyunsaturated Fat:
4
g
Monounsaturated Fat:
6
g
Cholesterol:
116
mg
(39%)
Sodium:
130
mg
(6%)
Potassium:
33
mg
(1%)
Fiber:
3
g
(13%)
Sugar:
52
g
(58%)
Vitamin A:
25
IU
(1%)
Calcium:
4
mg
Iron:
6
mg
(33%)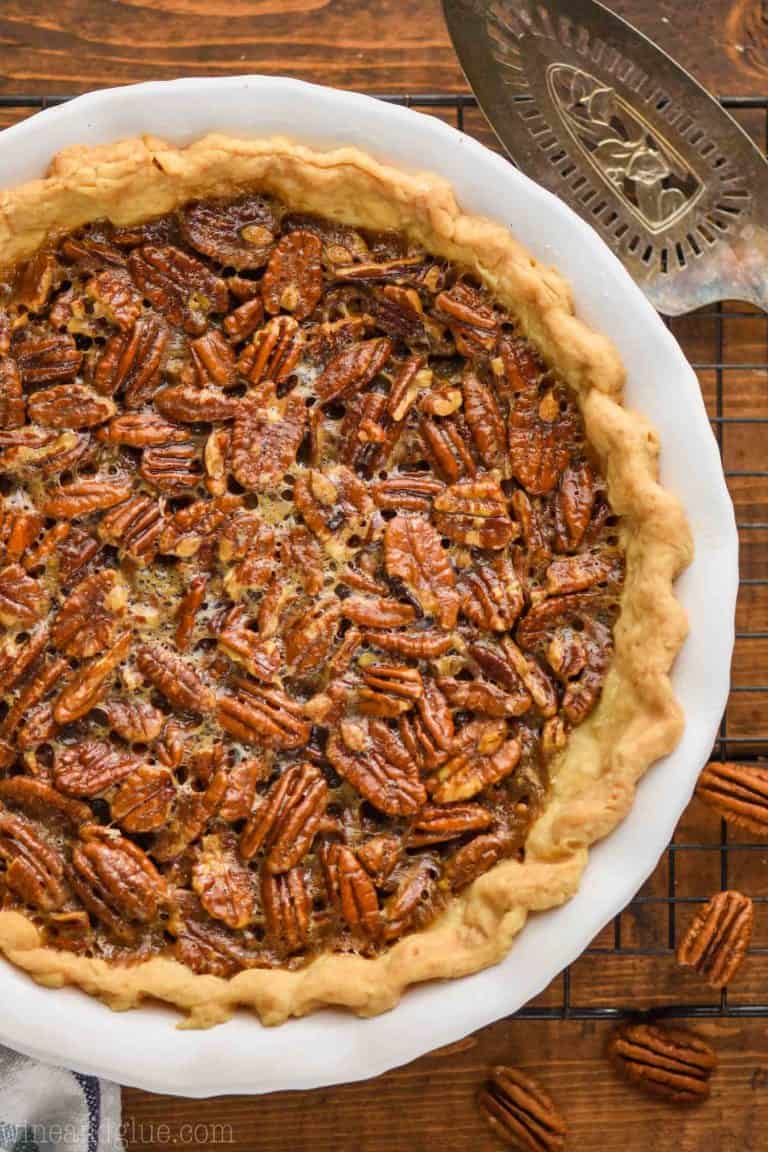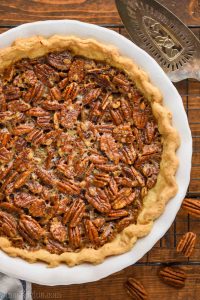 did you make this
Best Pecan Pie Recipe
you might also like . . .