Pesto Pasta is the simple pasta recipe you are looking for! Made with my homemade Pesto Sauce which is tossed with hot noodles, your family will love this easy dinner.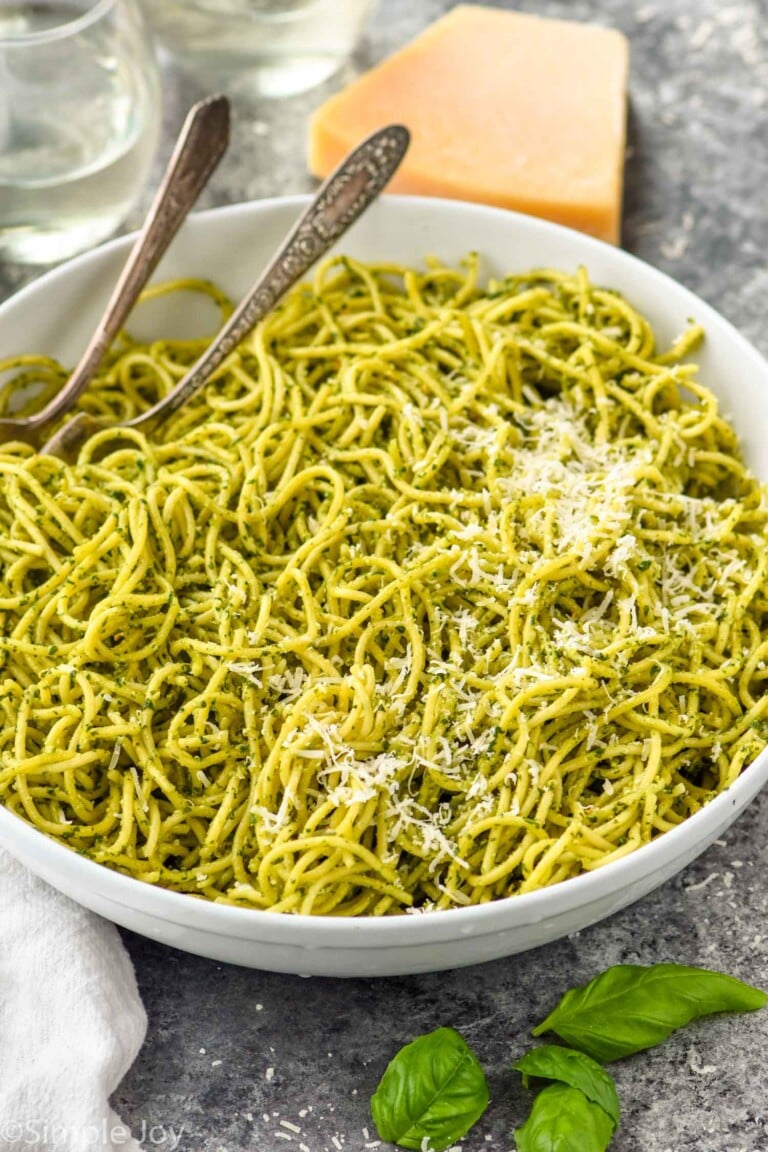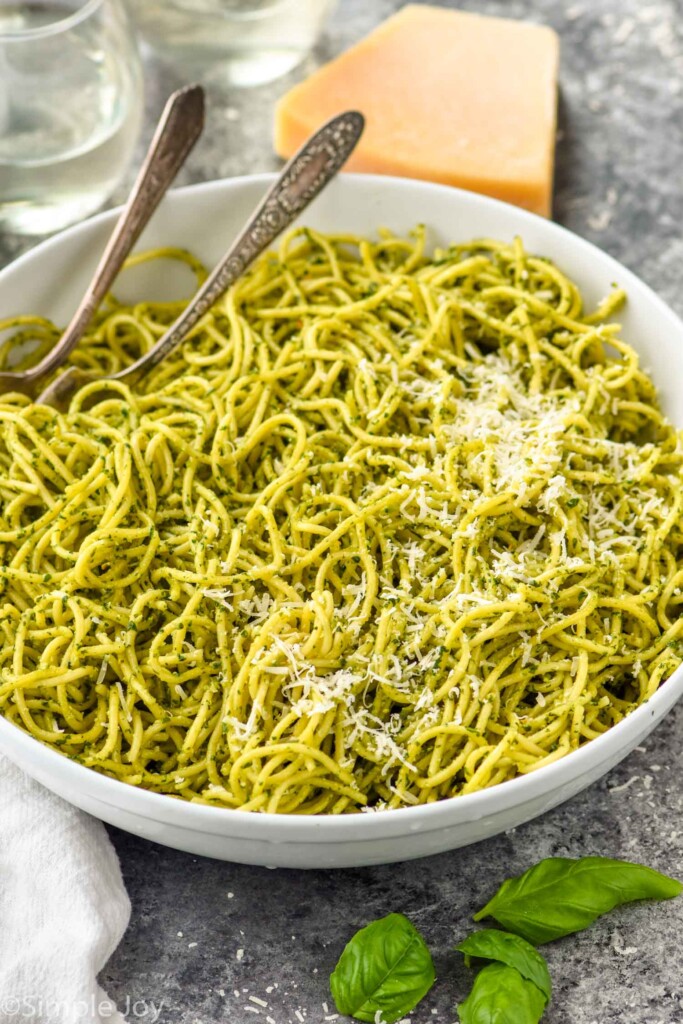 Pesto is one of my very favorite flavors. When I first started creating recipes, it was one of my favorite ingredients to add to savory dishes. The basil and the cheese in pesto just add so much to any recipe.
Pesto is also perfection just over some freshly made pasta. Making homemade pesto is so easy, and when you combine it with some hot pasta, you have the best comfort food in a bowl.
Making Homemade Pesto
Homemade pesto sauce is the key to this pasta recipe. Making your own is easy and tastes so much better than store-bought. With this recipe, you can control the flavor and adjust it to your heart's desire. Made from basil, nuts, cheese, and oil, it comes together quickly in a food processor or blender and can be stored for weeks.
If you can't afford the amount of basil that this recipe calls for, you can replace some of it with arugula. I wouldn't recommend replacing all of the basil with arugula, but some of it is a great way to offset the cost while still making an amazing pesto.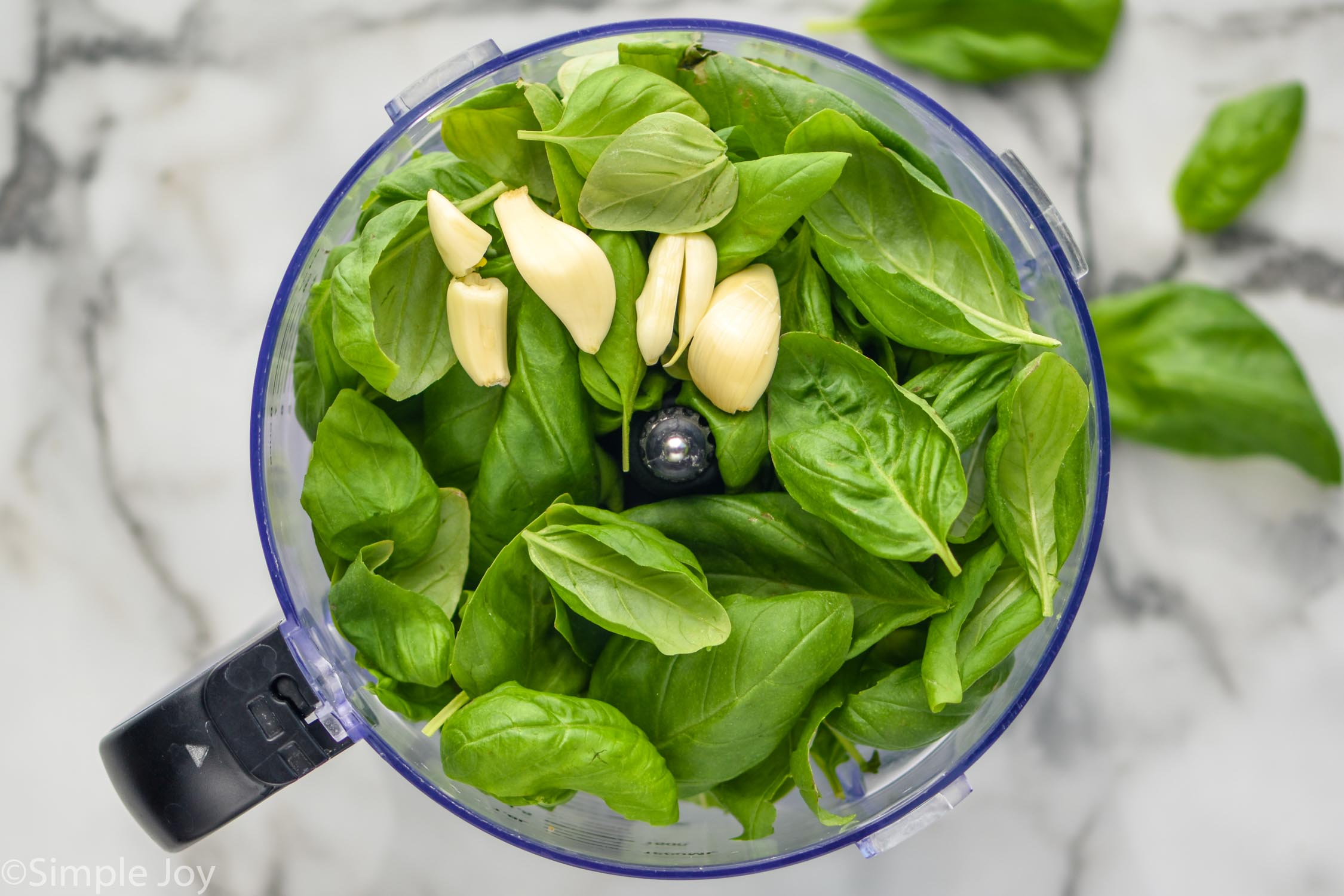 Pesto Sauce Recipe
This homemade pesto recipe is easy and tastes so fresh. You will want to add it to so many recipes!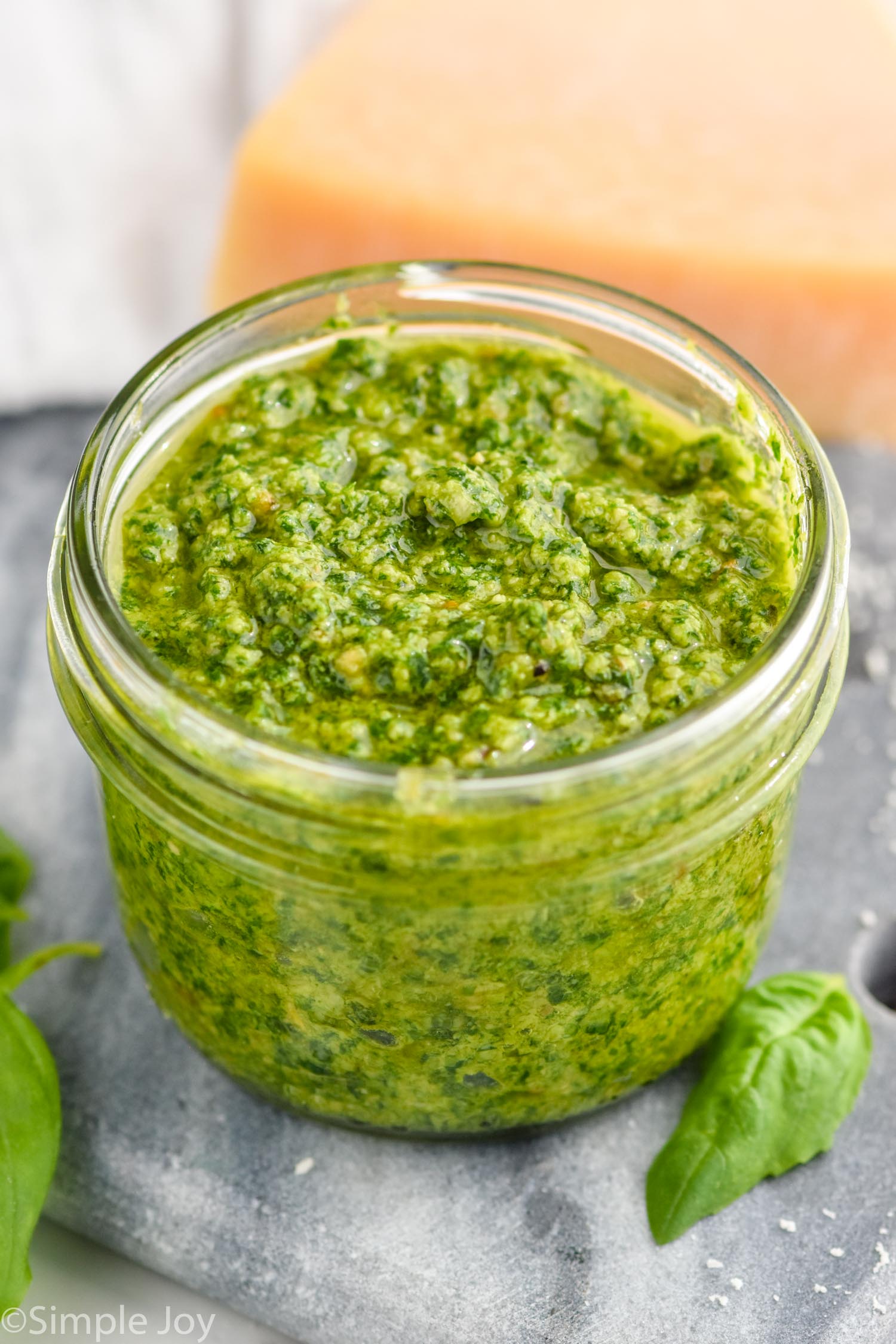 Picking Basil
Pesto is the perfect thing to make with an abundance of basil from your garden or local farmer's market. When choosing basil from your local farmer's market or grocery store, look for basil leaves that are vibrant green and not wilting. It should also smell fragrant.
Even if you aren't growing basil in your garden, it might be more cost-effective to buy a basil plant or two. After you make this recipe, you will be able to pop them in your window and let the plants replenish for your next batch. To ensure that they get enough water, set them on a tray and add an inch of water every few days.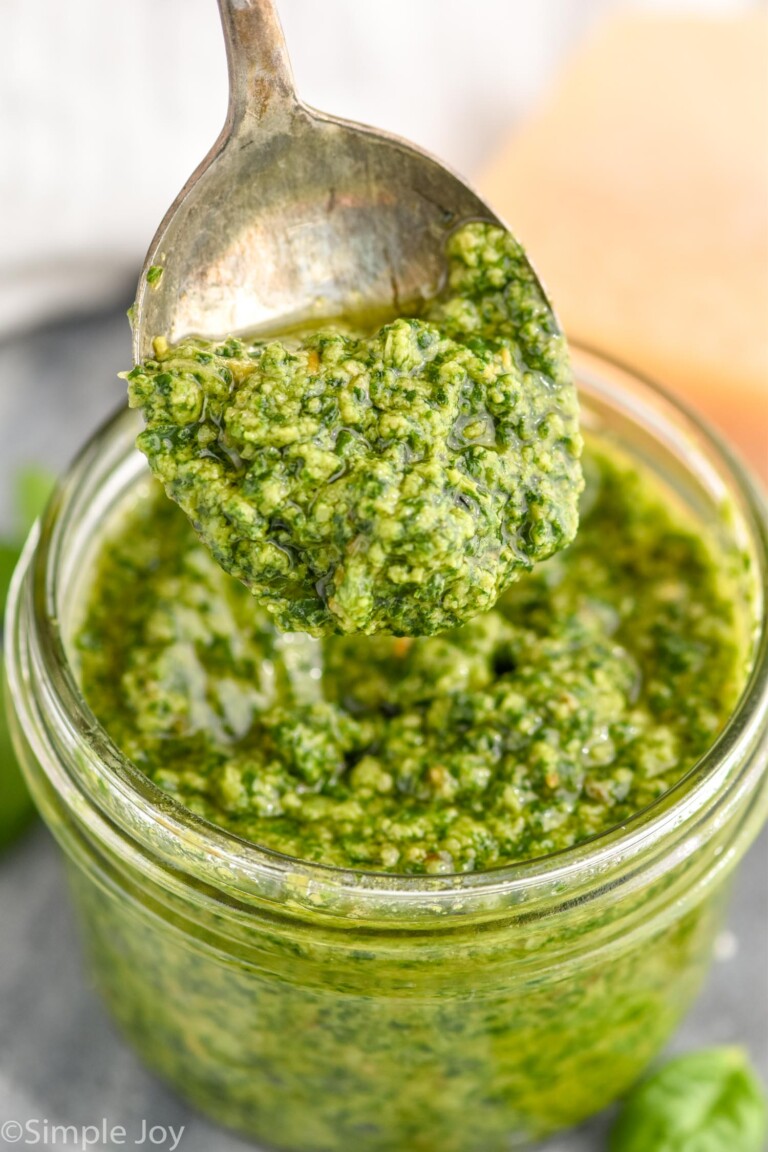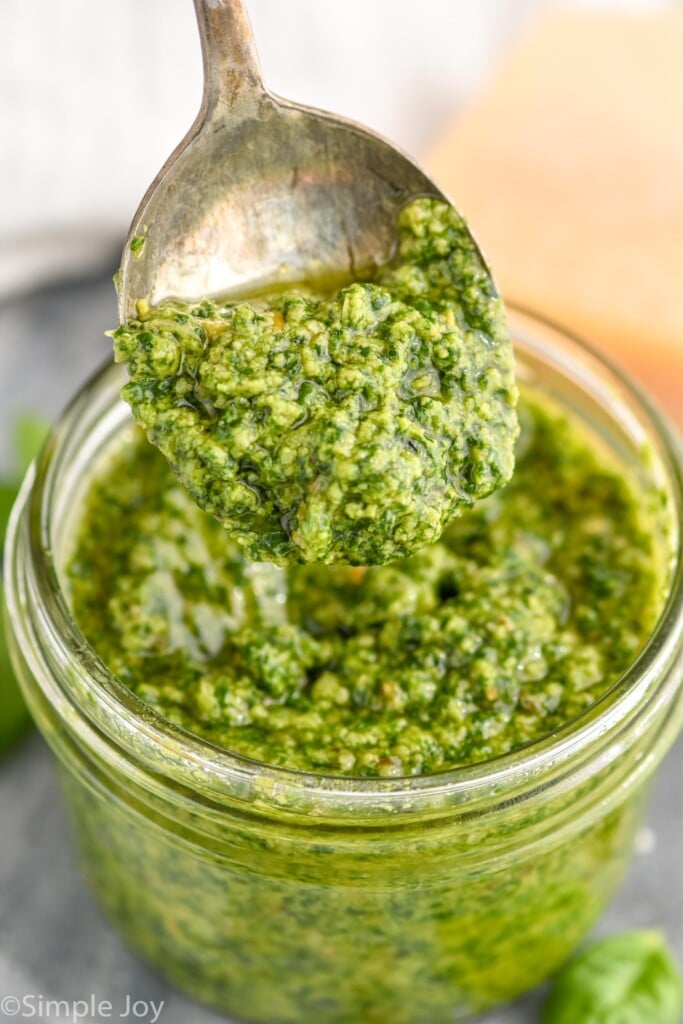 How to Make Pesto Pasta
Below is a brief overview of how to make pesto pasta. For the full recipe including all measurements, scroll to the recipe card at the bottom of the post.
Make the spaghetti. Cook your pasta according to the package directions and see my tips below.
Blend the basil and garlic. Mince together well in your food processor and be sure to scrape down the sides. Add in the pine nuts followed by the olive oil.
Add the parmesan. Continue to process until it is smooth and well combined. Add salt and pepper. See my tips below for how to adjust the thickness of your pesto.
Toss pasta with pesto.
TOP PICK
Food Processor
I love this set from Ninja! You get a blender, a food processor (with a dough blade!), and single serve blender perfect for smoothies.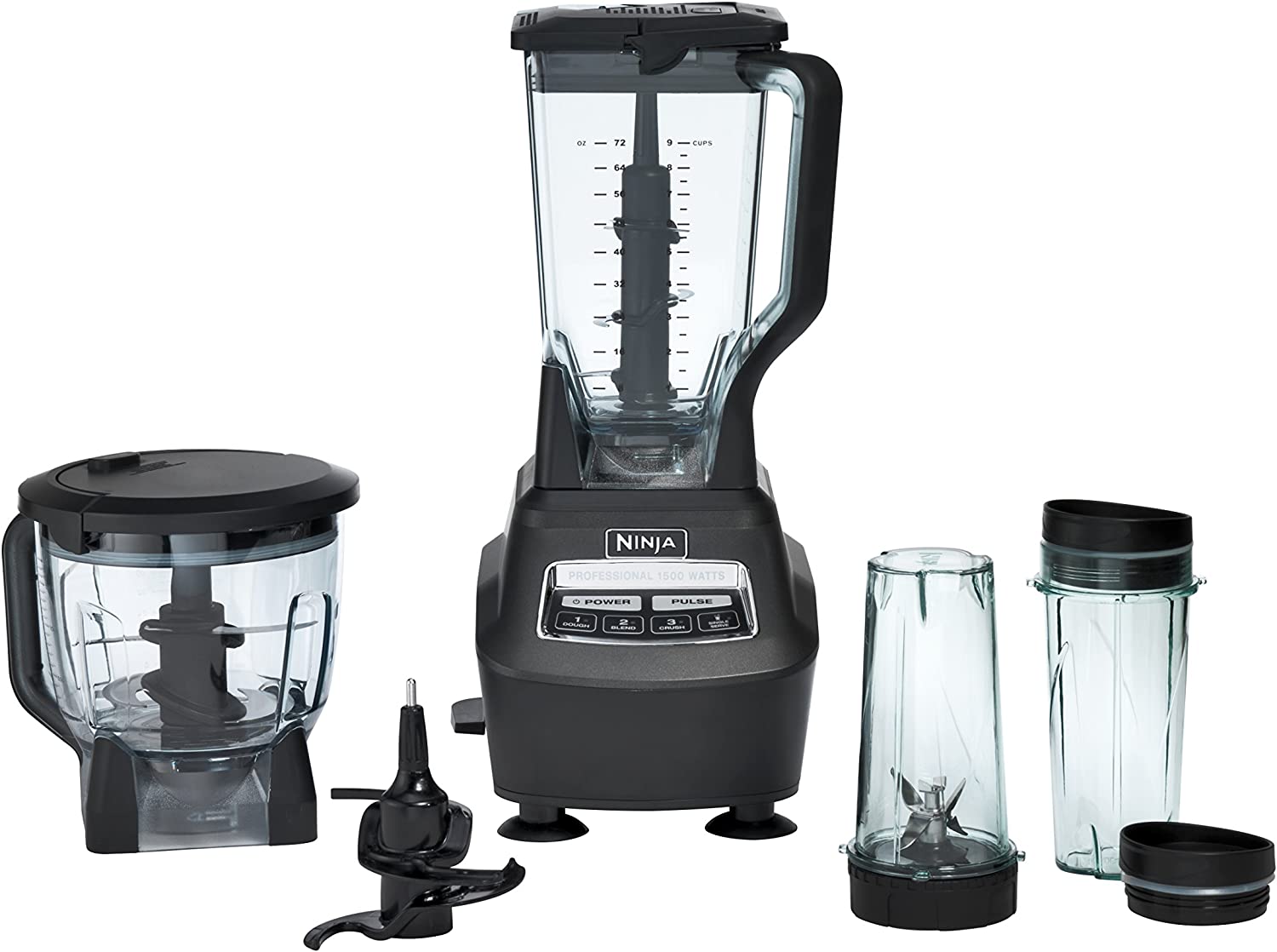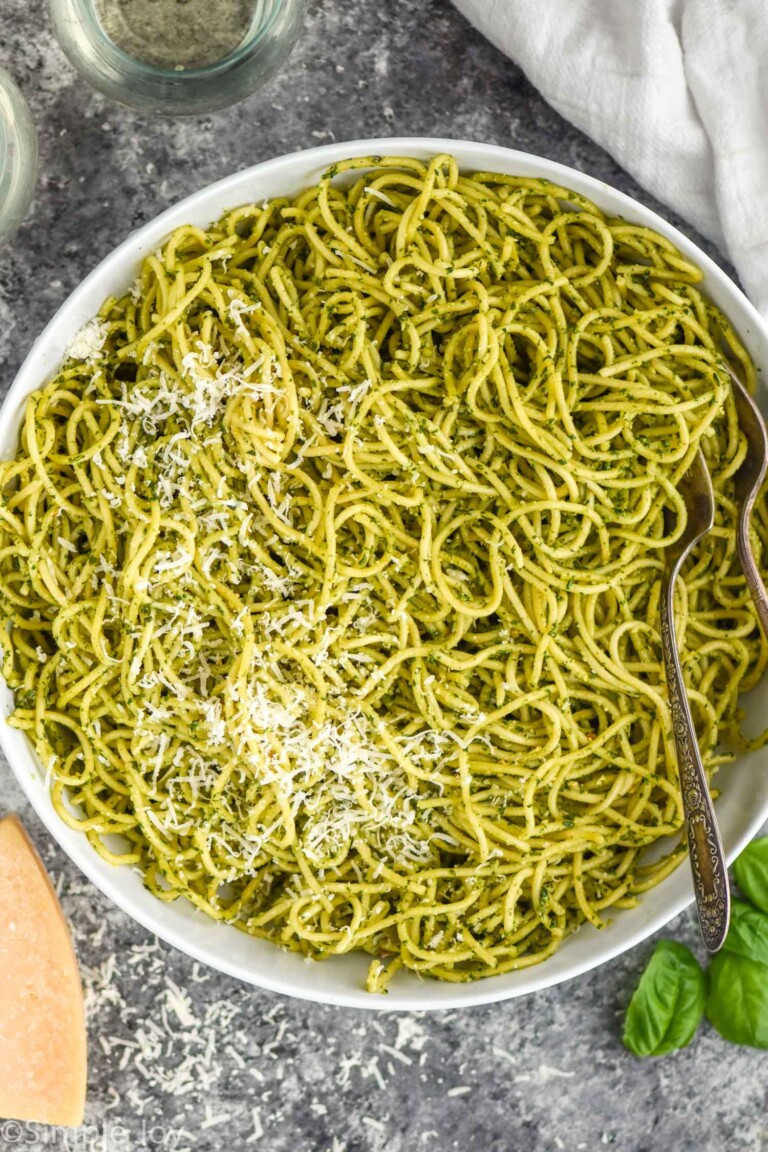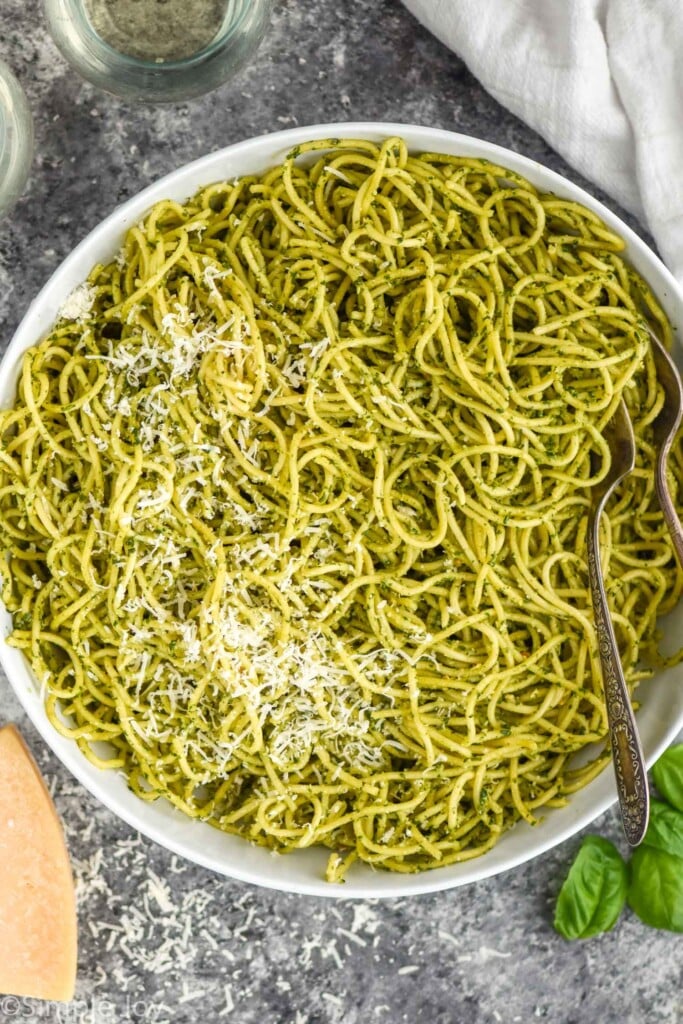 Roasting Pine Nuts
Roasting your pine nuts will help to pull out their flavor which will add to the pesto sauce. The quickest way to do this is on the stovetop. Place the pine nuts in a dry skillet (don't add oil) and cook for about three minutes, stirring often. Alternatively, you can place them on a baking sheet in a single layer and bake for five minutes at 350 degrees Fahrenheit. Watch them closely as pine nuts can burn easily.
Budget Friendly Pesto
For a more budget-friendly option, you can also replace the pine nuts with walnuts. You will still want to toast them, but they are significantly cheaper and will work great in pesto.
Cooking Spaghetti
While cooking pasta seems easy, these tips will make it perfect.
Use plenty of water. To make one pound of spaghetti, you will need four quarts or 16 cups of water which will allow to pasta to expand comfortably.
Salt your water. Add one teaspoon of kosher salt to the water.
Bring your water to a roaring boil. Wait to throw in the uncooked pasta until you see big bubbles.
Set a timer. As soon as you toss in the pasta, set a timer for the bottom end of the time range on the box. This will ensure that your pasta is cooked to al dente.
Best Pasta for Pesto
I love to make this pasta with pesto recipe with spaghetti because we always have it on hand and it's easy for the pesto to completely coat the noodles. You can use any type or shape of pasta that your family loves. Penne, rigatoni, and fusilli would also be great options in this recipe. For a gluten-free option, use gluten-free pasta, spaghetti squash, or zucchini noodles. See my tips below for how much pasta to make to get the perfect consistency of pesto.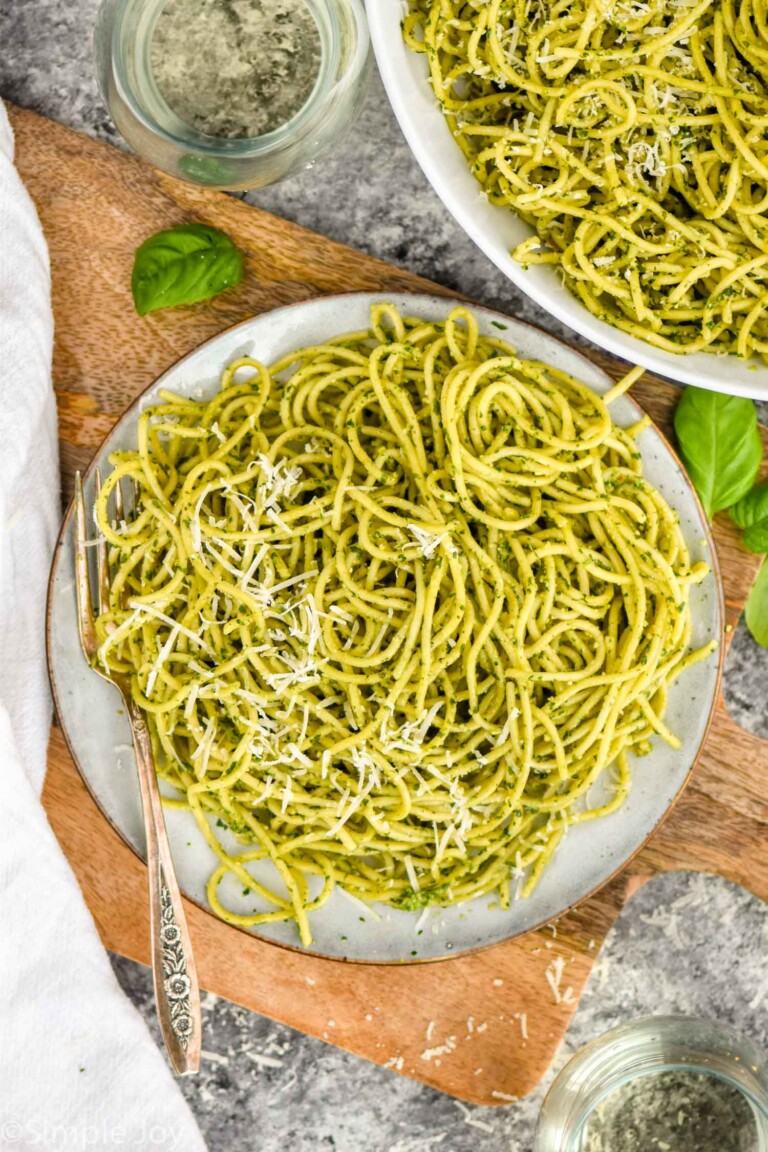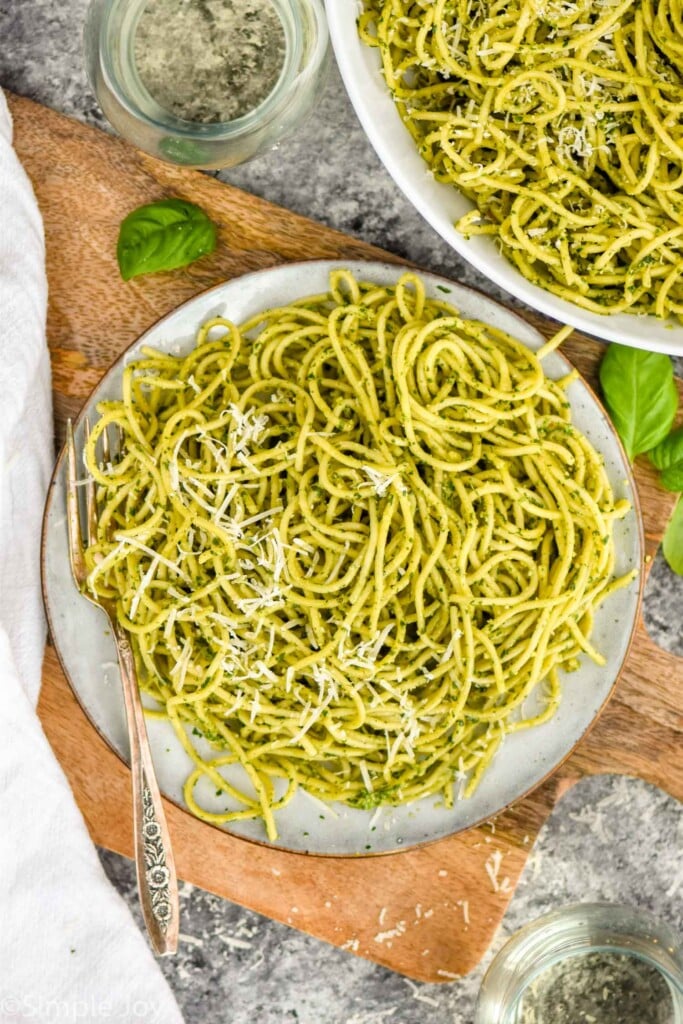 Tips and Variations
For a thin layer of pesto, you want to toss one batch of this recipe with a pound of pasta that has been boiled and drained.
For a thicker layer of pesto, go with a smaller amount of pasta, all the way down to half a pound.
Add cooked chicken for some protein like in my Chicken Pesto Pasta or cooked shrimp.
Add some homemade alfredo sauce for a creamy pesto pasta.
FAQ
Is pesto gluten free?
Yes! Spaghetti is the only ingredient that contains gluten in this recipe, so just use gluten-free noodles instead.
What protein goes well with pesto pasta?
My favorite protein to add to basil pesto pasta is chicken. Simply toss cooked chicken with the pasta and pesto sauce. Shrimp would also be delicious.
Should pesto pasta be eaten hot or cold?
Either! Because it comes together so quickly it is easy to enjoy while it's warm. With that being said, it is also delicious cold like in my Easy Pesto Pasta Salad.
Can I use store-bought pesto?
While you can use jarred pesto, making it fresh tastes so much better and gives you better control over the ingredients and any extra sugar or additives.
Storing Leftover Pesto Pasta
Store any leftover pesto pasta in an airtight container in the refrigerator for up to four days. Reheat portions of your pasta in the microwave. Leftover pesto can be stored in an airtight container or jar in the refrigerator for four to six weeks. For directions on freezing pesto, see this post.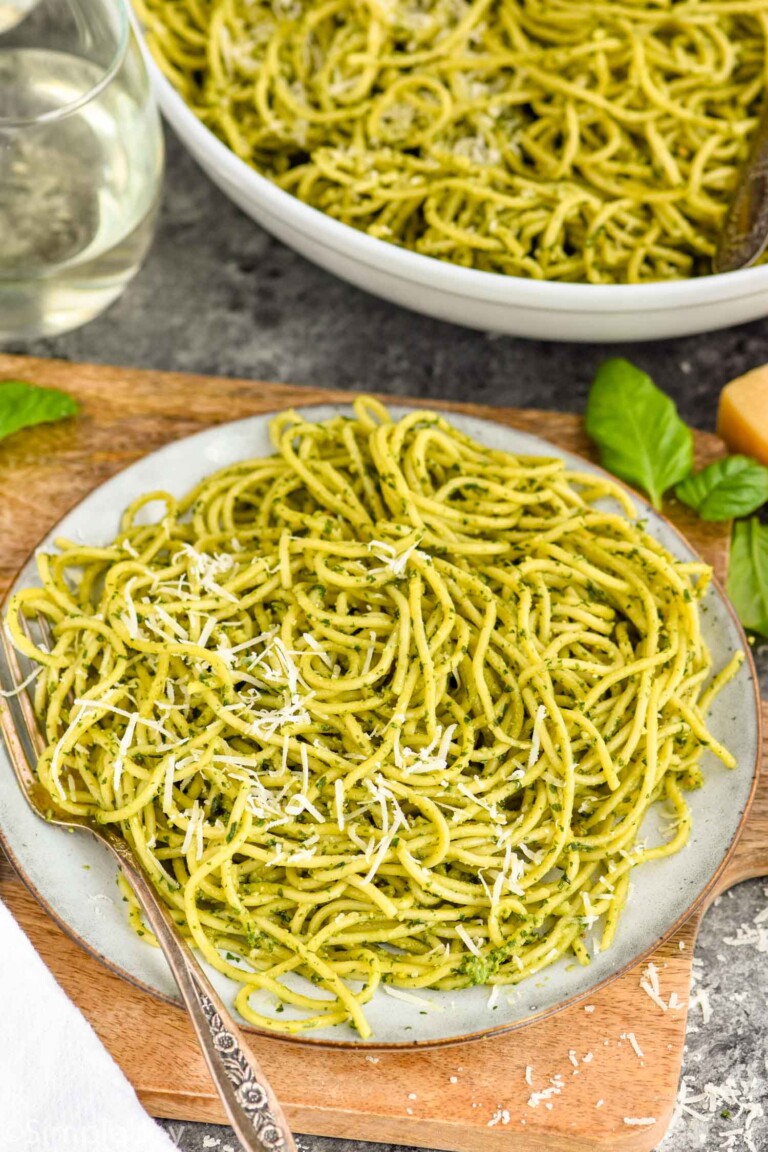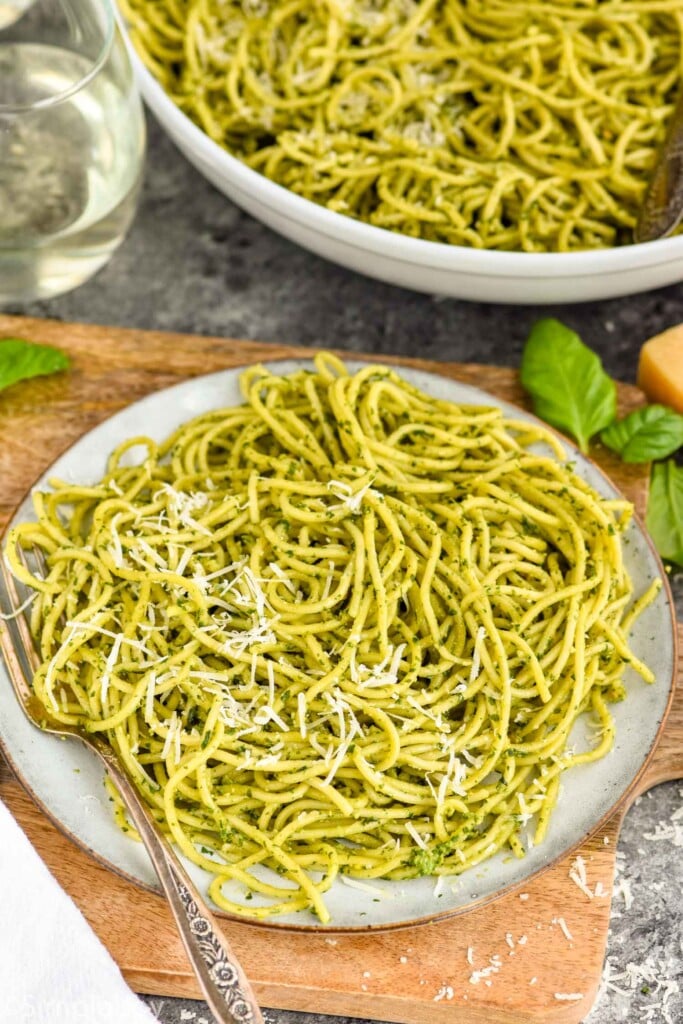 Other Recipes With Pesto
Looking for other ways to use basil pesto sauce? Here are a few ideas:
If you try this basil pesto pasta recipe or any of my other recipes, please leave a review and let me know what you think!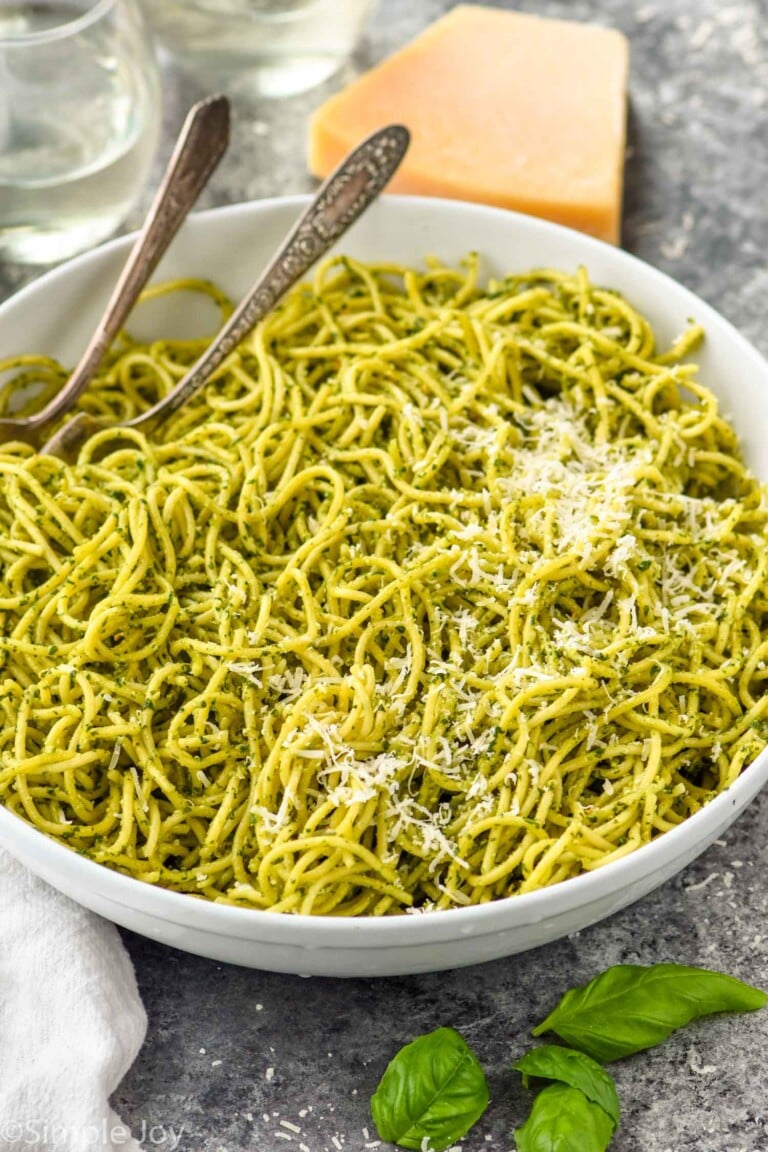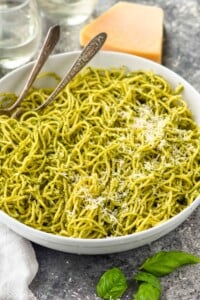 Pesto Pasta
Pesto Pasta is the simple pasta recipe you are looking for! Made with my homemade Pesto Sauce which is tossed with hot noodles, your family will love this easy dinner.
Ingredients
1

pound

spaghetti

(see note)
Pesto Sauce
3

cups

basil leaves

packed (66 grams)

4

garlic cloves

1/3

cup

pine nuts

(50 grams) toasted, see instructions in the post (or toasted walnuts)

1/3

cup

olive oil

(78.86 ml)

1/2

cup

Parmesan cheese

finely grated (32 grams)

3/4

teaspoon

kosher salt

dash black pepper
Instructions
Bring a large pot of water to a roaring boil. Salt with 1 teaspoon of kosher salt. Add the spaghetti and cook for the amount of time indicated on the box. Drain the pasta and set aside.

While the spaghetti cooks, add the basil leaves and garlic cloves to a blender or food processor to mince well, being sure to scrape down the sides regularly.

3 cups basil leaves,

4 garlic cloves

Add in the pine nuts and continue blending until the nuts are finely chopped.

While the food processor/blender is going, add the olive oil. The pesto should be relatively smooth and well-blended.

Stir in the Parmesan cheese, salt (start with half the amount called for), and pepper. Taste and add more salt and pepper to taste.

1/2 cup Parmesan cheese,

3/4 teaspoon kosher salt,

dash black pepper

This will be a thicker pesto recipe. If you want a thinner sauce, you can add in more basil leaves or olive oil.

Toss the pesto with the cooked spaghetti.
Notes
If you would like a creamier pesto pasta recipe, use less spaghetti for this recipe. Anywhere from 1/2 pound to 3/4 of a pound will work well for this.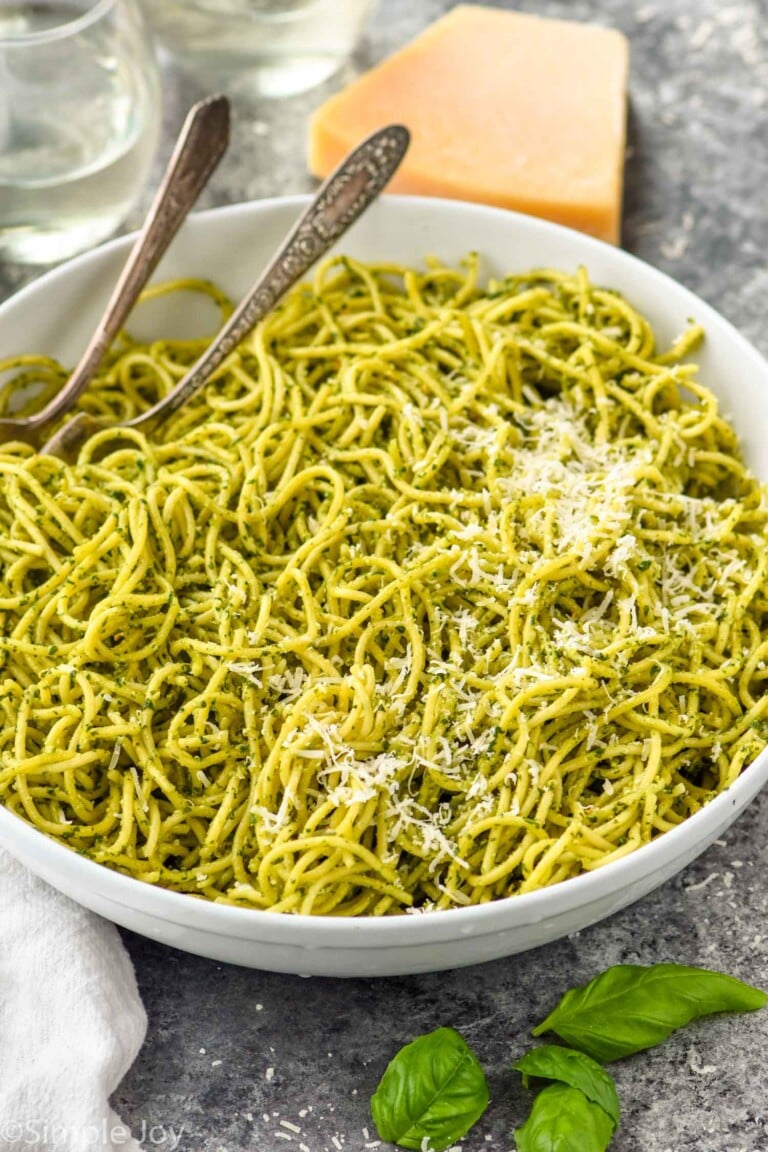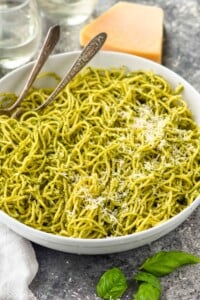 did you make this
Pesto Pasta