This Pesto Sauce Recipe is so easy to make and is perfect with spaghetti for an easy dinner, or use it in one of our many recipes for a fun spin!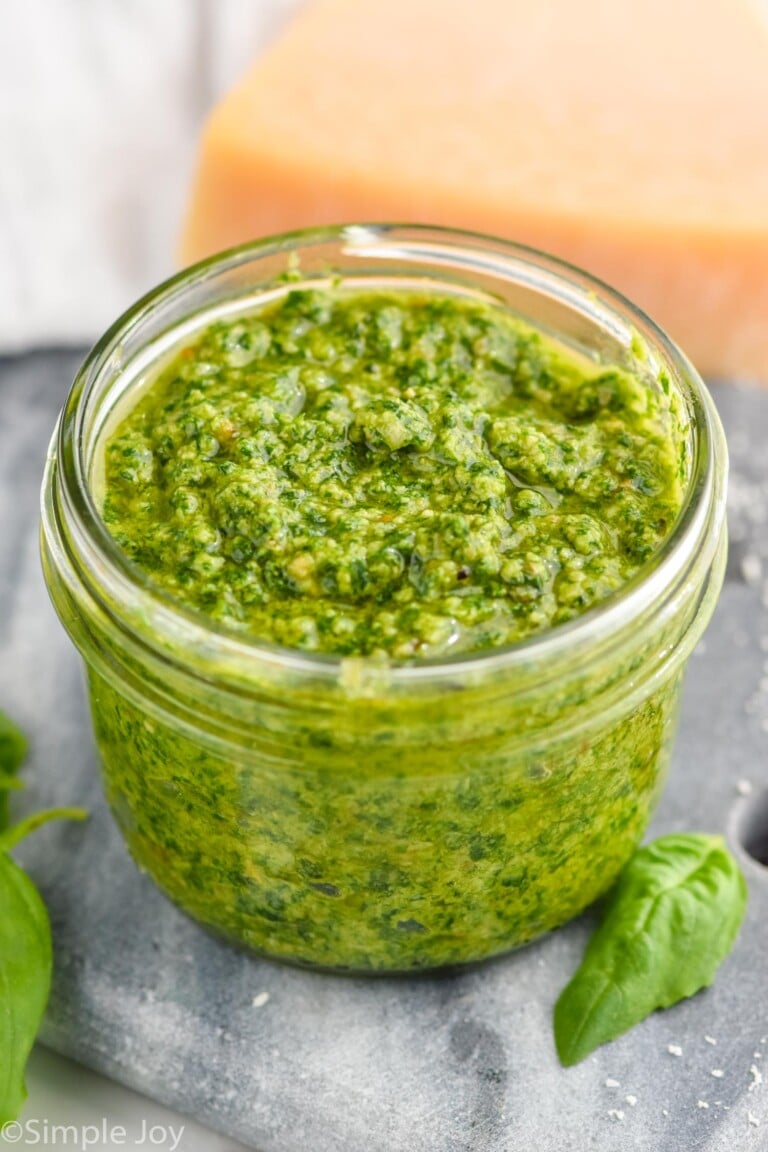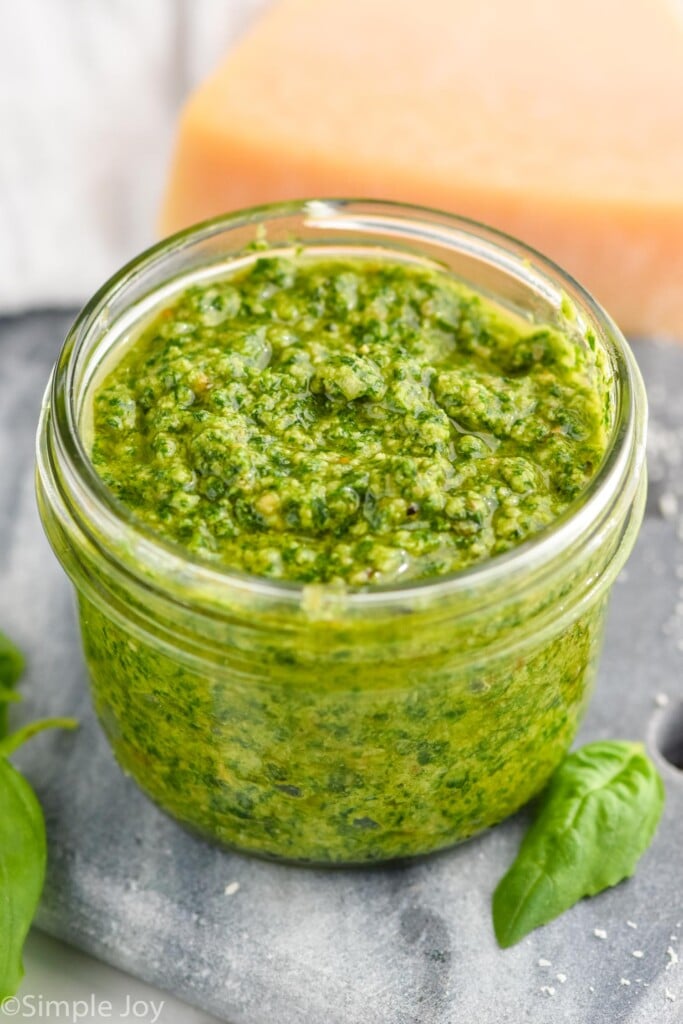 I'm a little bit Pesto obsessed. It is such a simple sauce, but it can add so much to a recipe. If you've been following a long for a bit, you know that I'm not shy when it comes to adding pesto sauce to recipes.
While it is easy to pick up a jar of store-bought pesto, making your own is just as easy, and better! With this recipe you can control the flavors and tweak it to your hearts desire. I love it just how it is written, but you can certainly do more or less, salt, garlic, and cheese.
Pesto Ingredients
Pesto is a sauce made from basil, nuts, cheese, and oil. It comes together quickly in a food processor or blender and can be stored for weeks. Here is what you will need to make your own homemade basil pesto.
Fresh basil: Dried basil is nice for flavoring soups and pasta dishes, but fresh basil leaves are crucial for this pesto recipe.
Garlic: Peel it and cut off the ends. It will mince in the food processor.
Pine nuts: See below for how to toast them. You could easily use walnuts instead.
Olive oil: When sautéing vegetables for a dish, I usually stick with regular olive oil, and reach for extra virgin olive oil when it come to my salad dressings. For this recipe, either one will work really well.
Parmesan cheese: For a stronger cheese flavor, use Romano cheese. To make your pesto vegan, leave out the cheese or use nutritional yeast. For the best flavor, use freshly grated Parmesan.
Salt and pepper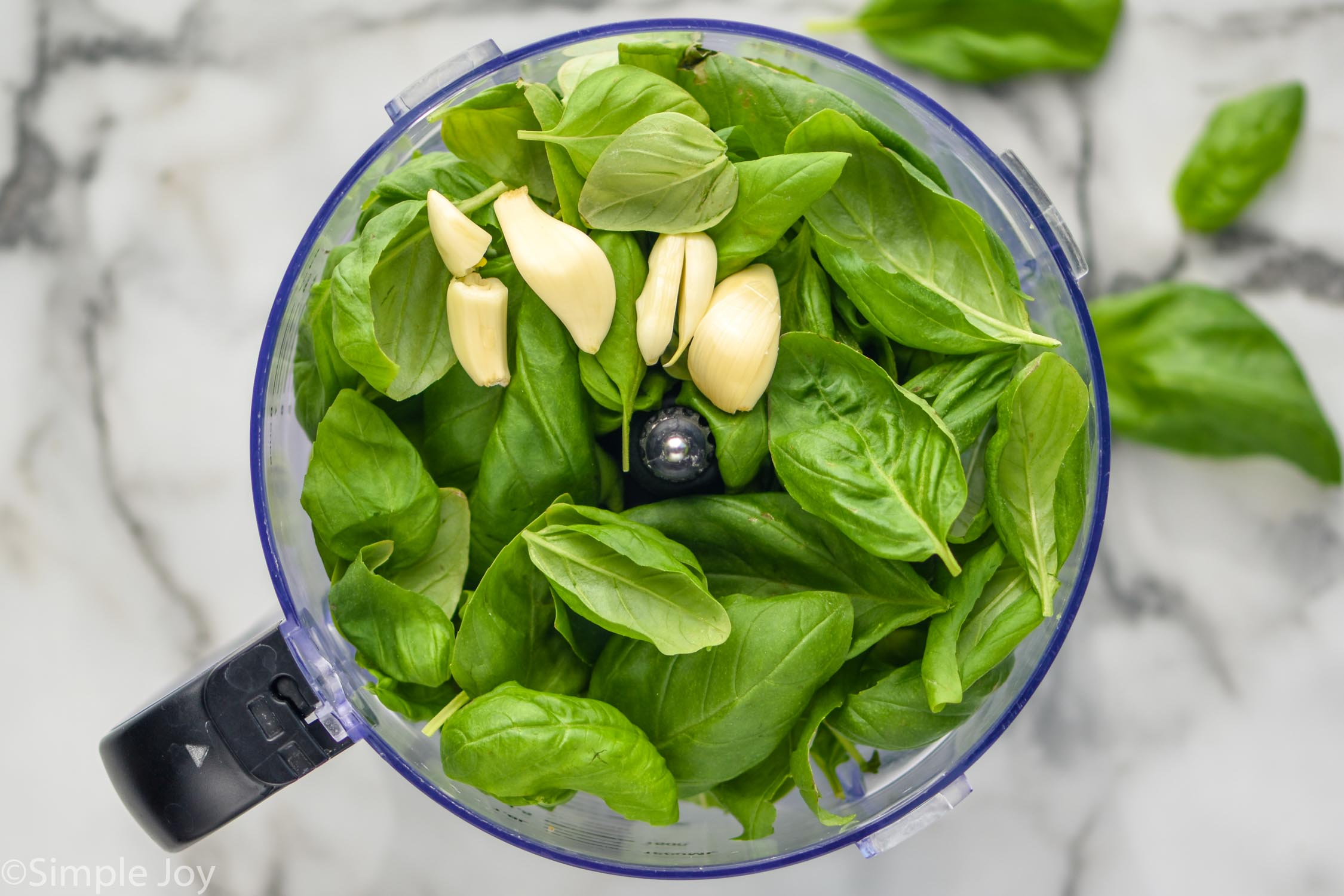 How to Make Pesto Sauce
This easy basil pesto sauce recipe comes together in just a few simple steps in your food processor. For the full recipe including all measurements, scroll to the recipe card at the bottom of the page.
Combine basil leaves and garlic. Using a blender or food processor, mince well. Then add the pine nuts and blend until they are chopped.
Add olive oil. Add the oil to the food processor while it is going. This will make the sauce smooth.
Add the rest of the ingredients. Mix well and taste. Add more salt and pepper to taste. If you want a thinner sauce, you can add more basil leaves or more olive oil.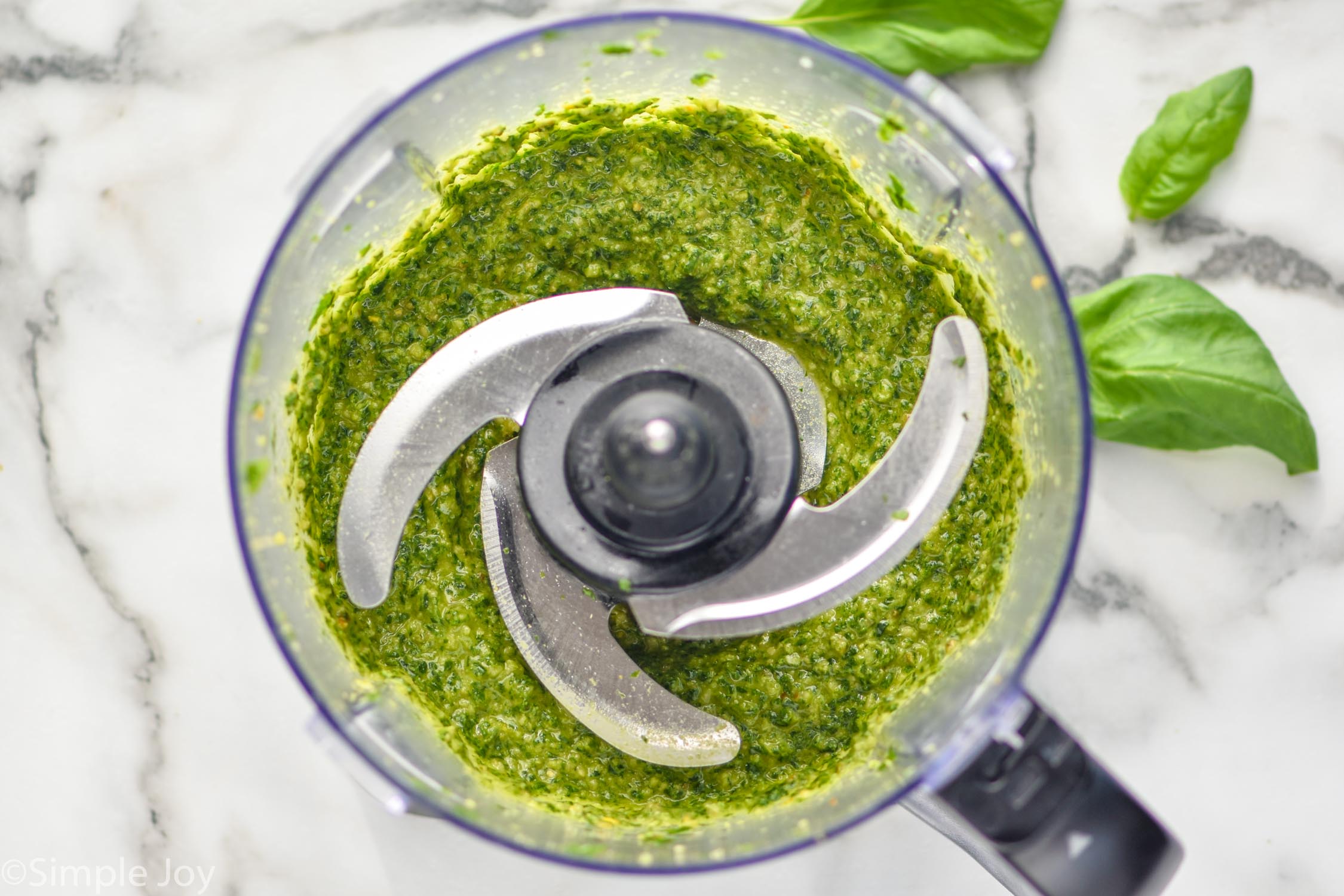 TOP PICK
Food Processor
I love this set from Ninja! You get a blender, a food processor (with a dough blade!) and single serve blender perfect for smoothies.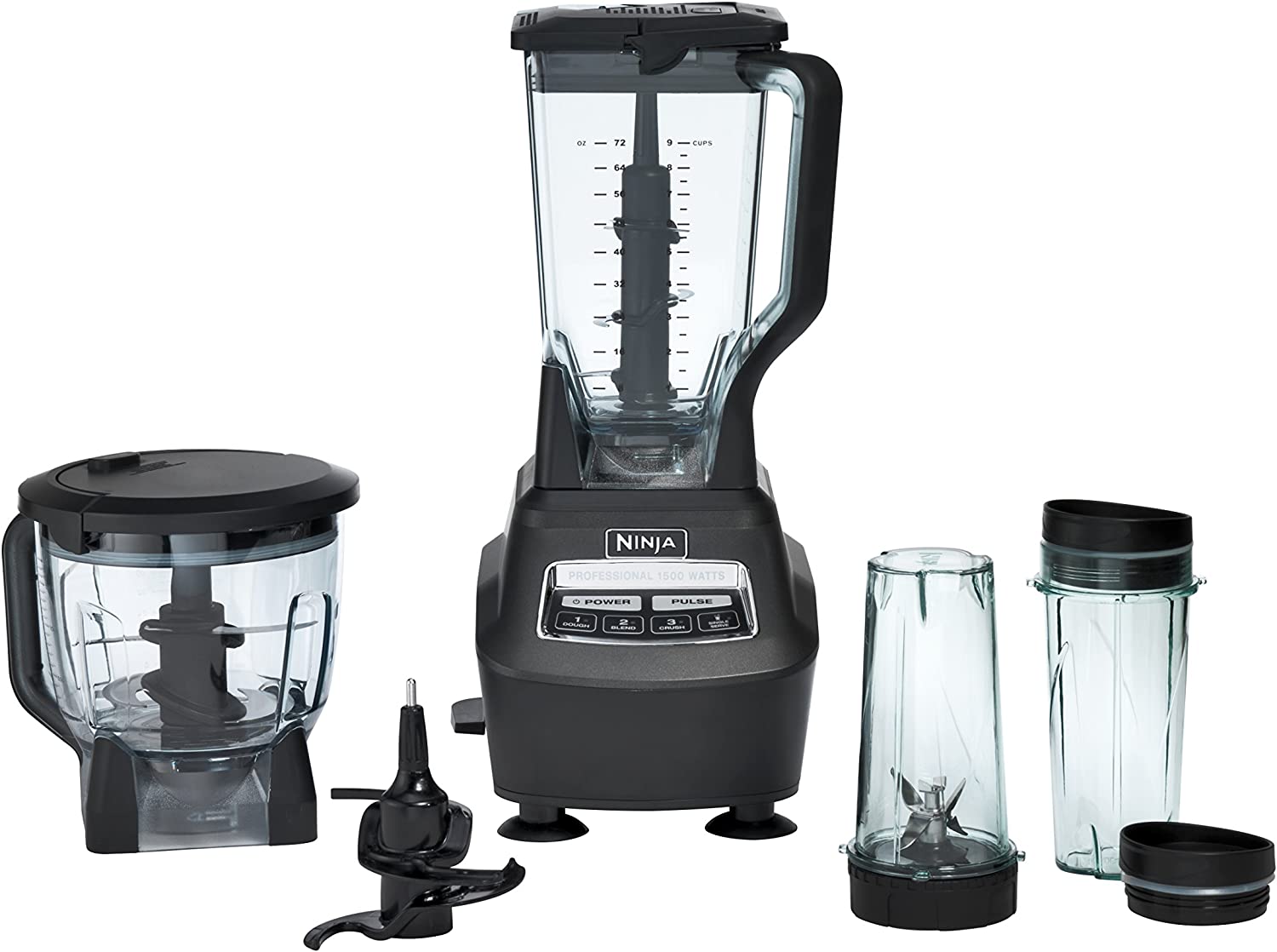 Basil
If you grow basil in your garden, this pesto sauce recipe is a great way to use it. If you are buying fresh basil at your local grocery store or farmer's market, look for basil leaves that are vibrant green and not wilting. It should also smell fragrant. There are different varieties of basil, and Thai basil is the only variation that will not work for this recipe.
Even if you aren't growing basil in your garden, it might be more cost effective to a buy basil plant or two on sale and use those. If you buy two, your plants won't be completely stripped, and you will be able to pop them in your window and let the plants replenish for your next batch. To ensure that they get enough water, set them a tray, and every few days add an inch of water.
Replacing Basil with Arugula
If you can't afford the amount of basil called for in this recipe, you can replace some of it with arugula. I wouldn't recommend replacing all of the basil with arugula, but some of it is a great way to off set the cost while still giving you an amazing pesto. One of the best spins on pesto I ever made was an off the cuff recipe where I ran out of basil and tossed in some arugula and walnuts.
Pro Tip
This pesto is a thicker sauce. If you prefer a thinner sauce, add more basil leaves or olive oil. Basil contains a lot of water, so adding even a few more leaves will help thin out the sauce a little bit if you need to.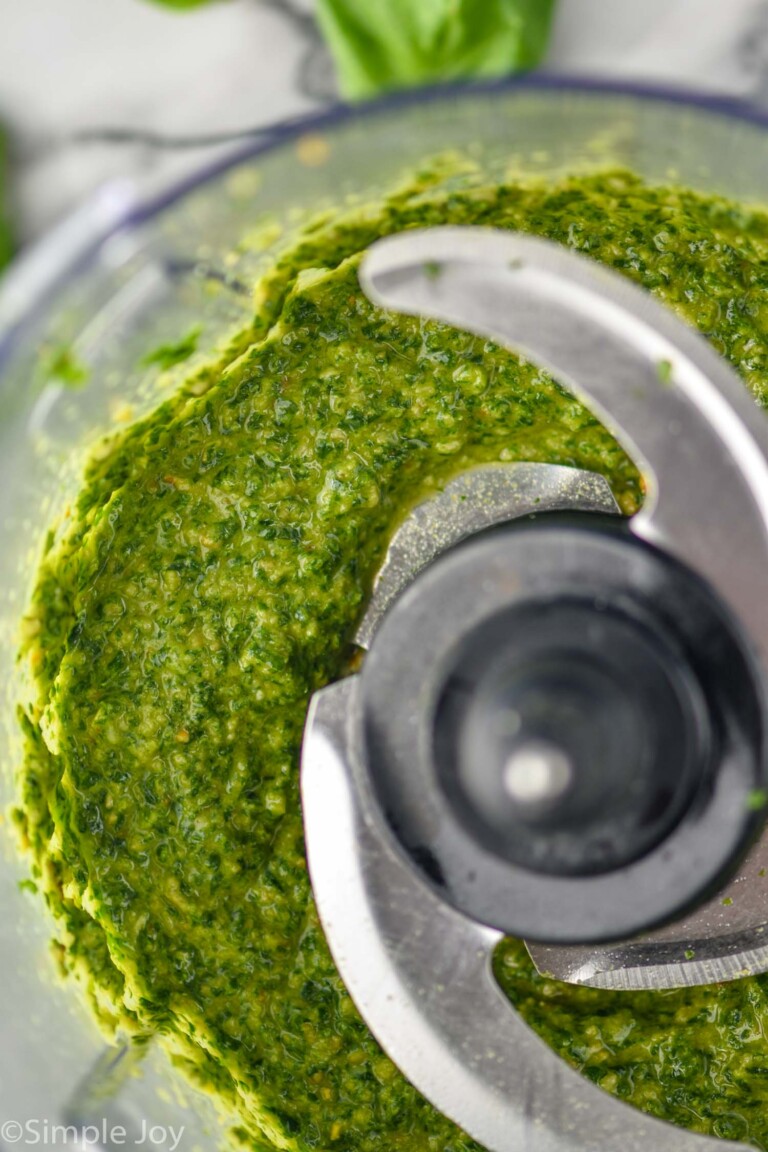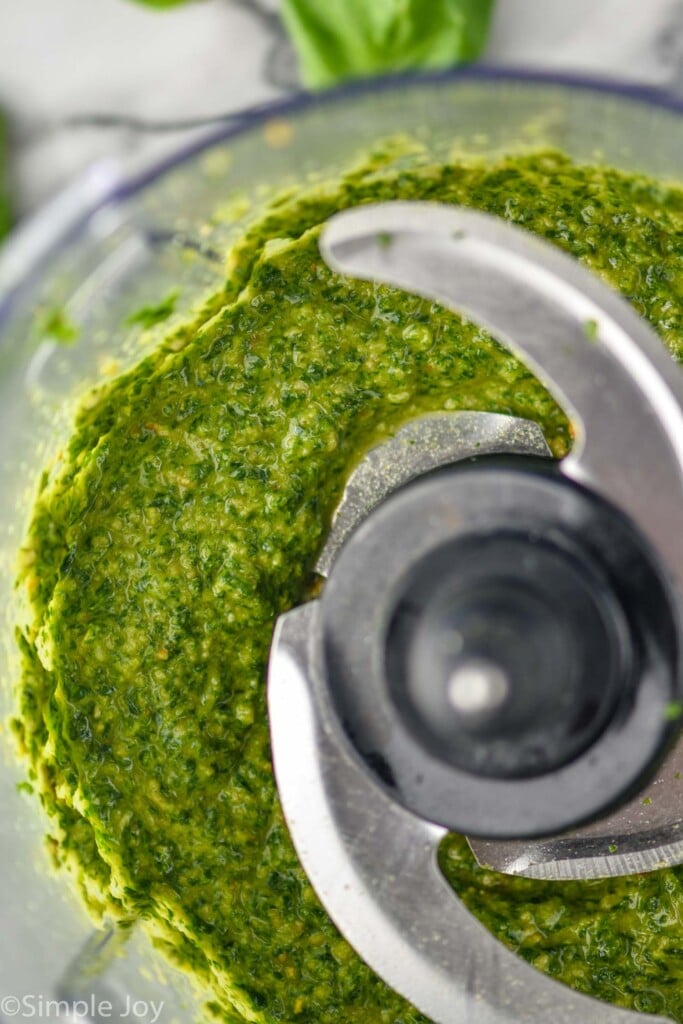 Toasting Pine Nuts
Toasting your pine nuts brings out their flavor. The quickest way to do this is on the stovetop. Place the pine nuts in a dry skillet (don't add oil) and cook for about three minutes, stirring often. Alternatively, you can place them on a baking sheet in a single layer and bake for five minutes at 350 degrees. Pine nuts can burn easily so make sure to watch them closely.
Replacing Pine Nuts with Walnuts
Pine nuts can be incredibly expensive. So much so, that they might make this recipe not work for some budgets. So, I have two suggestions.
Look for a store that sells nuts in bulk. That way you can buy just the amount that you need for this recipe. This trick is super handy for lots of recipes.
Replace the pine nuts with walnuts. You will want to also toast them, but they are significantly more budget friendly, and they work great in pesto.
Pesto Pasta
Pesto Pasta is the simple pasta recipe you are looking for! Made with my homemade Pesto Sauce which is tossed with hot noodles, your family will love this easy dinner.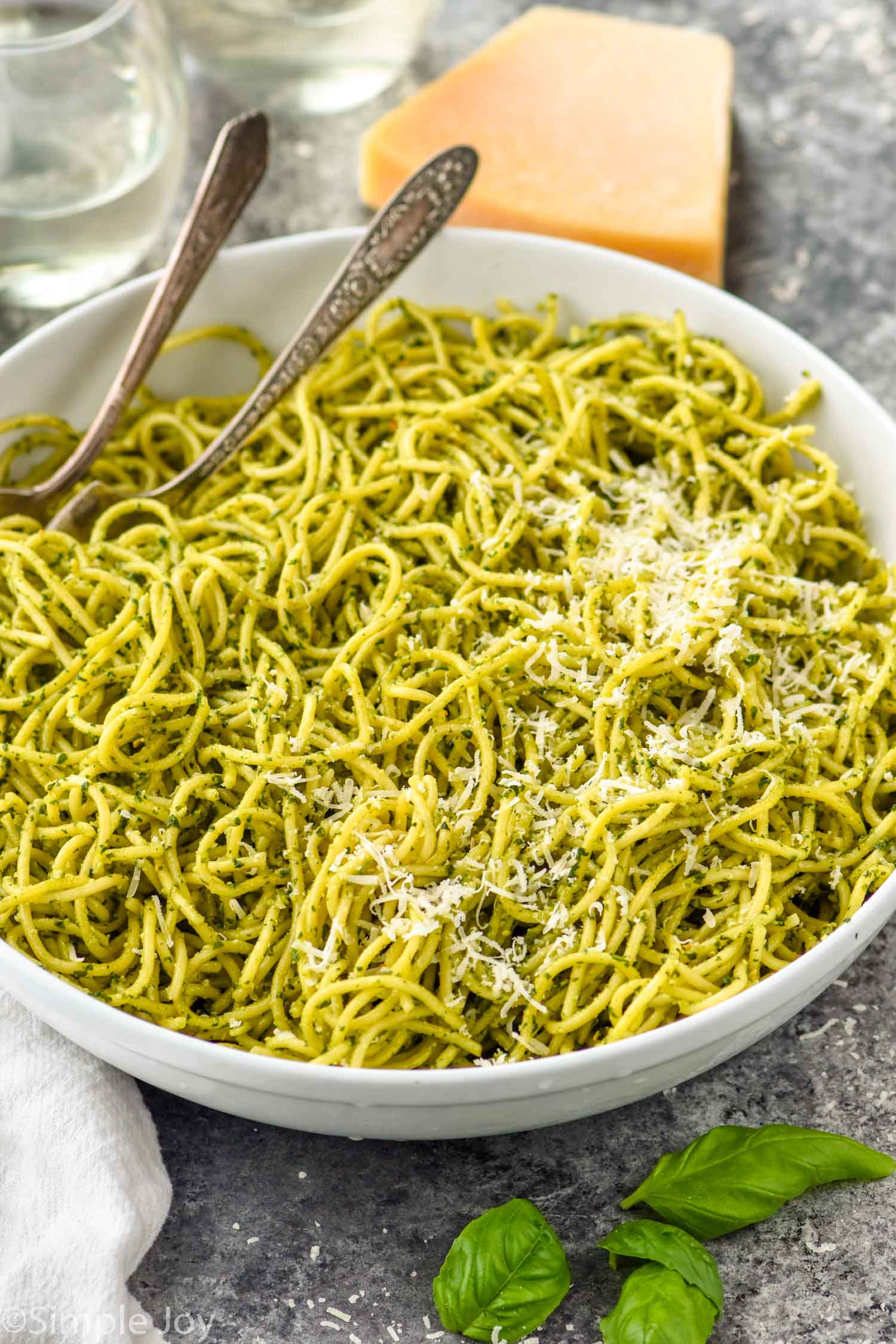 Pesto Pasta
We have so many great ways to enjoy pesto – seriously it's one of my favorite ingredients to put a spin on a recipe. But it's also perfect to toss with pasta. For a thin layer of pesto, you want to toss one batch of this recipe with a pound of pasta that has been boiled and drained. For a thicker layer of pesto, go with a smaller amount of pasta, all the way down to half a pound.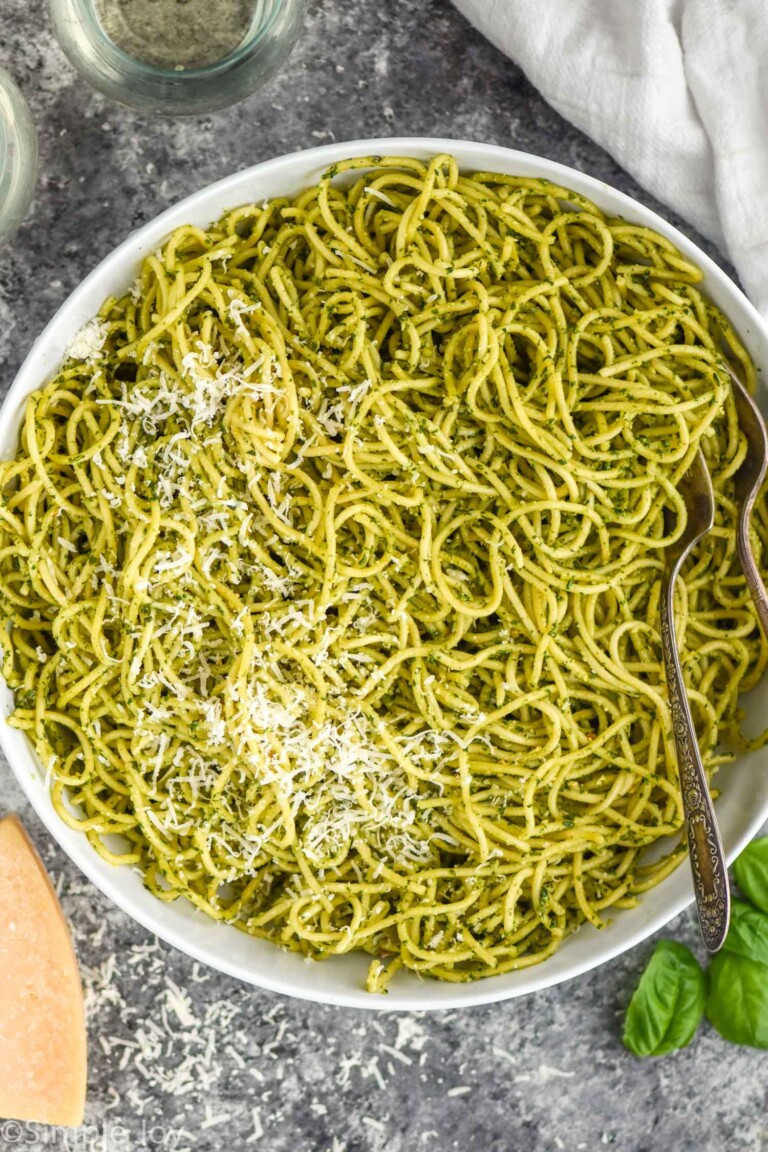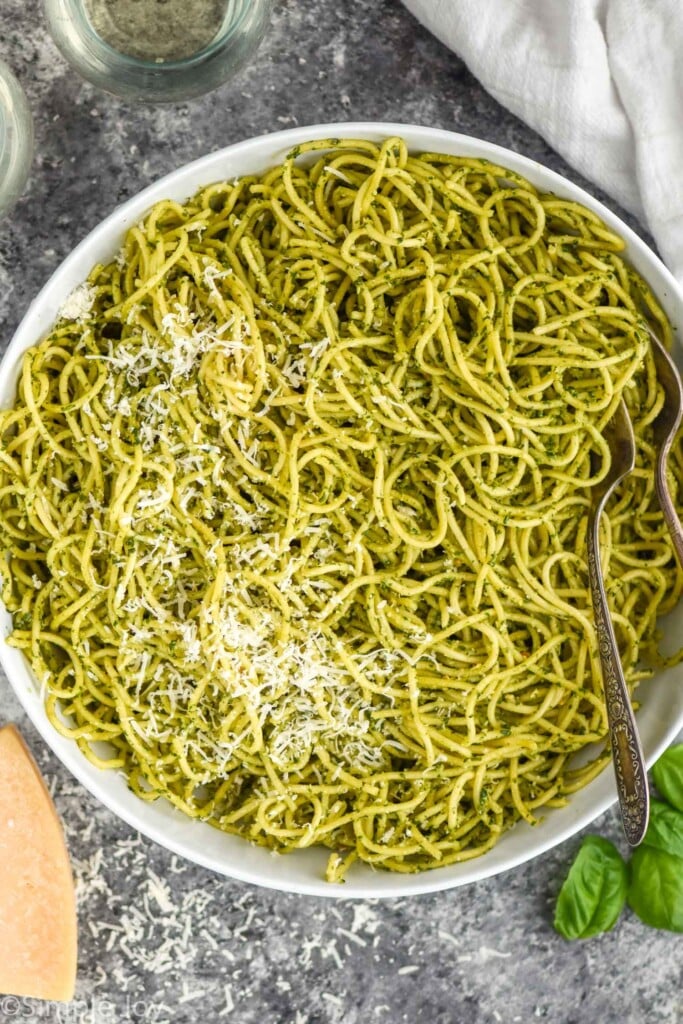 FAQ
Is pesto gluten free?
Yes! And it would be amazing on top of some gluten free pasta or some zucchini noodles.
Can you freeze pesto?
Yes! Use an ice cube tray to freeze portions of your pesto.
Is pesto healthy?
Yes, in moderation. While it is high in fat and calories, it also contains many nourishing ingredients.
Is pesto vegan?
Pesto is vegetarian, but it is not vegan. To make vegan pesto sauce, leave out the Parmesan cheese or use a dairy-free cheese alternative.
Storing and Freezing Pesto
Pesto sauce is ready to go once it is mixed. You can store it in an airtight container in the refrigerator for four to six weeks or in the freezer for six months to use in recipes. Drizzle the top with olive oil to prevent it from turning brown.
To freeze your pesto, prepare the recipe as directed but leave out the cheese. Spoon the pesto into an ice cube tray and freeze. Then remove the individual cubes and store them in a freezer-safe container or bag for up to six months. When you are ready to use it, let it thaw or defrost and mix in the Parmesan cheese before serving.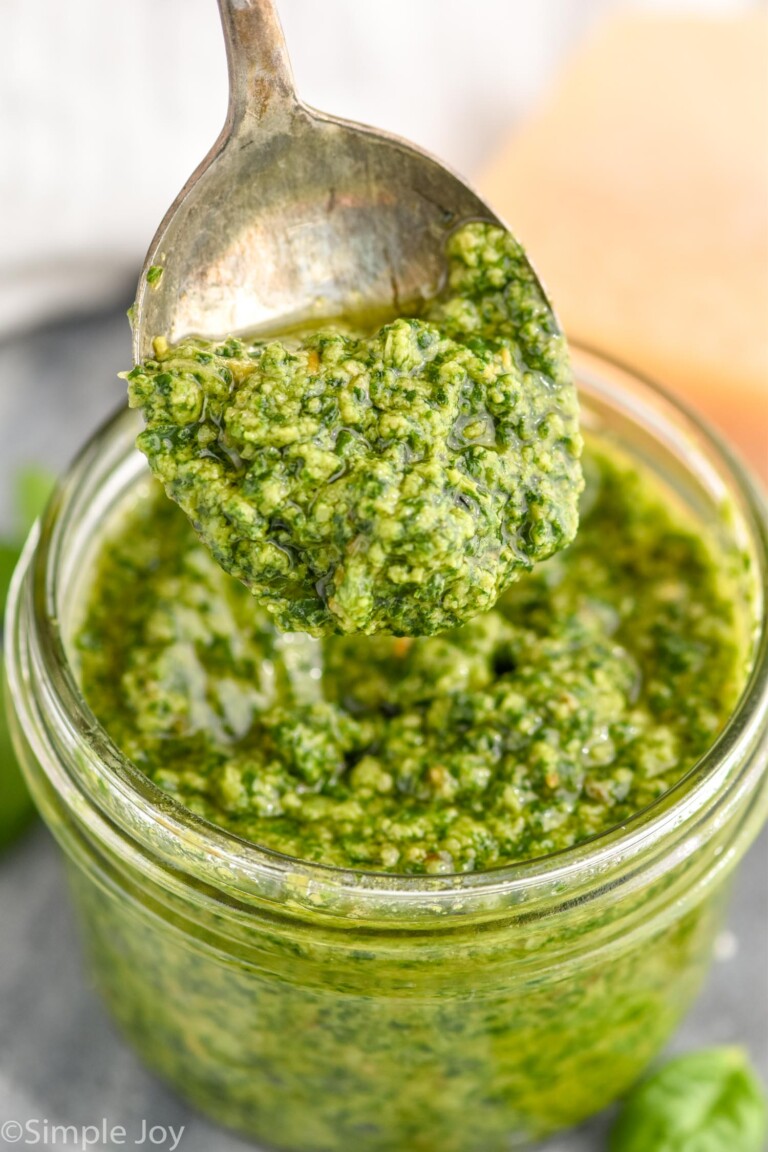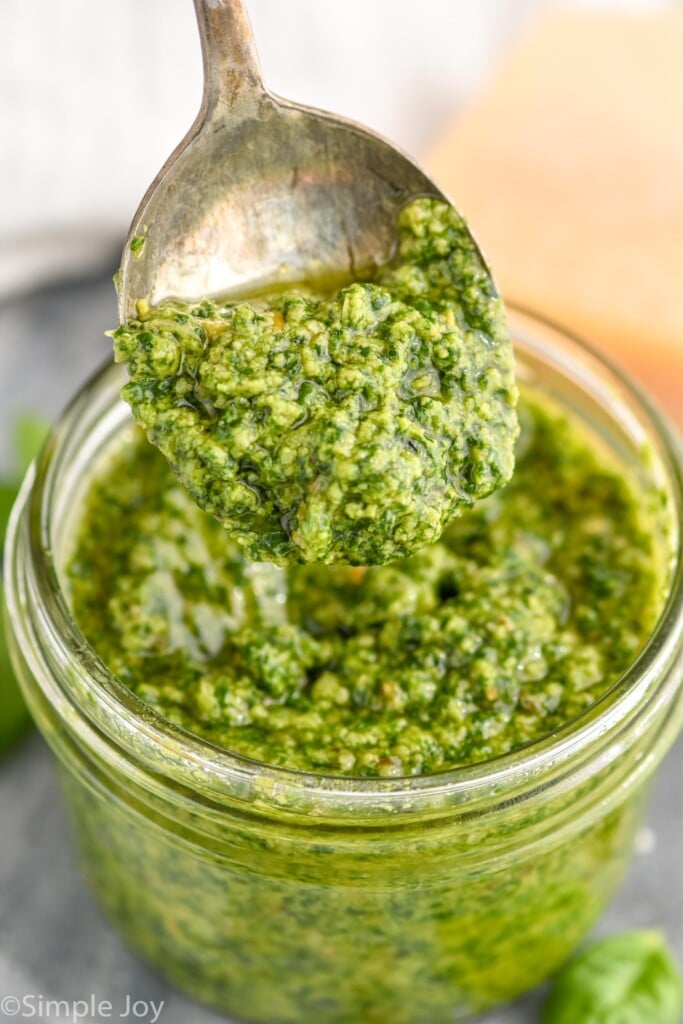 Recipes With Pesto
This pesto sauce recipe can be used in a variety of ways! In addition to tossing with pasta (and a protein like this Chicken Pesto Pasta) or serving on pizza, here are a few of my favorites:
If you try this homemade pesto sauce recipe or any of my other recipes, please leave a comment and let me know what you think!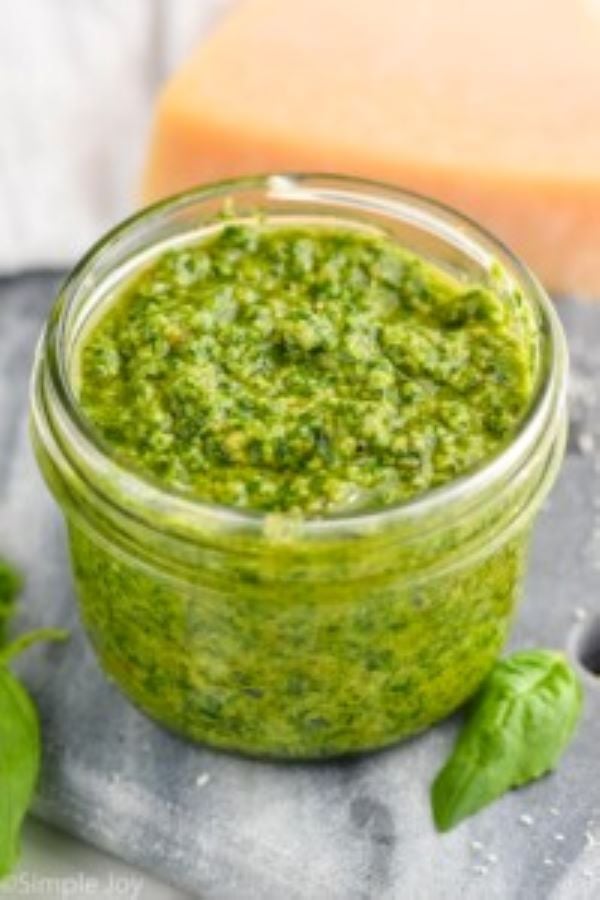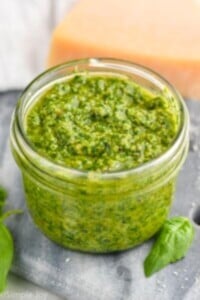 Pesto Sauce Recipe
This Pesto Sauce Recipe is so easy to make and is perfect with spaghetti for an easy dinner. Or use it in one of our many recipes for a fun spin!
Ingredients
3

cups

basil leaves

packed (66 grams)

4

garlic cloves

1/3

cup

pine nuts

(50 grams) toasted, see instructions in the post (or toasted walnuts)

1/3

cup

olive oil

(78.86 ml)

1/2

cup

Parmesan cheese

finely grated (32 grams)

3/4

teaspoon

kosher salt

dash black pepper
Instructions
Add the basil leaves and garlic cloves to a blender or food processor to mince well, being sure to scrape down the sides regularly.

Add in the pine nuts and continue blending until the nuts are finely chopped.

While the food processor/blender is going, add the olive oil. The pesto should be relatively smooth and well-blended.

Stir in the Parmesan cheese, salt (start with half the amount called for), and pepper. Taste and add more salt and pepper to taste.

This will be a thicker pesto recipe. If you want a thinner sauce, you can add in more basil leaves or olive oil.

Use right away by tossing with hot (drained) pasta. Or store in the refrigerator for four to six weeks to use in recipes.
Serving:
1
tablespoon
Calories:
73
kcal
(4%)
Carbohydrates:
1
g
Protein:
2
g
(4%)
Fat:
7
g
(11%)
Saturated Fat:
1
g
(6%)
Polyunsaturated Fat:
1
g
Monounsaturated Fat:
4
g
Cholesterol:
2
mg
(1%)
Sodium:
160
mg
(7%)
Potassium:
36
mg
(1%)
Fiber:
0.2
g
(1%)
Sugar:
0.1
g
Vitamin A:
263
IU
(5%)
Vitamin C:
1
mg
(1%)
Calcium:
47
mg
(5%)
Iron:
0.4
mg
(2%)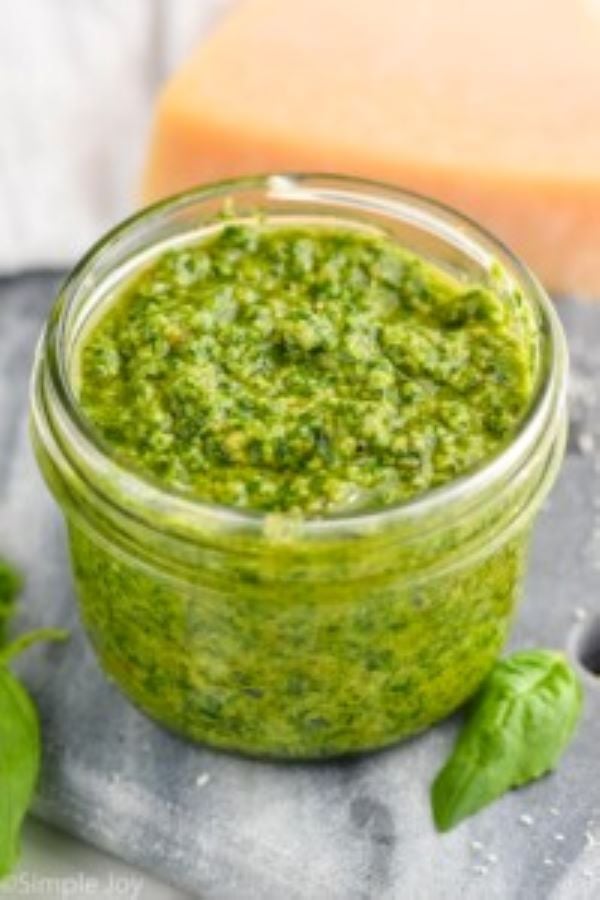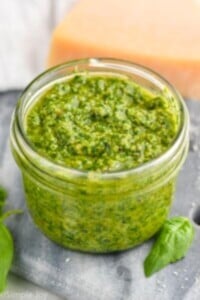 did you make this
Pesto Sauce Recipe