This Philly Cheese Steak Casserole is such an easy delicious dinner! Full of the Philly Cheese Steak flavor you love, but baked up in a delicious noodle casserole!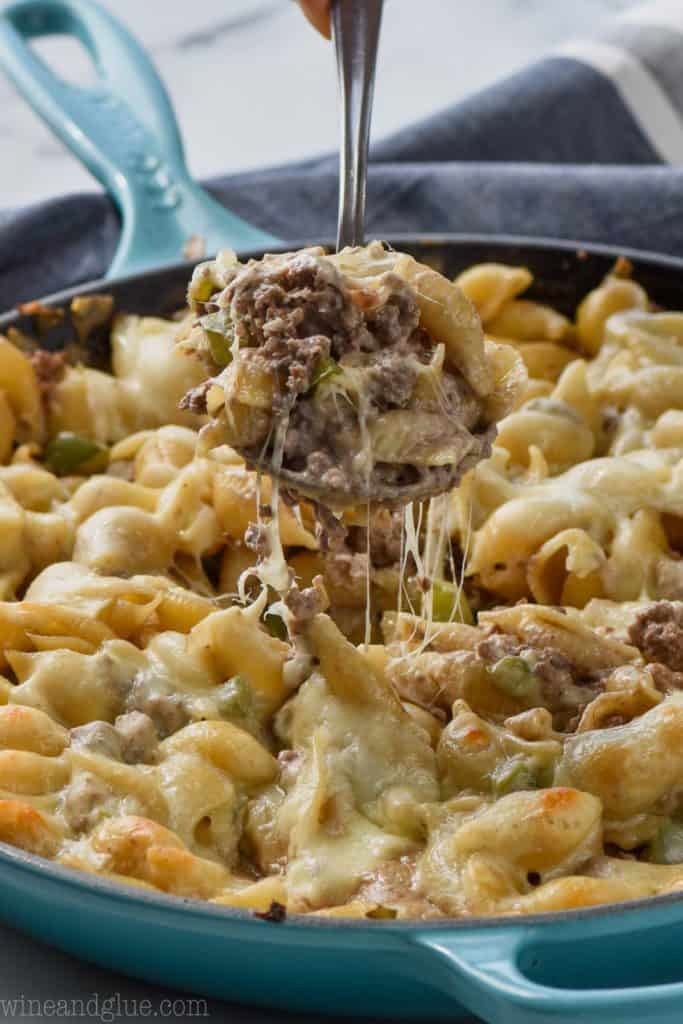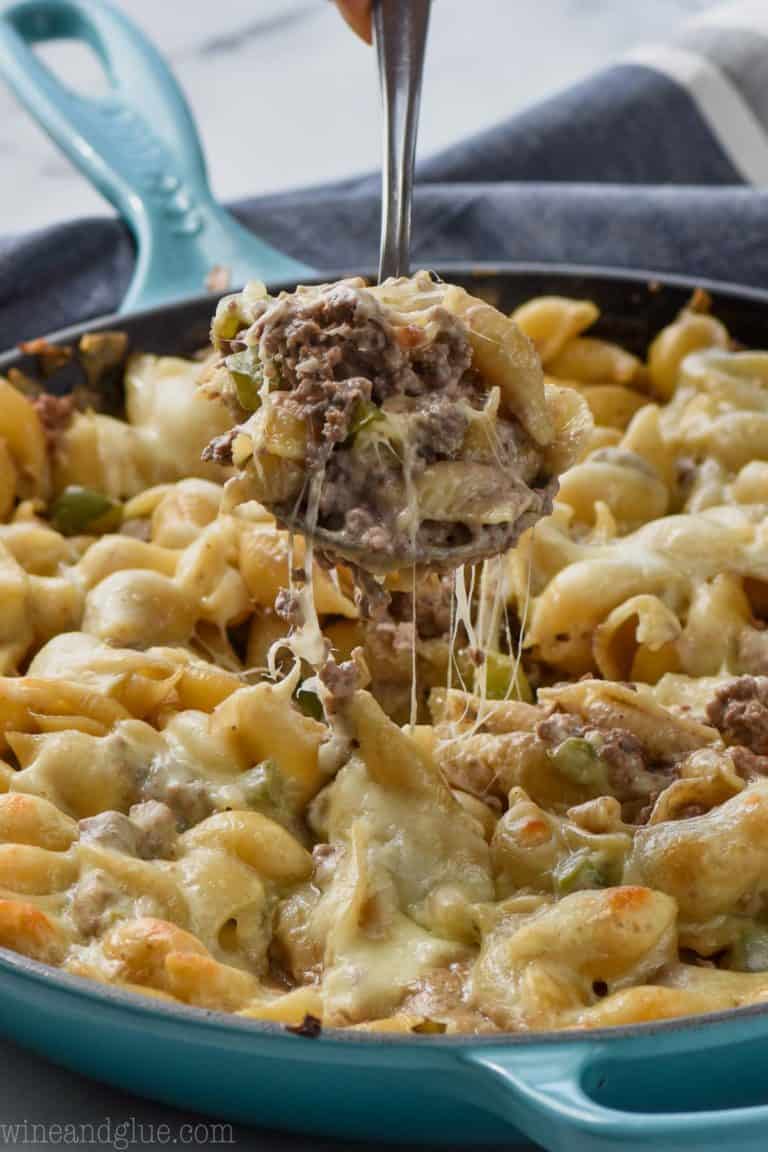 I'm so proud to be an ambassador for Chuck E. Cheese's. My family loves to play and eat at Chuck E. Cheese's and we are so grateful when you support the brands and companies that make Wine & Glue possible!
When I tell people I am a brand ambassador for Chuck E. Cheese's, about half the time I will hear something about the food. It's either:
"You have to tell them to work on their menu."
OR
"Their pizza is so good now!"
To those who say, "You have to tell them to work on their menu," I always answer: "Their pizza is so good now!"
For real.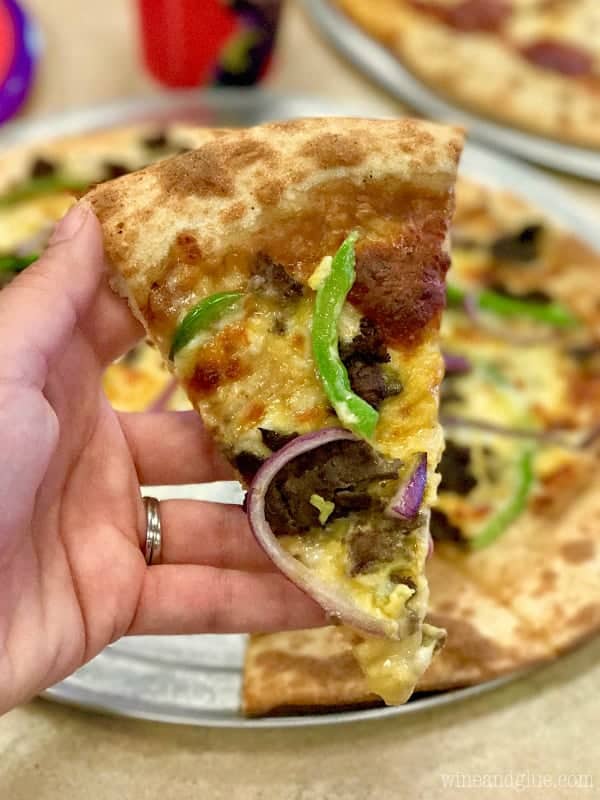 Two years ago, Chuck E. Cheese's did an overhaul of their menu and now it is completely amazing. Their salad bar is out of this world and they have revamped their pizza to include some amazing specialty pizzas like this Philly Cheese Steak Pizza with it's shaved beef. You guuuuuuys. It's like way too good. I ate so much of that pizza by myself. Also? Starting at the end of October they are going to bring back their Mac N Cheese pizza, so if you are looking for me in November you'll know where to find me. #allthedrool
To see their FULL MENU click here!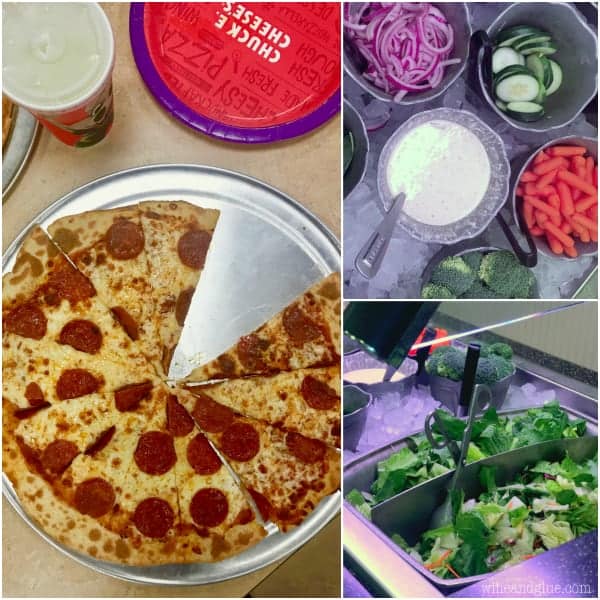 And obviously, their pepperoni is a winner. Gavin ate four pieces without blinking. As you can see, someone (cough, Nathan, cough) got to the pizza before my camera did. Did you guys know that Chuck E. Cheese's has beaten Pizza Hut in a blind taste test? TWICE. And in addition to the awesome fresh salad bar and the great pizzas, they have some great specialty items like their wings and pretzel bites. Both amazing!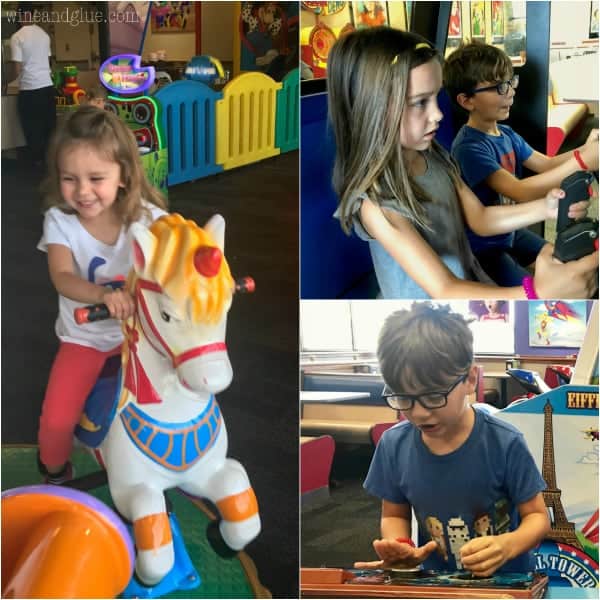 Obviously the food was just a pit stop for my kids so they could get back to the games. Do you see how obsessed they are? My obsession with food is their obsession with video games. Look how intense! At least we all can indulge our obsessions at Chuck E. Cheese's.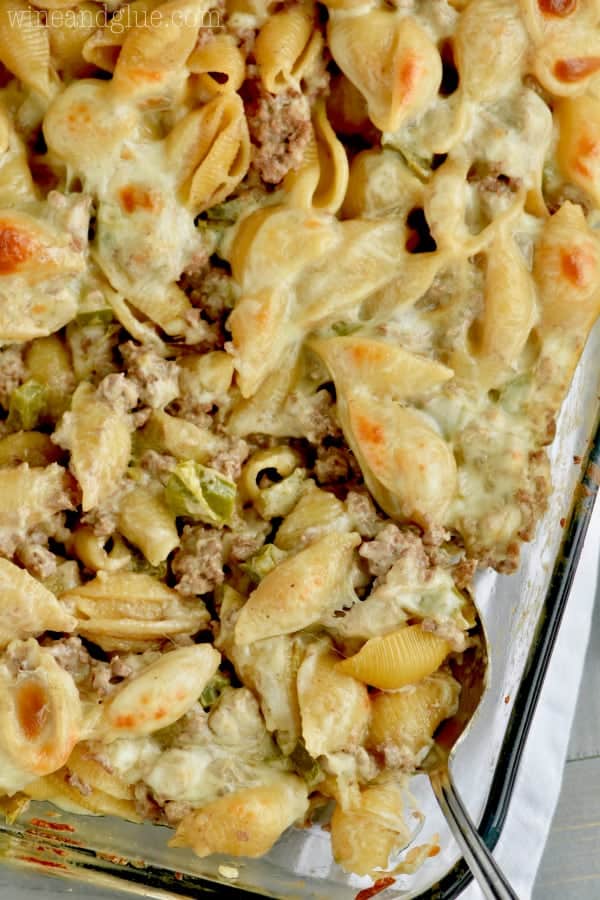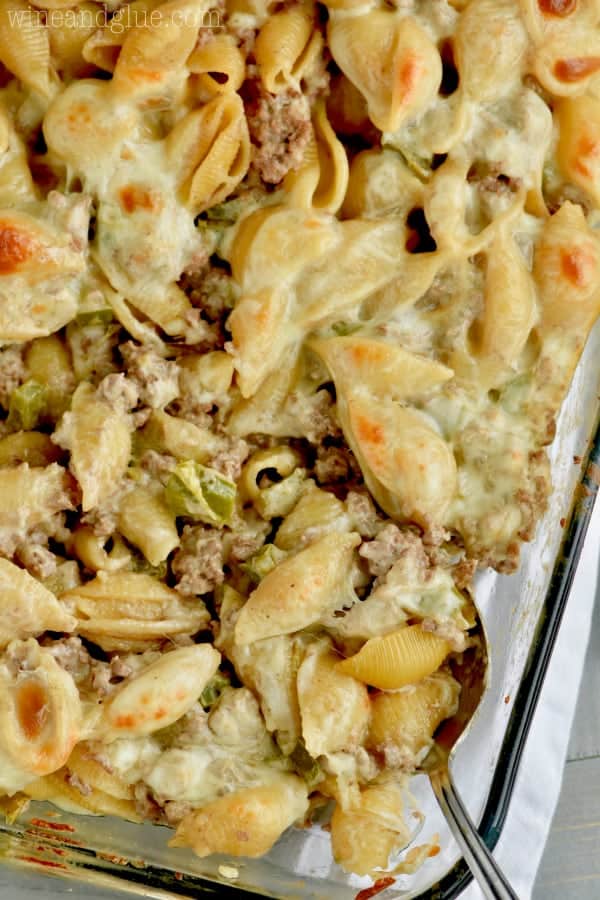 PHILLY CHEESE STEAK CASSEROLE: A DELICIOUS TWIST
Since I can't have Chuck E. Cheese's Philly Cheese Steak pizza every day, I made this Philly Cheese Steak Casserole! It's got all the delicious flavor of the pizza but loaded into a casserole. This casserole could not be easier, and you start by cooking the noodles in beef stock so that adds a ton of flavor to it right off the bat. You throw some cream cheese in with the ground beef and melt some provolone on top and you get the most dreamy melty delicious casserole. Its the type of casserole that you want to put in a big bowl and curl up in your jammies on the couch and watch a movie. No? Just me?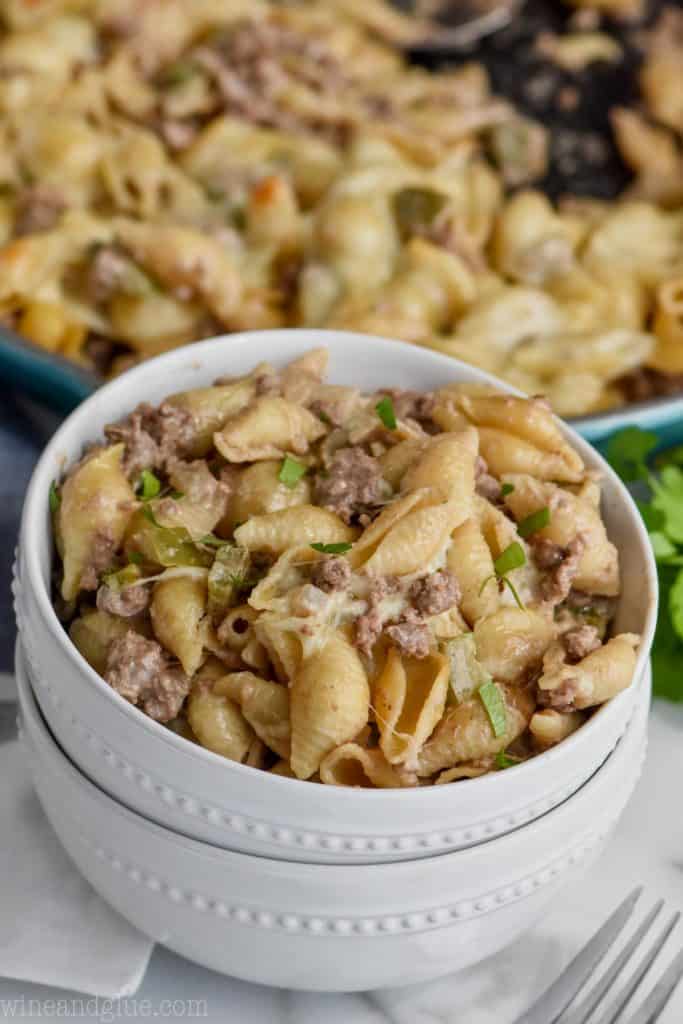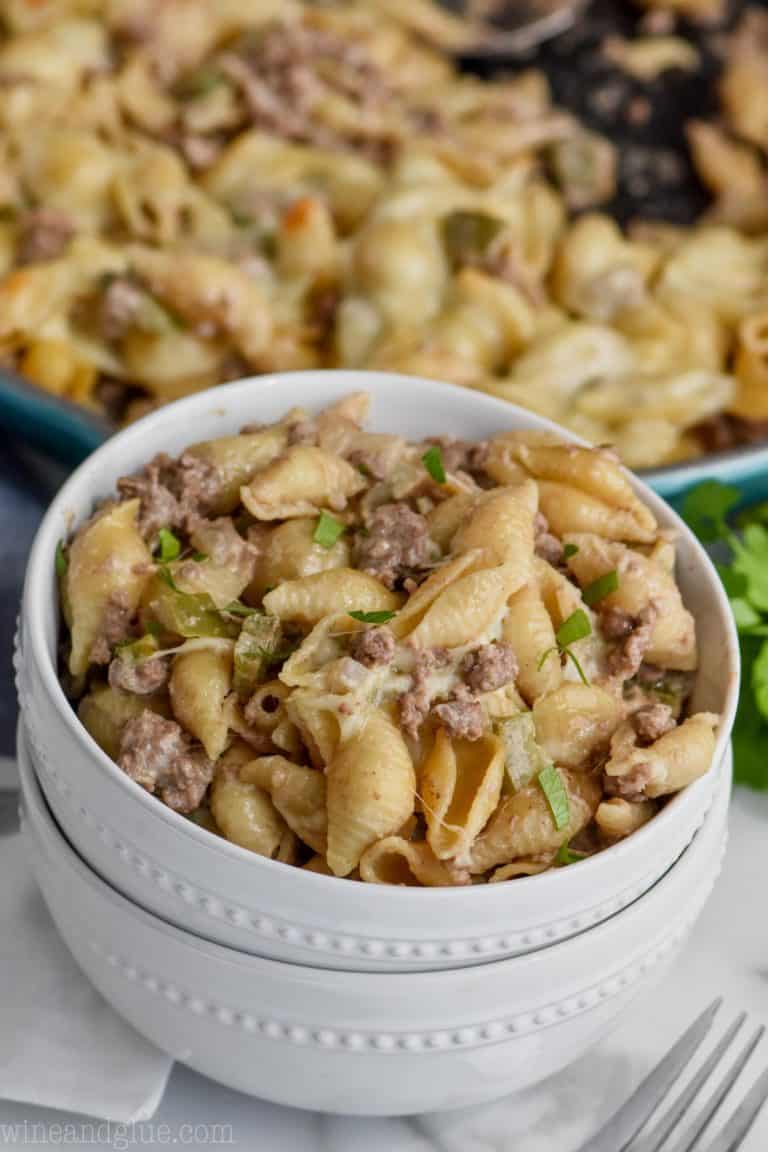 READER COMMENTS
"Made this tonight! I bought angus ground chuck from the meat department at my grocery store. Husband just said, "Mmm!" and is on his third bowl! Easy and delicious. Will make again!" – Maria
"I made this tonight, so good!" – Mary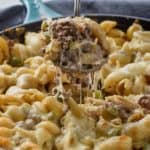 Print Recipe
Philly Cheese Steak Casserole
This Philly Cheese Steak Casserole is a delicious weeknight meal that your family will love!
Ingredients
1/2

pound

small shells

32

ounces

beef stock + 32 ounces water

2

TBSPs

butter

2

garlic cloves

minced

1

pound

hamburger meat

8

ounces

cream cheese

1

green pepper

diced

1/2

yellow onion

diced

1/2

cup

reserved cooking liquid from noodles

1

cup

shredded mozzarella

sliced provolone
Instructions
Preheat your oven to 350 degrees.

Combine the beef stock with 32 ounces of water and cook the shells in it according to package directions. Reserve 1/2 cup of the stock before draining the noodles.

Melt the butter, cook the garlic clove for thirty seconds, then add the bell pepper and onion and cook until tender, about 5 minutes.

Add in the ground beef, season with salt and pepper, and cook until cooked through. Stir in the cream cheese until melted.

Stir in the reserved cooking liquid from the noodles, the noodles, and the shredded mozzarella. If your skillet is oven proof, top with sliced provolone.

If your skillet is oven proof, top with sliced provolone and bake. Otherwise transfer to a 9 by 13 inch baking dish sprayed with cooking spray and top with provolone. Bake for 20 to 25 minutes or until the provolone is completely melted.
Nutrition
Calories:
534
kcal
|
Carbohydrates:
31
g
|
Protein:
32
g
|
Fat:
32
g
|
Saturated Fat:
18
g
|
Monounsaturated Fat:
1
g
|
Cholesterol:
127
mg
|
Sodium:
474
mg
|
Potassium:
33
mg
|
Fiber:
2
g
|
Sugar:
3
g
|
Vitamin A:
800
IU
|
Vitamin C:
15.7
mg
|
Calcium:
260
mg
|
Iron:
3.1
mg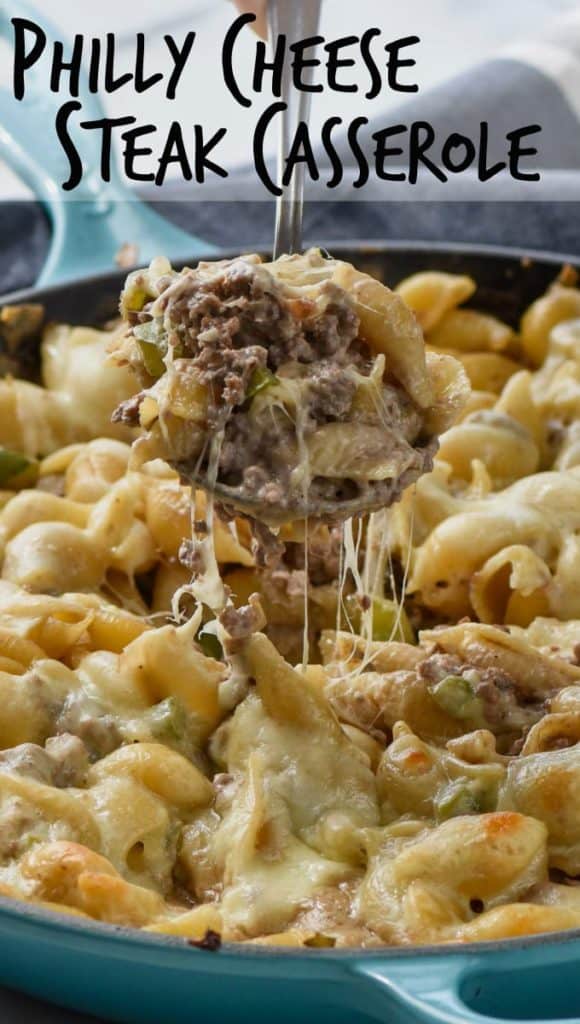 SaveSave
SaveSave