Turkey Meatloaf is an easy dinner recipe that comes together fast, has simple ingredients, and freezes perfectly!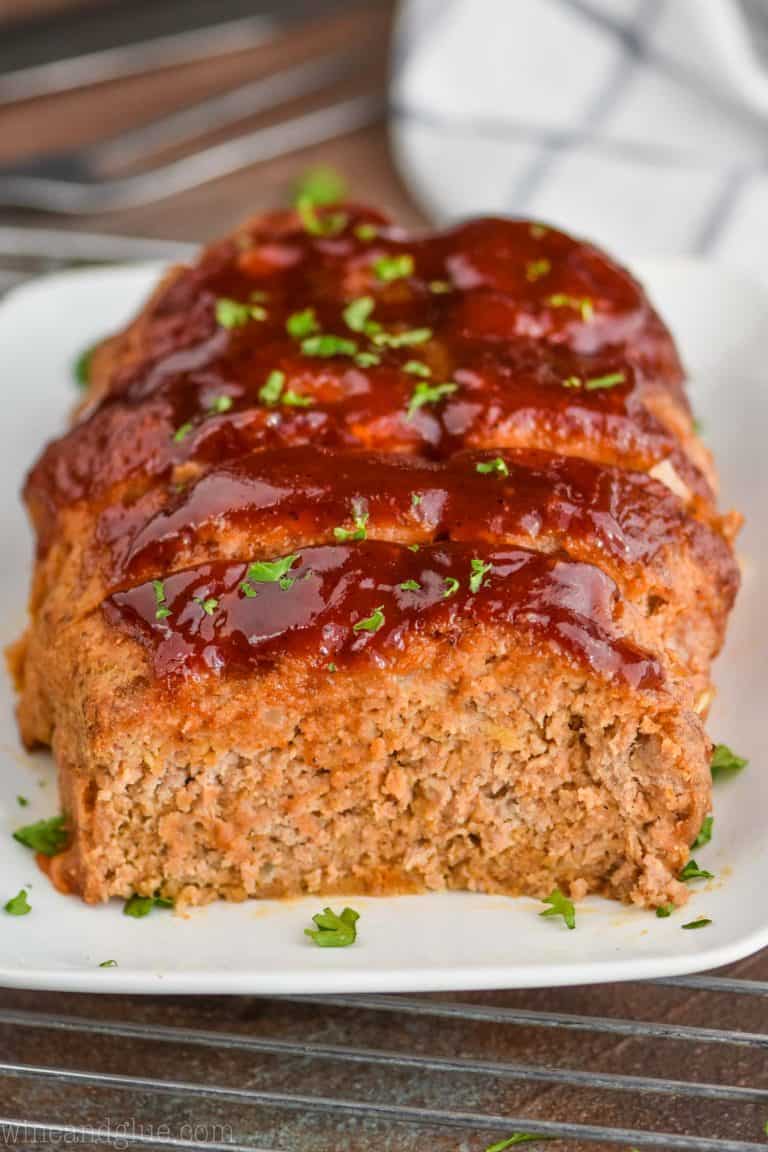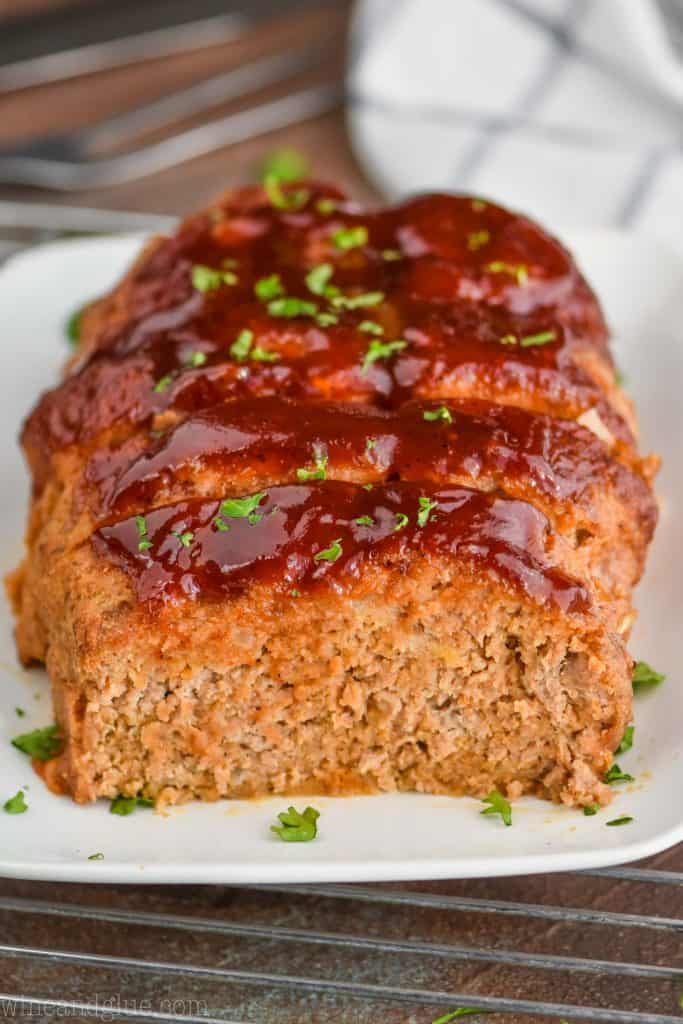 Yesterday I hosted a belated Christmas for my family and made a full Thanksgiving dinner for them.
My loving and gracious family kept thanking me, telling me how much work it must have been. Obviously it took a lot of work, but that being said, I really loved it. I was struck again and again while preparing it, how much joy cooking for other people brings me.
I hope as you read my posts throughout this upcoming year some of that joy and love comes through to you. I hope I can make cooking easier for you, so that it feels more joyful and less stressful.
And with that, I give you Turkey Meatloaf. A great dinner recipe that is on the lighter side. It is full of delicious flavor and comes together so easily.
This is one of those "homework night meals." Throw it together and while it bakes, help the kids with math homework or that writing assignment they are struggling with.
How to Make Turkey Meatloaf
This is a very simple recipe to make. Besides sautéing the onions and garlic, it is just throwing ingredients into a bowl.
In a small skillet, heat oil over medium heat. Add in the garlic and onions, sautéing until the onions are translucent – about 3 minutes.
In a large bowl, mix together the meat, egg, breadcrumbs, ketchup, salt, pepper, Worcestershire sauce, and onion mixture.
Form into a loaf shape in a greased glass baking dish.
Top with BBQ Sauce and bake for 50 minutes.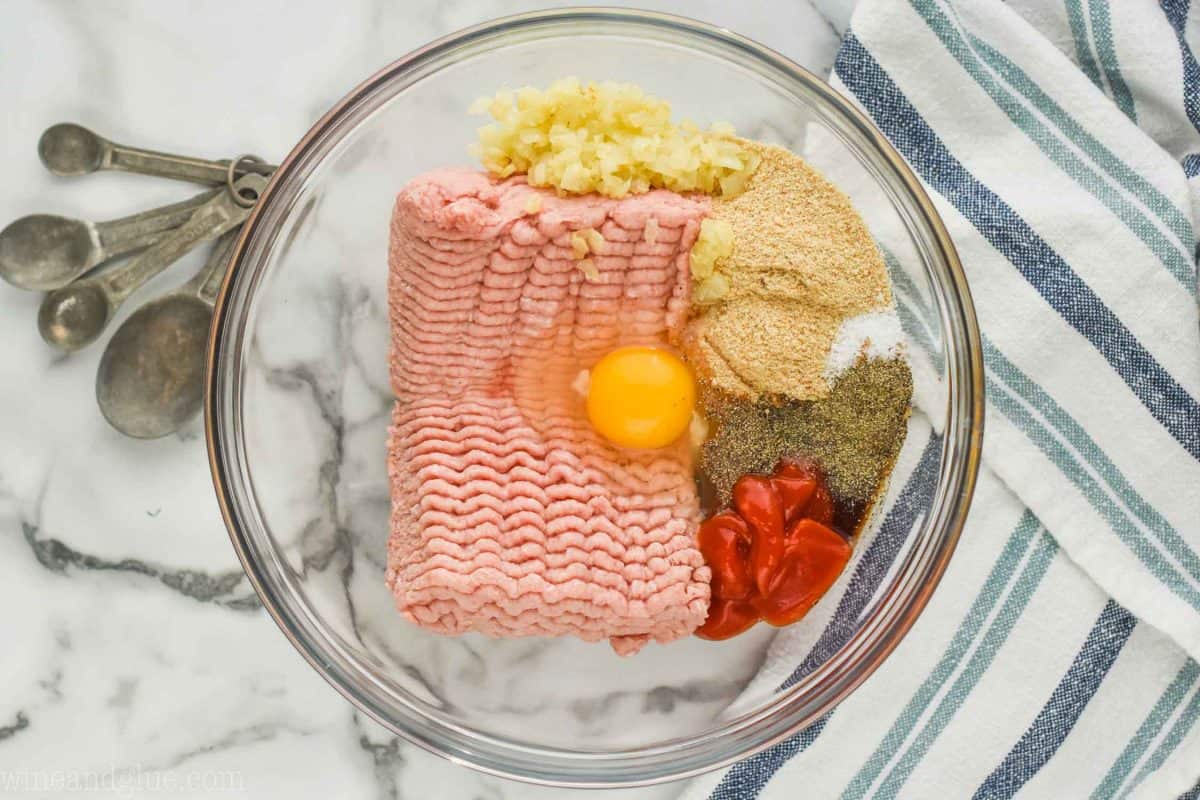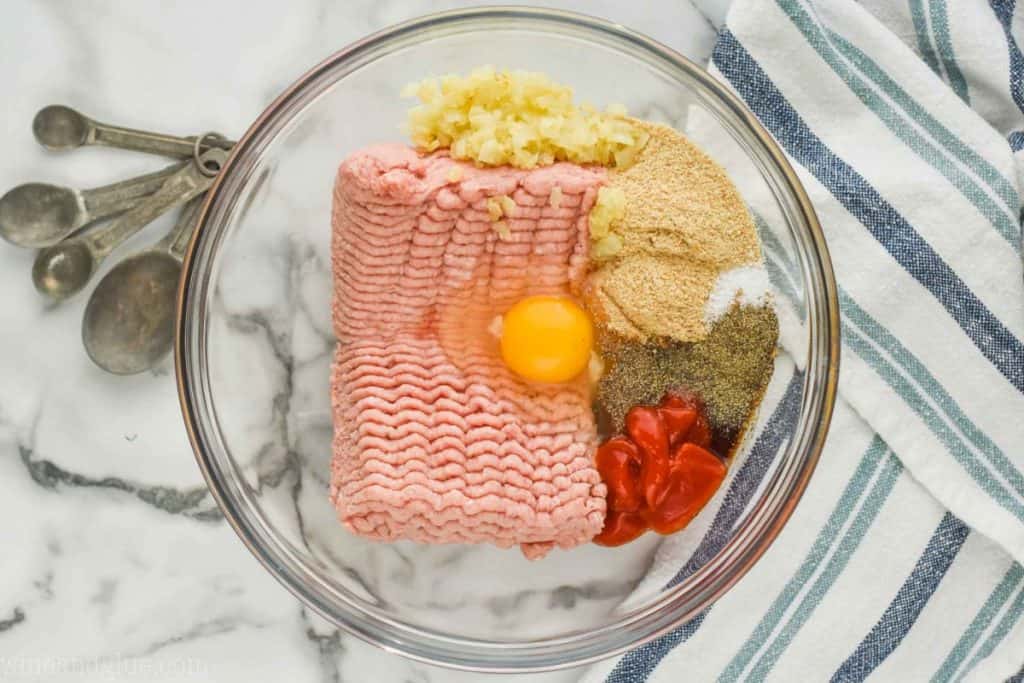 What BBQ Sauce to Use
I highly recommend using my homemade BBQ Sauce with this recipe. I think the flavors in it and the flavors in my meatloaf compliment each other perfectly.
I am a little biased.
That said, don't not make this because you don't want to make BBQ Sauce. Just grab your favorite store bought brand and make life a little simpler.
What to Bake It On
I recommend baking this in a glass baking dish. I just think that it turns out better.
You can also use a rimmed metal baking sheet or a loaf pan.
Please note that what you choose to bake it on will affect how the bottom turns out. A baking sheet will make for a crispier bottom.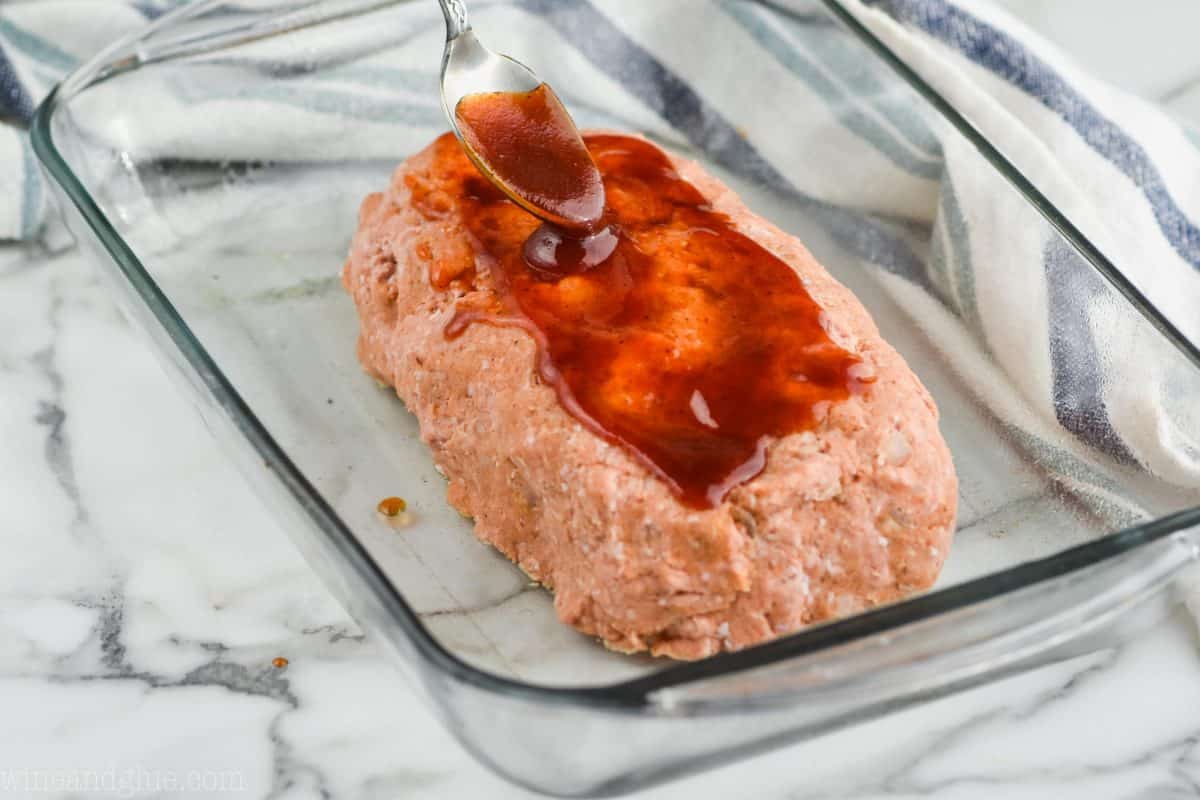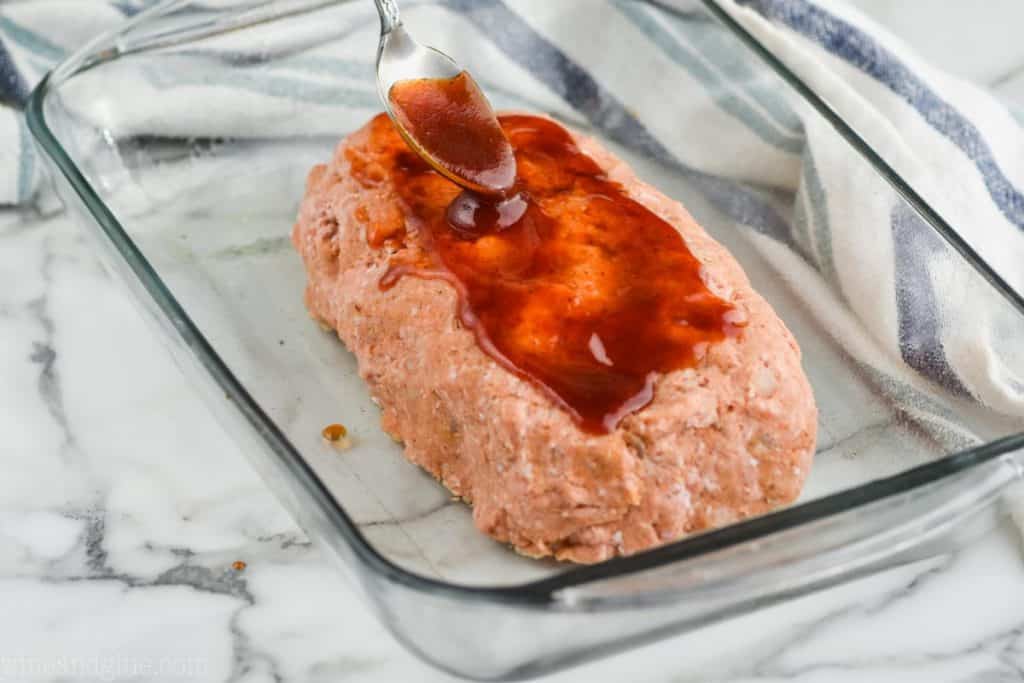 Freezing
This is a great recipe to make and then freeze before baking. It freezes beautifully and has the same great moist taste after baking.
Make the recipe through step 3. (Obviously skipping step #1 of turning on the oven.) Do not top with BBQ sauce before freezing.
Place on a wax paper lined plate and put in the freezer for 1 hour. Transfer the meatloaf to a freezer safe plastic bag or other airtight container and store in your freezer for up to 3 months.
When ready to bake, remove from the freezer and bake at 350 degrees for 15 minutes. Remove from the oven, top with BBQ sauce, and continue baking for 50 minutes or until a thermometer reads 165 degrees.
I recommend baking frozen loafs on a metal baking sheet to reduce the risk of a glass baking dish shattering from the drastic temperature change.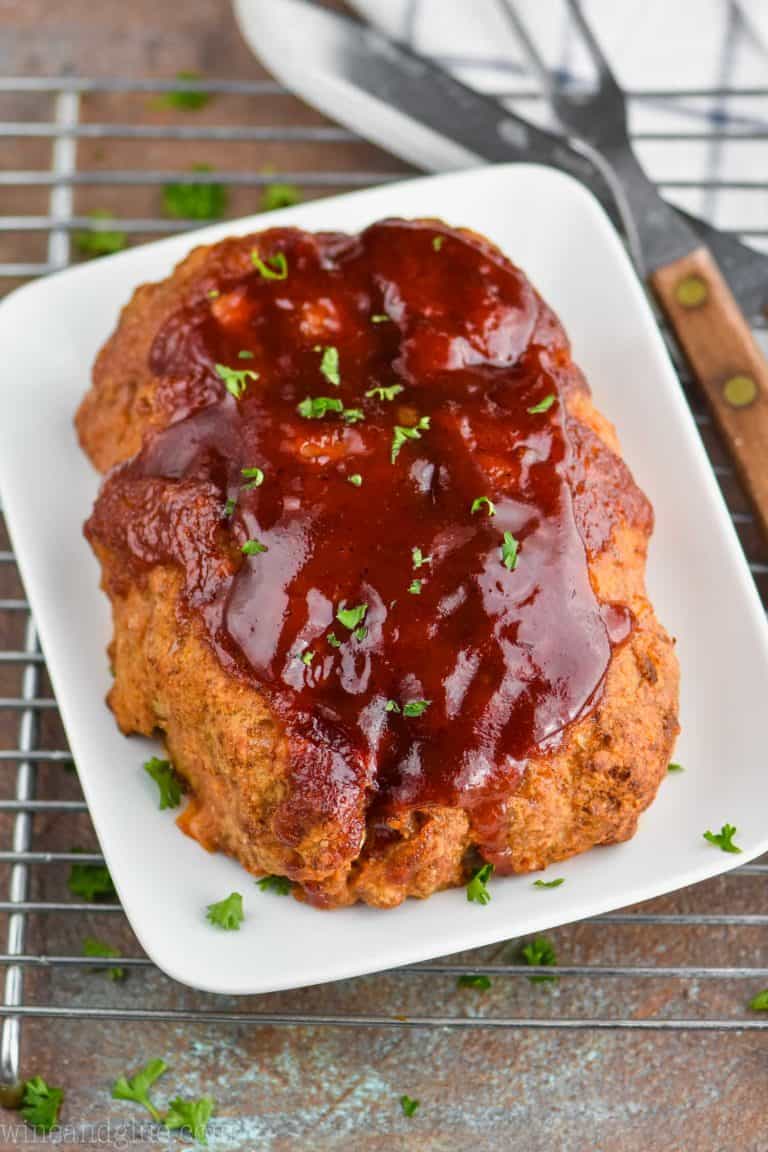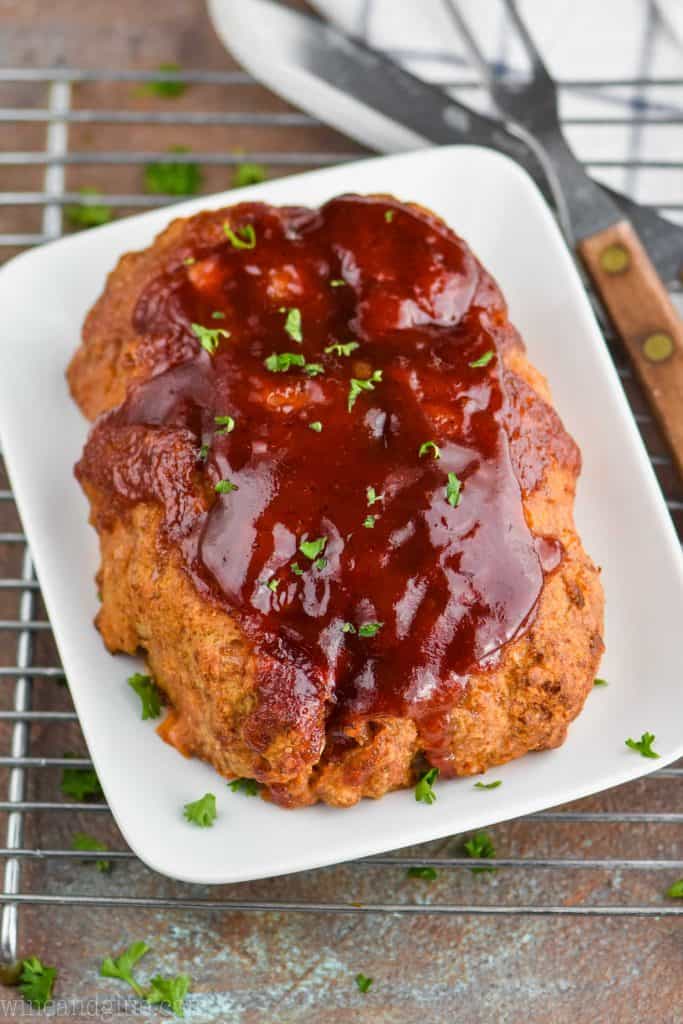 Storing Left Overs
If you have some pieces of turkey meatloaf left, store them in an airtight container in the refrigerator for up to four days.
Baked meatloaf can also be kept in the freezer.
Fully slice the left over loaf into individual pieces.
Lay the pieces on a wax paper lined plate.
Freeze for one hour (to flash freeze).
Remove them from the freezer, store them in an airtight container and freeze for up to three months.
I recommend freezing this way because reheating the whole loaf will be difficult. Additionally, flash freezing keeps them from sticking together in the freezer.
Reheating
A single piece that has been in the refrigerator can be reheated in the microwave. Microwave in a microwave safe container, covered, at half power for two minutes. If microwaving more than one piece, place them in a single layer in a microwave safe container. They may need another minute or two.
You can also reheat in the oven. Place in an oven safe container, cover with aluminum foil, and bake for 20 to 25 minutes at 250 degrees.
Pieces that have been fully baked and frozen can be reheated in the oven as well. Place in an oven safe container, cover with aluminum foil and bake at 250 degrees for 30 to 40 minutes.
Ovens vary, so check on your reheating meatloaf half way through.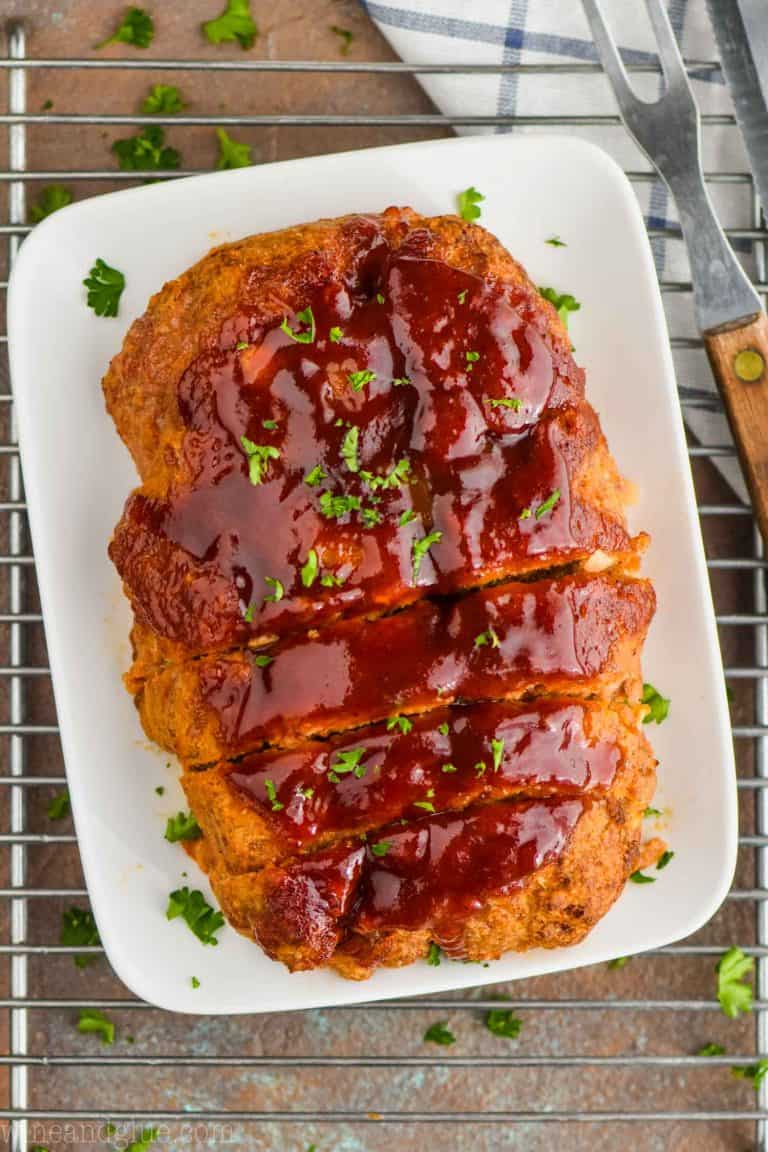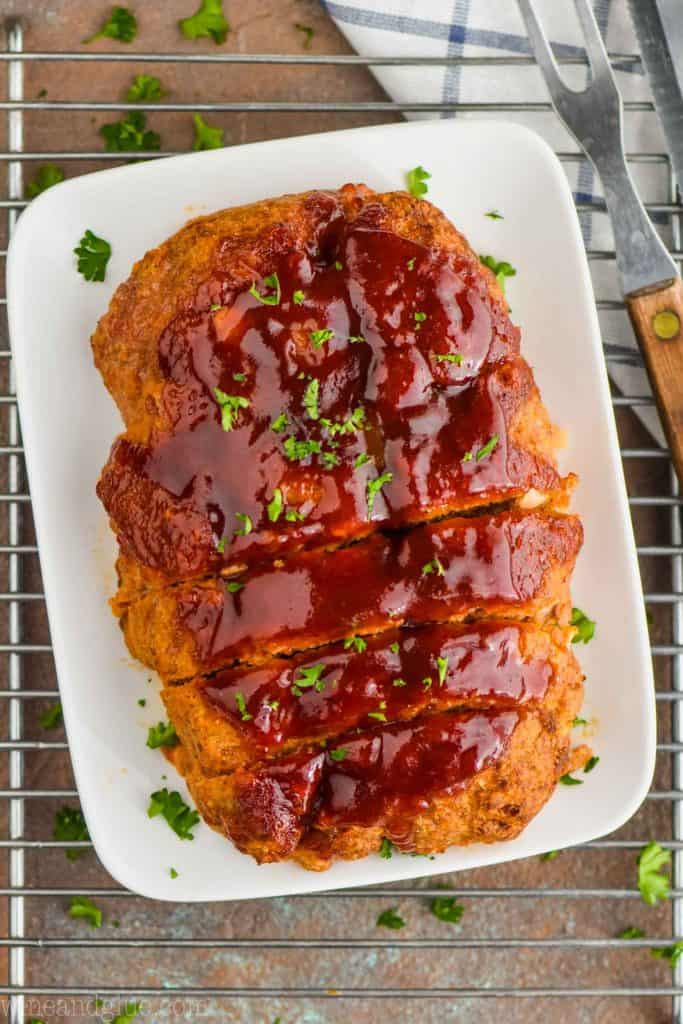 What to Serve with Turkey Meatloaf
I have a lot of side dish recipes that would be great with this meatloaf.
Since your oven will be busy baking up this beauty, make my Slow Cooker Sweet Potatoes. They are the perfect side for this lighter loaf.
My Cheesy Potatoes (you might call them Funeral Potatoes) bake at the same temperature and length of time, so they are an ideal side.
My Broccoli Rice Casserole is another one that bakes at the same temperature, and would be great with this dinner.
If you want to keep things lighter, make my Winter Salad! The flavors will compliment this recipe well.
If you make any of my recipes, leave me a comment and let me know what you think!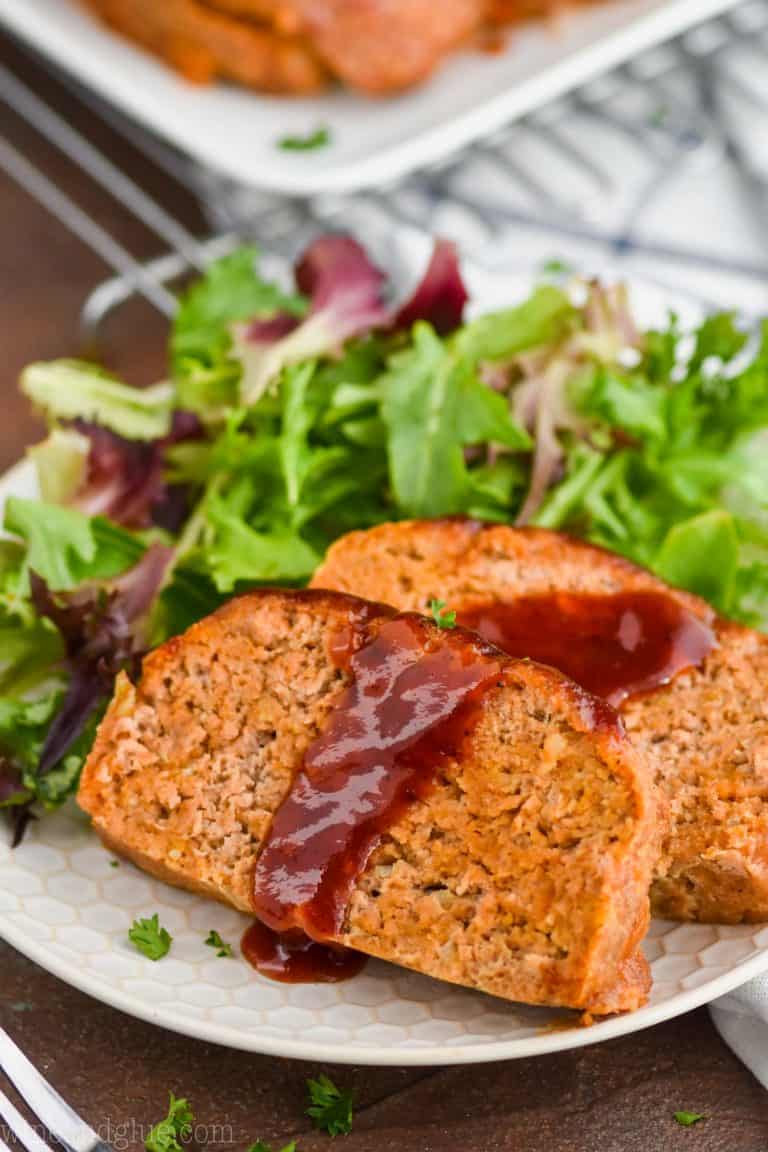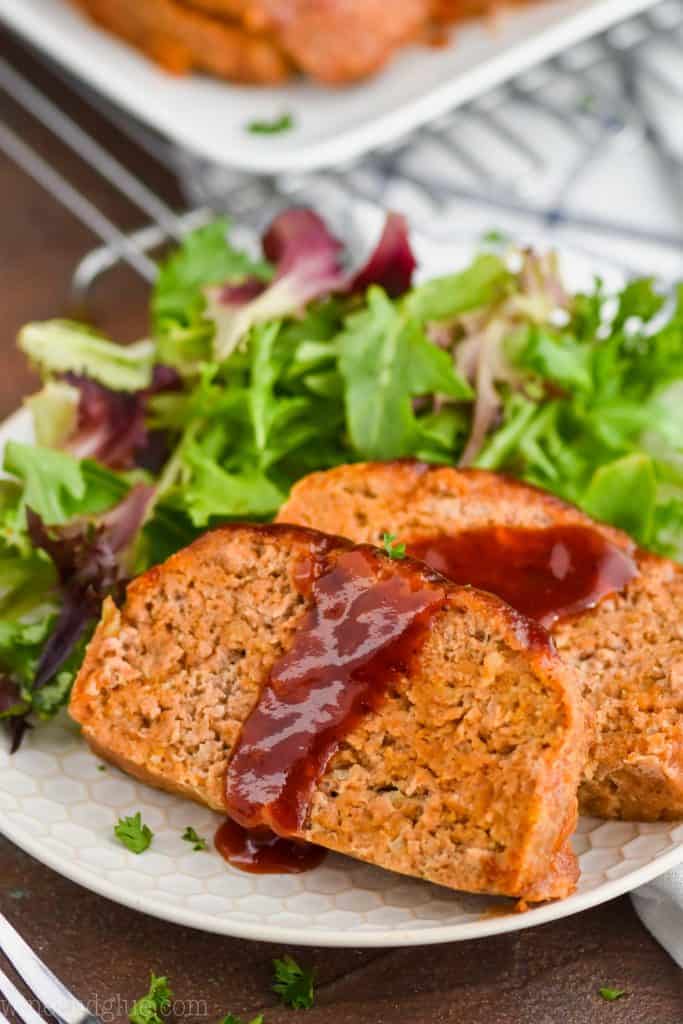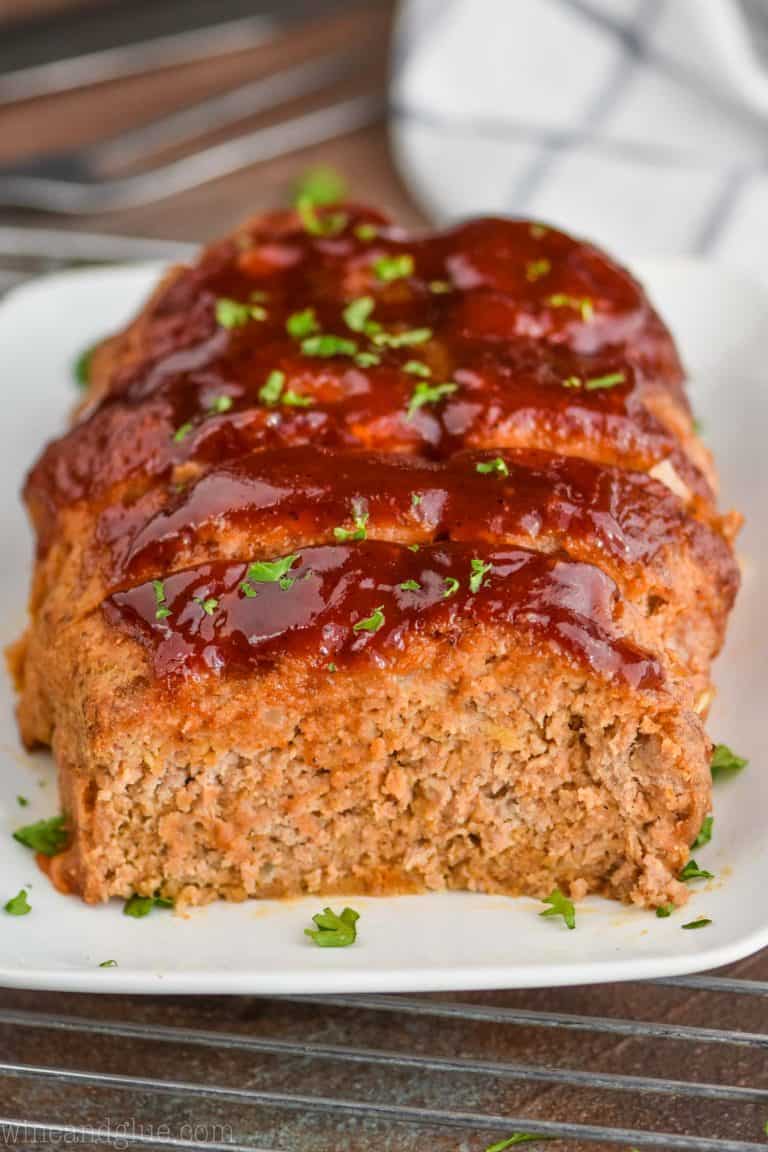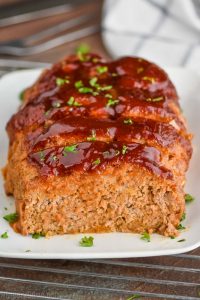 Turkey Meatloaf
Turkey Meatloaf is an easy dinner recipe that comes together fast, has simple ingredients, and freezes perfectly!
Ingredients
1

teaspoon

olive oil

1

small yellow onion

diced fine

2

cloves of garlic

1 1/2

pounds

ground turkey

85% lean

3/4

cup

breadcrumbs

1

egg

1/4

cup

ketchup

2

teaspoons

Worcestershire sauce

1

teaspoon

salt

1/2

teaspoon

black pepper

1/4

cup

BBQ Sauce
Instructions
Preheat your oven to 350 degrees. Spray a baking dish or baking sheet with cooking spray and set aside.

In a small skillet heat the olive oil over medium heat. Add onions and garlic and cook until onions are translucent. About 3 minutes.

In a large bowl mix together the turkey, breadcrumbs, egg, ketchup, Worcestershire sauce, salt, black pepper, and onion-garlic mixture. Form into a loaf and set on the baking sheet.

Top with the BBQ sauce and bake for 1 hour or until an instant read thermometer registers 165 degrees. Let stand for 5 minutes before slicing.
Notes
Please note that the serving size for this recipe is 5 ounces (by weight). 
Serving:
5
ounces
Calories:
332
kcal
(17%)
Carbohydrates:
21
g
(7%)
Protein:
23
g
(46%)
Fat:
19
g
(29%)
Saturated Fat:
4
g
(25%)
Monounsaturated Fat:
1
g
Trans Fat:
19
g
Cholesterol:
126
mg
(42%)
Sodium:
800
mg
(35%)
Potassium:
79
mg
(2%)
Fiber:
1
g
(4%)
Sugar:
7
g
(8%)
Vitamin A:
6
IU
Calcium:
16
mg
(2%)
Iron:
14
mg
(78%)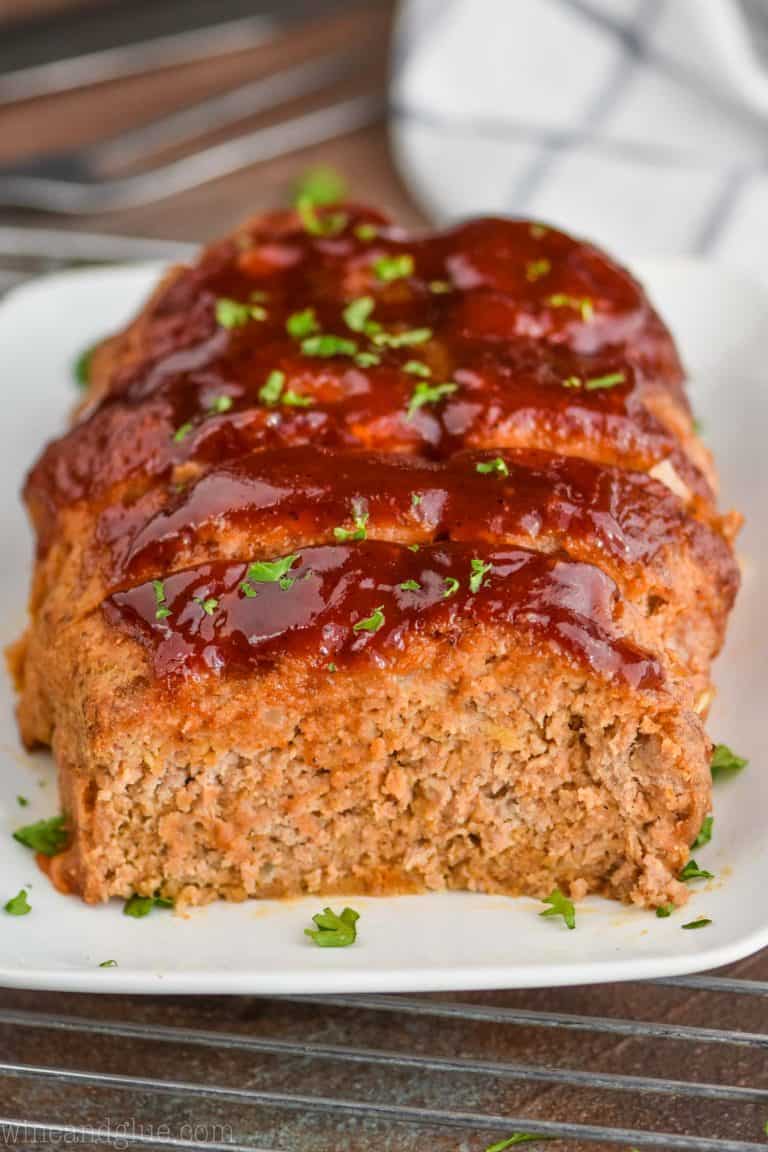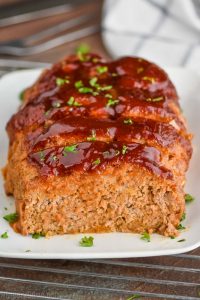 did you make this
Turkey Meatloaf
you might also like . . .