This Portobello Mushroom Burger recipe is going to be your new favorite healthy meal. This easy, vegan dinner is so packed with flavor that even your heartiest meat eater will love it.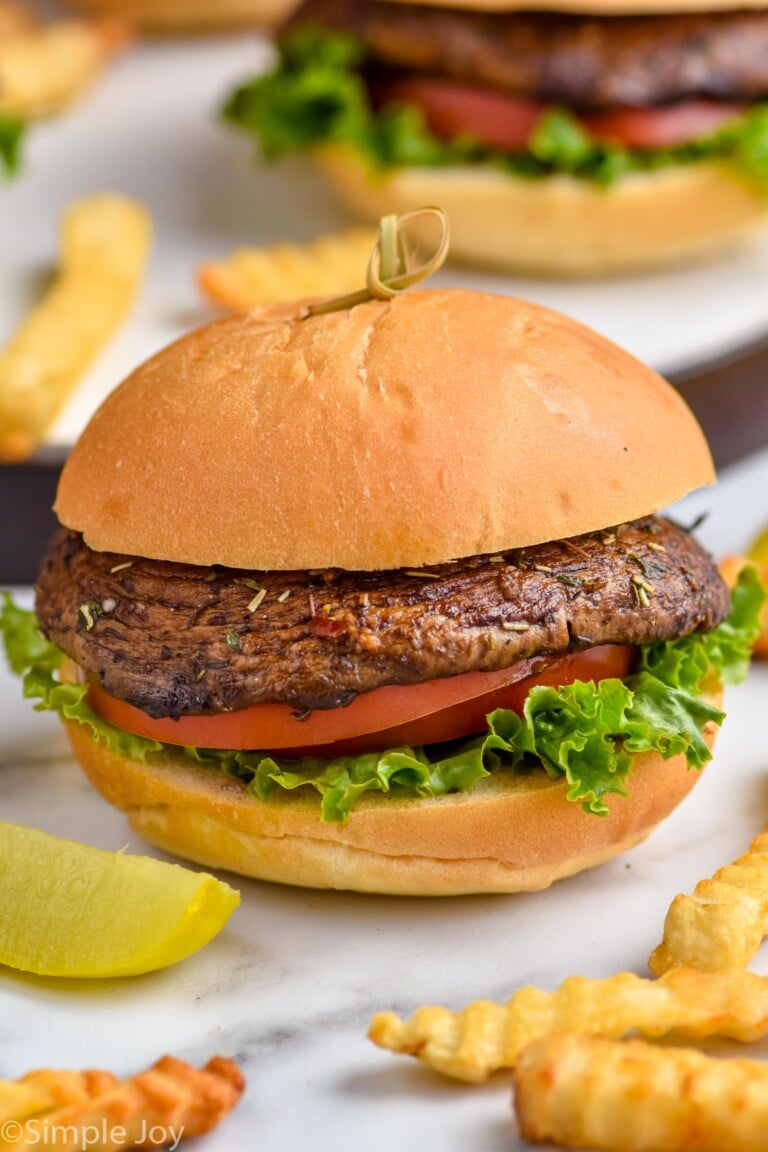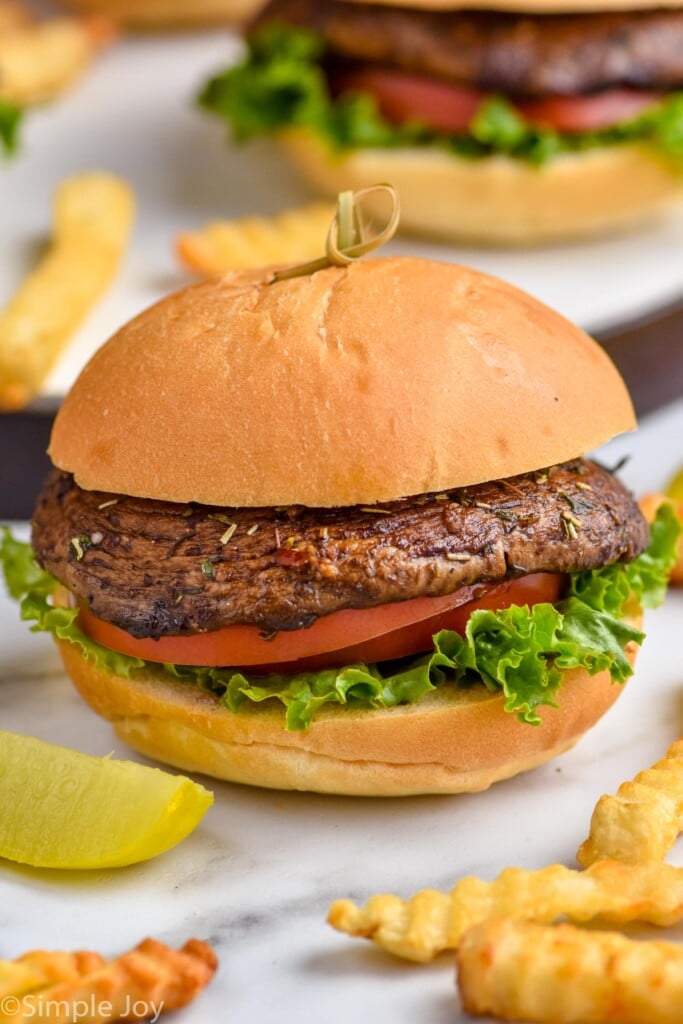 When Nathan and I were a young married couple learning how to cook, this was one of the very first meals that we took on. Nathan grew up in a family of meat eaters, and I grew up vegetarian, but for whatever reason, this burger was like the Venn diagram of where our dinners met.
These grilled portobello mushroom burgers start with mushroom caps soaking in an amazing and easy marinade. In just 30 minutes they are ready to toss on the grill. The texture of the mushroom plus the taste of the marinade leaves you with a portobello burger that even my meat eaters love.
How to Make Portobello Mushroom Burgers
Prepare the mushroom caps. Read more on this below.
Make the marinade. In a mixing cup, combine the olive oil, balsamic vinegar, honey, garlic, salt, rosemary, thyme, parsley, black pepper and red pepper flakes.
Marinate the portobello mushrooms. Pour the marinade over the mushroom caps. After ensuring that they are completely coated, let them soak for 30 minutes.
Preheat the grill. Turn the grill on high and let it heat up for 15 minutes.
Grill the burgers. When the burgers are done marinating, place them on the grill over medium low heat. Grill on each side for 5 minutes. Even if you are tempted, don't push them down or mess with them during the five minutes.
Serve and enjoy. We love these on buns, but they are also great as part of a lettuce wrap for a low carb meal.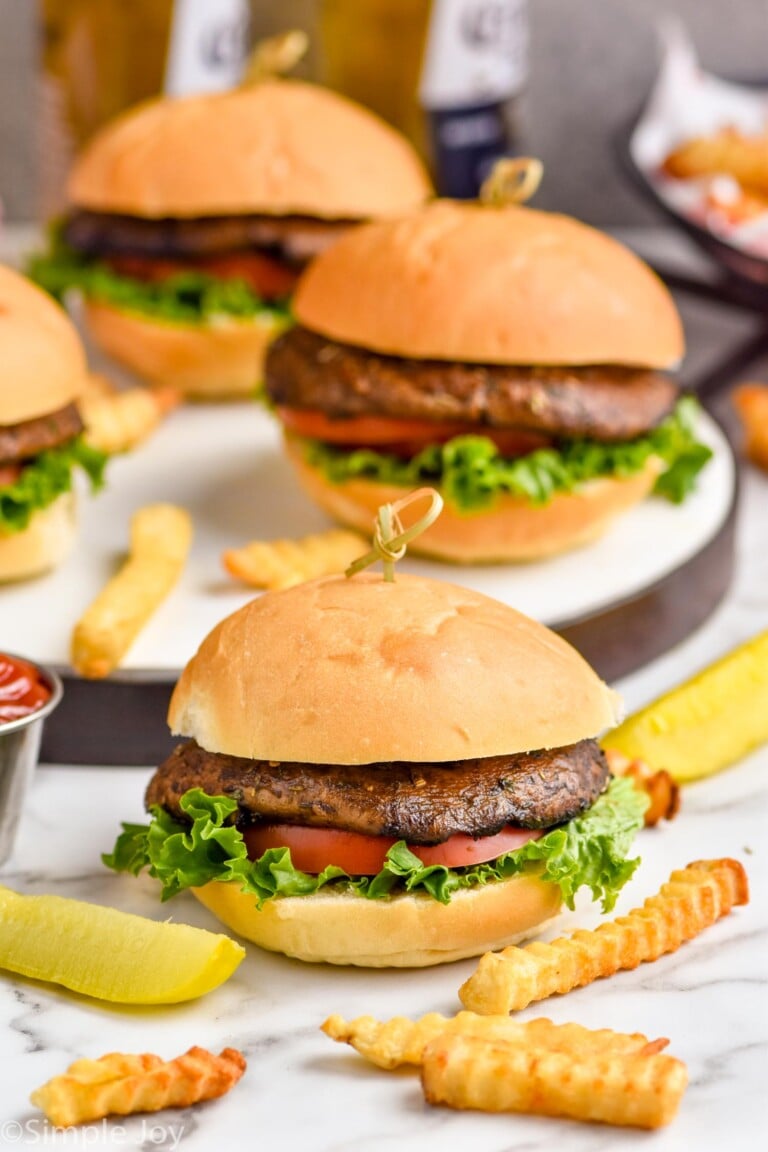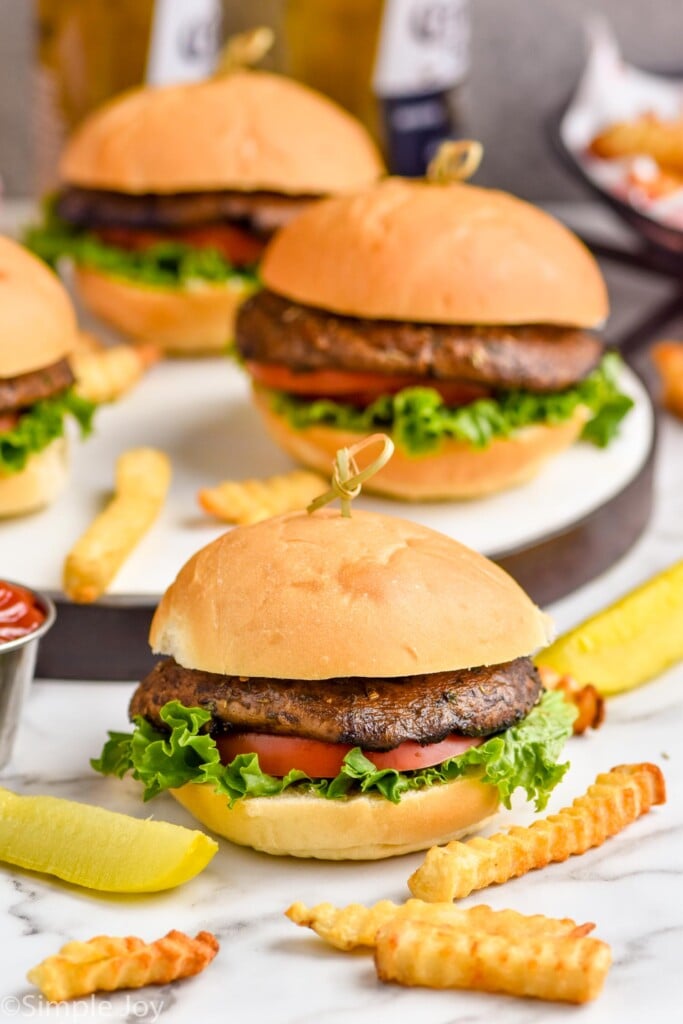 Preparing Portobello Mushroom Caps
Portobello mushrooms, and mushrooms in general, act like sponges. Because of that, do not rinse them. Instead, take a damp paper towel and wipe them clean.
After they are wiped clean, gently remove the stem. It should pop off, but do it gently so you loose as few of the gills as possible.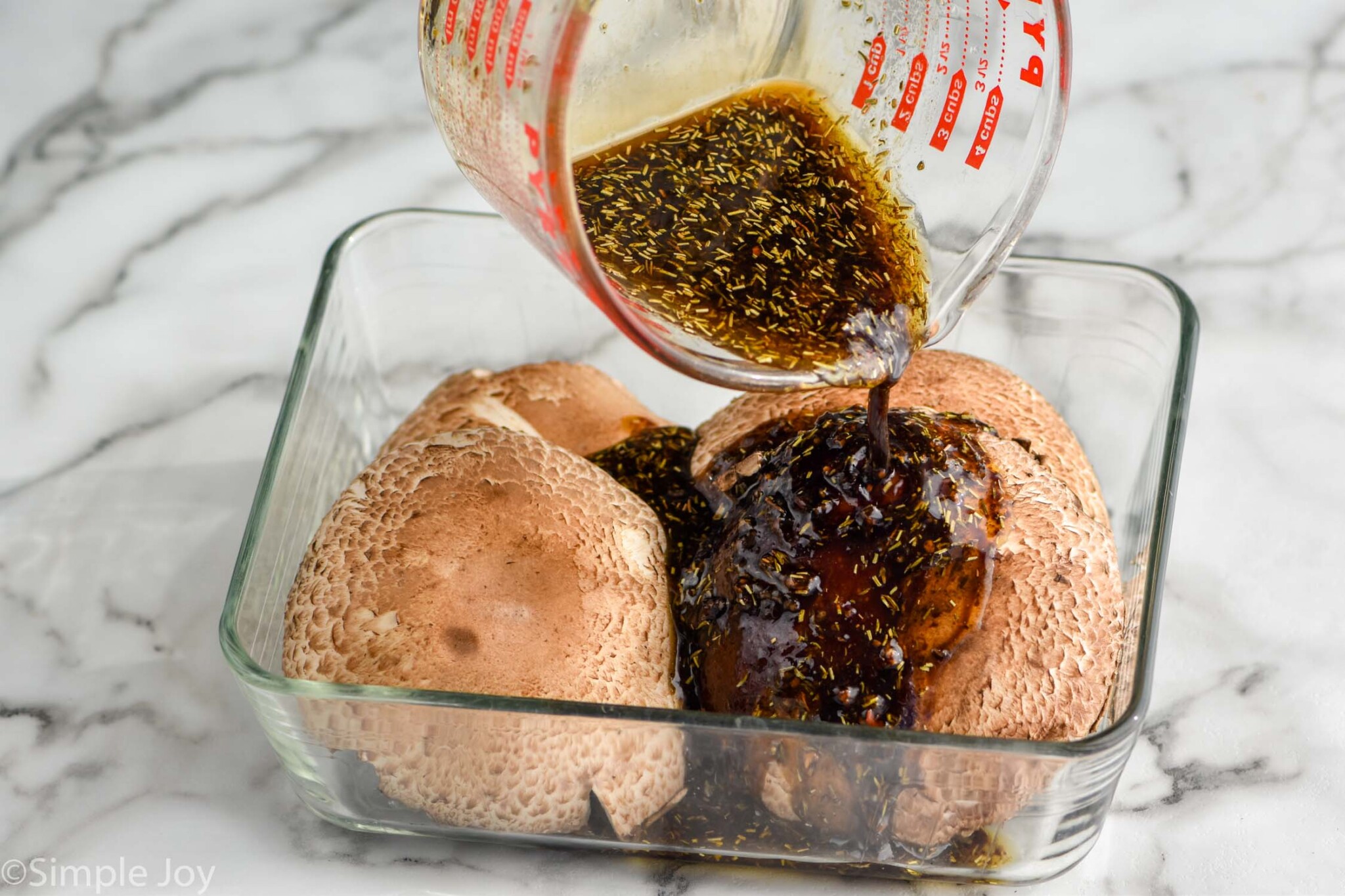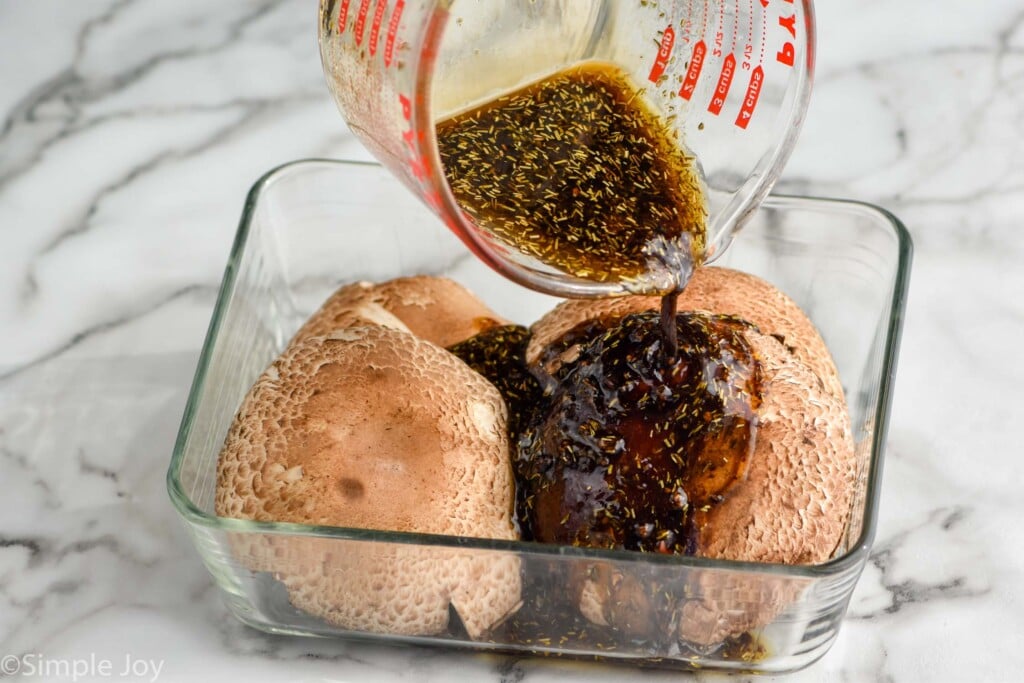 Portobello Mushroom Burger Marinade
The marinade for this recipe is very simple. It is a combination of ingredients that you probably already have in your pantry.
Olive Oil: As I mentioned in the Italian Dressing post, you want to keep both extra virgin and regular olive oil on hand. In this recipe we want the regular olive oil because it can stand up to the heat better than extra virgin olive oil, while still providing that great olive oil taste.
Balsamic Vinegar: Made from grapes, this vinegar is has a deep and rich flavor to it.
Honey: I love the little bit of honey we are using in this recipe. Because it is honey and not granulated sugar, it packs more sweetness per tablespoon so we can use 1 instead of two. The sweetness helps to balance the acidity of the vinegar.
Garlic: You will want to grab fresh garlic cloves for this recipe, it brings great flavor to the marinade.
Kosher Salt: Please be sure to grab kosher salt when you are making this and not table salt. If you only have table salt on hand, cut the amount in half.
Dried Rosemary, Thyme, & Parsley: These three herbs bring a great flavor to the marinade, so don't overlook them. If you don't care for one, you can leave it out and increase the other two. I do not recommend using fresh herbs here as they won't hold up to the heat of the grill.
Black Pepper & Red Pepper Flakes: These both bring flavor and some heat. If you are sensitive to heat, I recommend leaving one of the two out.
Pro Tip: Save the Marinade
Love the taste of the delicious marinade? Here is the great news: You can actually save it! Because the mushrooms are not raw meat, the marinade that they soaked in is perfectly safe afterwards. You can add a pinch of mayonnaise to emulsify it, and pop it in the refrigerator to use as a salad dressing.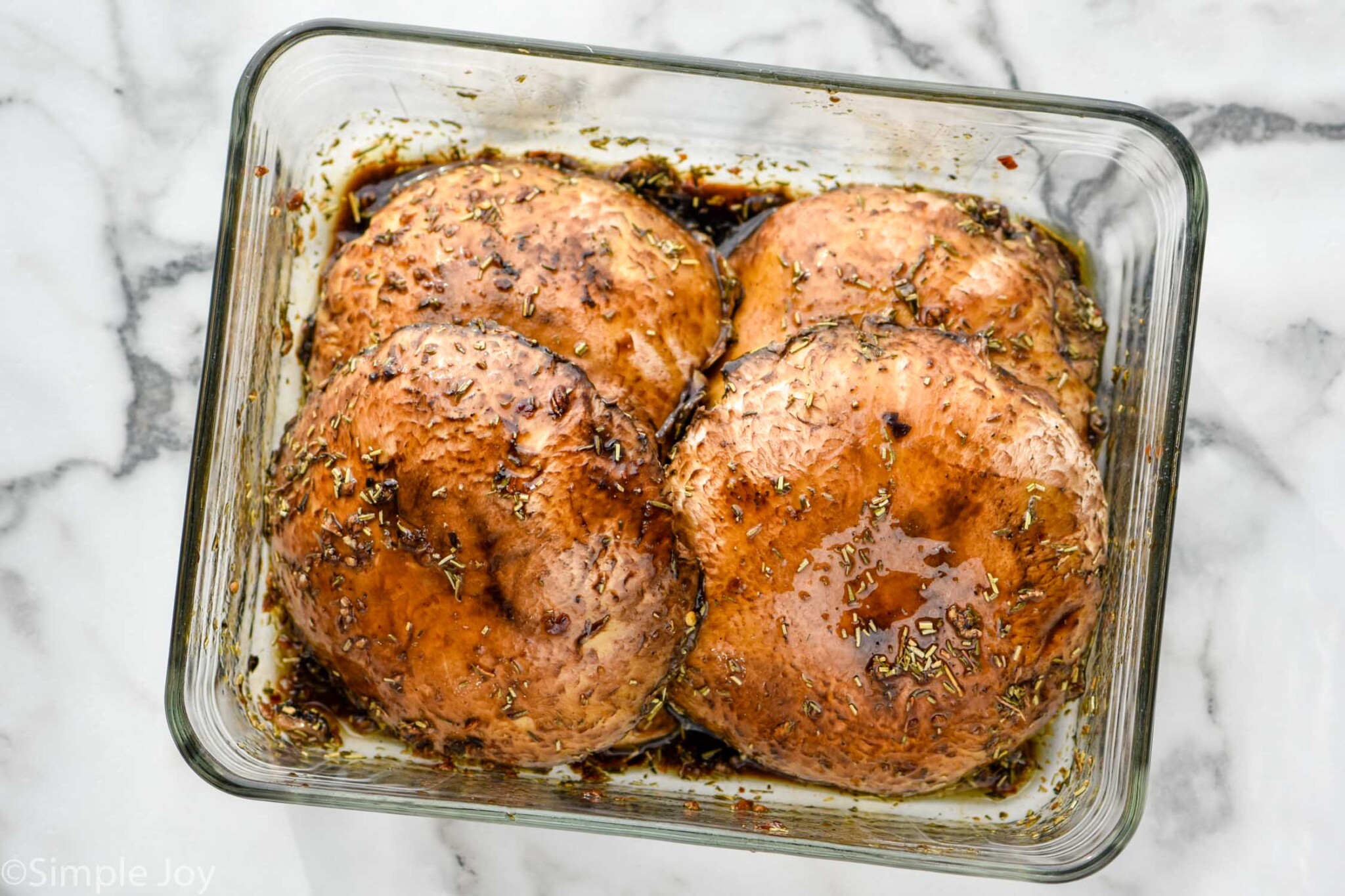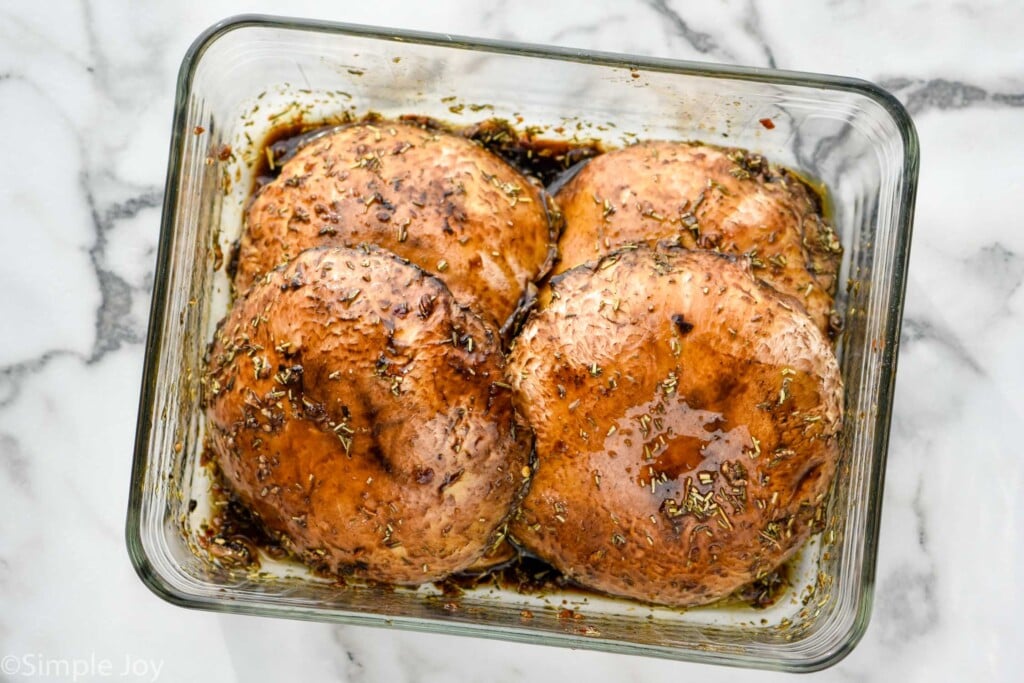 Marinating Portobello Burgers
Unlike some tough meats, these burgers take just 30 minutes to marinate. Remember above when I talked about them being like sponges? Because of that, 30 minutes is more than enough time for them to absorb the great flavor of the marinade.
Though you see the mushrooms in a reusable container here, this is one of the few recipes where I suggest marinating them in a sealable plastic bag. I hate doing single use plastic, but the bag really allows you to toss the burgers around a few times while they are marinating. That being said, both ways work, both deliver delicious burgers.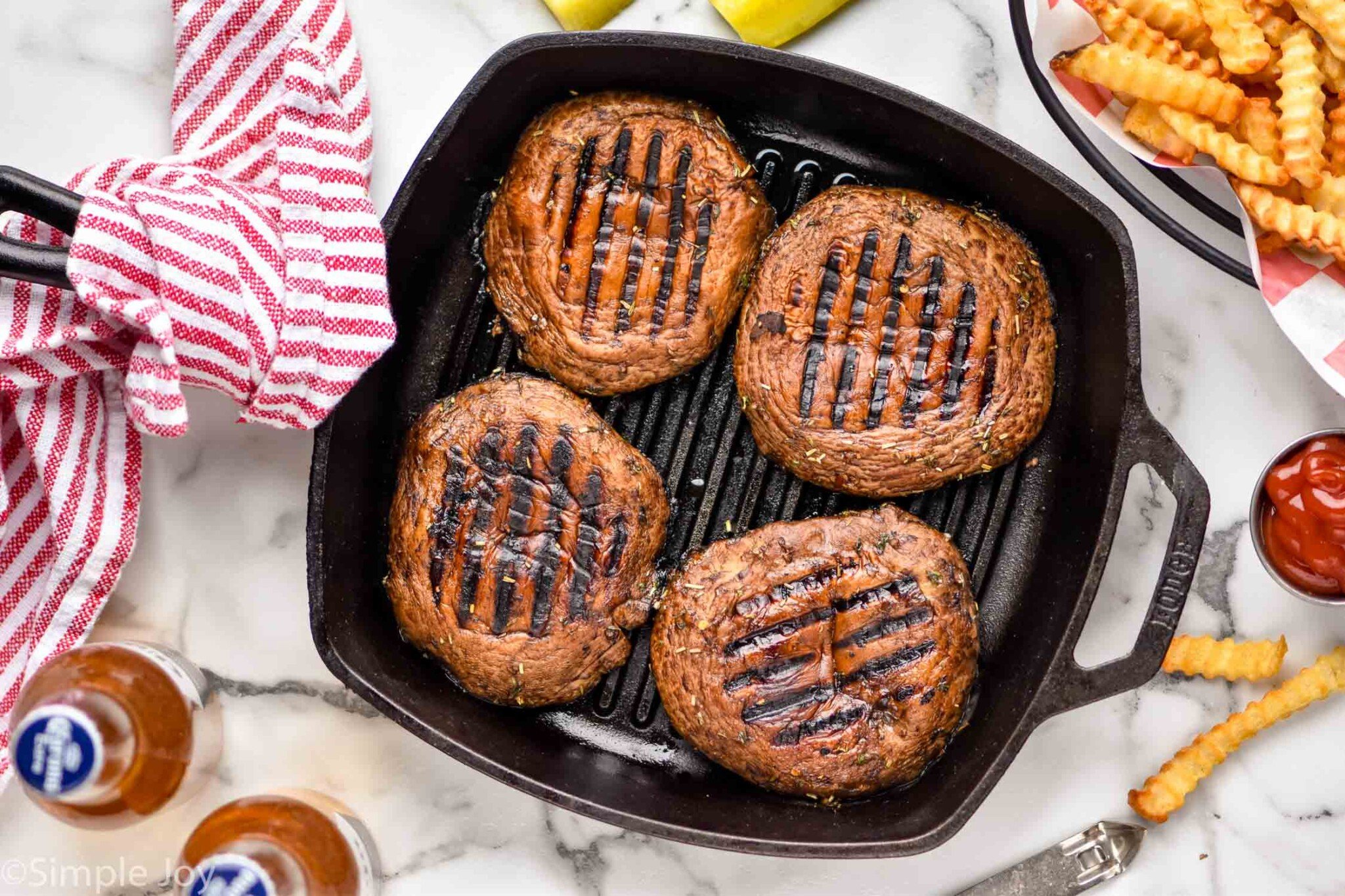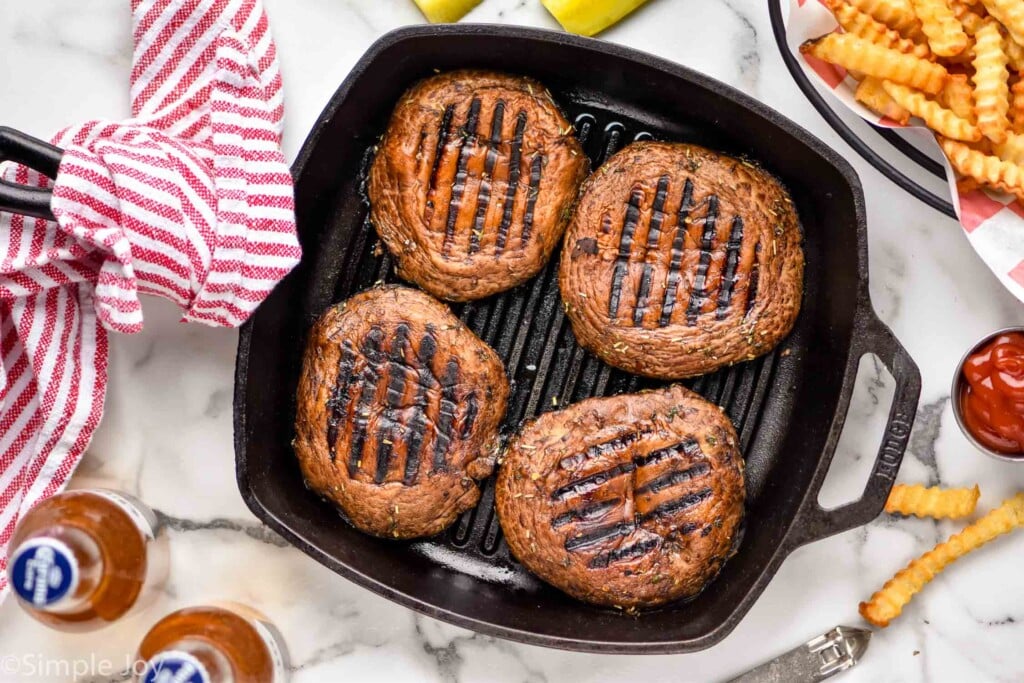 Cooking on an Indoor Grill Pan
Don't limit your eating of these great mushroom burgers to summer time! These can be eaten year round. We have two great grill pans that we love to use, and both work great for this recipe. You can follow the recipe exactly as written and they will cook up perfectly. We love this larger grill pan (especially for kabobs) and this other great pan is what you see pictured above.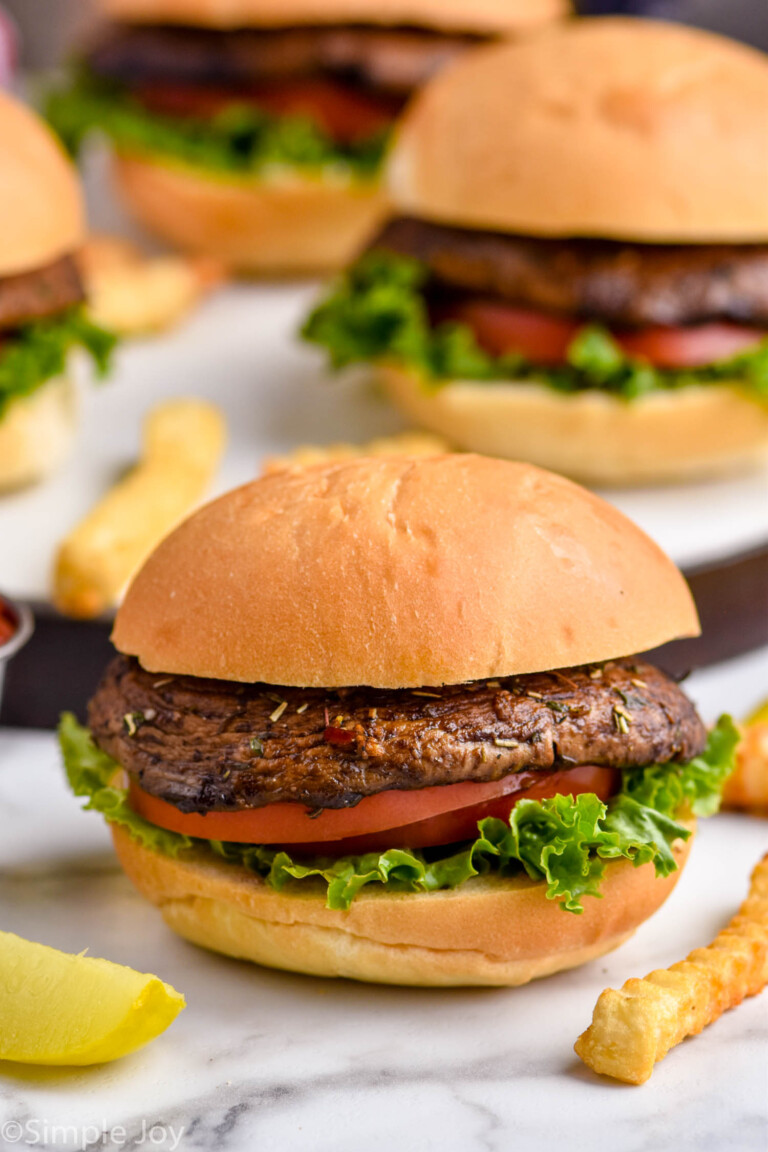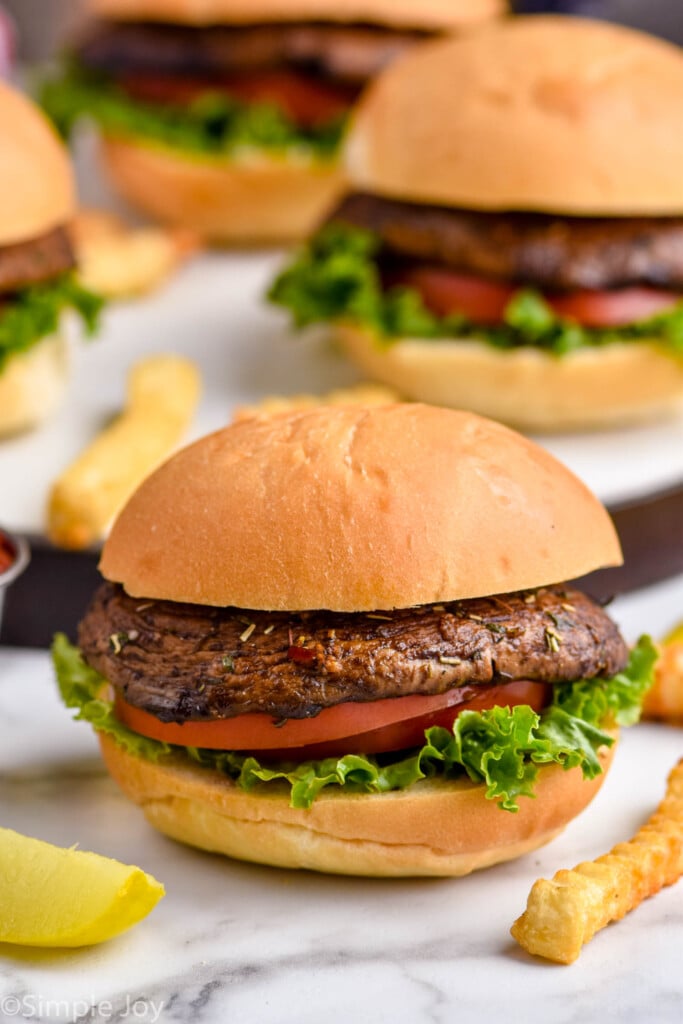 Using Leftovers
These portobello mushroom burgers are fantastic as leftovers. I like them cold just as much as I like them hot. Leftovers can be stored in an airtight container for up to three days. Here are some other ways to use them besides for burgers.
Add them to a salad. Slice them up and add them to your favorite salad. I add them to this Kale Salad and loved it way more than I even expected to.
Make them part of an omelet. Dice them up to add a little "meat" to your favorite omelet.
Substitutions and Variations
Make it low carb. These are amazing on buns, but they are also great as part of a lettuce wrap.
Swap the vinegar. If you don't have balsamic vinegar on hand, swap it for red wine vinegar. I highly suggest that you taste the marinade before pouring it over your mushrooms to make sure there aren't any other adjustments you want to make.
Play around with the herbs. Nathan doesn't love thyme, so when I make these for him, I leave it out, and add just a touch more rosemary and parsley.
Up the heat. These already have a little kick to them. If you want to increase that, toss in more red pepper flakes.
FAQ
What do I do if a piece breaks off of the mushroom cap?
If you look closely in the photos above, you can actually see that this happened to me. They are delicate little guys, so it may happen. Don't worry about it. Either discard it or grill it up with everything else.
Are Portobello Mushroom Burgers Healthy?
These burgers have about 100 calories each, 8 grams of carbs, and 1 gram of saturated fat. As far as dinner recipes go, that is fairly healthy. If you serve it on a salad instead of a bun, that's extra points towards it being healthy.
What do Portobello Mushroom Burgers Taste Like?
Because these great mushrooms are like sponges, they take on the flavor of the marinade in a big way. So they are delicious! They have a meaty texture to them and a woodsy flavor from the mushroom, plus all the great tang and depth of the marinade.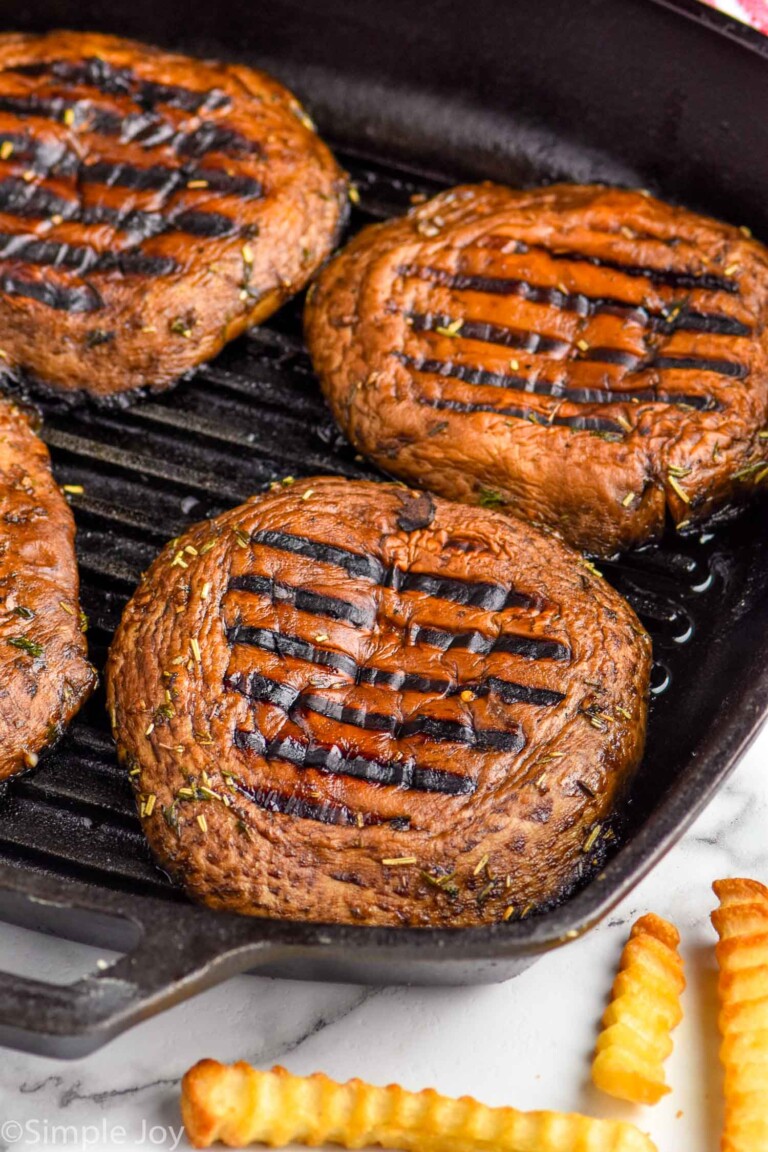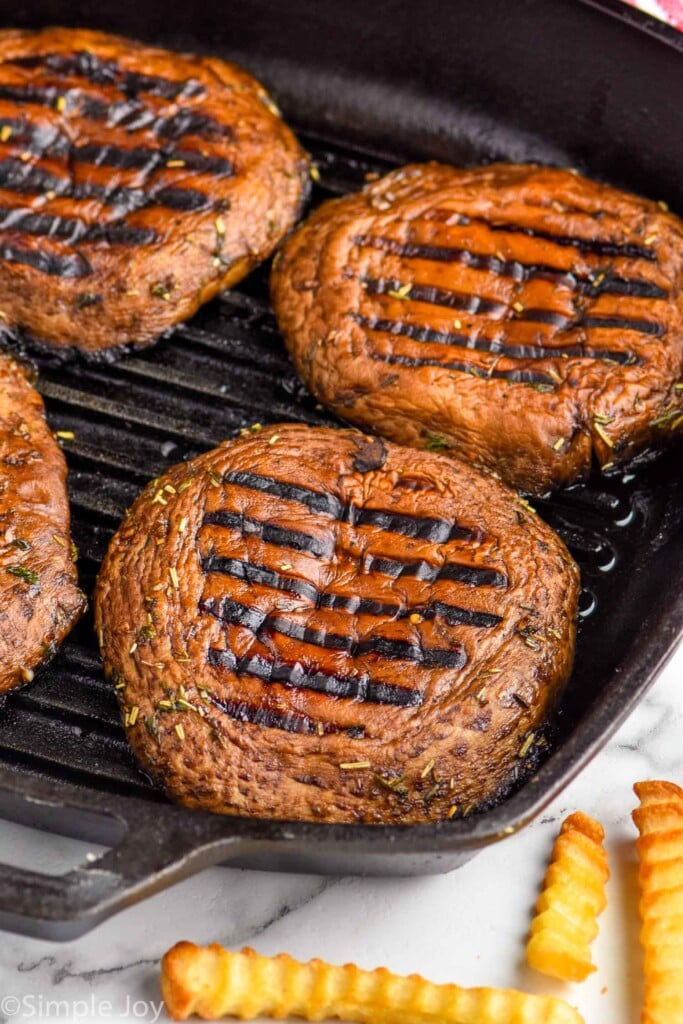 Other Great Vegan Dinners
If you make this Portobello Mushroom Burger recipe or any of my other recipes, please leave me a comment and let me know what you think!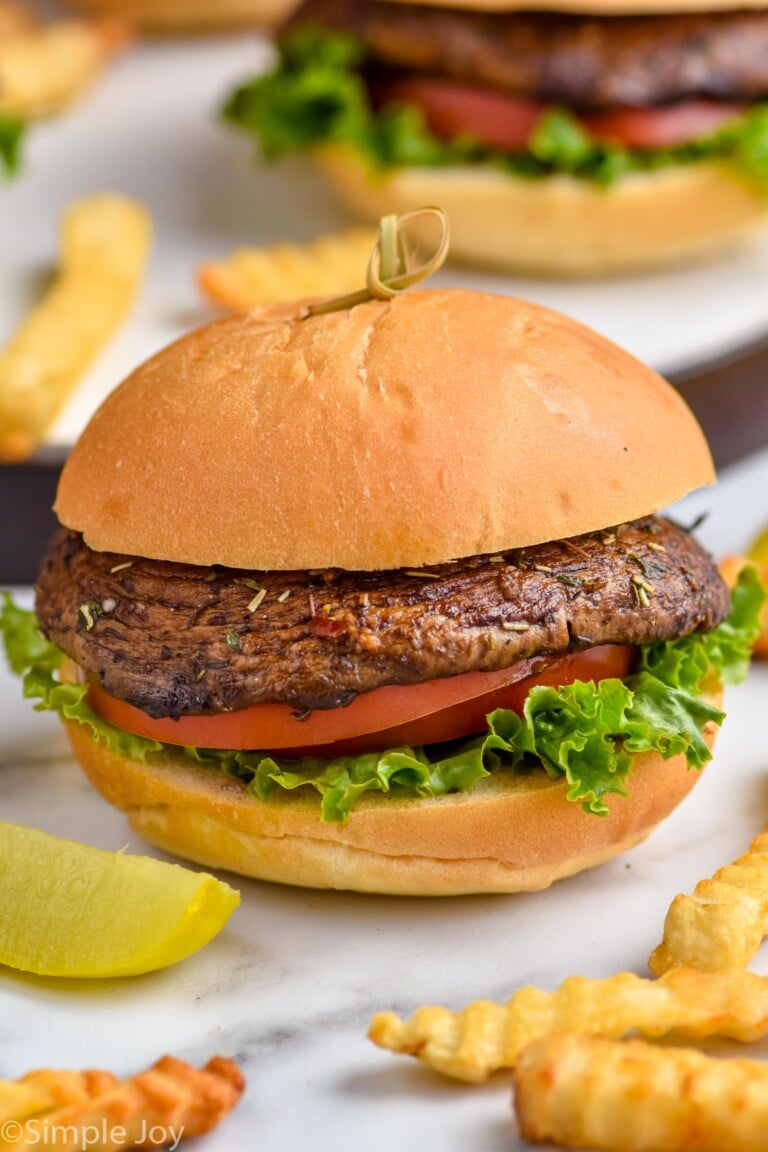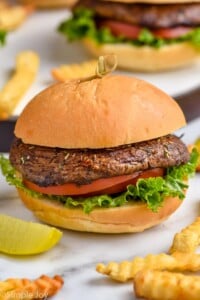 Portobello Mushroom Burger
This Portobello Mushroom Burger recipe is going to be your new favorite healthy meal. This easy, vegan dinner is so packed with flavor that even your heartiest meat eater will love it.
Ingredients
4

large portobello mushroom caps
Marinade
1/3

cup

olive oil

1/4

cup

balsamic vinegar

1

tablespoon

honey

2

cloves

garlic

minced

1

teaspoon

kosher salt

1

teaspoon

dried rosemary

1

teaspoon

dried thyme

1

teaspoon

dried parsley

1/4

teaspoon

black pepper

1/4

teaspoon

red pepper flakes

optional
Instructions
In a container, whisk together the ingredients for the marinade. Add the mushroom caps and flip a few times to make sure they are well coated. Refrigerate, covered, for 30 minutes. (Read my thoughts on marinating here.)

Preheat your grill. Turn all the burners on high and let the grill heat up for 15 minutes with the cover closed. After 15 minutes, turn the burners down to medium low.

Grill for 5 to 7 minutes on each side. Resist any urge to push down on the mushroom cap. They only need to be flipped once, and no other fussing.

Serve on their own or on buns with burger fixings.
Notes
Please note that nutritional information is does not include a bun and is based on the notion that at least half of the marinade will not be absorbed.
Serving:
1
mushroom cap
Calories:
109
kcal
(5%)
Carbohydrates:
8
g
(3%)
Protein:
2
g
(4%)
Fat:
8
g
(12%)
Saturated Fat:
1
g
(6%)
Polyunsaturated Fat:
1
g
Monounsaturated Fat:
6
g
Trans Fat:
1
g
Sodium:
303
mg
(13%)
Potassium:
329
mg
(9%)
Fiber:
1
g
(4%)
Sugar:
5
g
(6%)
Vitamin A:
49
IU
(1%)
Vitamin C:
1
mg
(1%)
Calcium:
14
mg
(1%)
Iron:
1
mg
(6%)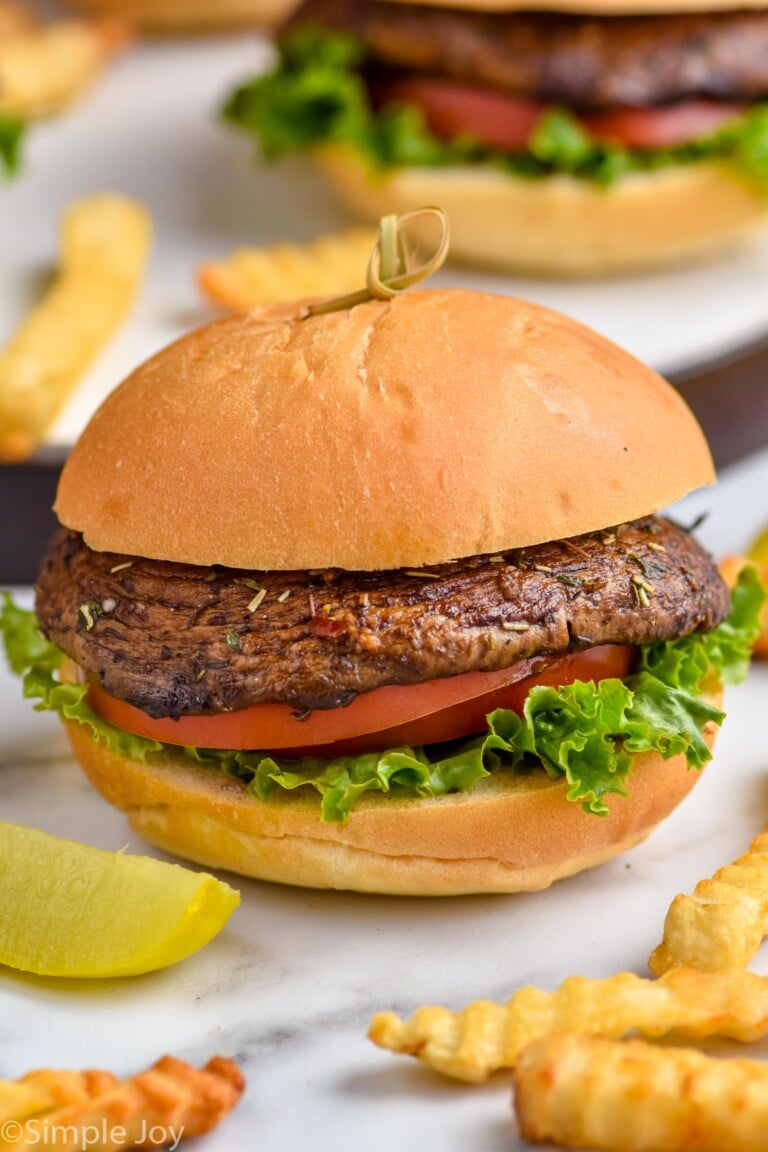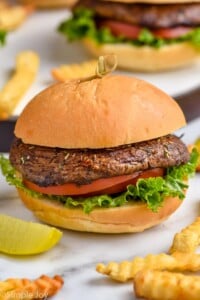 did you make this
Portobello Mushroom Burger