These Quick Pickled Red Onions only take 5 minutes to make! They are delicious, simple, and the perfect compliment to so many different recipes!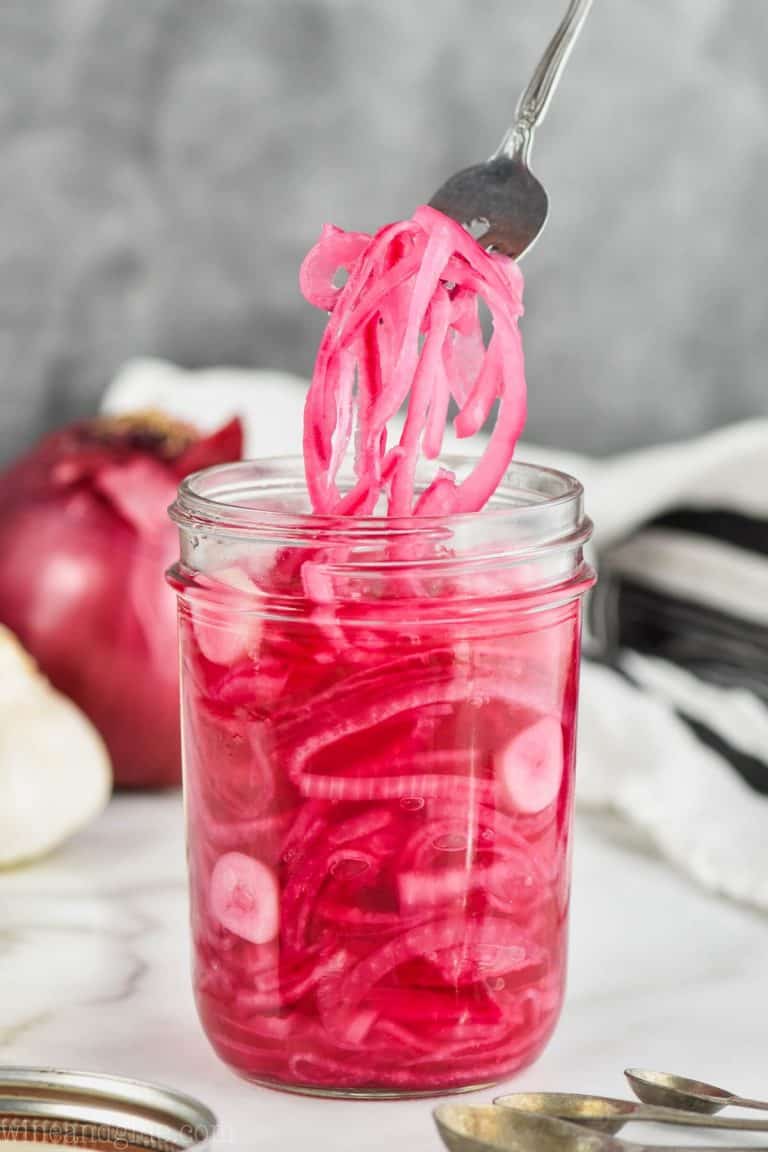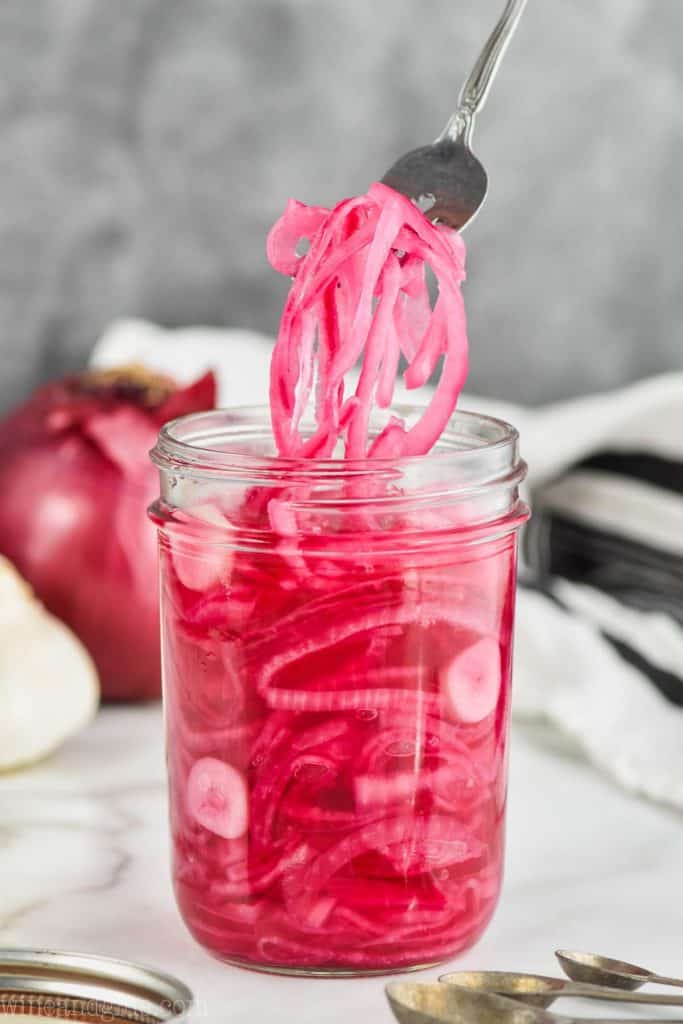 I absolutely love pickling my own vegetables, and these Pickled Red Onions are my very favorite. I always keep a batch in my refrigerator, but when I find that jar empty, these only take less than 45 minutes. You can have a refill of your favorite condiment in no time.
Don't miss my list of how to use these fantastic pickled red onions towards the bottom of the post. I have so many recipes that these are perfect with.
Reader Review
These are the best! Just wanted to tell you how much I enjoy all your recipes… I'm in the kitchen this very minute making up another jar of this delicious crunch
Pickled Red Onions Ingredients
You just need a few simple ingredients for this recipe! For the full recipe with all of the measurements, scroll to the bottom of the post for the recipe card.
Medium Red Onion: This recipe is very easy to double or triple. Buy as many onions as you'd like and just repeat the ingredients for the liquid until you have enough to completely cover the onions in the jars.
Warm Water: The water doesn't need to be boiling, it only needs to be warm enough that the sugar and salt easily dissolve.
White Vinegar: I find that simple white vinegar works perfect in this recipe. That being said, you could absolutely replace it with white wine vinegar or red wine vinegar. The vinegar helps to soften the onions during the pickling.
Sugar: An important component to learning how to cook is to learn how to balance flavors. Sweet can balance salt, spice, and bitter. In other words, if you've ever had a chili that is too spicy, a dash of brown sugar can lessen the impact of the heat. Here, the sugar helps to balance the acidity of the vinegar.
Salt: I like using kosher salt in this recipe. If you use table salt, you will want to start with less, by about half. The salt enhances all of the other flavors int he recipe.
Garlic Cloves: The garlic adds some great flavor to this recipe.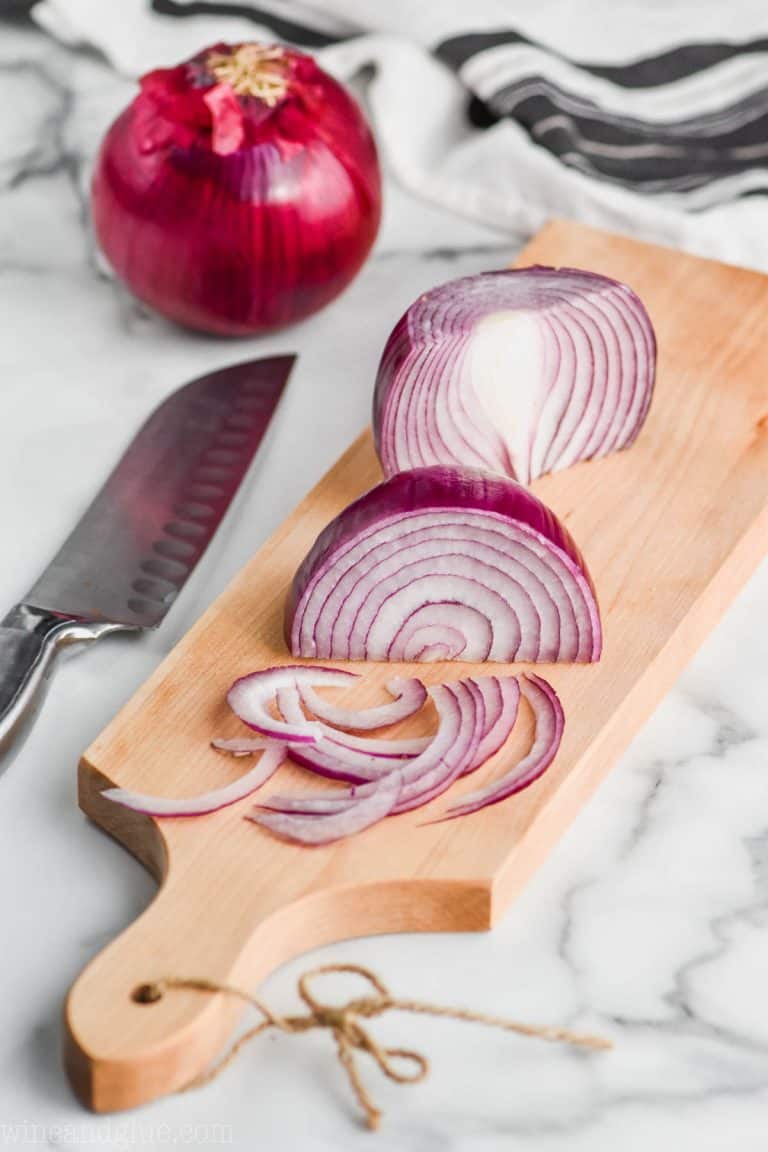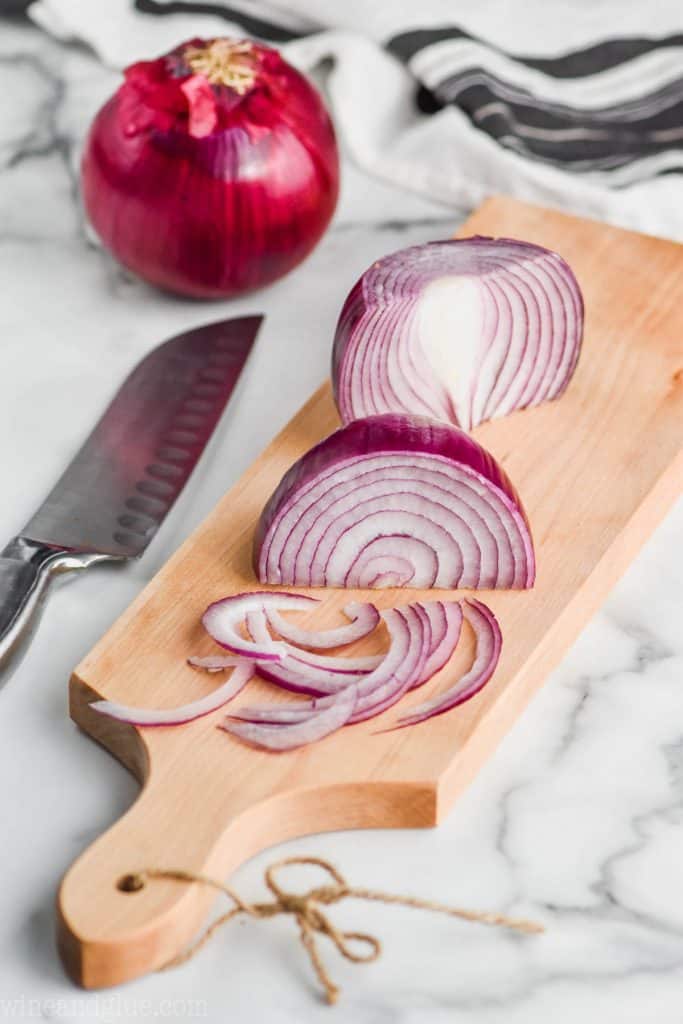 How to Pickle Red Onions
This is a brief overview of how easy this recipe is. For the full recipe with all of the measurements see the recipe card at the bottom of the post.
Prepare the onions. Slice a medium sized onion and pack it into a mason jar. A glass jar works best as metal can react with the vinegar and affect the taste of the final product. Add in the sliced garlic.
Make the brine. Whisk together the warm water, vinegar, salt, and sugar until the salt and sugar fully dissolve.
Put it all together. Pour the liquid over the red onions. Cover and let sit for at least a half hour.
Store in the refrigerator for up to four weeks.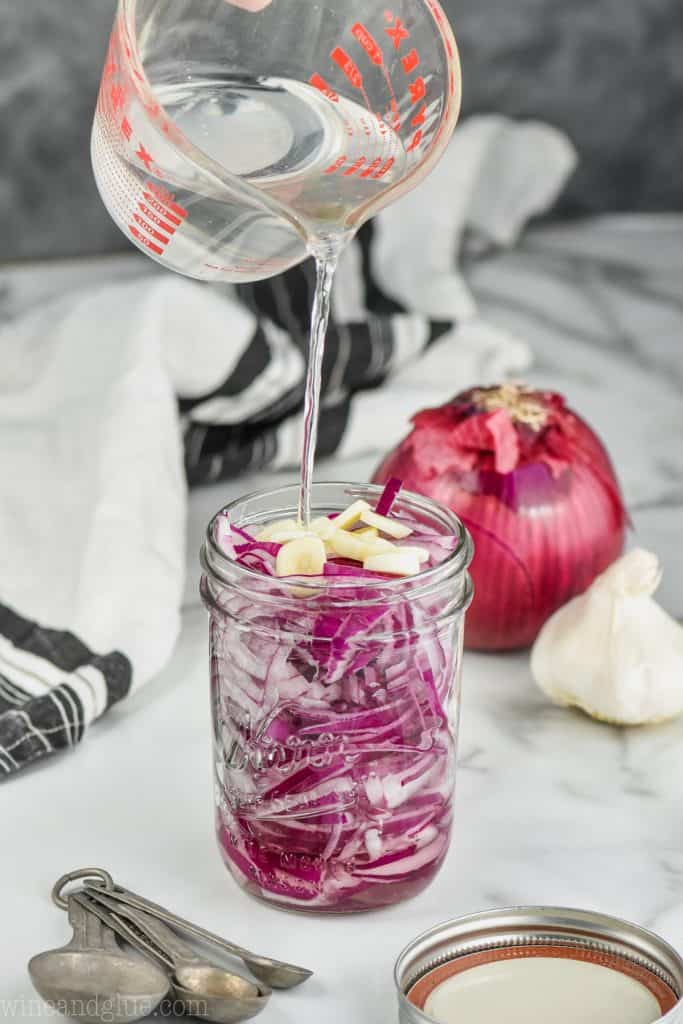 Vinegar for Quick Pickled Red Onions
As mentioned above, I use simple white vinegar for this recipe. Many recipes for pickled veggies call for other types of vinegar, claiming that white vinegar is too harsh. I would respectfully disagree. The other ingredients in this recipe help balance any harshness. Not only that, but white vinegar is inexpensive and easy to come by.
All of that said, cooking is about what works best for you and your family. It should be about what you prefer in recipes, tastes absolutely vary. Go with whatever type of vinegar you'd like for this recipe. In addition to white and red wine vinegar I mentioned above, apple cider vinegar and rice vinegar could work great. I will just mention that apple cider vinegar if you buy the all natural brand has a very intense taste, so you might want to go with a brand that is a little more diluted.
Onions to Use
This recipe, obviously, calls for red onions. They have a subtle sweet taste, making them perfect for this great recipe and the recipes we use it in.
That being said, any onion will work in this recipe. Using a white or yellow onion can be really great depending on the recipe you are using them on. It is all just a matter of your personal preference.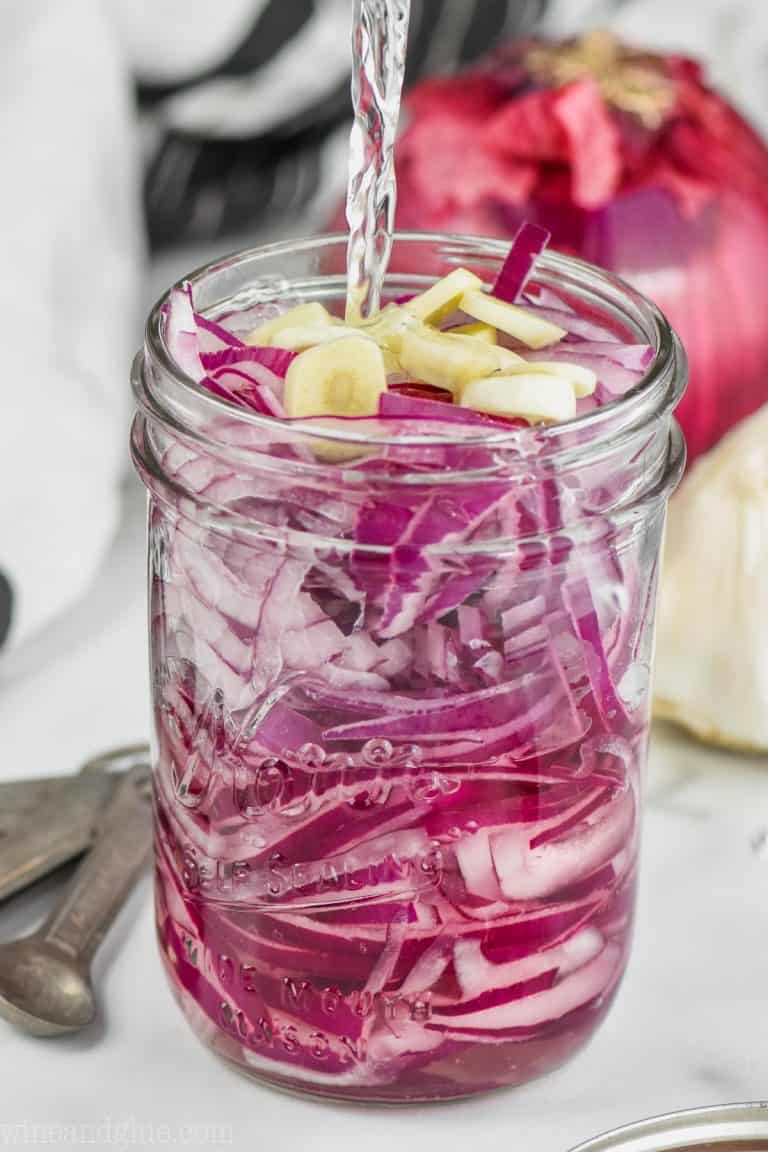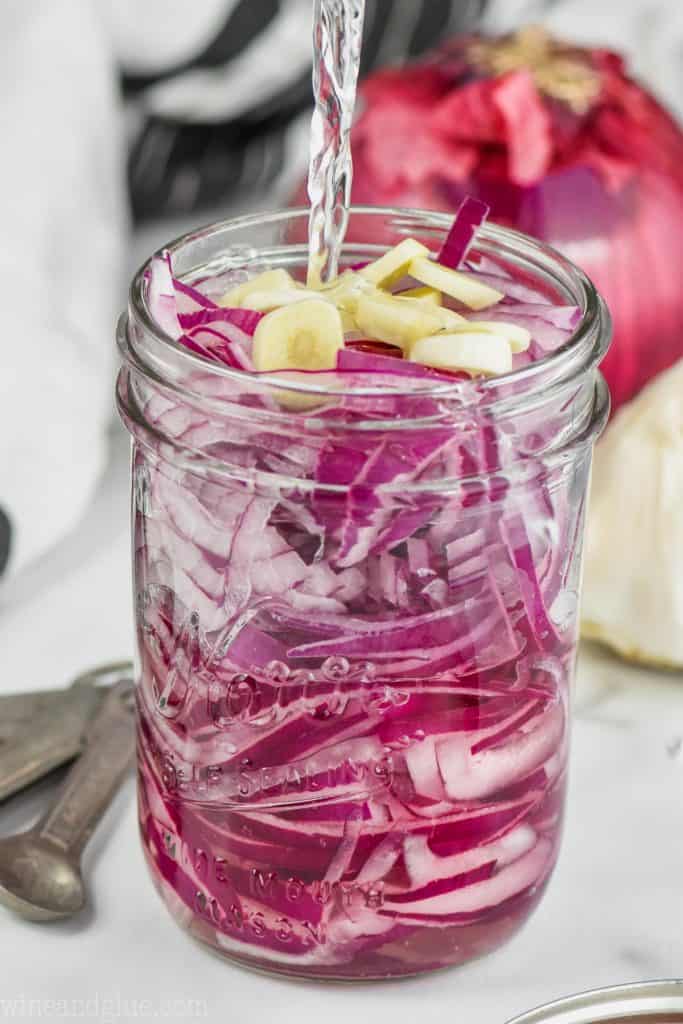 What to Add to Pickled Red Onions
There are so many different things you could throw in with your quick pickled red onions to add different flavors. I added some fresh sliced garlic and loved the flavor. Here are some other ideas:
Whole Peppercorns
Red Pepper Flakes
Bay Leaf
Fresh Oregano
Fresh Thyme
Fresh Rosemary
Storing Pickled Red Onions
These should be stored in the refrigerator. They are best used within one month. While pickled red onions can be canned, I don't have enough canning experience to guide you in that. You can find great advice on pickling here.
FAQ
How long do pickled red onions last?
Four weeks. These last in the refrigerator for about a month. As with all recipes, use your best discretion.
Are pickled red onions good for?
These are a great way to add flavor to a recipe! All of the ingredients are healthy – generally speaking. The sugar is an extremely small amount for how many red onions you will be using each time.
Can I leave out the sugar?
Of course. Keep in mind that if you do this, you might find the final recipe a bit overpowering. You might want to consider replacing the sugar with monk fruit instead.
Can you pickle white onions instead of red?
Yes! The final product will be a little stronger of a taste, a little less sweet, but it will absolutely work with white onions as a replacement.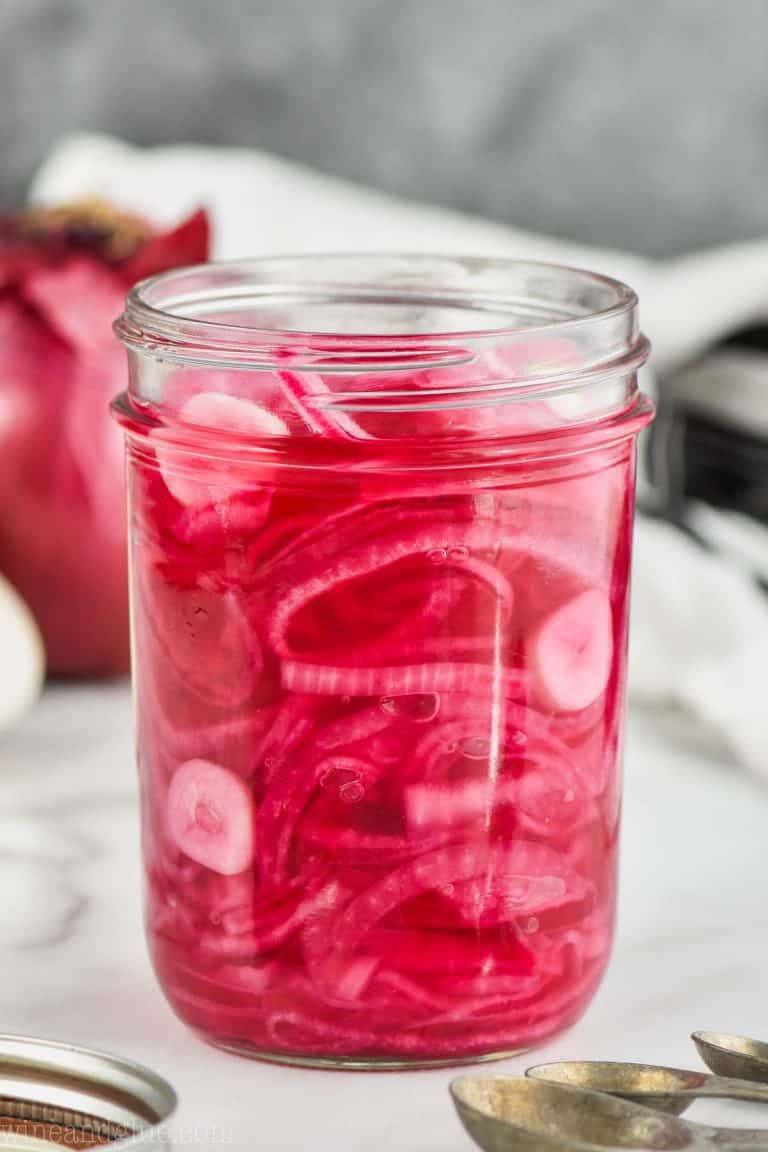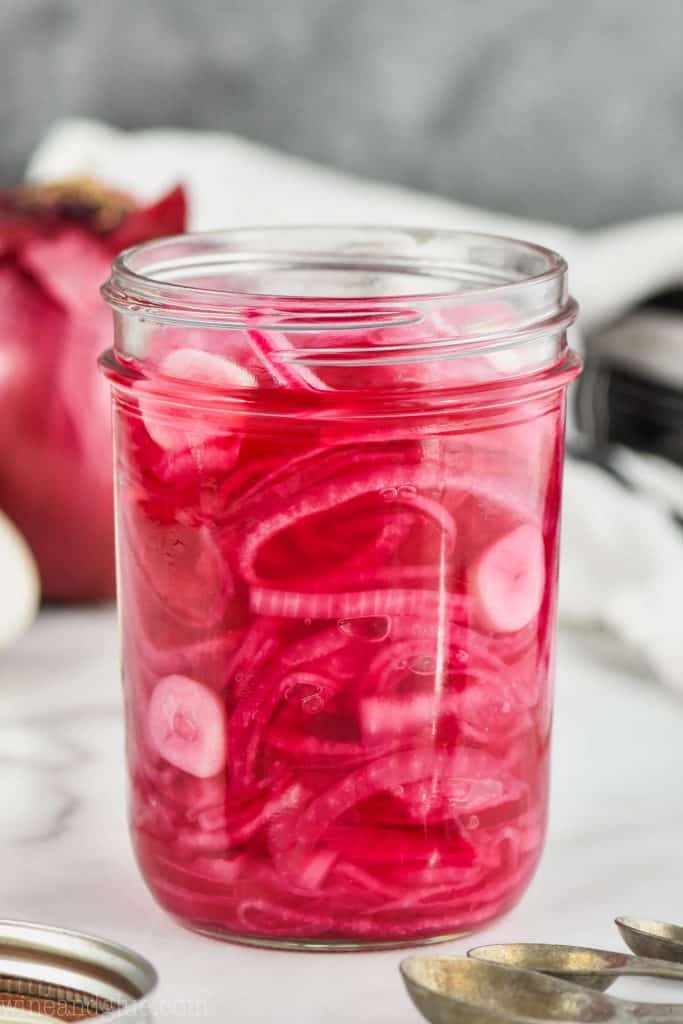 What to Eat with Pickled Red Onions
I love adding these to tacos, salads, and sandwiches. Here are some of my favorite recipes to use them in.
If you make this pickled red onion recipe or any of my other recipes, please leave me a comment and let me know what you think!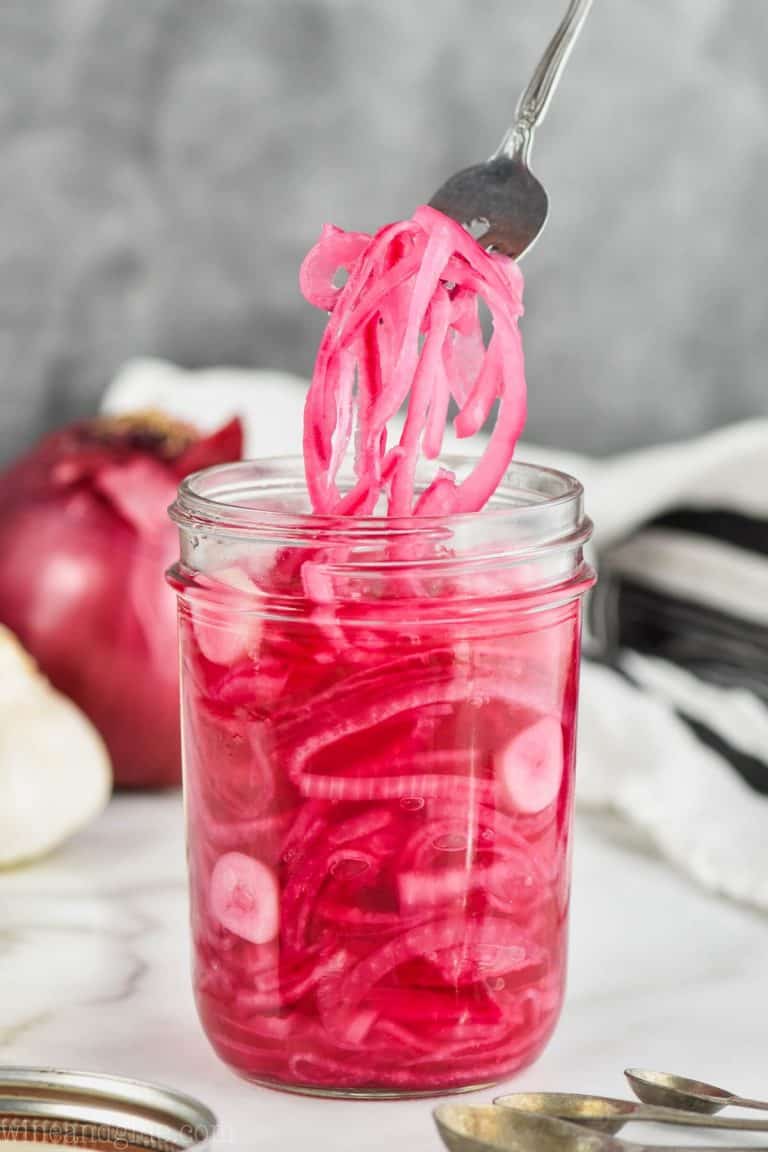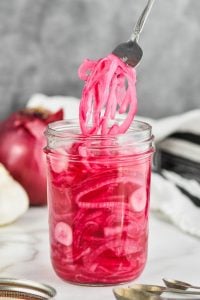 Quick Pickled Red Onions
These Quick Pickled Red Onions only take 5 minutes to make! They are delicious, simple, and the perfect compliment to so many different recipes!
Ingredients
1

medium red onion

sliced very thin

1/2

cup

hot water

2

teaspoons

sugar

1

teaspoon

salt

3/4

cup

white vinegar

2

garlic cloves

sliced
Instructions
Pack the sliced onion into a mason jar with the sliced garlic.

Whisk together the hot water, vinegar, salt and sugar until the salt and sugar are dissolved.

Cover the onions in the water and vinegar mixture. Cover the jar and let rest for 30 minutes.

Enjoy or store in the refrigerator for up to 4 weeks.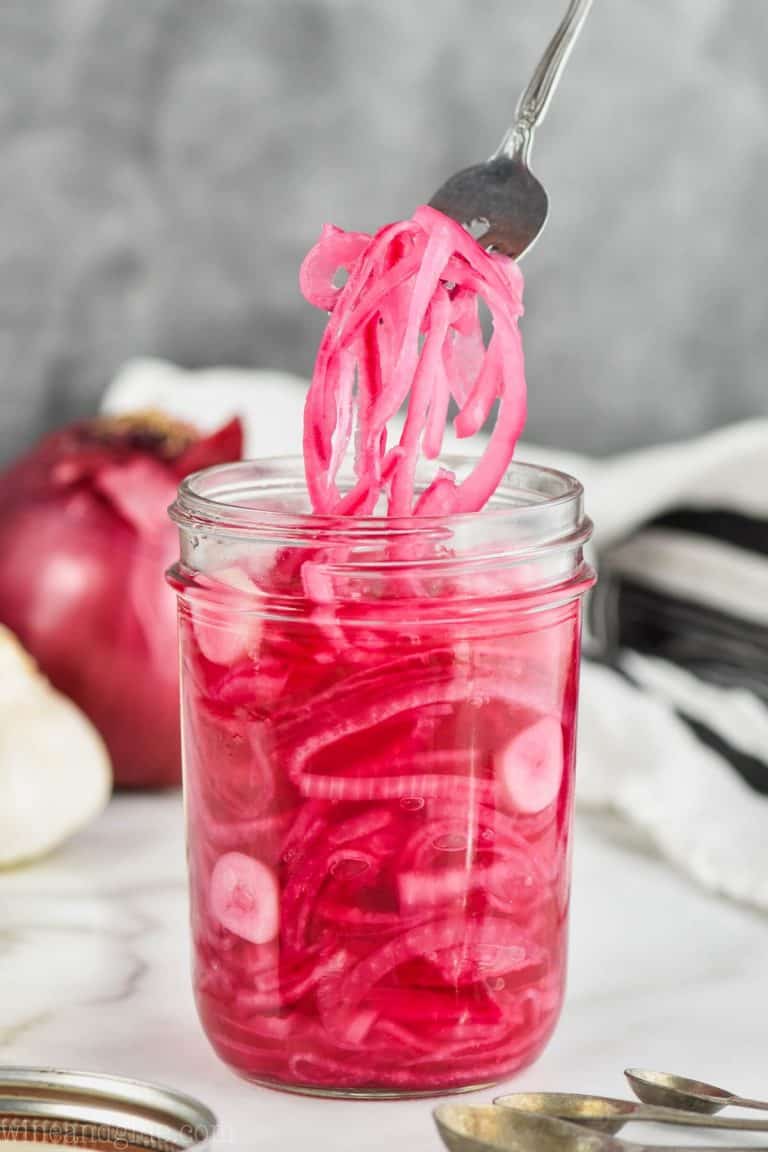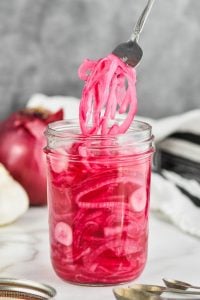 did you make this
Quick Pickled Red Onions