Potato Skins are the perfect easy appetizer. Made with just three ingredients, these are such a crowd-pleaser!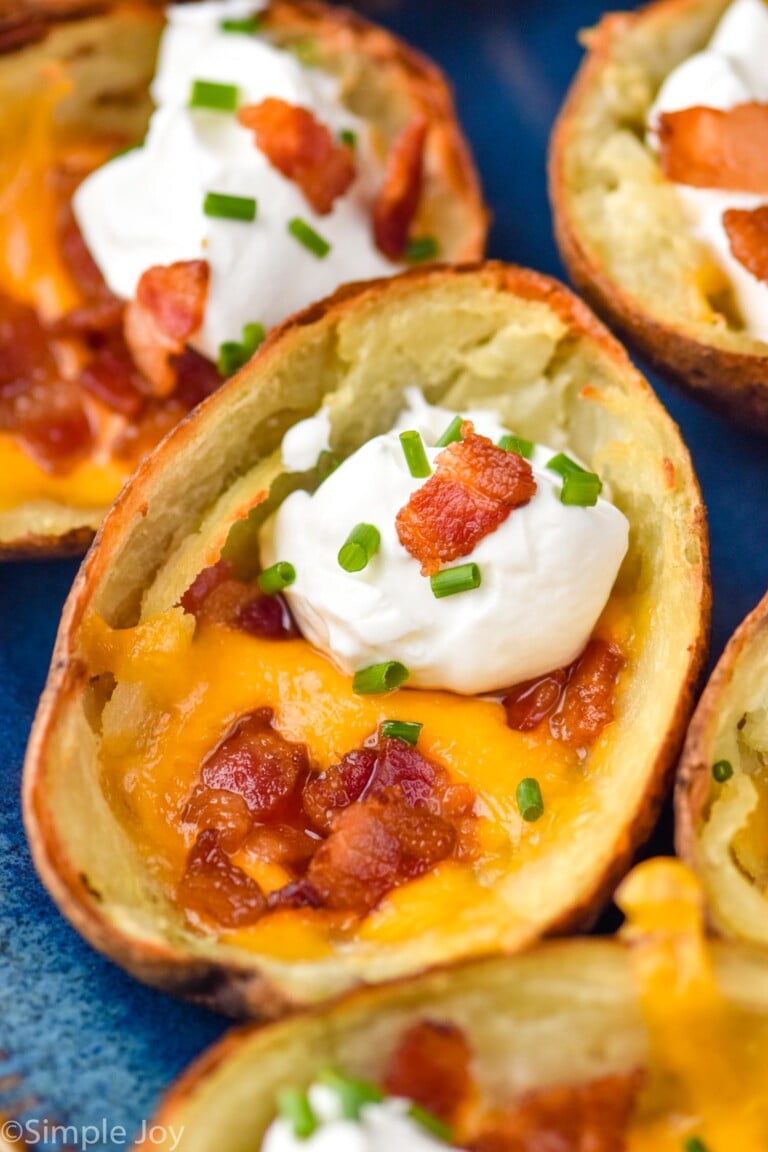 You all know that if it was a nutritious idea I would live on appetizers and appetizers alone. And in that dream reality, these amazing Potato Skins would be at the top of the list.
Sometimes when you order potato skins at restaurants it is as if the lovely establishment took the name quite literally. It's not my favorite thing. But in this amazing rendition of the perfect appetizer, you get a delicious and tender potato bite with the glorious addition of cheese and bacon. They are mouthwateringly delicious.
How to Make Potato Skins
This baked potato skins recipe comes together with just three ingredients in the oven. For the full recipe including all measurements, scroll to the recipe card at the bottom of the post.
Bake the potatoes. Cook them until they are fork tender, about an hour.
Scoop out the insides. Cut the potatoes in half and scoop out most of the insides. See my ideas below for how to use the insides of the potatoes.
Bake the potato skins. Spray both sides of the potato skins with cooking spray and bake them for another 10 minutes.
Add the cheese and bacon. Top them with the cheese and cooked bacon and bake until the cheese is melted.
Serve. Serve them warm just as is or top with sour cream and chives as pictured.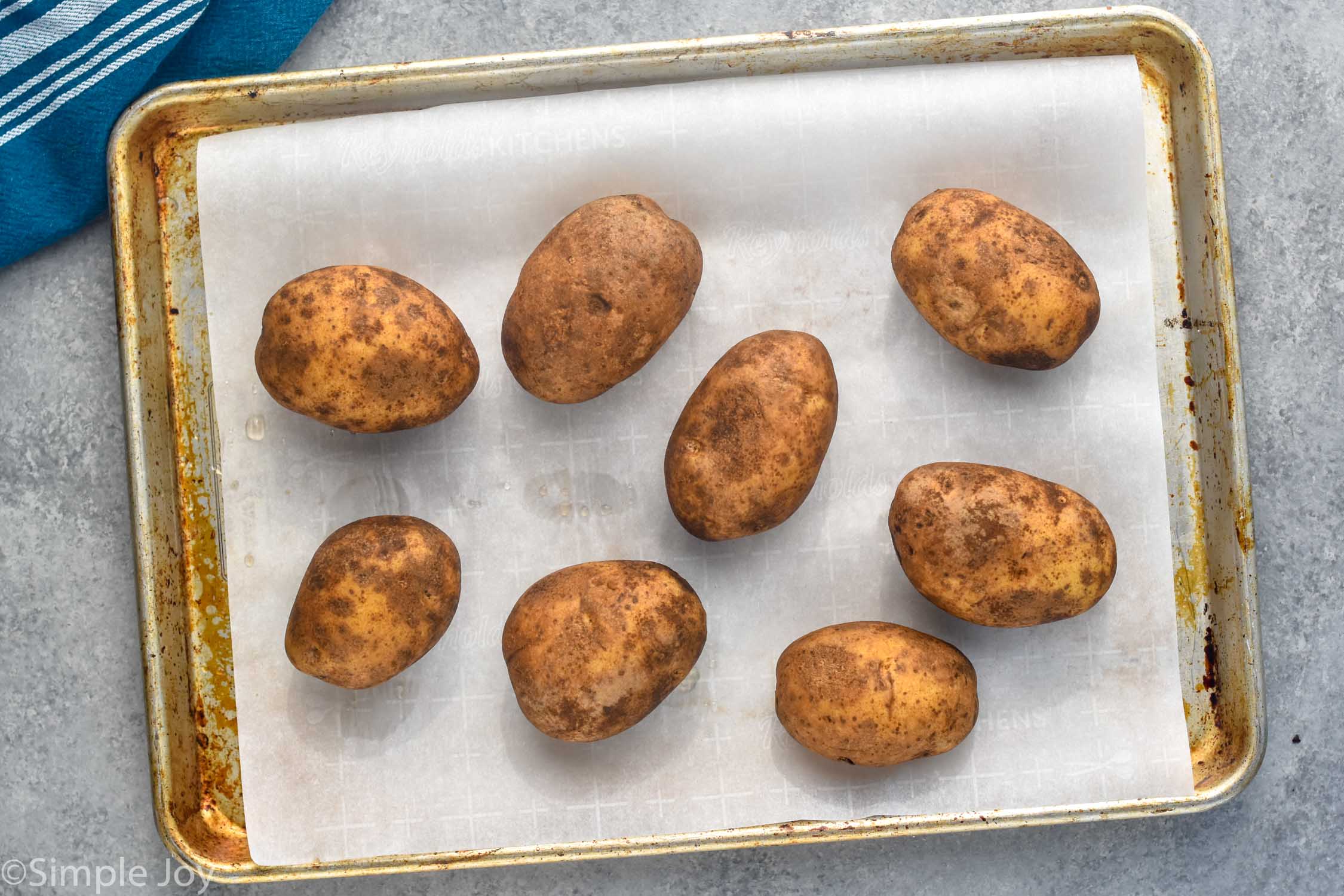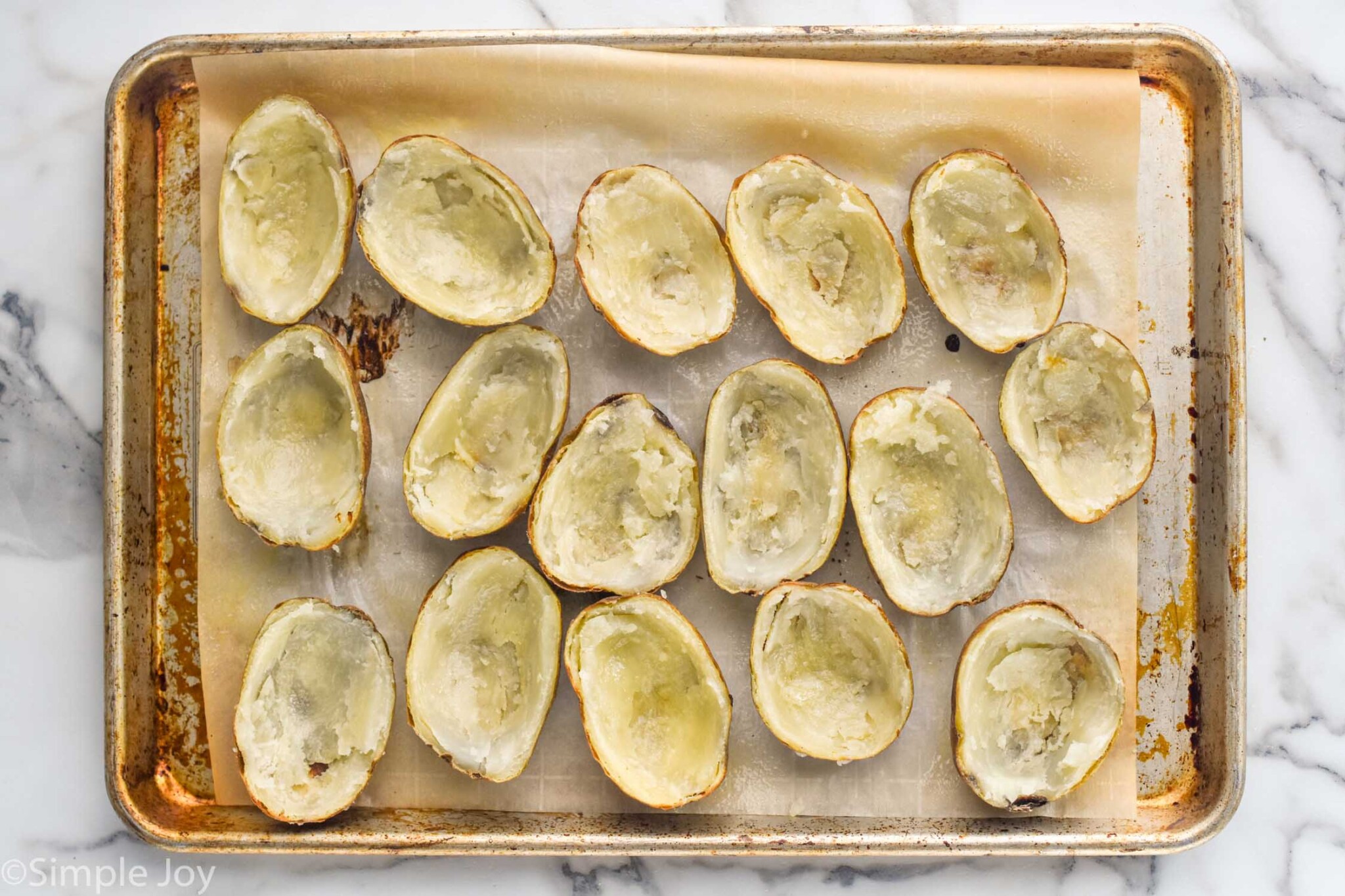 Best Potatoes to Use
Russet potatoes are what I recommend for this recipe or traditional twice baked potatoes. If you are living in the UK, the closest potato to the russet is a white potato.
TOP PICK
Rimmed Baking Sheets
These baking sheets are my absolute favorite. They hold up for years, and they bake everything perfectly. They are always my top pick.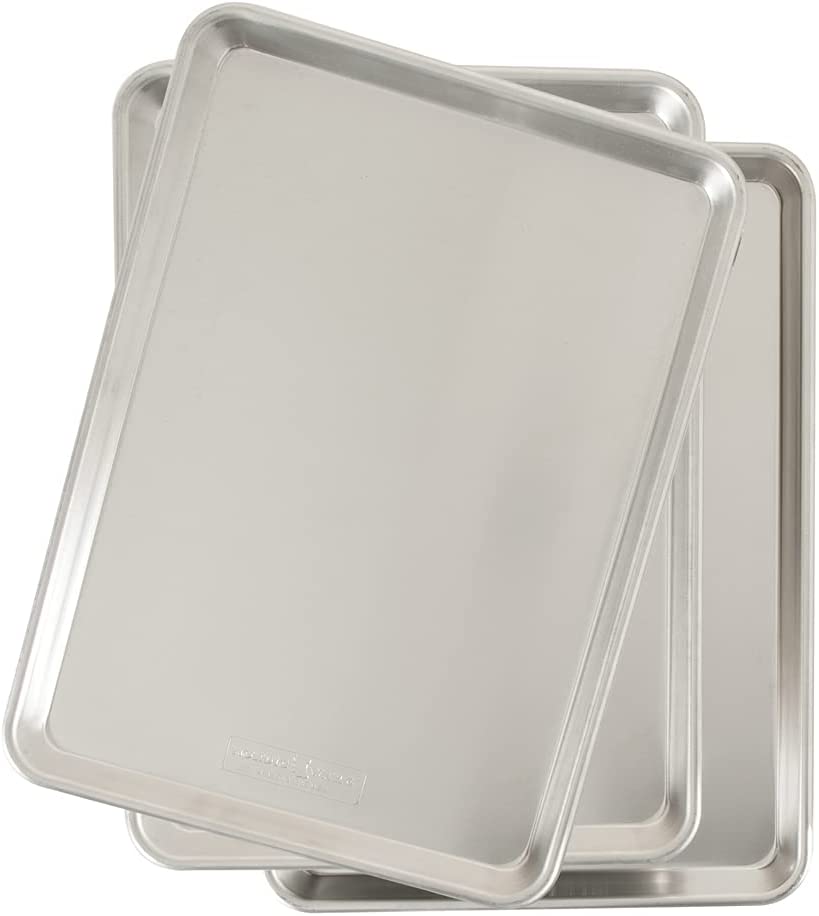 Preparing the Potatoes
Scrub the potatoes well to remove any dirt and debris. Bake them whole and then cut them in half (see the photo). Remove the majority of the potato mixture, but make sure to leave about 1/4 inch so that they hold up well when you add the bacon and cheese.
Even though we don't use the insides of the potatoes in this recipe, don't waste them. They can be used to make mashed potatoes or my Twice Baked Potato Casserole. If you are saving the potatoes to make the next day, store them in an airtight container in the refrigerator.
Twice Baked Potato Casserole
This Twice Baked Potato Casserole is the ultimate comfort food. Made with simple ingredients, this will be a hit with everyone!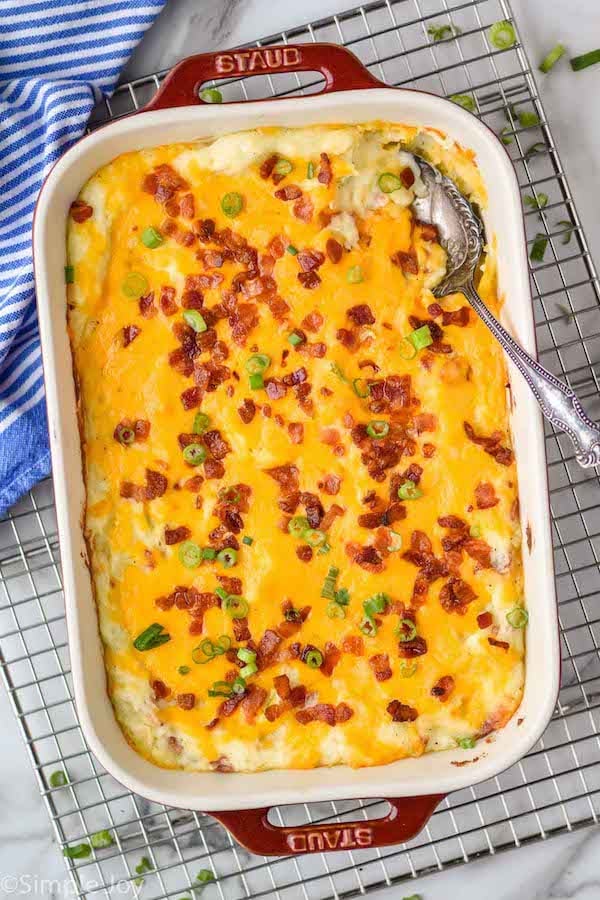 Cooking Bacon
The bacon is a key flavor in this recipe, so cooking it well is important. I prefer to dice the bacon and then cook it. Cook it in a cast iron pan just until it begins to turn crisp. Remove it from the pan with a slotted spoon and transfer to a paper towel-lined plate.
Alternatively, you could cook the bacon whole in an air fryer. After it is cooked, dice it. I love cooking our bacon this way because it is so hands-off and clean up is a breeze!
Air Fryer Bacon
Air Fryer Bacon is so easy to make! No splatter of grease and no bacon cooking in fat. You will never make bacon another way again!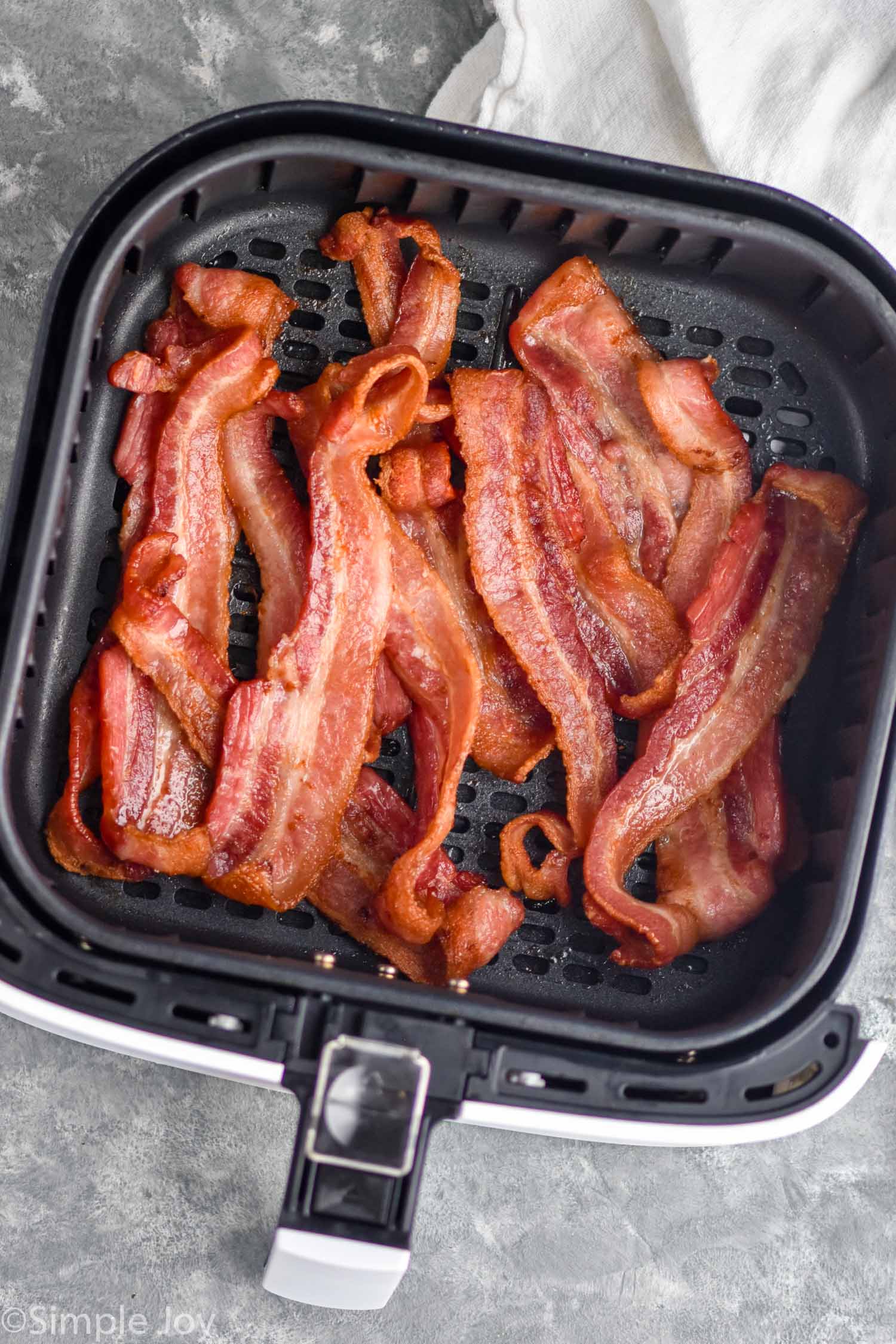 Shredding Cheese
I always recommend shredding your own cheese from a block for recipes. Pre-shredded cheese is covered in preservatives that help it keep its shape. Freshly grated cheese melts and tastes so much better than the pre-shredded stuff. It is worth the extra time to shred your own for this potato skin recipe.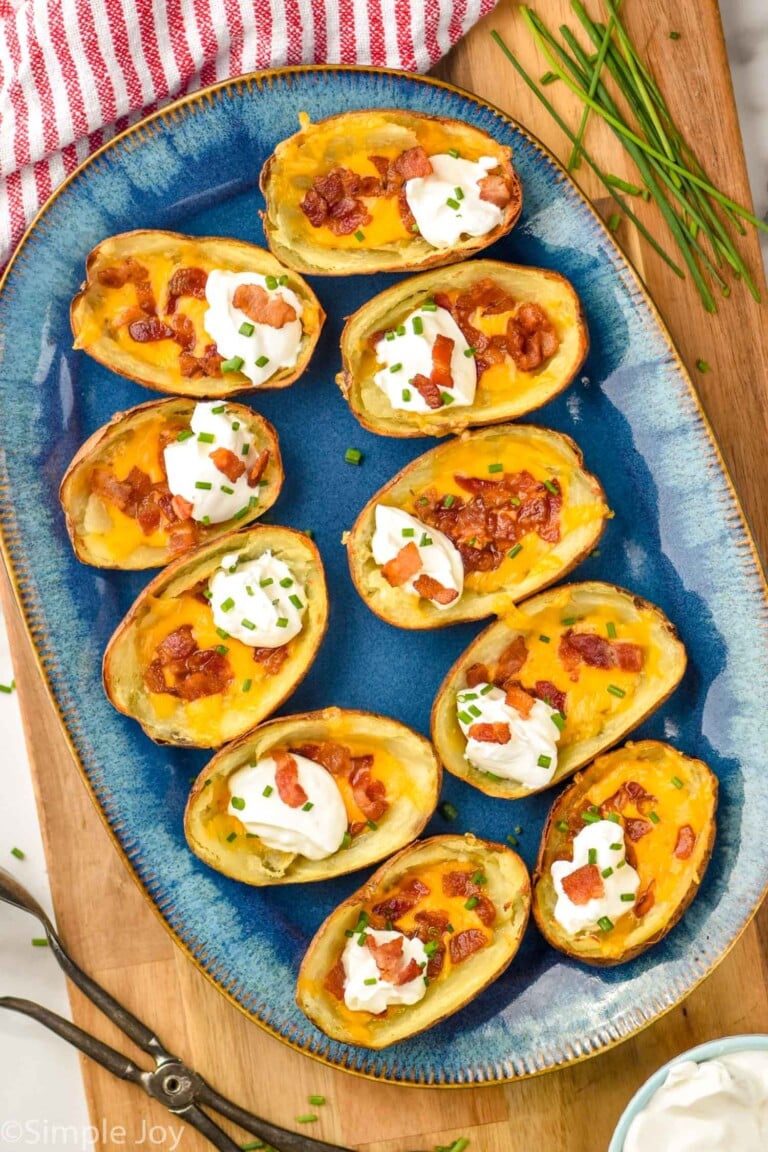 How to Serve
Serve these loaded potato skins immediately while they're warm as is or with a dollop of sour cream and chives. See some variations below.
Making Ahead of Time
To make these ahead of time, bake your potatoes, cut them in half, and scoop out all but 1/4 of the insides. Once cooled, store the homemade potato skins in an airtight container in the refrigerator until you are ready to bake them. Take them out of the fridge, spray both sides of the skins with oil, and bake as directed in the recipe card.
The biggest time saver will be baking the potatoes ahead of time and scooping out the insides. They will still result in warm, crispy potato skins that take less time.
Tips and Tricks
Scoop out the potato insides while they are still somewhat warm and leave about 1/4 of the potato in there. This allows it to stand up and hold the bacon and cheese.
Don't skip spraying the potato skins with oil on both sides before baking the second time, this gives it a nice crispy skin.
Make in the air fryer
You can also make this potato skin recipe in the air fryer using cooked potatoes. Prepare as directed and then cook in a preheated air fryer at 400 degrees Fahrenheit for 10 minutes. This is a great method to reheat potato skins.
Reheating Potato Skins
To reheat potato skins that have been baked, put them back in the oven. Bake them directly on the rack of the oven to keep the skin crispy.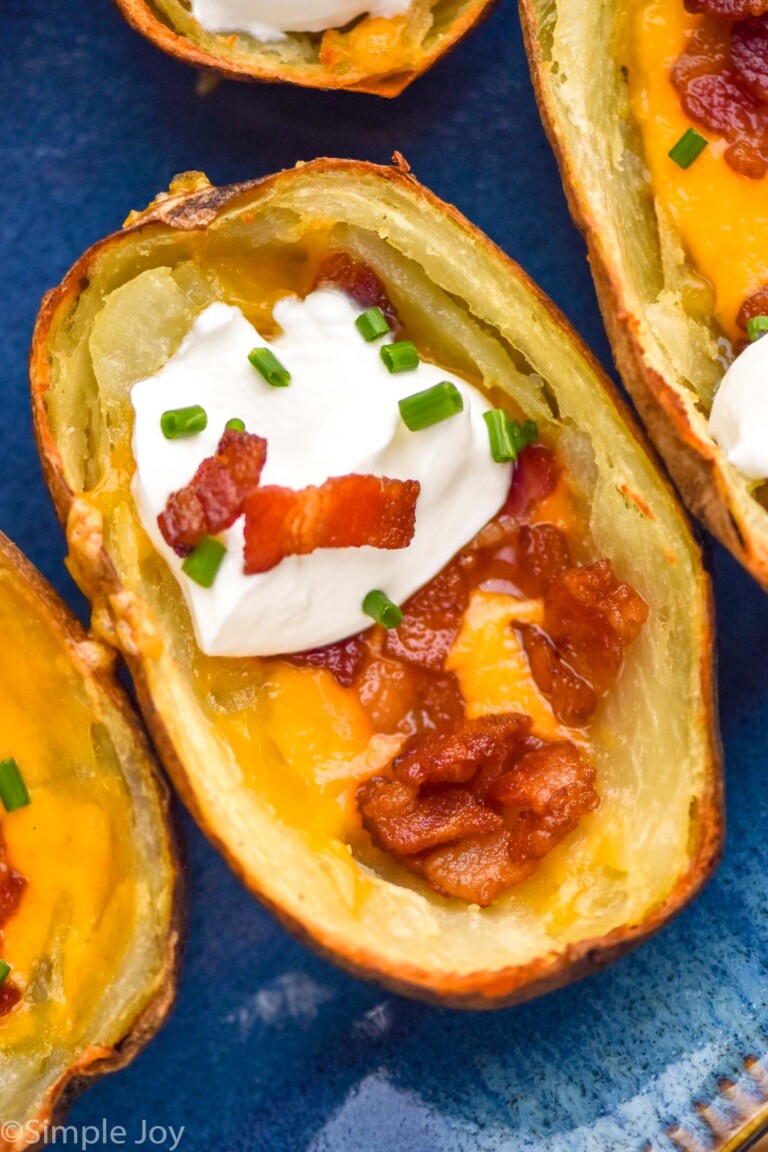 What to Serve With Potato Skins
You can serve this homemade potato skins recipe as an appetizer (Pigs in a Blanket would be so yummy with them) or as a side dish.
If you try this potato skins recipe or any of my others, please leave a comment and let me know what you think. I love hearing from you!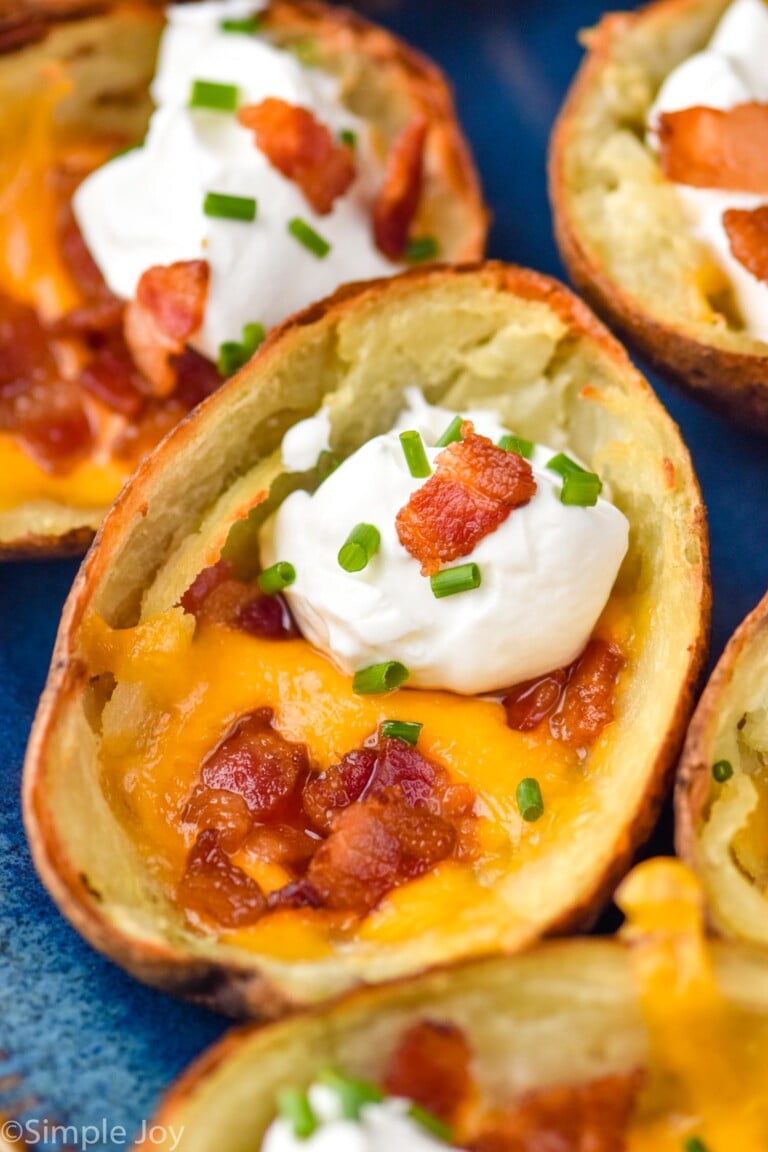 Potato Skins
Potato Skins are the perfect easy appetizer. Made with just three ingredients, these are such a crowd-pleaser!
Ingredients
8

small russet potatoes

(866 grams) scrubbed clean

1 1/2

cup

cheddar cheese

(169.5 grams) shredded

6

slices

thick cut bacon

diced, cooked, and drained of fat
Instructions
Place the potatoes on the baking sheet and bake for 1 hour or until they are fork-tender.

Once cool enough to handle, slice the potatoes in half and scoop out most of the insides, leaving about a 1/4 inch of potato in the skin. Spray each side of the potato skin with cooking spray and bake for another 10 minutes.

Top the skins with the cheese and bacon. Bake for an additional 5 minutes until the cheese is melted. Add sour cream and chives, and serve immediately.

1 1/2 cup cheddar cheese,

6 slices thick cut bacon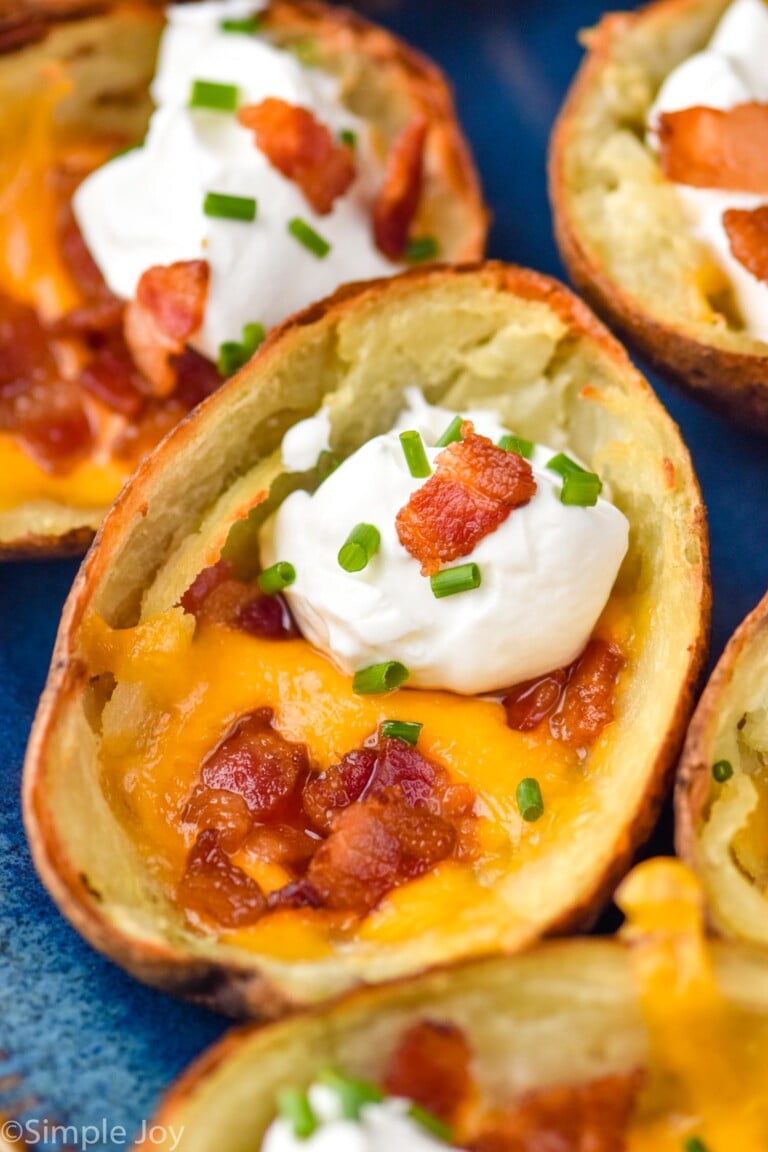 did you make this
Potato Skins