Homemade Sloppy Joes are always a crowd pleaser. They are so easy to make, and absolutely delicious. You will love this easy dinner recipe packed with flavor.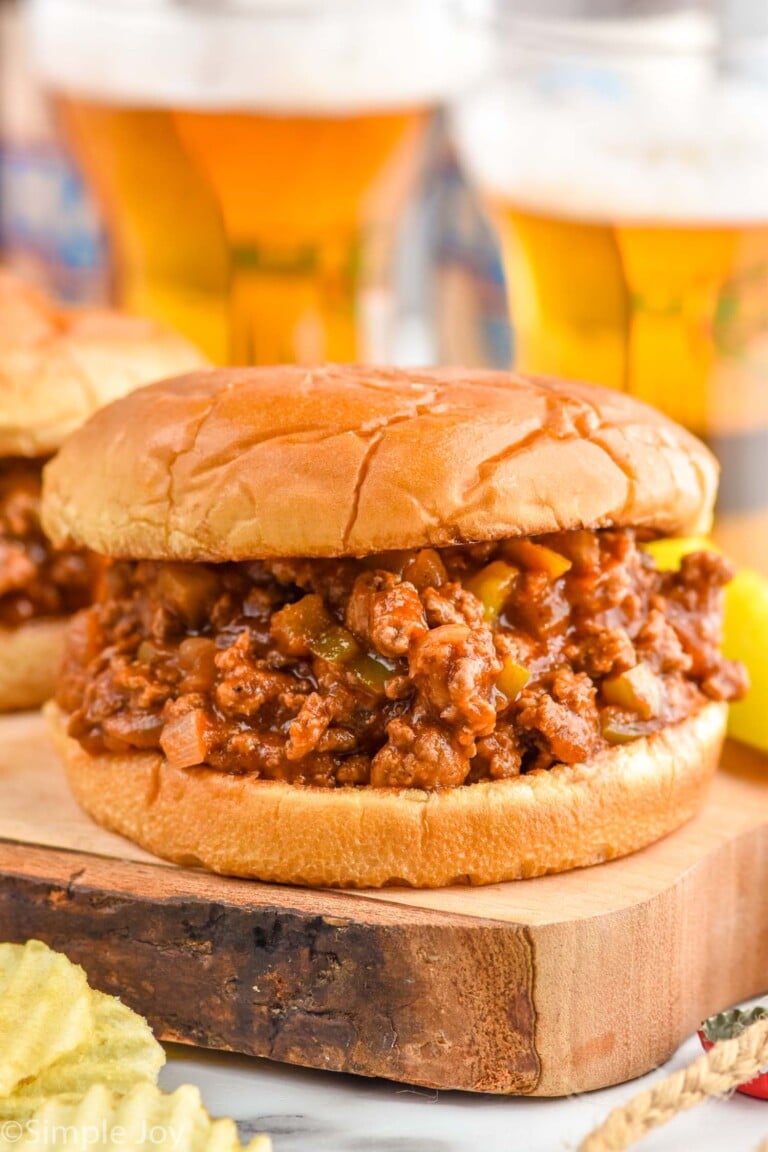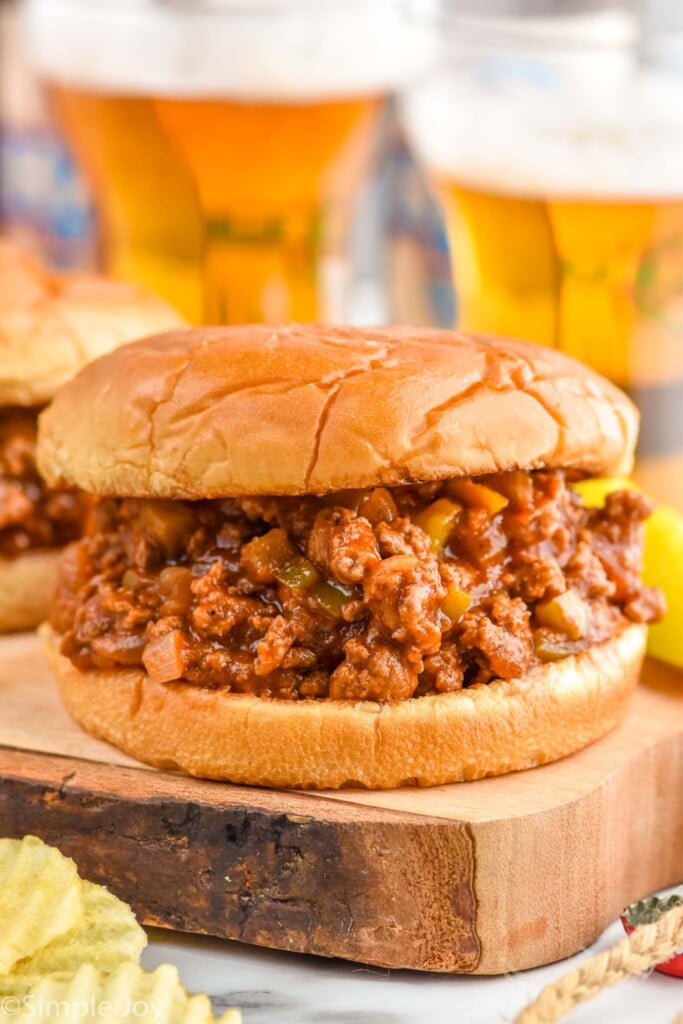 My kids are huge Sloppy Joe lovers! Unfortunately, my husband and I were on the fence about them for years. I think we had unpleasant lunch room memories that clouded our judgement. All that changed when I made my own sauce for them years ago when I first published my Turkey Sloppy Joes. We are using the same sauce here, and it is a winner – bound to change the minds of anyone else traumatized by the elementary school cafeteria.
A sloppy joe is a sandwich made with ground meat and a tomato-based sauce served on a bun. Most sloppy joe recipes are made with ground beef and a sauce that contains ketchup, Worcestershire sauce, and some seasonings.
How to Make Sloppy Joes
These homemade sloppy joes come together in one pan on the stovetop with simple steps and ingredients. Here is a brief overview of how to make them. For the full recipe including all measurements, see the recipe card at the bottom of the post.
Brown the beef. Cook the meat, breaking it up, until the meat just starts to brown.
Add in the vegetables. Add the bell pepper and onion and saute until they soften. Drain off any excess grease.
Make the sauce. Add the sauce ingredients (tomato sauce, ketchup, Worcestershire sauce, brown sugar, ground mustard, salt, and ground pepper).
Simmer and serve. Cover and cook for about 30 minutes. Serve on buns.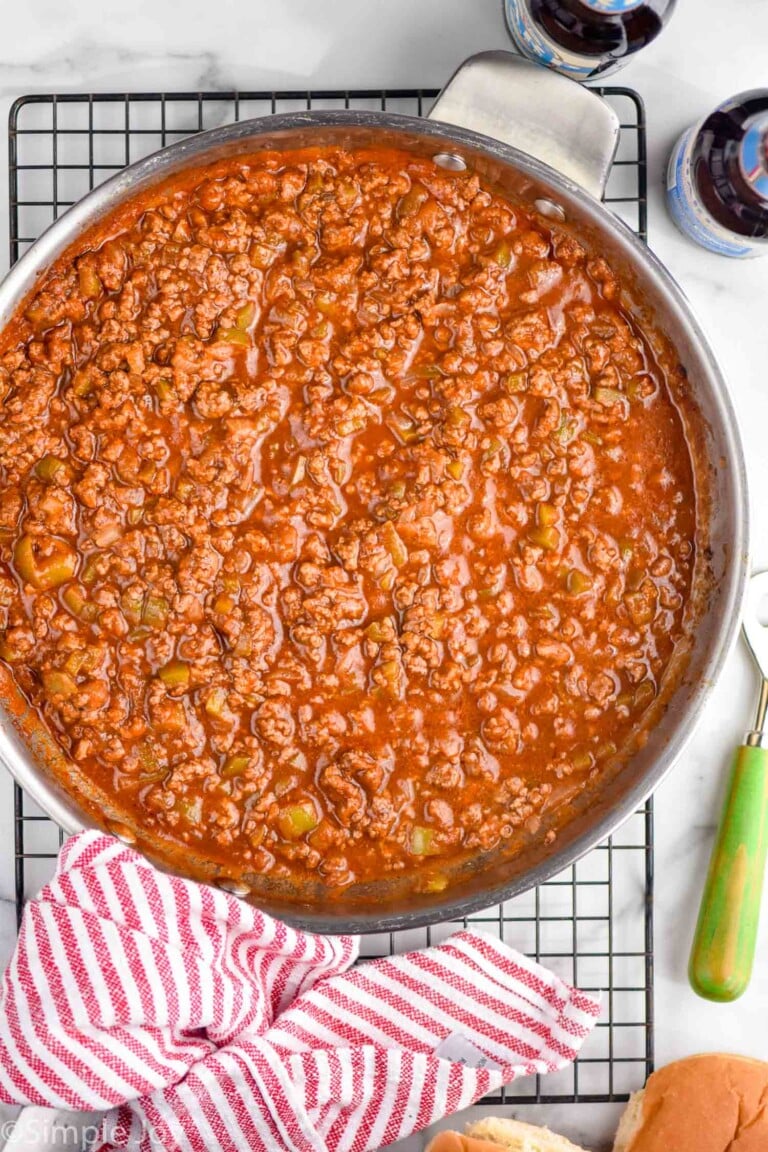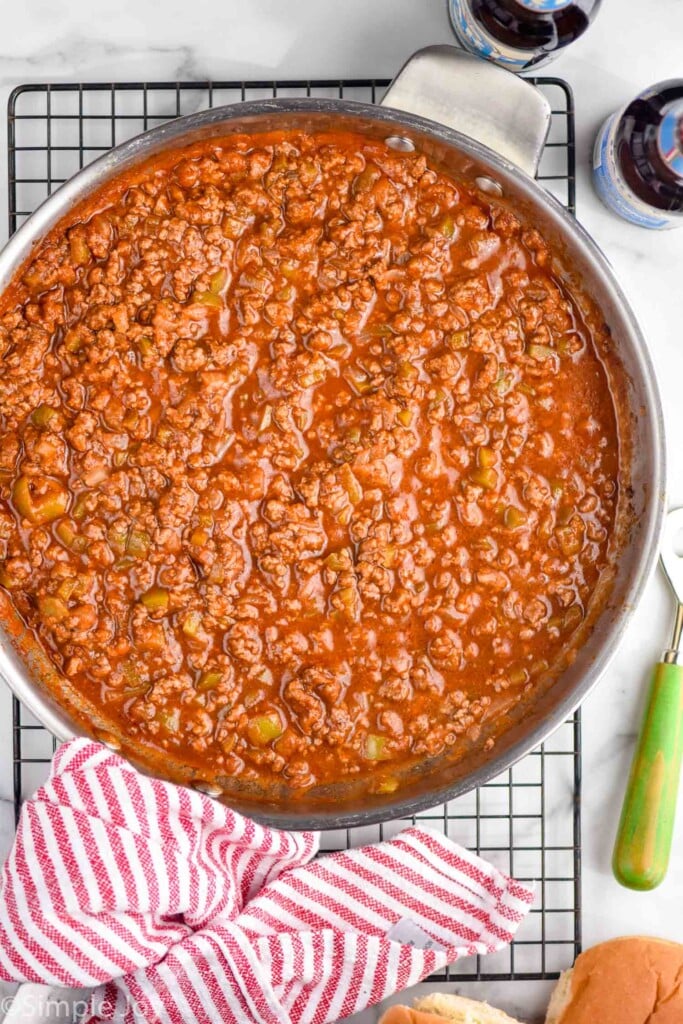 Homemade Sloppy Joe Sauce
What makes this the best sloppy joe recipe? The homemade sauce! It is so easy to make and the flavor of it is just right. Here are the ingredients that make it so delicious:
Canned tomato sauce: unlike pasta sauce which has been cooked with seasonings, tomato sauce is pureed tomatoes in which all the seeds, pulp, and skin have been removed. That is what you are looking for.
Ketchup: a staple in so many sloppy joe recipes, it adds a little sweetness.
Worcestershire sauce: this gives the sauce a nice tang that deepens the flavor.
Brown sugar: balances the acidity of the tomato sauce and adds to the sweetness.
Ground mustard
Salt and pepper
Using Ground Turkey
My family often prefers ground turkey to ground beef. If your family is the same, that is an easy swap to make in this recipe. If you are using a low-fat content turkey (such as 93 percent or higher), add a little bit of olive oil to your pan before you start browning the meat.
Turkey Sloppy Joes
The lighter spin on these ground Turkey Sloppy Joes will make you feel great.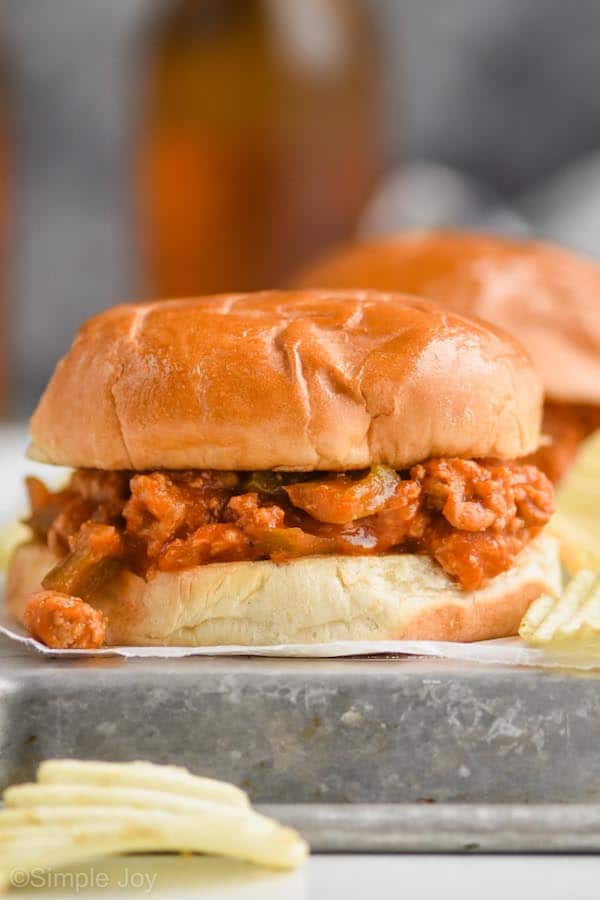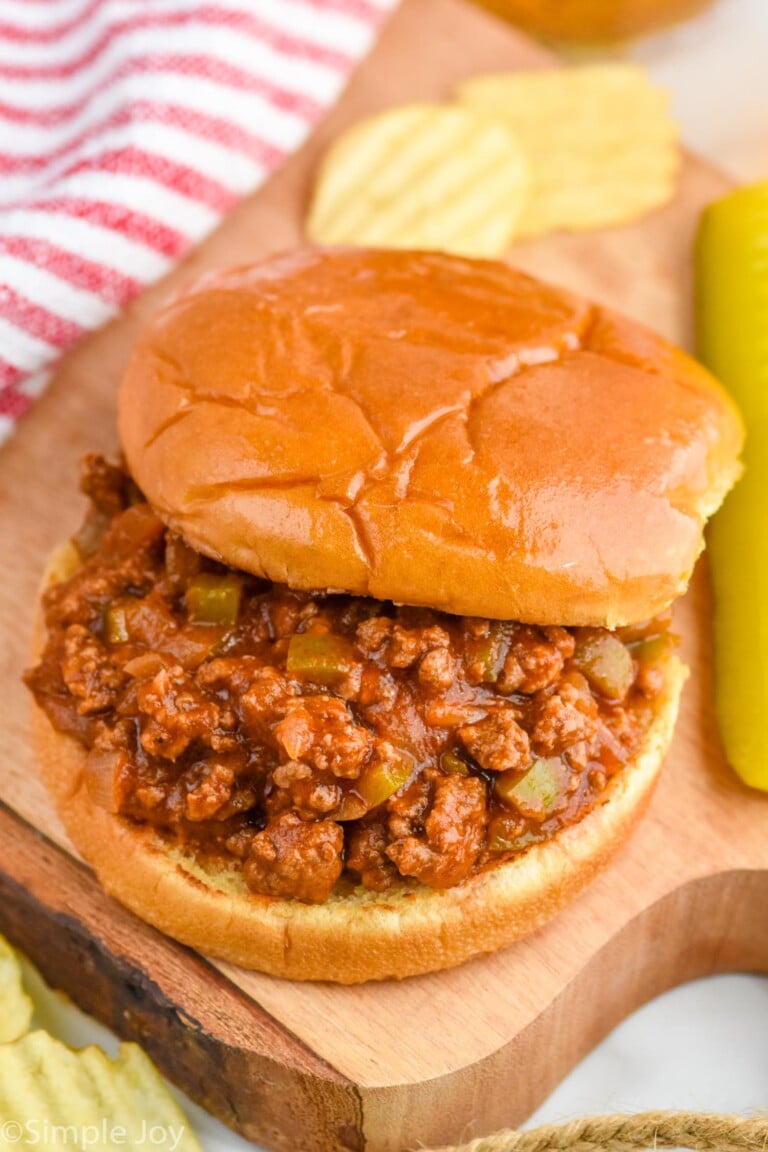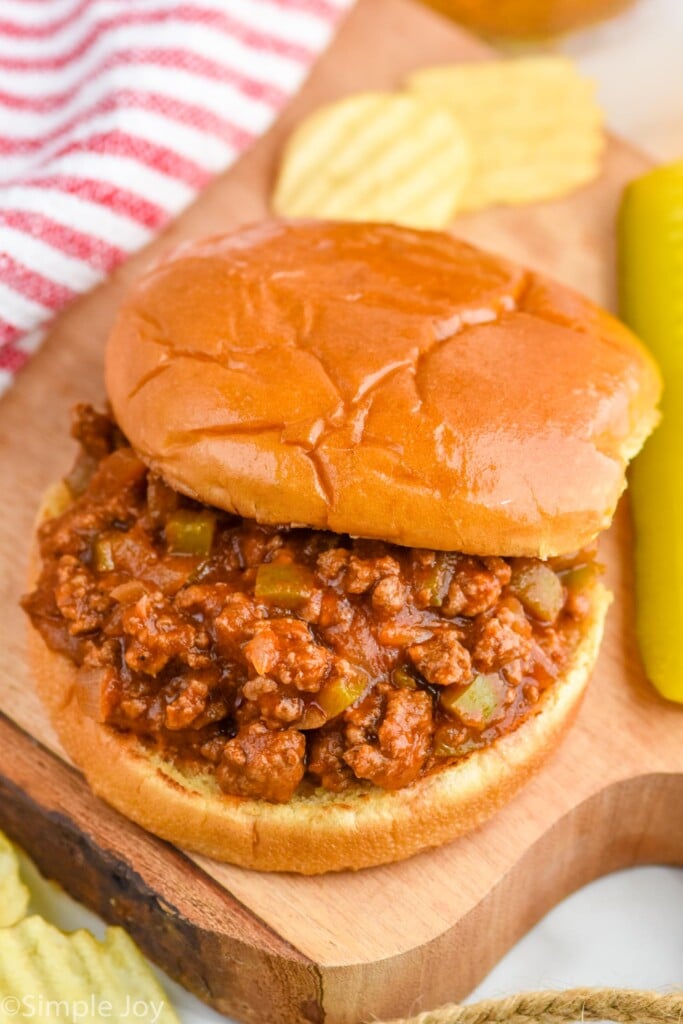 Crock Pot Sloppy Joes
Sloppy joes are a great meal to make in the crockpot ahead of time. If you want to do that, follow the instructions in my Crock Pot Sloppy Joes recipe.
Crock Pot Sloppy Joes
These Crock Pot Sloppy Joes are only 15 minutes hands on time! This easy sloppy joe recipe is the perfect dinner to come home to.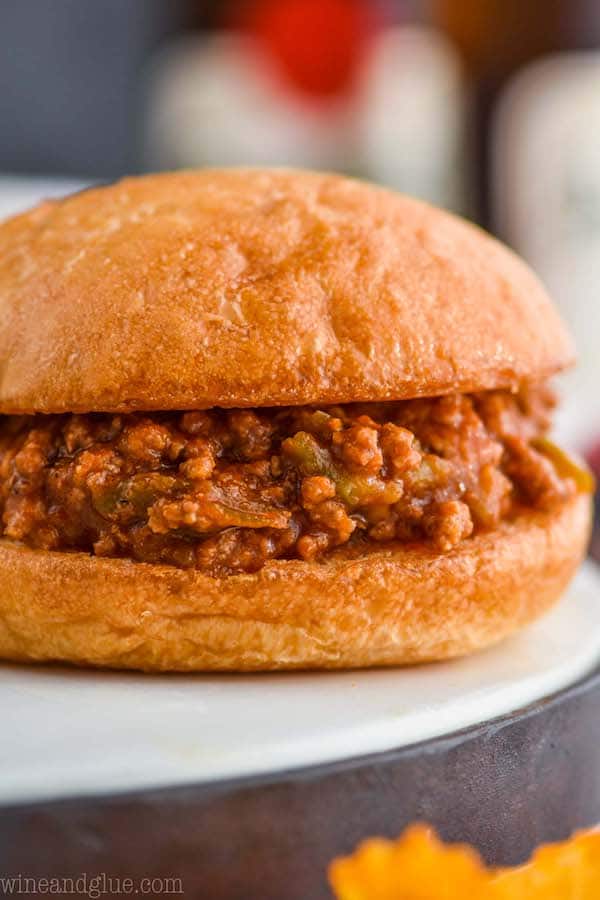 Sloppy Joes for a Crowd
This recipe can be easily doubled or tripled to serve a crowd or to have leftovers for a quick meal. This recipe makes about six sloppy joes. If you are serving a crowd, just double or triple the whole recipe. In addition to increasing the meat, don't forget to double or triple the rest of the ingredients accordingly.
To make 12 sloppy joes, you will need two pounds of meat.
To make 18 sloppy joes, you will need three pounds of meat.
Pro Tip!
Diced onions and green bell pepper give the sloppy joe mixture added bulk and flavor. But why stop there? You could dice up carrots, yellow or red bell pepper, zucchini, squash, or whatever you have on hand. Dice them all the same size to ensure they cook evenly.
FAQ
How much does this recipe make?
This will serve about six people. The recipe can easily be doubled or tripled to serve a bigger crowd. I talk more about this in the post above.
What is the difference between Manwich and sloppy joe?
Manwich is the pre-made version of sloppy joe sauce that you can buy at the grocery store. It is intended to make making sloppy joes at home easy, however, making your own sloppy joes is easy to make without a can of sauce.
Making Ahead
If your life is as busy as ours is, this is a dinner that can certainly be made ahead. You can make this up to 24 hours in advance and then warm it up on your stovetop over low heat while covered. Keep in mind that the more it bubbles, the more liquid will evaporate and the less sloppy these will be.
Storing Leftovers and Freezing
These sloppy joes are delicious leftover. Store the leftover meat mixture in an airtight container in the refrigerator for up to three days. Reheat over very low heat, covered, stirring intermittently. Always use your best discretion with leftovers.
You can also freeze the leftovers. Make sure to freeze them in a container that will allow for a little expansion. It should only be thawed once, so you may consider freezing it in individual serving sizes. Store them in the freezer for up to three months.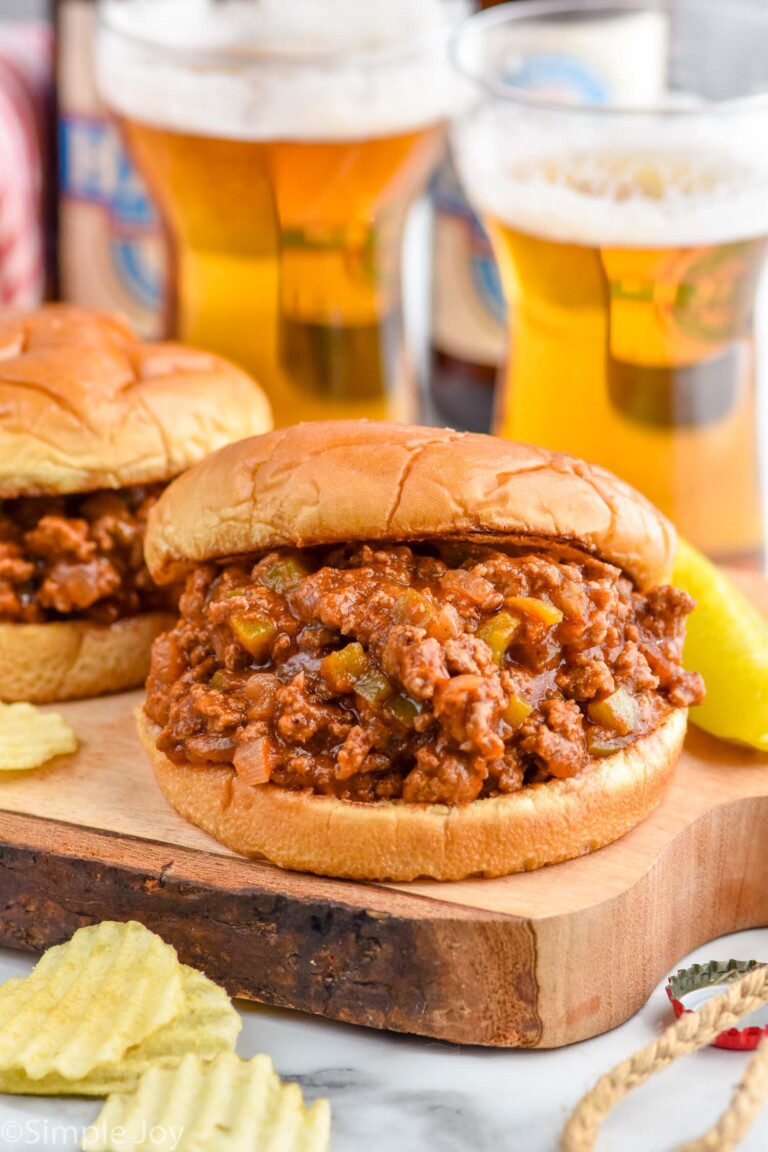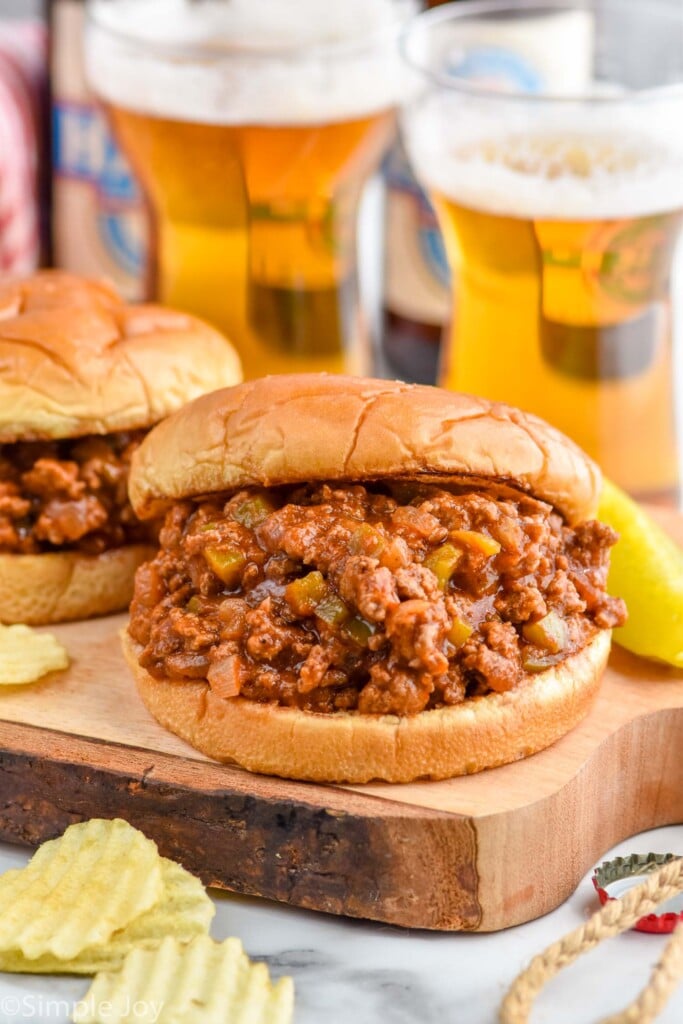 Sloppy Joe Sides
Wondering what to serve with sloppy joes? These easy sides are perfect for serving with your homemade sloppy joes.
If you try this homemade sloppy joes recipe or any of my others, please let me know what you think by leaving a comment. I love hearing from you!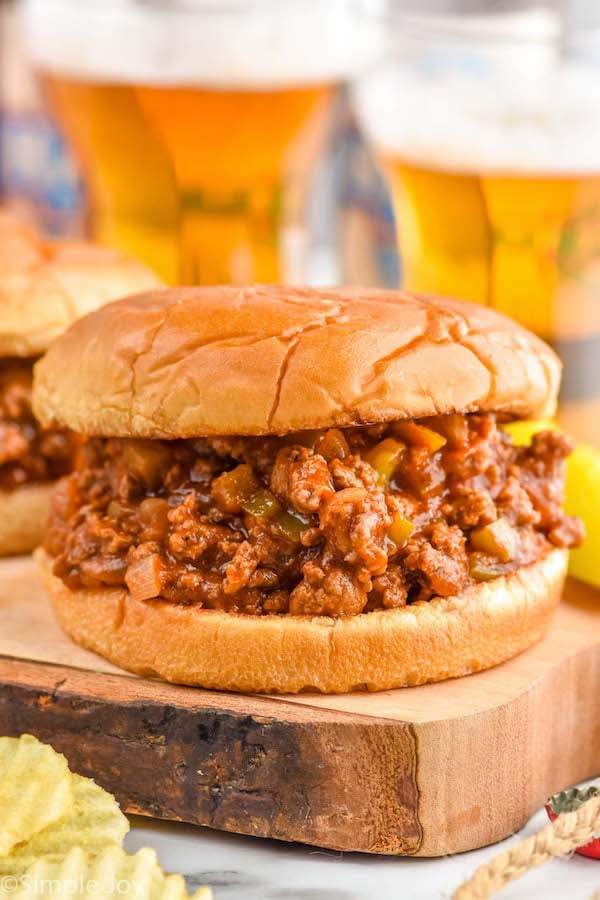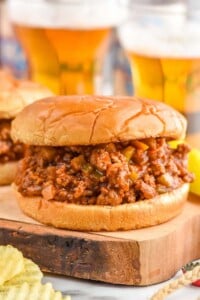 Sloppy Joes
Ingredients
1

pound

ground beef

1

green bell pepper

diced

1

small yellow onion

diced

15

ounces

tomato sauce

1/4

cup

ketchup

2

tablespoons

Worcestershire sauce

1

tablespoon

brown sugar

1/2

teaspoon

ground mustard

1/2

teaspoon

salt

1/4

teaspoon

ground pepper
Instructions
Heat a large skillet over medium heat.

Add the ground meat and cook, breaking it up until it begins to brown, about 4 minutes. No need to cook it all the way through.

Add in the green pepper and onion and cook until tender, about 5 minutes. Drain off any excess grease.

Add in the tomato sauce, ketchup, Worcestershire sauce, brown sugar, ground mustard, salt, and ground pepper. Stir to combine.

Bring to a simmer and then reduce the heat to low. You should still be able to see intermittent bubbles. Cook, covered, for 30 minutes, stirring occasionally.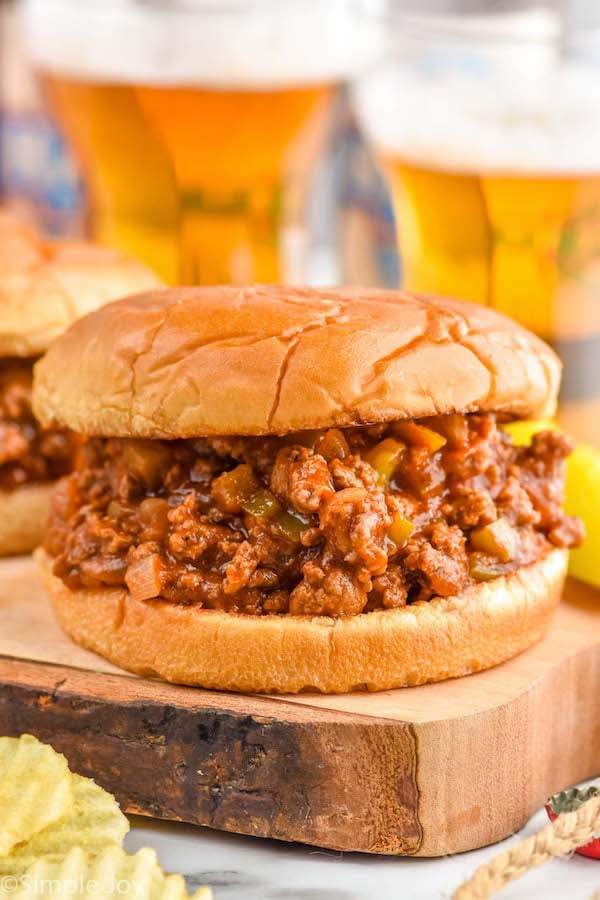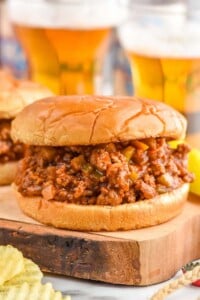 did you make this
Sloppy Joes