This Raspberry Mango Smoothie is a simple delicious way to have dessert. Just four ingredients to a filling, sweet treat!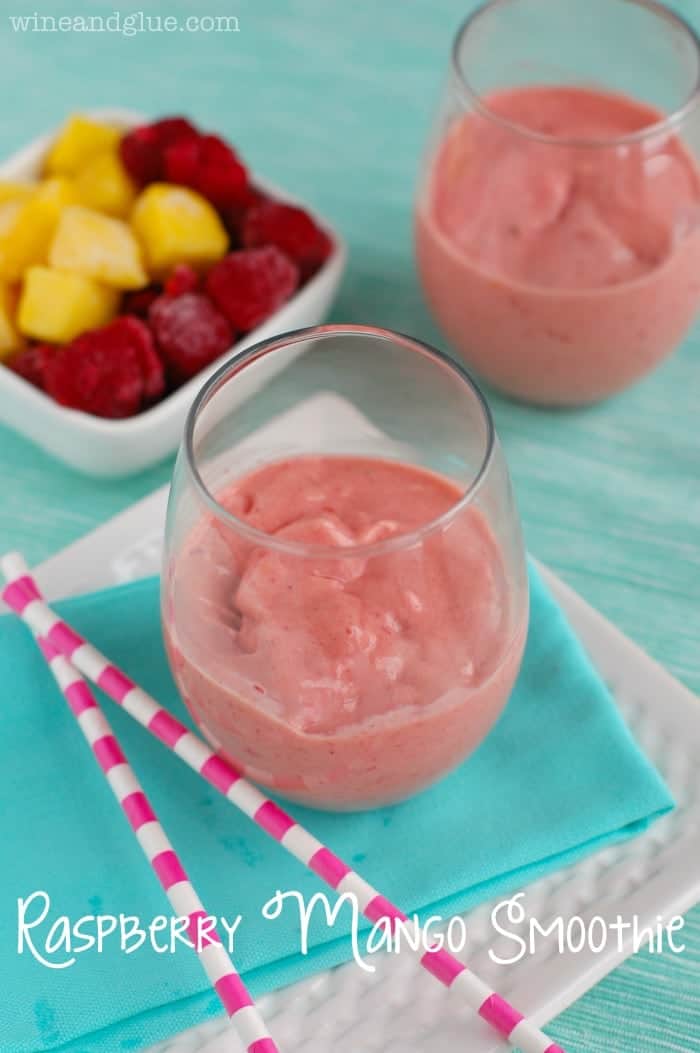 This Raspberry Mango Smoothie is my answer to eating healthier and eating less processed sugar. The frozen mango and raspberries are sweet all on their own and add such bright, delicious flavor and color. Add a ripe banana and a splash of milk to create a creamy, rich drink that totally curbs your appetite and satisfies your sweet tooth without derailing your diet plan. Try this smoothie for breakfast or as an afternoon snack. It also makes a delicious dessert!
What are your New Year's nutrition goals? I would love to get some inspiration from my peeps! Please drop me a comment below and let's support one another in our never ending quest for health!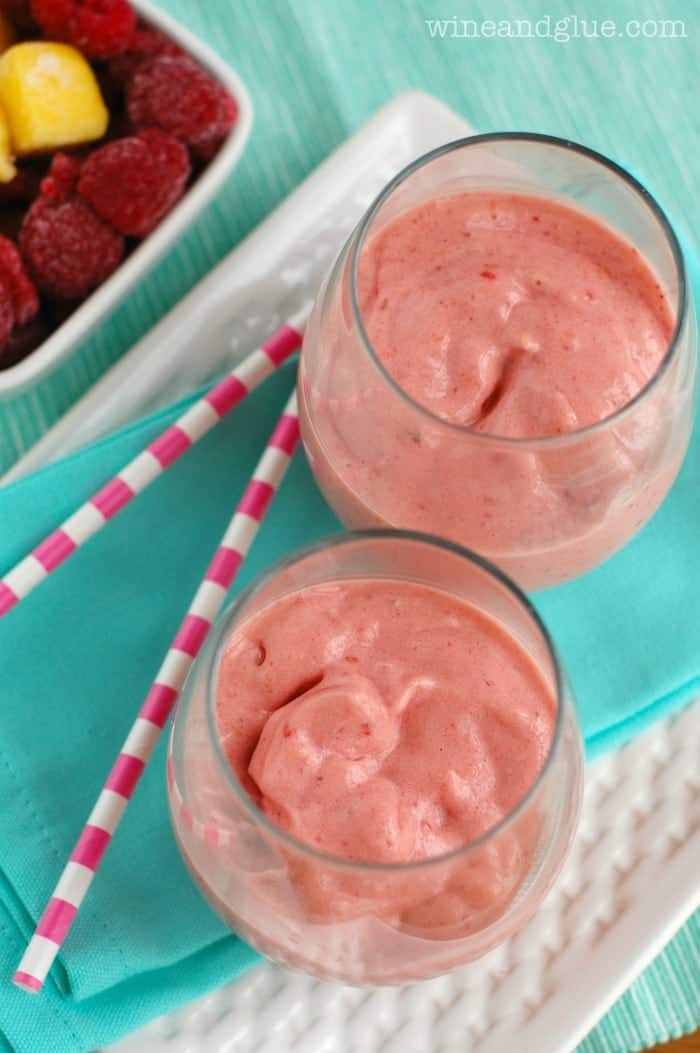 A NATURALLY SWEET TREAT
If you kicked off the new year with a resolution to get healthier, I totally understand how hard that can be. This is my advice: Go whole hog. I'm somebody who really does best when I fully jump in to something. And I can say that once you give up sugar, after some time, your body really does stop craving it. It finds sweetness where you wouldn't have found it before. Suddenly an apple really does feel like a sweet dessert. (I know, I sound crazy, but I swear I'm speaking from experience.)
So while fruit does have sugar in it, and plenty of calories, it can for sure be used as a treat if you are trying to watch your processed sugar and fat intake. And if you haven't eaten sugar in a while, a smoothie like this can be as sweet and delicious as a bowl of ice cream. I swear.
INGREDIENTS FOR A RASPBERRY MANGO SMOOTHIE
The ingredients for this smoothie are really easy to keep on hand, so that it can be a last minute dessert that you can have when the sugar cravings get out of control. Here's all you need:
Frozen mangos from Trader Joe's are a staple for me! They are so deliciously sweet, and buying them frozen means that you can use them a little bit at a time without worrying about them going bad. You can find bags of frozen mangos at most grocery stores.
Then you just need to add a bag of frozen raspberries to your freezer. They'll keep for a few months and again, you can just grab a handful at a time. Plus they're so much cheaper to buy frozen than fresh at the store.
Who doesn't have a browning banana on hand? I swear they're brown before I even have a chance to use them. You can also freeze the bananas! If your bananas are going brown quickly, peel them, dice them up and let them freeze on a cookie sheet. Then you can combine the frozen pieces in a baggie and grab a few each time you're making a smoothie. So convenient!
Add a little 2% milk and you are good to go! Any kind of milk will work for this smoothie recipe. I've used soy milk, coconut milk or even whole. I like using at least 2% for a creamy smoothie texture but you could use up your skim milk if that's what you have on hand.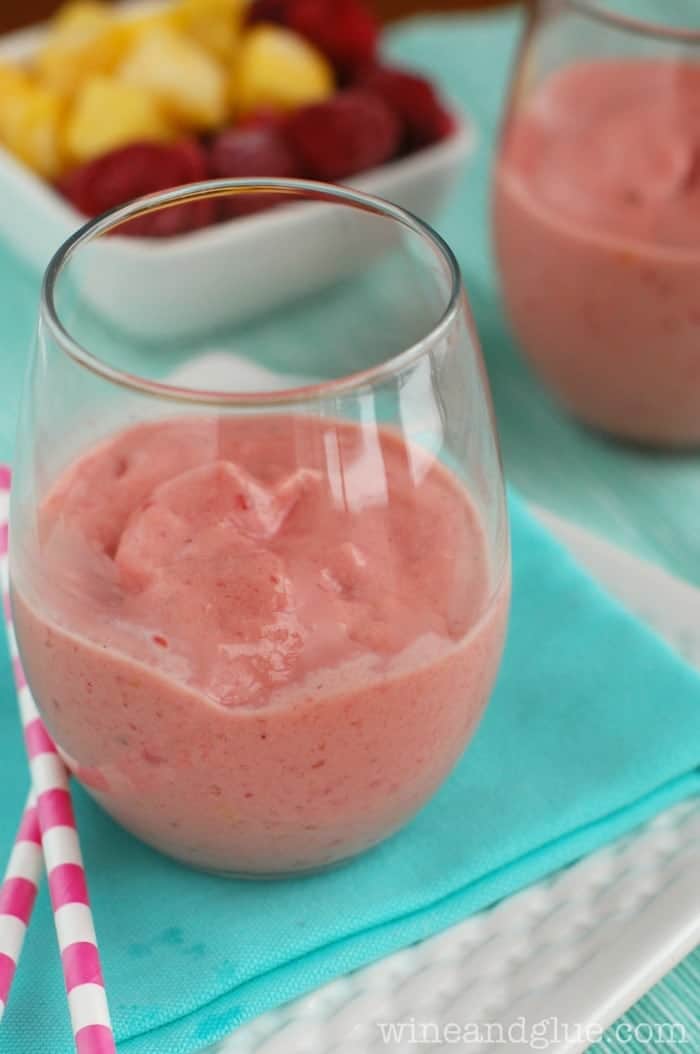 MORE SCRUMPTIOUS SMOOTHIE RECIPES
Smoothies are such a great idea for snacks, breakfast, or a dessert. Try some of these delicious smoothie recipes next time you have a sweet tooth!
Smoothies are such a delightful treat or meal replacement. They've helped me stay on track when I'm watching my sugar intake, without making me feel deprived of sweets. I would love to hear what you think of this recipe; drop me a comment and let me know. Enjoy!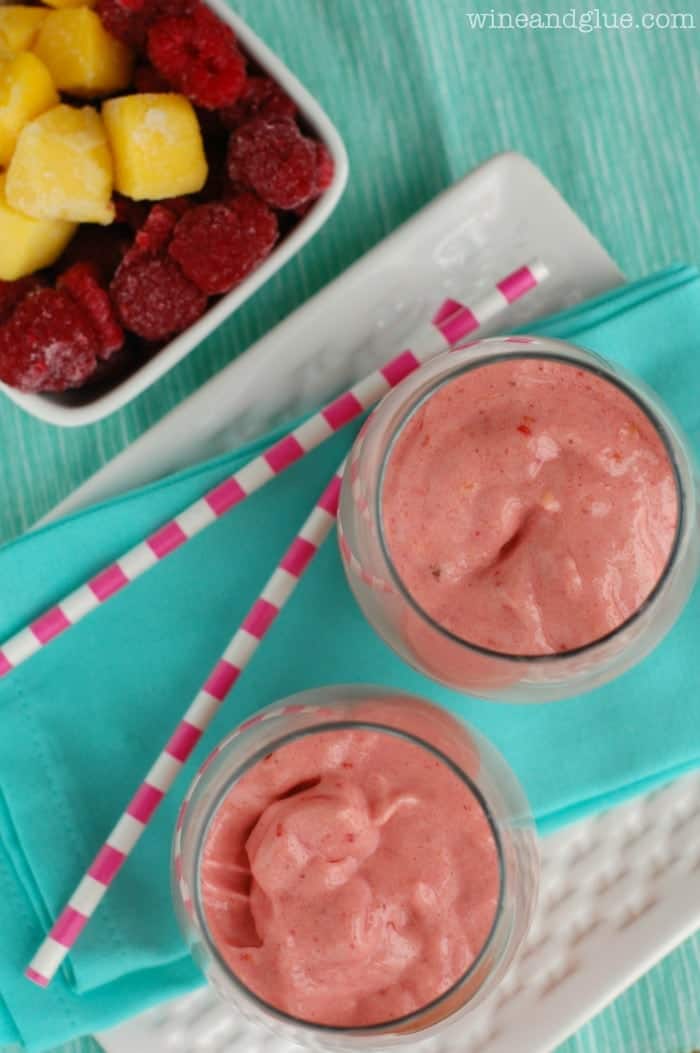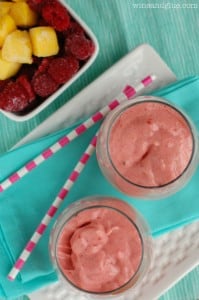 Raspberry Mango Smoothie
This Raspberry Mango Smoothie is a simple delicious way to have dessert. Just four ingredients to a filling, sweet treat!

Ingredients
1

cup

frozen mango

1

cup

frozen raspberries

1

browning banana

1/2

cup

milk

I used 2% or you can use soy milk
Instructions
Blend all together in food processor or blender until smooth
Notes
The fruit can rock your food processor a little bit so hold on!
Serving:
1
smoothie
Calories:
196
kcal
(10%)
Carbohydrates:
45
g
(15%)
Protein:
4
g
(8%)
Fat:
2
g
(3%)
Saturated Fat:
1
g
(6%)
Cholesterol:
5
mg
(2%)
Sodium:
34
mg
(1%)
Potassium:
404
mg
(12%)
Fiber:
8
g
(33%)
Sugar:
32
g
(36%)
Vitamin A:
24
IU
Vitamin C:
41
mg
(50%)
Calcium:
26
mg
(3%)
Iron:
5
mg
(28%)
Equipment
blender or food processor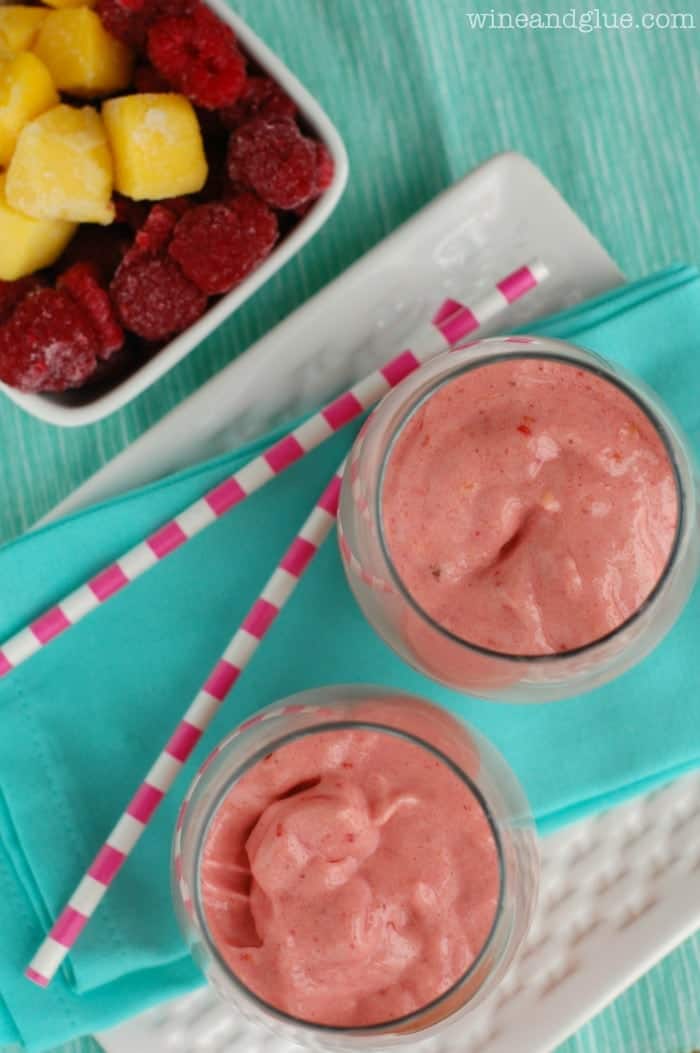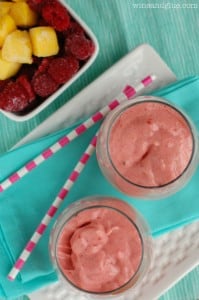 did you make this
Raspberry Mango Smoothie