Roast Chicken made piping hot out of the oven is the ultimate homey dinner recipe. With these easy to follow instructions, you are sure to make the perfectly moist whole roasted chicken.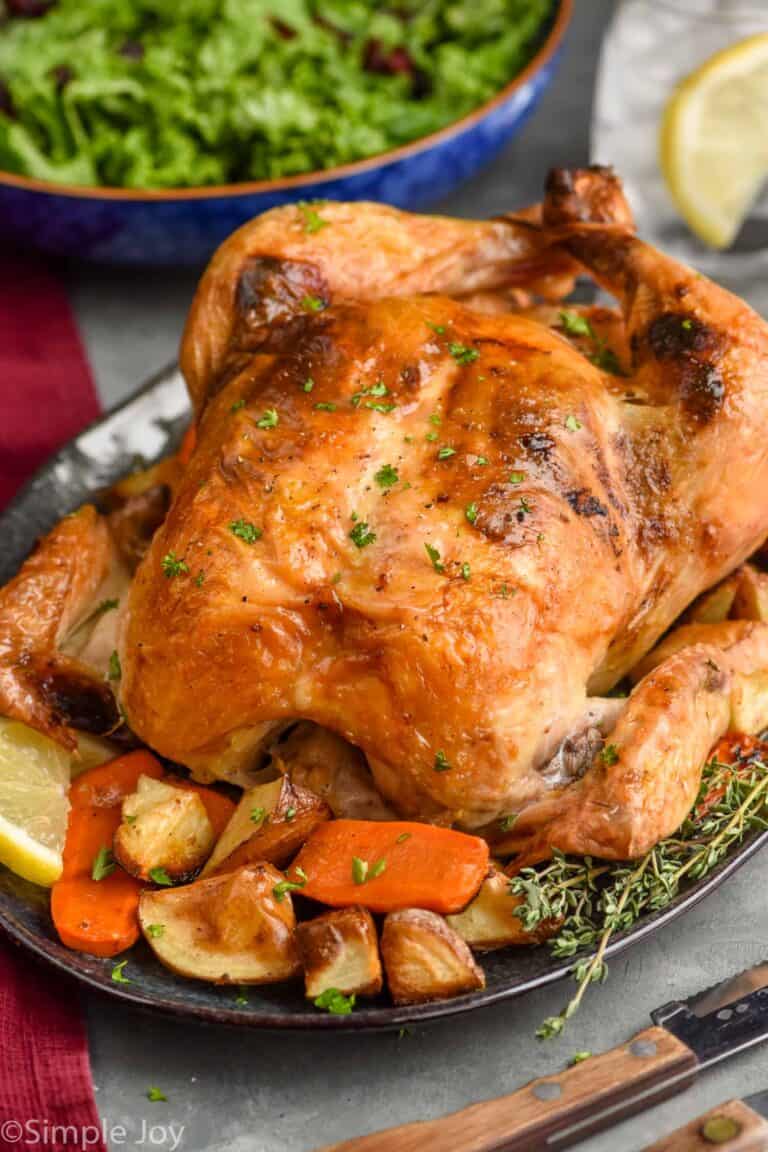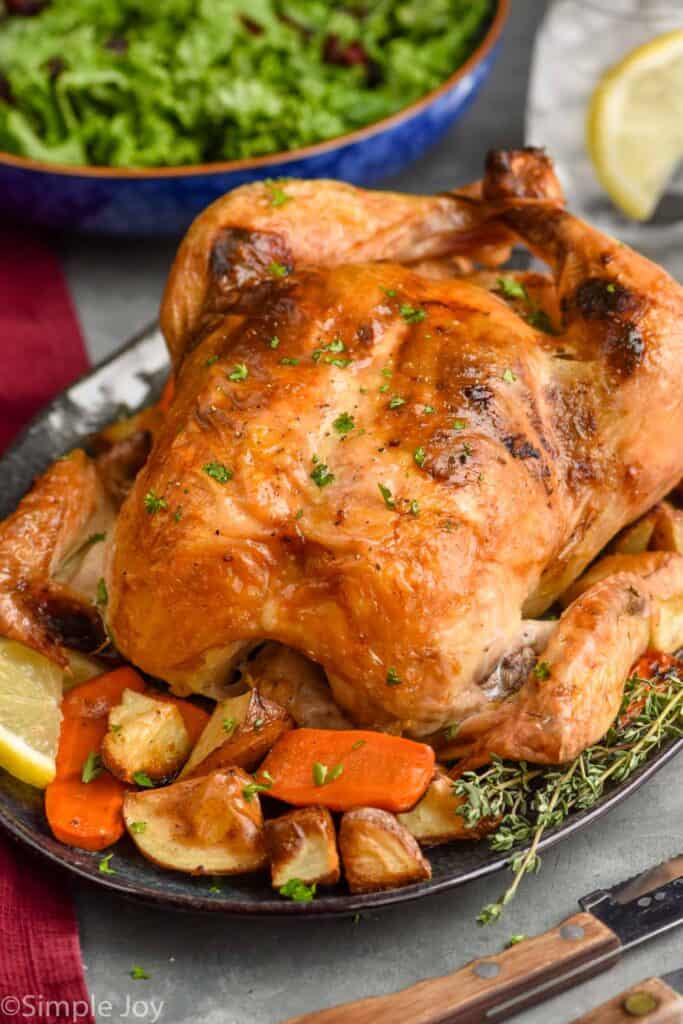 I think there are some dishes that just seem intimadating. When I was first learning how to cook there were certain recipes that I didn't even want to try. Oven roasted chicken was certainly one of those dishes. There is just something about cooking an entire chicken that seems insurmountable to a new cook.
I'm here to tell you that if I, as a young new cook, was able to learn how to roast a chicken, you can too. In fact, I think this is a recipe that you will surprisingly easy to make. Once you do it once and taste how moist and delicious this chicken comes out, this will become a regular in your meal rotation.
How to Roast a Chicken
It may seem like quite a few steps, but really, roasting a whole chicken is super easy! Check out the recipe card below for exact measurements, but here's what you need to do:
Mix Seasonings: Mix together some salt, garlic powder, onion powder and pepper.
Make Seasoned Butter Mixture: Mix room temperature butter, some of the seasonings, and garlic cloves and spread under the chicken skin.
Season the Veggies: Toss carrots, potatoes, and onions with the remaining spice mixture and some garlic cloves, thyme and oil.
Tuck Wings and Tie Legs: Use kitchen string to tie the chicken legs together and tuck the wings underneath the body of the chicken.
Roast Chicken and Veggies: Place the chicken on top of the veggies, brush with some oil and roast for about an hour and a half.
Check Temperature: The chicken is done when the juices run clear, and when it reaches 165 degrees.
Let it Rest: Tent the chicken with aluminum foil for about 20 minutes before serving.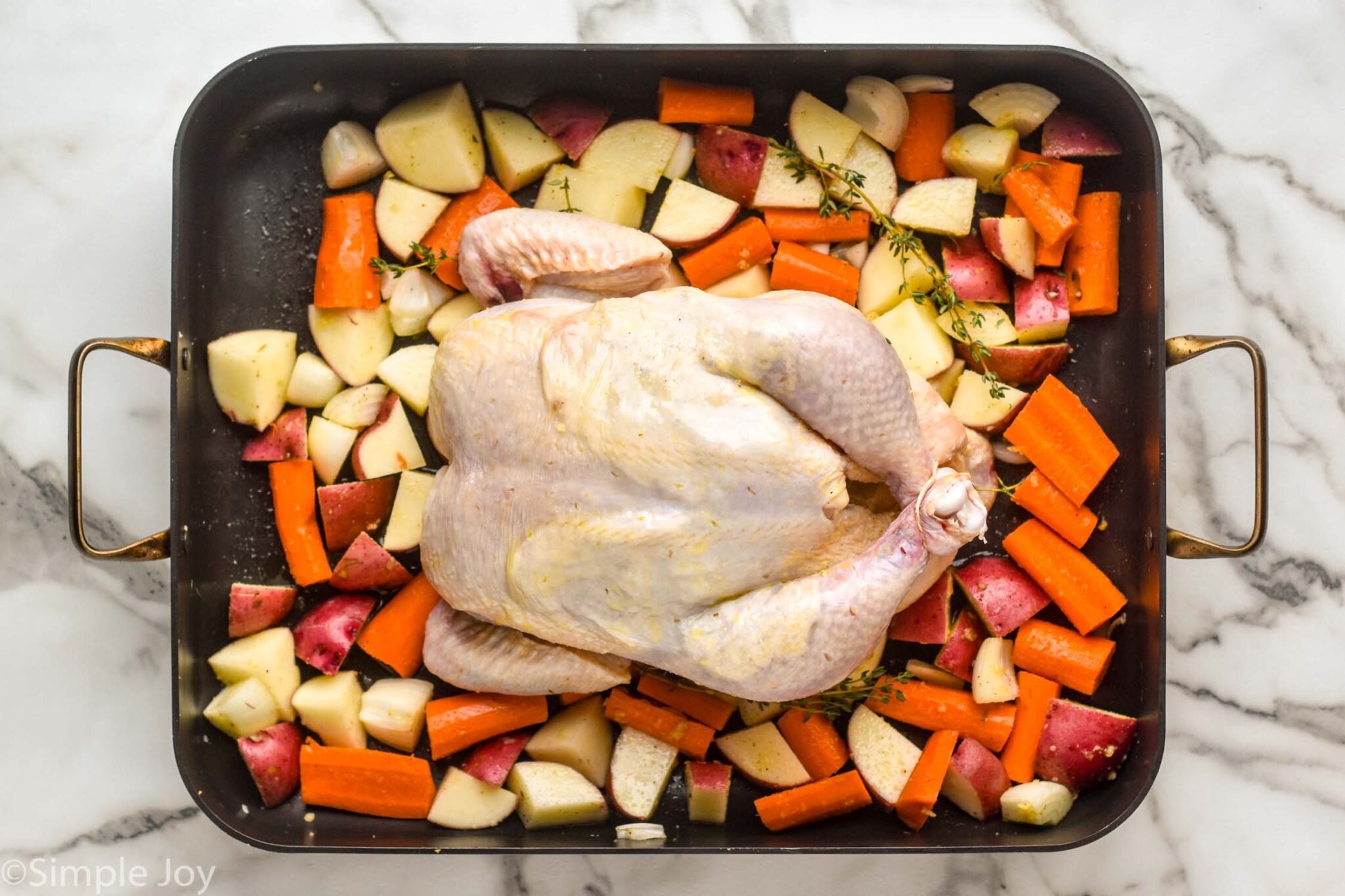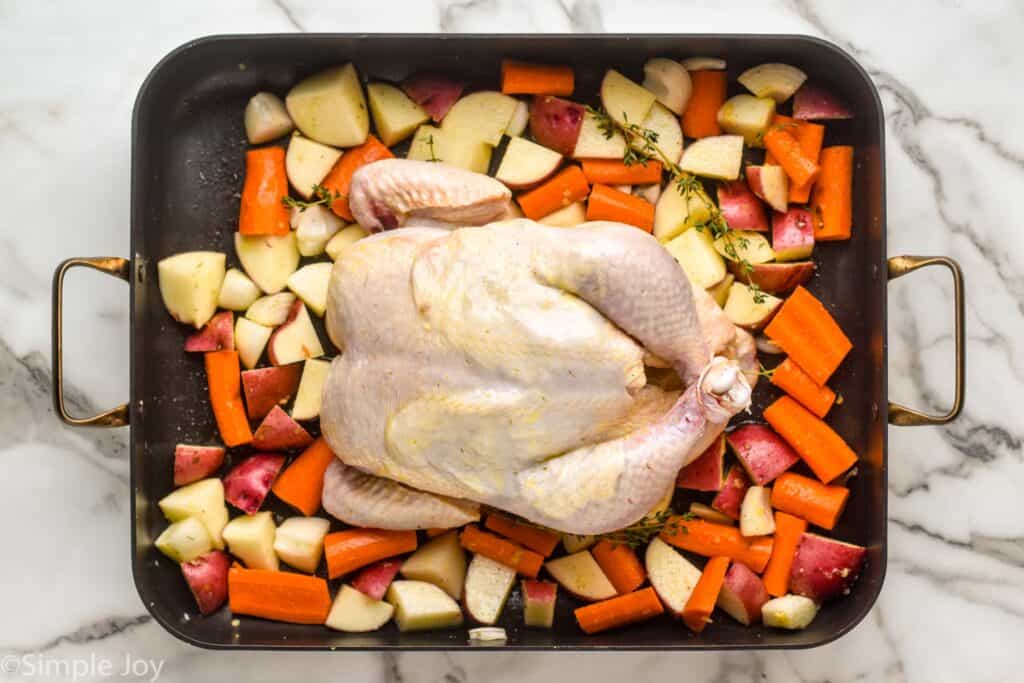 How to Prepare a Chicken for Roasting
The key when working with poultry is to make sure to keep everything clean to avoid spreading bacteria. Some tips to help with that:
Use a clean, plastic cutting board to prepare the chicken for roasting.
Do not rinse the chicken, as this increases the risk of spreading bacteria in your kitchen.
According to the FDA, if you do give it a quick rinse, pat the chicken dry with paper towels and use hot, soapy water to clean your sink and countertops.
After you have discarded the giblets and your chicken has been patted dry:
Use a sturdy kitchen string to tie the legs together. Kitchen string can be found in most grocery stores with the utensils.
Tuck the chicken wings down underneath the chicken. This helps the chicken maintain its shape which helps it cook evenly, and also prevents the tips of the wings and drumsticks from burning.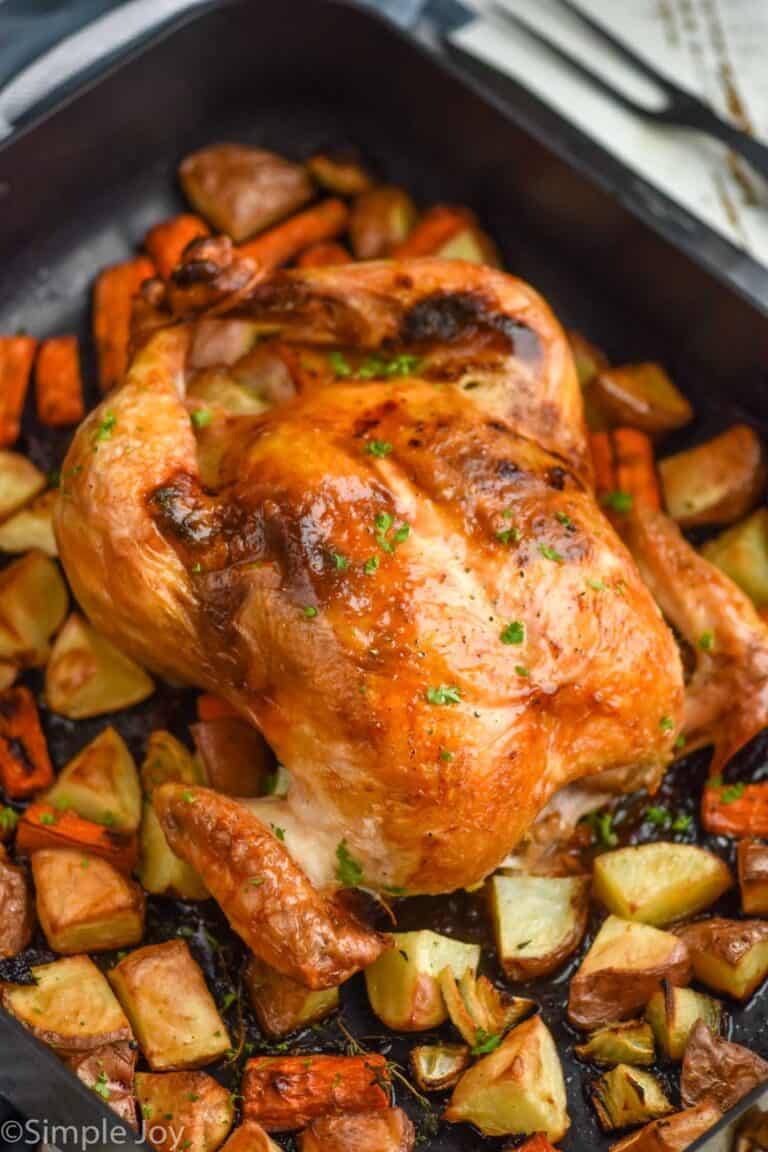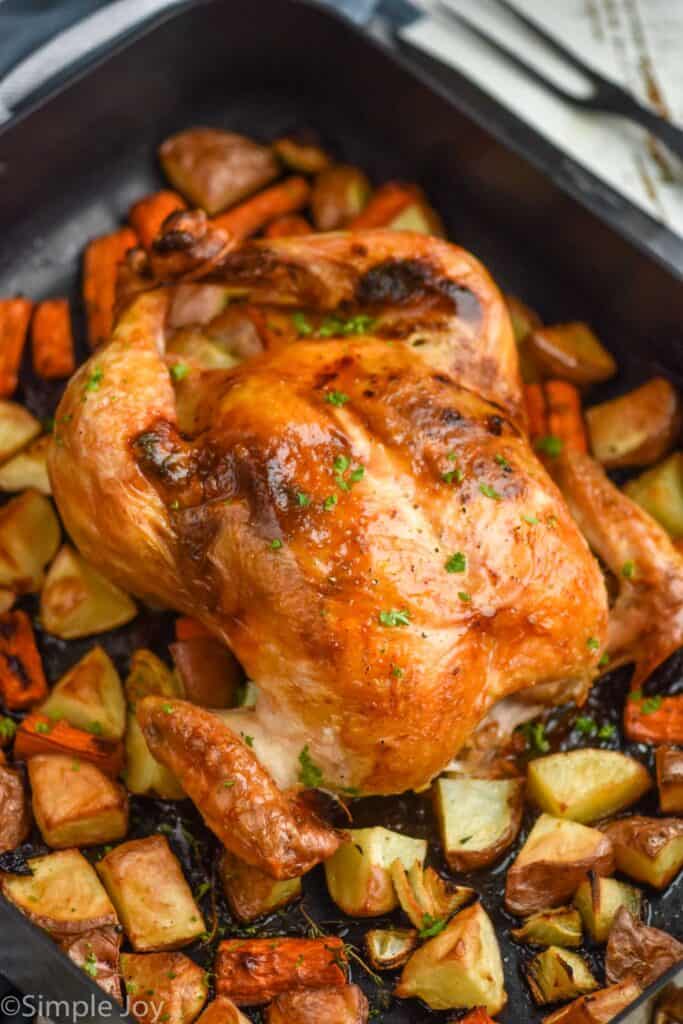 Roast Chicken Seasonings
Basically, anything goes when it comes to seasoning your roast chicken. There are so many options that can make your chicken taste just the way you want it. If you're not sure where to start, try these delicious herbs and spices. You can always leave one out if it's not your favorite.
Kosher salt and pepper
Onion powder
Garlic powder
Fresh or dried thyme
Lemon
Garlic cloves
Onions
Preventing Over-browning
If your chicken is looking a little crisp during cooking, cover the whole thing with foil partway during the roasting process. Tying the chicken legs and tucking the wings will help alleviate any over-browning on the tips of the wings and drumsticks.
How Long to Roast a Chicken
Depending on your oven, it generally takes about 1 1/2 hours to cook a nicely sized chicken. You can set the timer for under an hour and then watch it for the next several minutes. Using an instant read thermometer at the end is the best way to ensure that you chicken is fully cooked without becoming overdone!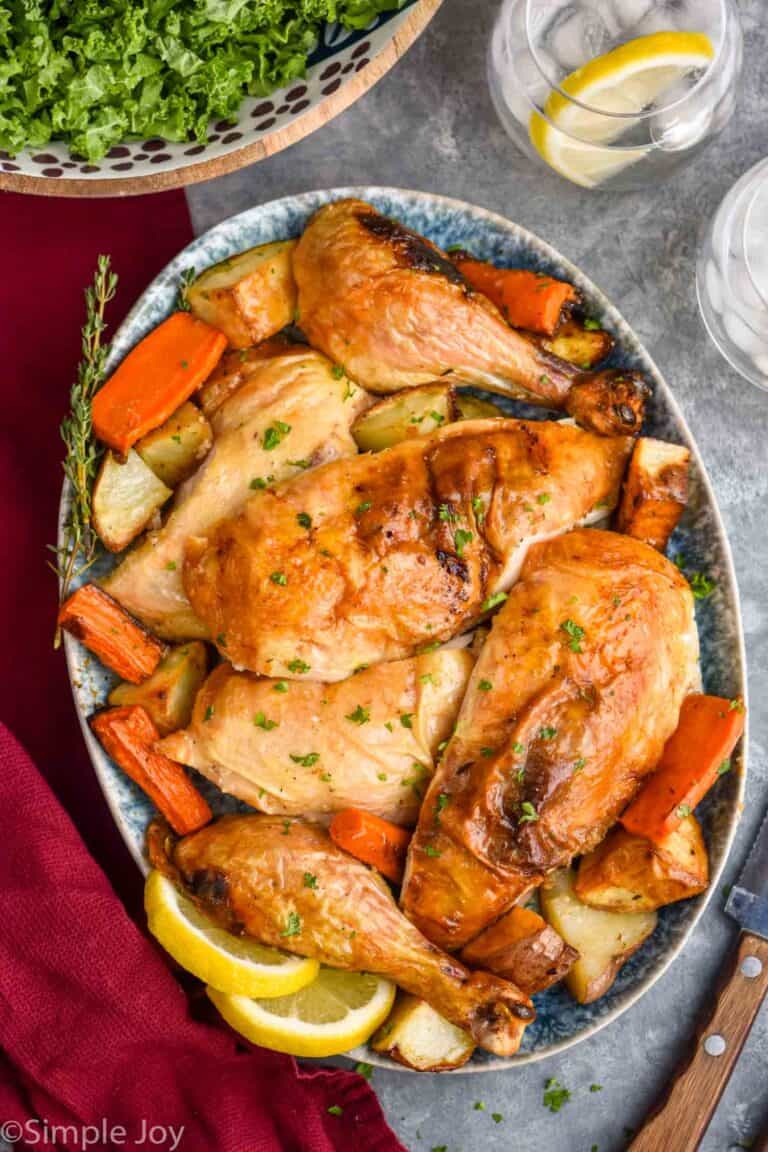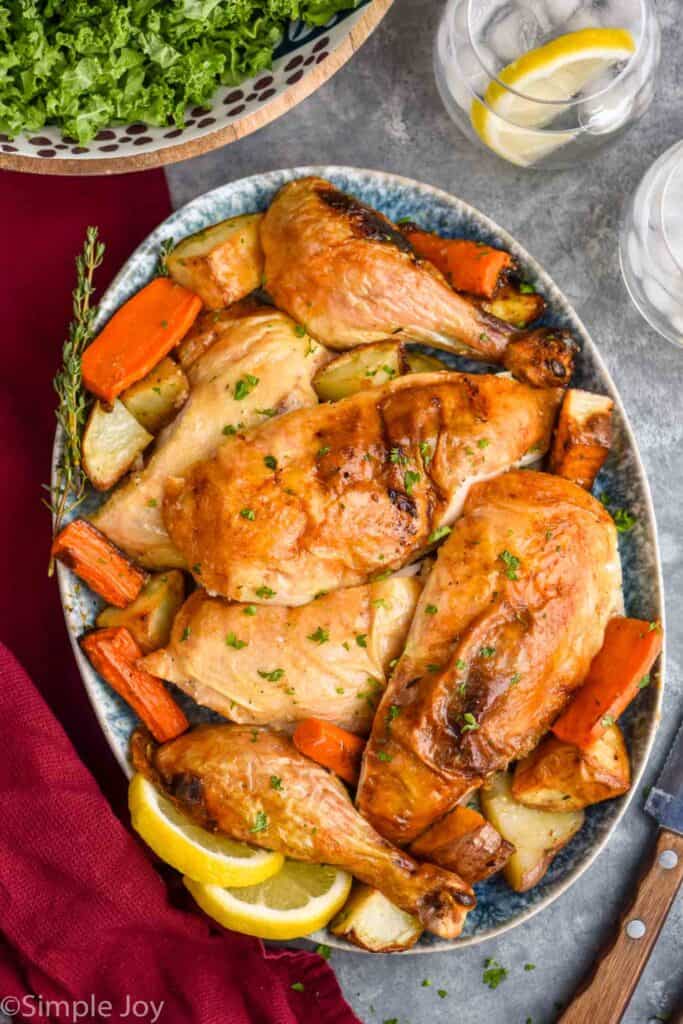 How You Know Your Chicken is Done
The key to making a perfectly moist and juicy roast chicken is not overcooking. To ensure you get it just right, use a meat thermometer to test the internal temperature. It should read 165 degrees. You can also make a small cut between the thigh and the breast. If the juices run clear and there's no pink, your chicken is done!
Why Meat Should Rest After Roasting
After removing the chicken from the oven, cover it loosely with aluminum foil and let it rest for about 20 minutes. This gives the juices time to redistribute throughout the meat, making the whole thing moist and super tender. If you start slicing right out of the oven the juices will rush out leaving your chicken dry. It's worth the extra time!
Storing Leftovers
Leftover roast chicken is perfect for so many recipes! I love making chicken salad with mine or using it in soups or casseroles. To store leftovers, cut the chicken off the bone and into convenient slices, leaving the skin on as much as possible. Then store in an airtight container in the refrigerator for up to four days.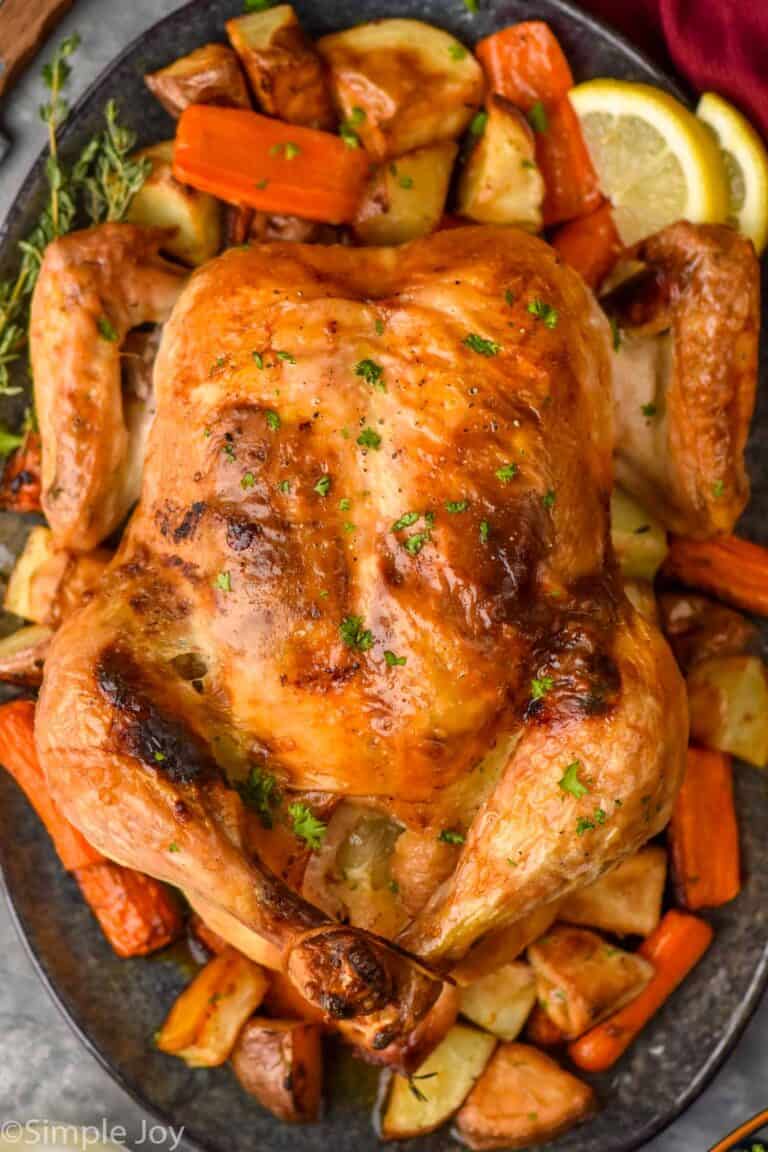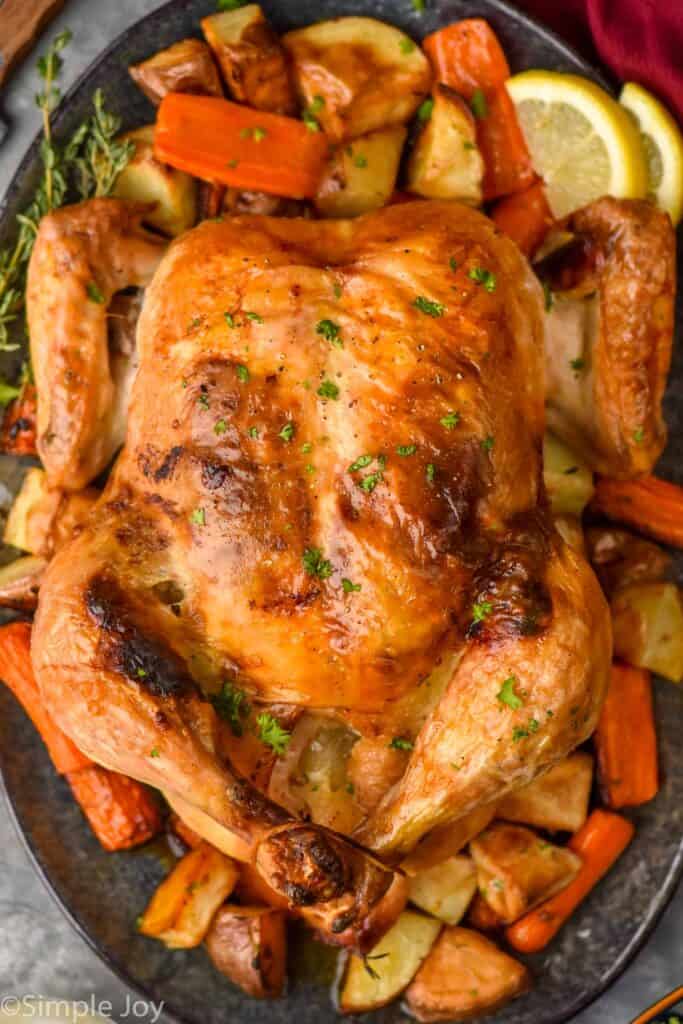 recipes that use leftover roast chicken
FAQ
What should I roast the chicken in?
It's best to use a heavy bottomed roasting pan or baking dish.
How long should you roast a chicken at 425?
Roast the chicken for about an hour and a half, until the juices run clear when you cut into it, or when the internal temperature reaches 165 degrees.
How do you reheat roast chicken?
Slice the chicken and bake, covered, at 350 degrees for about 20 minutes or until warm. Be careful not to overcook the chicken.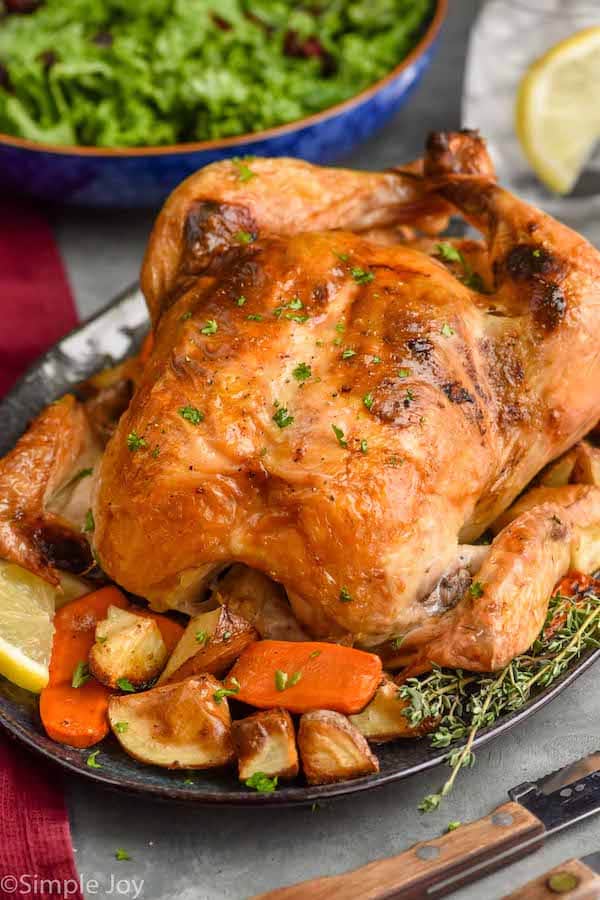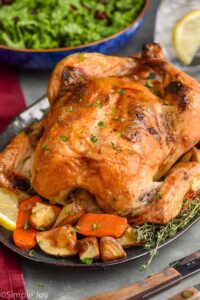 Roast Chicken
Roast Chicken made piping hot out of the oven is the ultimate homey dinner recipe. With these easy to follow instructions, you are sure to make the perfect whole roasted chicken.
Ingredients
2

teaspoons

kosher salt

2

teaspoons

garlic powder

1

teaspoons

onion powder

1/2

teaspoon

pepper

4

tablespoons

unsalted butter

room temperature

4 to 5

pound

roasting chicken

bag and giblets removed

2

tablespoons

olive oil

6

cloves

of garlic

divided

1

lemon

1

bunch

fresh thyme

1

pound

red potatoes

cut into one inch pieces (5 medium potatoes)

4

large carrots

cut into 2 inch pieces

1

medium yellow onion

cut into one inch pieces
Instructions
Preheat your oven to 425 degrees.

Mix together the salt, garlic powder, onion powder, and pepper in a small bowl. Reserve 1/2 tablespoon of the mixture.

In a small bowl, combine the room temperature butter, the remainder of the spice mix, and the remaining 3 cloves of minced garlic.

Spread the butter mixture underneath the chicken's skin.

In the base of a roasting pan toss the carrots, potatoes, and onion with the 1/2 tablespoon reserved spice mix, 3 crushed garlic cloves, 2 springs of fresh thyme and 1 tablespoon of oil.

Place the remaining thyme in the chicken, and both lemon halves. Tie the legs of the chicken together with kitchen string and tuck the wing tips under the chicken. Place the chicken on top of the vegetables and brush with the remaining olive oil.

Roast the chicken and vegetables for 1 1/2 hours or until the juices run clear when cut between the body of the chicken and thigh. (Chicken should reach an internal temperature of 165 degrees.) Remove the chicken and tent with aluminum foil for 20 minutes before serving.
Calories:
712
kcal
(36%)
Carbohydrates:
29
g
(10%)
Protein:
72
g
(144%)
Fat:
33
g
(51%)
Saturated Fat:
13
g
(81%)
Polyunsaturated Fat:
1
g
Monounsaturated Fat:
5
g
Cholesterol:
290
mg
(97%)
Sodium:
633
mg
(28%)
Potassium:
718
mg
(21%)
Fiber:
4
g
(17%)
Sugar:
4
g
(4%)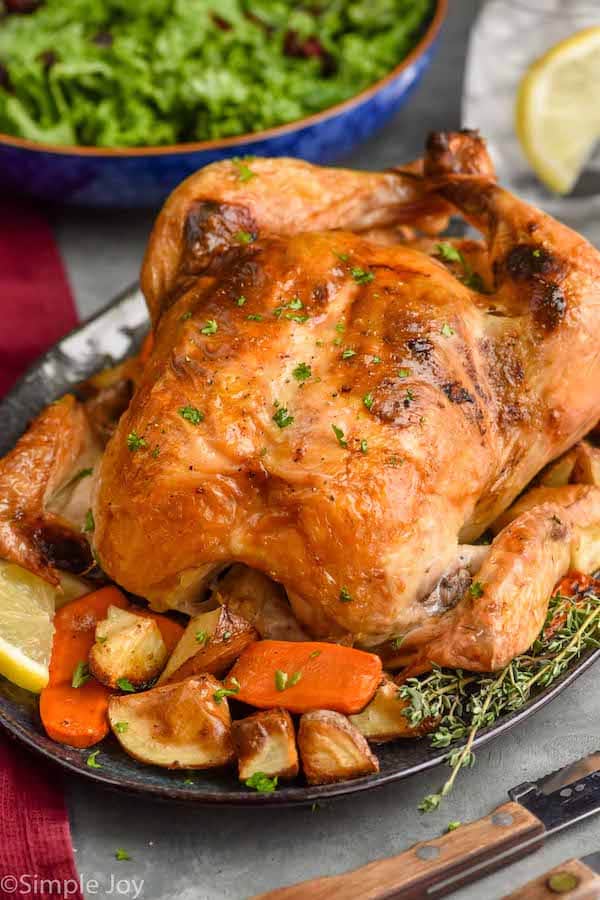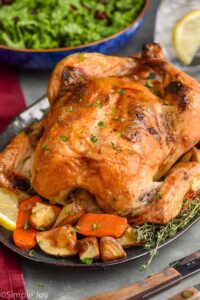 did you make this
Roast Chicken