This creamy Shrimp and Corn Chowder is full of delicious comforting flavors, while still being easy to make. With my simple instructions, you will feel like a master chef without breaking a sweat.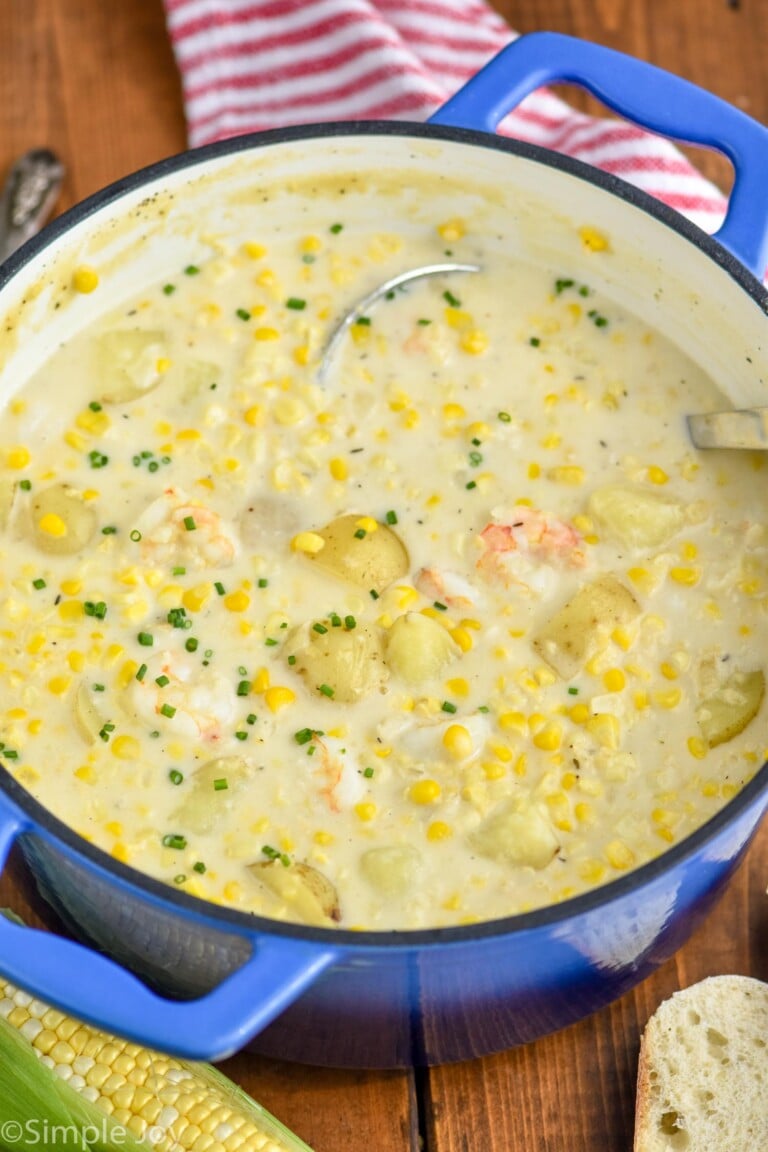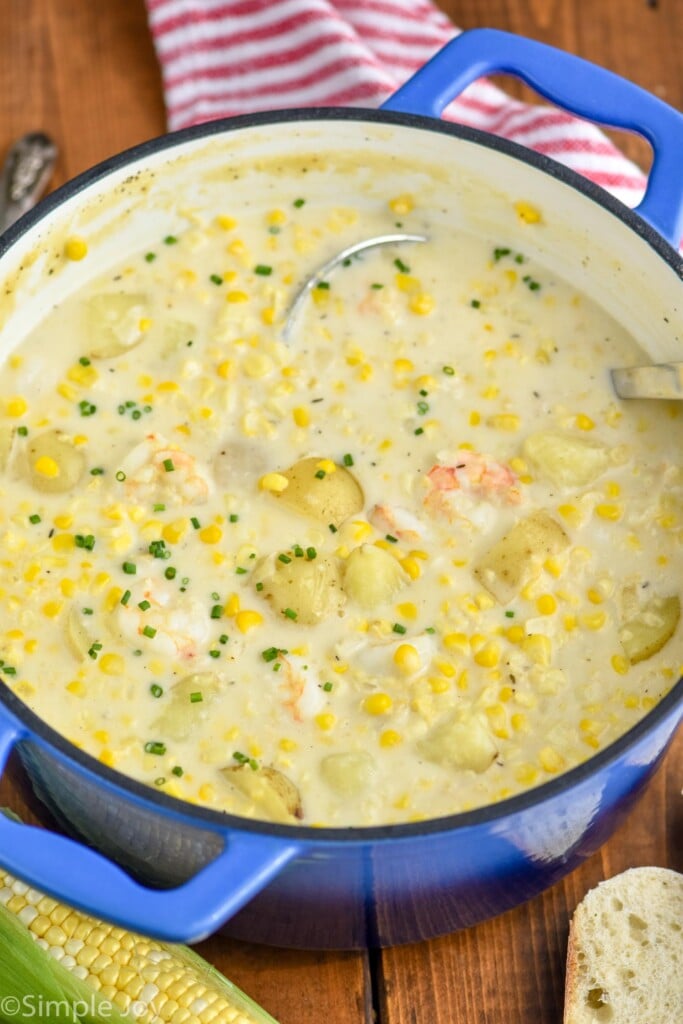 Last year, I shared my Corn Chowder recipe with you, and it took off like wildfire. I started getting so many positive reviews on it. I also started getting two recurring questions: Can I add shrimp to this? and Can I make this without bacon?
This delicious corn and shrimp chowder answers both of these questions in the most belly-warming way. We swap the bacon for some butter, and we toss some raw shrimp in at the end. These simple swaps create a whole new soup you will fall head over heels for.
How to Make Shrimp and Corn Chowder
This comforting soup can be made with both fresh and frozen corn, so you can enjoy this easy recipe all winter long. This is just a brief overview so you can see how easy this recipe is. Please scroll to the bottom of the post for the full instructions.
Sauté onion and garlic in butter. The butter we use to sauté will be the basis for the roux in the next step while also creating a beautiful base layer of flavor.
Make a roux. Stir all-purpose flour into the butter and onion mixture. It will be thick. Then slowly add in chicken stock. Read below for more information if you are new to making a roux.
Cook the corn and potatoes. Bring the soup to a boil, and then add the raw potatoes and corn. Reduce it to a simmer and let them cook for 20 minutes. It is important that you don't have the heat too high here so you don't lose too much liquid to evaporation.
Add the shrimp. Now toss in the raw (but thawed) shrimp. Allow it to cook for just 2 to 3 minutes. Read more below about working with shrimp.
Add in the heavy cream. Turn off the heat and stir it into the soup so it heats through without continuing to cook the shrimp.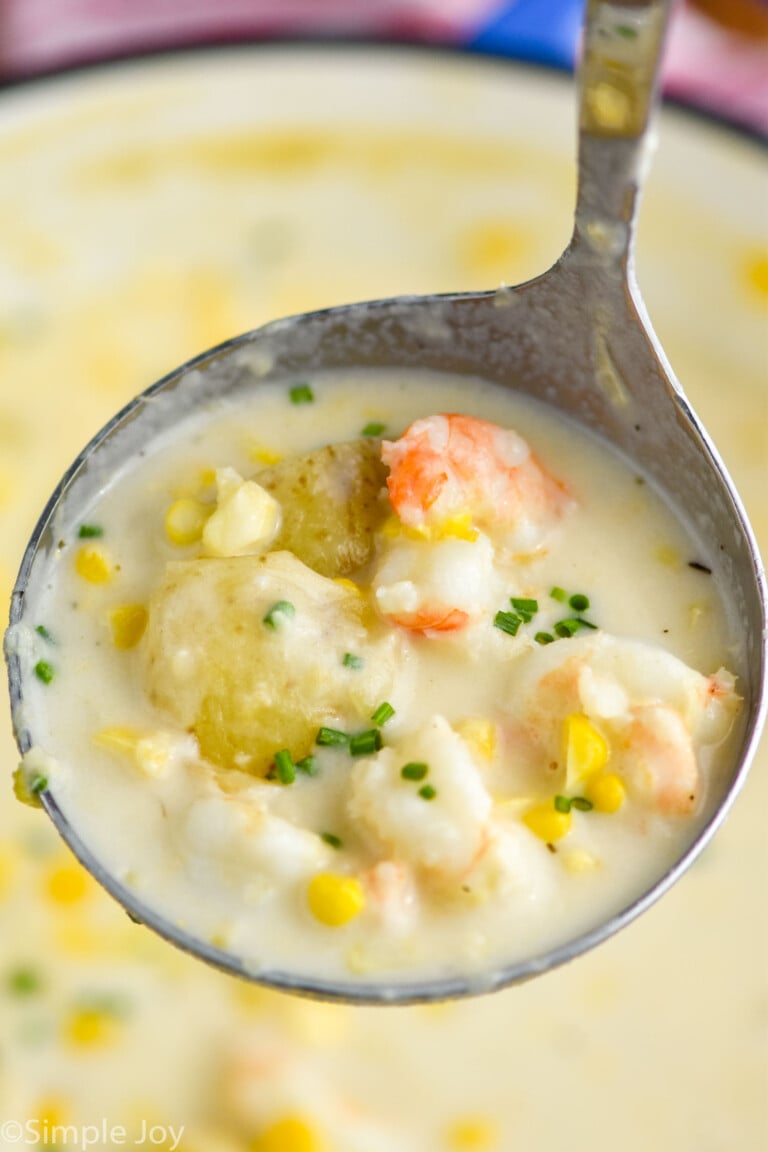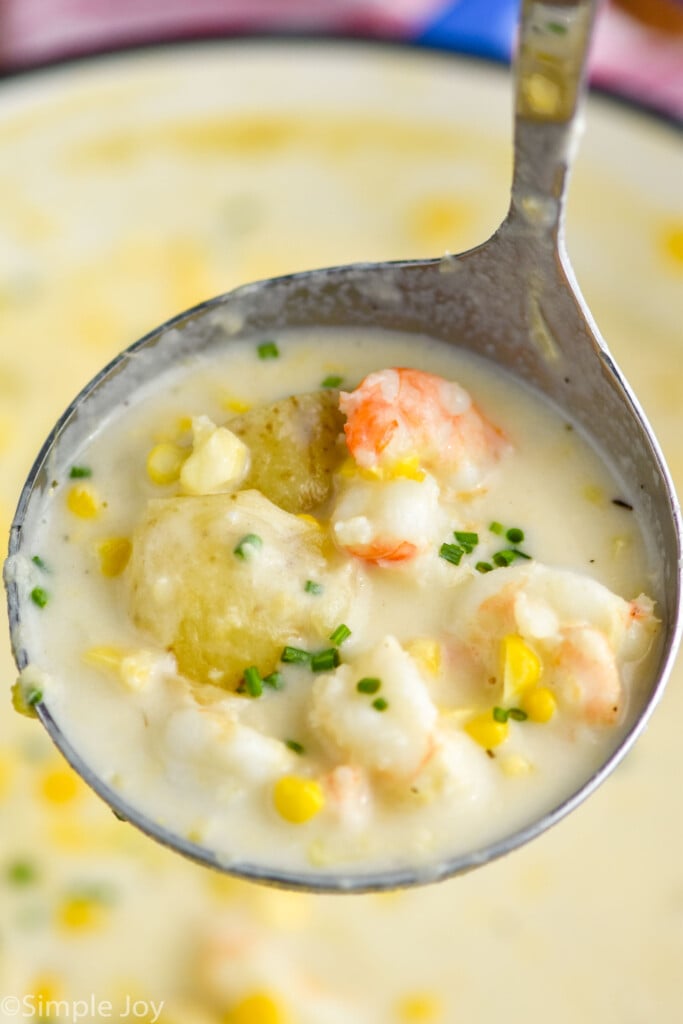 Making a Roux
I love making roux for creamy soups. When I was first learning to cook, they were the most daunting thing in the world, but a few simple tips help make it a super easy trick to thicken recipes.
Allow the flour to cook a little. If you skip this step, sometimes people can taste the flour in the final recipe, which is not great.
Make sure the butter and flour fully combine. You should not see any streaks of white.
Add the liquid slowly. By initially allowing the roux to fully absorb the liquid before adding more, you let the roux do its work. If you toss in all the liquid at once, the creaminess factor will suffer. That being said, you don't need to spend an hour on this. In this recipe, you should be able to add all the stock within a minute or two.
Using Frozen Corn
I'm going to be totally honest with you. This recipe is better when you use fresh corn. It just is. The reason for this is because fresh corn is raw, so it needs to be boiled in the broth. This allows the flavor of the corn to fully permeate the soup. It's fantastic.
Frozen corn, on the other hand, is fully cooked and therefore gets added at the end. That being said, I promised you a soup you can make all year long, and I deliver. This soup will absolutely work and still be delicious with frozen corn. Use frozen corn rather than not making it, you will still be very happy.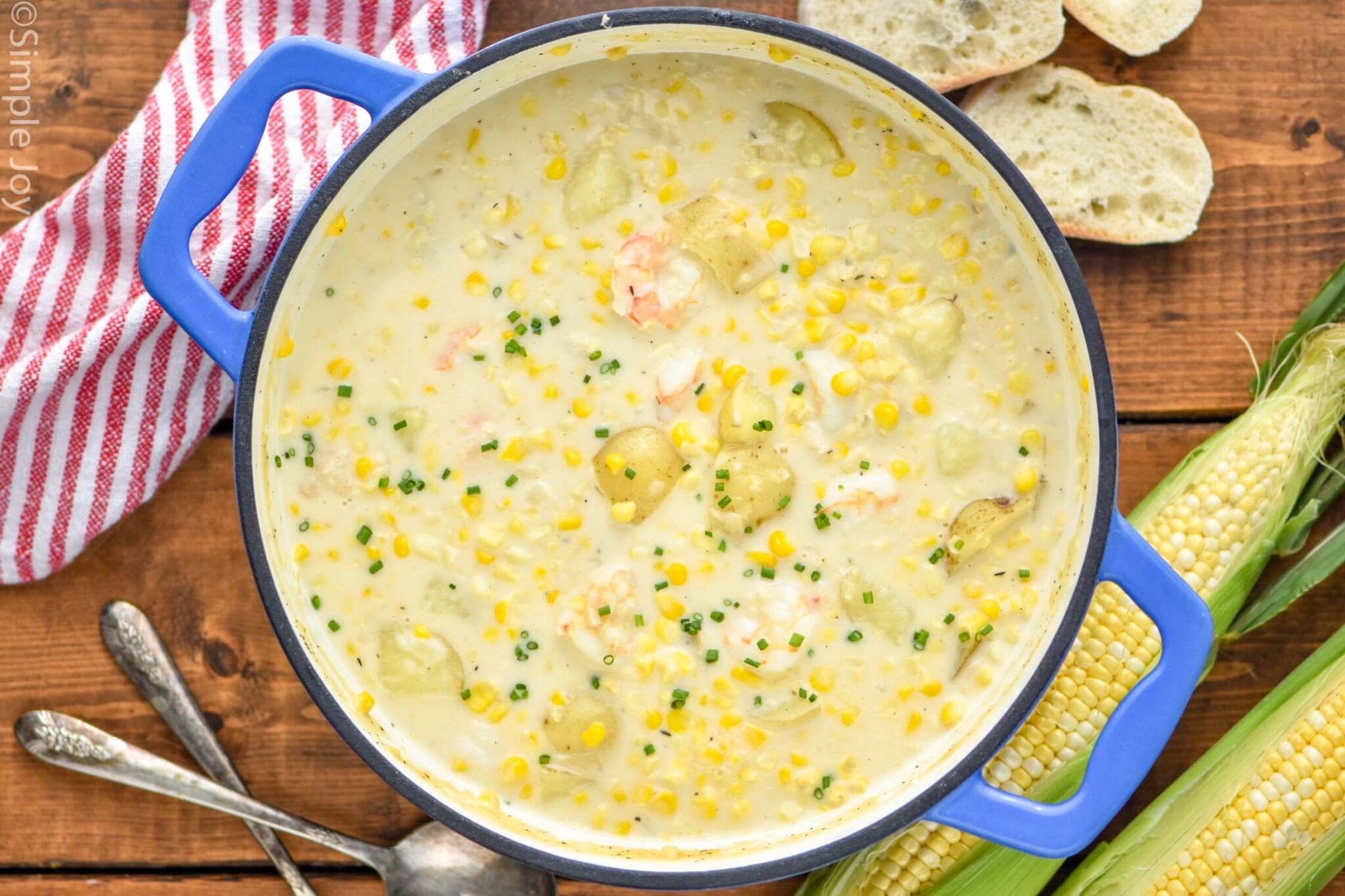 Cutting Kernels off Fresh Corn
When making this with fresh corn, one of my favorite tricks is to use a bundt pan to cut it. (This is the pan that I have and use to make my delicious Red Velvet Bundt Cake.) Remove the husk and silk from the corn, then stand it in the upside-down bundt pan. Use a sharp knife and cut down against the corn towards the pan. The pan will hold the cob of corn and the kernels will fall into the bundt pan and collect there.
Cooking with Shrimp
I love cooking with shrimp because it cooks so fast and it is such a great low-fat source of protein. However, because it cooks so fast you need to be a little careful. Shrimp goes from fantastic to terrible if it is cooked too long.
When you are making a recipe that calls for shrimp, it is much more important to pay attention to what is happening on your stovetop rather than the length of cooking time called for in the recipe. Once a shrimp begins to turn pink and curl in, it is really almost done cooking and at the most needs about 30 more seconds.
If you are working with frozen shrimp – which is a great option for those of us in land locked states – pay attention to what the packaging says about thawing. Many suggest placing the shrimp under cold running water for 20 minutes to thaw it. This is a trick I love and often use that time to prep other ingredients.
What to do When Garlic Burns
One of the cardinal sins of cooking is to continue with a recipe once the garlic burns. I know this sounds extremely snobby, but there are a few areas of cooking I allow myself to be a snob and this is one.
Garlic only needs about 30 seconds to cook. You can tell it is done because your whole kitchen will smell fantastic. If it continues cooking past this point – even for another 30 seconds – it will burn.
If this should happen to you, I suggest that you start the recipe over. While I hate wasting ingredients, garlic is typically sauted at the start of a recipe. In this case you will be tossing a little butter and one onion. This is so much better than continuing with a recipe and ending up with a soup that tastes like burnt garlic.
When you start over, make sure to completely wash the pot you were cooking with before beginning again.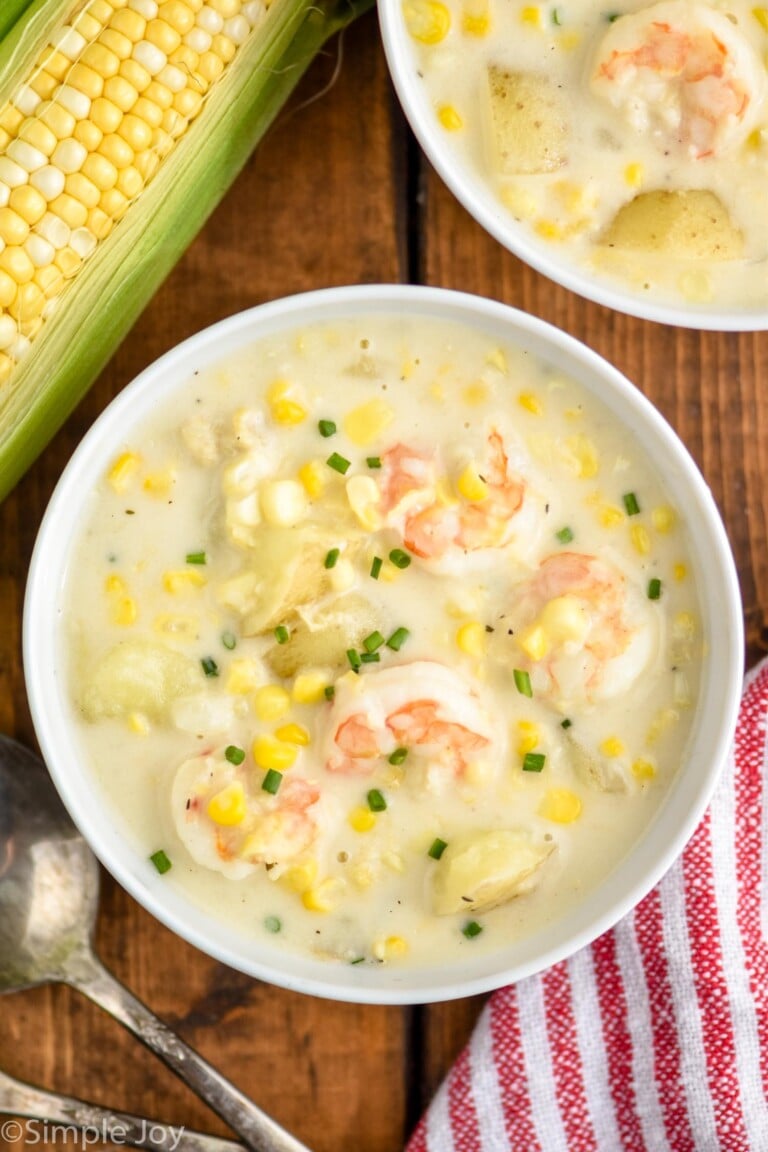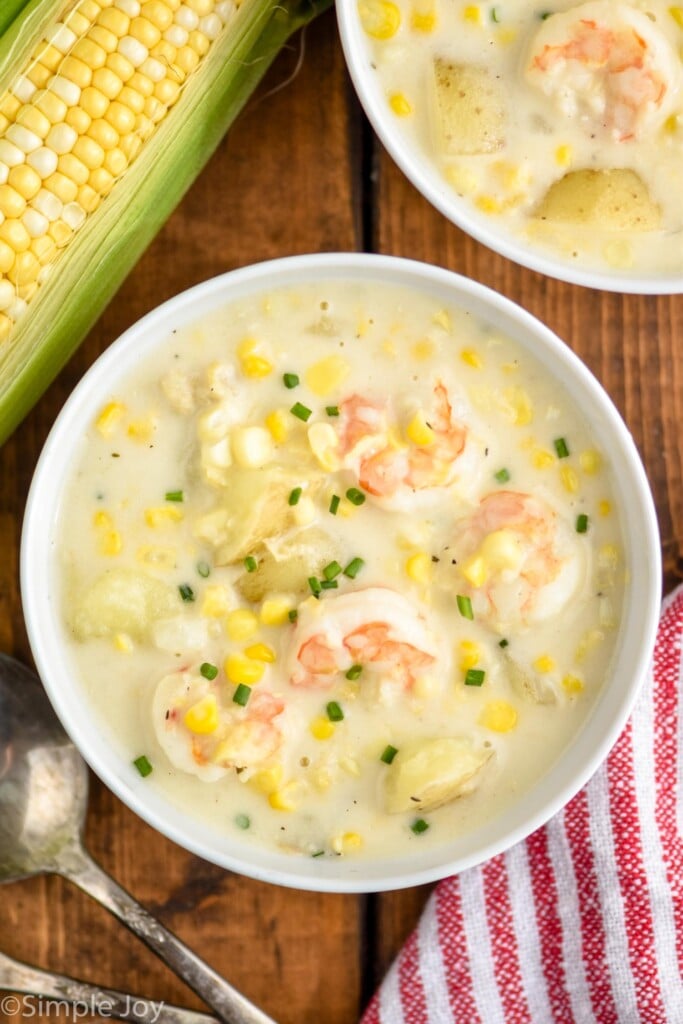 Substitutions and Variations
Put the bacon back in. If you would like to make this soup with bacon, have at it! It will be delicious. Simply replace the butter in this recipe with 4 pieces of thick cut bacon cut into pieces. Cook the bacon until it crisps and then add the onion. Proceed with this recipe as written.
Swap the shrimp for cooked chicken. If your family isn't big on shrimp, this recipe would be fantastic with cooked chicken. I love keeping frozen chicken on hand for recipes like this.
Use seafood broth. Seafood broth in this would absolutely kick it up a notch. It will really allow the shrimp to shine.
Use half and half instead of heavy cream. If you are looking to cut back on fat, use half and half in this recipe. Half and half is known as half cream in the UK and is essentially half whole milk and half heavy cream.
Use grilled corn. Grilling corn kicks up the flavor of this soup a little. After grilling it, cut it off the cob and add it at the end with the shrimp.
Storing Leftovers
Leftovers of this delicious shrimp and corn chowder recipe can be kept in the refrigerator for up to four days. When you are ready to reheat leftovers, do so over low heat, stirring often. As with any recipe, please be sure to use your best discretion.
Freezing Shrimp and Corn Chowder
Freezing cream-based soups is not my favorite, only because they are a little tricky to thaw and reheat. But it can be done. Freeze any leftovers within a day or two of making the soup. Use a container that has room for the soup to expand. When you are ready to eat the leftovers, thaw the soup in your refrigerator overnight. Then reheat it on the stovetop over low heat, stirring often.
FAQ
Can you freeze shrimp and corn chowder?
Yes! The key to this is that when you thaw it you should do so in the refrigerator overnight. Then reheat it over low heat on the stovetop while stirring often. This will prevent the soup from separating.
Can you thicken this soup with corn starch?
Yes! If you have someone who is avoiding gluten, you can definitely use cornstarch to thicken the soup. Skip adding the flour. At the end of the simmering time, whisk 2 tablespoons of cornstarch with 2 tablespoons of warm water until smooth. Then add the slurry to the soup and proceed with the recipe.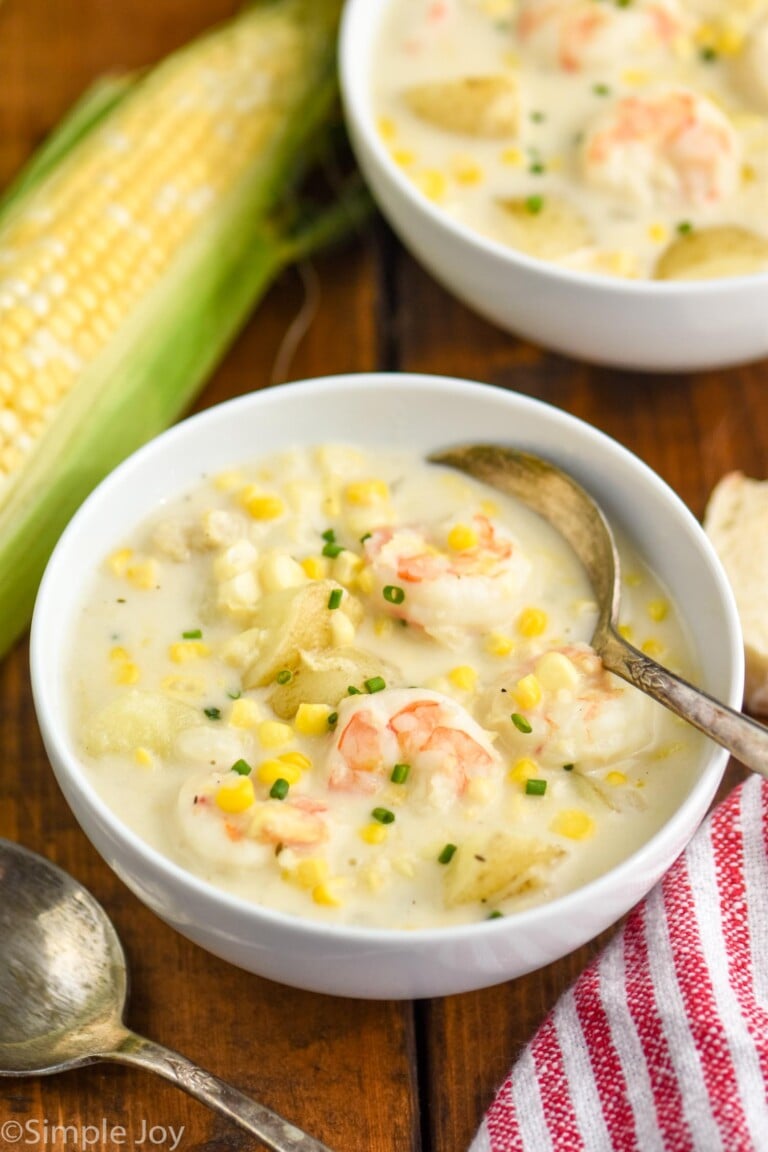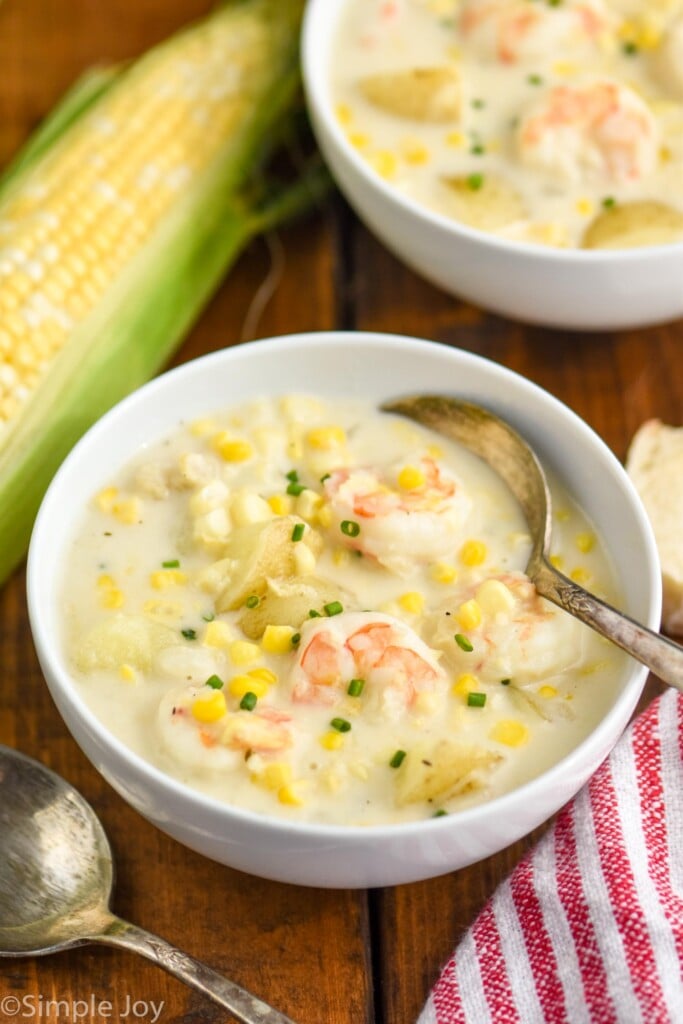 What to Serve with Shrimp and Corn Chowder
Dinner Rolls: These fantastic rolls are only one hour start to finish with a lot of down time. Perfect for making alongside this soup.
Easy Arugula Salad: Super light and quick to make, this is an ideal side for any soup.
Bacon Wrapped Asparagus: This is such an easy side, but looks super fancy.
If you make this delicious Shrimp and Corn Chowder recipe or any of my other recipes, please leave me a comment and let me know what you think.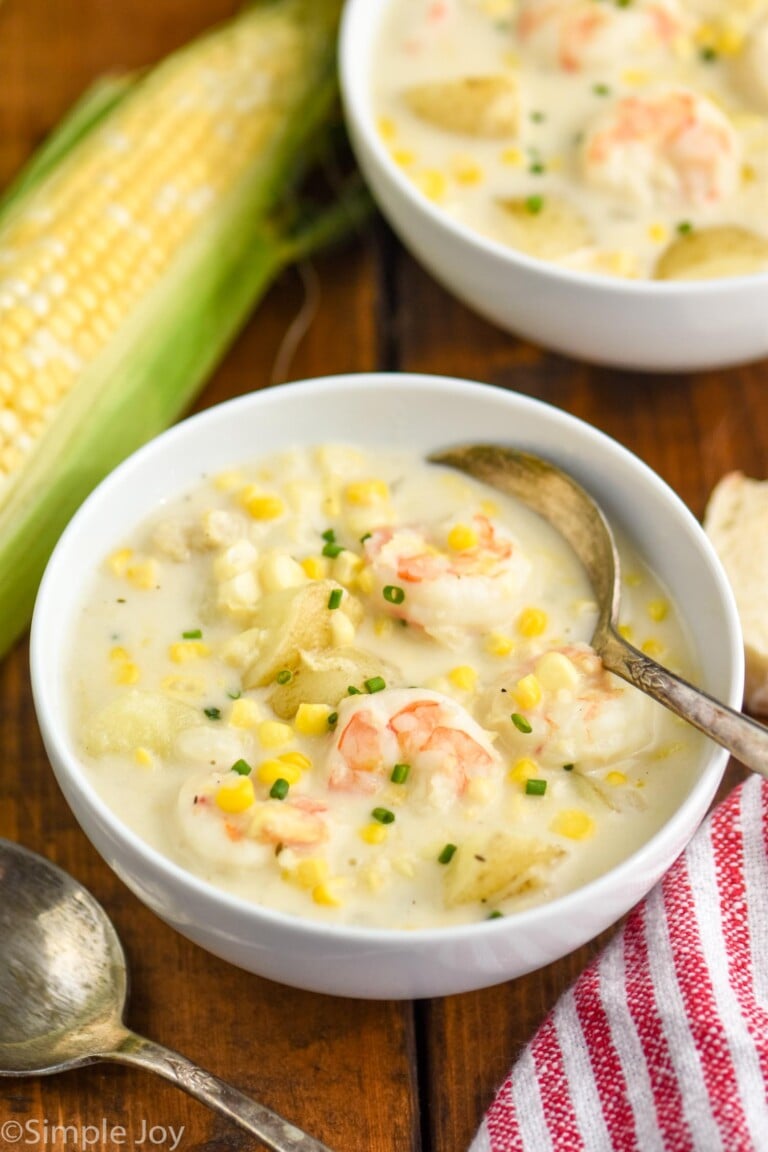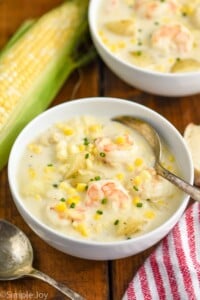 Shrimp and Corn Chowder
This creamy Shrimp and Corn Chowder is full of delicious comforting flavors, while still being easy to make. With my simple instructions, you will feel like a master chef without breaking a sweat.
Ingredients
3

tablespoons

unsalted butter

1

small onion

diced

2

cloves

of garlic

minced

5

cups

chicken stock

8

cobs of corn

husks and silk removed and kernals cut off (see our note in the post about using frozen corn and read below in the note section how use it)

1/3

cup

all purpose flour

(see the FAQ box for how to make this soup gluten free)

1 1/2

pounds

Yukon Gold potatoes

diced into 1/2 inch pieces

1/4

teaspoon

dried thyme

2

bay leaves

1

pound

shrimp

peeled and deveined

1

cup

heavy cream

salt and pepper
Instructions
In a large stew pot, melt the butter.

Add the onions, cooking until they are translucent and very soft, about 5 minutes.

Add the minced garlic and cook, stirring, until fragrant, about 30 seconds, being careful that the garlic doesn't burn.

Stir in the flour, coating all the onions. Continue cooking about a minute until the flour begins to brown, it will be very thick and gummy.

Very gradually, pour in the chicken stock. Pour about two tablespoons at a time (no need to measure, this is just an estimate), whisking it into the flour mixture. There should be no visible liquid between each pour. Continue this way until you use all the liquid, pouring more quickly at the end. This should take no more than about a minute or two.

Add the potatoes, corn, thyme, and bay leaves and increase the heat to high and bring to a boil (you are looking for big bubbles at the surface). Then reduce to a simmer (the lowest you can go heat wise and still see bubbles) and continue cooking for 20 minutes or until the potatoes are soft.

Stir in the shrimp and allow to cook for 3 minutes.

Stir in the cream, and let heat through for a minute. Season with salt and pepper to taste. The amount of salt you add will vary depending on your chicken stock. We added 1 teaspoon kosher salt and 1/4 teaspoon freshly ground black pepper at the end.
Notes
If you would like to use frozen corn, you will need 32 ounces. Stir it in after the potatoes are just about cooked through and bring the whole pot back to a simmer. Then add in the shrimp and heavy cream and season with salt and pepper.
Serving:
2
cups
Calories:
546
kcal
(27%)
Carbohydrates:
58
g
(19%)
Protein:
29
g
(58%)
Fat:
25
g
(38%)
Saturated Fat:
14
g
(88%)
Polyunsaturated Fat:
2
g
Monounsaturated Fat:
7
g
Trans Fat:
0.2
g
Cholesterol:
188
mg
(63%)
Sodium:
413
mg
(18%)
Potassium:
1289
mg
(37%)
Fiber:
5
g
(21%)
Sugar:
14
g
(16%)
Vitamin A:
995
IU
(20%)
Vitamin C:
33
mg
(40%)
Calcium:
106
mg
(11%)
Iron:
3
mg
(17%)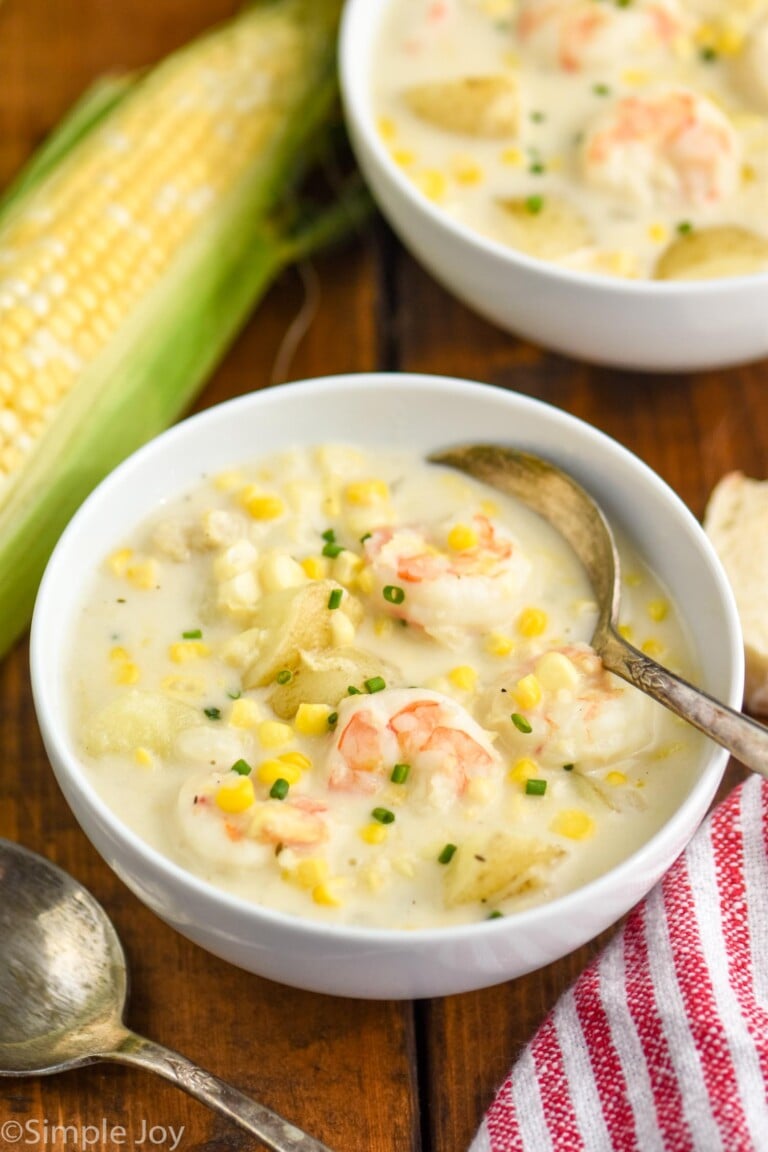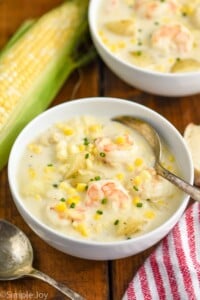 did you make this
Shrimp and Corn Chowder