This Crockpot Spiced Apple Cider is perfect for fall parties. Easy to make and delicious to drink. Make a kid friendly batch and keep some brandy on the side for the grown ups!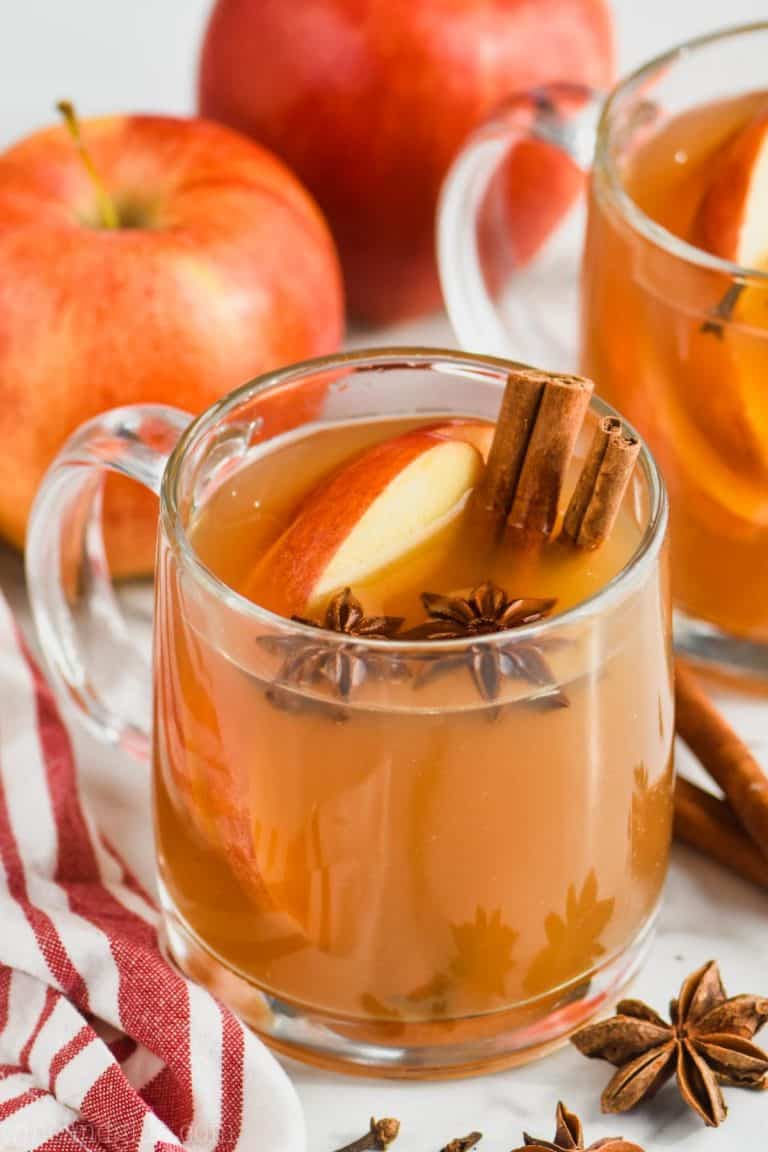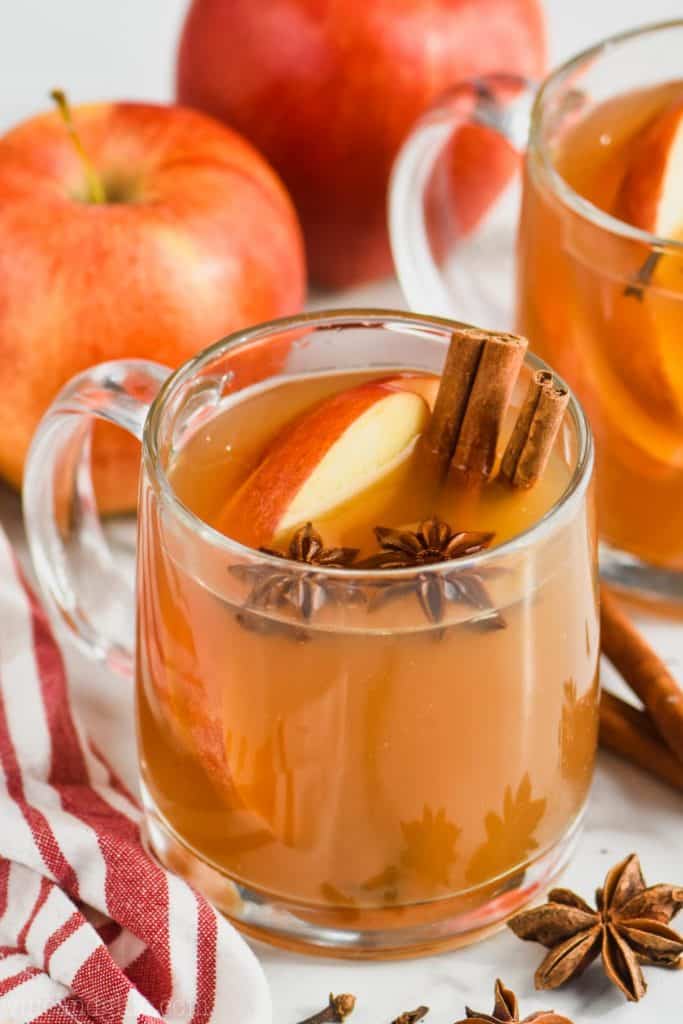 Happy Friday friends! I haven't been sharing much about my personal life on the blog these days because I'm trying to keep it all about the recipes. But! I did overshare a ton on Instagram the other day, so if you want the full what's what on my life, check it out.
Today, I'm sharing with you an updated recipe for this amazing Crockpot Spiced Apple Cider. It is very easy to throw together and perfect when you serve it with a bottle of brandy next to the slow cooker. That way your crockpot apple cider is kept warm and stays kid friendly while having the option of a boozy treat for the adults.
Let's jump into how you make it!
Reader Review
An ABSOLUTE must for Halloween. A huge hit during our neighborhood celebration.
What You Need to Make Crockpot Spiced Apple Cider
Most apple cider is not all that different from apple juice (more on that in a minute). By adding all these spices to our drink while slowly warming it up, we are really mixing things up.
You will need:
A gallon of apple cider (or apple juice)
Oranges
Cinnamon Sticks
Star of Anise (see an important note about buying this below)
Whole Cloves
A Slow Cooker (I'm linking to the one pictured; the one I loved so much I bought two.)
And of course if you want to make this spiked apple cider you will need some brandy.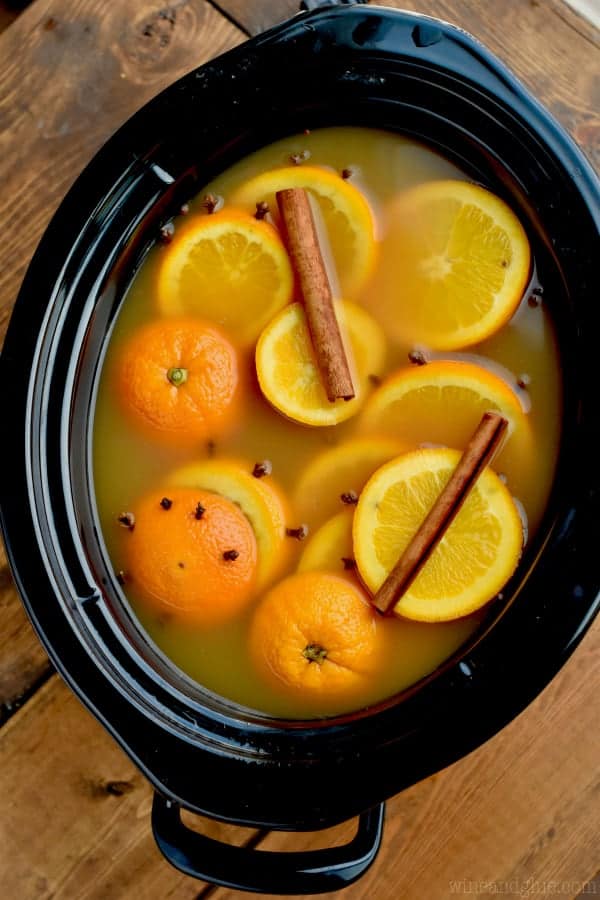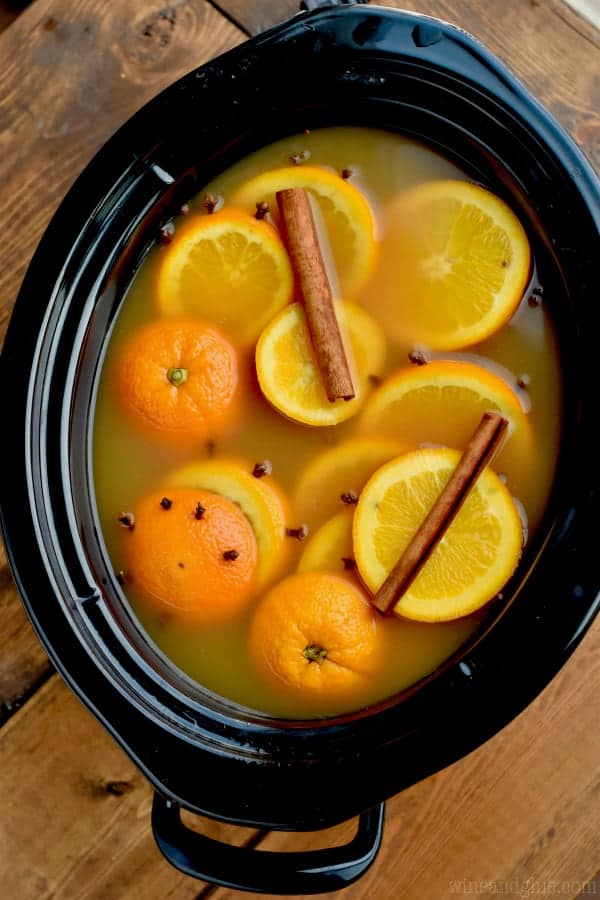 How to make Spiced Apple Cider in the Crockpot
This caffeine free, perfect for fall crockpot apple cider is super simple. Just combine all of the ingredients in your crockpot (except for the alcohol if you are spiking it) and cook on low for 4 hours.
The reason we leave out the alcohol is because it will cook some of the alcohol off and it's also just not necessary to heat your alcohol up. The drink will be plenty warm without that being warmed. Also it is a great way to keep this recipe for the kids and the adults.
The Difference Between Apple Cider and Apple Juice
Like I mentioned, you can use either apple cider or apple juice in this recipe. Depending on the brand you are buying, there is very little difference in it. Want to learn more? There is a great article from The Kitchn about it.
The long and short of it is use what you want.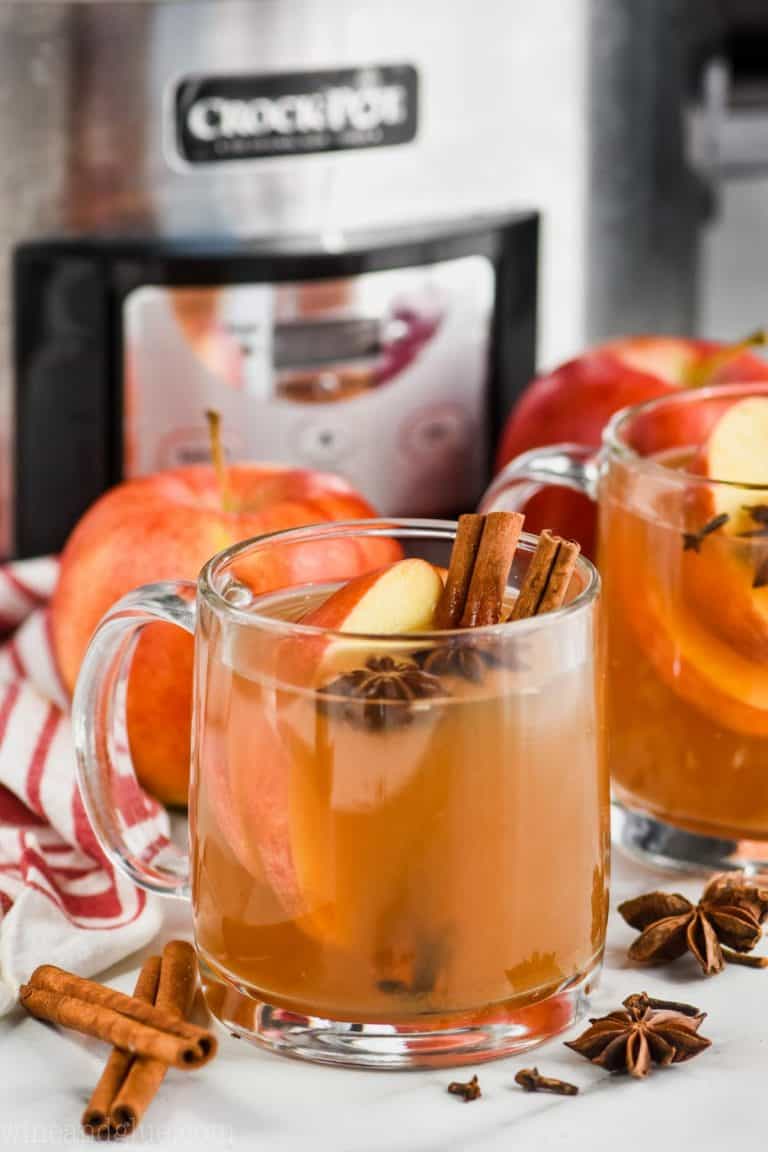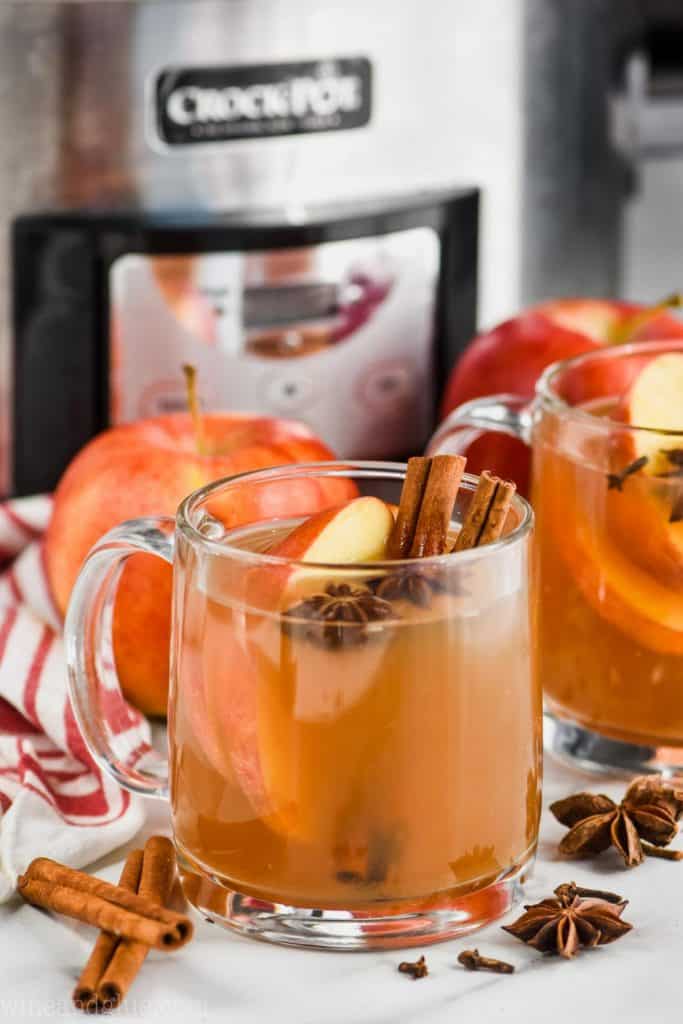 Tips and Tricks for this Crockpot Apple Cider
There are a few little things that make this recipe a little easier. But they are all optional; I've done it a number of different ways.
Make small little holes in the sides of the orange slices and put your whole cloves in there. It will save you from fishing them out at the end of cooking.
Alternatively you could use tea strainers for your cloves.
Another option would be to wrap them in a coffee filter.
When I smell star anise all I can think of is licorice, which is not my favorite. I often choose to leave it out of this recipe (which is why it reads as optional), but if you smell it and love it, add it!
If you are looking for star anise and only finding it for a small fortune, try looking elsewhere. If your grocery carries bags of spices that are not well known brands that's a great place to start. One store I looked at had a jar for $11 and another had a small bag for $1.
A final note, as it is a question out there: If you buy 100% juice, this spiced apple cider recipe will be gluten free. Just be sure to read labels.
If You Don't Love Brandy
Traditionally, spiced apple cider is paired with brandy. If brandy isn't your jam, I would highly suggest Fireball Whiskey or another cinnamon whiskey. (You all know from my Fireball Fudge and my Cinnamon Whiskey Sangria how much I love Fireball.)
My neighbor served it that way for Halloween last year and I went back for a second cup!
Other Perfect Fall Drinks
If you are throwing a party and want something else along side this Crockpot Spiced Apple Cider, try some of these:
If you make any of these or this slow cooker apple cider, leave me a comment and let me know!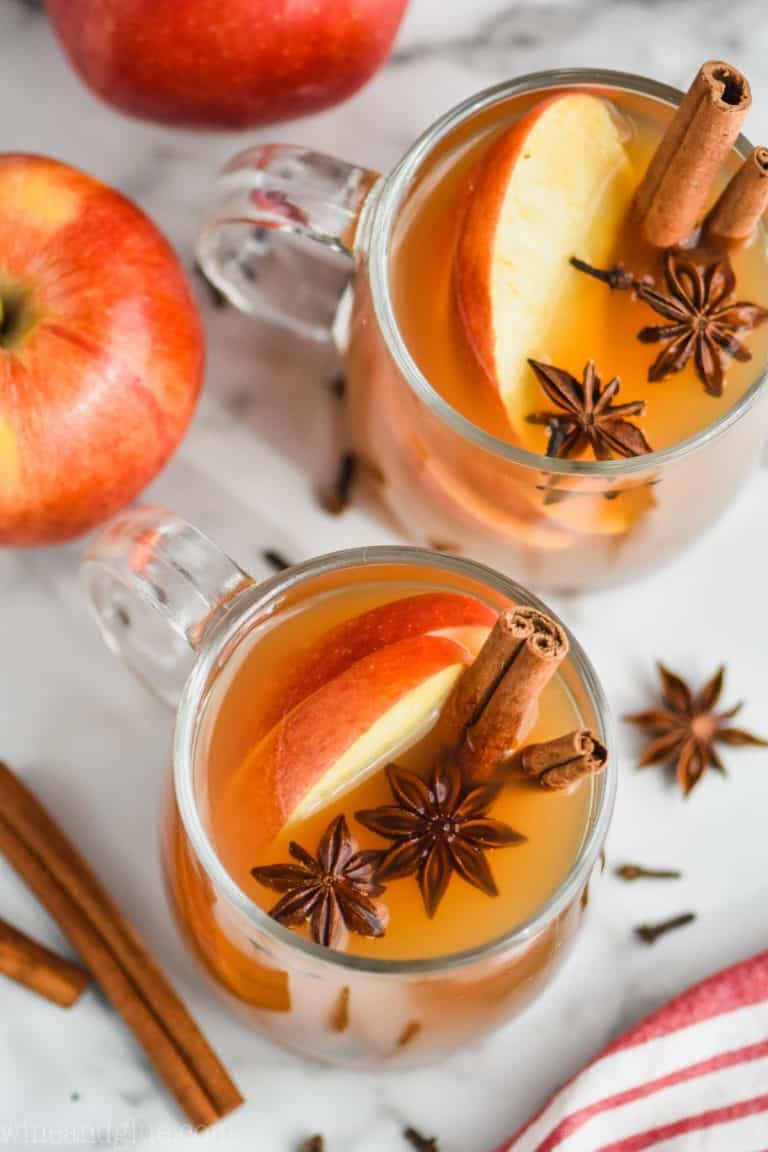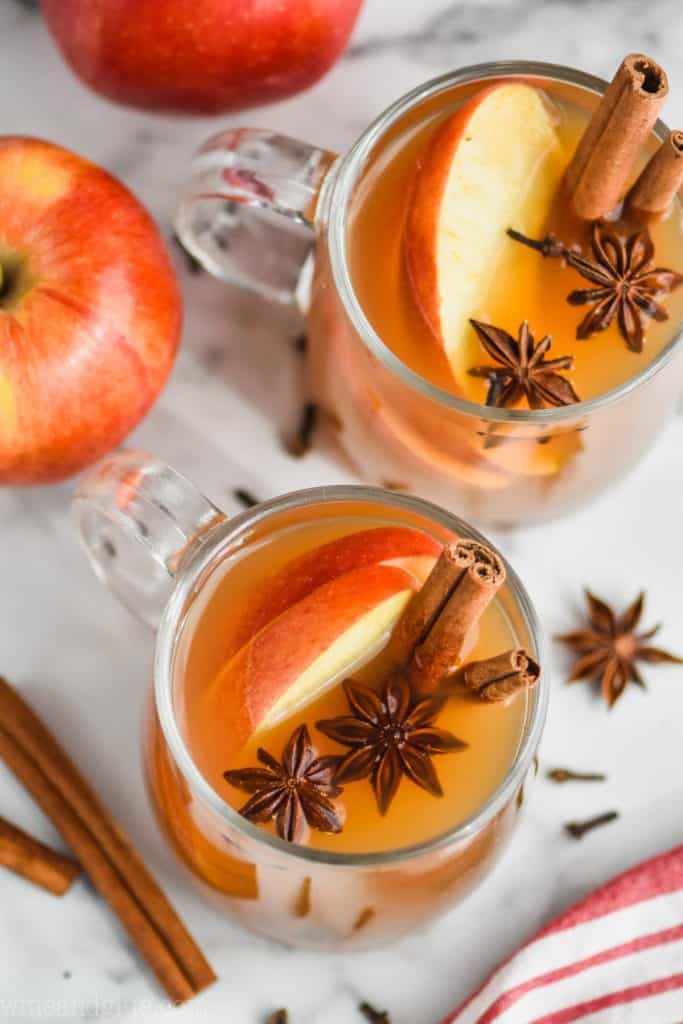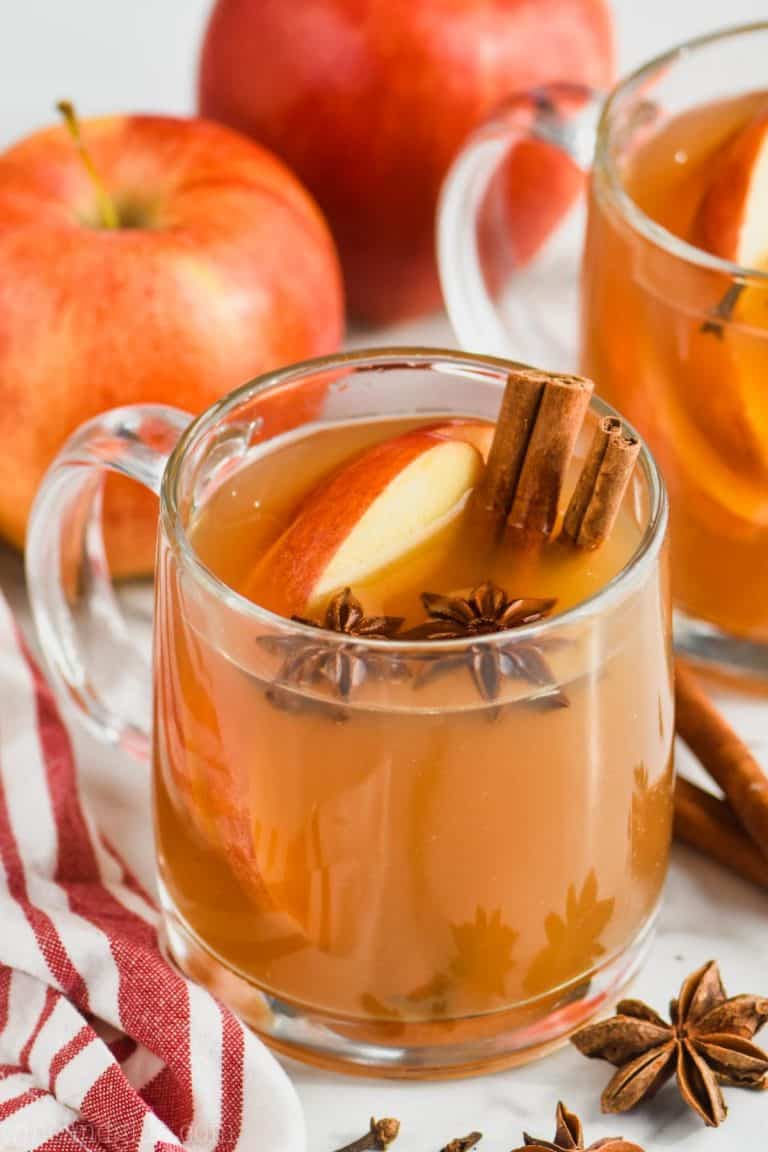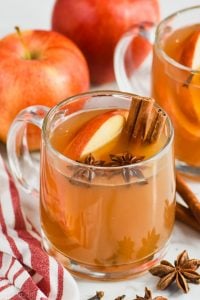 Slow Cooker Spiked Apple Cider
This Crockpot Spiced Apple Cider is perfect for fall parties. Easy to make and delicious to drink. Make a kid friendly batch and keep some brandy on the side for the grown ups!
Ingredients
1

gallon

apple cider

2

oranges

sliced

5

cinnamon sticks

4

star anise pods

optional

1

TBSP

whole cloves

2

cups

brandy
Instructions
After slicing the oranges, make small holes in the rinds with the tip of a knife and insert the cloves in them so that they don't float free in the cider.

In a 6 quart slow cooker , combine the cider, oranges, cinnamon sticks, star anise pods, and cloves. Cook on low for four hours.

Just before serving add the brandy.
Notes
Please note that the nutritional information does not include the brandy.
Serving:
8
ounces
Calories:
128
kcal
(6%)
Carbohydrates:
32
g
(11%)
Sodium:
60
mg
(3%)
Potassium:
142
mg
(4%)
Fiber:
1
g
(4%)
Sugar:
30
g
(33%)
Vitamin C:
8
mg
(10%)
Calcium:
2
mg
Iron:
3
mg
(17%)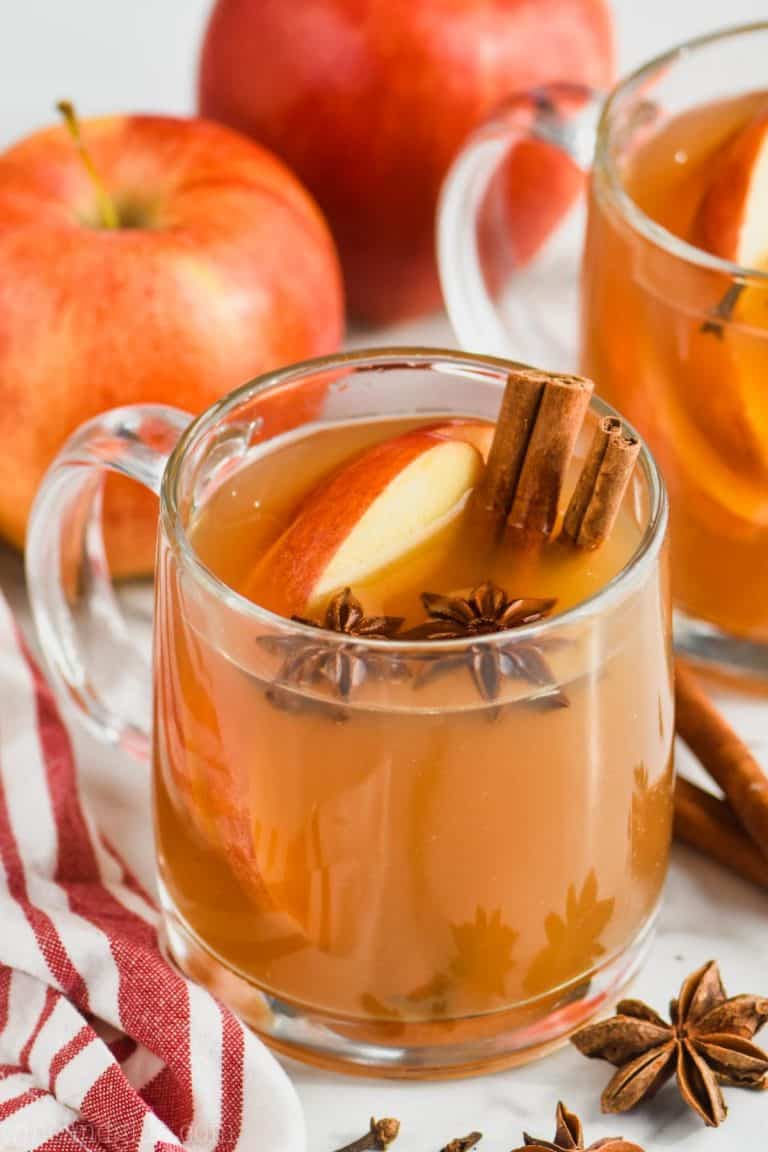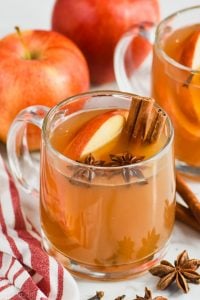 did you make this
Slow Cooker Spiked Apple Cider