Stuffed Pepper Soup takes our favorite stuffed peppers and turns them into an easy-to-make hearty soup. Your whole family will love this easy spin on stuffed peppers.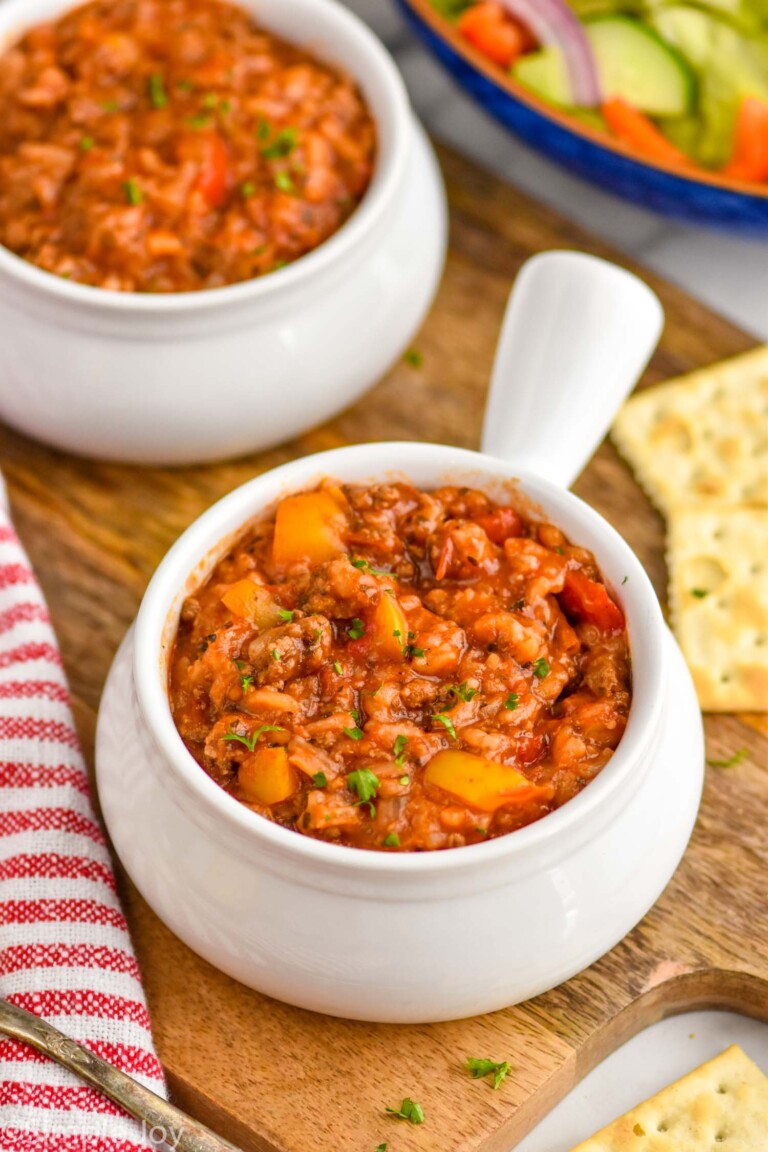 Zoup! Good, Really Good® provided me with product for the
purpose of this post, as well as compensation for my time. As always, all opinions
expressed in this post are my own.
If you have been following me for a bit, you know that my kids are obsessed with stuffed peppers. We have so many spins on them, they practically could be their own blog. And today, we are adding one more to the family with this amazing Stuffed Pepper Soup made with Zoup! Good, Really Good® Beef Bone Broth.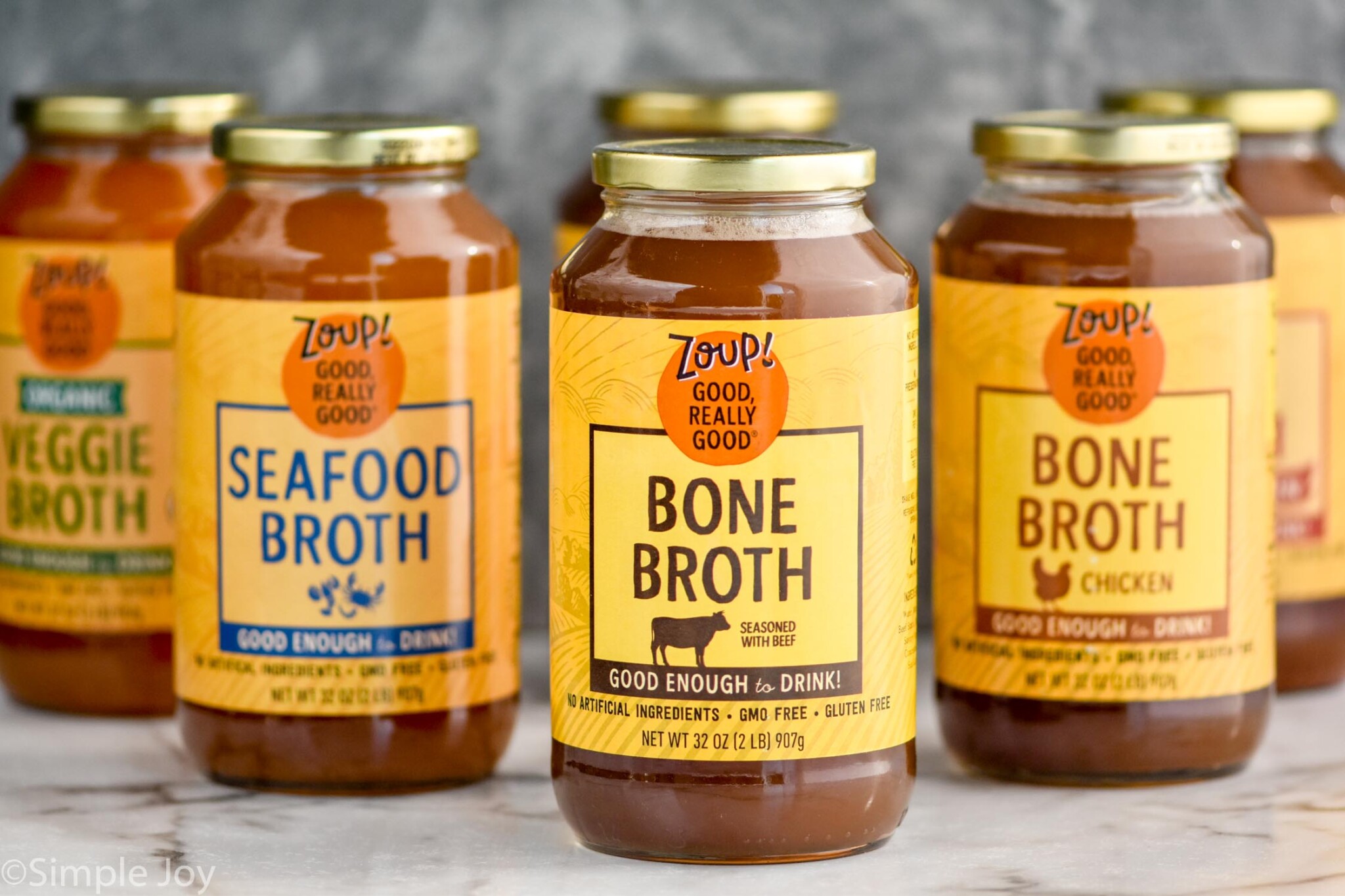 There are a lot of reasons to love Zoup! Good, Really Good® Beef Bone Broth, but of course, the most important of those reasons for me is the delicious taste. When they say that it is good enough to drink, they mean it.
In addition to bringing perfect flavor to recipes, Zoup! Good, Really Good® Broths are cooked in small batches, ensuring that only the freshest ingredients are used. You can count on each recyclable glass jar to be full of broth that is free of artificial flavors and ingredients, added hormones, gluten, GMO's, fat, trans fat, and saturated fat.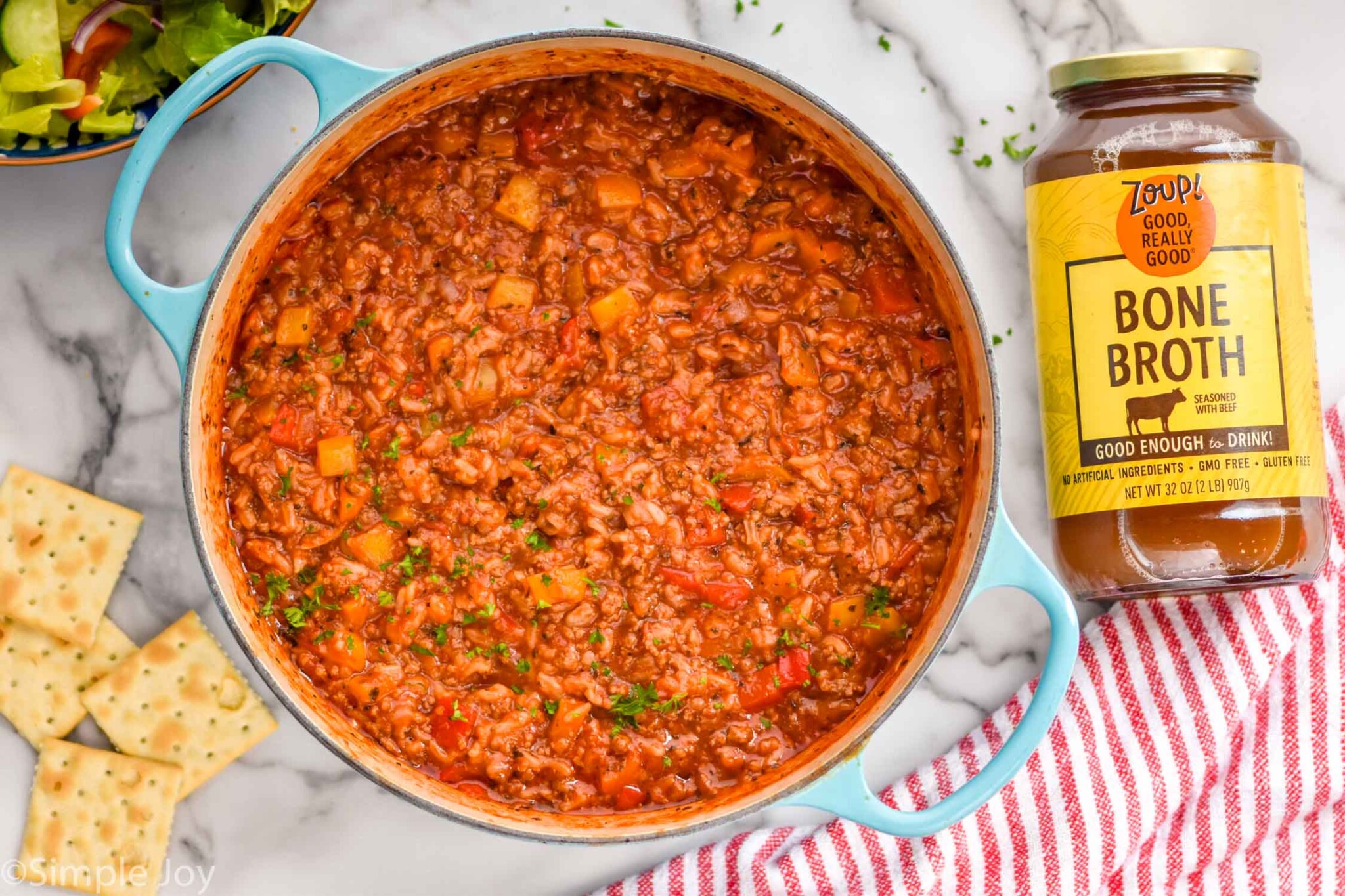 Zoup! Good, Really Good® Broths come in so many delicious and amazing flavors including original and low sodium chicken broth, veggie broth, chicken and beef bone broths, and seafood broth, plus certified organic chicken and veggie broth. (You better believe I'm making my New England Clam Chowder with their seafood broth this week!) And of course, the beef bone broth it puts this delicious stuffed bell pepper soup over the top.
For even more versatility, Zoup! is also introducing Culinary Concentrates™, a super-premium, gourmet broth base lineup available in chicken, beef and savory vegan.
The products are available for purchase at retailers across the country and online at ZoupBroth.com and Amazon.com. Use code 20SIMPLEJOY for 20% off your purchase of Zoup! products on Amazon (one-time use, good through 11/23/22).
How to Make Stuffed Pepper Soup
This is a brief overview of how to make this hearty and delicious soup recipe. For all of the measurements and the full instructions, please see the recipe card at the bottom of the post.
Cook the beef. Start the soup recipe by cooking the beef in a large soup pot. You can read below on how to substitute ground turkey for beef.
Add in the vegetables and seasonings. You want to sauté the vegetables with the beef until they are soft, about 5 to 7 minutes.
Stir in the broth, tomatoes, and rice. Bring the soup to a boil and then simmer, covered, for 20 minutes to fully cook the rice. Be sure to stir the soup often to avoid the rice sticking to the bottom of the pot.
Adjust the seasonings. This soup is very tomato forward, which is fantastic, but also means that they bring a bit of bitterness to the recipe. To balance that, I suggest you add a teaspoon or two of granulated sugar to the recipe. It will eliminate that bitterness without adding any taste of sweetness.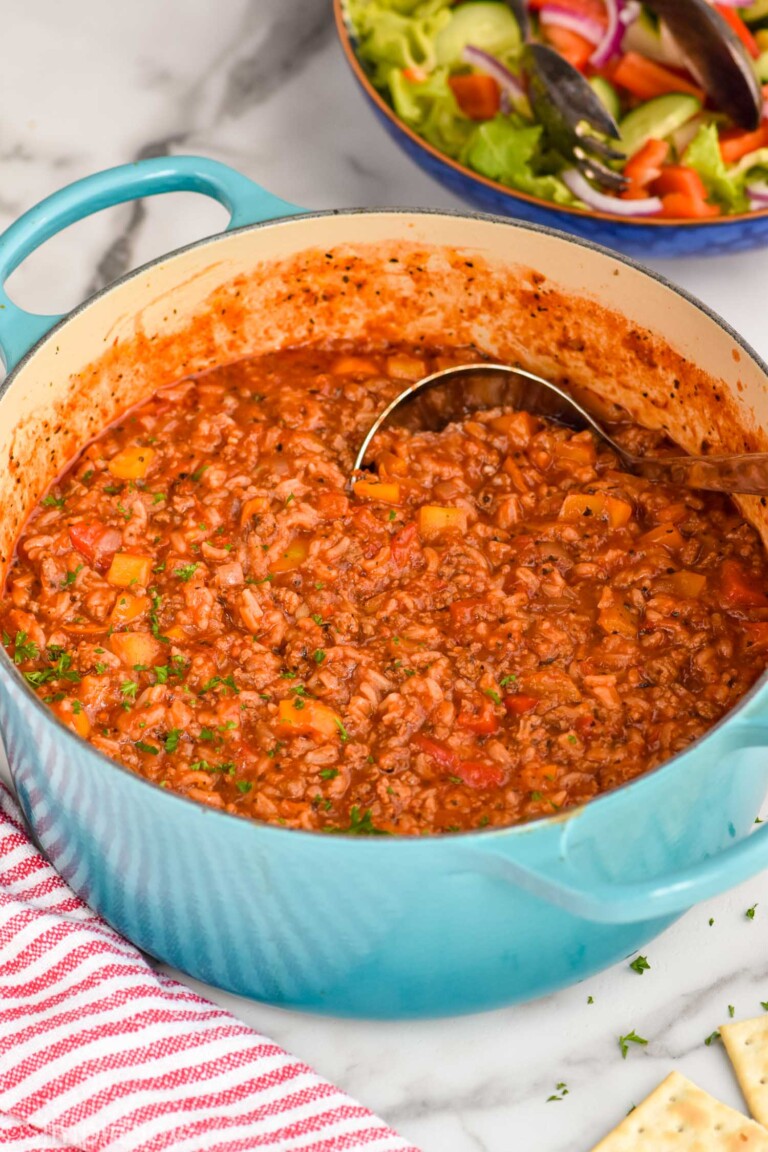 Picking Out Bell Peppers
Since bell peppers are the star of this soup recipe, you want to make sure that you pick out the perfect peppers. Here are a few things to look for in the grocery store:
Look at the color. When you are picking out red, orange, and yellow bell peppers keep in mind that before they were ripe, they were green. If you see any patches of green left, keep moving.
Pick a shiny pepper. While we are talking about the skin, look for peppers whose skin still has some shine to it.
Pick out a firm pepper. You should look for a pepper that doesn't have any soft spots and is overall firm with very little give to it.
Check out the stem. It should appear green and thick. If it is shriveled at all, move along.
Grab a pepper that looks heavy for its size. This is a great indication of how much water the pepper is still holding onto.
In this recipe, I am recommending that you use red, orange, and yellow bells, because I love the flavor they bring to the recipe. That being said, green bell peppers are significantly less expensive and will work great here. Do what works best for your budget.
Substituting Ground Turkey
If your family prefers ground turkey to ground beef, that works great in this recipe too. The recipe can, for the most part, be made as written. The one exception is that you will need to cook the ground turkey in 1 tablespoon of olive oil that you have warmed up.
If you are swapping the beef for turkey because of a dietary restriction, I highly recommend using Zoup! Good, Really Good® Chicken Broth.
Rinsing Rice
You will notice that this recipe calls for you to rinse the rice before adding it to the soup. The reason for this is that it eliminates some of the starch and will help prevent the rice from clumping together in the soup.
To rinse the rice, place it in a fine mesh metal sieve. Run water over it until the water coming off the rice is clear. Alternatively, add the rice to water, let it sit for a minute or two. Drain the rice, and repeat until the water is clear, about three times.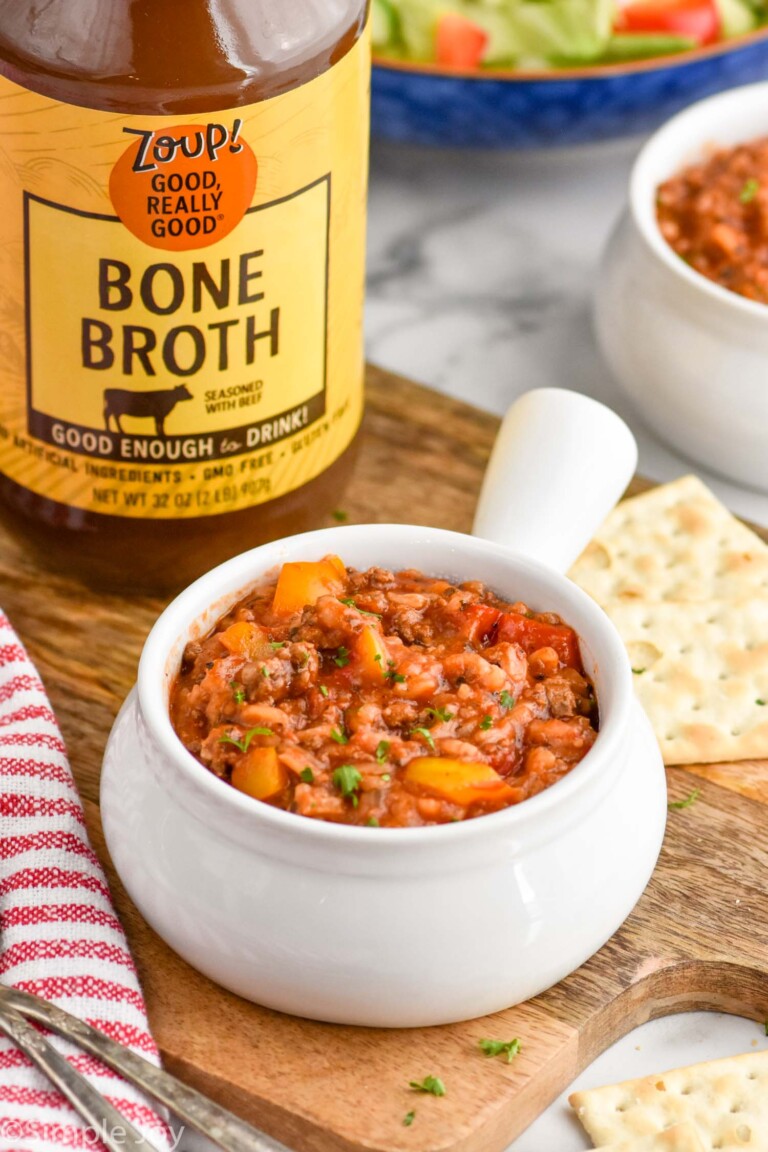 Balancing Flavors
I very often get a lot of feedback when it comes to adding sugar to recipes that folks aren't used to seeing it in. My spaghetti sauce is a perfect example of this.
There is a principle in cooking of balancing flavors. Sweet and acidic should balance each other well. For example, if a recipe comes off as overly sweet, a simple fix for that is adding a squeeze of lemon juice. Additionally, you can use sweetness to balance salt or spice. If you went overboard on the cayenne pepper in your chili recipe, toss in a tablespoon of brown sugar and you are good to go.
This is the principle we are using here. If you think of flavor as a scale, the canned tomatoes in this recipe are weighing down one side of the scale with too much acid. If we were to pour a cup of sugar in this recipe, then the other side of the scale would be too weighed down and the soup would taste sweet. By adding just a teaspoon or two at the end, we achieve a great balance in which you can't taste the acid or the sweetness but rather you are greeted with the perfect deliciousness of this soup.
Storing and Reheating Leftovers
Leftover Stuffed Pepper Soup can be kept in the refrigerator for 4 days in an airtight container. As with any recipe, use your best discretion when it comes to leftovers.
Reheat the soup over low heat, stirring often. The rice will absorb a lot of the liquid and you may find that you need to add a bit more broth and seasonings to get the right consistency.
FAQ
Can you freeze stuffed pepper soup?
Yes! Place in a container that can be sealed and with enough room (about one inch) for the soup to expand. Freeze for up to three months and thaw in the refrigerator overnight when you are ready to eat it.
How many servings does this soup make?
This soup makes a heaping six servings with each serving being a full two cups.
How many calories are in stuffed pepper soup?
One two-cup serving of this stuffed pepper soup recipe has 306 calories.
What to Serve with Stuffed Pepper Soup
This recipe is a meal on its own, but if you would like to fill out your table a bit more, here are a few ideas: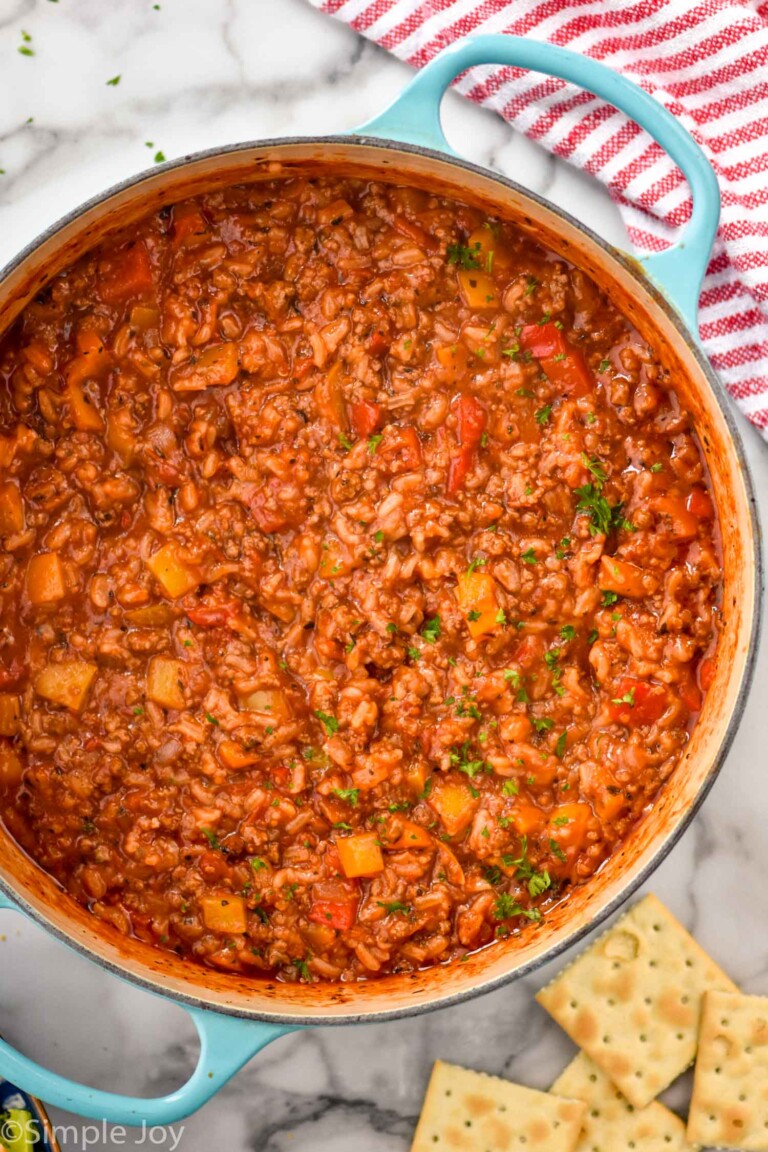 Other Great Soup Recipes
Of course Zoup! Good, Really Good® Broth is great in so many recipes. Here are a few of my recipes that you should use it in.
Find Zoup! Good, Really Good® Broth for purchase at retailers across the country and online at ZoupBroth.com and Amazon.com.
If you make this delicious stuffed pepper soup recipe or any of my other recipes, please leave me a comment and let me know what you think.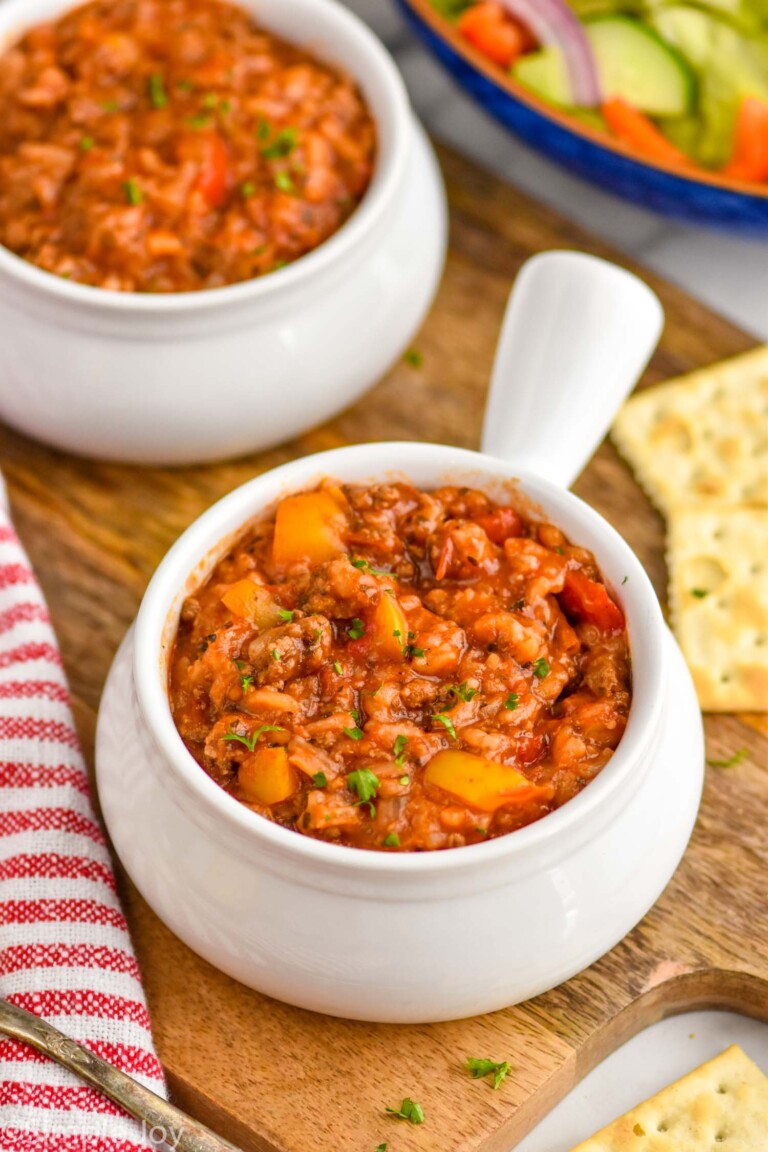 Stuffed Pepper Soup
Stuffed Pepper Soup takes our favorite stuffed peppers and turns them into an easy to make hearty soup. Your whole family will love this easy spin on stuffed peppers.
Ingredients
1

pound

ground beef

85% lean (read about substituting ground turkey here)

3

bell peppers

diced (I recommend getting red, yellow, and orange bell peppers)

1

small yellow onion

diced

3

garlic cloves

minced

1

tablespoon

dried oregano

1

tablespoon

dried basil

1 1/2

teaspoons

kosher salt

if you are using table salt, start with half this amount

1/4

teaspoon

ground black pepper

32

ounces

Zoup! Good, Really Good® Beef Bone Broth

28

ounces

crushed tomatoes

(undrained)

14

ounces

diced tomatoes

1

cup

long grain rice

(uncooked)

2

teaspoons

sugar
Instructions
In a large dutch oven or heavy bottomed soup pot, add the ground beef. Break it up and cook it until it begins to brown.

Add in the bell peppers, onion, garlic, oregano, basil, salt and pepper. Sauté until the onions are translucent and the bell peppers are soft, about 5 to 7 minutes.

3 garlic cloves,

1 tablespoon dried oregano,

1 tablespoon dried basil,

1 1/2 teaspoons kosher salt,

1/4 teaspoon ground black pepper

Add in the Zoup! Good, Really Good® Beef Bone Broth, crushed tomatoes, and undrained diced tomatoes. Stir in the rice, and bring to a boil.

32 ounces Zoup! Good, Really Good® Beef Bone Broth,

28 ounces crushed tomatoes,

14 ounces diced tomatoes,

1 cup long grain rice

Reduce the heat to a simmer (you should still see consistent pea sized bubbles), and cook (covered) for 20 minutes or until the rice is soft. Regularly (at least four times), stir the soup, scrapping the bottom of the pot so the rice doesn't stick.

Taste the soup. If the soup has a slightly bitter taste to it, add 1 to 2 teaspoons sugar. This will balance the acidity from the canned tomatoes and eliminate the bitter taste. (Read more about this here.) Add more salt and pepper if necessary. Serve with freshly grated Parmesan cheese.
Serving:
2
cups
Calories:
413
kcal
(21%)
Carbohydrates:
45
g
(15%)
Protein:
24
g
(48%)
Fat:
16
g
(25%)
Saturated Fat:
6
g
(38%)
Polyunsaturated Fat:
1
g
Monounsaturated Fat:
7
g
Trans Fat:
1
g
Cholesterol:
54
mg
(18%)
Sodium:
876
mg
(38%)
Potassium:
939
mg
(27%)
Fiber:
6
g
(25%)
Sugar:
12
g
(13%)
Vitamin A:
2245
IU
(45%)
Vitamin C:
96
mg
(116%)
Calcium:
128
mg
(13%)
Iron:
5
mg
(28%)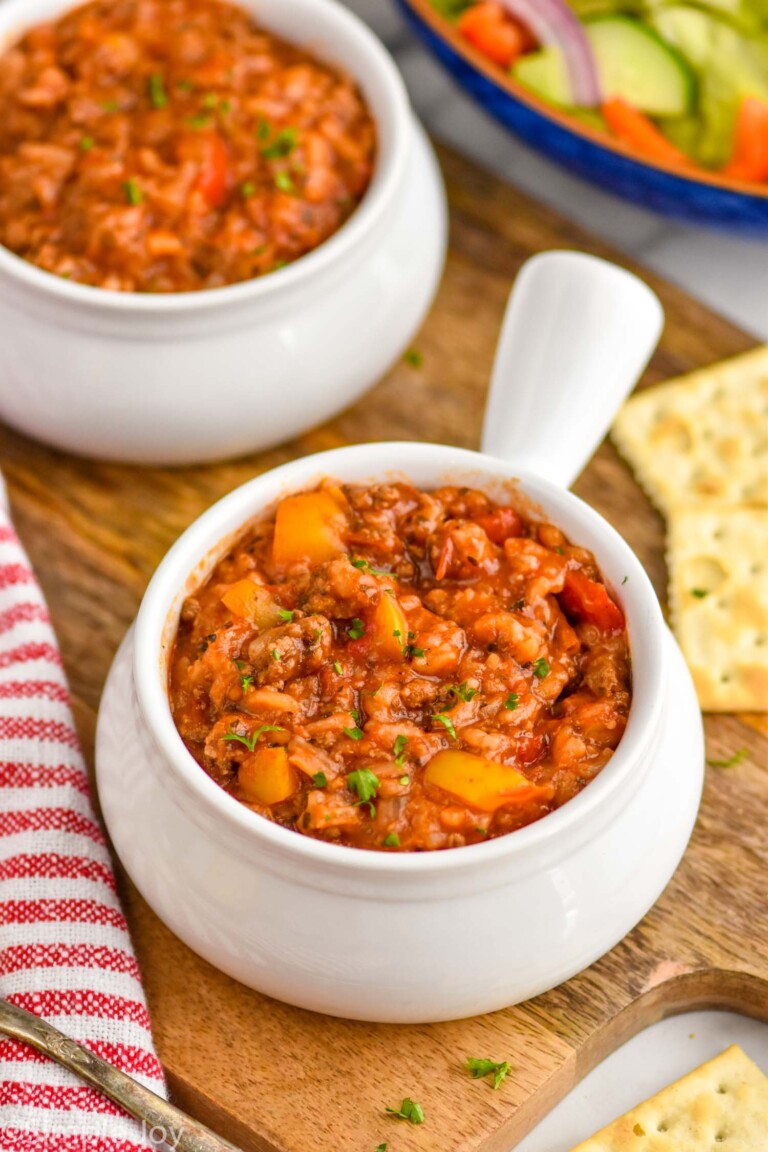 did you make this
Stuffed Pepper Soup