This Fall Harvest Salad comes together with simple ingredients and is perfect for a holiday table but easy enough for a weekday lunch.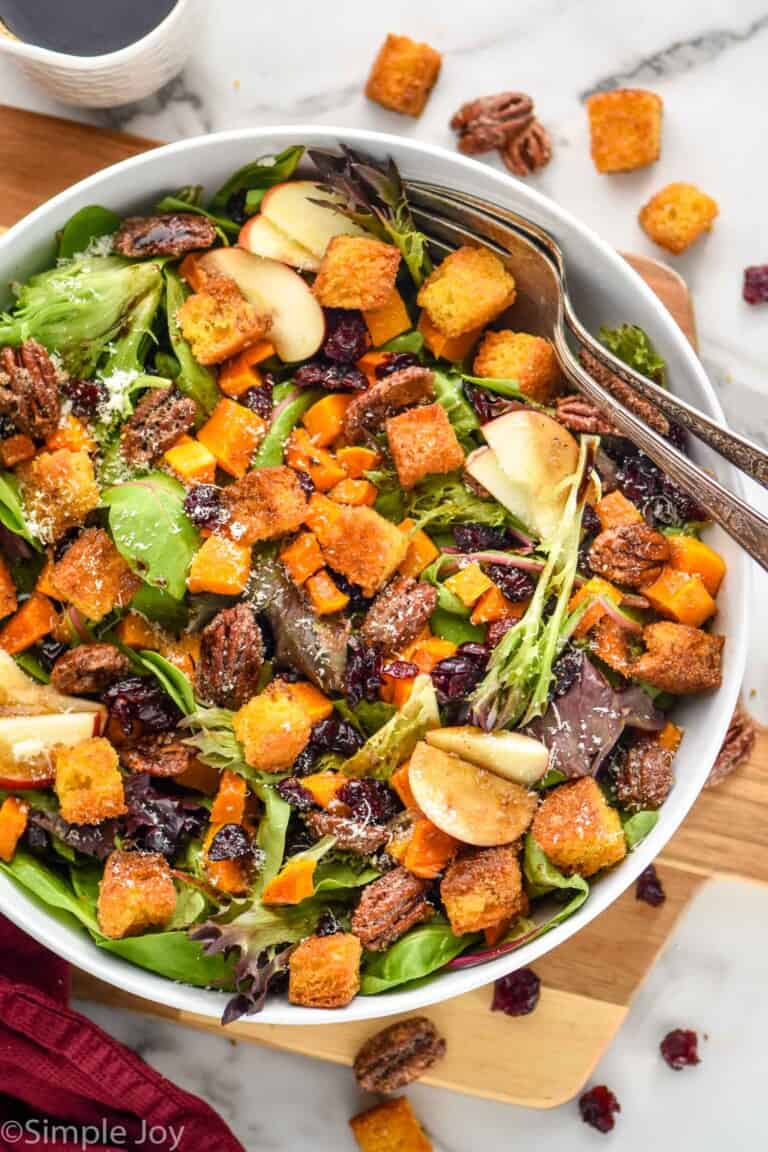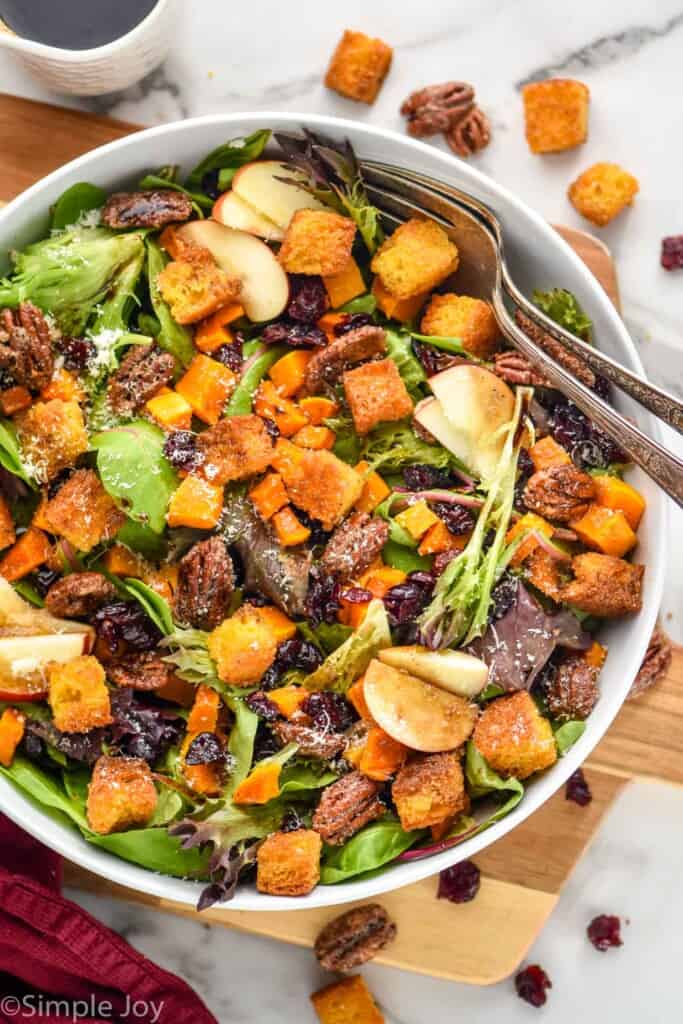 Truthfully, I could make a website full of just salad recipes. They are my favorite meal, hands down. I love that salads can be a side dish or can be tricked out to be a full entree.
In this Fall Harvest Salad, we are doing just that. We are taking a salad that will work well as a side dish on a holiday table or will be perfect as a lunch for two or four. Pair it with a soup and you have the perfect winter dinner.
How to Make Fall Harvest Salad
Make candied pecans. I have a full post that details how to make them (click the words candied pecans), but they are very simple and they add a lot to this salad. If you want to cut calories we have a Keto version in that post. Or you can just use plain pecans.
Make the cornbread croutons. My cornbread crouton recipe brings a great layer of fall flavor to this salad. You absolutely can use regular croutons instead, but I love what the cornbread ones add to the party.
Roast a butternut squash. See my instructions below for this. Other options are to buy frozen pre cut squash. If you go this route, I suggest sautéing the thawed squash so it isn't too wet for your salad.
Make the salad dressing. We are making a really simple vinaigrette that gets it's sweetness and the bulk of it's flavor from maple syrup. I love this recipe because you should have all the ingredients on hand already.
Put the salad together. Toss all of the ingredients together. I like to add just a splash of the dressing to keep the apple from browning, and then leave the rest on the side so everyone else can decide how much dressing they want.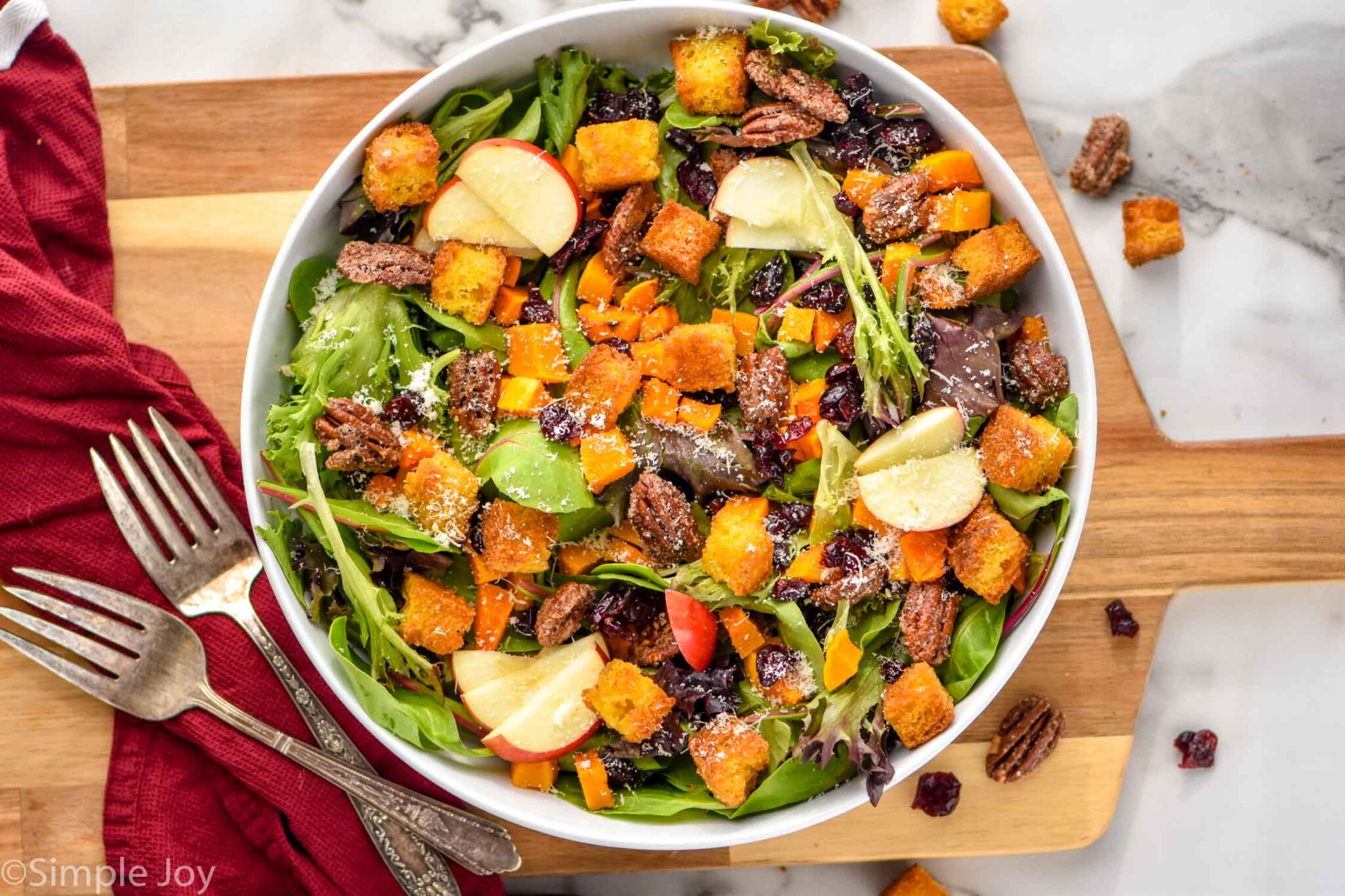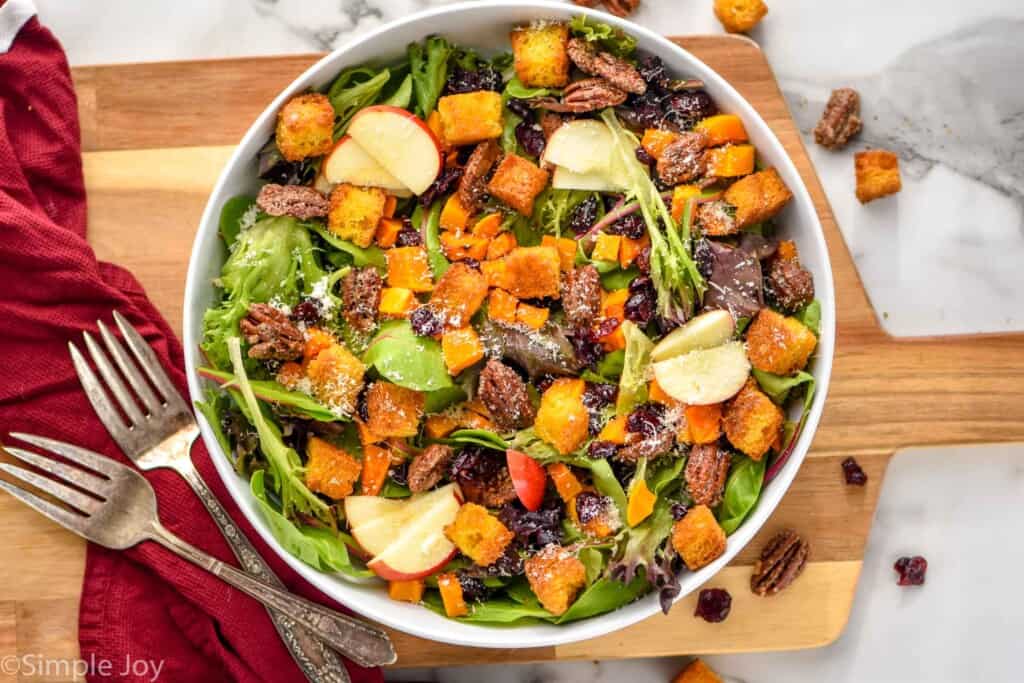 Roasting Butternut Squash for Fall Salad
I love what butternut squash adds to salad. It's such a nutritious ingredient that leaves you full and satisfied.
Preheat the oven to 425 degrees. Line a rimmed baking sheet with parchment paper.
Peel the squash. Cut off just enough of the top and the bottom to remove the stem. Cut the squash in half and scoop out the seeds and the pulp. Then cut the squash into 1 inch cubes.
Add the squash to the baking sheet and toss with a little olive oil. Bake for 35 minutes, tossing once in the middle of baking.
Substitutions and Variations
I love this salad as is, but there are a ton of great ways to switch it up.
Swap the butternut squash for roasted beets. I could eat them in just about everything.
Replace the maple vinaigrette with balsamic dressing.
Give it a little more protein by adding in some bacon or marinated chicken.
Swap the Parmesan cheese for goat cheese.
Bulk it out a little with some quinoa. It is a great, healthy way to make this into more of a meal.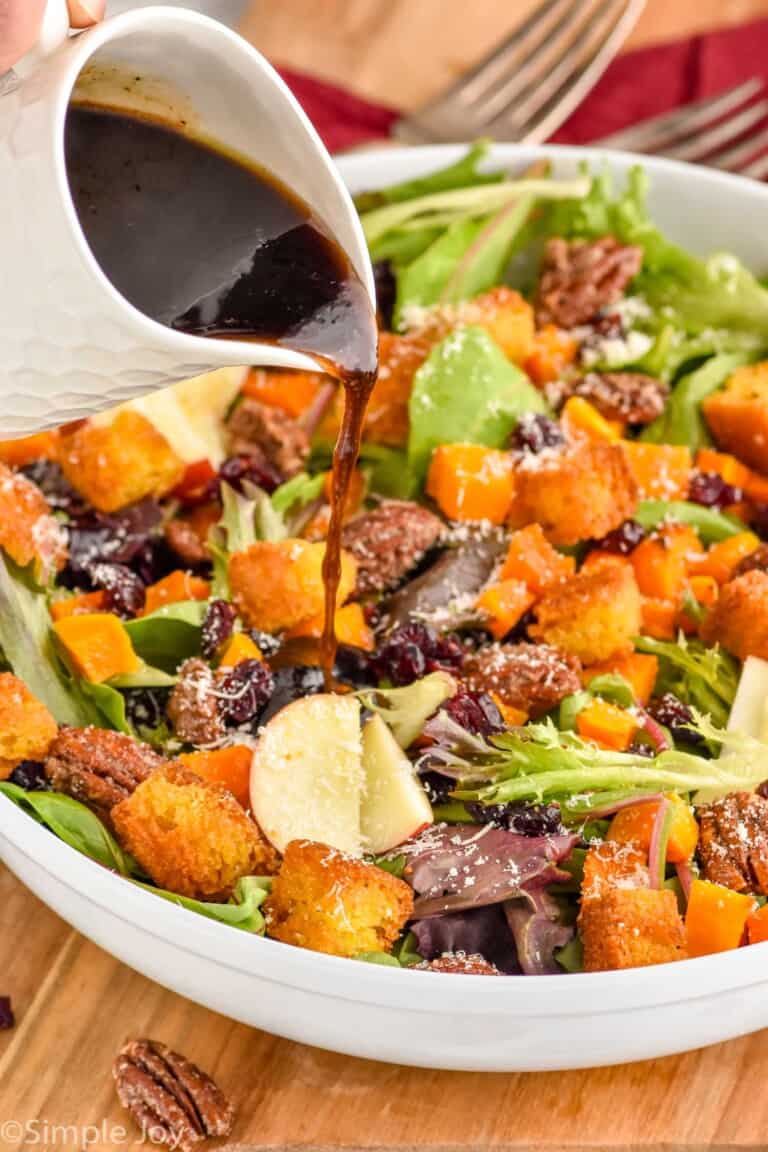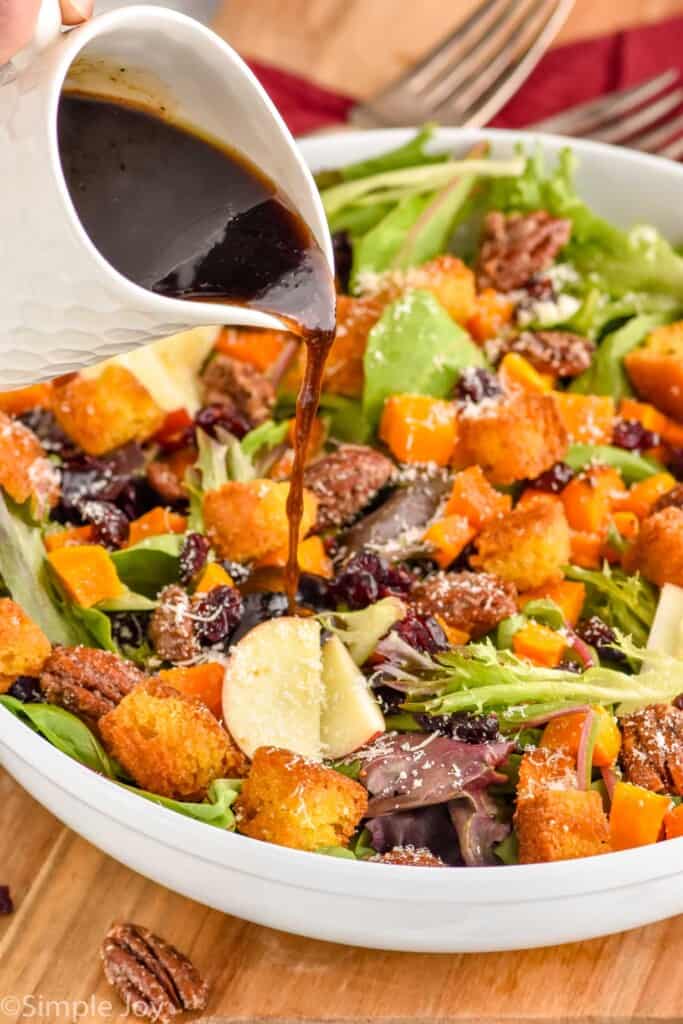 Making Fall Harvest Salad Ahead
All of the ingredients (except the apple) can be prepped up to 24 hours ahead of time. Store the ingredients separately and then put the salad together right before serving. Make sure to shake the dressing well and allow it to come to room temperature before serving.
Storing Leftover Salad
Salad leftovers will never be as good as the salad was fresh. But! In my humble opinion, if the salad isn't completely dressed the first time, the leftovers are still delicious. Store them in an airtight container in the refrigerator for 3 to 5 days. The dressing leftovers can be stored in the refrigerator for up to a month.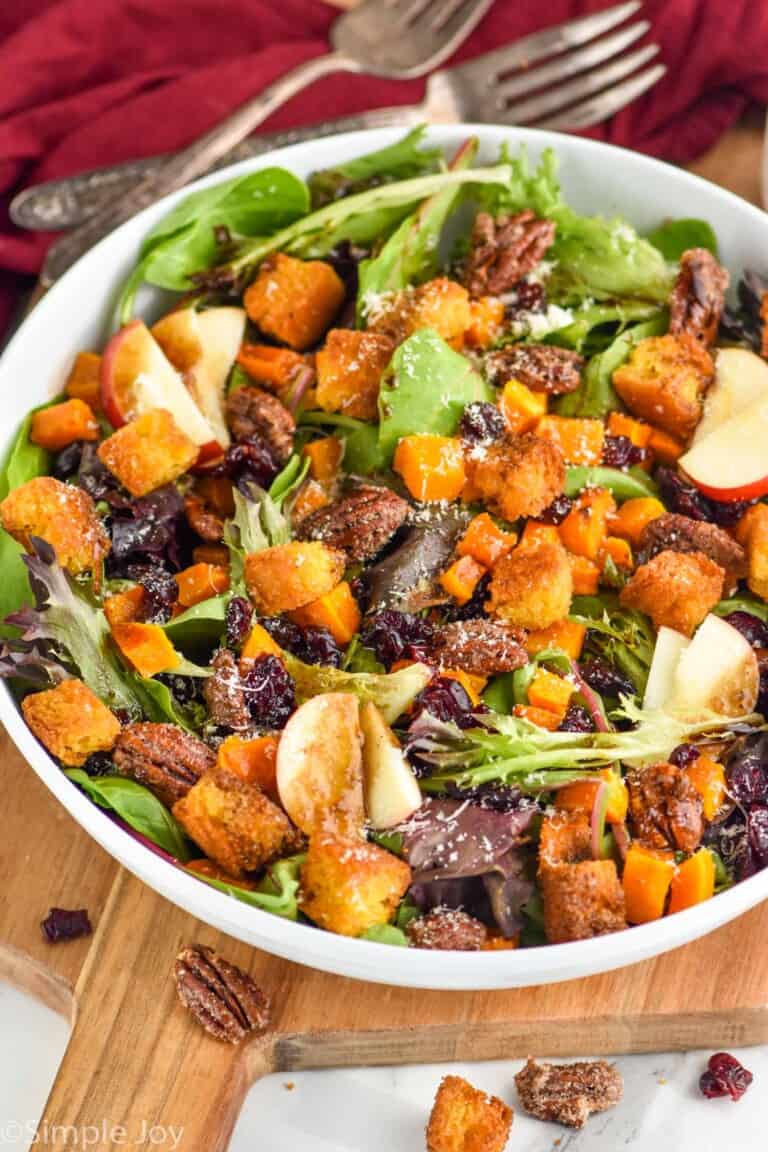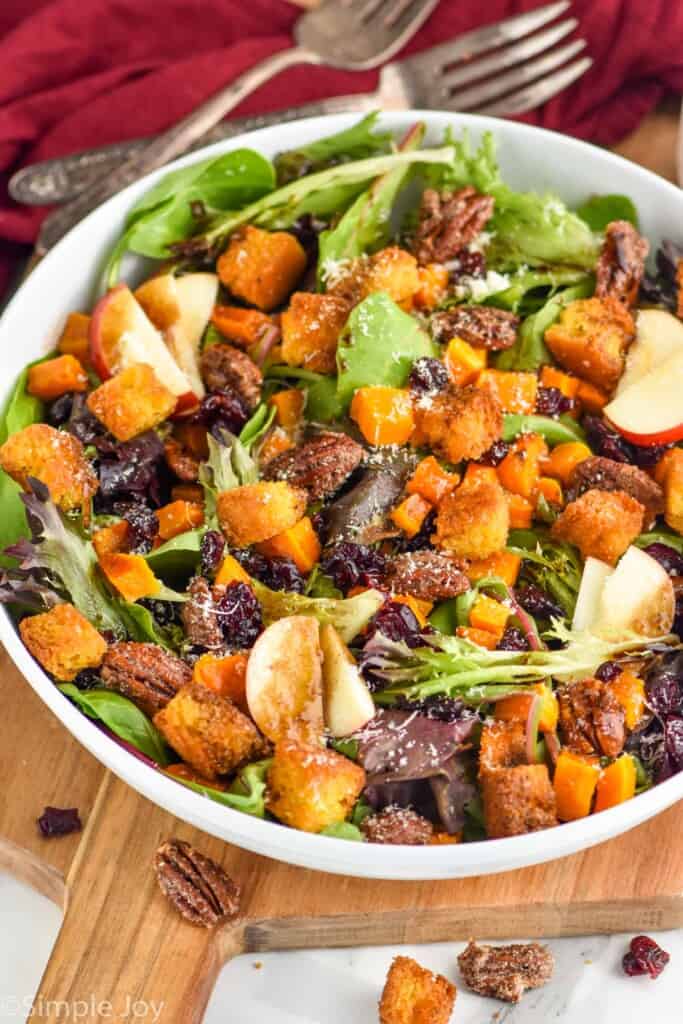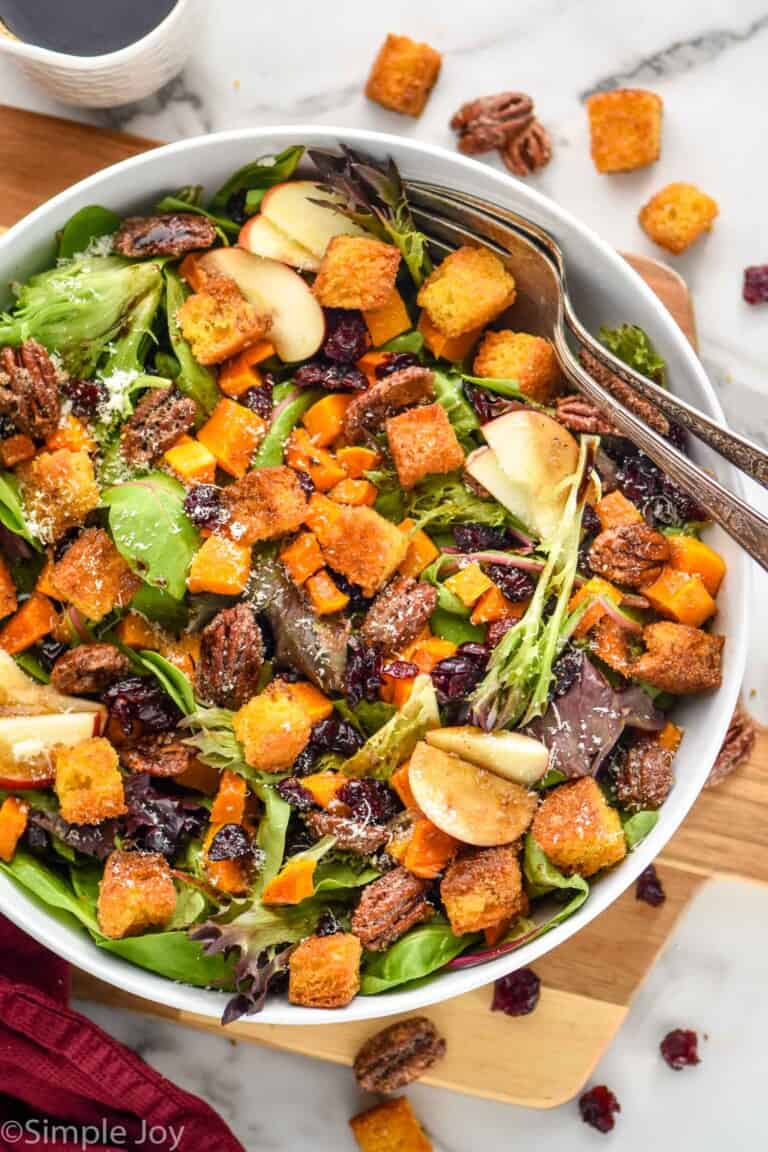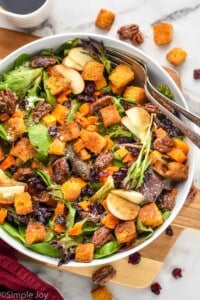 Fall Harvest Salad
This Fall Harvest Salad comes together with simple ingredients and is perfect for a holiday table but easy enough for a weekday lunch.
Ingredients
Maple Vinaigrette Dressing
1/3

cup

extra virgin olive oil

1/4

cup

balsamic vinegar

1/4

cup

maple syrup

1/2

teaspoon

kosher salt

1/8

teaspoon

pepper

1/8

teaspoon

cinnamon
Instructions
In a mason jar, combine all the ingredients for the dressing and then shake to combine.

In a large bowl, combine all of the salad ingredients. Toss to combine. Serve with the dressing on the side.
Notes
Please note that the serving size is based on this being a side salad, not a main dish.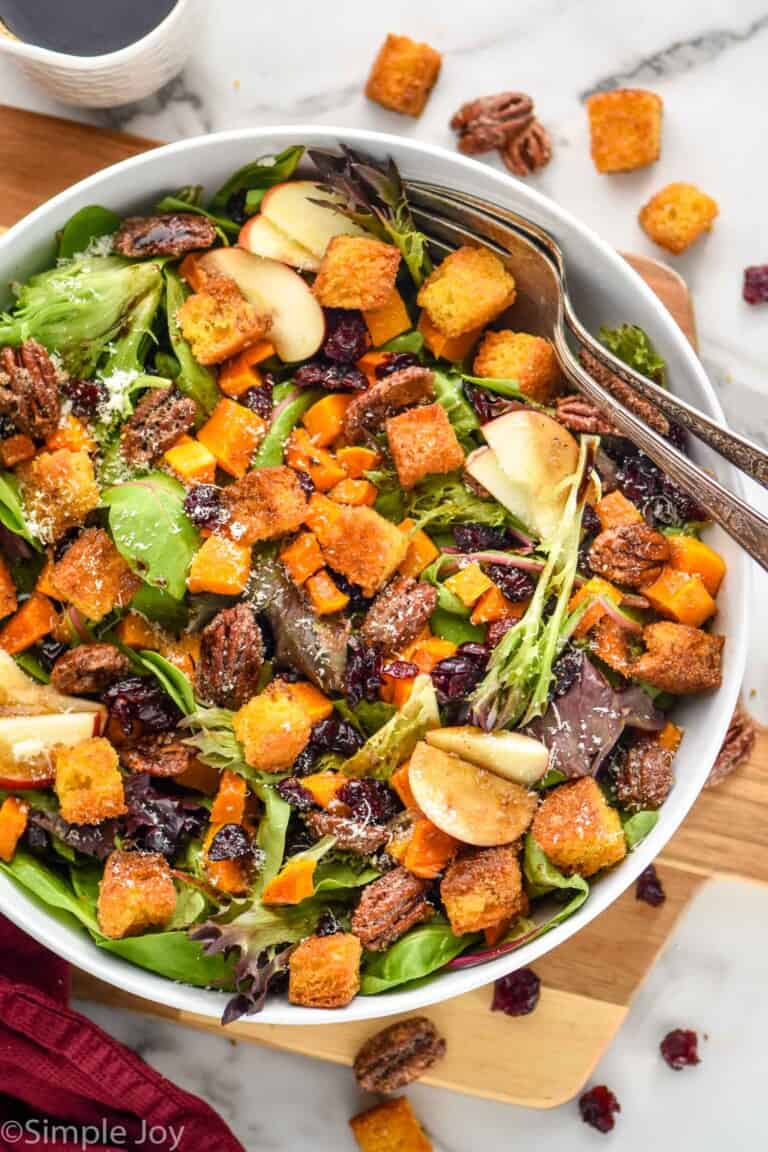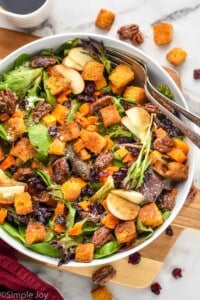 did you make this
Fall Harvest Salad
you might also like . . .