This Vegan Black Bean Soup recipe is full of rich delicious flavor while being easy to make and budget friendly. It is sure to go into your meal rotation.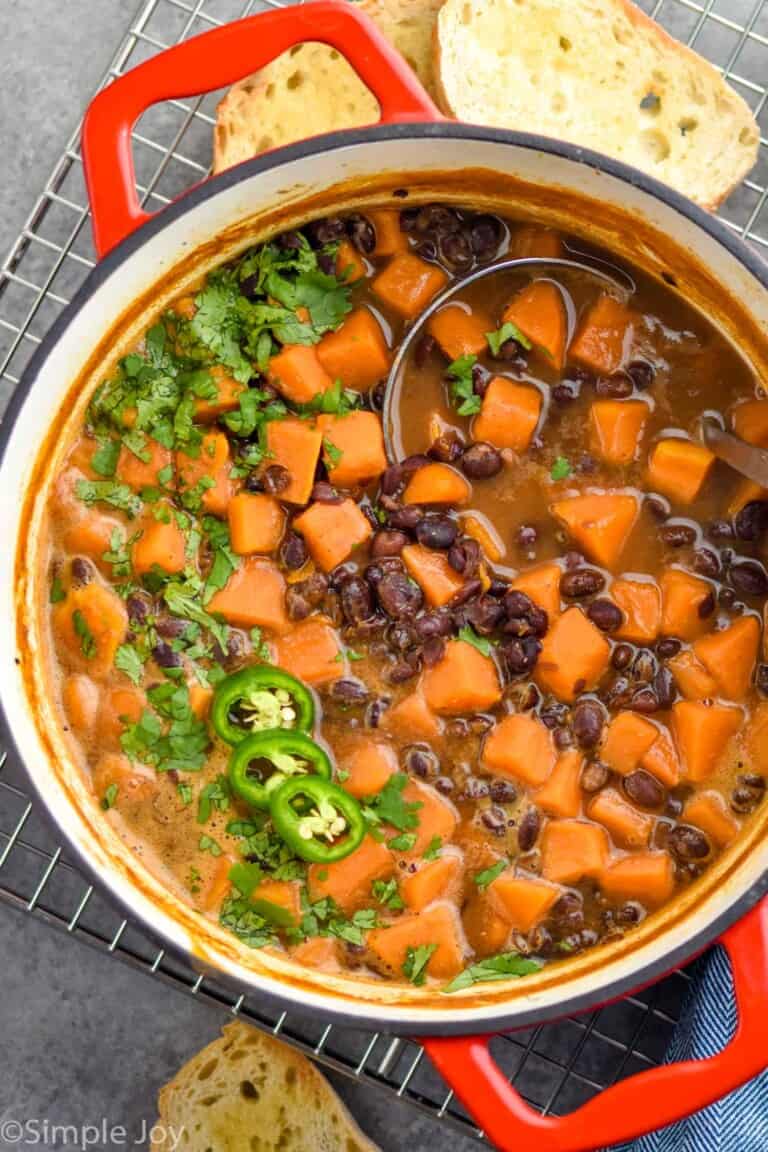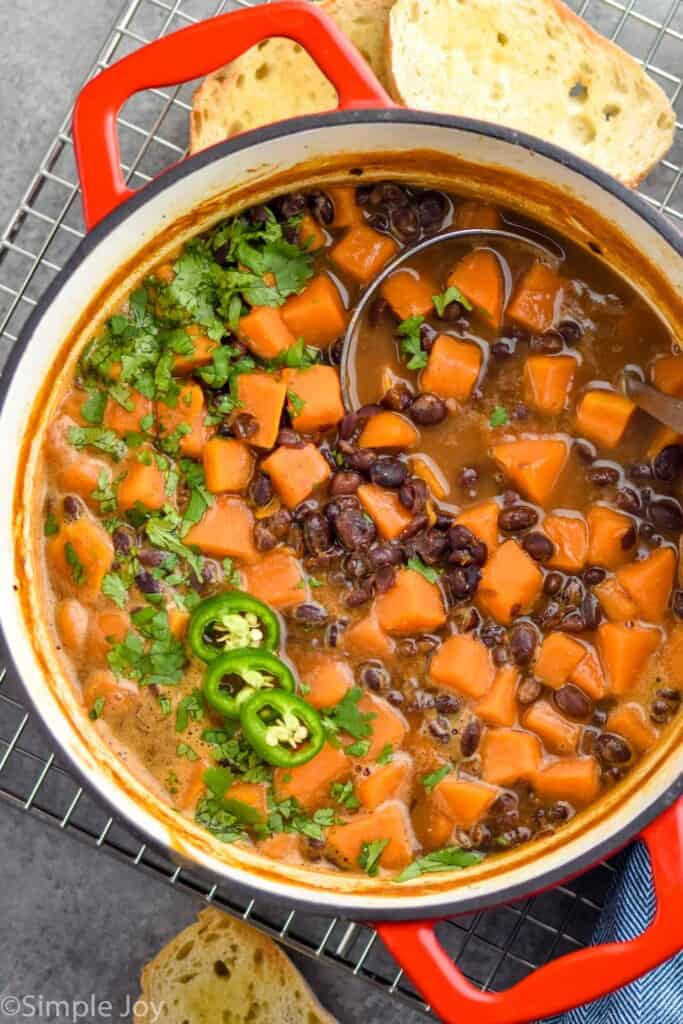 Recently one of our kids decided to try on vegetarianism. It hasn't been the easiest transition trying to figure out how to get this kid enough calories. Sometimes it involves making two different meals. But one recipe that our whole family loves is this delicious Black Bean Soup recipe.
If you are working on integrating more meatless meals into your family's rotation, this Vegan Black Bean soup is the perfection addition. With just a handful of easy to find ingredients this is an inexpensive and quick meal. That being said, it is full of delicious flavors that make it a hearty delicious dinner.
How to Make Black Bean Soup
Prepare the beans. An important step in this recipe is draining and rinsing the beans. They are packed in a liquid that contains a lot of sodium, so rinsing them is key. Then you should pull out one cup of the beans and, using a fork, smash them. This will help thicken the soup.
Sauté the sweet potatoes. In a large dutch oven, sauté the sweet potatoes in olive oil. Stir occasionally until they begin to soften, about 10 minutes.
Combine all of the ingredients. To the sweet potatoes add the black beans, seasonings, and vegetable stock. Make sure to scrape up the browned bits from the bottom of the pot.
Simmer the soup for 10 minutes. Then adjust the seasonings by adding more salt and pepper or hot sauce if you wish. Serve the soup and enjoy.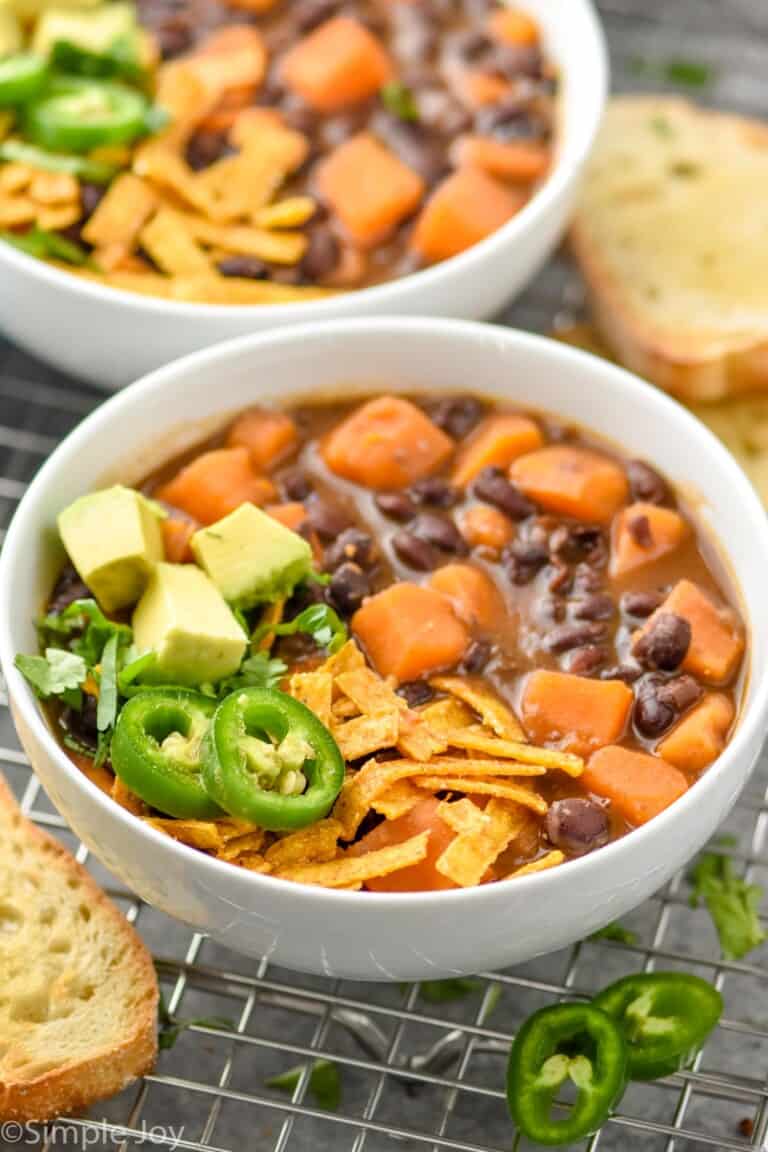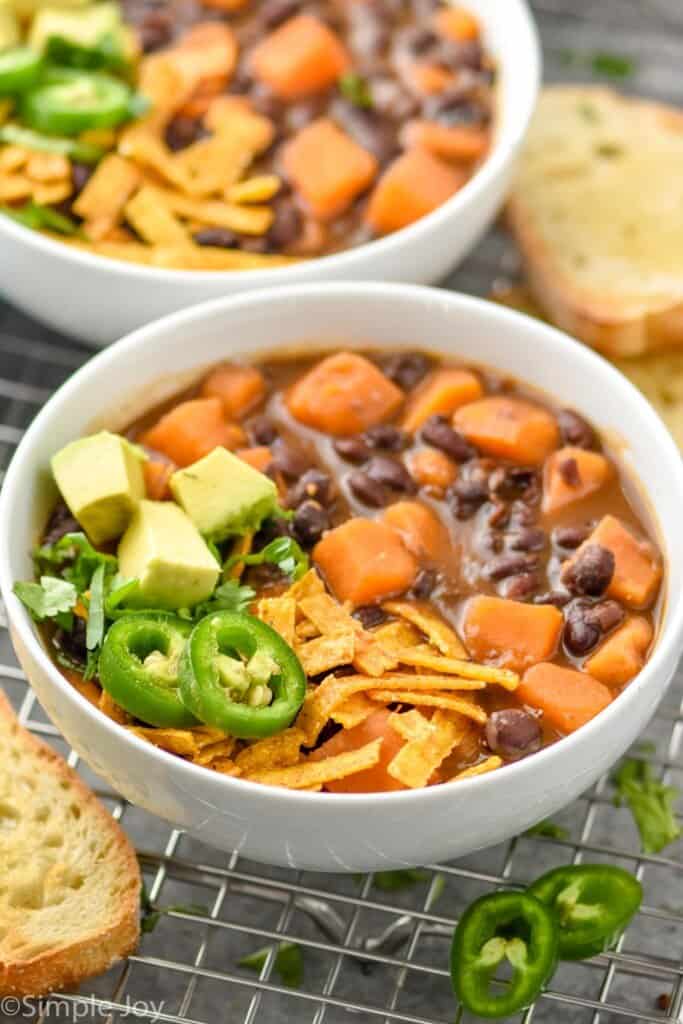 What Makes this Vegan Black Bean Soup
This is a very easy recipe to make vegan. Additionally, all of the rich flavors make it satisfying to people who are meat eaters. Vegan dishes are dishes that don't use any animal by products. While vegetarianism is simply not eating meat, vegans don't eat dairy products, eggs, or honey either.
This soup is made with no meat, we aren't using any dairy in it or to top it, and we have used vegetable stock in it.
Using Dry Black Beans
If you would prefer to use dried black beans instead of canned, that will work just fine. You will need approximately 2 1/4 cups dry beans to equal what is needed for this recipe. Black beans can be soaked overnight and then used in this recipe.
For a detailed look on how to make the best black beans from dry beans, check out this article.
Topping Black Bean Soup
Our family loves this soup with a variety of toppings.
White Rice: While this isn't the healthiest option, adding some white rice to this soup, stretches it a little further and fills up my kids who are going through growth spurts. Other great options would be cooked quinoa or brown rice.
Tortilla Strips: You can often find tortilla strips near the croutons in the grocery store. They are a great topping for this and my Chicken Enchilada Soup.
Salsa: This soup already has a lot of great flavor to it, but I must admit that I love adding salsa to bean soups. My Blender Salsa or my Pico de Gallo would be fantastic in this.
Jalapeños: If you want a real kick to your soup you could add some fresh sliced jalapeños. If you want that flavor, but with less of a punch, try my Pickled Jalapeños.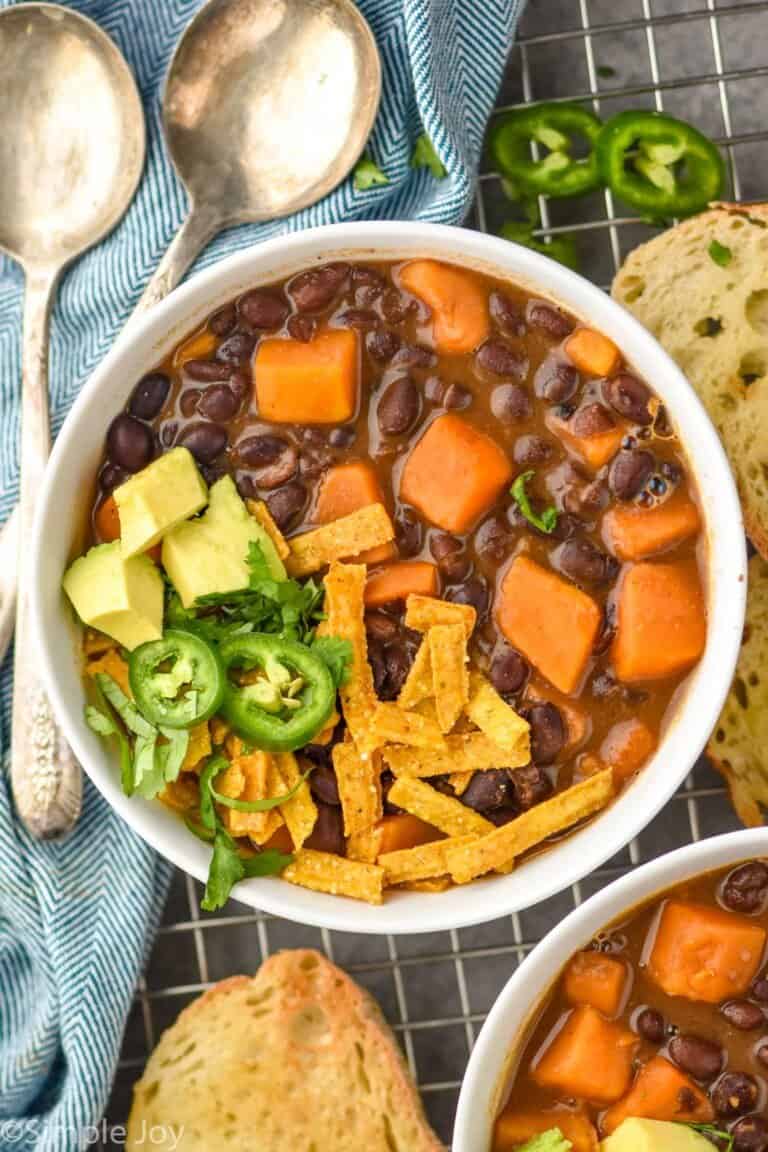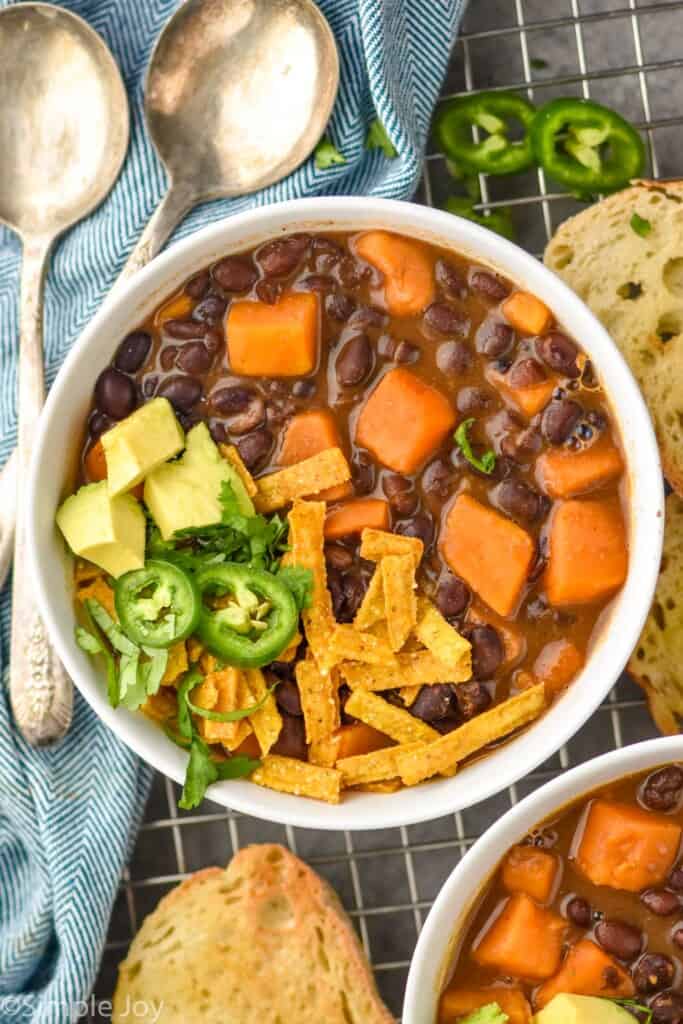 Leftover Vegan Black Bean Soup
Leftover vegan black bean soup can be stored in the refrigerator for 4 to 5 days. This recipe reheats really well. Simmer, covered, on the stove top until the soup heats through, stirring often.
Freezing
This is a great soup recipe to freeze. Pour cooled leftover soup into a container with at least an inch left at the top to account for expanding. Freeze for up to three months.
FAQ
Is black bean soup healthy?
This is a great healthy recipe. Black Bean Soup has healthy fats, healthy carbs in the sweet potatoes, lean protein from the beans, and is made in vegetable broth, not a cream based broth.
Is black bean soup Keto friendly?
Because of the carb count in both black beans and sweet potatoes, this soup isn't great for a strict Keto diet.
Is black bean soup gluten free?
This black bean soup recipe is naturally gluten free. As with all of my recipes, make sure you check the individual ingredients you are using before serving this to someone with a gluten intolerance.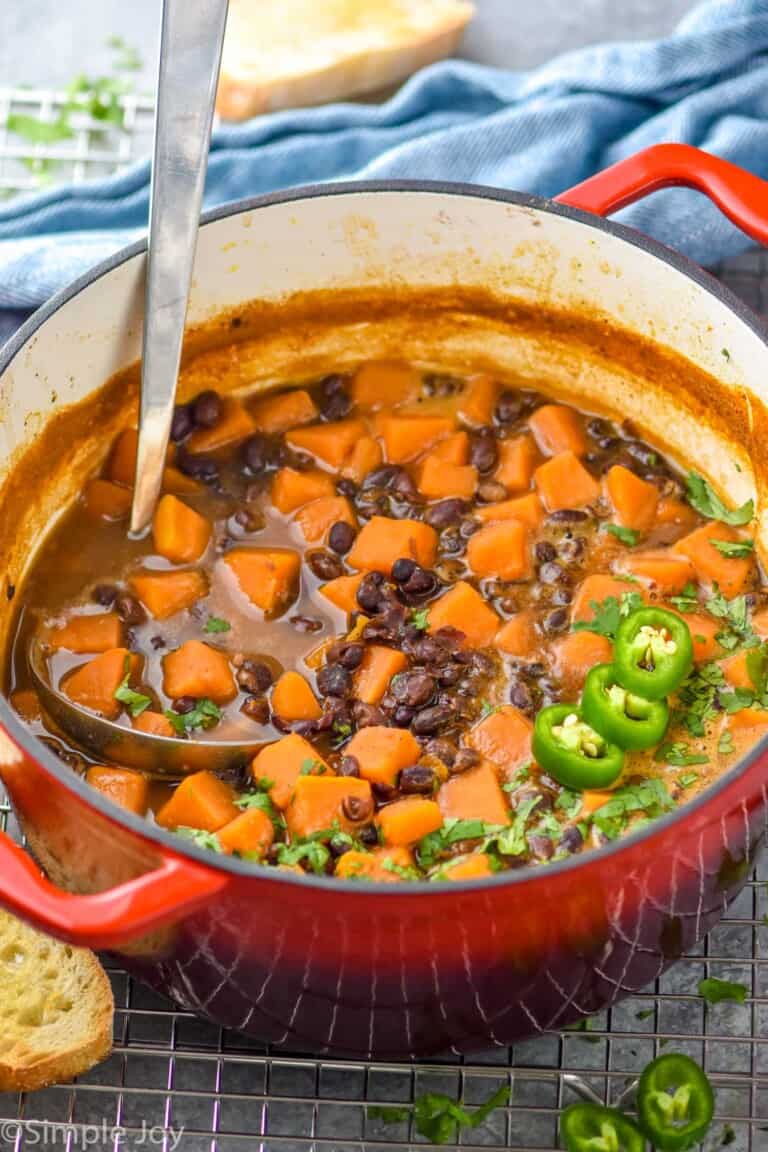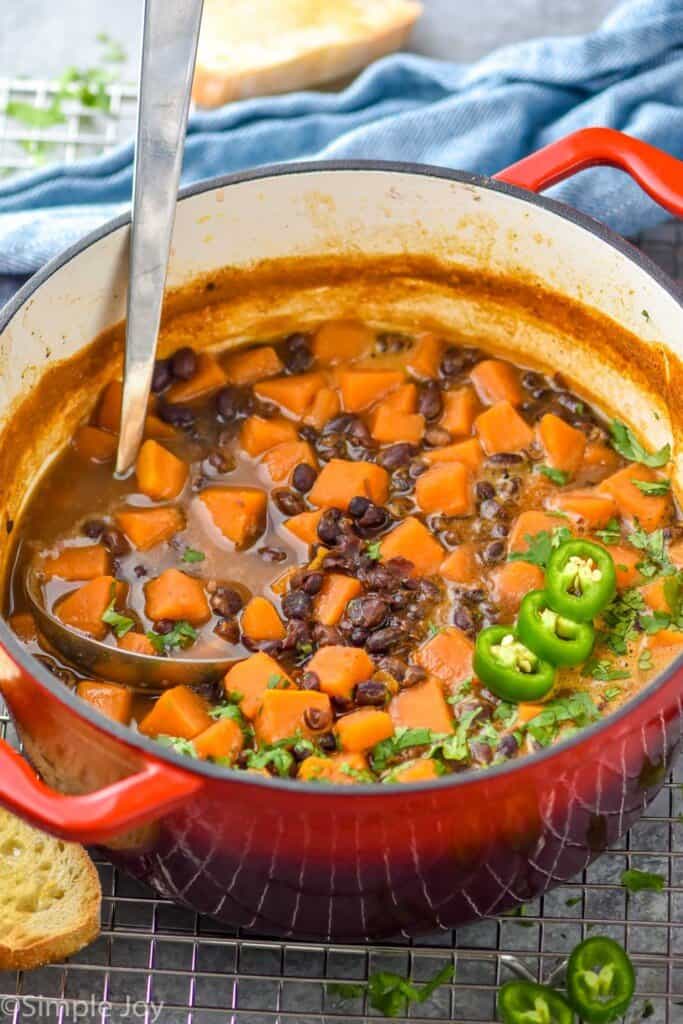 What to Serve with Black Bean Soup
My kids love dipping bread in their soup recipes, so I tend to make one of the following on soup nights.
If you make this black bean soup recipe, leave me a comment and let me know what you think.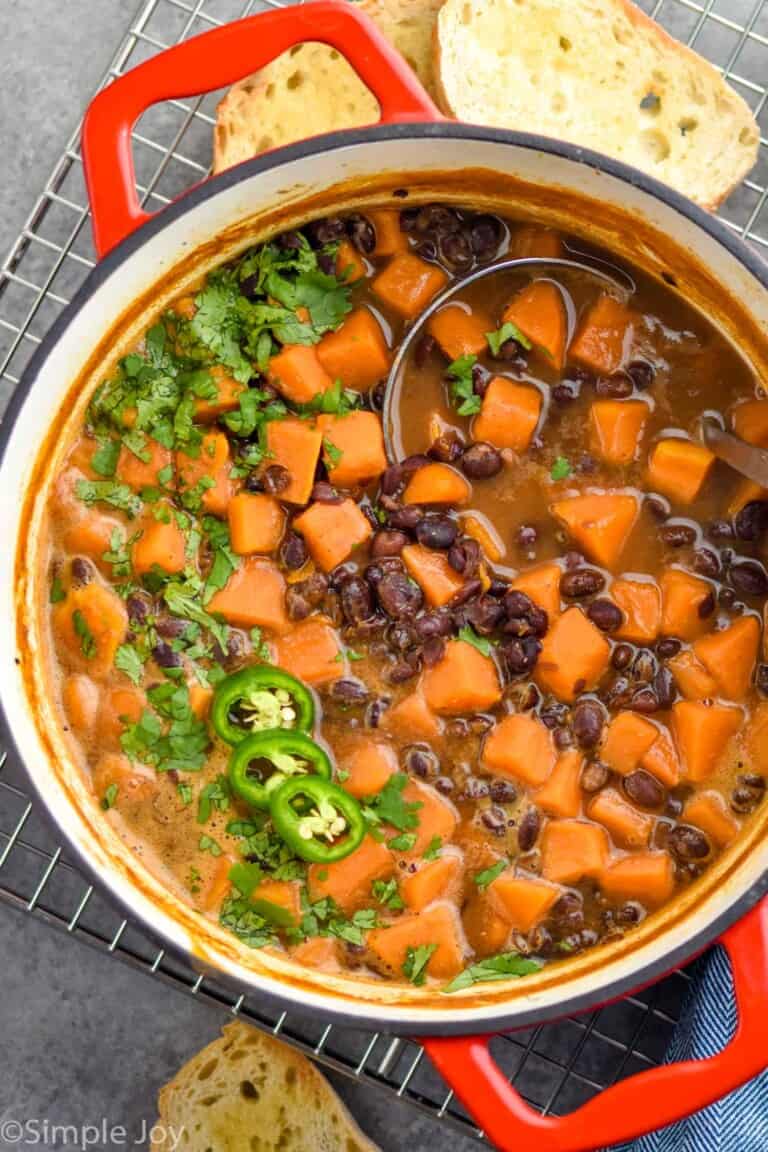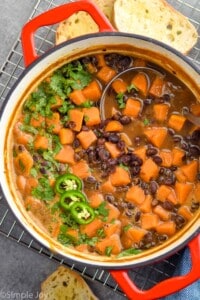 Vegan Black Bean Soup
This Vegan Black Bean Soup recipe is full of rich delicious flavor while being easy to make and budget friendly. It is sure to go into your meal rotation.
Ingredients
2

tablespoons

olive oil

2

large sweet potatoes

rinsed, peeled, and diced

1

teaspoon

kosher salt

1/4

teaspoon

black pepper

45

ounces

canned black beans

drained and rinsed (1 cup set aside)

2

tablespoons

cumin

2

teaspoons

coriander

4

cups

vegetable stock

1 – 2

tablespoons

hot sauce

(such as Franks)
Instructions
In a large dutch oven (or heavy bottomed pot) over medium heat, add the olive oil. Add in the sweet potatoes and season with 1 teaspoon kosher salt and 1/4 teaspoon black pepper. Cook for about 10 minutes, or until the potatoes are soft, stirring occassionaly.

Take the 1 cup reserved black beans and in a bowl mash them with the back of a fork. If need be, you can add a little of the vegetable stock to this to make it easier to mash.

Add the black beans, cumin, coriander, vegetable stock, and the hot sauce to the pot. Then stir in the vegetable stock.

Bring the soup to a boil and then reduce it to a simmer. You should still be able to see grape sized bubbles. Simmer for 10 minutes. Taste the soup and add more salt, pepper, or hot sauce as desired. Serve and enjoy.
Serving:
2
cups
Calories:
430
kcal
(22%)
Carbohydrates:
68
g
(23%)
Protein:
16
g
(32%)
Fat:
8
g
(12%)
Saturated Fat:
1
g
(6%)
Polyunsaturated Fat:
1
g
Monounsaturated Fat:
6
g
Sodium:
1680
mg
(73%)
Potassium:
1238
mg
(35%)
Fiber:
14
g
(58%)
Sugar:
8
g
(9%)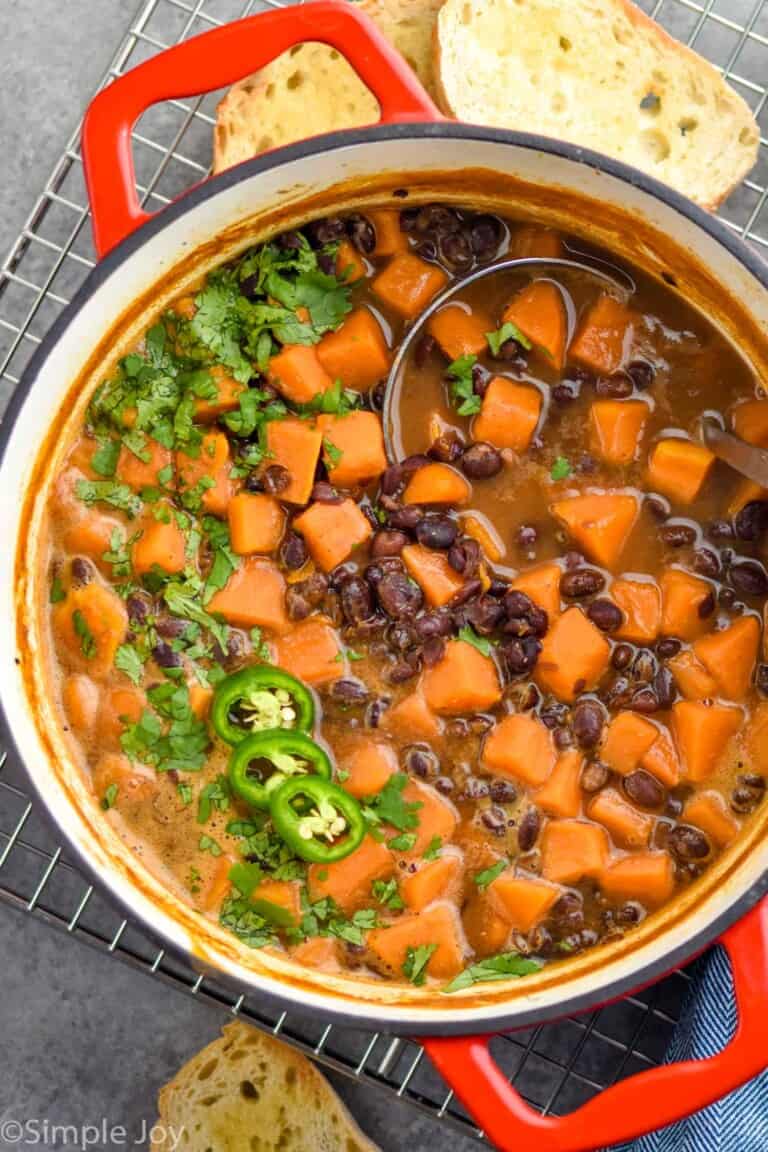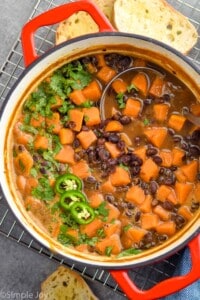 did you make this
Vegan Black Bean Soup