Stuffed Pork Chops seem like a restaurant meal, but it is easy to make in your own kitchen. This great, low carb dinner will win over even picky eaters.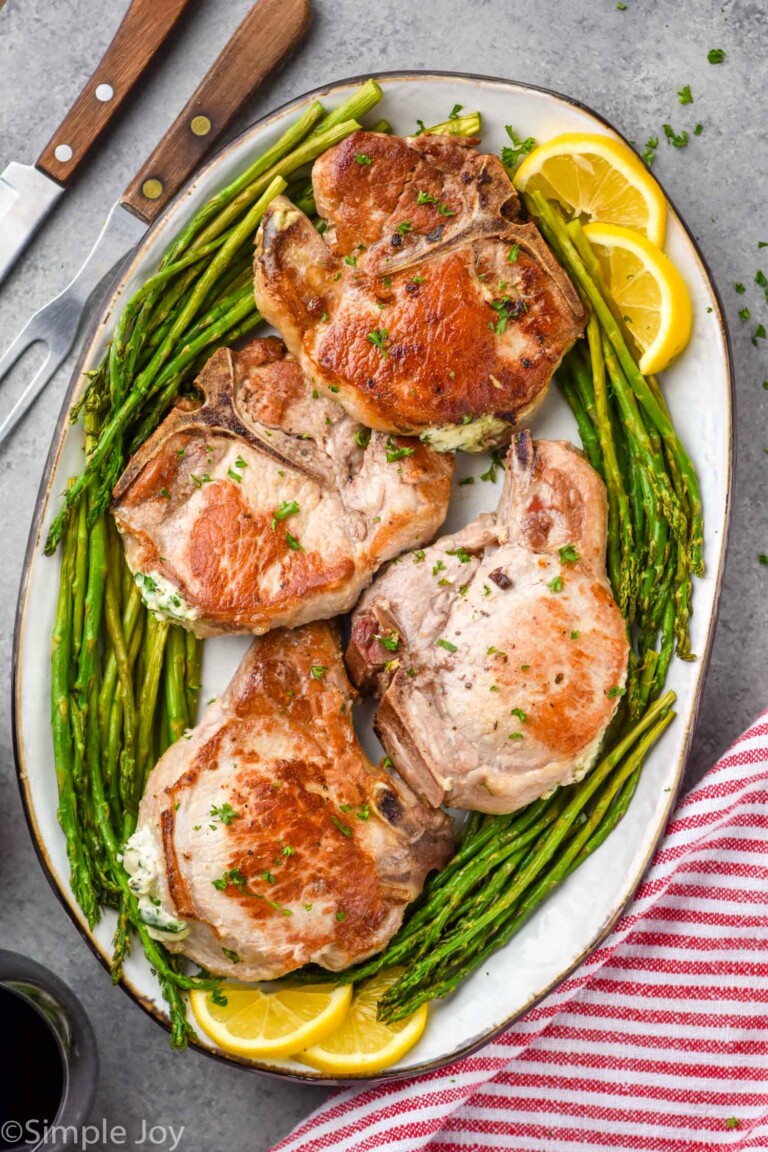 If you are looking for a recipe that is both full of flavor but also low carb, let me introduce you to these amazing Stuffed Pork Chops. Filled with a mixture of cream cheese, seasonings, and cheese then pan fried, these delicious pork chops are going to become a new favorite.
These pork chops with stuffing are easy enough that they can be a great weeknight dinner. But it is so flavorful and has such a great presentation that it is perfect for entertaining. Finally, pork chops are so inexpensive right now, we made this whole meal for just under $15.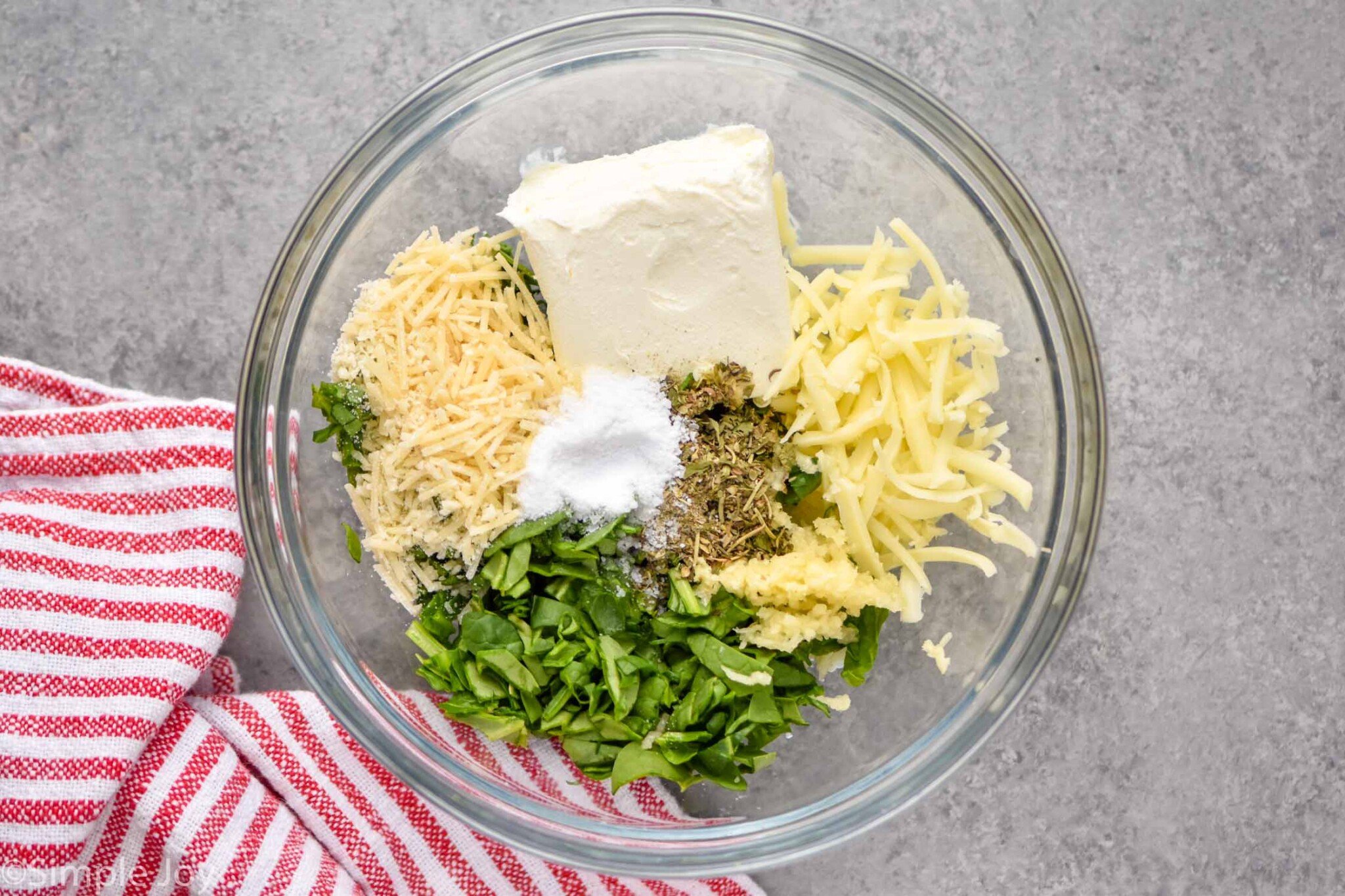 How to Cook Stuffed Pork Chops
This is a brief overview to show you how easy it is to make stuffed pork chops. For the full printable recipe with measurements, make sure to scroll to the bottom of the post.
Make the filling. Combine the cream cheese, mozzarella, Parmesan, fresh spinach, garlic, Italian seasoning, salt and pepper. I don't recommend adding more salt and pepper than is listed as we will be seasoning the pork chops with it as well.
Prepare the pork chops for stuffing. Using a very sharp knife, cut into the pork chop. You will be making about a one inch opening and then moving the knife back and forth to creating a large pocket. This will make enough room for the stuffing while keeping the opening small so the stuffing doesn't leak out.
Stuff the pork chops. Divide the filling into fourths. Carefully stuff each pork chop with a fourth of the filling.
Pan sear the pork chops. Season the chops with kosher salt and freshly ground black pepper. After heating vegetable oil in a large hot skillet, add the pork chops and sear them for six minutes on each side.
Transfer to the oven. We are going to finish off the pork chops in the oven. You will only bake them in the oven for 15 minutes or until they reach an internal temperature of 135 degrees. Take them out of the oven, tent them, and let them rest until they reach an internal temperature of 145 to 150 degrees.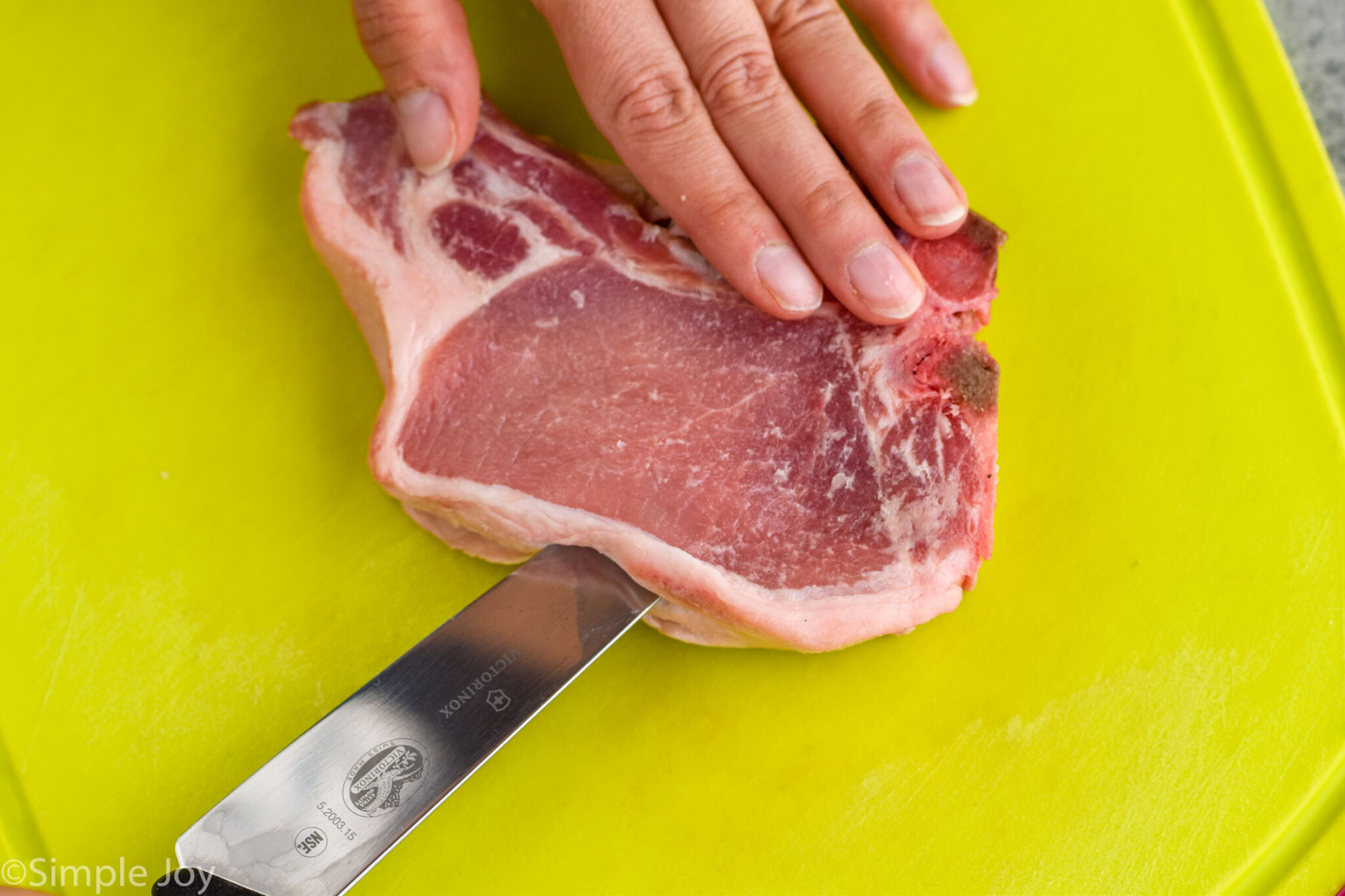 How to Cut Pork Chops for Stuffing
Cutting pork chops for stuffing is very simple, you just want to remember a few important tips.
Pick pork chops that are at least an inch and a half thick. This will allow you to create a nice pocket for the filling without risking cutting through the outside of the pork chops.
Use a very sharp knife when cutting the pocket.
Insert the tip of the knife into the pork chop as shown above.
Move the tip of the knife back and forth within the pork chop to create a large pocket. Try to not move the part of the knife that is on the outer edge of the pork chop. This will keep the hole only about an inch in width which will allow the stuffing to stay in while the pork chop cooks.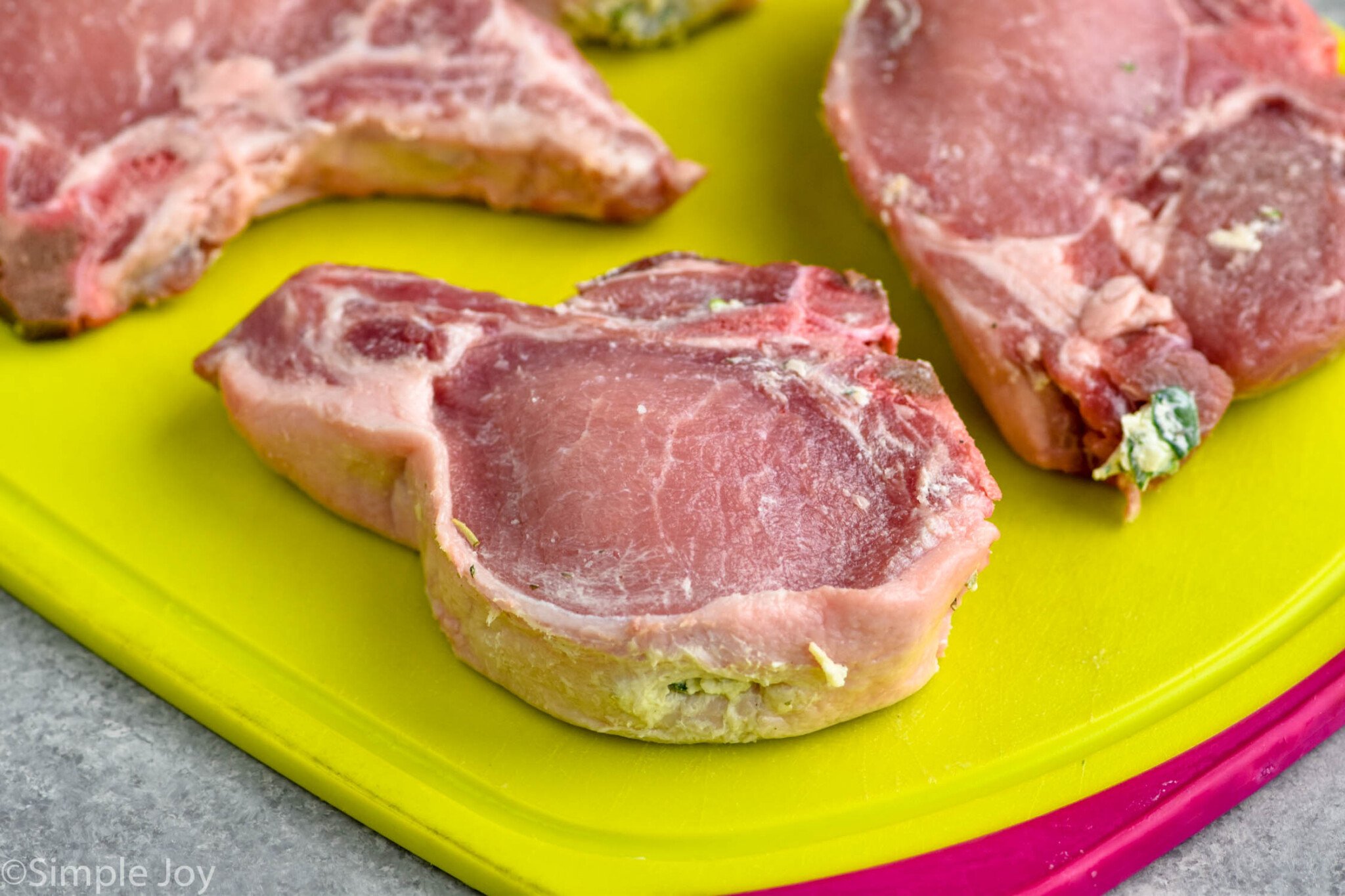 Pan Searing Stuffed Pork Chops
I love the pan searing that we are doing in this recipe. It creates a nice brown crust on the pork chops that deepens the over all flavor.
If you want to skip this portion of the recipe, you can, but I suggest that you use an instant read thermometer that can stay in the pork chop while it bakes. That way you can take them out of the oven right when they hit 135 degrees and you don't have to risk them getting over cooked.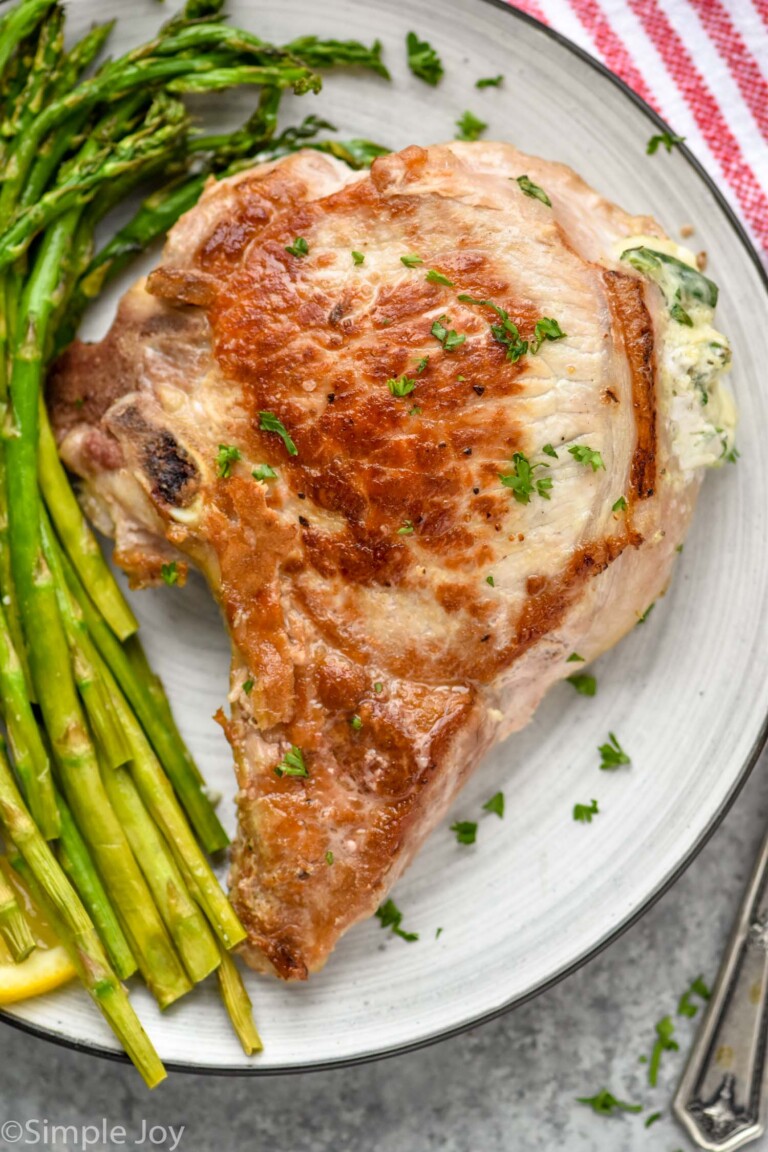 Carry Over Cooking
Carry over cooking is a great little trick done in cooking that helps keep meat from drying out or over cooking. Pork is drastically different when it is overcooked (read: not good). Carry over cooking allows us to reach an internal temperature that is good from a food safety perspective while keeping us from a temperature that is going to dry out the meat.
When meat is removed from the oven, it continues to release heat. It releases heat both to the external air around it, but also to the internal portion of the meat. Therefore, when you pull meat out of the oven, the internal meat will continue to cook and the internal temperature will continue to rise.
Pork is safe to eat at 145 degrees Fahrenheit. Pulling stuffed pork chops out of the oven when they reach an internal temperature of 135 degrees Fahrenheit and then letting them rest, tented, for 5 to 10 minutes will bring the final temperature to 145 degrees. If you are working with pork chops that are 1 1/2 inches thick, it will take approximately 15 minutes to hit 135 degrees. Of course, the safest course of action is to use an instant read thermometer.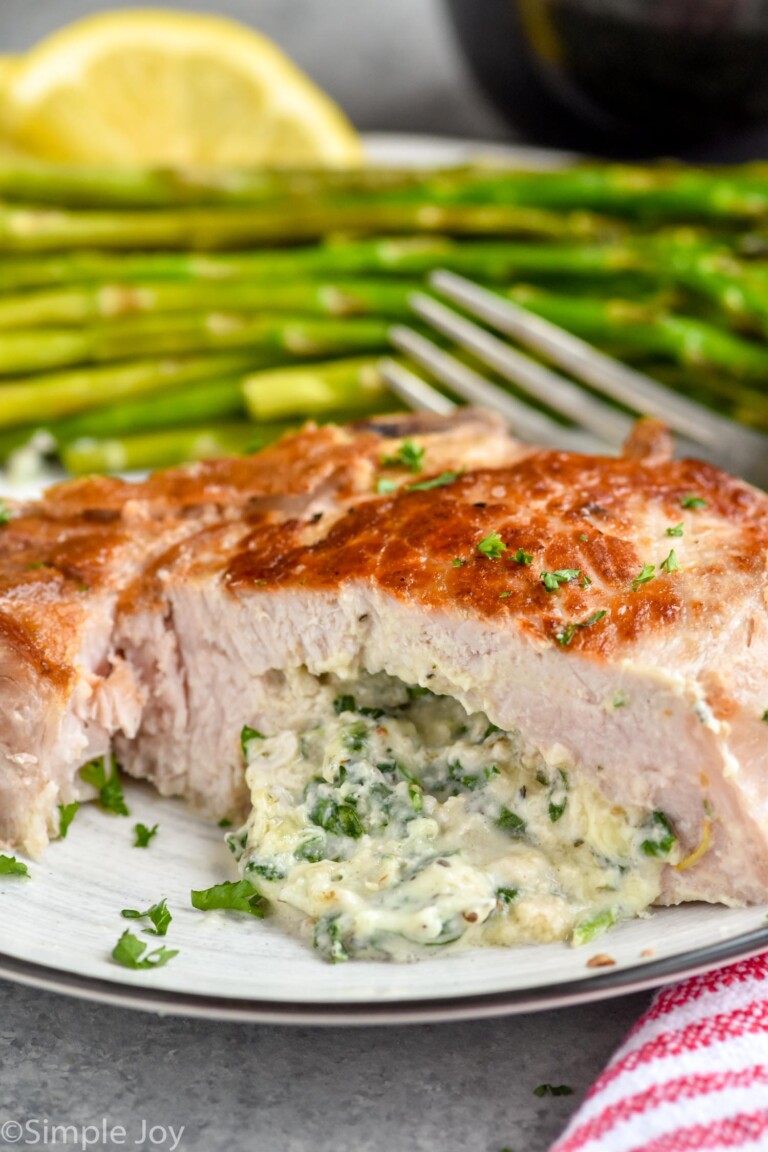 Making Ahead
Stuffed pork chops can be prepared the day before. Make the recipe through step two. This means that you will be prepping the pork chops – making the filling and stuffing the chops – and then placing the pork chops in the refrigerator. This pork chop recipe can be made up to 24 hours in advance and should be stored in the refrigerator in an airtight container until you are ready to make them.
FAQ
Why do we use vegetable oil?
Vegetable oil has a higher smoke point than olive oil, which makes it perfect for pan searing the pork chops. If you want to use just a slightly healthier, albeit a little more expensive, option you could use grape seed oil.
What temperature are stuffed pork chops done?
Stuffed pork chops are done when they reach an internal temperature of 145 degrees. Please read above about carry over cooking and when to take stuffed pork chops out of the oven.
Do pork chops get more tender the longer you cook them?
Unfortunately, no. If you don't think you like pork chops, it is probably because you have had over cooked, tough pork chops. Removing pork chops from the oven when they are 135 degrees and allowing them a few minutes of carry over cooking is critical to enjoying a good stuffed pork chop recipe.
Can I make stuffed pork chops with boneless pork chops?
I would recommend that you stick with bone in pork chops. The bone helps keep the meat really tender and juicy, additionally the cooking times you see here are based on bone in pork chops.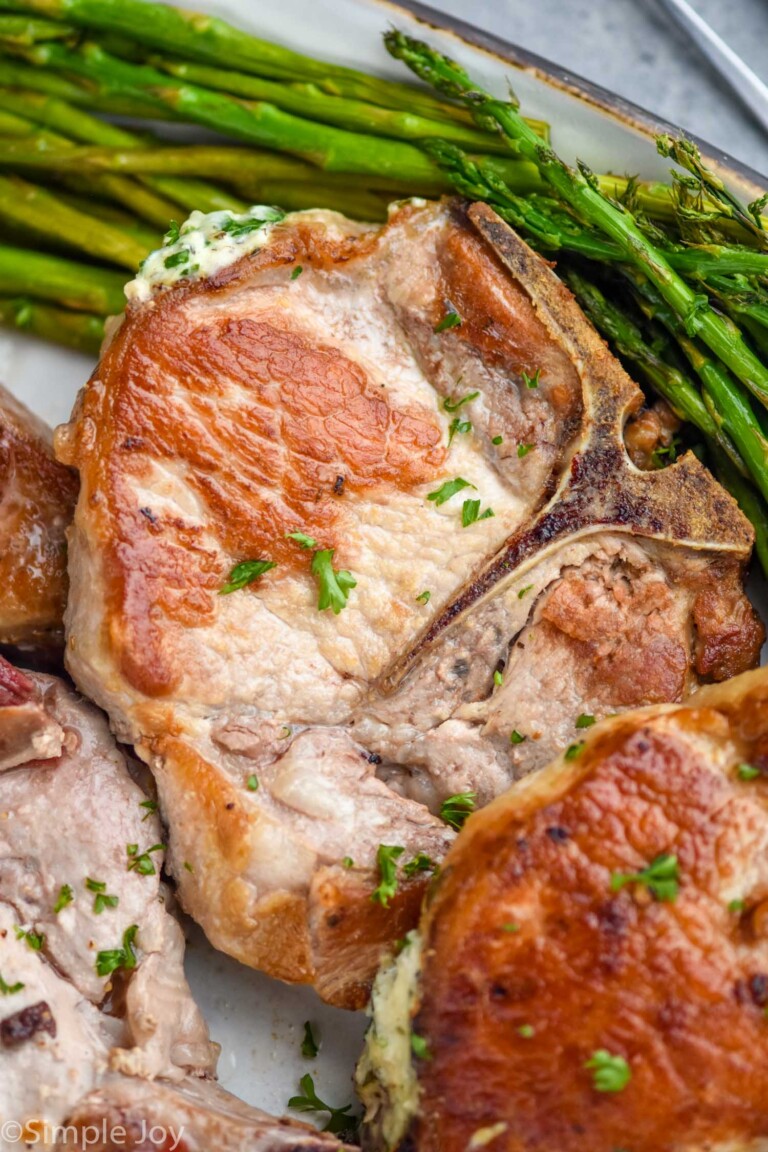 What to Serve with Stuffed Pork Chops
If you make this stuffed pork chop recipe or any of my other recipes, please leave me a comment and let me know what you think!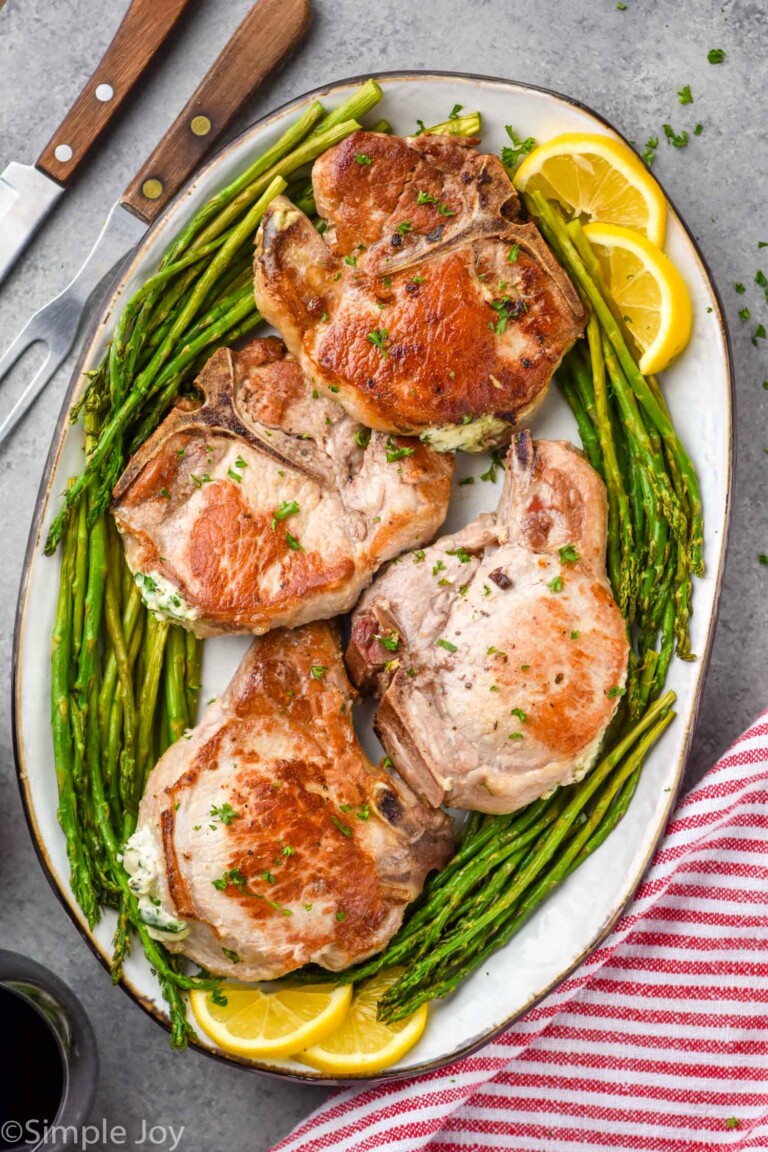 Stuffed Pork Chops
Stuffed Pork Chops seem like a restaurant meal, but it is easy to make in your own kitchen. This great, low carb dinner will win over even picky eaters.
Ingredients
4

ounces

cream cheese

softened

1/4

cup

mozzarella cheese

shredded

2

tablespoons

Parmesan cheese

shredded

1

cup

fresh baby spinach

chopped

2

small garlic cloves

minced

2

teaspoons

Italian Seasoning

1/2

teaspoon

kosher salt

4

bone in pork chops

(at least 1 1/2 inches thick)

2

tablespoons

vegetable oil
Instructions
Preheat your oven to 425 degrees Fahrenheit.

In a bowl, combine the cream cheese, mozzarella, Parmesan, spinach, garlic, Italian seasoning, salt and pepper.

Working with one pork chop at a time, using a very sharp paring knife, carefully trim the excess fat around the chop. Place the tip of knife in the middle of the pork chop, coming in the side at the widest part of the pork chop (see photos in post). Cut into the pork chop carefully and then move the knife back and forth to creat a pocket, being careful not to cut through the sides (or top and bottom) of the pork chop. Repeat with the other three pork chops.

Divide the cream cheese mixture into fourths. Carefully stuff the mixture in the pork chop.

Heat the olive oil in a skillet over medium heat. Pan sear the pork chops for 6 minutes on each side. Transfer the pork chops to a 9 by 13 inch baking dish and place in the oven. Bake for 15 minutes.

Remove the pork chops from the oven and tent with aluminum foil. Let rest until they reach an internal temperature of 145 to 150 degrees. (Read more about carry over cooking here.)
Serving:
1
pork chop
Calories:
483
kcal
(24%)
Carbohydrates:
3
g
(1%)
Protein:
40
g
(80%)
Fat:
34
g
(52%)
Saturated Fat:
13
g
(81%)
Polyunsaturated Fat:
6
g
Monounsaturated Fat:
11
g
Trans Fat:
1
g
Cholesterol:
153
mg
(51%)
Sodium:
563
mg
(24%)
Potassium:
681
mg
(19%)
Fiber:
1
g
(4%)
Sugar:
1
g
(1%)
Vitamin A:
1178
IU
(24%)
Vitamin C:
2
mg
(2%)
Calcium:
148
mg
(15%)
Iron:
2
mg
(11%)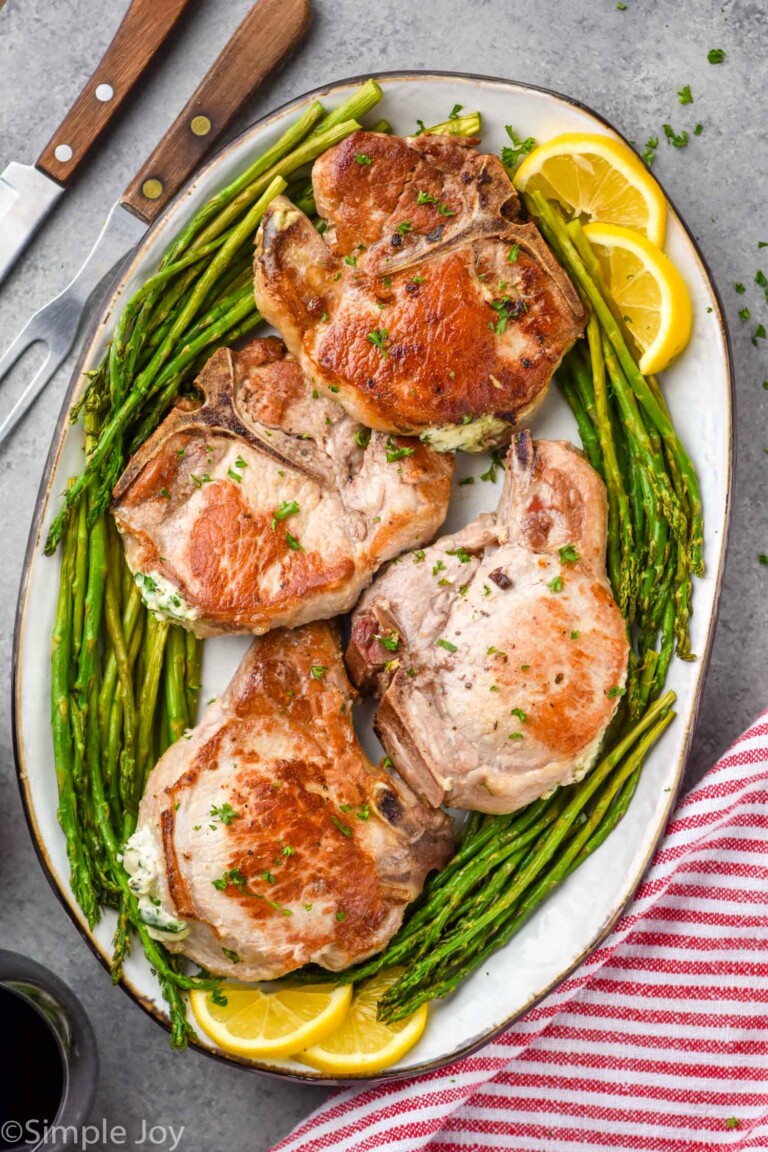 did you make this
Stuffed Pork Chops