Mashed Cauliflower will blow your mind. It is low carb, but tastes like decedent mashed potatoes. This easy swap will become your new favorite side dish.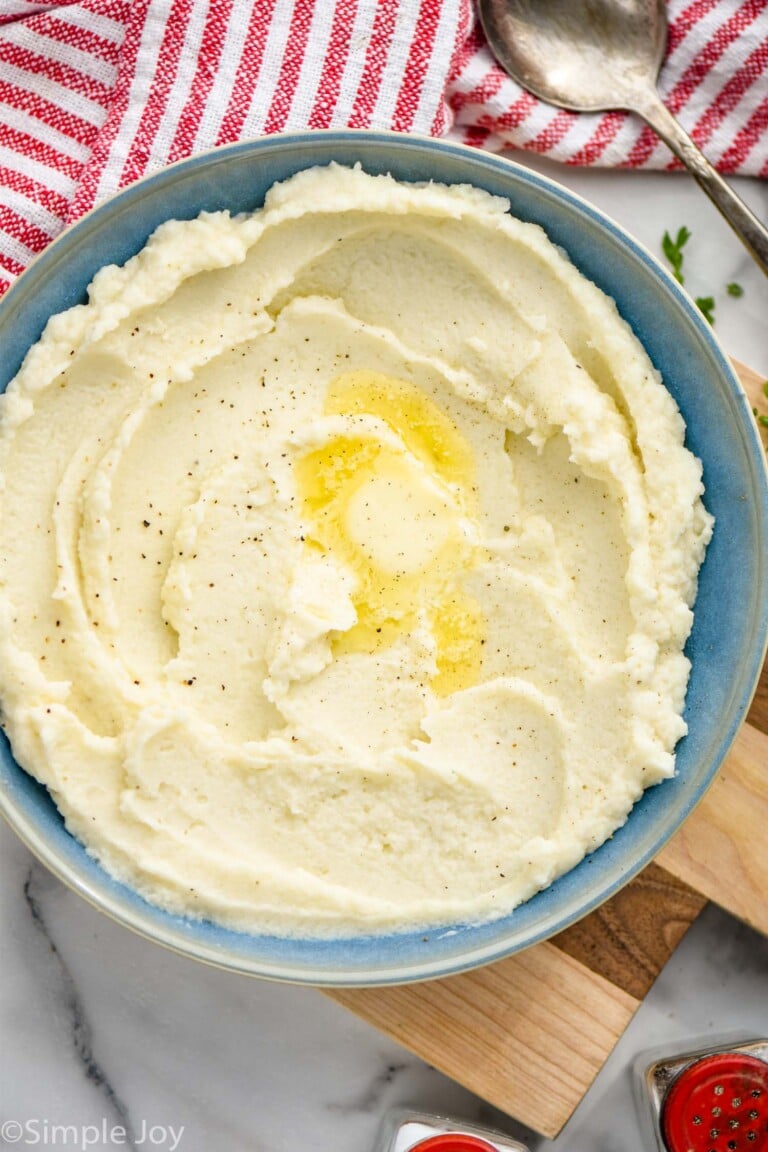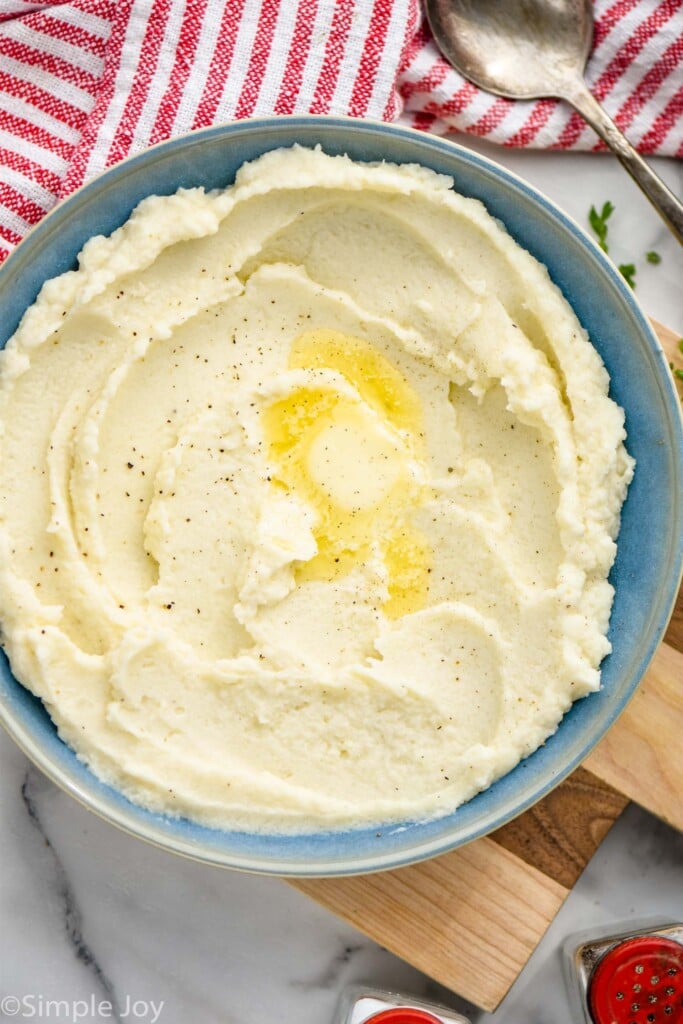 For a while now I've kind of been trying to avoid the low carb fad. I mean, can there really be a world where I will prefer "cauliflower rice" over white rice? I'm not so sure.
But the reality of it is that I have a lot of readers who are requesting low carb recipes. A lot. Readers who have recently been diagnosed with diabetes and other health issues who really need lower carb recipes. I always want to be a helpful resources that leads you to love being in the kitchen.
With that I give you this amazing Mashed Cauliflower recipe. In addition to being low carb, it is incredibly delicious. It has a buttery smooth texture and a delicious garlic flavor. On top of all of that it is really easy to make.
Reader Review
This was delish! Cooking the cauli this way was waaaaay better than any other way that gets it water-logged. It was very close to mashed potatoes. We loved it! I shared it. Thanks.
How to Make Mashed Cauliflower
Cut the core out of the cauliflower. See the photos and detailed description below.
Chop the cauliflower fine. Either using a knife or a food processor, chop the cauliflower so it is as small as rice.
Sauté garlic in butter. You want to cook it just until it becomes fragrant, being careful not to burn it.
Add the cauliflower to the garlic and butter mixture. Season it with salt and pepper and cook it for about three to four minutes.
Let the cauliflower simmer. Add two tablespoons of water to the cauliflower, turn down the heat, and cover it. Cook for 15 minutes, stirring a few times while it cooks.
Blend the cauliflower. Add one last tablespoon of butter to the cauliflower and then blend it. I like using an immersion blender, but you can transfer it to a traditional blender to blend smooth.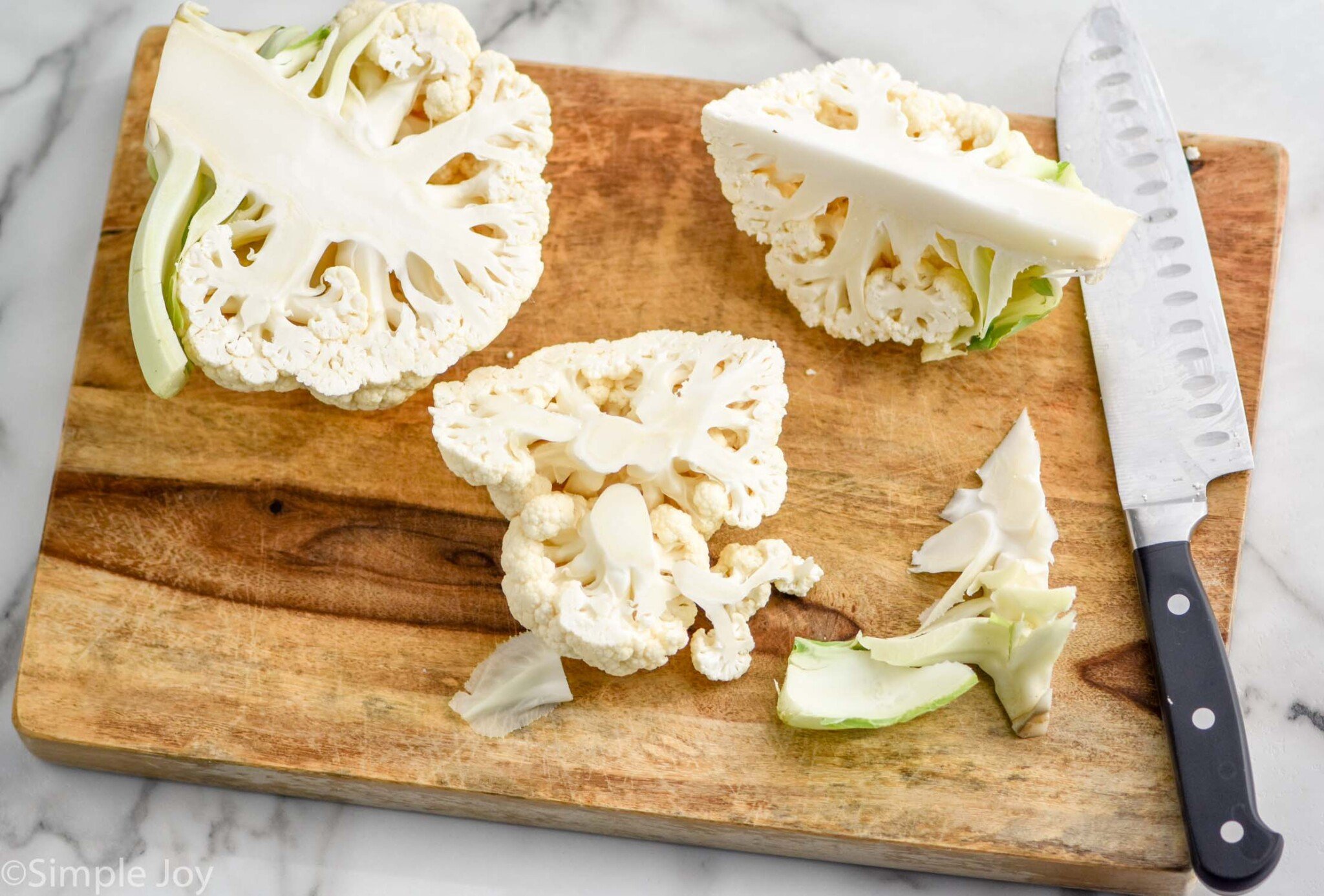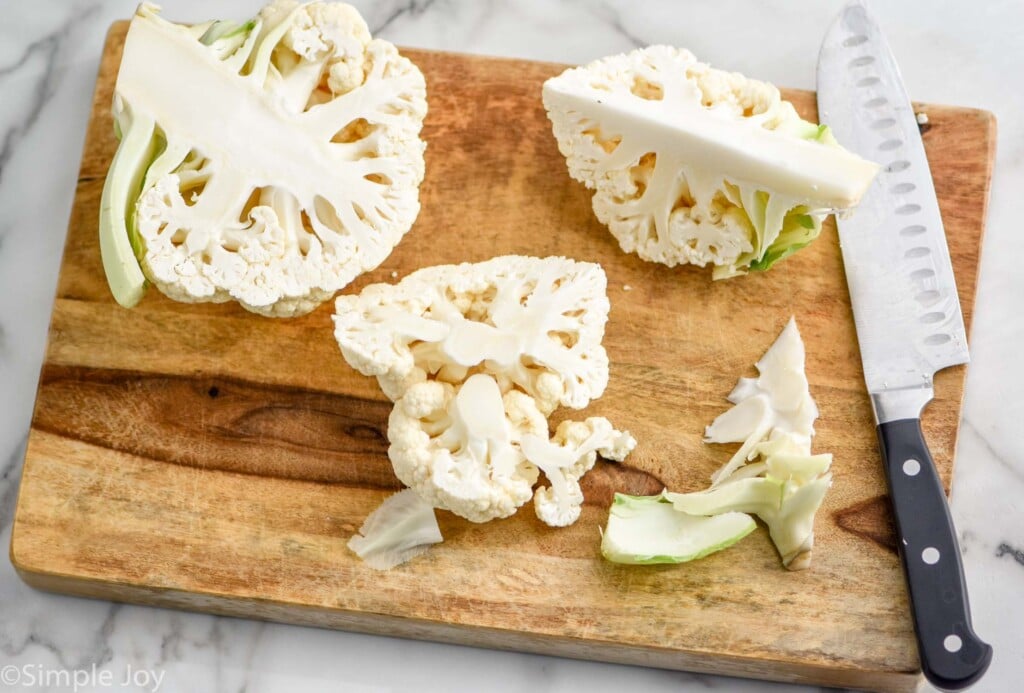 Cutting Cauliflower
Cutting up cauliflower is really simple. I like to cut it in fourths and then cutting on an angle, cut out the core of the cauliflower (see the photo above). For this recipe, you can keep the pieces of cauliflower relatively big and then put them in the food processor to chop small.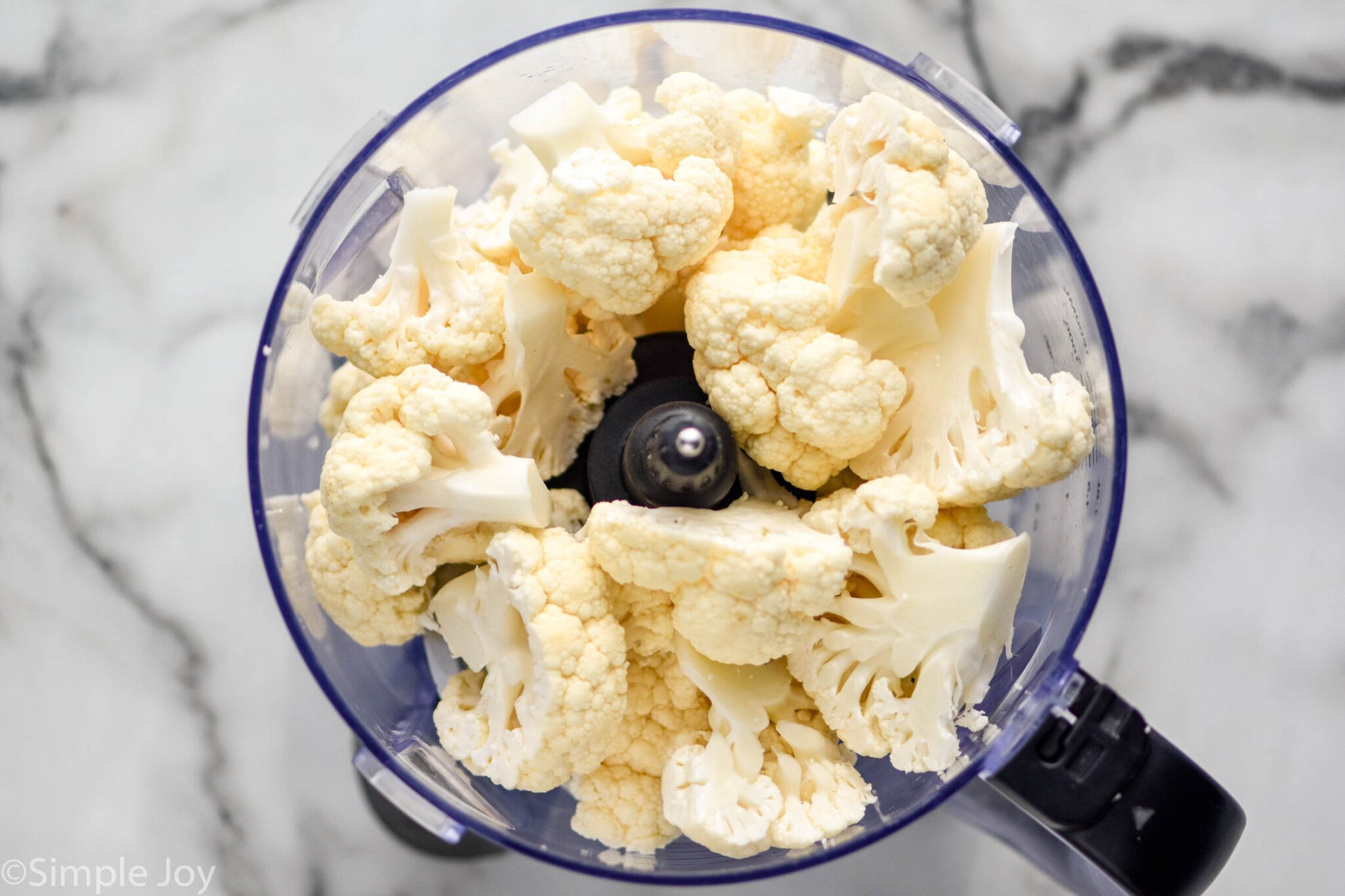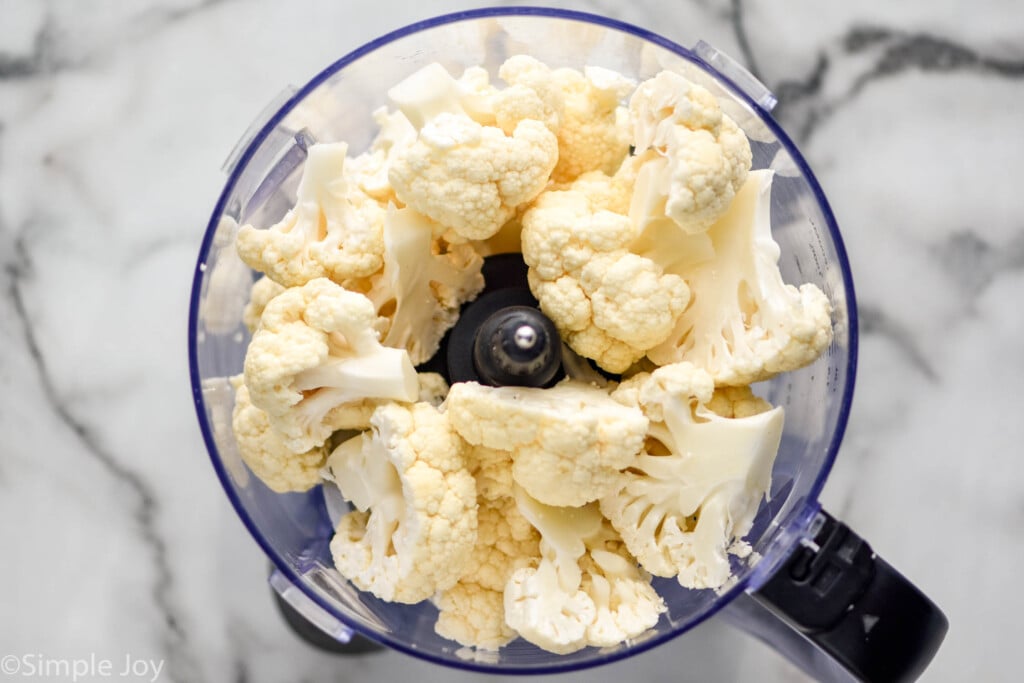 Using a Food Processor
Part of what keeps this recipe quick is chopping the cauliflower fine. It allows it to cook faster and become tender much more quickly. While you can certainly do that with a knife, that kind of defeats the purpose of speeding it up. The food processor is a great solution to this. A few seconds in there and it is the exact right size.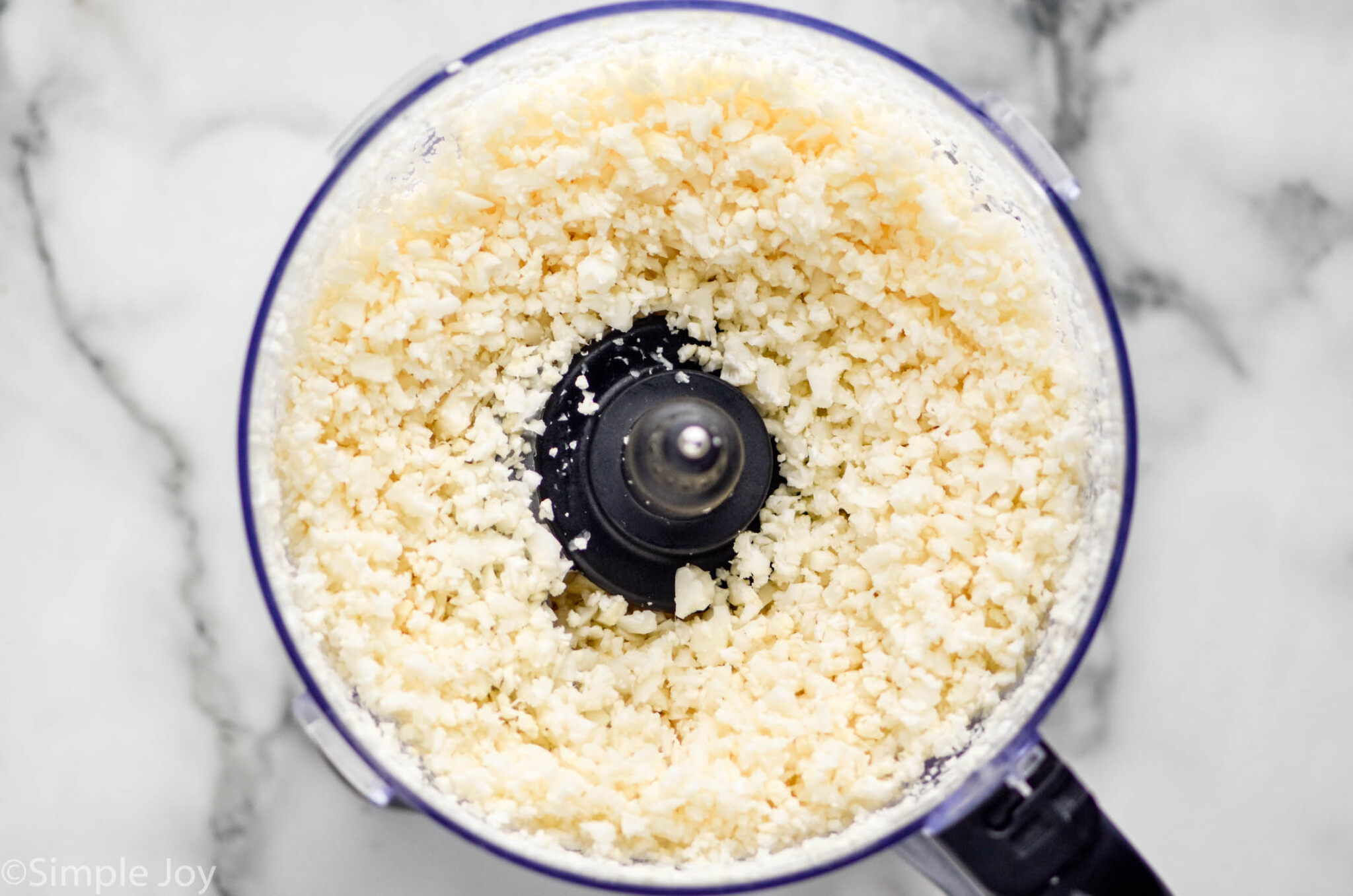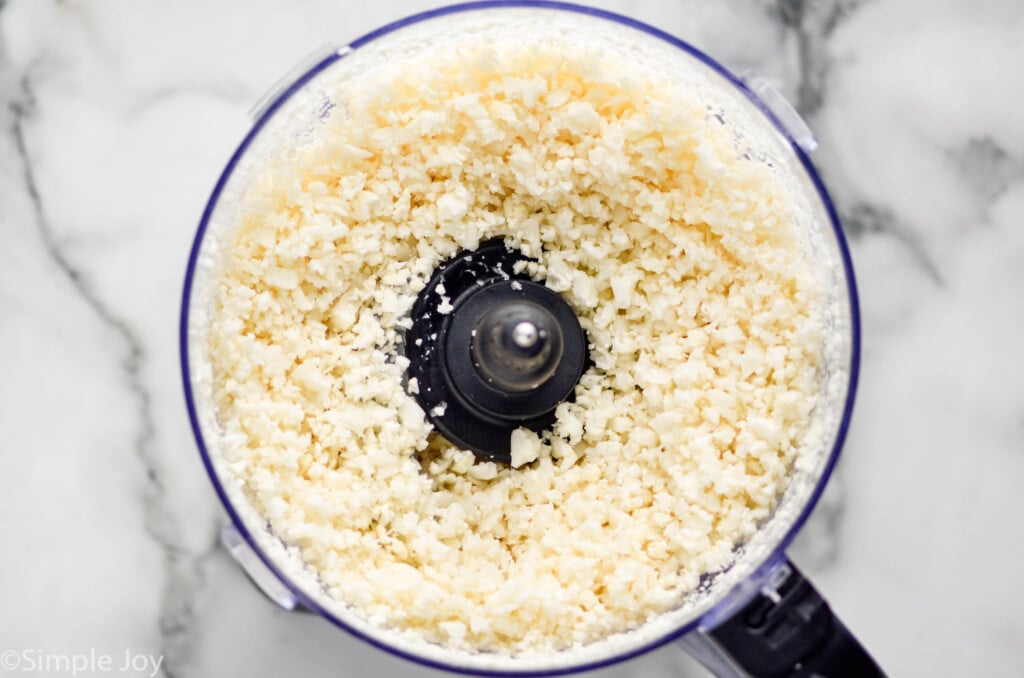 Skip Boiling Cauliflower
A lot of cauliflower mashed potato recipes call for the cauliflower to be boiled. Then when it is tender and soft you drain it and blend it. While this works perfectly fine, what I don't like about it is the loss of the nutrients.
When you boil vegetables the nutrients from them go into the water. If you are draining them after, all of those nutrients are going down the drain. There are some recipes where it really is the best method to make for a quick meal, but this isn't one of them.
In this recipe we are sautéing the cauliflower and then adding just a small amount of liquid to them, that stays in. This way all of the nutrients the cauliflower brings to the party stays in the final dish.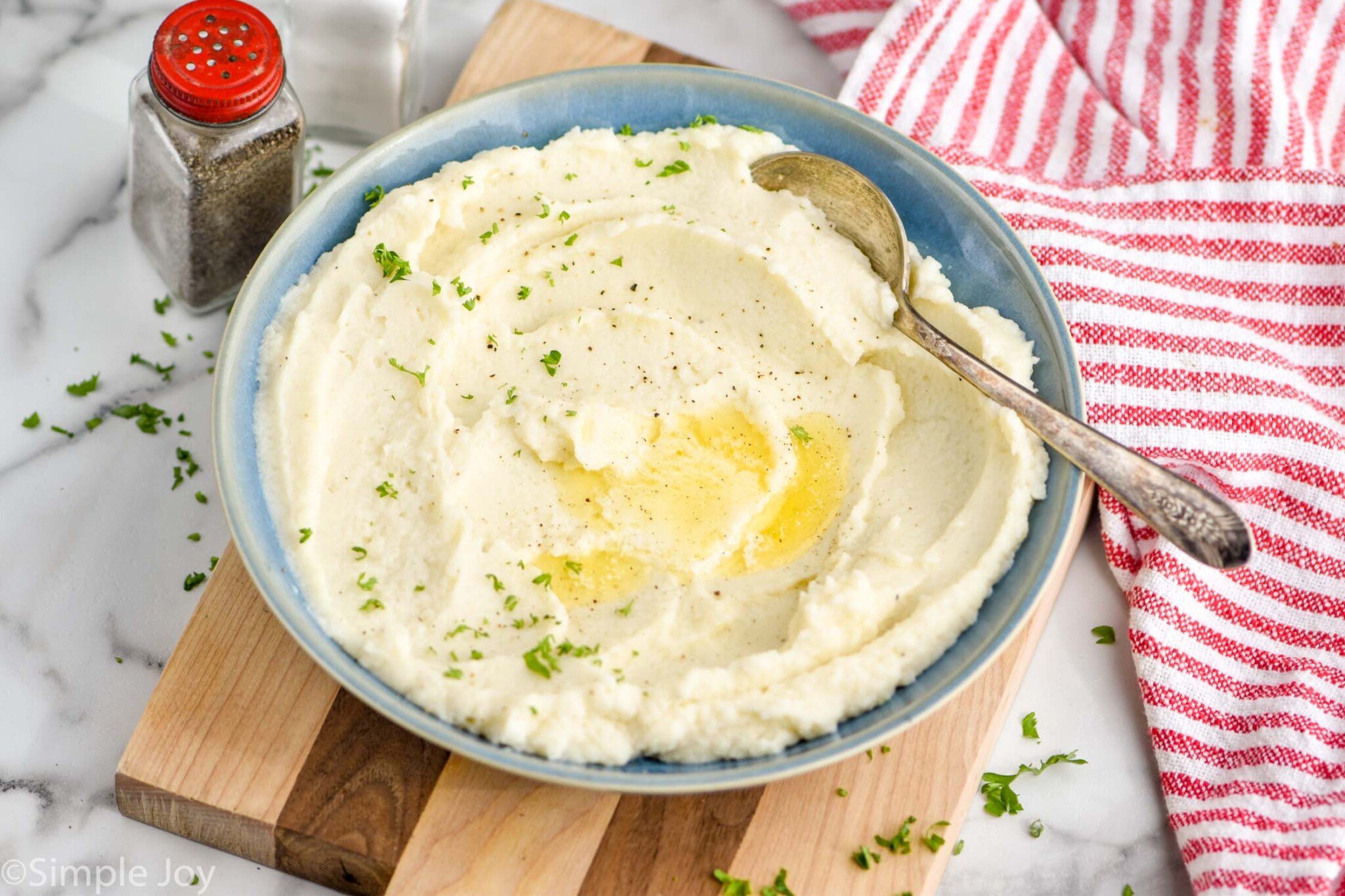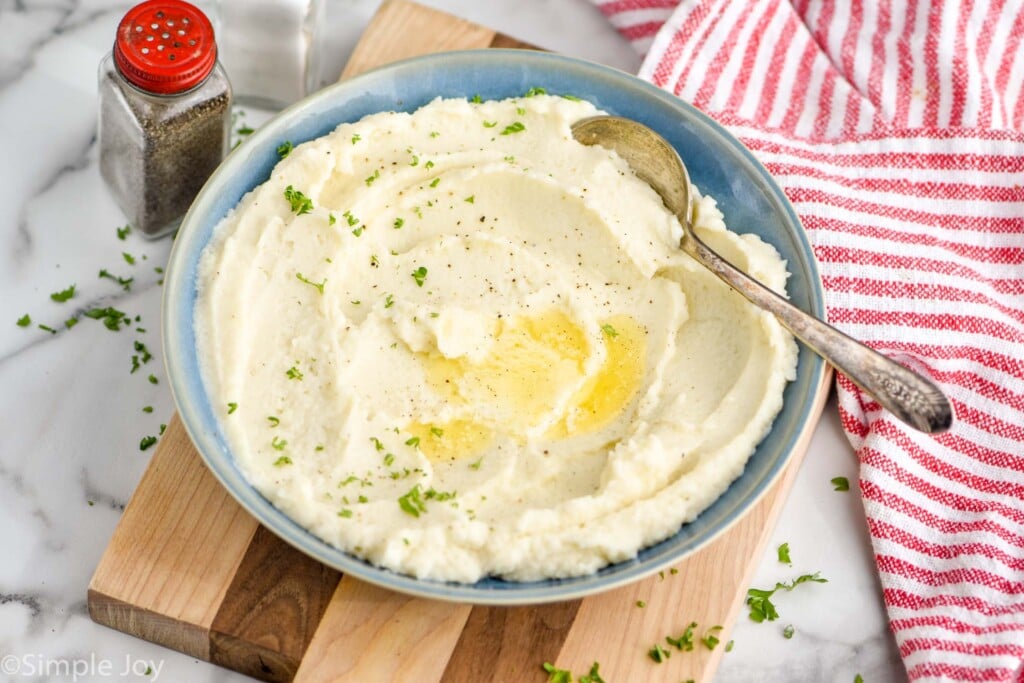 Mashed Cauliflower Variations
As dietary needs vary greatly, I wanted to give you a few options for this recipe.
Cut back on the butter. It is totally possible to make this with less butter. Start out sautéing the garlic in only two tablespoons of butter and then forgo the last tablespoon at the end.
Use olive oil instead. Sauté the garlic in two tablespoons of olive oil to start. No need to add more at the end.
Skip the garlic. I will be honest, I think this is a mistake. But if you need a more bland recipe, this is a way to do it. Just add the finely chopped cauliflower to the butter as soon as it melts.
Make this recipe low sodium. Skip the salt and make sure to use unsalted butter.
Reheating Cauliflower Mashed Potatoes
Store leftovers in an airtight container in the refrigerator for up to three days. When ready to eat, heat covered on half power in the microwave. Or reheat in a saucepan on the stove, adding a small amount of milk or water and stirring regularly.
Freezing Mashed Cauliflower
This recipe is a great candidate for freezing because it contains no milk or sour cream. To freeze:
Make the recipe from start to finish.
Scoop single servings onto a wax paper lined plate.
Freeze for four hours. Then transfer to an air tight container.
Store in the freezer for up to three months.
Thaw in the refrigerator overnight and then reheat using the instructions above.
FAQ
Are cauliflower mashed potatoes healthy?
This recipe is low in carbohydrates, but it does have a significant amount of butter in it. To make it healthier, cut the butter down to just two tablespoons. Use that to sauté in the beginning and don't add more at the end. To make it healthier still, swap the butter for olive oil.
Can you freeze cauliflower mashed potatoes?
Yes! I like flash freezing these in single portions before transferring them to an airtight container. See my instructions above.
Can mashed cauliflower be made ahead?
Yes! Allow it to cool before storing it in an airtight container in the refrigerator. When you are ready to serve, microwave at half power in a covered baking dish. Or reheat on the stovetop adding a small amount of milk or water and stirring regularly.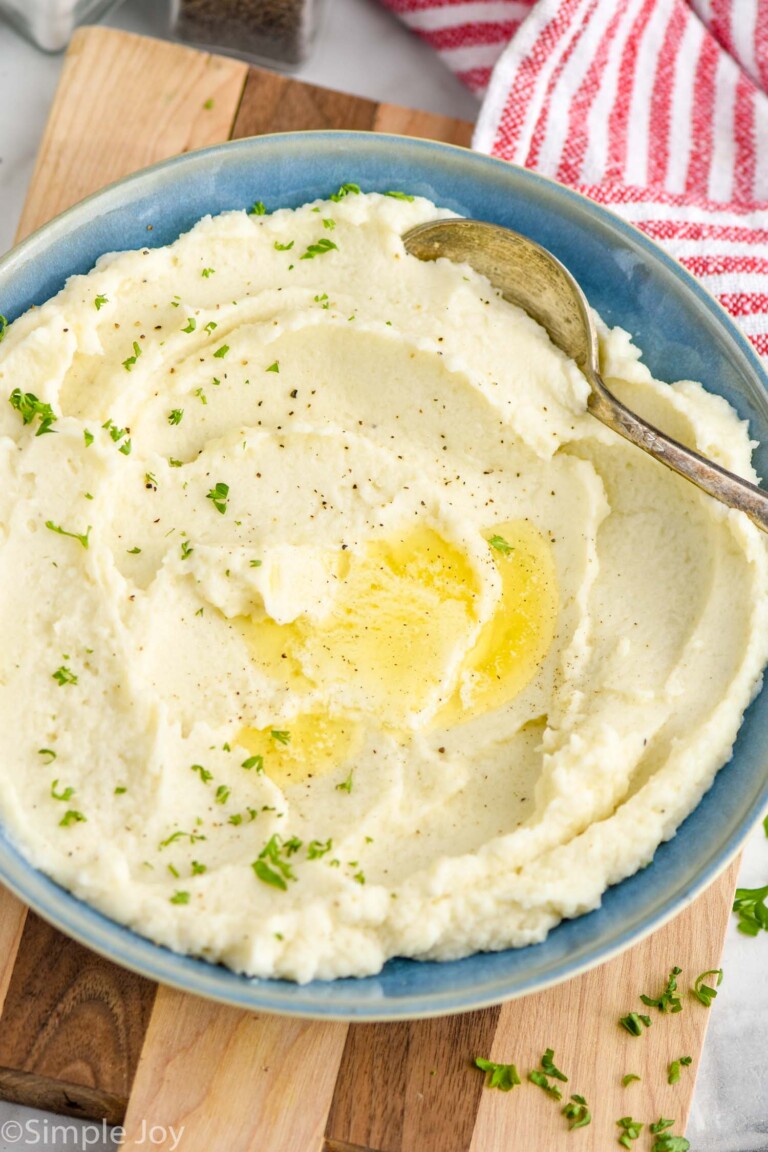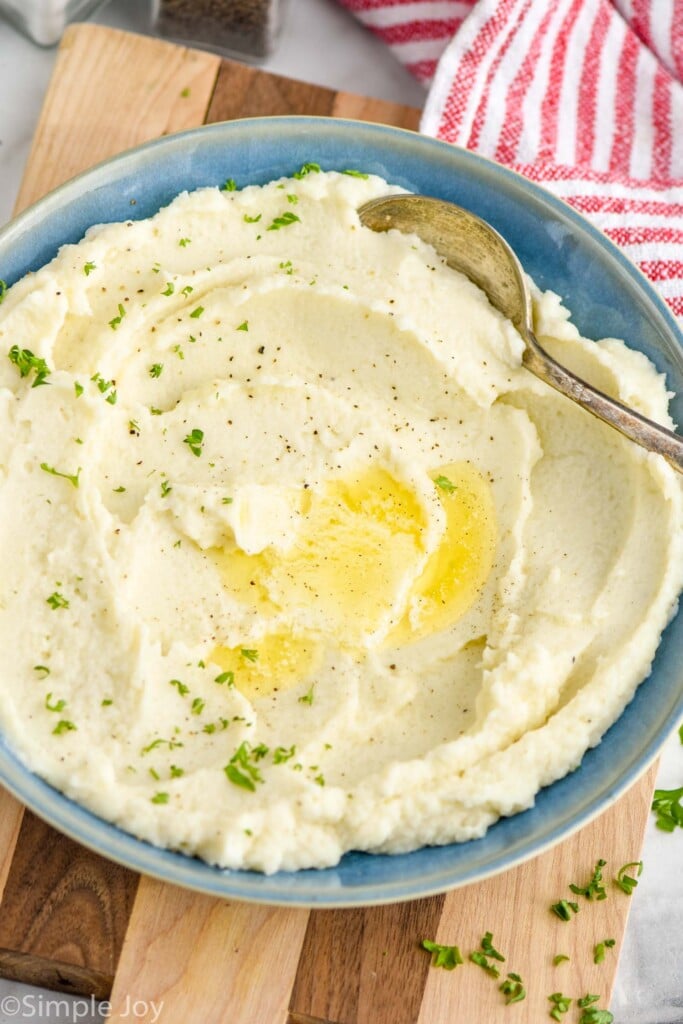 Recipes to Pair with Cauliflower Mashed Potatoes
If you make these Cauliflower Mashed Potatoes or any of my other recipes, please leave me a comment and let me know what you think. I love hearing from you.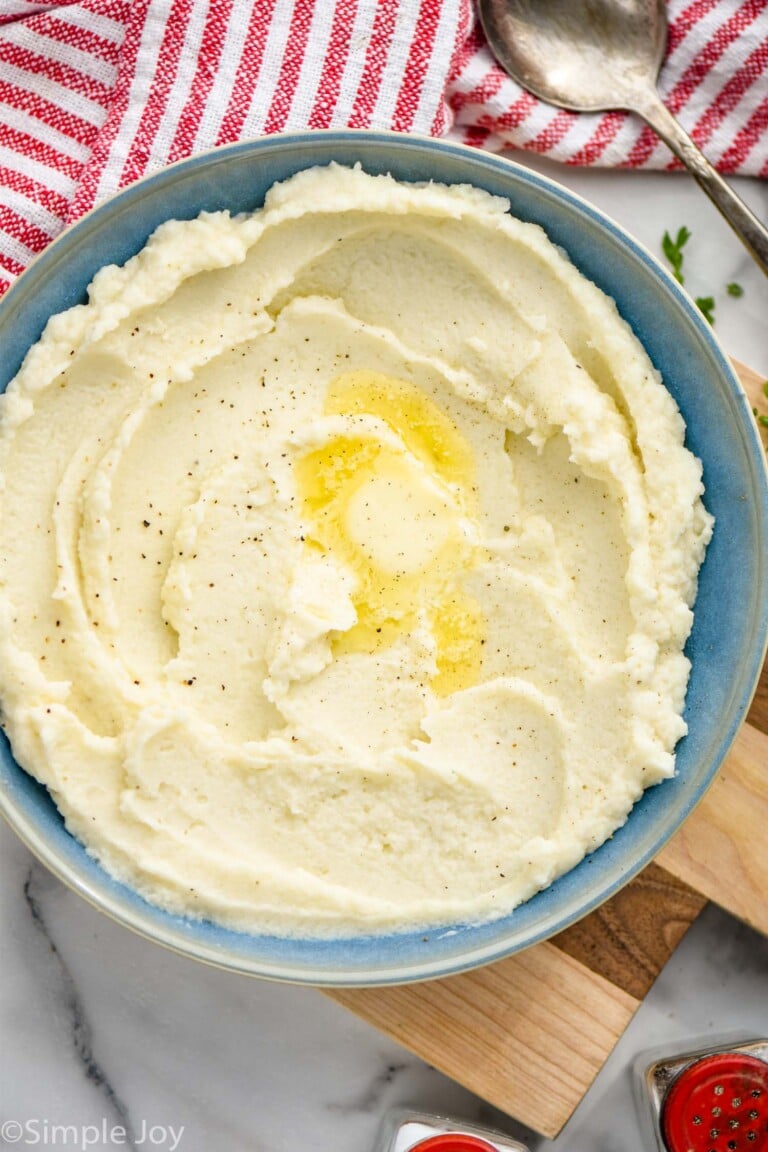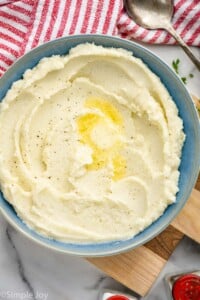 Mashed Cauliflower
Mashed Cauliflower will blow your mind. It is low carb, but tastes like decedent mashed potatoes. This easy swap will become your new favorite side dish.
Ingredients
1

head cauliflower

4

tablespoons

unsalted butter

divided

1

clove

garlic

minced

1

teaspoon

kosher salt

(or 1/2 teaspoon table salt)

dash freshly ground black pepper
Instructions
Cut the cauliflower in half and then into forths. Cutting on an angle, cut the core out of each fourth (see photos in the post). Place the cauliflower florets in a food processor to chop into small pieces. Alternatlively, chop by hand with a large sharp knife.

In a large dutch oven or a deep skillet, melt 3 tablespoons of butter. Add the garlic and sauté for 30 seconds unitl the garlic is fragrant, being careful not to burn it.

Add the cauliflower, and season with 1 teaspoon kosher salt and a dash of freshly ground black pepper. Sauté the cauliflower for 3 to 4 minutes until it turns light tan. Add two tablespoons of water to the pot, turn the heat down low and cover for 15 minutes, stirring a few times during cooking.

Add the last tablespoon of butter, and using an imerssion blender, blend the cauliflower until smooth. Taste and add more salt and pepper as necessary. Or even a dash of onion powder.
Calories:
137
kcal
(7%)
Carbohydrates:
7
g
(2%)
Protein:
3
g
(6%)
Fat:
12
g
(18%)
Saturated Fat:
7
g
(44%)
Trans Fat:
1
g
Cholesterol:
30
mg
(10%)
Sodium:
626
mg
(27%)
Potassium:
436
mg
(12%)
Fiber:
3
g
(13%)
Sugar:
3
g
(3%)
Vitamin A:
350
IU
(7%)
Vitamin C:
70
mg
(85%)
Calcium:
37
mg
(4%)
Iron:
1
mg
(6%)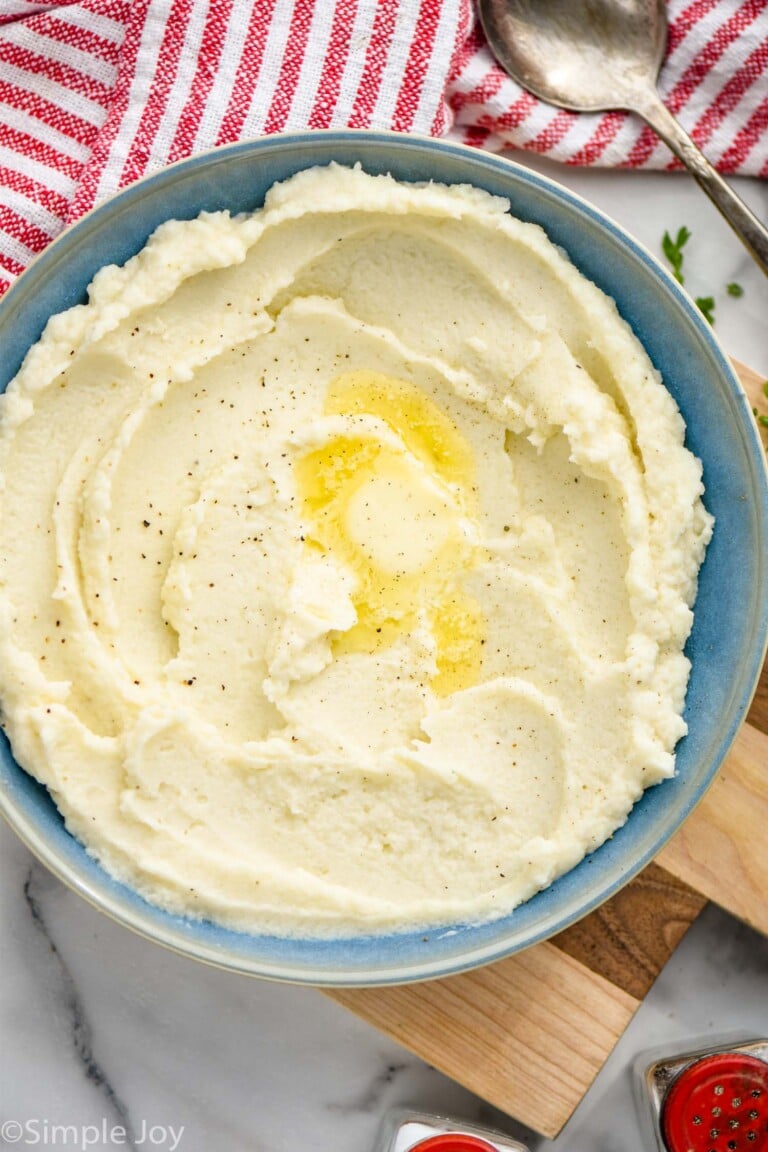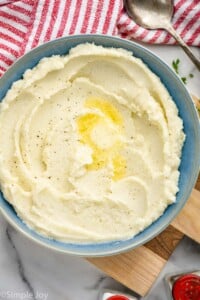 did you make this
Mashed Cauliflower