Mississippi Pot Roast is an incredibly popular and easy slow cooker dinner recipe. With just five simple ingredients, you can make comfort food your family will love to come home to.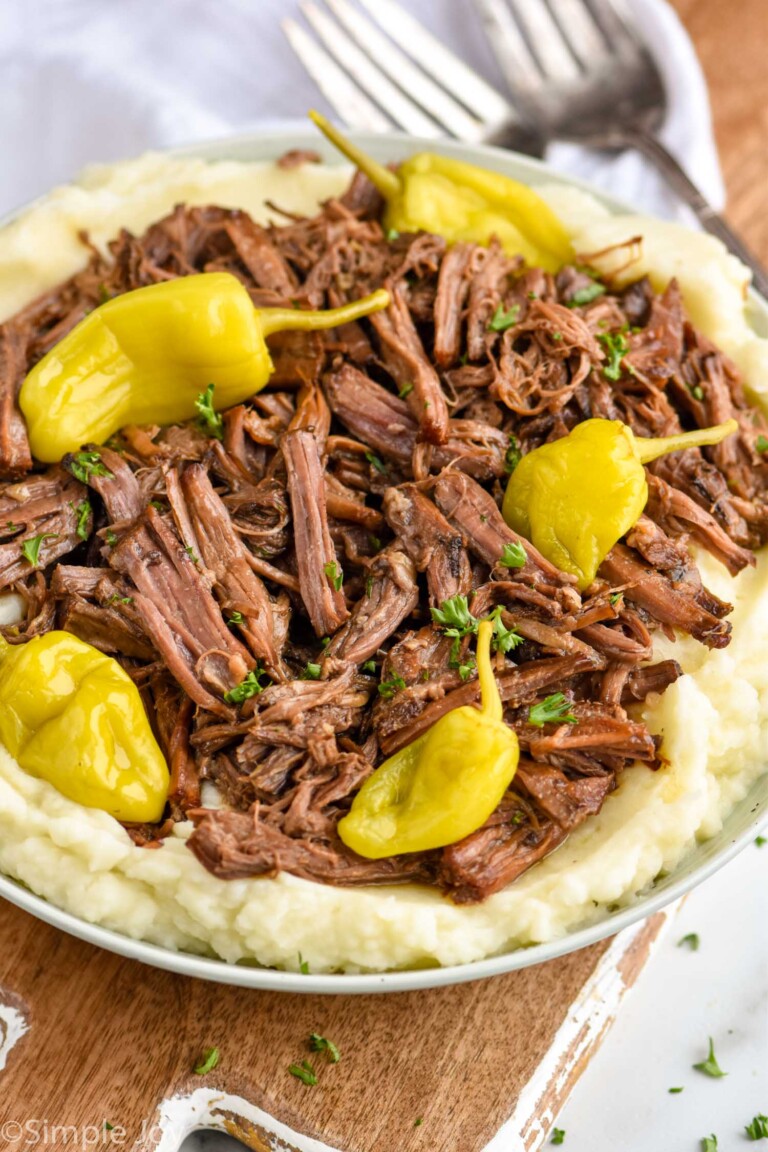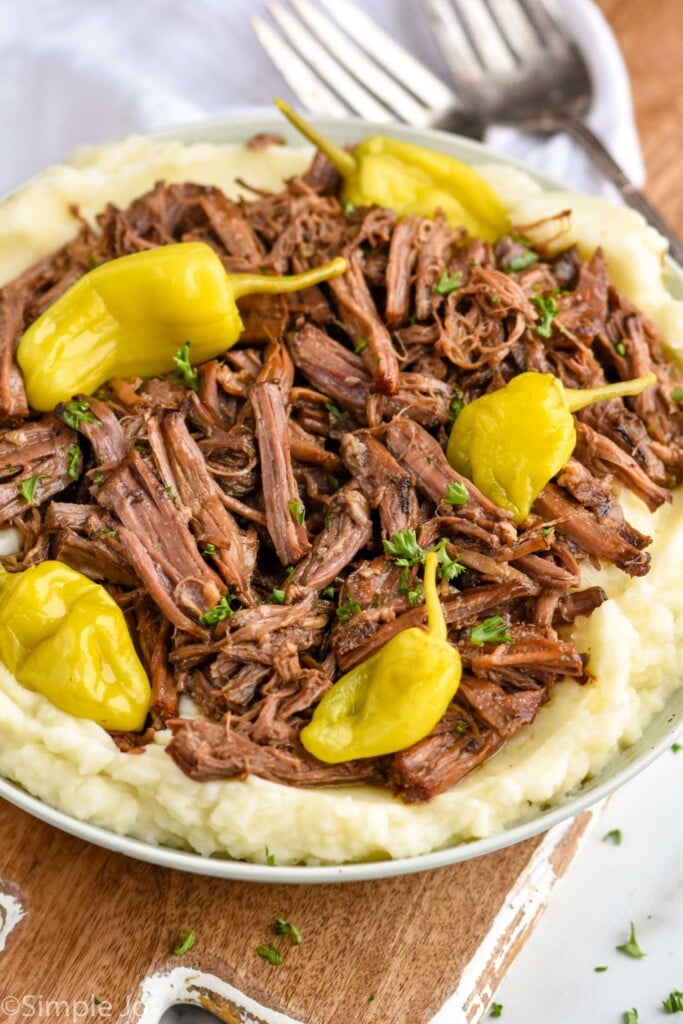 Our family loves slow cooker dinners. They just relieve so much stress during busy weeks. It is great to have something easy to come home to.
This Mississippi Pot Roast recipe is a perfect example. It takes just minutes to throw together in the morning and is much simpler spin on traditional pot roast. Then you can come home from work to a delicious dinner, that is done, and that everyone will love.
What is Mississippi Pot Roast
I kind of love the history behind this dish. It came from a Mississippi resident, Robin Chapman who wanted to make her aunt's Pot Roast recipe more kid friendly. With just a few simple ingredients she went on to create a dish that would be shared in church cookbooks and become wildly popular.
I just wish for her sake it was known as the Robin Chapman Pot Roast.
It is the simple combination of chuck roast, butter, pepperoncini peppers, a packet of ranch dressing mix, and a packet of au jus gravy mix.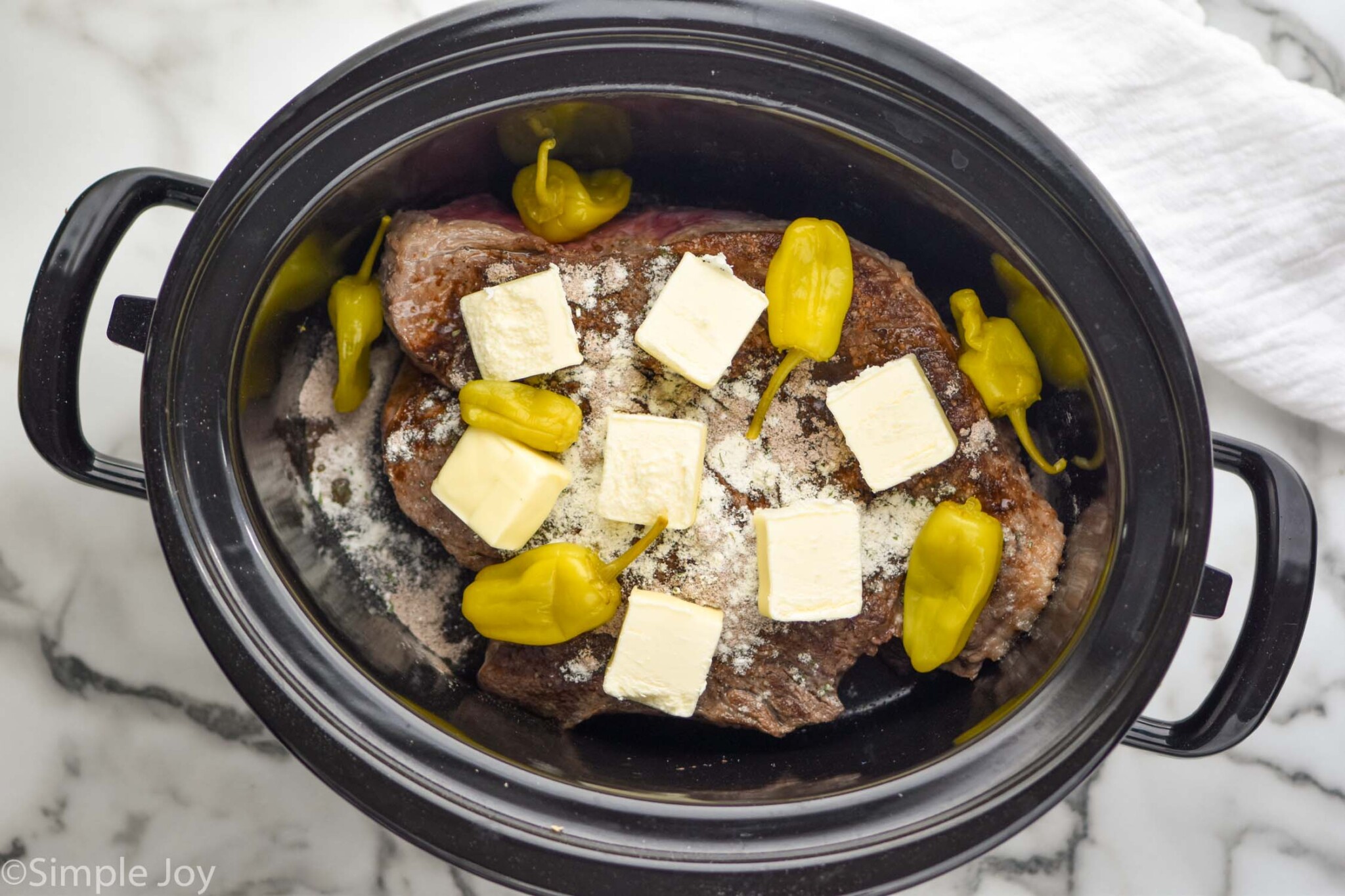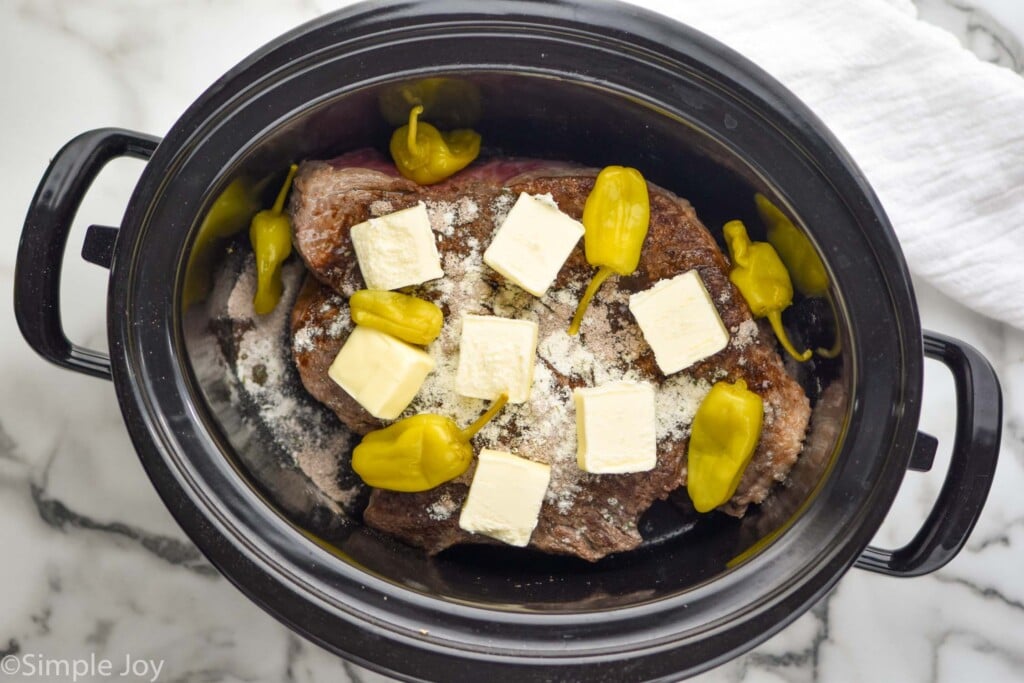 How to Make Mississippi Pot Roast
Sear the meat. In a cast iron skillet, heat vegetable oil until it is smoking. Then brown the salt and pepper seasoned beef on both sides for about three minutes. Read more on why we do this below.
Combine the ingredients in the slow cooker. Add the seared meat to the slow cooker. Then top with the ranch dressing mix and au jus gravy mix. Add the cut up butter and pepperoncini peppers.
Cook on low for 8 hours. When it is done cooking, shred the meat, serve, and enjoy.
What Cut of Meat to Buy
For this recipe, and really any pot roast recipe, you want to buy Chuck Roast. It is sometimes also known as Chuck Eye Roast or Chuck Pot Roast. This is a very flavorful piece of beef, but it is also extremely tough. That is why you want to cook it low and slow for many hours – either in a slow cooker or in a dutch oven inside of your oven.
When the meat is done it will fall apart and be incredibly tender. That delicious flavor of the meat will remain, but the texture will go from tough to almost like butter.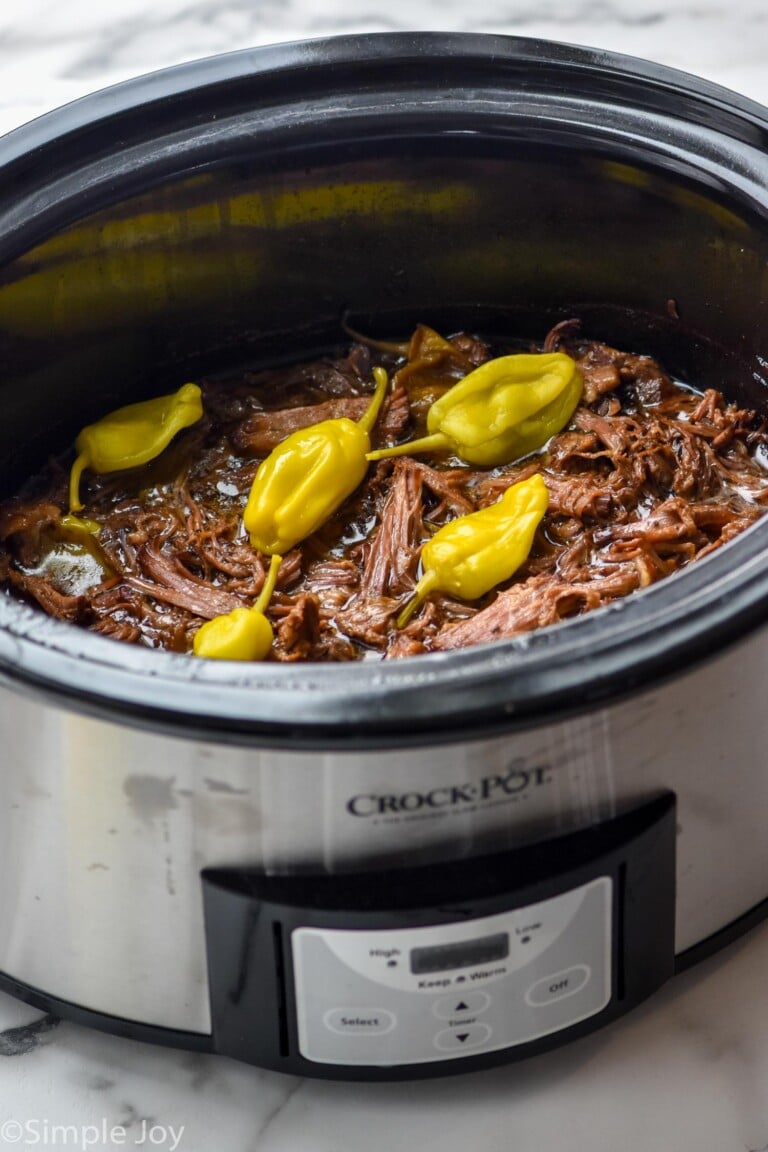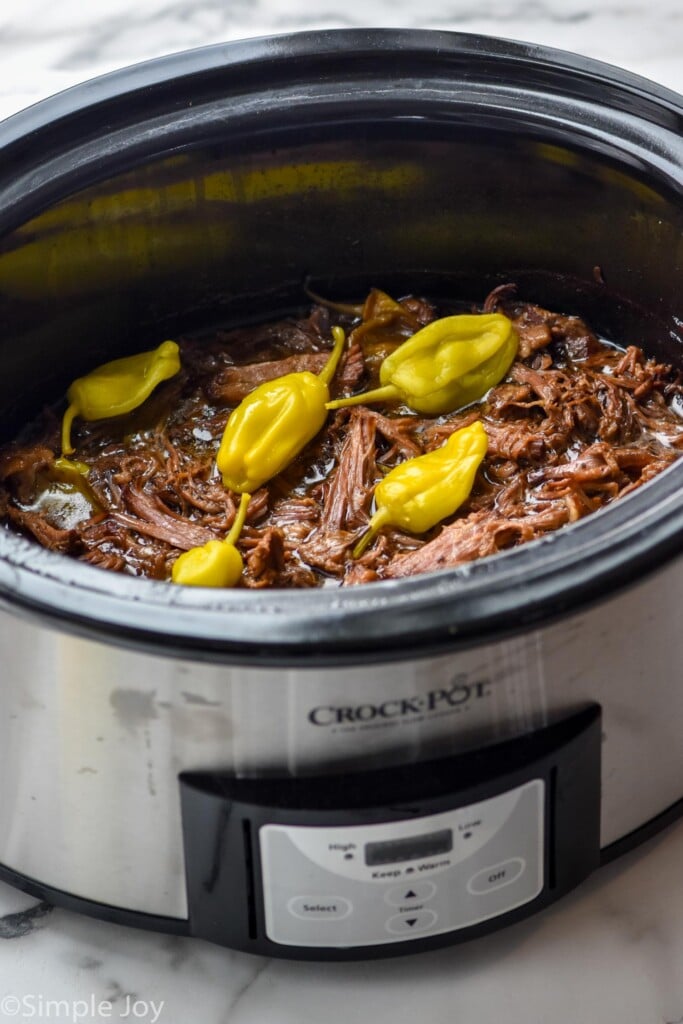 Why Sear Meat
There is a common misconception that searing beef before braising it or slow cooking it is to "seal in the juices." This isn't actually true. In fact, if you weigh meat that has been seared and that hasn't, you will find very little difference.
The real reason we sear meat is that the browning process adds flavor to your dishes. In this recipe, you can absolutely skip this step and put it right in your slow cooker. However, you will be sacrificing a layer of flavor to your final dish.
Making this Recipe from Scratch
My hesitancy in sharing this recipe with you is that many people who live over seas, or those with food allergies, won't be able to enjoy this recipe because it calls for two store bought ingredients.
The good news is that I found recipes for both! Both of these recipes make the mixes that we buy in the U.S. from scratch.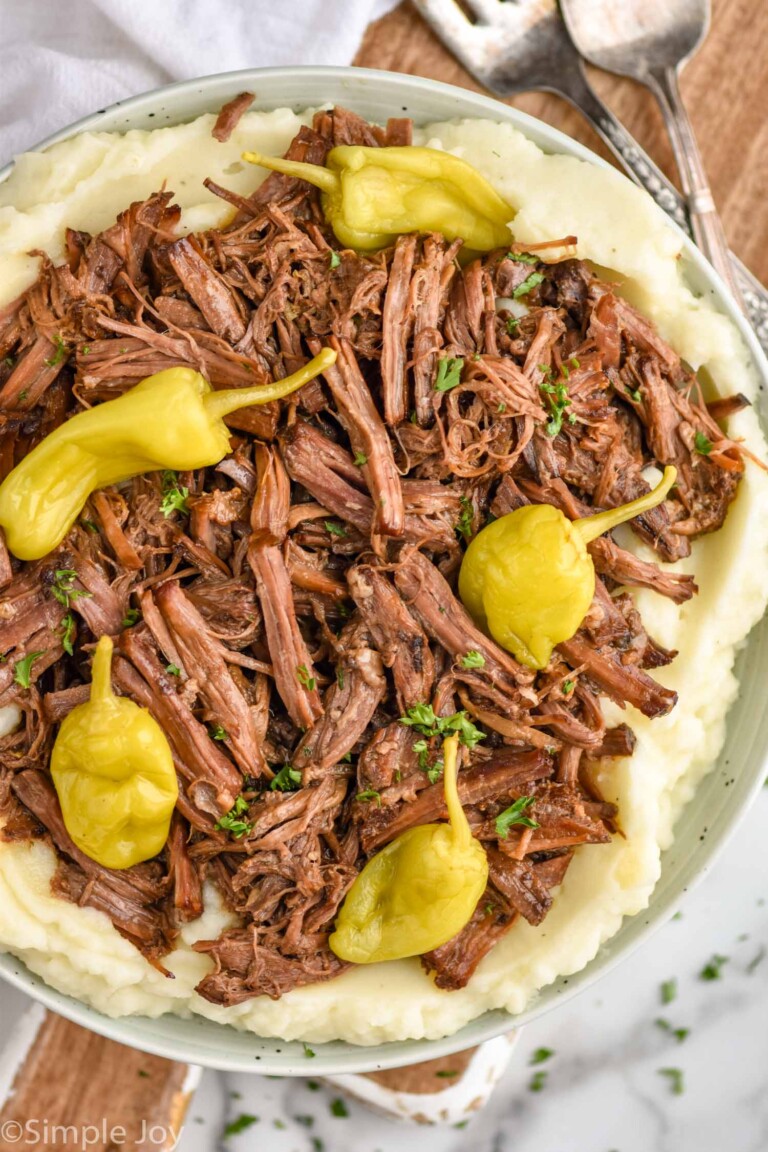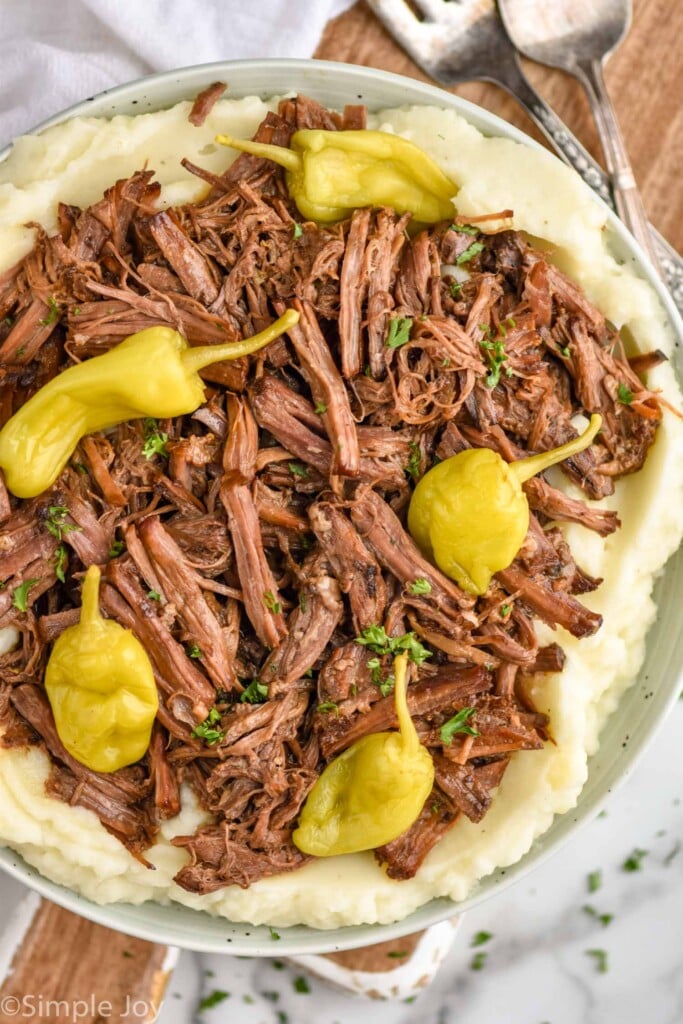 FAQ
Can I cook Mississippi Pot Roast on high?
You absolutely can, I just don't think you should. The cut of meat we are using does infinitely better when it is cooked low and slow. If you cook it on high (for about 4 hours), you will have much tougher meat and likely won't enjoy the dish as much.
Do you add water to Mississippi Pot Roast?
No, you do not need to add any liquid. The meat will create enough liquid itself.
Is Mississippi Pot Roast gluten free?
Yes, provided that you all of the ingredients you find are gluten free. If you are unable to find an au jus mix that doesn't have gluten, I suggest using the recipe linked above.
Is Mississippi Pot Roast low carb?
Yes! This recipe is low carb. If you would like to keep it low carb, I suggest serving it on a bed of mashed cauliflower.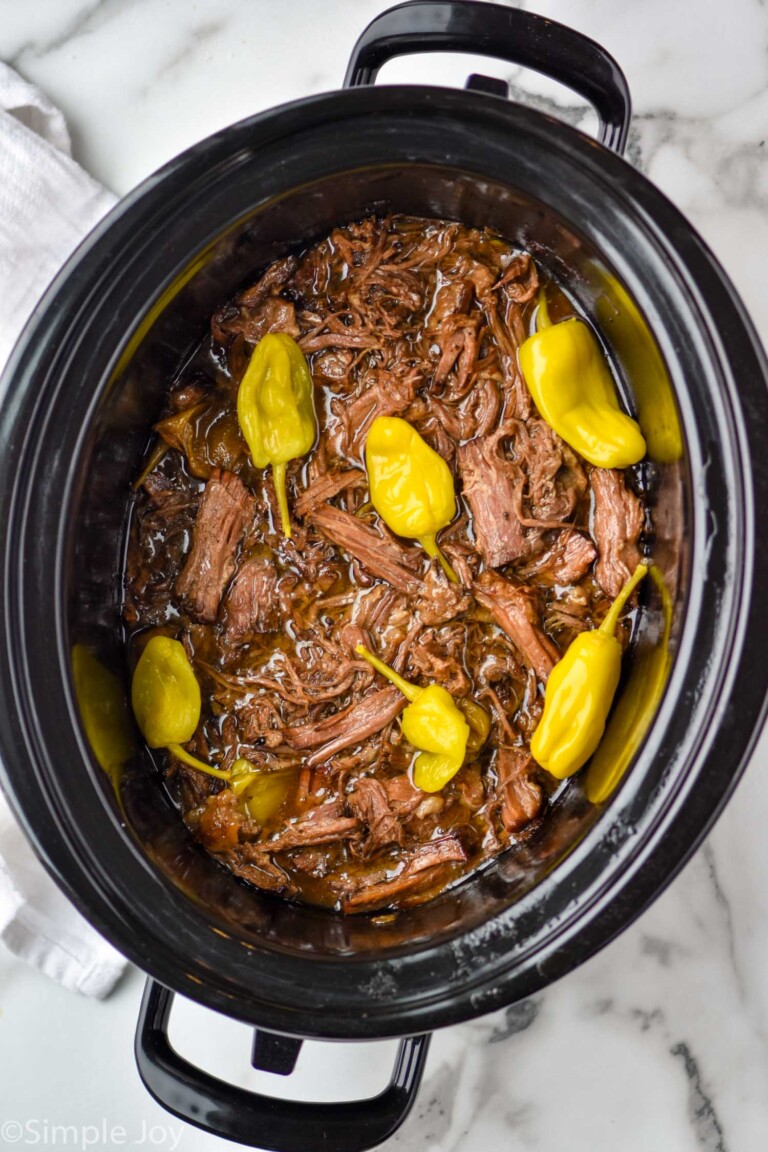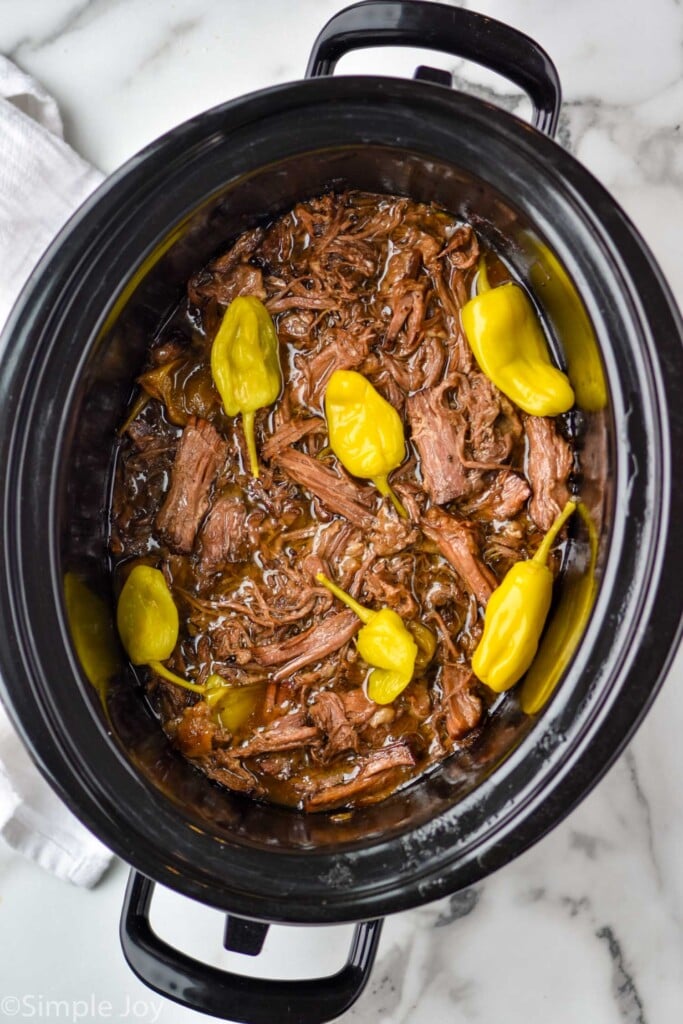 What to Eat with Mississippi Pot Roast
Crock Pot Mississippi Pot Roast is delicious over mashed potatoes. We have two great recipes for you to make.
If you are looking for other great ways to round out this dinner, here are a few of our favorites.
If you make this great slow cooker dinner or any of my other recipes, please leave me a comment and let me know what you think! I love hearing from you.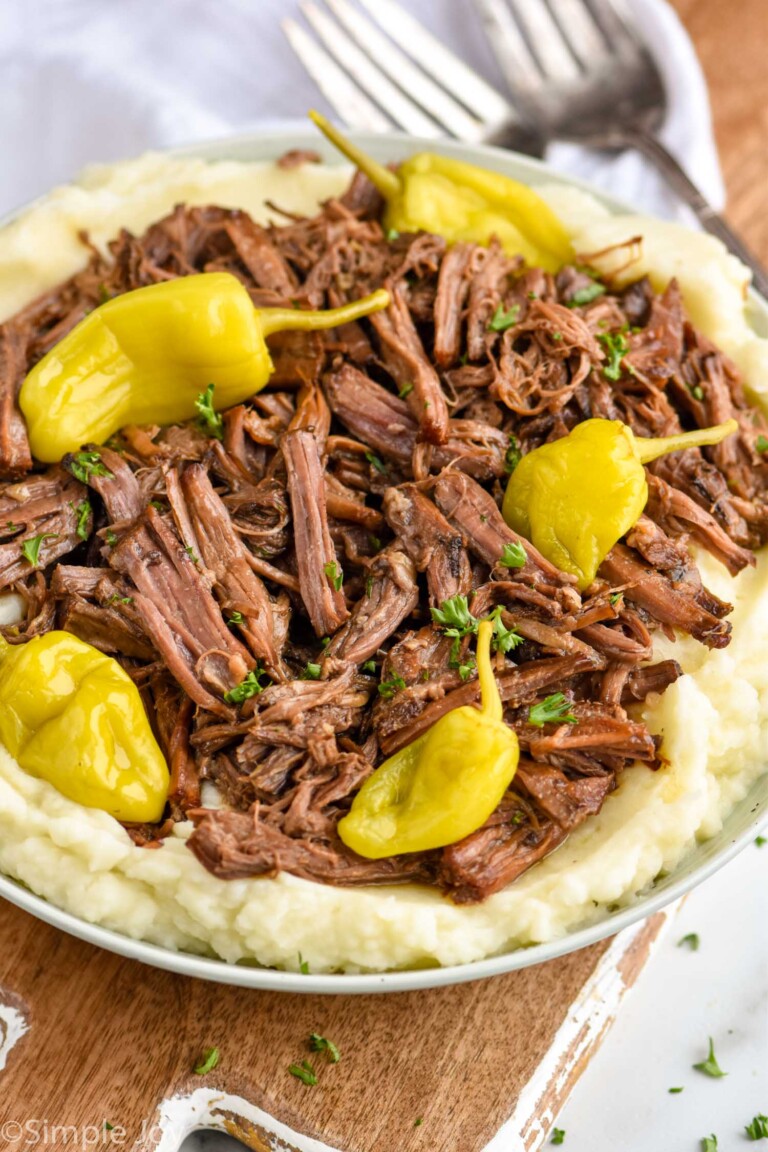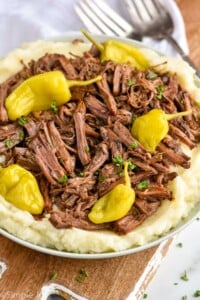 Mississippi Pot Roast
Mississippi Pot Roast is an incredibly popular and easy slow cooker dinner recipe. With just five simple ingredients, you can make comfort food your family will love to come home to.
Ingredients
2

tablespoons

vegetable oil

3 – 4

pound

chuck roast

kosher salt and freshly ground black pepper

1

ounce

au jus gravy mix (read about making this from scratch here)

1

ounce

ranch seasoning packet

(read about making this from scratch here)

8

tablespoons

butter

cut into one inch pieces

8

pepperoncini peppers

plus more for serving
Instructions
Heat the oil in a cast iron skillet over medium heat. Lightly season the beef with kosher salt and freshly ground black pepper. Once the oil is hot, sear the beef for 3 minutes on each side.

Transfer the roast to the slow cooker. Sprinkle the au jus gravy mix and the packet of ranch dressing over the roast. Top the roast with the pieces of butter and the pepperoncinis. (You do not add any liquid.)

Cook on low for 8 hours. Shred the beef and serve it over mashed potatoes with more pepperoncini peppers.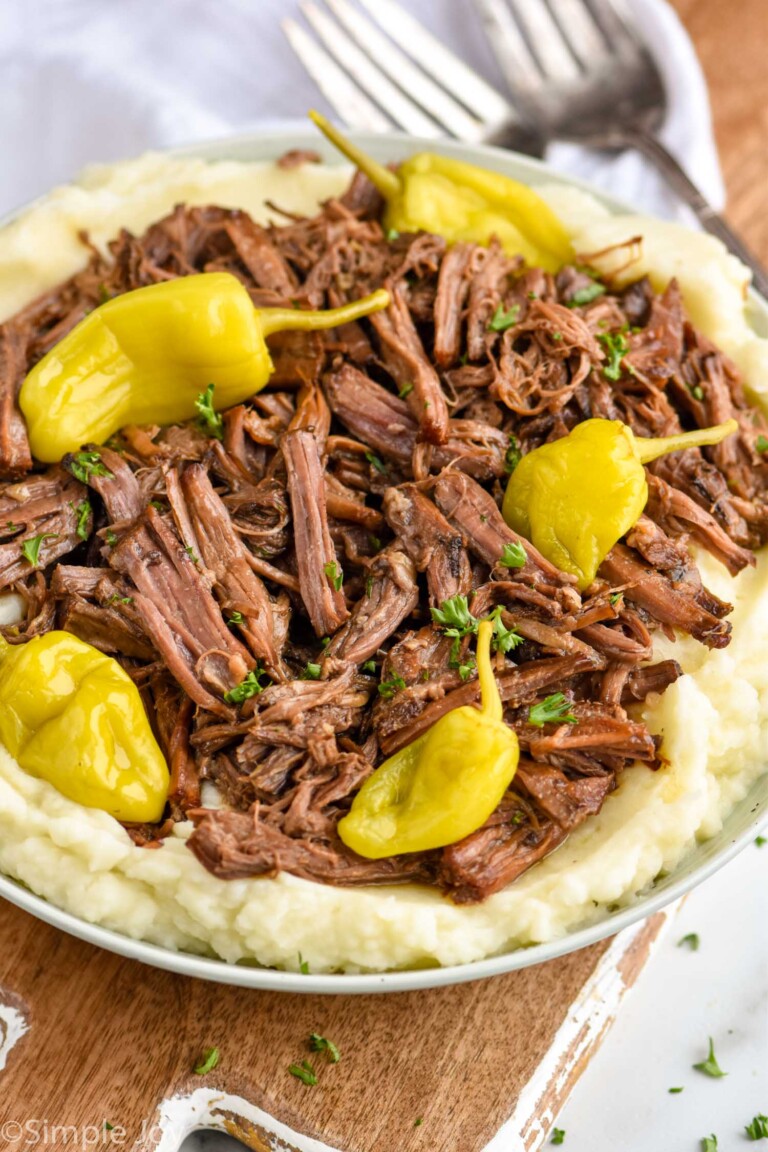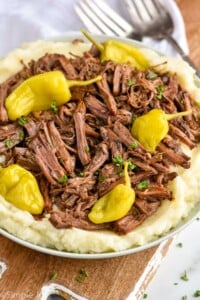 did you make this
Mississippi Pot Roast