Stuffed Tomatoes are the perfect side dish. They are fancy enough to entertain with, but so delicious you will want to have them regularly.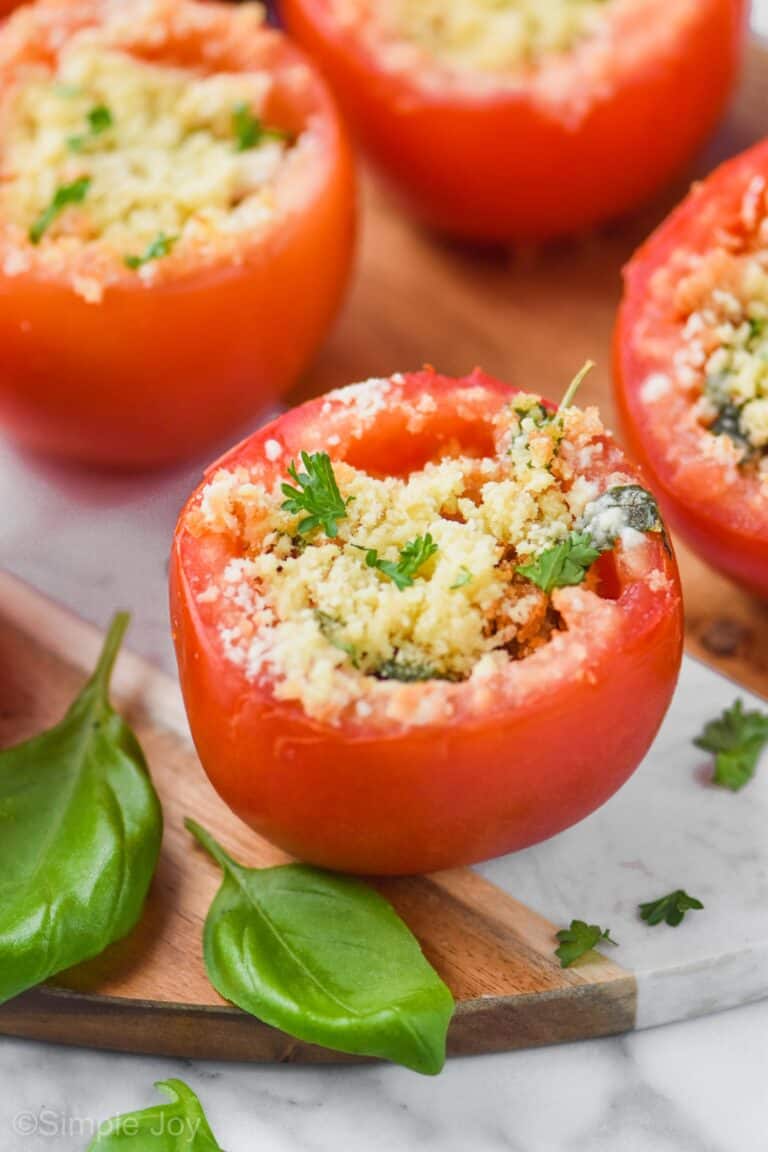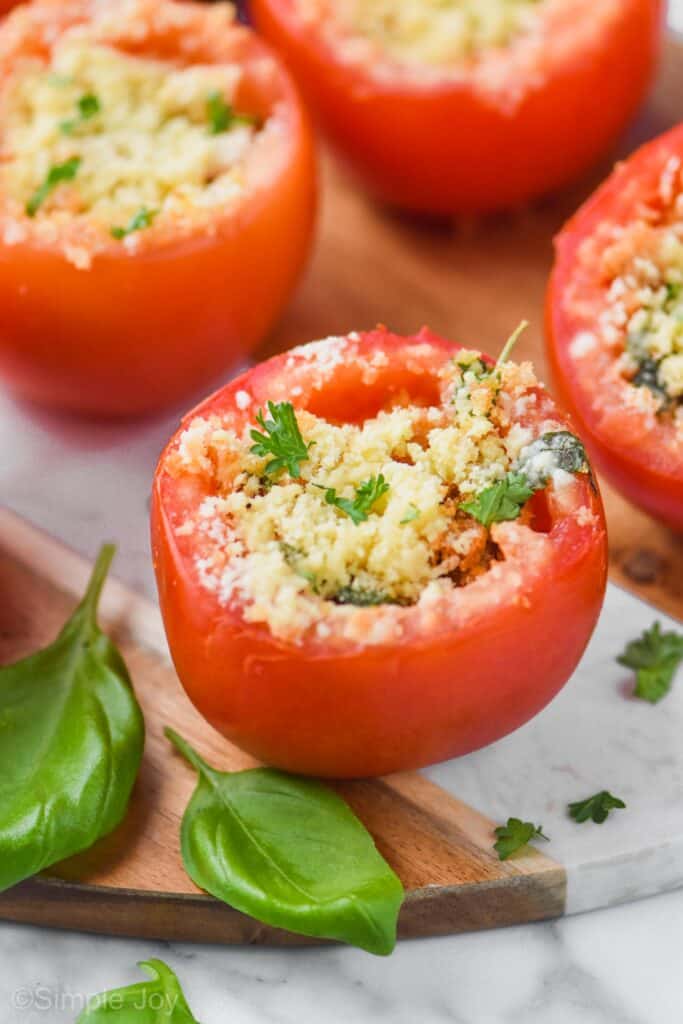 One of my very favorite things about summer is fresh tomatoes. Since being a little girl growing up with a big garden, fresh summer tomatoes feel like the best luxury.
I love them cut up with just a little bit of salt. But these Stuffed Tomatoes are now rivaling my favorite way to eat garden tomatoes. Made with homemade bread crumbs, my garden basil, and parmesan cheese, this simple flavorful dish is a huge win.
Stuffed Tomatoes Ingredients
6 ounce Tomatoes
White Bread
Parmesan Cheese
Garlic
Fresh Basil
Salt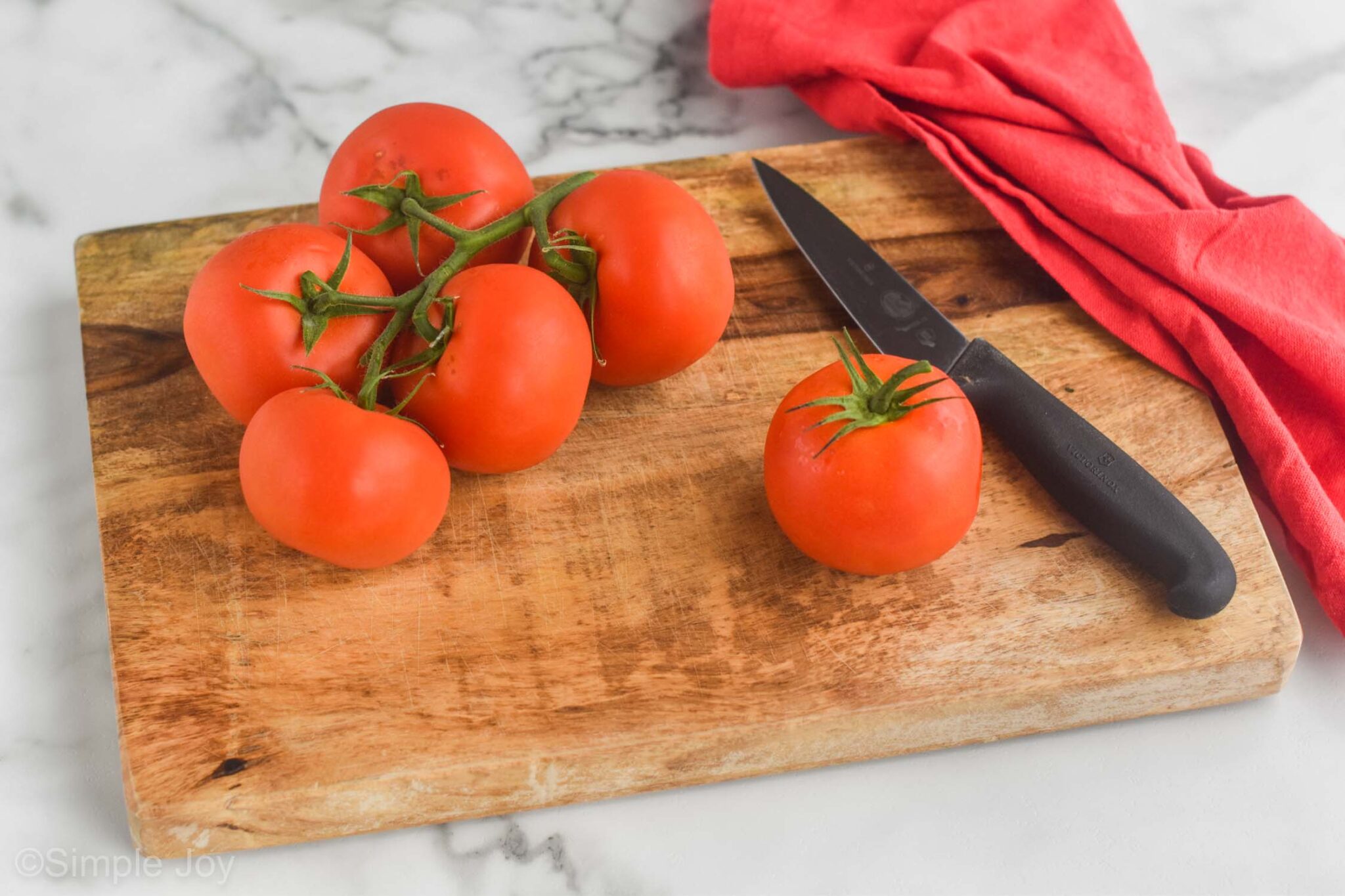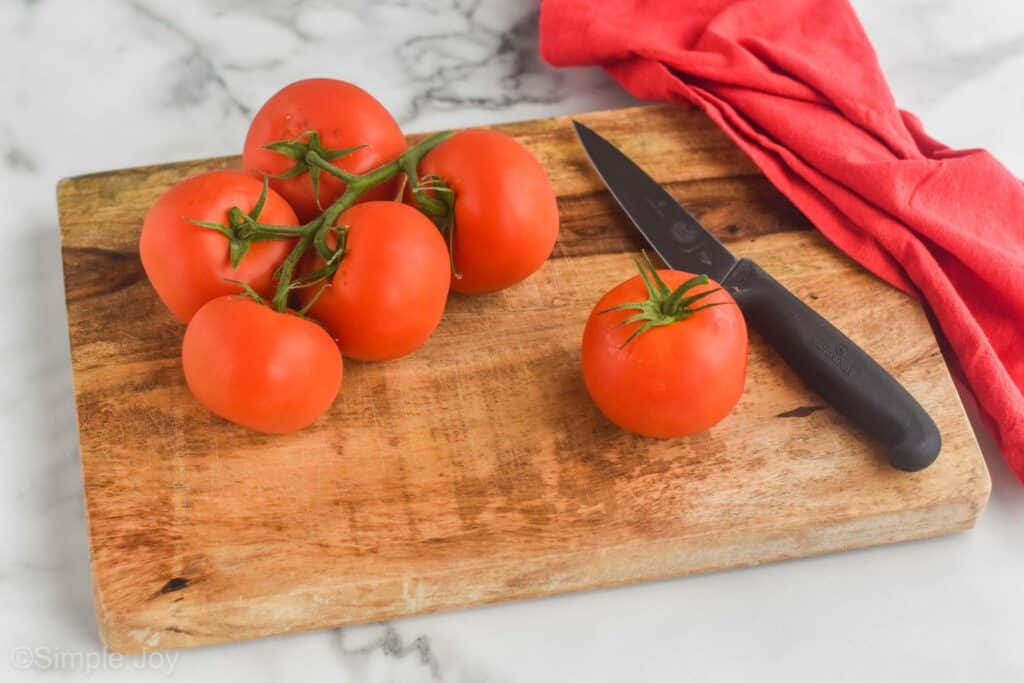 How to Make Stuffed Tomatoes
While this recipe has a few steps to it, none are complicated and it results in the best stuffed tomato recipe.
Start by hallowing out the tomatoes. I have more detailed instructions below.
Sprinkle the tomatoes with salt and then turn them upside down on a wire rack for 15 minutes.
Add bread to a food processor to make large crumbs. Then toast them in the oven.
Mix together the toasted breadcrumbs, half of the cheese, fresh basil, olive oil, and garlic. Spoon the mixture into the tomatoes.
Top with the remainder of the parmesan cheese and more olive oil. Bake for 20 minutes.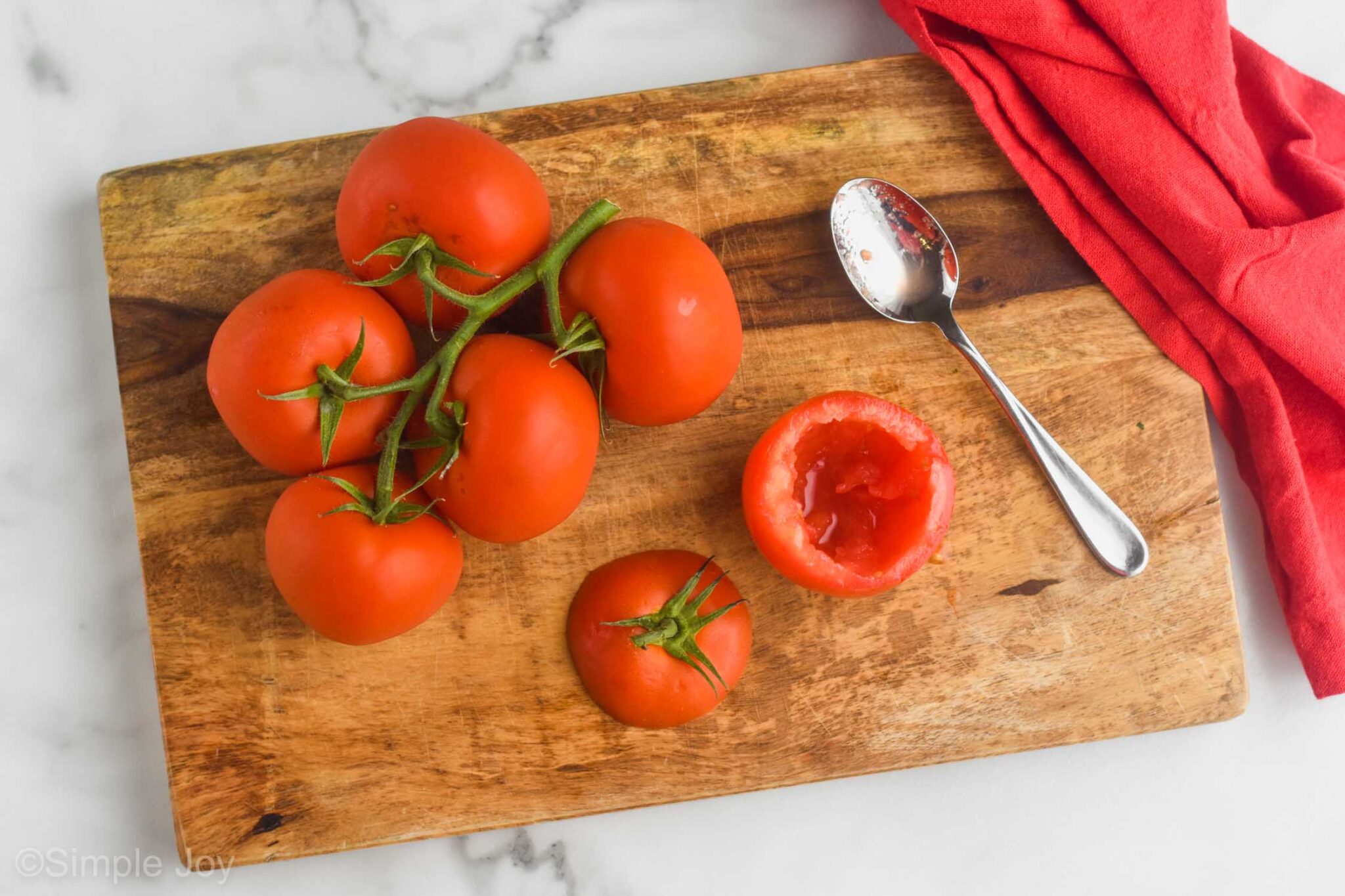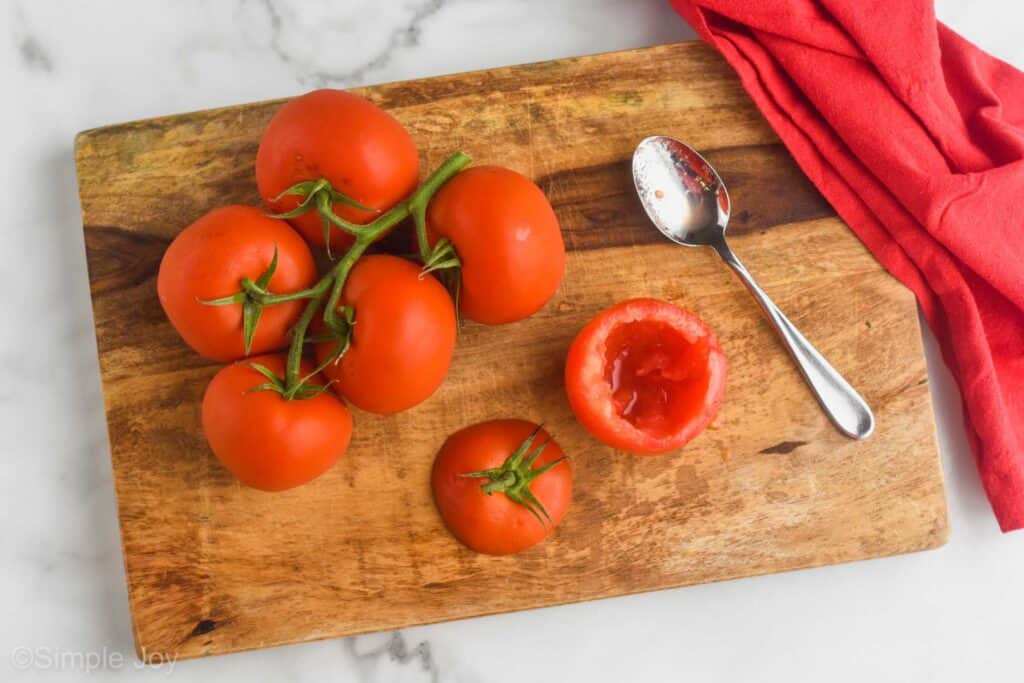 How to Hollow Tomatoes
It is important when making these that you pick red, plump, ripe tomatoes. They are the star of the show, so you want them to be delicious.
Hallow them out by cutting off the tops, and then use a spoon to go around the edge of the inside and pull out the pulp.
It isn't critical that you pull out every last bit of the inner flesh of the tomato. That being said, it does hold quite a bit of moisture, and you will be happier with the final product if you get most of it out.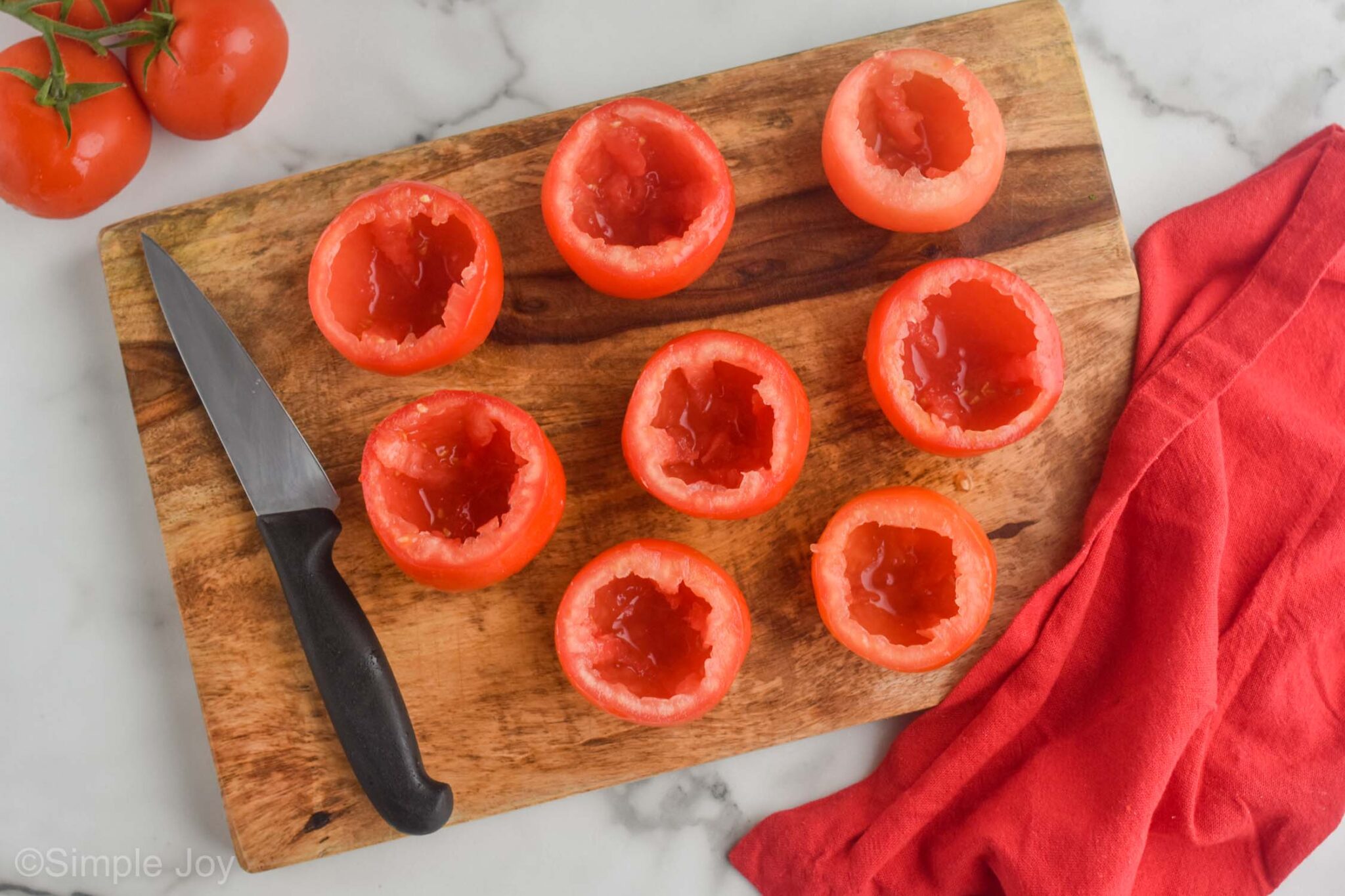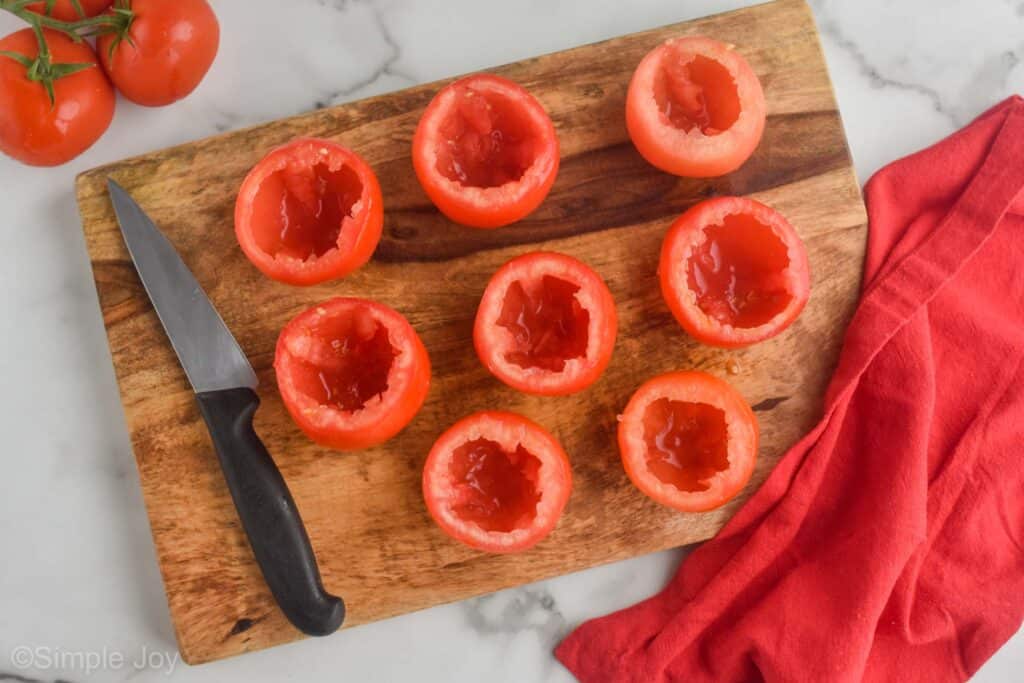 Bringing Out The Moisture in Tomatoes
It is important to this recipe to get out a lot of the moisture of the tomato. No one wants a soggy stuffed tomato. To do this:
Sprinkle the tomatoes with 1/2 a teaspoon of salt (total, not 1/2 a teaspoon each).
Turn the tomatoes upside down on a wire rack and place that inside a rimmed baking sheet.
Let sit for 15 minutes.
Now that you have your tomatoes resting, you can move on to making breadcrumbs!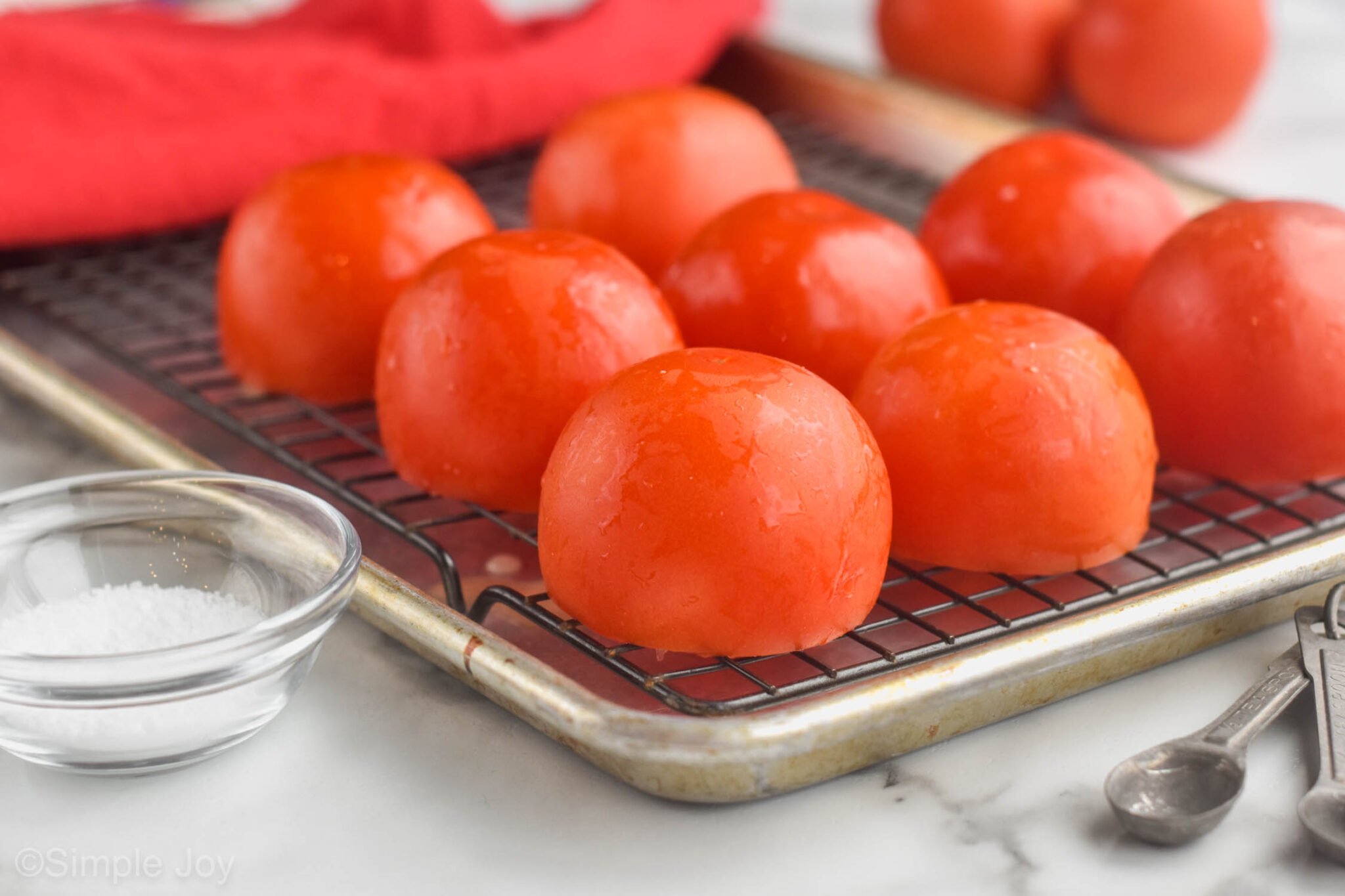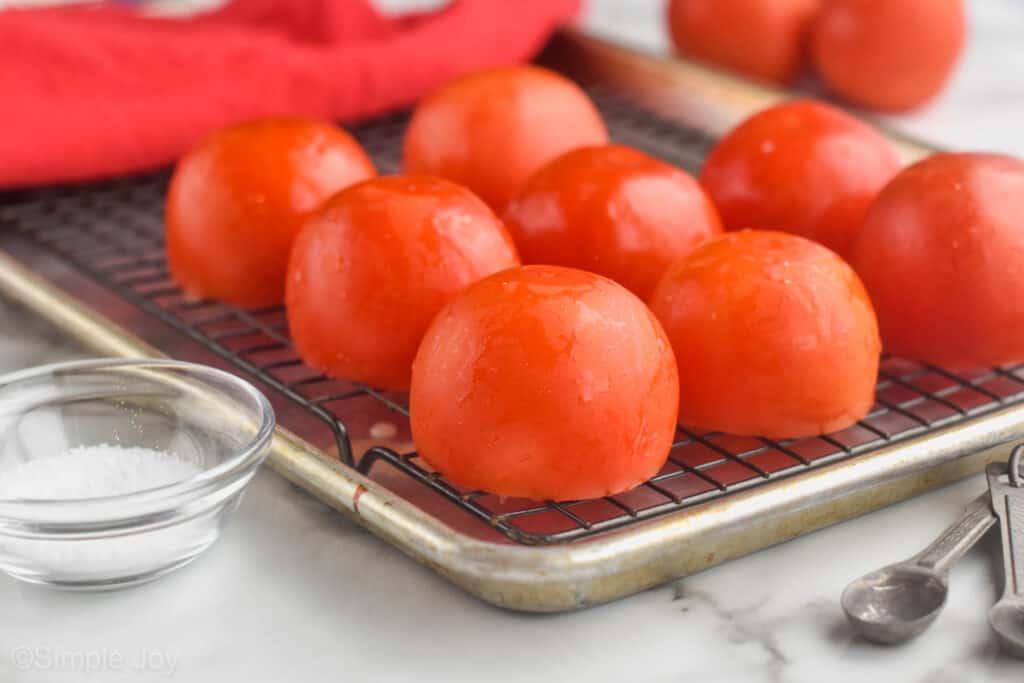 Using Fresh Bread for Breadcrumbs
You will notice that we are using fresh bread to make the bread crumbs for this recipe. It makes all the difference in the world!
Stuffed tomatoes that are made with store bought breadcrumbs can have a really gritty texture to them because the breadcrumbs are so small. Using fresh bread allows you to control the size of the crumb, making the final stuffed tomato have the perfect texture.
Tips:
Any type of white bread will work. I used a loaf of Italian bread, and cut three slices from that.
Using a food processor makes really quick work of turning them into crumbs.
Be careful not to process them too small.
Keep a close eye on them in the oven so they don't burn.
You can see below about the size we are looking for.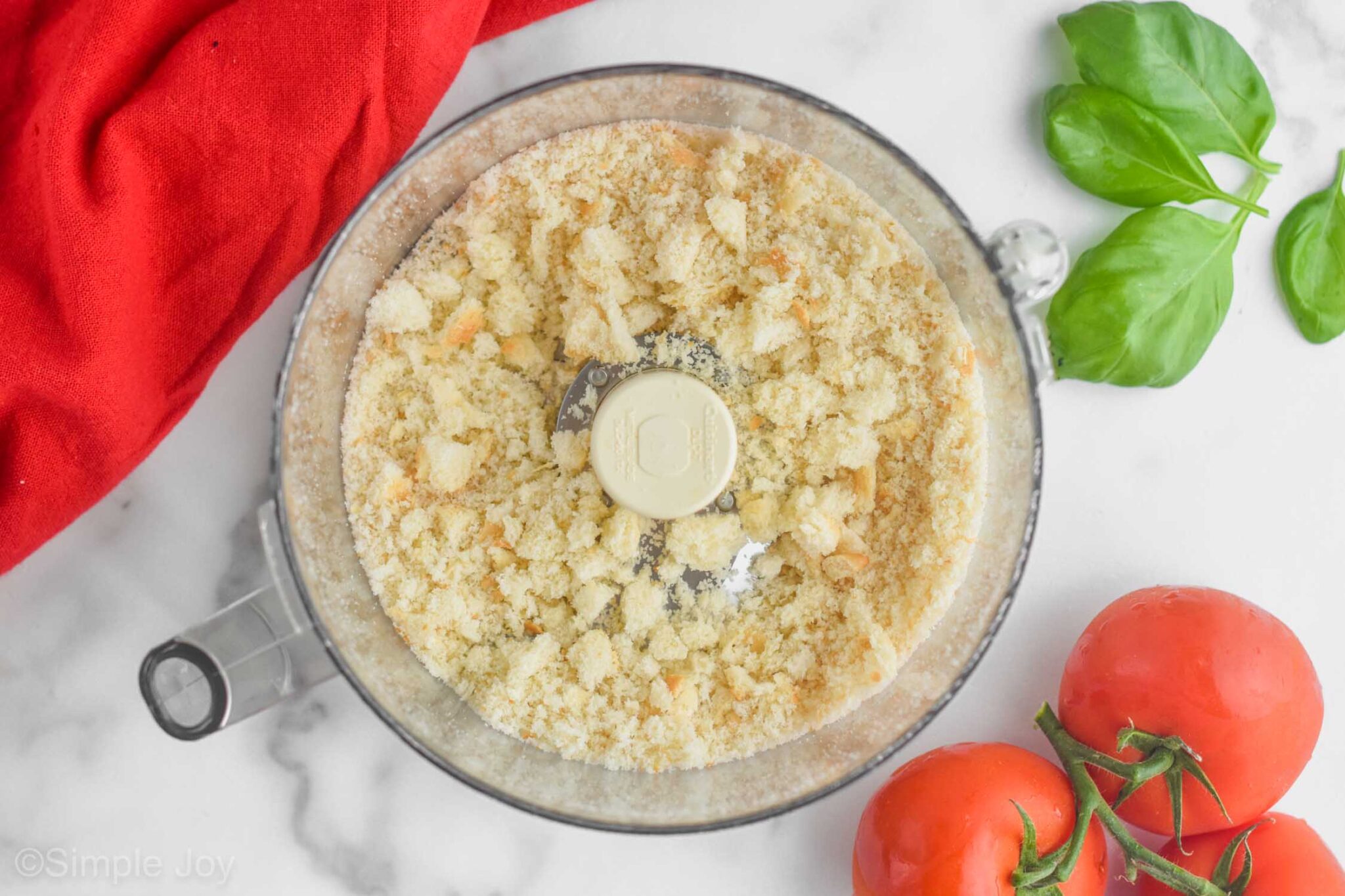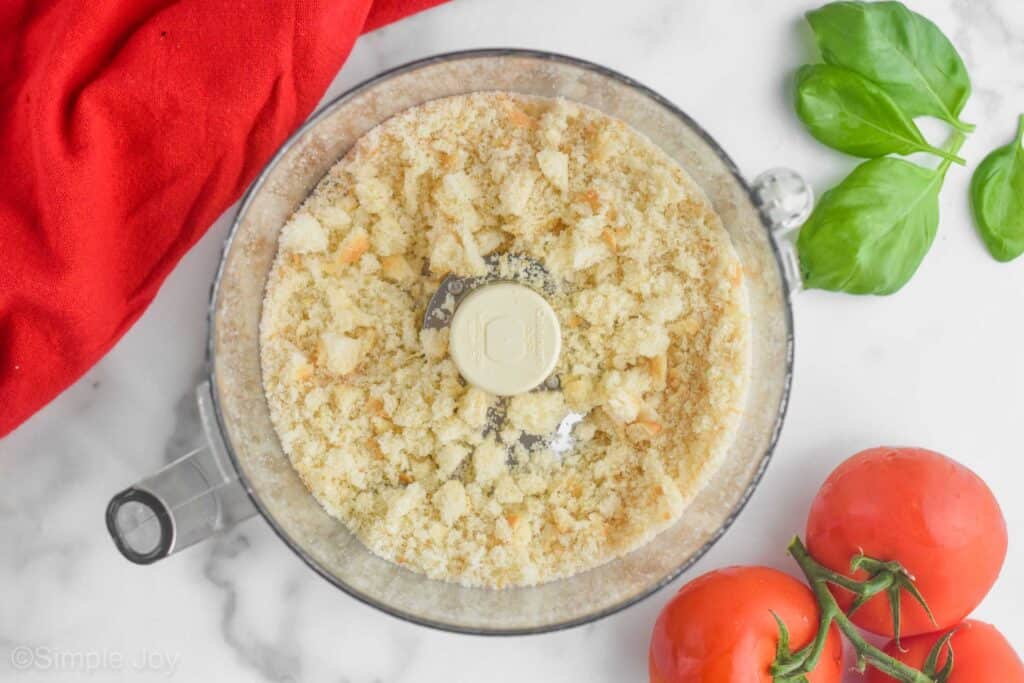 Serving Size
You will notice that this recipe makes 8 stuffed tomatoes. This is a very easy recipe to cut in half for a family dinner. Hover over the number 8 in the recipe card and you will be able to slide that number down to how many you are serving.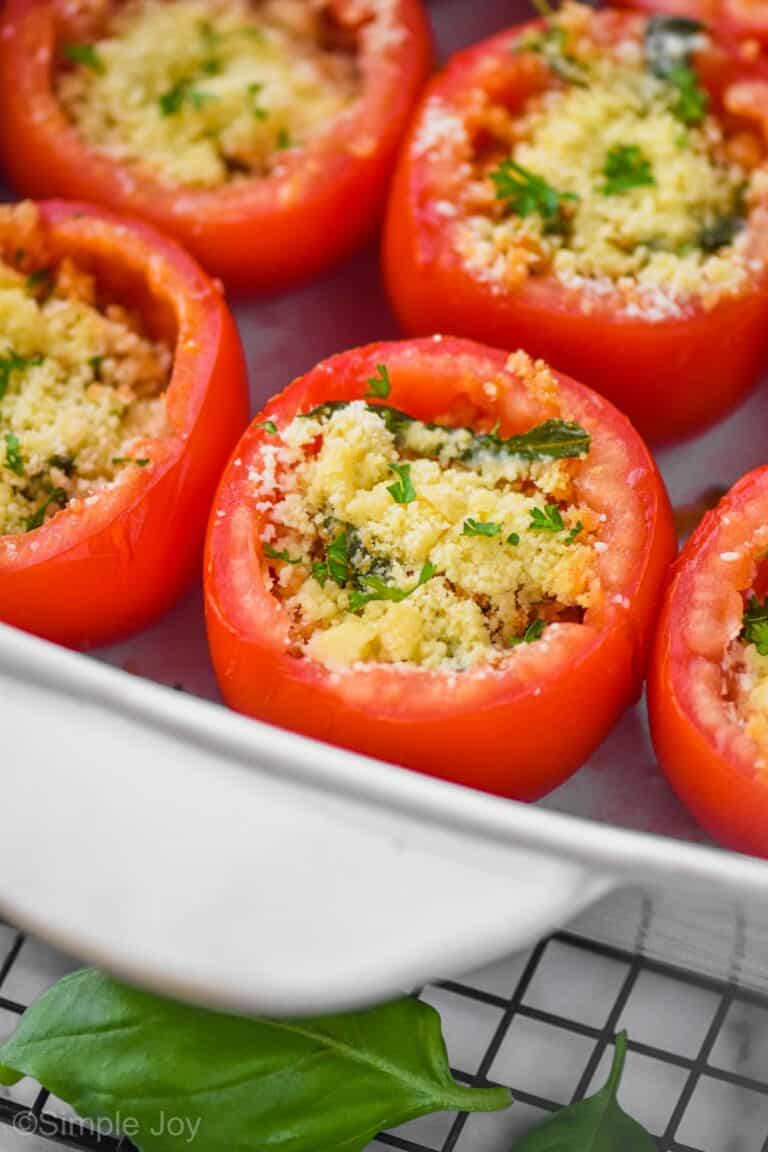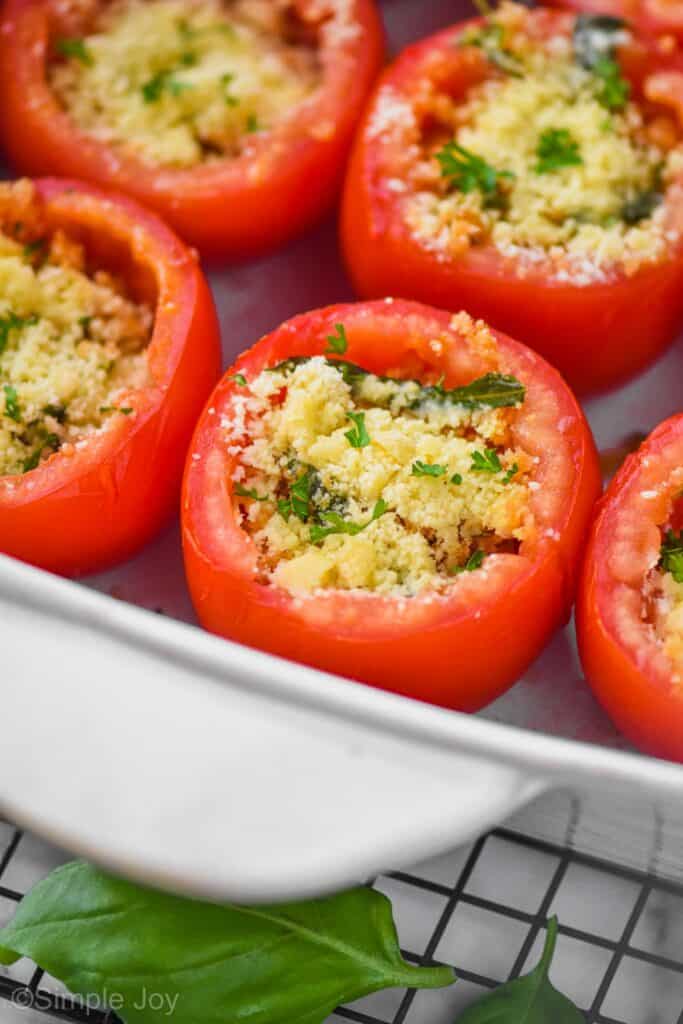 Other Great Side Dishes
If you are always on the hunt for great vegetable side dishes to give your family, you are not alone. Check out some of these other great ideas.
If you make these stuffed tomatoes or any of my other recipes, please leave me a comment letting me know what you think!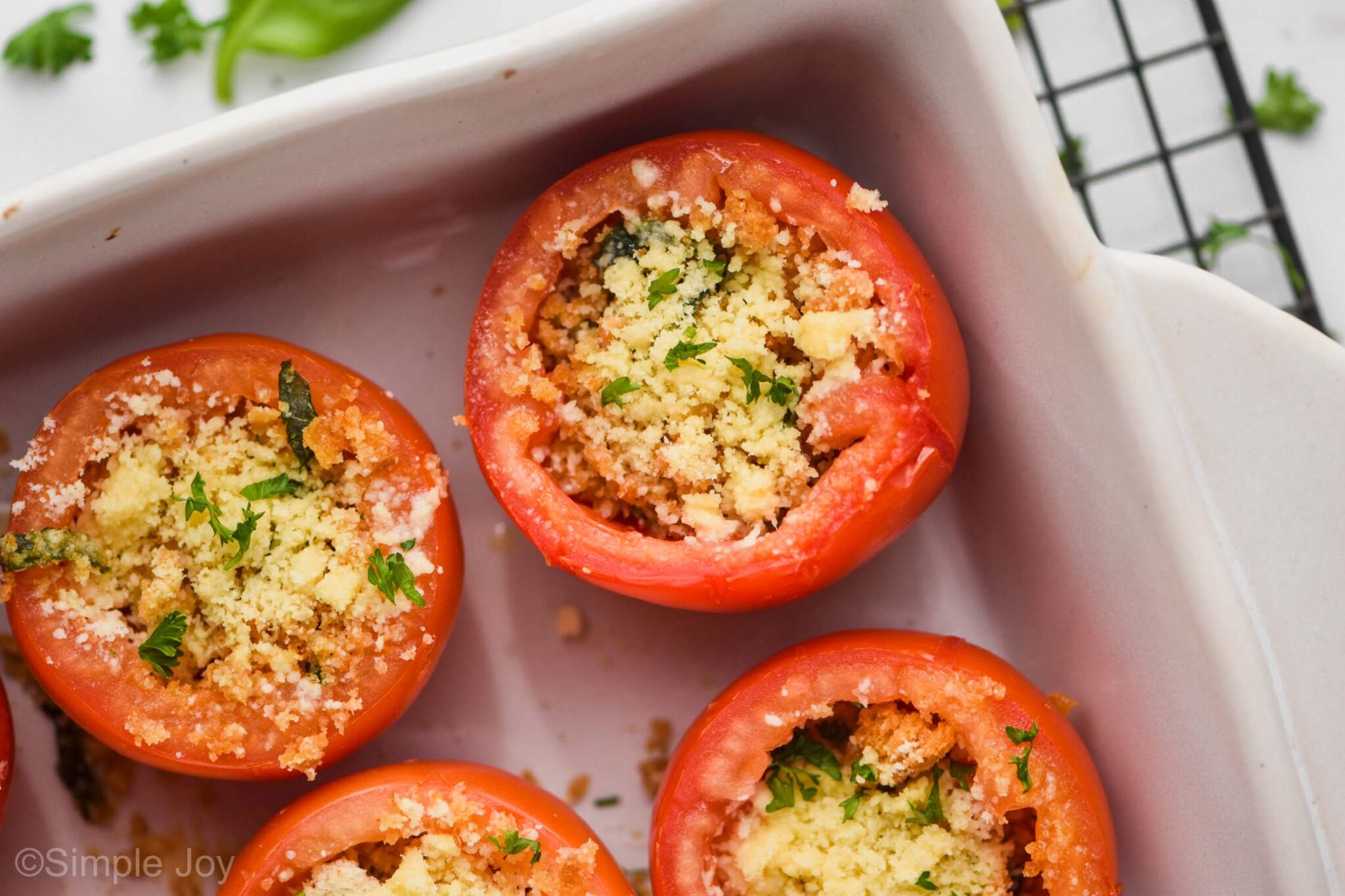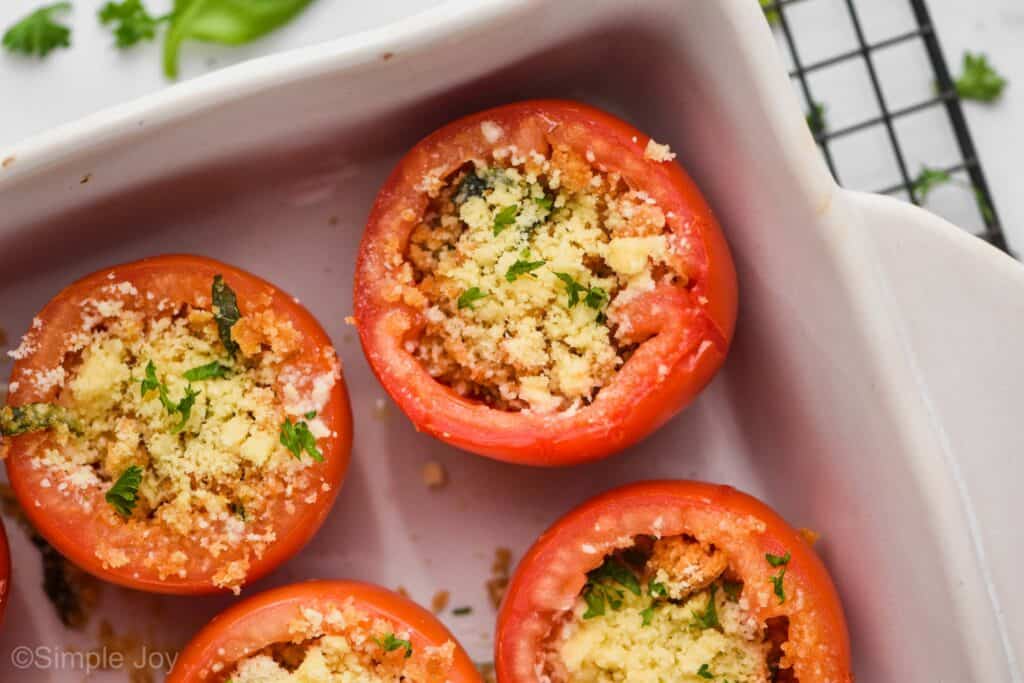 Recommended Tools
A Good Knife: There is nothing that makes cooking easier than a good knife.
Food Processor: This is the food processor I have had for over 15 years. It is a work horse and I love it!
Wire Cooling Rack: Another staple in my house, I recommend having two!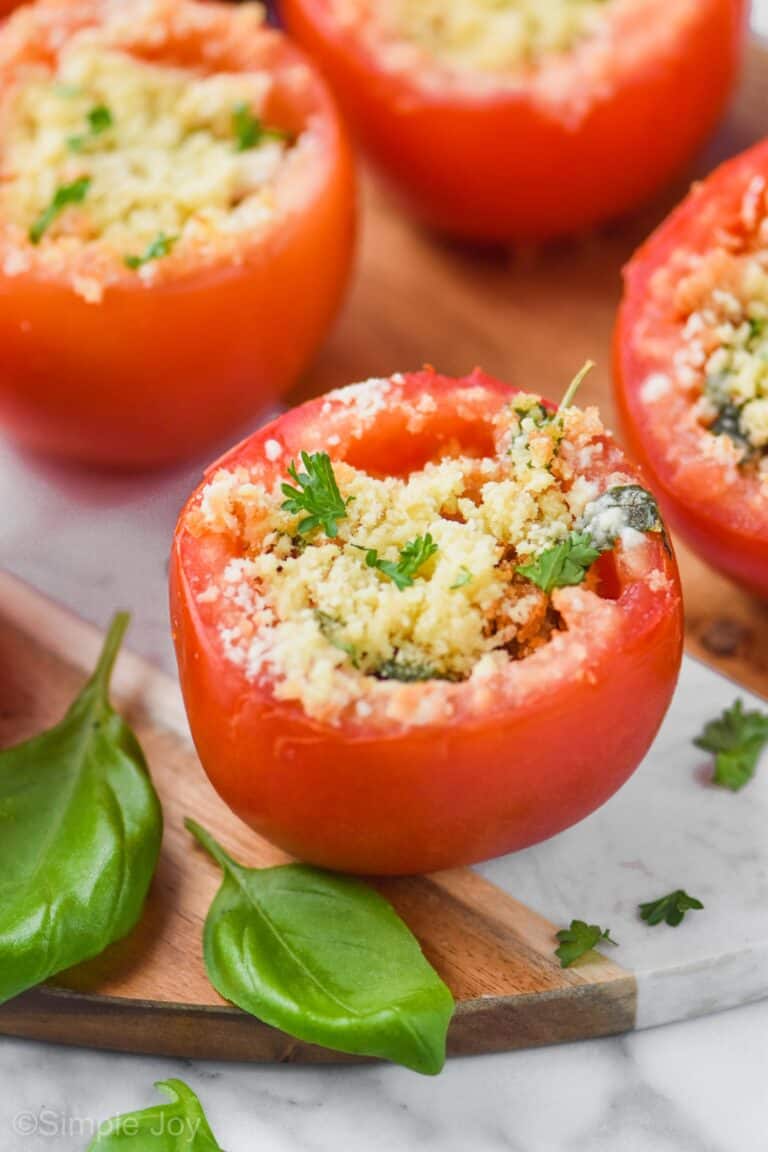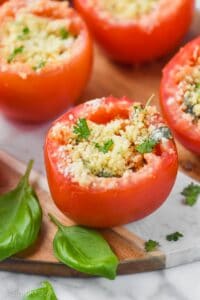 Stuffed Tomatoes
Stuffed Tomatoes are the perfect side dish. They are fancy enough to entertain with, but so delicious you will want to have them regularly.
Ingredients
8

large tomatoes

should be firm and around 5 to 8 ounces each

3

slices

white bread

Or 1 cup bread crumbs (see note in post for why we use bread)

1/2

cup

Parmesan cheese

grated and divided

1/3

cup

fresh basil

1/4

cup

extra vrigin olive oil

plus 2 tablespoons

2

garlic cloves

minced
Instructions
Cut off the tops of each tomato, scoop out the inside flesh, and sprinkl with 1/2 teaspoon salt. Turn upside down on a paper towel for 15 minutes.

To make breadcrumbs, preheat the oven to 375 degree. Add the bread slices to a food processor and pulse until it looks like large crumbs – about 8 pulses. Spread the breadcrumbs over a rimmed baking sheet and bake for 10 minutes or until they just begin to turn golden brown, tossing once or twice during baking.

Mix the toasted breadcrumbs, 1/4 cup of parmesan cheese, basil, 1/4 cup olive oil, and garlic cloves together in a large bowl.

Pat the tomatoes dry. Place cut side up in a lightly greased 9 by 13 inch baking dish. Divide the mixture amongst the hollowed tomatoes, approximately 1/4 cup per tomato. Drizzle about a teaspoon of olive oil on each tomato and top with the reaming 1/4 cup parmesan cheese. Bake for 20 minutes or until the cheese just begins to melt and bubble.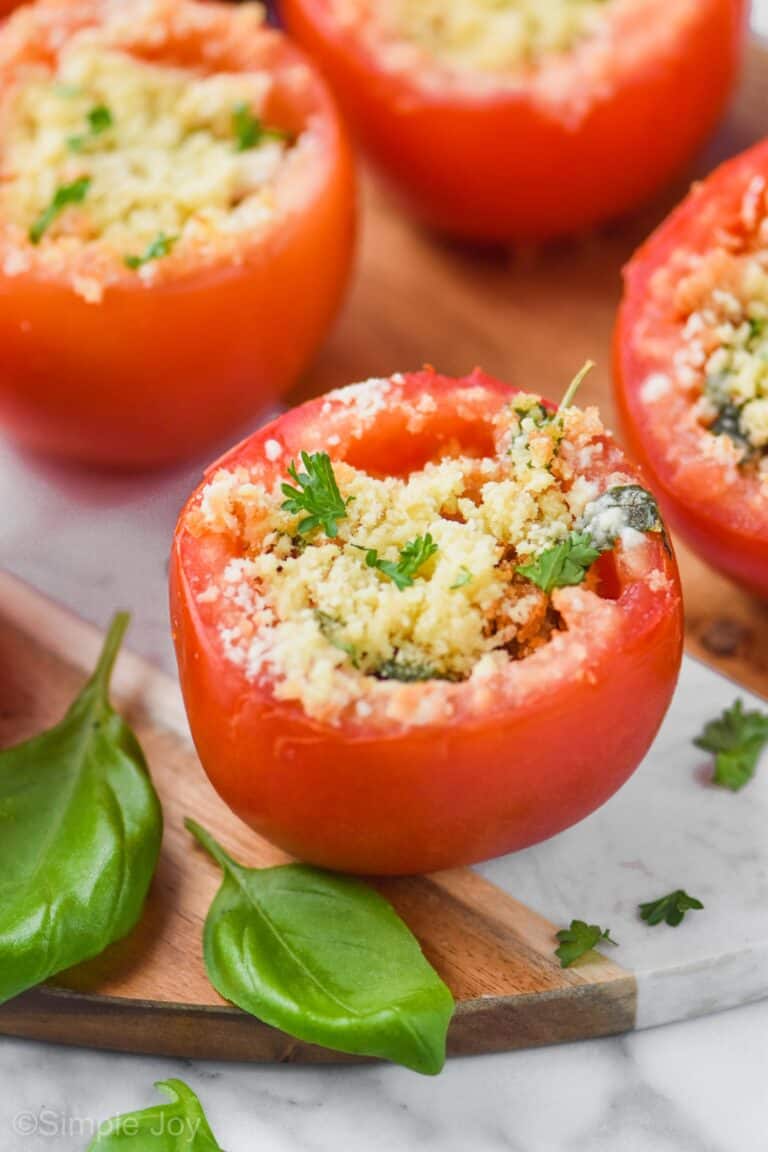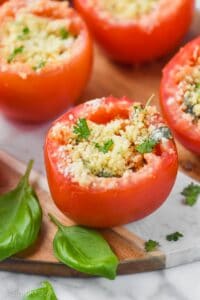 did you make this
Stuffed Tomatoes