These Sugar Cookie Cookie Butter Bars are a decadent but easy dessert with the rich and wonderful tastes of
cookie butter
!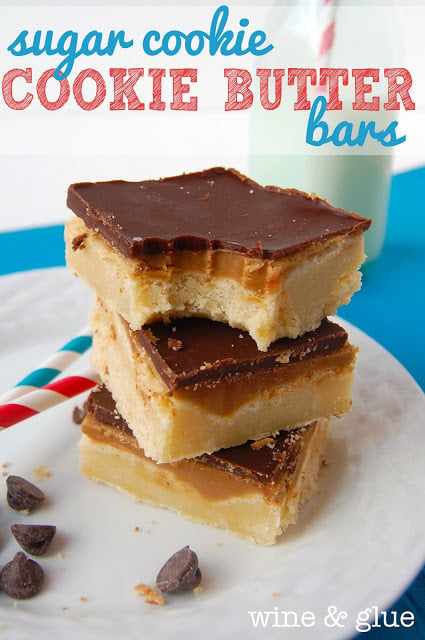 Have I told you about "Yellow Car" yet?No?There is probably no better way to demonstrate to you how we are turning our child into a crazed competitive game player than by the story of "Yellow Car." I'm not exactly sure when or how it started, but I think it was last summer. Whenever our whole family was in the car we would play this game where everyone got a color car and you had to call it out when you saw your color. The more cars you saw and called the more points you got.Because we aren't total monsters, we allowed Gavin to have the color red. Do you know how many red cars there are on the road?? I always had yellow, and Nathan always had orange and because Gavin and I are super generous, we gave him a second color too . . . . purple.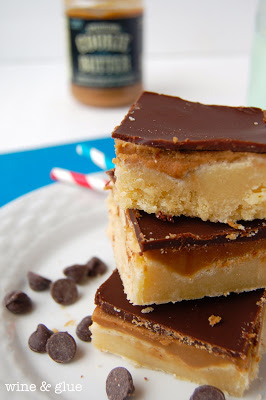 Needless to say, Nathan lost, pretty much every time. And Gavin always won. And Nathan, while he can tolerate (just barely), losing to Gavin, losing to me was pretty much unacceptable. So he would start making up rules. Adding and taking away points on a whim. This rubbed off on Gavin pretty quickly. Before long, we would hear from the backseat: "Daddy, that wasn't really the right color orange. Negative eight thousand points!" "Red stop sign, ten million extra points for me!" "Mommy, are you even playing any more??"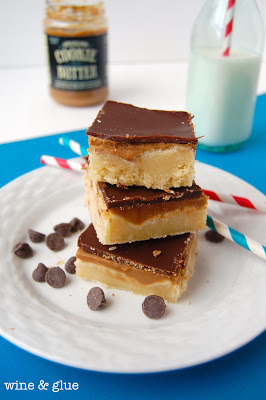 We had to put a ban on "Yellow Car." It was getting too ugly. But . . . . then today, when Gavin and I were in the car, he saw like eight red cars at a stop light, and asked me if I wanted to play "Red Car." And I figured . . . . well, that's not even the same game. It doesn't even have the same name! Surely this won't be a problem . . . It's kind of like these bars. You know that too much of it isn't entirely healthy, and it might cause some bad habits, like licking your plate or yelling "NEGATIVE TWO MILLION POINTS!" but it's so good, you just can't help yourself.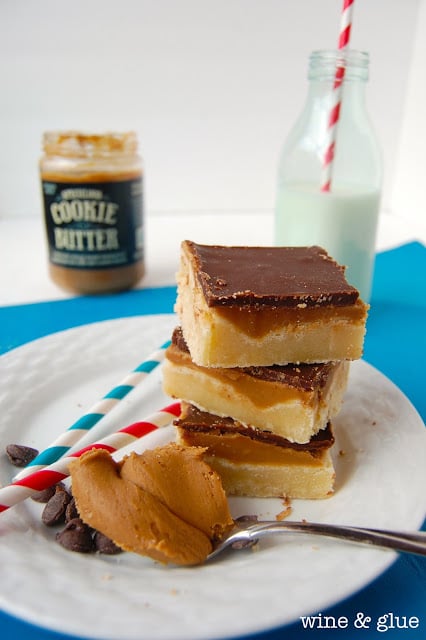 Seriously, these bars turned out better than I could have imagined, but that's not a huge shock with such a good sugar cookie recipe and the addition of Cookie Butter. Be sure to bring them to room temperature before cutting into them, cut small pieces given how rich they are, and if you are going to teach your child to be super competitive, then at least try to teach them the value of sharing by not eating the whole pan yourself. Or just make the bars at night and hide the evidence. In your belly. **Edited to add:  Cookie Butter (pictured here) can be found at Trader Joe's. Another variety is Biscoff Spread which can be found at Walmart and Target! Happy Eating!!**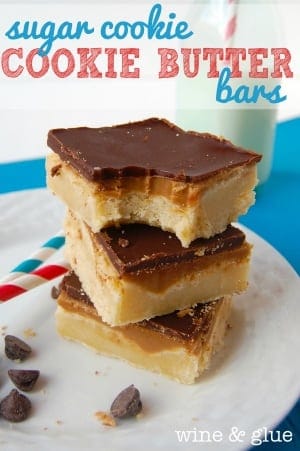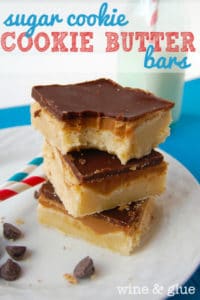 Sugar Cookie Cookie Butter Bars
Ingredients
For The Sugar Cookie Layer*

2

cups

sugar

2 1/2

cups

all-purpose flour

1/2

tsp

baking powder

1/2

tsp

salt

2

sticks of butter

softened

2

tsps

vanilla extract

2

large eggs

For the Cookie Butter Layer

1

stick of butter

1

cup

cookie butter

1/2

cup

powdered sugar

For the Chocolate Layer

1

stick of butter

1

cup

of chocolate chips
Instructions
Preheat the oven to 350 degrees.

In a medium bowl, whisk together the flour, baking powder and salt. Set aside.

On medium low speed, beat the butter and sugar for about three minutes, until it is light and fluffy. Then add the vanilla, and one egg at a time, combining for about thirty seconds after each addition.

Gradually add the flour mixture until it is well combined, scraping down the sides of the mixing bowl as necessary.

Press the cookie dough into the bottom of a 9x13 inch pan and bake for about 20 minutes. Let it cool on the counter for about 10 minutes, and then put it in the refrigerator for a half hour.

While the Sugar Cookie layer cools, make the next layer. Soften the butter in the microwave for about thirty seconds. Add the cookie butter and put it back in the microwave for another 30 seconds at half power. Whisk in the powdered sugar until it is smooth. Put it over the cooled (it does not have to be completely cooled) sugar cookie layer, and spread it until it is even. Put it back in the refrigerator for another 30 minutes.

While the Cookie Butter layer cools, melt the butter and chocolate together, either over low heat on the stove top, or in the microwave on half power. Once the Cookie Butter layer is set, spread the chocolate layer over it and let it set for another 30 minutes to an hour.

When yo go to cut the bars, make sure they come to room temperature, or the chocolate will crack and break.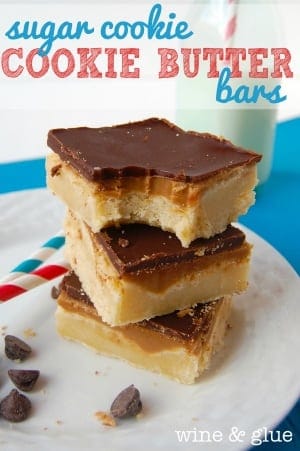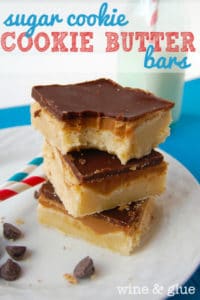 did you make this
Sugar Cookie Cookie Butter Bars
*Based on America's Test Kitchen's Sugar Cookie recipe
Need more Cookie Butter?
This post may contain affiliate links which won't change your price but will share some commission.
SaveSave