Monster Cookie Bars are so easy to make, and full of delicious flavor. Such a fun treat to bake with the kiddos!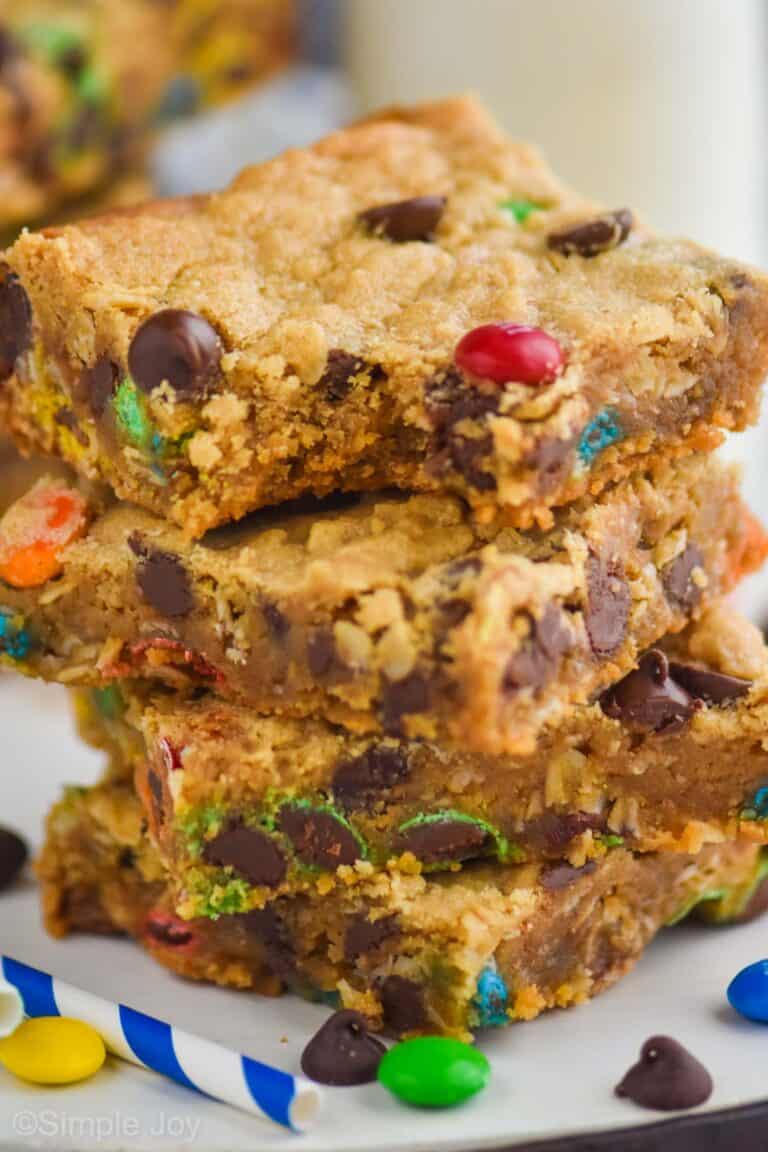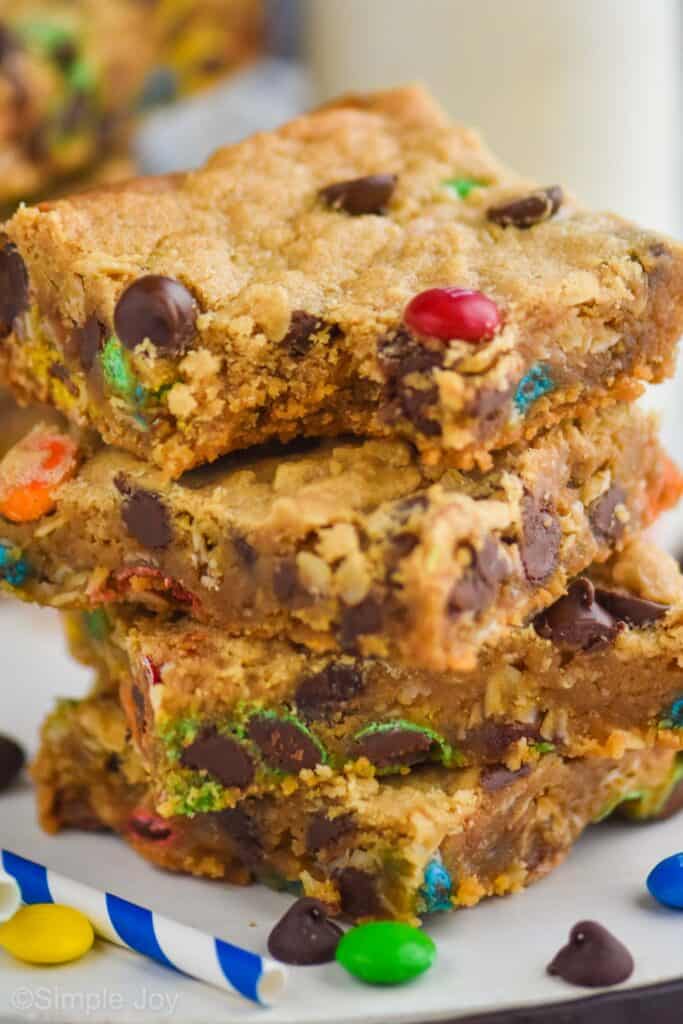 We are incredibly lucky that our kids attend a school district with award winning teachers. They have made virtual learning easier and this transition into home schooling smoother.
Daily we are to do a science project with our 3rd grader, and one of the suggestions was baking. So we made Monster Cookie Bars! It was great to be able to teach the science of baking, like how the brown sugar works with the baking soda to form a reaction.
WHY I LOVE BAKING COOKIE BARS
These are the bar version of my Monster Cookies.
Cookie Bars are a GREAT recipe for a first time baker. You can get things a little bit wrong (too much flour, not soft enough butter, etc) and still end up with a great dessert.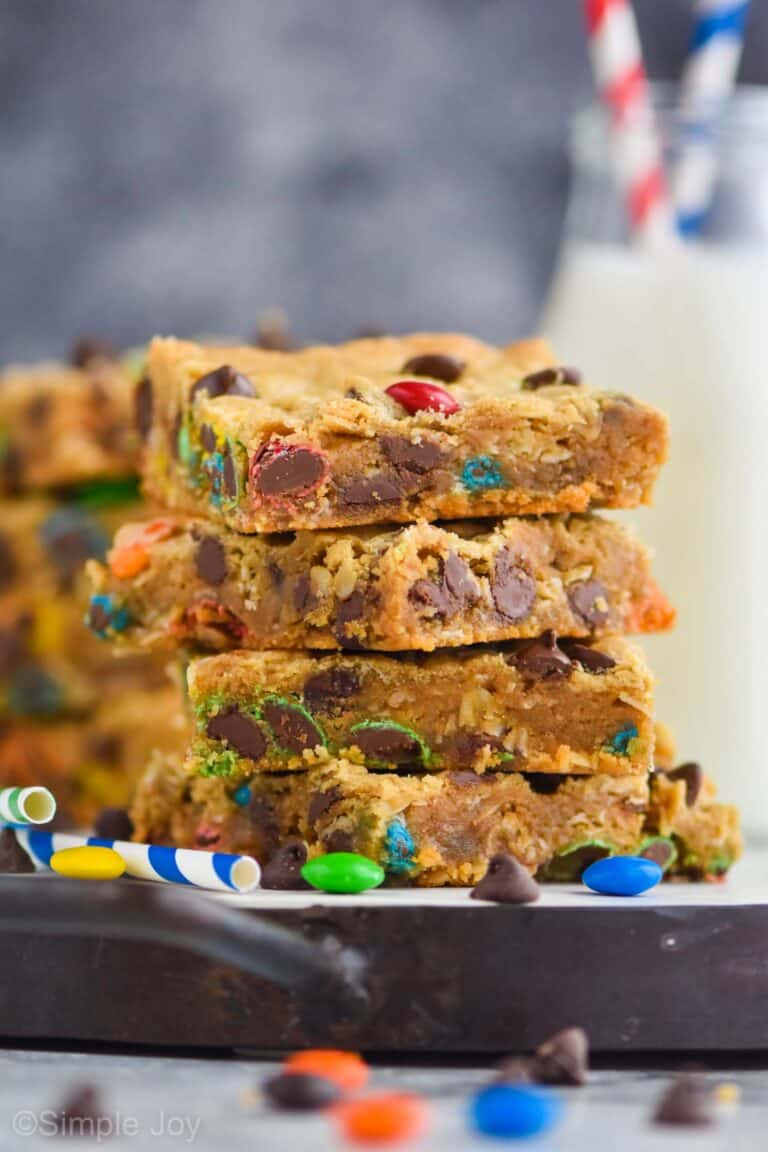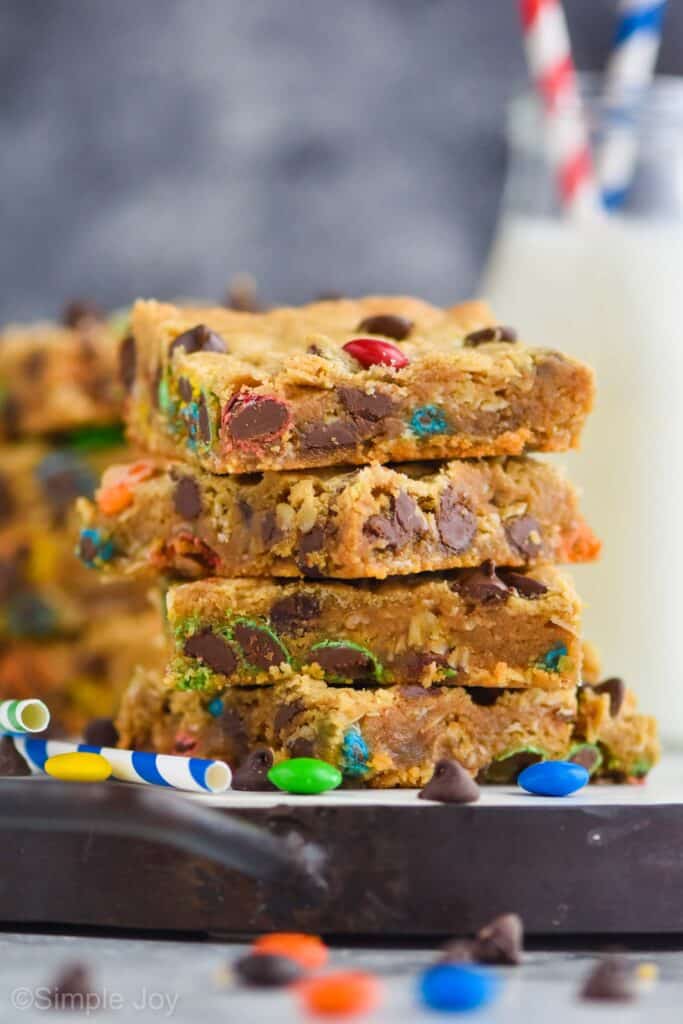 WHAT MAKES THEM MONSTER
The reason for the name Monster Cookies is because we are taking every kind of cookie and mashing them together here! These cookies contain:
M&Ms
Oatmeal
Chocolate Chips
Peanut Butter
They are a hodge podge wonder dessert!
BAKING BASICS
Though cookie bars are very forgiving, I think they still present a great opportunity to teach our kiddos baking basics.
HOW TO MEASURE FLOUR
Resist the urge to scoop the measuring cup right into the bag of flour to get it out. Some bakers estimate that you can get up to 25% more flour that way. A great way to ruin a cookie recipe.
Instead, scoop the flour out with a spoon into the measuring cup, and then level it off with a flat edge.
HOW TO CREAM BUTTER AND SUGAR
Creaming butter and sugar together is a common step in cookie recipes. The reason for it is that we are creating air pockets in the butter with sugar. It results in light fluffy cookies.
Additionally, if you successfully cream your butter and sugar for long enough you can actually get more cookies out of your dough recipe. (You can check out this article from Serious Eats to learn more.)
FRESH BAKING SODA AND BAKING POWDER
To get baked goods that rise, you need baking soda and baking powder that are fresh and will still create a reaction.
This is how you test each:
Baking Soda: Drop it in a little vinegar and make sure it bubbles right away.
Baking Powder: Drop it in some water and make sure it bubbles right away.
Science!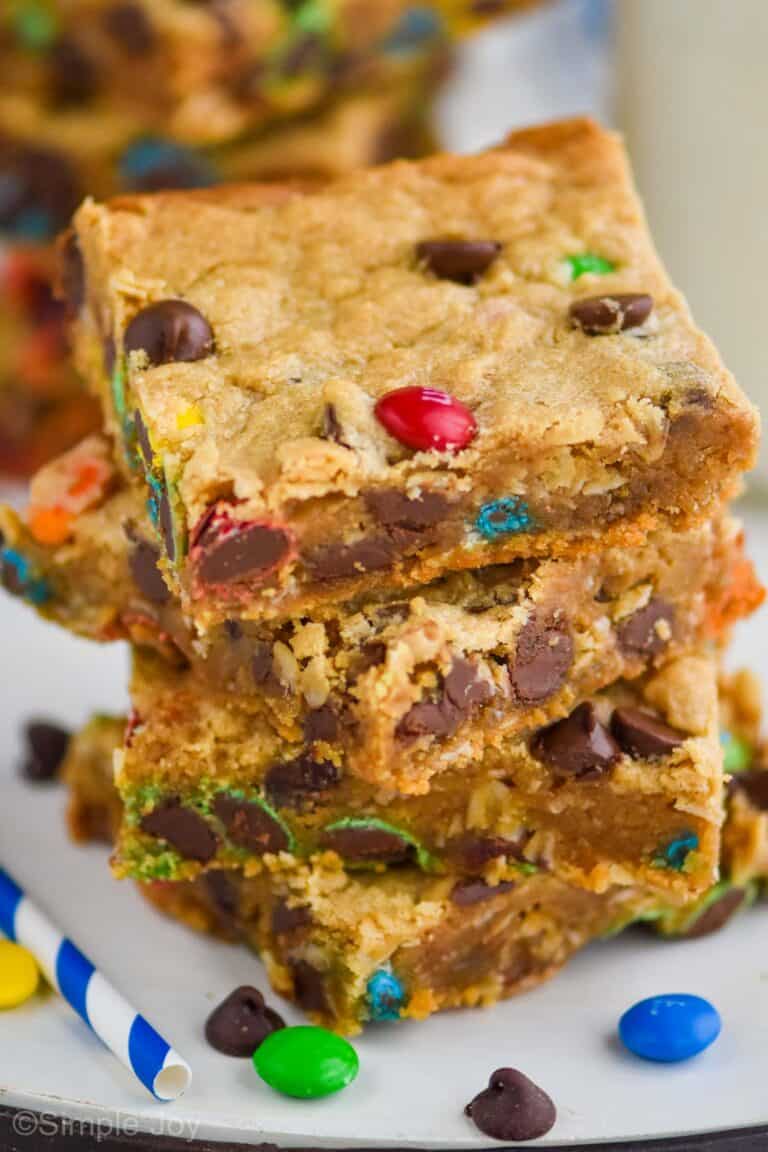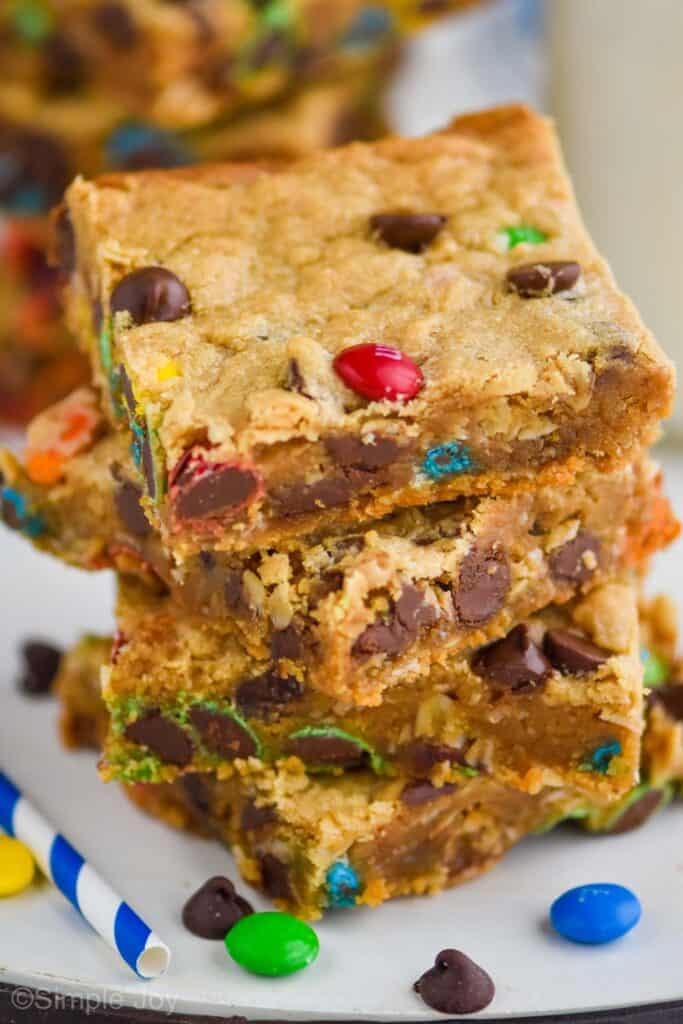 CUTTING
Allow these bars to cool completely before cutting them.
These make very very rich cookie bars. I highly suggest that you cut them to make at least 24 bars.
STORING AND FREEZING
After allowing the bars to cool completely, store them in an airtight container for up to 1 week.
Alternatively, freeze on a parchment lined baking sheet for 1 hour and then transfer to an airtight container. Freeze for up to three months.
PRO TIP: Nathan likes eating these right from the freezer!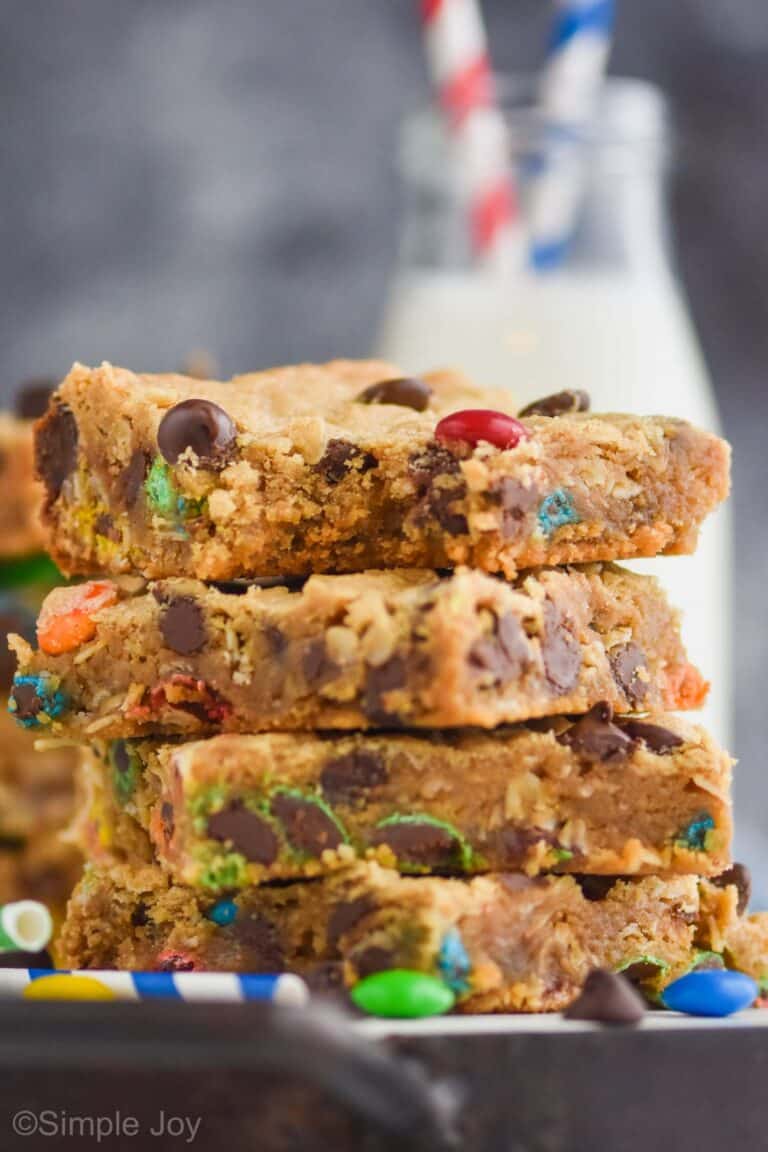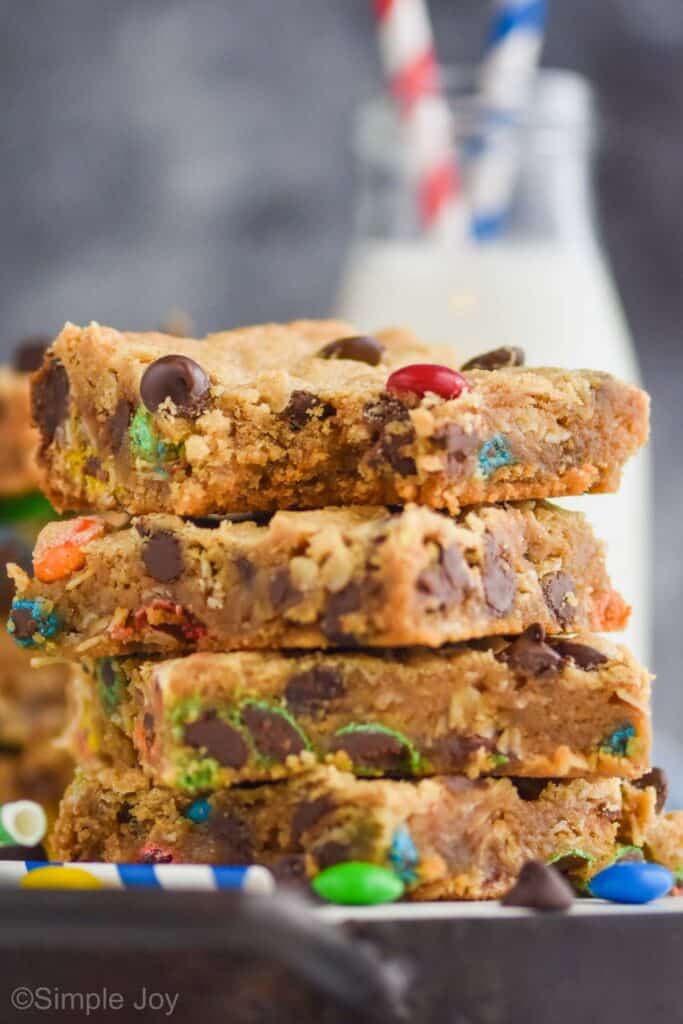 OTHER GREAT COOKIE BARS
If you can't get over cookie bar recipes, make these with the kids!
If you love these cookie bars or make others, please leave me a comment and let me know what you think!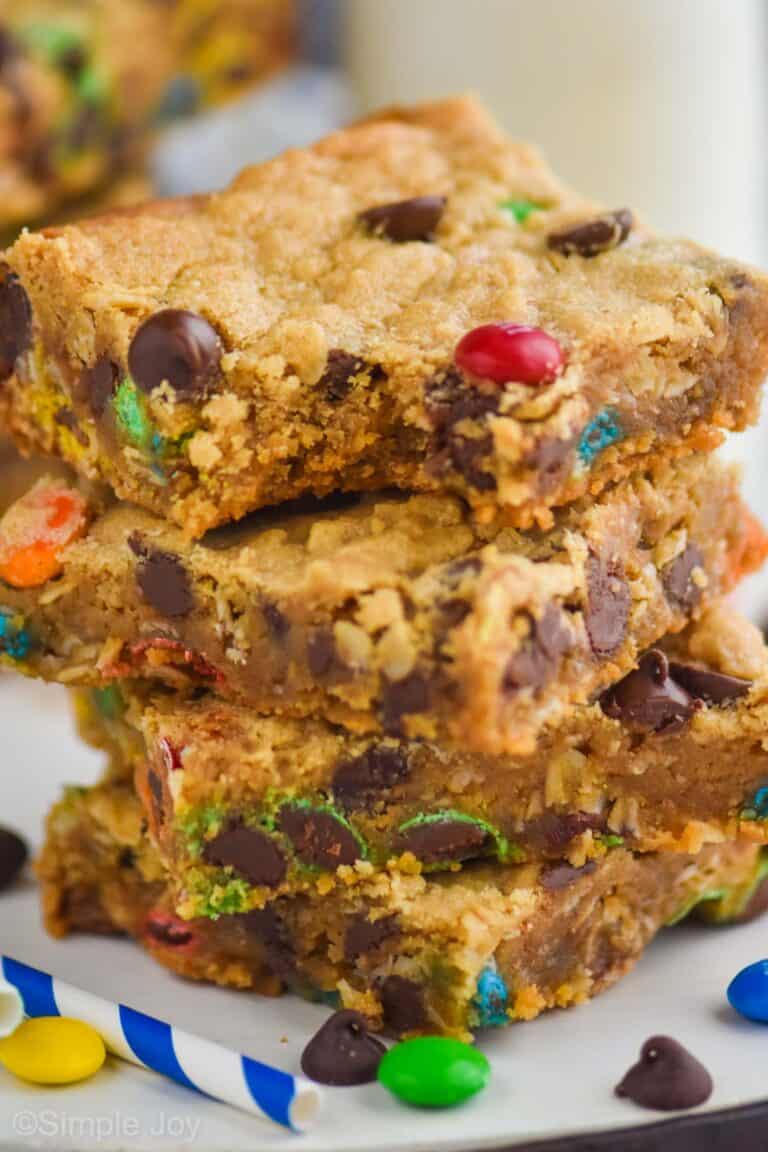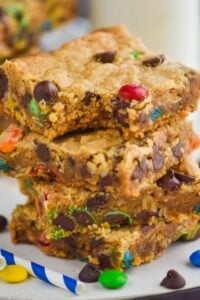 Monster Cookie Bars
Monster Cookie Bars are so easy to make, and full of delicious flavor. Such a fun treat to bake with the kiddos!
Ingredients
1

cup

all purpose flour

see note 1

1/2

teaspoon

baking soda

1/2

teaspoon

baking powder

1/4

teaspoon

salt

1

cup

unsalted butter

room temperature

1

cup

brown sugar

packed

1/2

cup

granulated sugar

1 1/2

cups

creamy peanut butter

2

large eggs

room temperature

2

teaspoons

vanilla extract

1

cup

chocolate chips

(I used milk chocolate)

1

cup

M&Ms

1

cup

quick cooking or old fashioned
Instructions
Preheat your oven to 350 degrees. Spray a 9 by 13 inch pan with cooking spray and set aside.

In a medium sized bowl, mix together the flour, baking soda, baking powder, and salt until fully combined. Set aside.

In a large bowl, beat together the butter, brown sugar and granulated sugar, until light and fluffy. About three minutes. Then proceed to beat in the peanut butter until fully combined.

Beat the eggs into the butter/sugar/peanut butter mixture, one at a time. Finally, beat in the vanilla.  

Add in the flour mixture all at once (see note 2) mixing it in on a very low speed until you have no risk of flying flour and then up the speed just a little and mix in until the flour has just disappeared.

Finally, stir in the chocolate chips, M&Ms, and oats.

Dish the batter into the baking pan. It will be very sticky. Spray a spatula with cooking spray and use that to spread out the dough.

Bake for 25 to 27 minutes or until the edges of the bars are golden brown. Allow to cool completely before cutting into 24 equal squares.

Store in an airtight container for up to 1 week. See notes in the post about freezing.
Notes
To measure the flour, spoon it into the measuring cup and level off the top, rather than scooping it right from the flour container.
Most cookie recipes suggest that you mix in the flour a little at a time so that the flour does not fly everywhere and it suggest that you not over-mix. I recently read that you should add it all at once, mixing in slowly at first so it doesn't go everywhere, and then just mixing until the flour disappears. This lowers the risk of over stimulating the gluten which can lead to a dense cookie.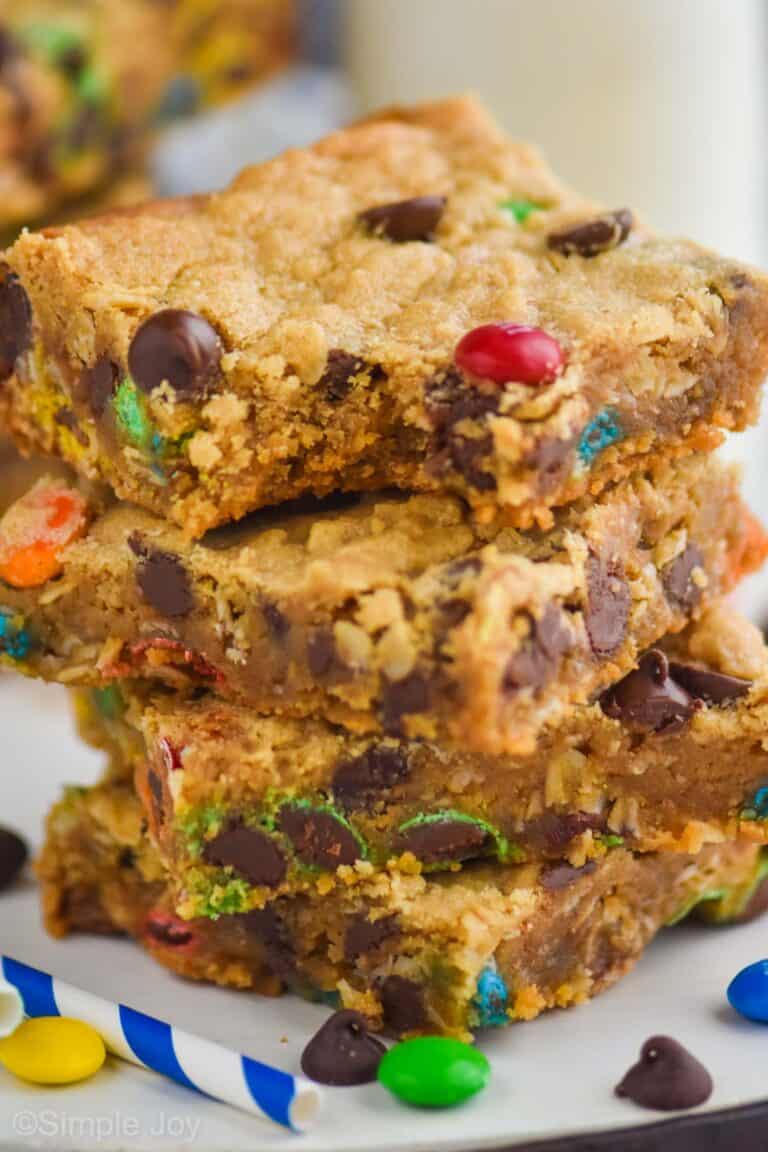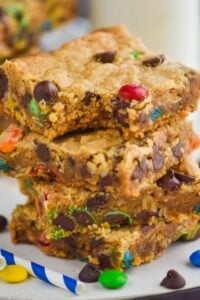 did you make this
Monster Cookie Bars