Triple Chocolate Raspberry Ice Cream Pie | Chocolate cookie crust, hot fudge, chocolate chips and raspberry in one delicious ice cream pie!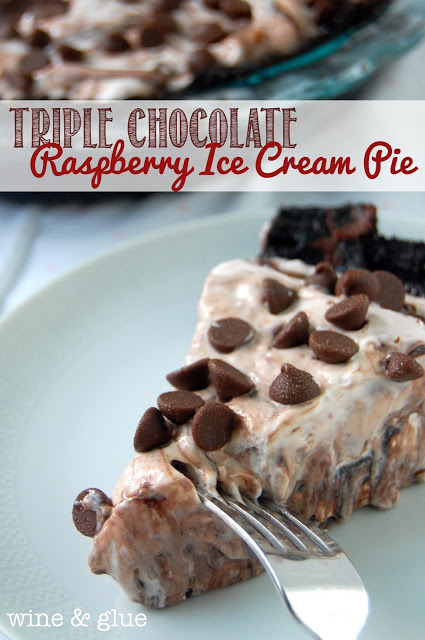 Do you know what's harder than photographing an ice cream pie on an 81 degree day?
Hogtying your two year old and squeezing her sweaty little feet into sandals that are absolutely one size too small so you aren't late to soccer?
No.
Planning your five year old's summer activity schedule?
No.
Dealing with said five year old who thinks that "Why??" is an acceptable answer to any and all questions and statements you say to him?
No.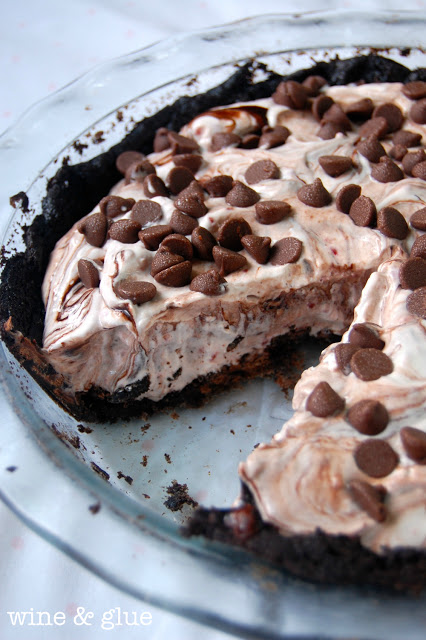 Scrubbing approximately 300 pounds of sand out of your two year old's hair that was strategically placed there by her five year old older brother?
No.
Cleaning 300 pounds of sand out of the bathtub?
No.
Do you give up?
Do you want to know what is harder than photographing an ice cream pie on an 81 degree day?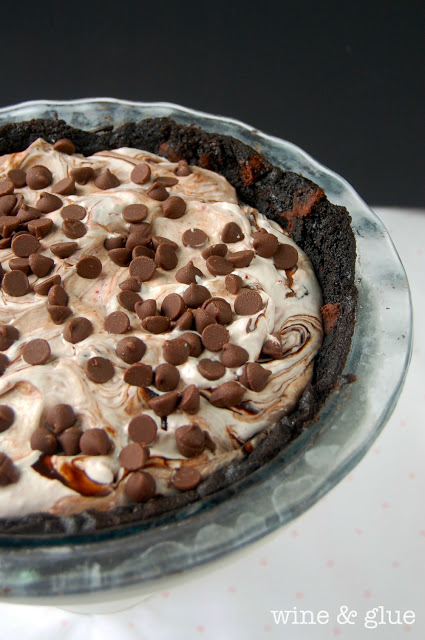 Okay, nothing.
I don't really think anything is harder than photographing an ice cream pie on an 81 degree day . . . stop melting you delicious little jerk!!
Maybe the only thing that is harder than photographing it is not eating ALL OF IT as you "taste test it."
I've invented a bunch of crazy recipes since I started blogging, but I really think that none of them are as good as this pie.
I'm serious. It is decadent enough to totally impress dinner guests, but so super simple to make.
And do you want to hear something absolutely ridiculous?
The crust is made from cookie dough.
Oh yes I did.
Triple Chocolate Raspberry Ice Cream Pie
1 package of Nestle Tollhouse Ultimates Cookie Dough Dark Chocolate Delights
1 tub of whipped topping
1 can Sweetened Condensed Milk
10 oz jar of raspberry jam
1/2 a cup of hot fudge (softened)
1/2 a cup chocolate chips
Preheat your oven to 350 degrees. Spray your 9 inch pie pan with cooking spray.
Gently pull pieces off the cookie dough and press it into the pie pan so it makes an even layer. There are areas that are going to be thin, but that's okay.
Spray a piece of tin foil with cooking spray and put the cooking spray side down into the pie pan over the dough. Now fill the tin foil with spare change. It will help the cookie dough hold it's shape while it bakes.
Bake the pie crust for 18 minutes. Let it cool completely before removing the tin foil, and take it out gently.
Mix together the whipped topping, the scm, and the raspberry jam.
Add the hot fudge in large dollops and swirl gently into the mixture. Do not over mix!
Pour the mixture into the pie crust, top with the chocolate chips. Freeze overnight.
Before serving, let sit at room temperature for five minutes.
Looking for more pies with a cookie dough crust?