Cookie dough lovers will think they've died and gone to heaven with this amazing Cookie Dough Ice Cream Pie. It's simple, its rich, and oh my, it's delicious!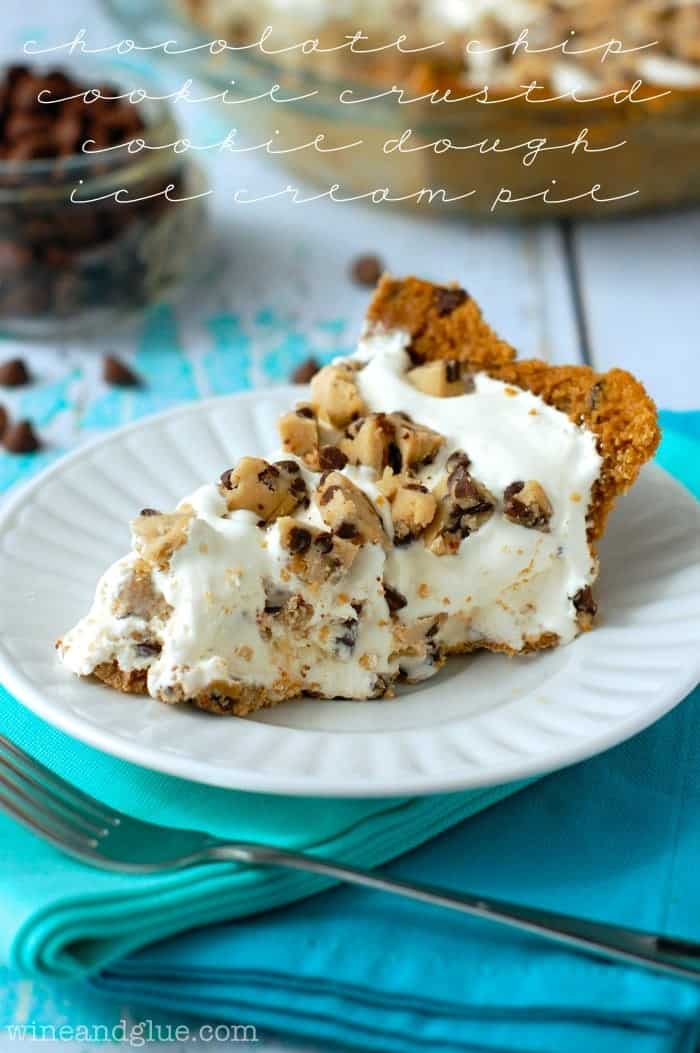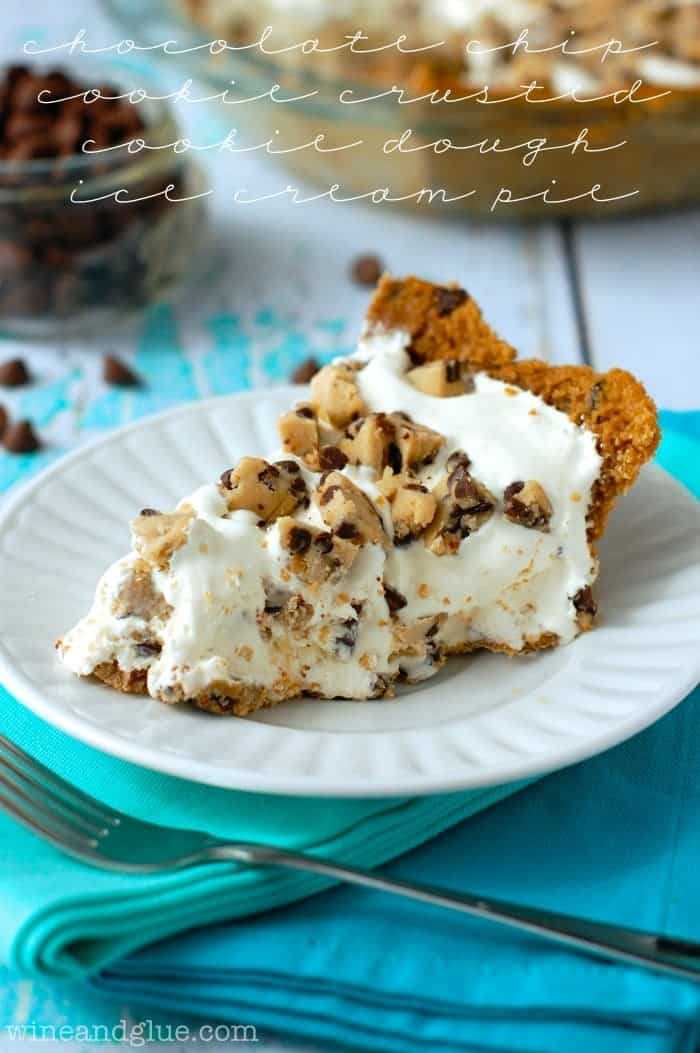 The Ice Cream Pie that has it all
There are some recipes you just know are going to be amazing before you ever even give them a try. This Cookie Dough Ice Cream Pie definitely falls into that category. If you're doubting, let's run this past a simple checklist:
Cookie dough — check
Ice cream — check
That's it. That's the list. What else is there? All you cookie dough lovers, give a shout out in the comments below! You're going to love this pie!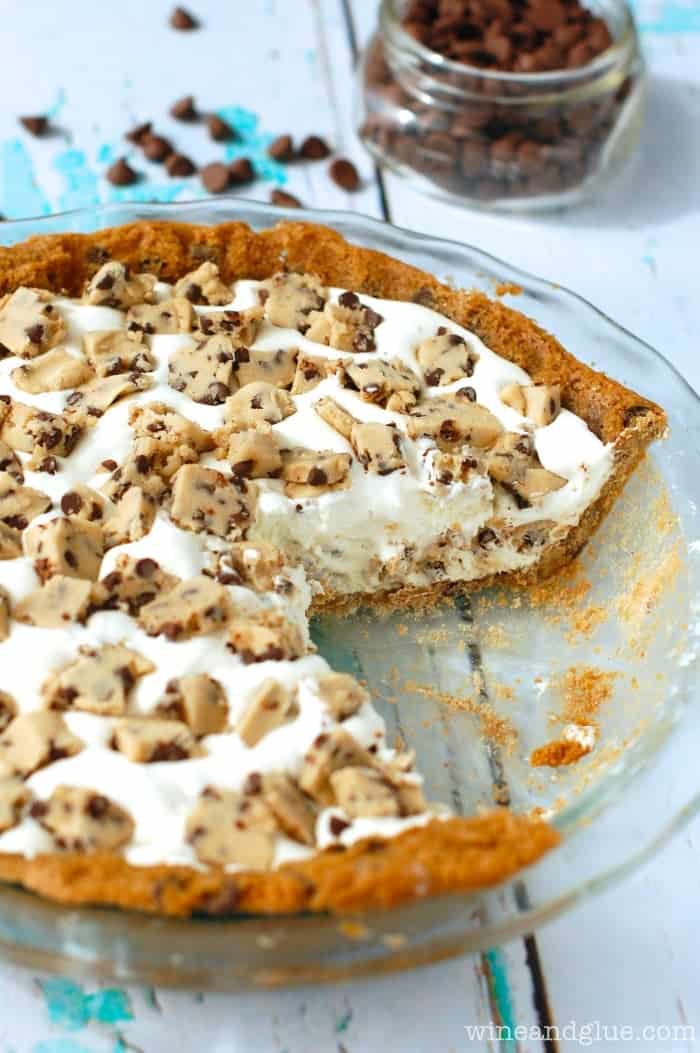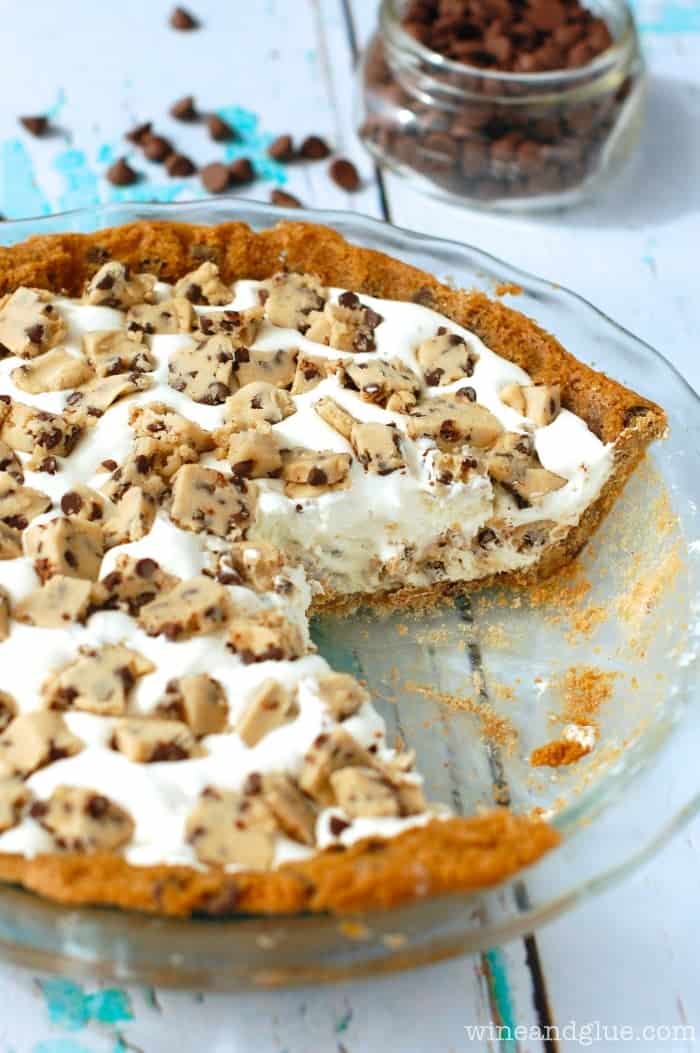 Is raw cookie dough safe to eat?
Before we go any further, we need to clarify that there are two kinds of cookie dough used in this ice cream pie. The first is a pre-packaged roll of refrigerated cookie dough that will be BAKED as the crust — so it is totally safe to eat.
In traditional cookie recipes, raw cookie dough is not safe to consume. In those recipes it is the eggs you need to be careful about as you fight the temptation to sneak and un-baked taste. Uncooked eggs can cause food poisoning if they are contaminated with harmful bacteria. Once baked, those concerns go away.
Before you worry, the raw cookie dough crumbles in this recipe (thanks Center Cut Cook!!) is egg-free, so feel free to indulge!
Recipe for the cookie dough adapted from Center Cut Cook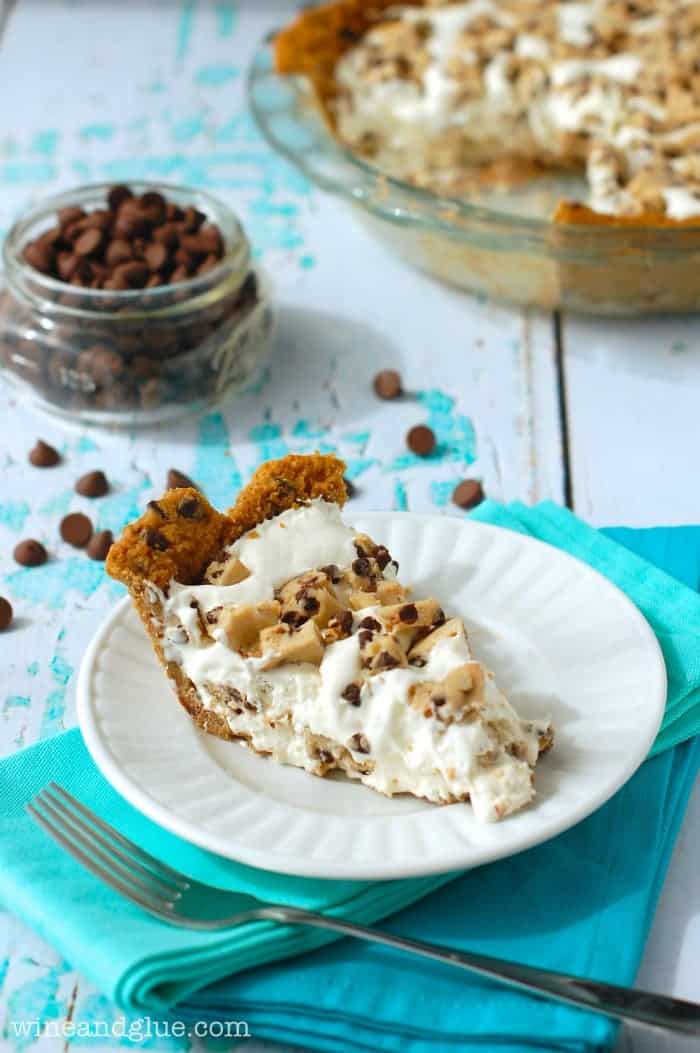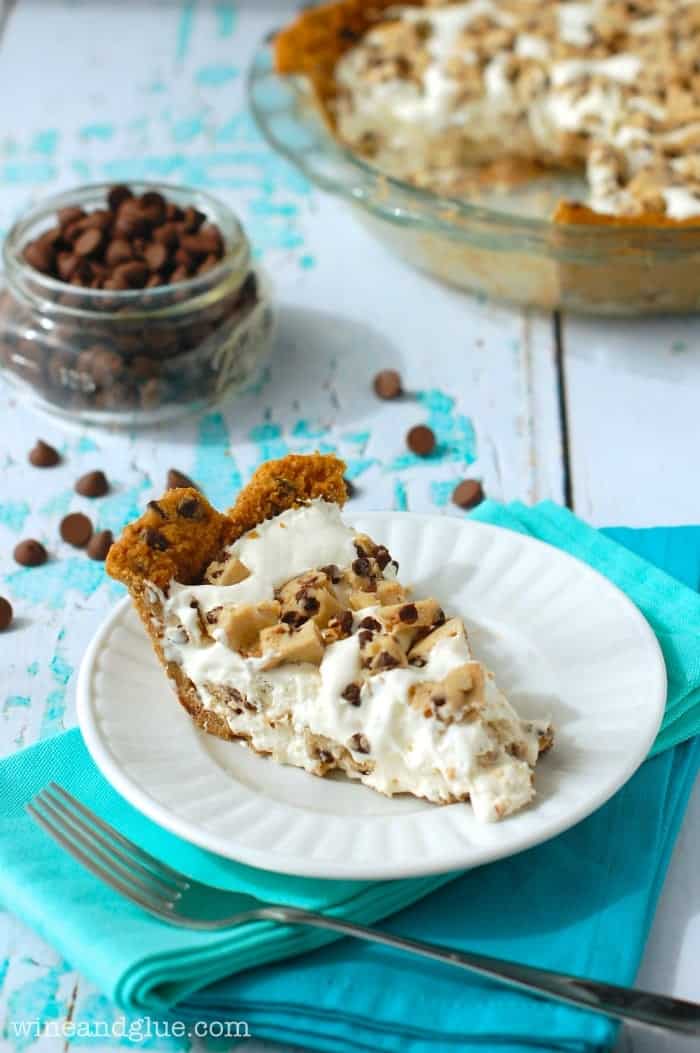 Cookies, cookies and more cookies!
In case the idea of chunks of (safe) raw cookie dough wasn't enough to get your salivary glands going, the crust itself is a giant chocolate chip cookie! It's the perfect shell in which to house the creamy, cookie-doughy goodness that will be folded in after the crust is baked.
Variations to try
Even though we are raving about the cookie dough crust, there is room for variations within this recipe as well.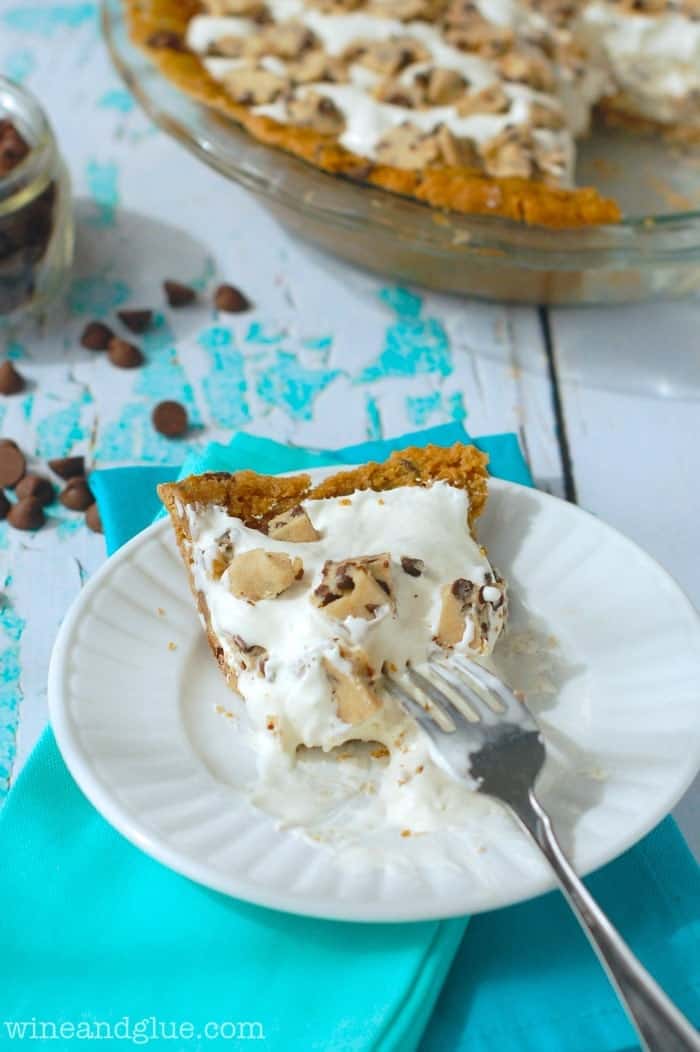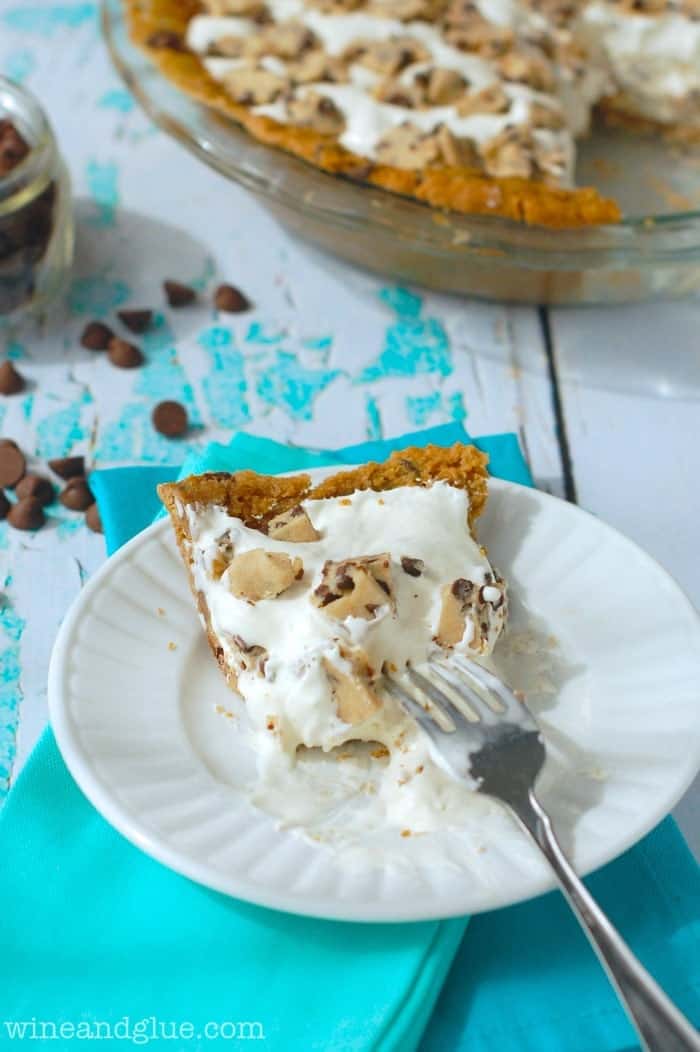 Screaming for more ice cream pie
Can't get enough of these pies? We have you covered, big time!
Triple Chocolate Raspberry Ice Cream Pie
Chocolate Pumpkin Ice Cream Pie
Chocolate Peanut Butter Brookie Pie
When you try any of these fantastic recipes, leave a comment about which one is your favorite. We love hearing from you!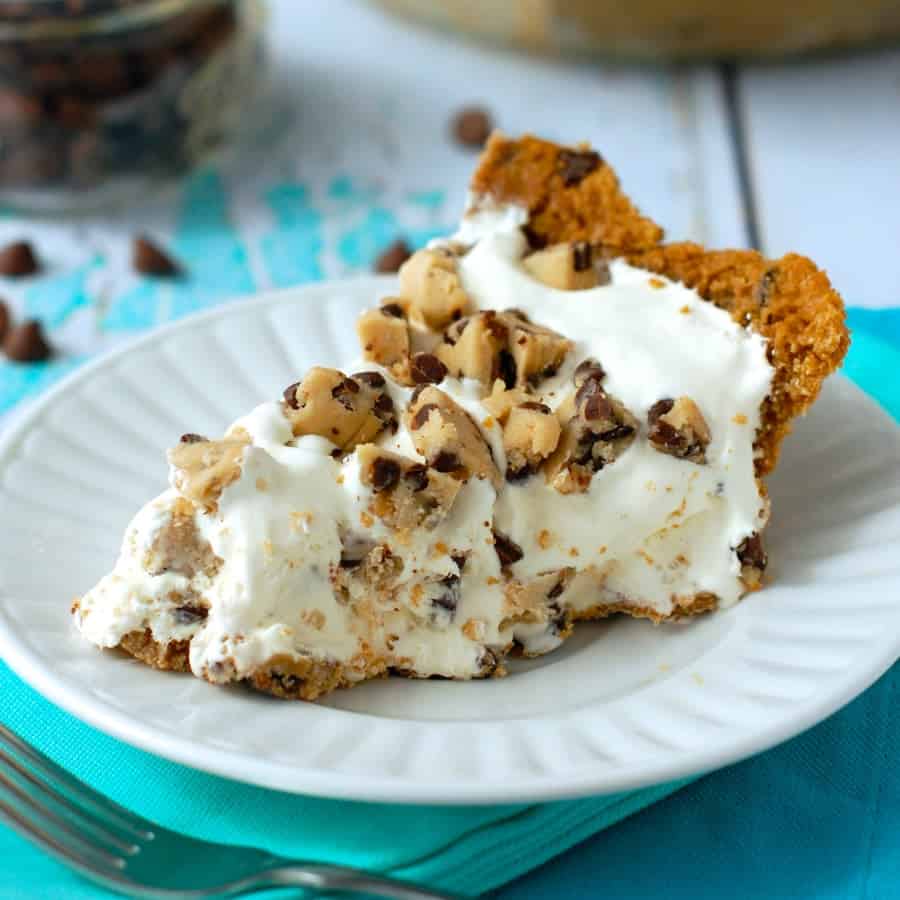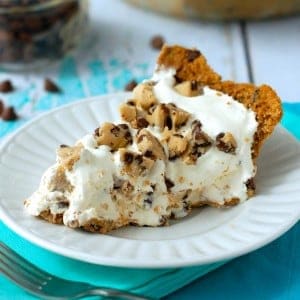 Chocolate Chip Cookie Crusted Cookie Dough Ice Cream Pie
Ingredients
For the Pie Crust

1 16.5

oz

package of refrigerated chocolate chip cookie dough

I used Pillsbury

For the Edible Cookie Dough

1/2

cup

of butter

softened (1 stick)

3/4

cups

brown sugar

1

tsp

vanilla extract

1/2

tsp

salt

1

cup

all purpose flour

2

TBSPs

milk

1

cup

mini chocolate chips

For the Ice Cream

1 8

oz

container of cool whip

1 14

oz

can of sweetened condensed milk

1

tsp

vanilla extract
Instructions
Preheat your oven to 350 degrees.

Press the packaged cookie dough into the pie pan to make the "pie crust." Spray a piece of aluminum foil with cooking spray and gently push the foil into the pan over the dough. Weigh it down with dry beans or coins. Cook for 25 minutes.

Remove from the oven and leave the foil on until the crust has completely cooled. Then remove the coins (or beans) and very very gently pull off the foil.

While the pie crust is baking, begin making the edible cookie dough that will go in the ice cream. Beat together the butter and the brown sugar until light and fluffy.

Beat in 1 tsp vanilla and the salt. Then slowly add the flour until fully combined, scraping down as needed.

Finally beat in the milk and gently stir in the mini chocolate chips.

Line a 10 by 15 inch pan with wax paper and press the edible cookie dough into it so it is one big flat piece. Refrigerate for an hour (or until your pie crust is cooled).

When the crust is cooled and free of coins, beans, and aluminum foil, take the edible cookie dough out of the refrigerator. Cut it in half. Then cut each half into small bite sized pieces and set aside the two piles.

In a large bowl, mix together the cool whip and sweetened condensed milk. Stir in 1 tsp of vanilla. Then gently mix in one pile of cut edible cookie dough. Pour the mixture into the pie pan over the crust. Top with the other half of edible cookie dough bits.

Cover with aluminum foil and freeze overnight. Before serving, allow to sit at room temperature for about 10 minutes.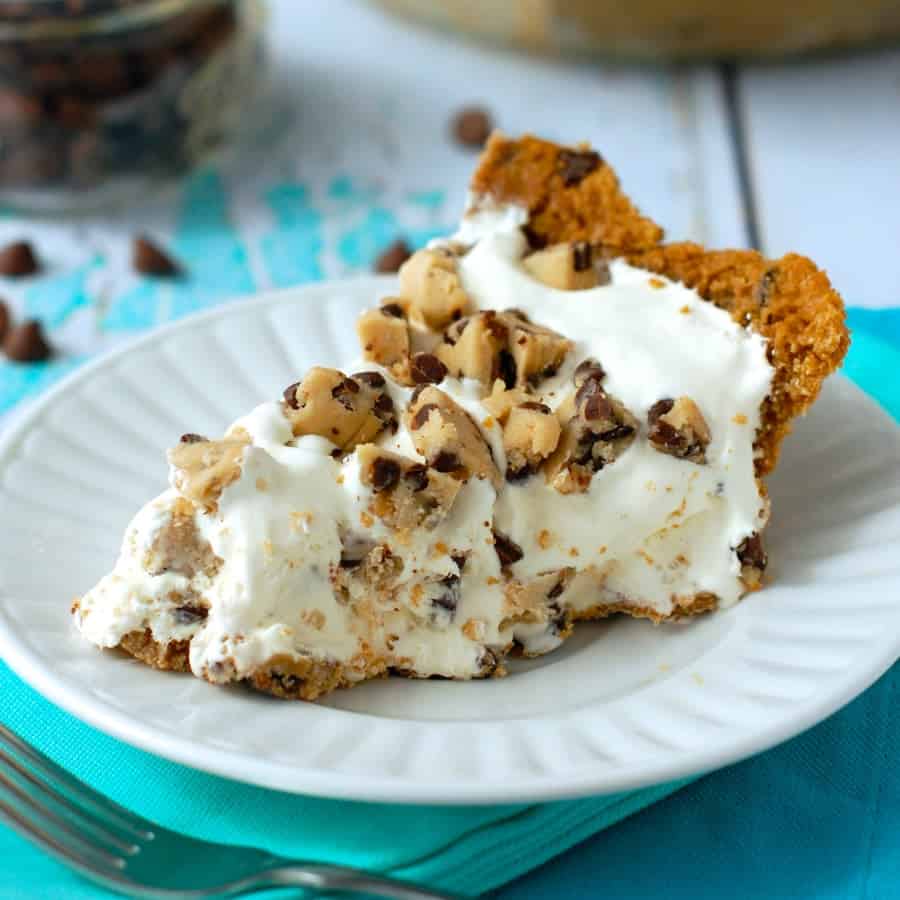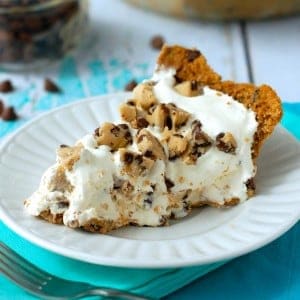 did you make this
Chocolate Chip Cookie Crusted Cookie Dough Ice Cream Pie