Edible Sugar Cookie Dough is such a delicious and easy dessert recipe. This is the perfect thing to make with kids and would make a great gift as well.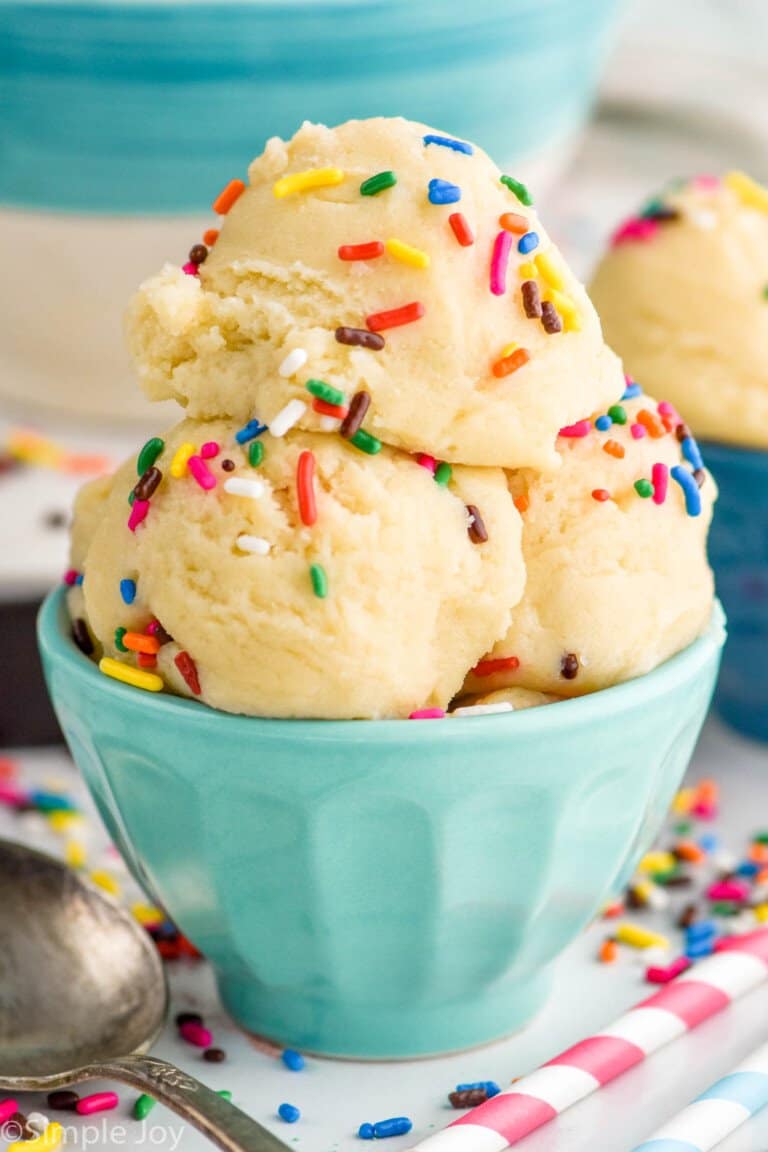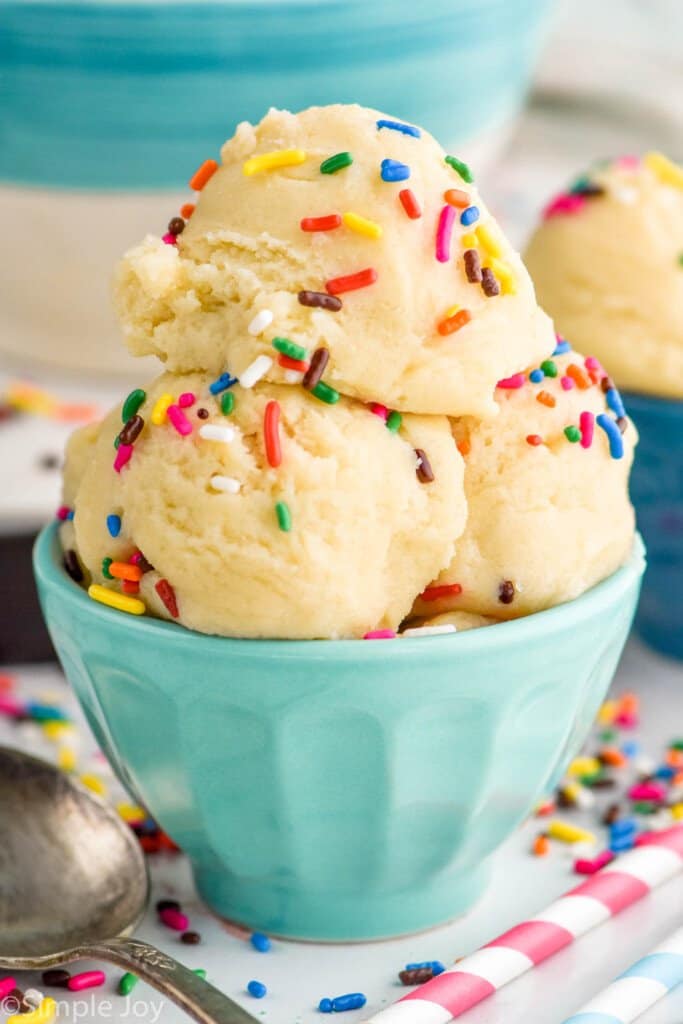 Whenever I share my Edible Cookie Dough on Facebook, I typically get at least one person who says, "Wait. Isn't all cookie dough edible?" Listen. If you are me, heck yes. All cookie dough is edible.
With that being said, we are taking two important steps in this recipe that eliminate the risk of getting sick from eating it, while still getting the great taste of raw cookie dough. The first step we are taking is toasting the flour. Raw flour can be a source of e. coli and can make you sick. The second step we are taking is eliminating the raw eggs. While most eggs in the Untied States are pasteurized, removing them from the recipe eliminates the risk completely. It also makes this recipe safe for those who are allergic to eggs.
How to Make Edible Cookie Dough
Bake the flour. More on this in a moment, but you want to cook your flour before adding it to the recipe. This, as mentioned above, eliminates the e. coli risk.
Cream together the sugar and the butter. Just like when we make regular cookie dough, you want to cream the butter and sugar until it is light and fluffy. Then add in vanilla extract. We are getting this nice white color because this is an edible sugar cookie dough without brown sugar.
Add in the toasted flour. All at once add the flour to the mixing bowl. Start with the mixer on low and combine just until it won't fly around. Then turn it all the way up and beat until just combined.
Add in the sweetened condensed milk. With the mixer running, add the sweetened condensed milk until just combined, scraping down the sides as necessary.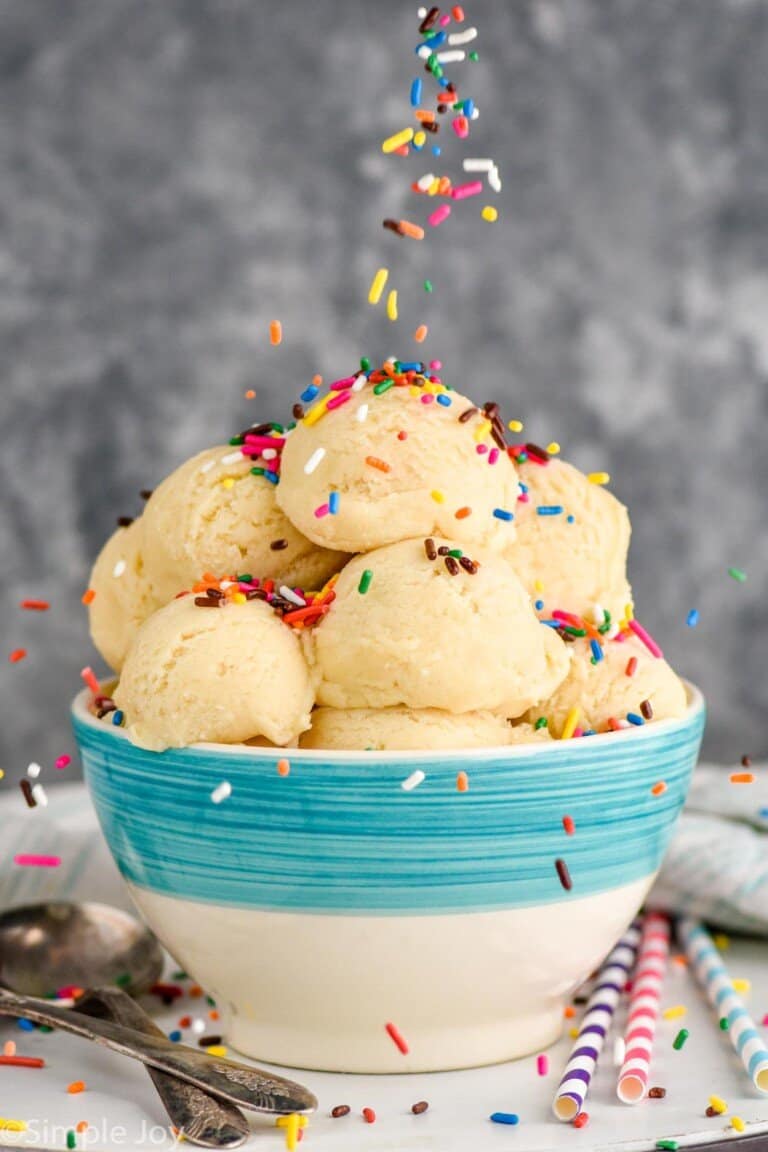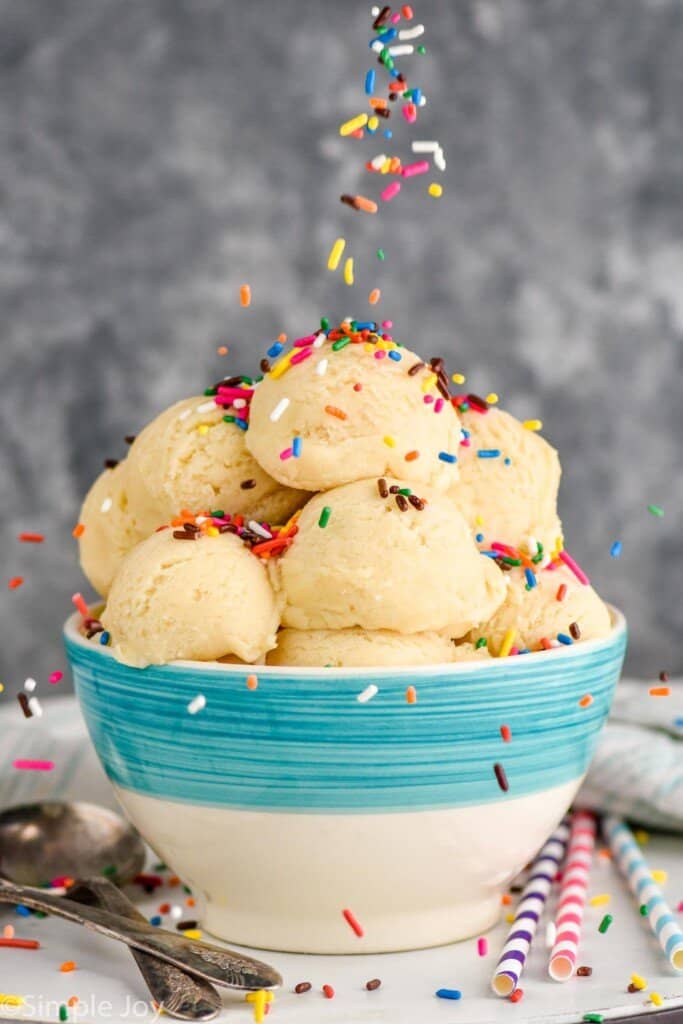 How to Measure Flour for Edible Sugar Cookie Dough
For this recipe, and really any recipe using flour, please take care in how you measure the all purpose flour. If you scoop the measuring cup into the container holding the flour, the flour can pack. Doing this can lead to having up to 25% more flour than you need. This is quite a bit for baking recipes and makes a big difference.
Instead, scoop the flour into a dry measuring cup using a spoon. Then level the flour off with the flat edge of a spatula. If you still aren't quite sure what I'm talking about, we have a great video tutorial for our Oatmeal Raisin Cookies that demonstrates this.
Toasting Flour
In this recipe, a very important step is toasting the flour. Just cooking the flour for 5 minutes at 350 degrees is enough to kill any bacteria and make it safe to eat raw.
Spread the all purpose flour out on a baking sheet and toss it in the oven. This is a great time to prepare the other ingredients for this recipe and cream the butter and sugar.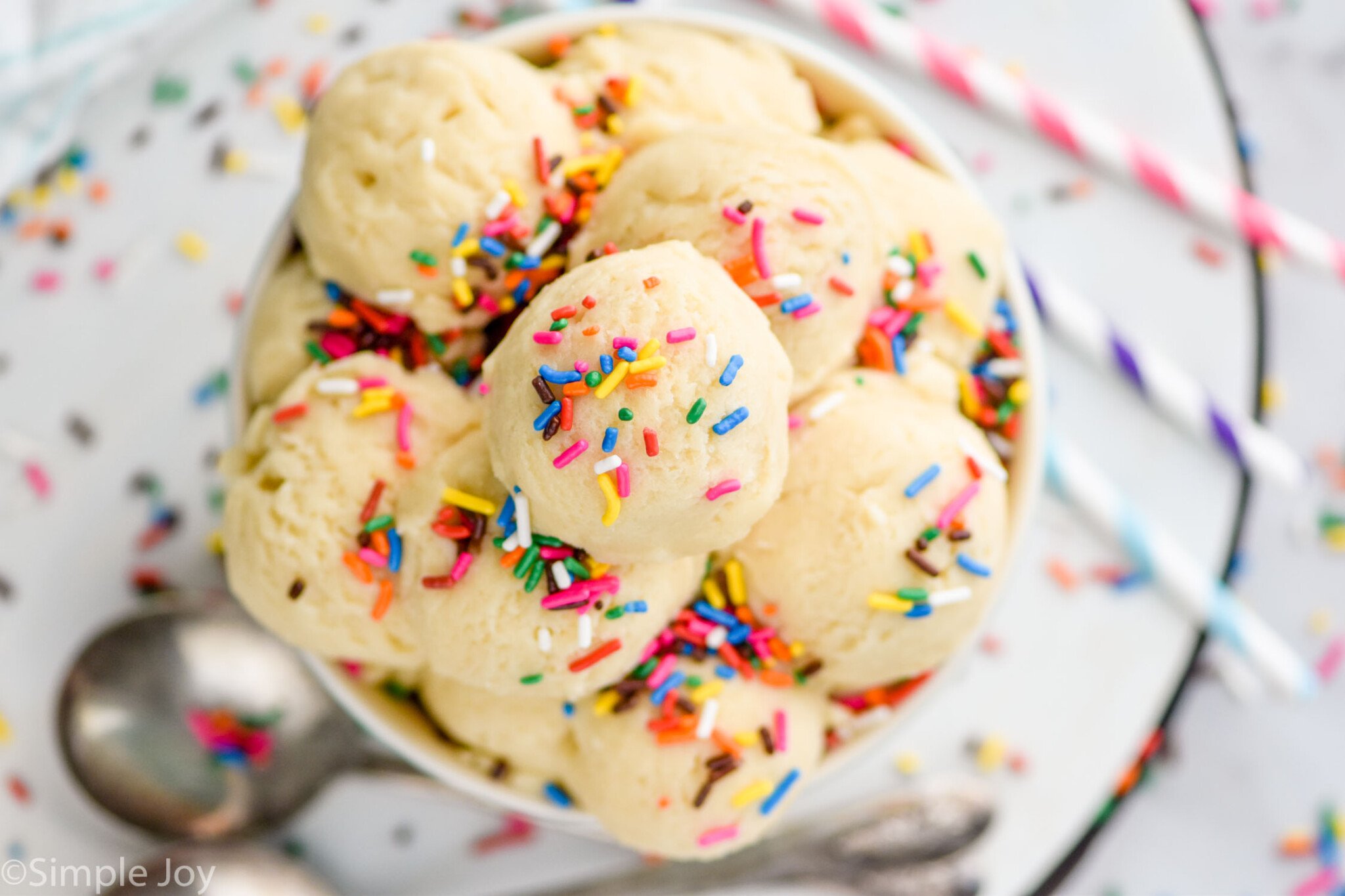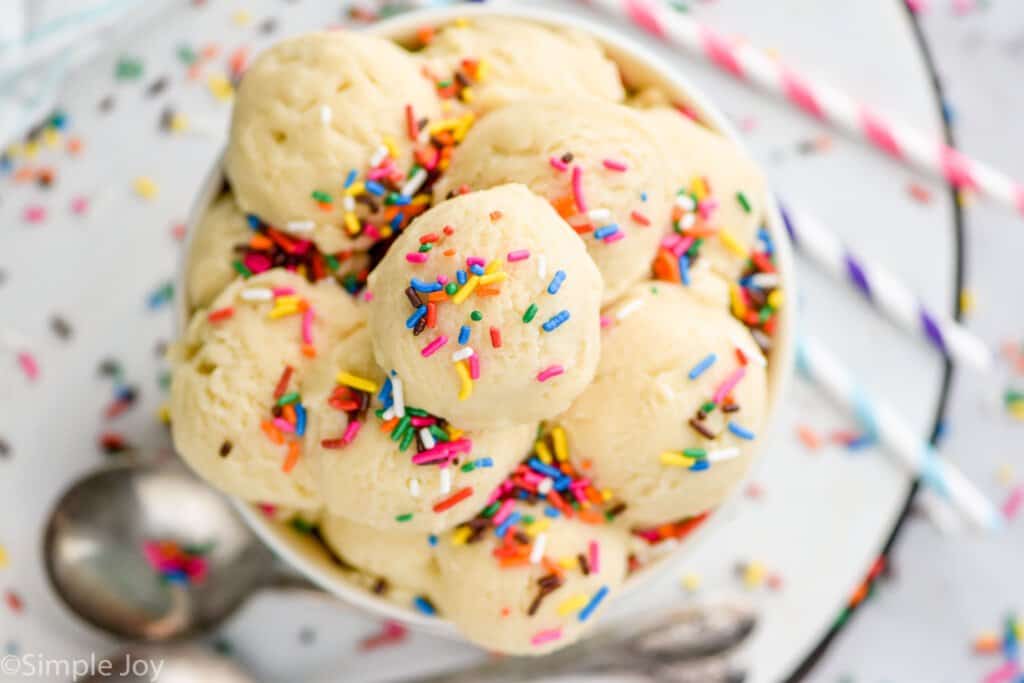 Tips and Tricks for Edible Sugar Cookie Dough
Measure the flour properly. As mentioned above, be sure to scoop and level your flour so you don't end up with too much.
Use room temperature butter. You should be able to easily dent the butter with your finger without going all the way through it. It will be cold to the touch still. You can achieve this by cutting it into one inch pieces and leaving it out on the counter for a half hour.
Use Eagle Brand sweetened condensed milk. I find that their brand of sweetened condensed milk is the most reliable to work with. Do not make the mistake of buying evaporated milk. They are not the same and this recipe will not work.
Storing
This recipe can be stored in the refrigerator in an airtight container and enjoyed for 4 to 5 days. Always use your best judgement when it comes to left over food.
FAQ
Can this edible sugar cookie dough recipe be made with gluten free flour?
Yes! Because we aren't baking it, this is actually a great recipe to swap one for one and it should hold up just fine.
Can this recipe be made vegan friendly?
Yes! We already aren't using eggs. The butter can be replaced with vegan butter. And you can substitute the sweetened condensed milk for this vegan sweetened condensed milk. Please note that we haven't experimented with it for this recipe, but we trust Make it Dairy Free and they have had good results using it as a substitute in recipes.
Can this recipe be frozen?
Yes! That is a great way to preserve its shelf life. If you are going to freeze it, I highly recommend scooping it and freezing it as scoops.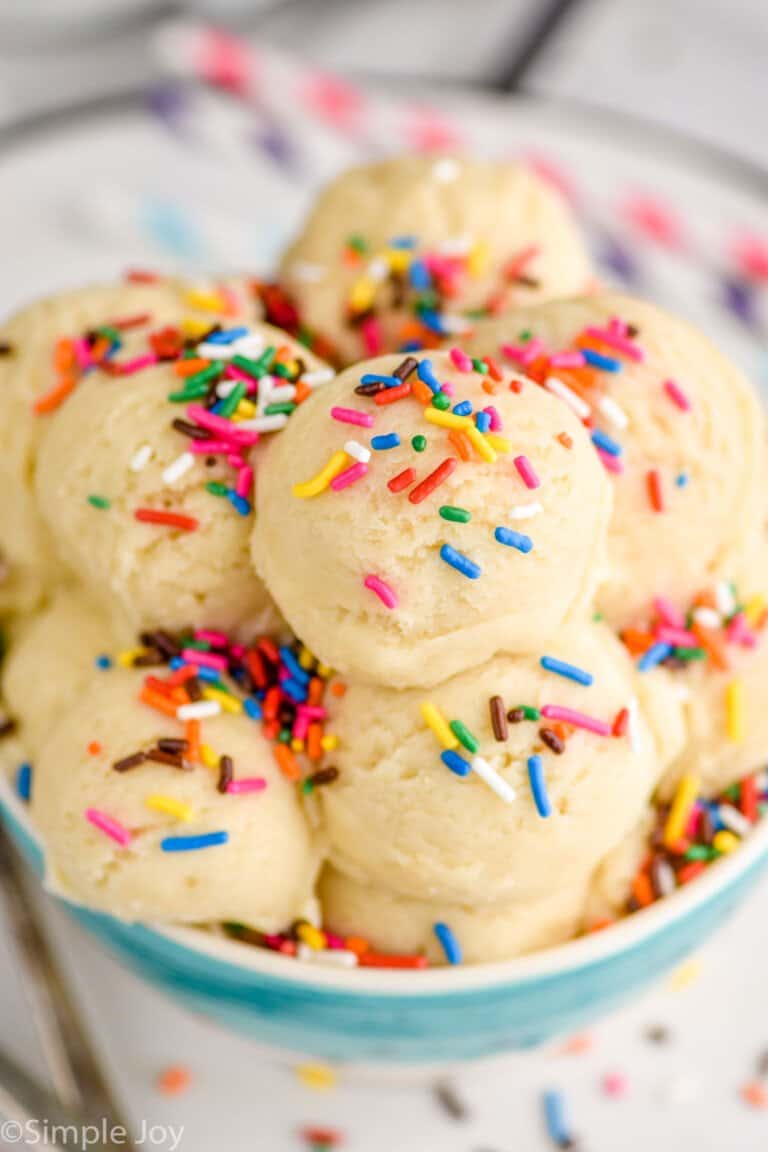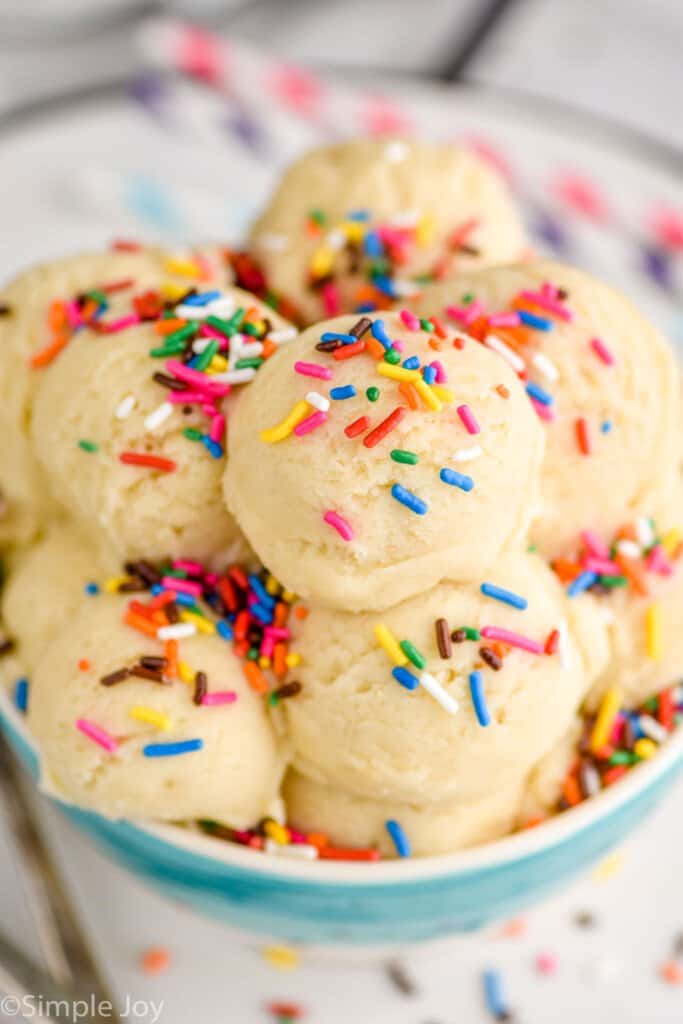 Other Easy Desserts
If you make this great Edible Sugar Cookie Dough recipe or any of my other recipes, please leave me a comment and let me know what you think.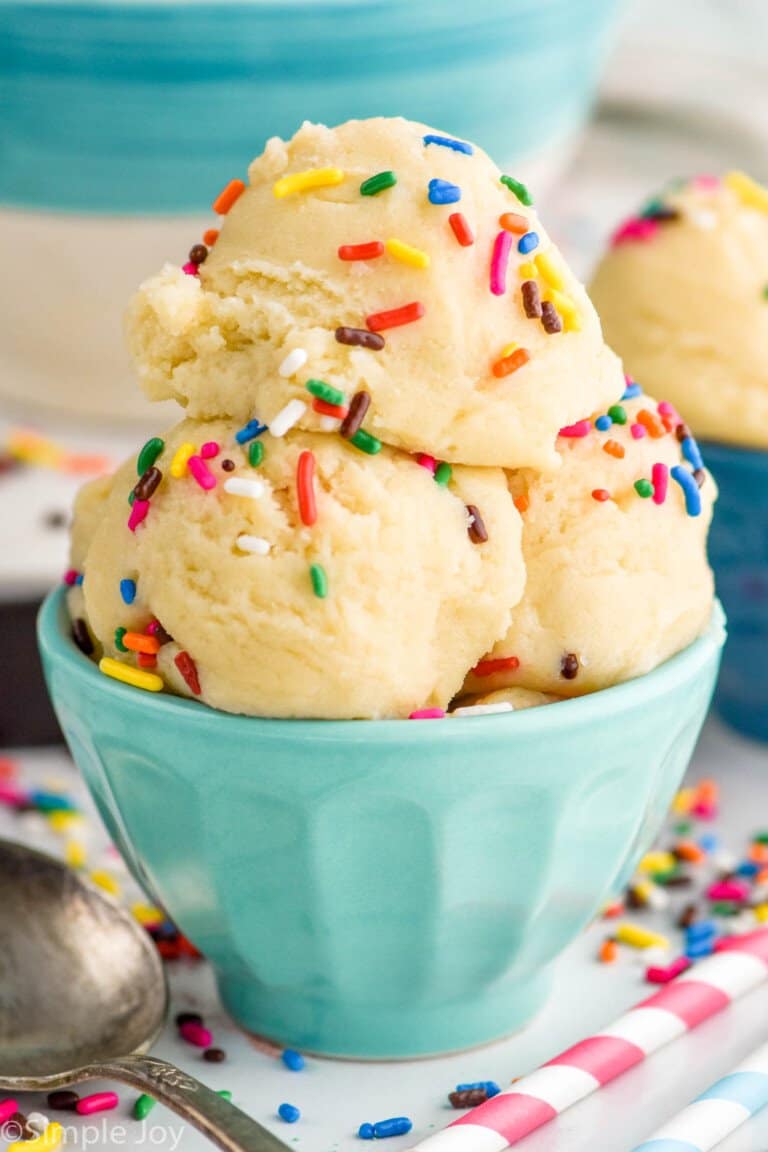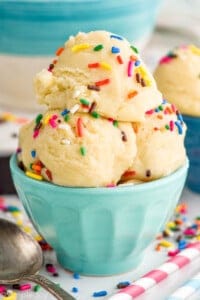 Edible Sugar Cookie Dough
Edible Sugar Cookie Dough is such a delicious and easy dessert recipe. This is the perfect thing to make with kids and would make a great gift as well.
Ingredients
2 1/4

cups

all purpose flour

1/4

teaspoon

salt

1/2

cup

unsalted butter

room temperature

3/4

cups

granulated sugar

2 1/2

teaspoons

vanilla extract

14

ounces

sweetened condensed milk

(I recommend Eagle Brand as it is the most reliable)

sprinkles

for serving
Instructions
Preheat your oven to 350 degrees. Spread the flour on a rimmed baking sheet and bake for 5 minutes.

While the flour is baking, in the bowl of a large stand mixer, cream the butter and the sugar until light and fluffy, about 3 to 6 minutes. Beat in the vanilla.

Whisk salt into the toasted flour. Then add the flour mixture to the mixer. Beat just long enough for the flour to be somewhat combined. Then turn the mixer on high and beat until just combned. Scrape down the sides as necessary.

With the mixer still running, add in the sweetened condensed milk. You may need to stop the mixer periodically to scrape down the sides.

Enjoy immediately or store in the refrigerator for 4 to 5 days.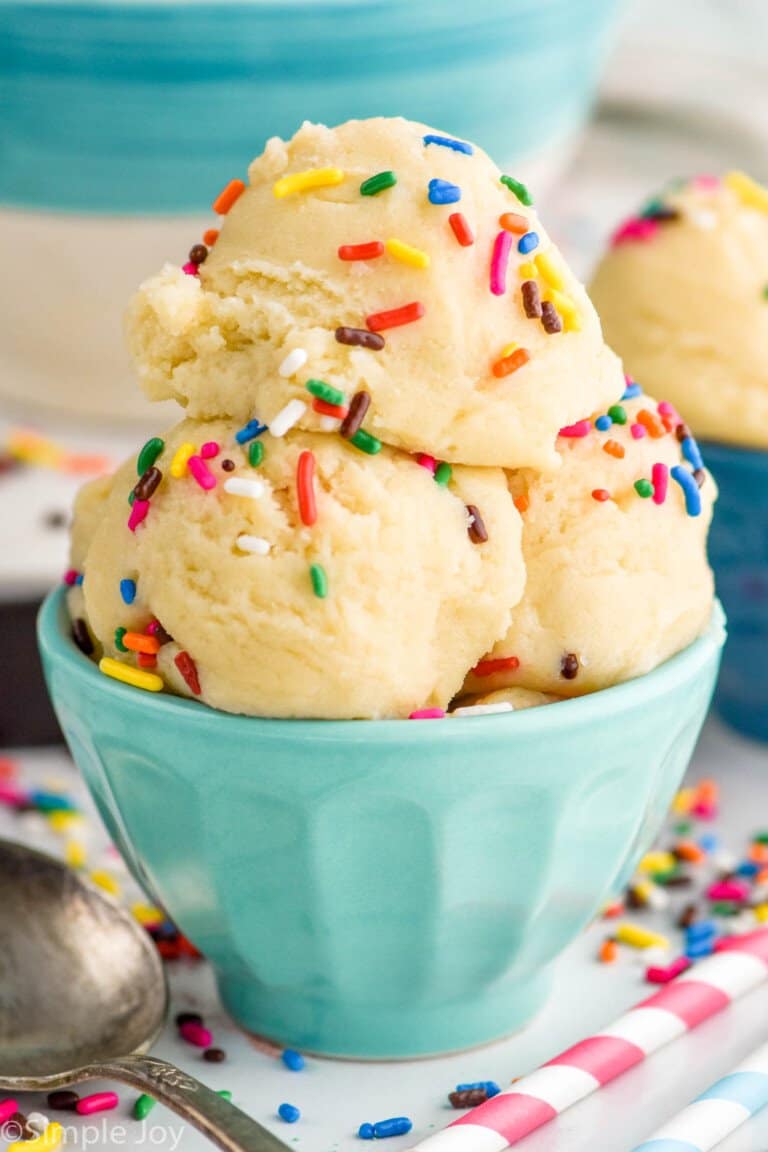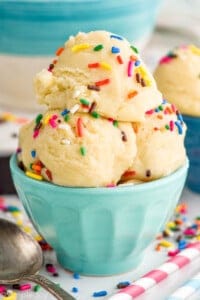 did you make this
Edible Sugar Cookie Dough