This Grilled Pineapple is a perfect side dish or even dessert. The extra flavor added with the grilling combined with a sweet sauce turns this into a delicious sweet treat for any meal.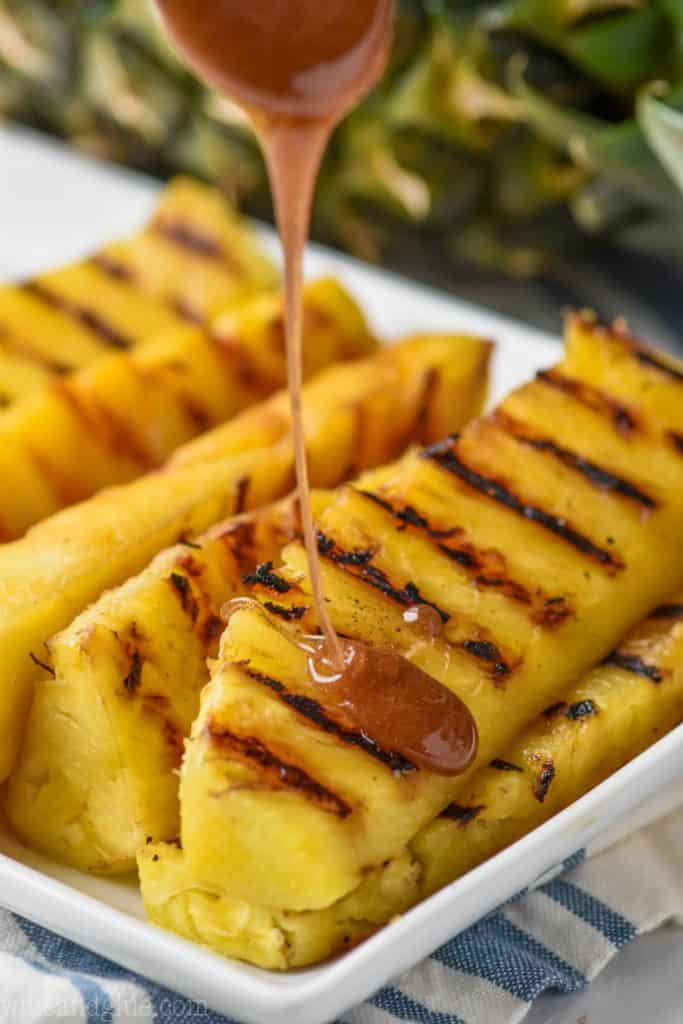 If you are looking for an easy side dish during grilling season, look no further than this amazing Grilled Pineapple. Not only is it simple to make, grilling pineapple completely transforms this delicious fruit. It makes it sweeter, softer, and absolutely delicious.
After grilling it, we pair it with a super simple sauce made from honey and cinnamon. While I love it this way, you could skip the sauce and still be completely in love.
How to Grill Pineapple
Preheat your grill. This is a recipe that you could make all year long on an indoor grill pan. Be sure wipe your grill down with olive oil or spray your indoor grill before adding the pineapple.
Cut up the pineapple into spears. We have a great tutorial on how to cut a pineapple that will make you a pro.
Grill the pineapple. It only needs three minutes on each side for perfection.
Make the Honey Cinnamon Sauce. While the pineapple is cooking, whisk together the honey and cinnamon for drizzling.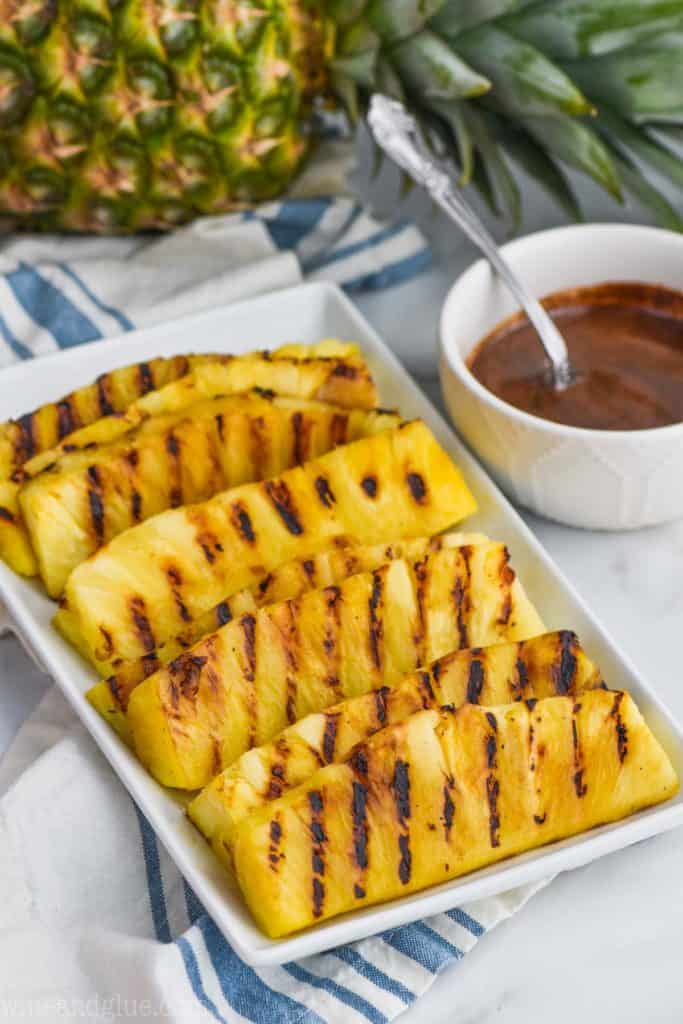 How to Cut Pineapple for Grilling
As mentioned above, I have a full tutorial on cutting pineapple with photos. But here is the brief overview for how you will want to cut it to make it perfect for grilling.
Cut off the top and the bottom.
Stand the pineapple up, and cut off the skin, one section at a time, turning it as you go.
With the pineapple still standing up, cut it in half. Then cut it in half again, so you have four long sections.
Working with one section at a time, keep it standing up, and cut off the triangle tip. This is the core of the pineapple that is rough and unappetizing.
Now cut each fourth into three or four pieces to make spears.
How to Tell if a Pineapple is Ripe
Of course in addition to cutting a pineapple, the key to enjoying this recipe starting with a perfectly ripe pineapple. Here are a few tips and tricks.
Look at the leaves. It should have mostly green fresh leaves. If the majority are brown and wilted, keep walking.
Squeeze the pineapple. It should have a slight give to it, not too firm or too soft.
Smell the bottom. You want it to have a slightly sweet smell.
Look at the eyes (the hexagon looking shapes on the skin). The eyes should be bigger, yellow and green, free from mold, and consistent in size.
If all you can find at the store is under ripe pineapple, you can still buy it! Pineapples will ripen nicely right on your counter top in a day or two.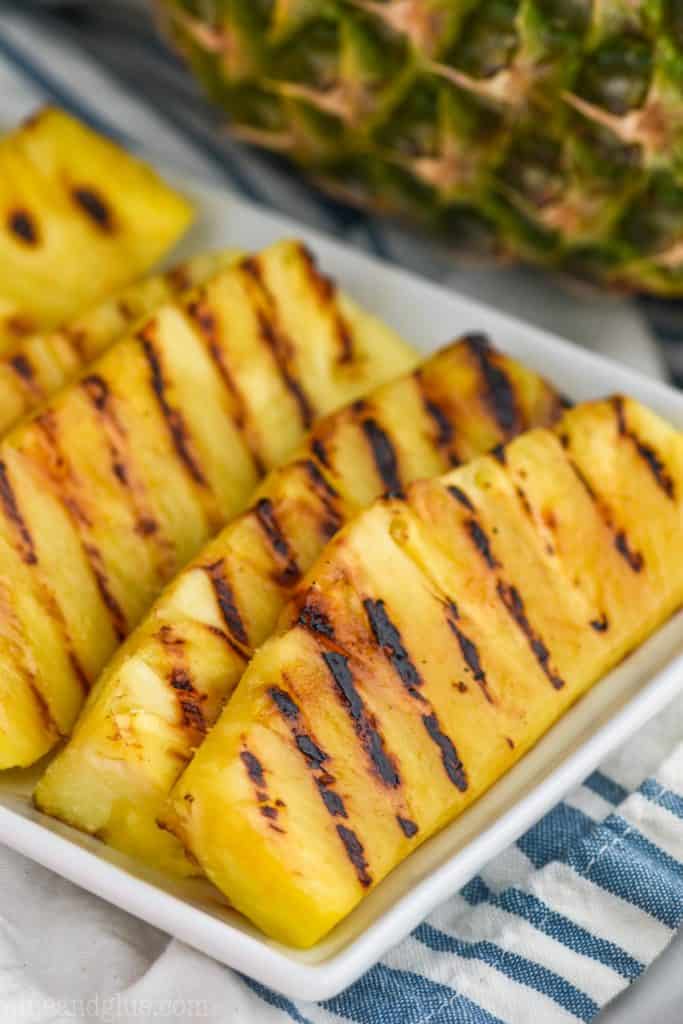 FAQ
How long to grill pineapple?
Pineapple needs to be grilled for six minutes. It should be grilled for three minutes on each side.
How do you grill pineapple rings?
If you want to grill rings instead of spears, you just need to shave a little time off the grilling as rings tend to be thinner.
Can you grill canned pineapple rings?
Of course. Just be really careful as it will be less sturdy than fresh pineapple. Turn your grill a little higher and cut the time down to 1 to 2 minutes. Use a spatula to flip it instead of tongs. This will result in a nicely grilled outside that still holds together.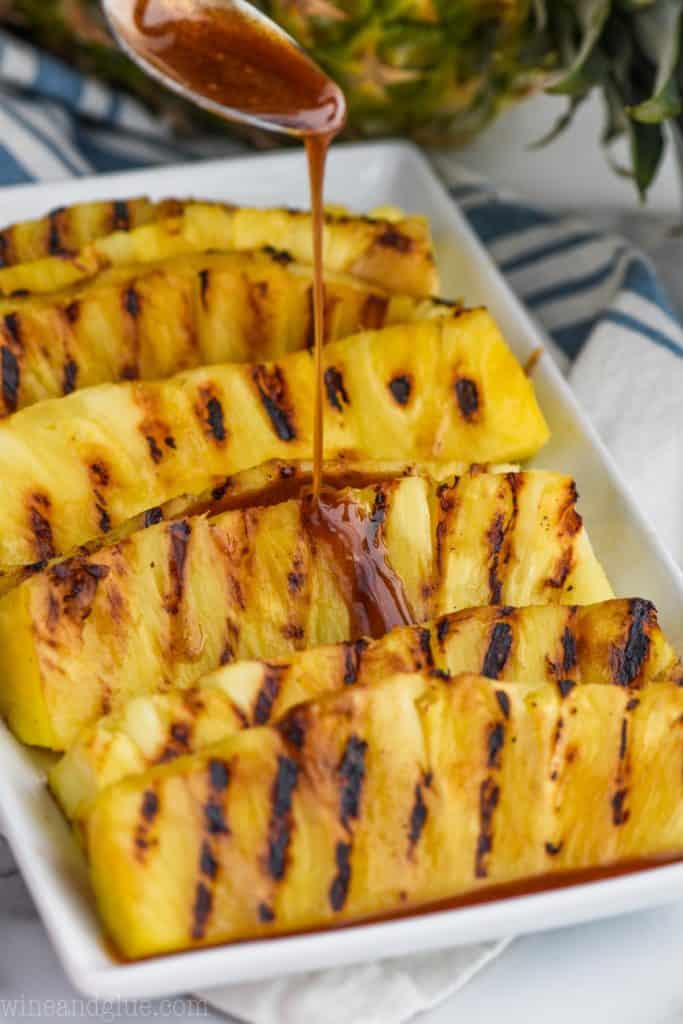 What to Make with Grilled Pineapple
This is the perfect side dish for so many recipes, and of course it would be great as a dessert too.
Here are my suggestions for what to pair it with:
Chicken Wraps are another easy grilled recipe that would go nicely with these.
Hamburgers made with the best burger seasoning are a staple in our house during grilling season.
Our Strawberry Spinach Salad is another summer staple that would be perfect on a plate with this.
If you want to use grilled pineapple as an ingredient, you should try it in our Pineapple Salsa or in our Hawaiian Chicken!
If you make our grilled pineapple recipe, or any of our other recipes, please leave us a comment and let us know what you think!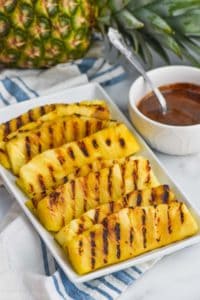 Grilled Pinapple with Cinnamon Honey Drizzle
This Grilled Pineapple with Cinnamon Honey Drizzle is a perfect side dish or light dessert! The extra flavor added with the grilling combined with the amazing sauce makes this the most delicious tasty recipe.
Ingredients
1/2

cup

honey

1

tsp

cinnamon

1

pineapple

sliced into spears
Instructions
On a grill prepared with non stick spray, place pineapple slices over medium heat for about three minutes on each side.

While the pineapple is grilling, mix together the honey (softened in the microwave for about 30 seconds) and the cinnamon.

Drizzle the grilled pineapple with the honey and serve.
Calories:
130
kcal
(7%)
Carbohydrates:
35
g
(12%)
Protein:
1
g
(2%)
Sodium:
2
mg
Potassium:
209
mg
(6%)
Sugar:
28
g
(31%)
Vitamin A:
100
IU
(2%)
Vitamin C:
38.8
mg
(47%)
Calcium:
30
mg
(3%)
Iron:
0.4
mg
(2%)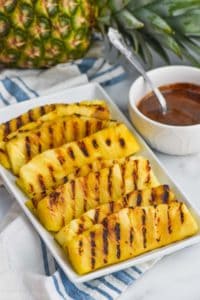 did you make this
Grilled Pinapple with Cinnamon Honey Drizzle