Apple Pie Muddy Buddies with Streusel Topping! The awesomeness of muddy buddies combined with the delicious taste of streusel topped apple pie!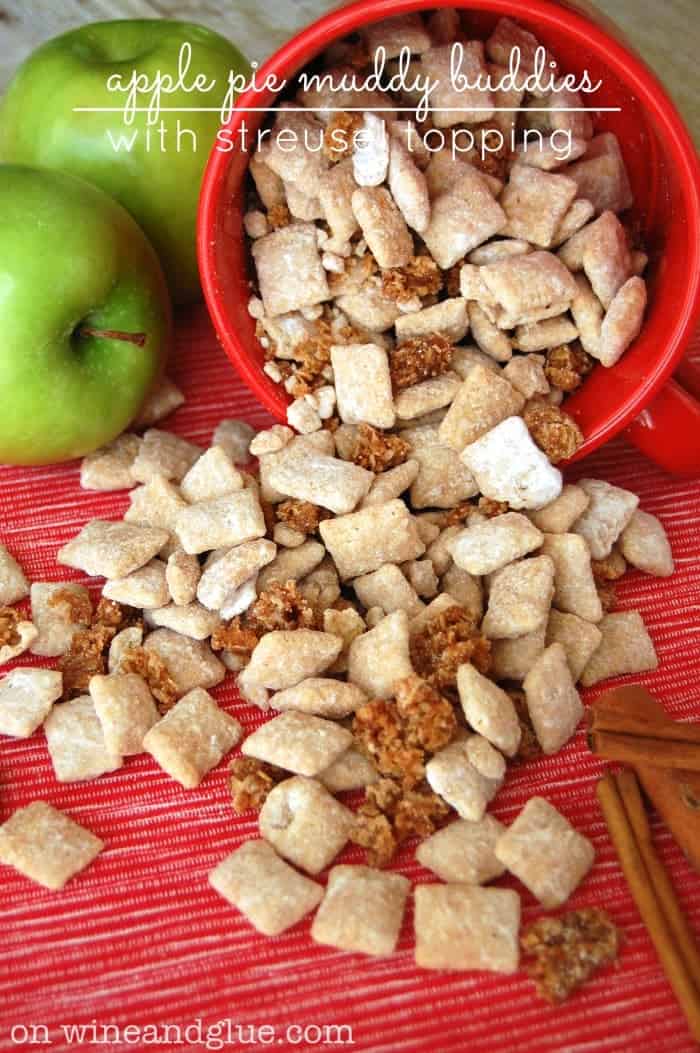 When I was pregnant with Gavin, my mom threw the most amazing baby shower for me. (She would want me to add that my wonderful sister-in-laws and some dear friends helped a lot!)  It was maybe one of the sweetest things that anyone has ever done for me. She was so so sick, and everyone kept telling her she needed to be taking it easy, but she was insistent on giving me this absolutely perfect and beautiful shower.
And she totally did.
At some point in the planning, a friend of mine who I had only met through work a few months earlier but had hit it off with almost instantly, got in touch with my mom and told her that she really had to make "puppy chow" for my shower. She knew how addicted to it I am.
I'm not alone, right?
So my mom made this huge batch of puppy chow, also known as muddy buddies, and put them in these tiny take out containers and they were at everyone's places at the shower. (Truth be told, I am such an addict, that I wanted to snag like five of those mini containers . . . but hello, my mom had just thrown me the most amazing shower ever, I couldn't be all "Annnnnnd, I'm going to need more puppy chow.")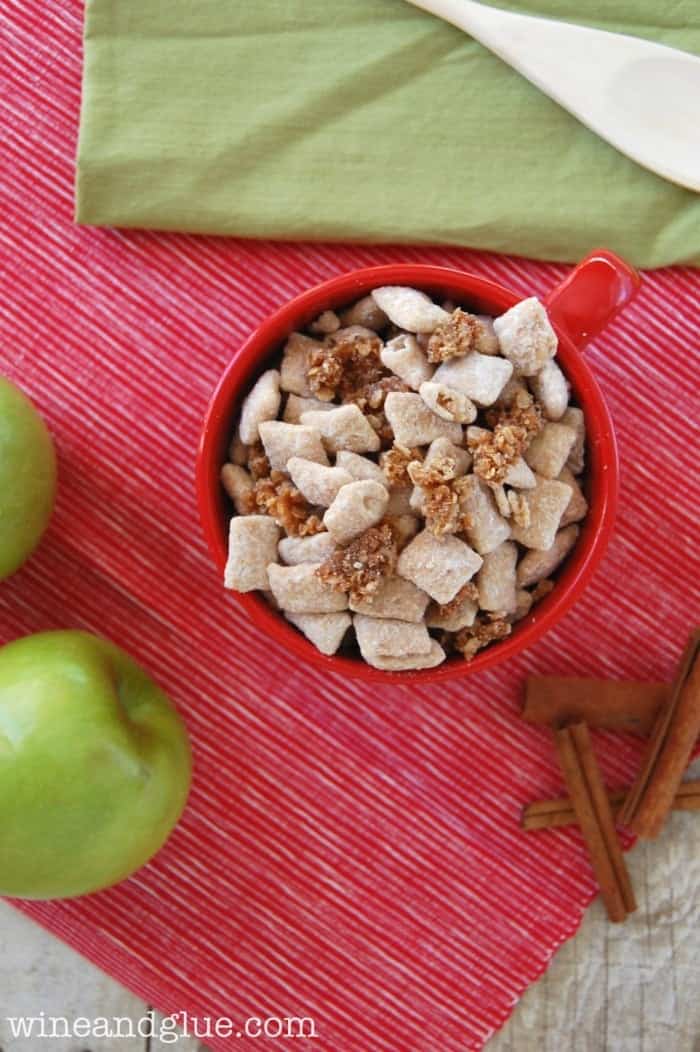 A few years later, when I was pregnant with Quinn that same good friend made me a GIANT batch of puppy chow. On the two hour ride home I may or may not have eaten the ENTIRE container.
Addicted.
So now with fall coming, and everything all pumpkins, apples, and pies, I thought it would be a good time to give my favorite snack (can you call something that's primary ingredient is chocolate a snack?) a fall twist!
Enter Apple Pie Muddy Buddies with Streusel Topping.
It took me three tries to get this recipe right, people. I had to taste test a lot of muddy buddies, but that's a sacrifice I'm willing to make for you! Make sure when you make this that you follow the directions precisely at least the first go around or you may end up with soggy buddies. Also, you can take a pass on the streusel topping, but I really really don't recommend it. When you eat it with the candy coated cereal pieces, it really does taste like delicious apple pie with streusel topping.
Happy Fall!!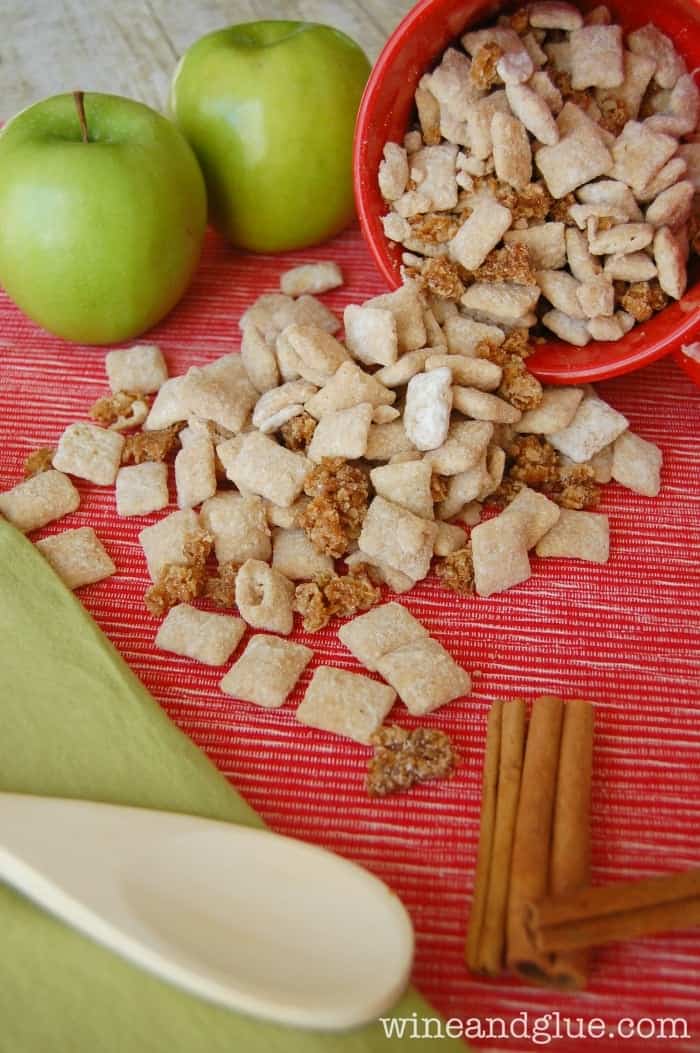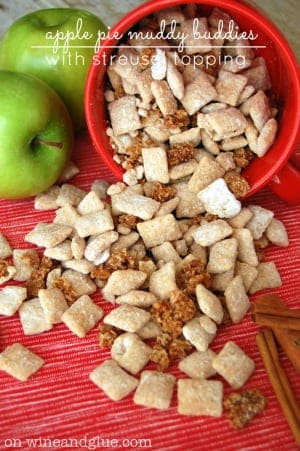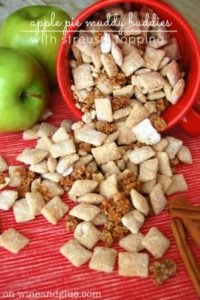 Apple Pie Muddy Buddies with Streusel Topping
Ingredients
For Muddy Buddies
1/3

cup

apple butter

1

teaspoon

cinnamon

1

teaspoon

vanilla

1 1/2

cups

white chocolate chips

2

tablespoons

butter

8

cups

chex cereal

I used corn

2

cups

powdered sugar
For Streusel Topping
1

stick of butter

softened not melted

1

cup

of brown sugar

1

cup

of quick cooking oats
Instructions
Heat the apple butter in a small saucepan over low heat. You are doing this to cook off some of the moisture, so cook until it looks thicker, stirring consistently, about five minutes. You will see the streaks of water disappear.

Remove the apple butter from the heat and stir in the cinnamon and the vanilla until combined. Then stir in the white chocolate chips and return to the heat. Continue stirring until the chips are melted.

Stir in the butter until melted.

Pour the mixture over the cereal in a large bowl. Mix until it is equally distributed.

While it is still hot, add the powdered sugar a little bit at a time until the cereal is completely coated.

Transfer the cereal to two cookie sheets so that it can cool in a single layer.

To make the streusel topping, preheat the oven to 350 degrees.

Mix the ingredients together with a fork. It will be a little chunky, and that is okay.

On a parchment-lined baking sheet, spread half the mixture.

Bake the mixture for 8 minutes, but keep an eye on it. All ovens cook differently and you don't want it to burn.

Transfer the mixture (it will be in chunks) to a paper towel-lined plate. Let it cool completely and then break it apart into bite-sized pieces.

Repeat with the second half of the mixture.

After the muddy buddies and streusel topping have cooled completely, combine them and transfer to a container that can be completely sealed. Best when eaten within two days.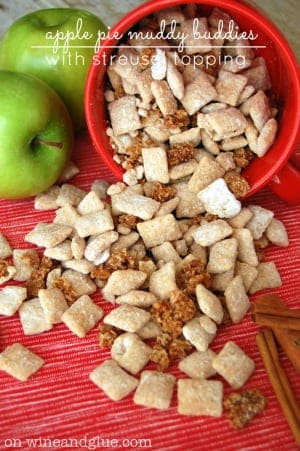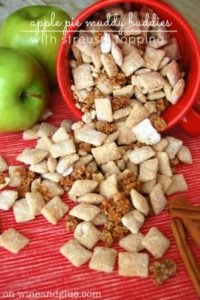 did you make this
Apple Pie Muddy Buddies with Streusel Topping