Overnight Apple Pie Stuffed French Toast | This stuffed french toast is insanely good and can be made the night before!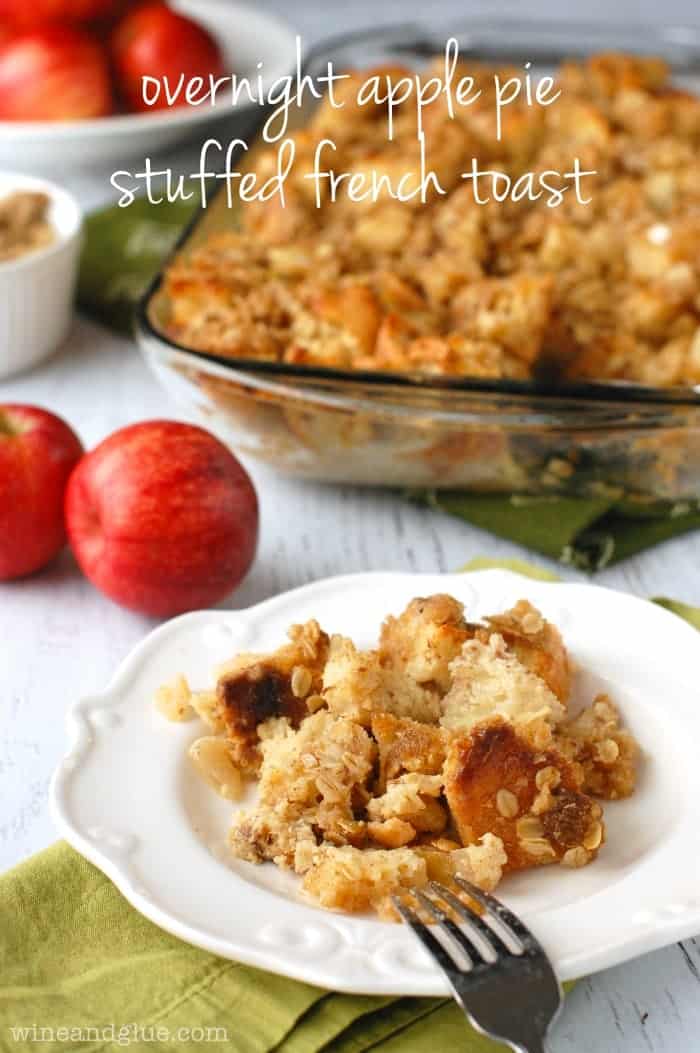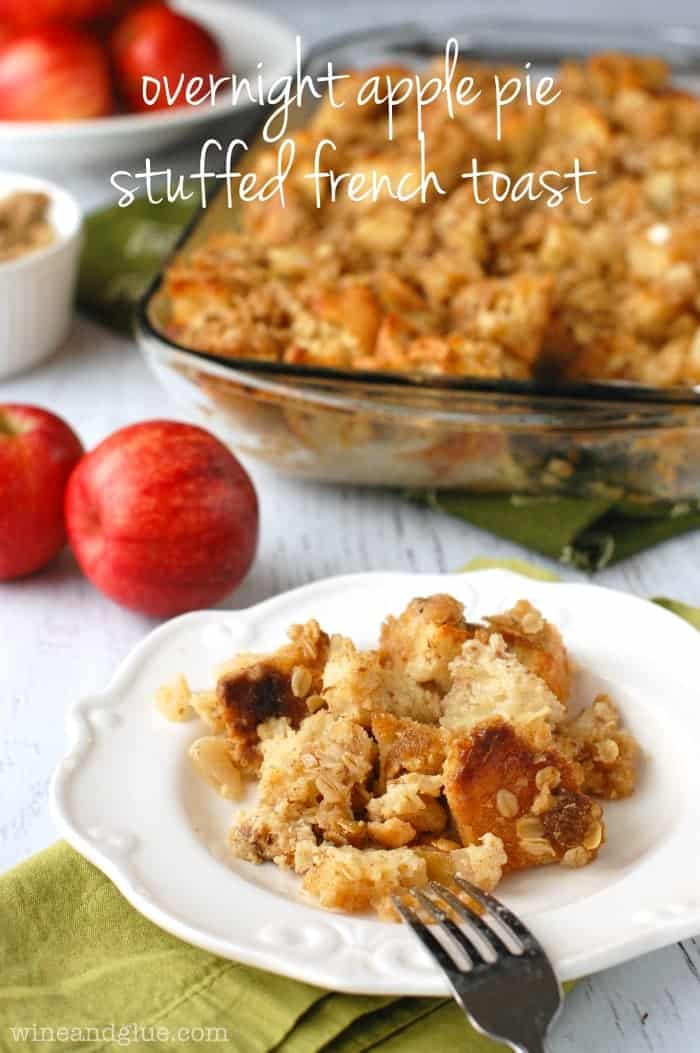 My new blog design is LIVE!!
Who else needs a glass of wine??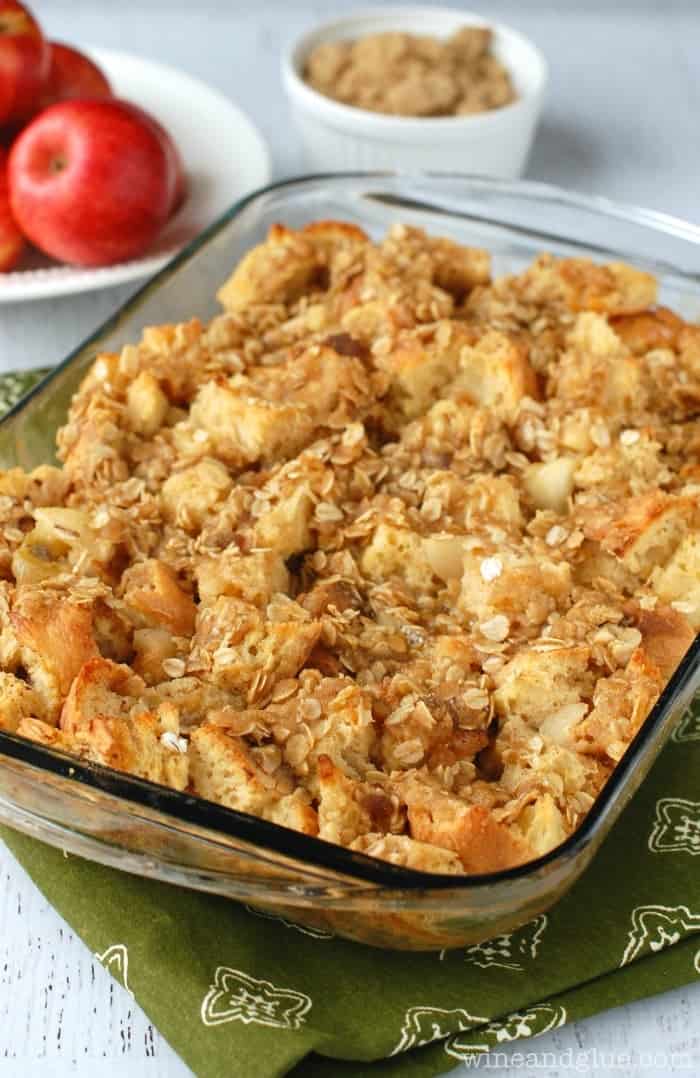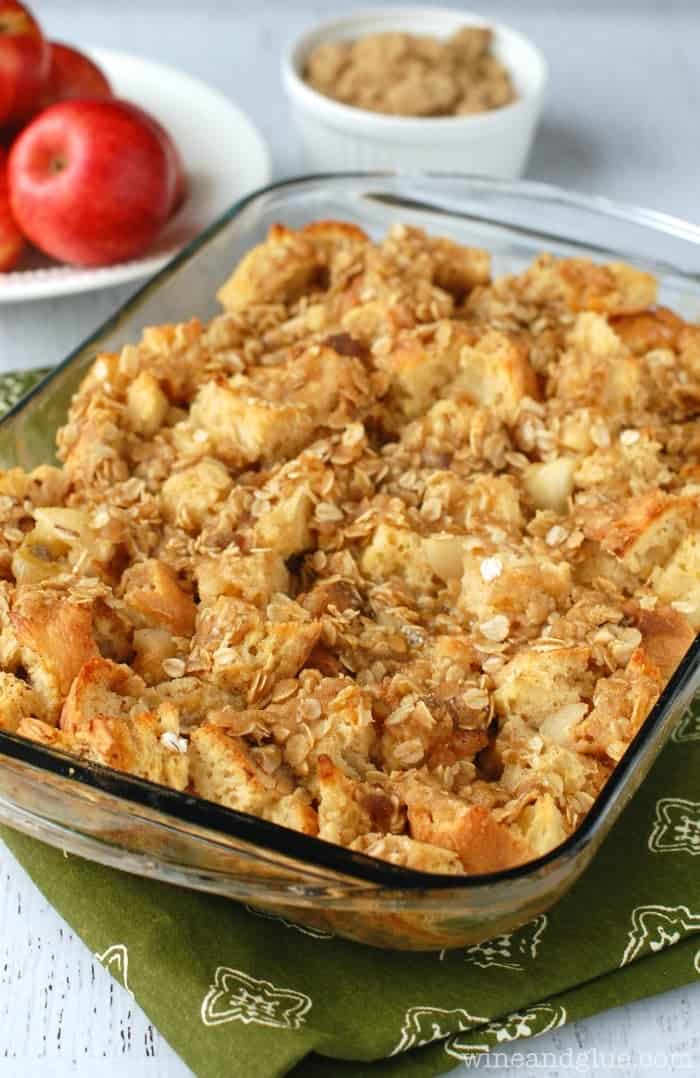 So! Some of the new awesome features that you may or may not have noticed in order of how much I love them.
First, my homepage is more compact! (YAY!!!)  You can very quickly see my last 15 posts, with just a simple scroll.
Second, the pages!! I pink puffy heart LOVE my new drop down menus that break down the different categories, like you want to easily see all my fudge recipes, go to the Treats header and then down the Snacks, Candy, & Fudge. But! If you want to see all my Treats, you can just click Treats at the top and do that too!
Third, my social media icons at the top FINALLY line up right, so when you click the f to go to my FB page, it actually takes you there, and not to Pinterest.
Fourth, my new header! I absolutely adored my old one with the drawing that my talented cousin Melissa made, but I was ready for a change, and besides, it only showed Gavin and Quinny, and we have another little monster coming soon!
I could go on and on and on with all the things I love about it. And hopefully you love it too! If you do notice any problems, please don't hesitate to contact me. Most important to me is that it is user friendly.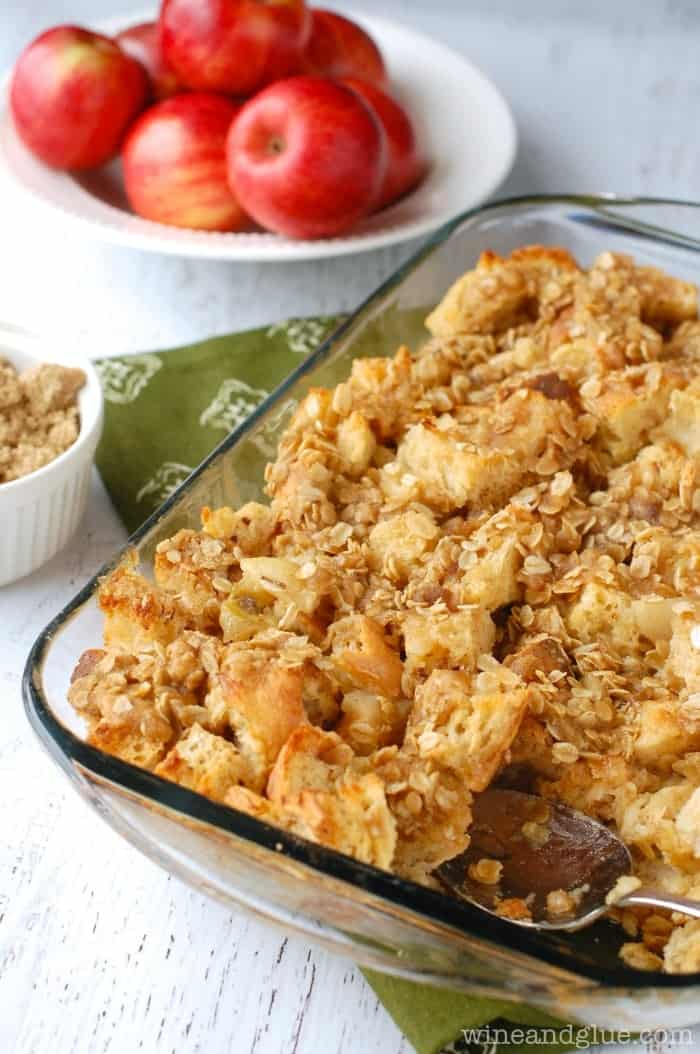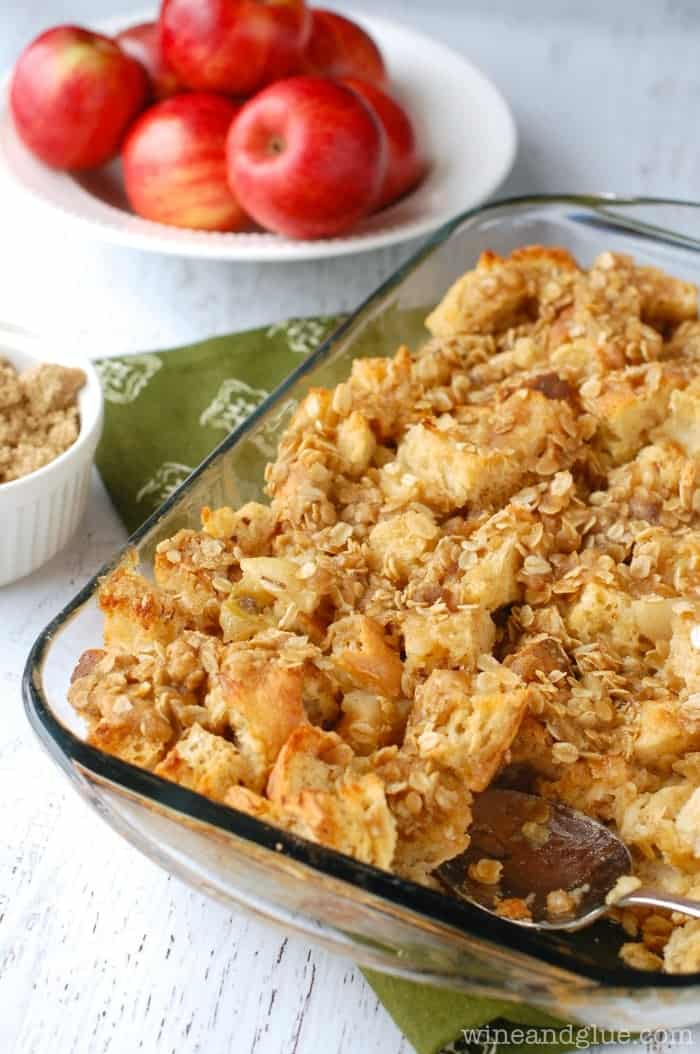 For example . . . . what I use for my recipes so they are printable got all screwy, so when people were trying to look at my Chicken Pot Pie Crescent Braid, they got the recipe for my Root Beer Chicken Sammies. Soooo frustrating!! Especially because I tried to fix it and they all went back.
And that's when I nearly lost my poor little pregnant brain.
But let's not dwell on that. Let's dwell on this Overnight Apple Pie Stuffed French Toast! Don't you love brunch recipes that can be made the night before?? They are perfect for holiday mornings or even a regular old weekend when you want something extra delicious for breakfast, but don't want to break out all your cooking gear before you have a good two cups of coffee in you. I made this for Nathan's family Christmas morning, and it was a big hit! It's really easy to make, and sooooo delicious. I like to start it off a few days before by making this bread recipe, cutting it up and letting it dry out.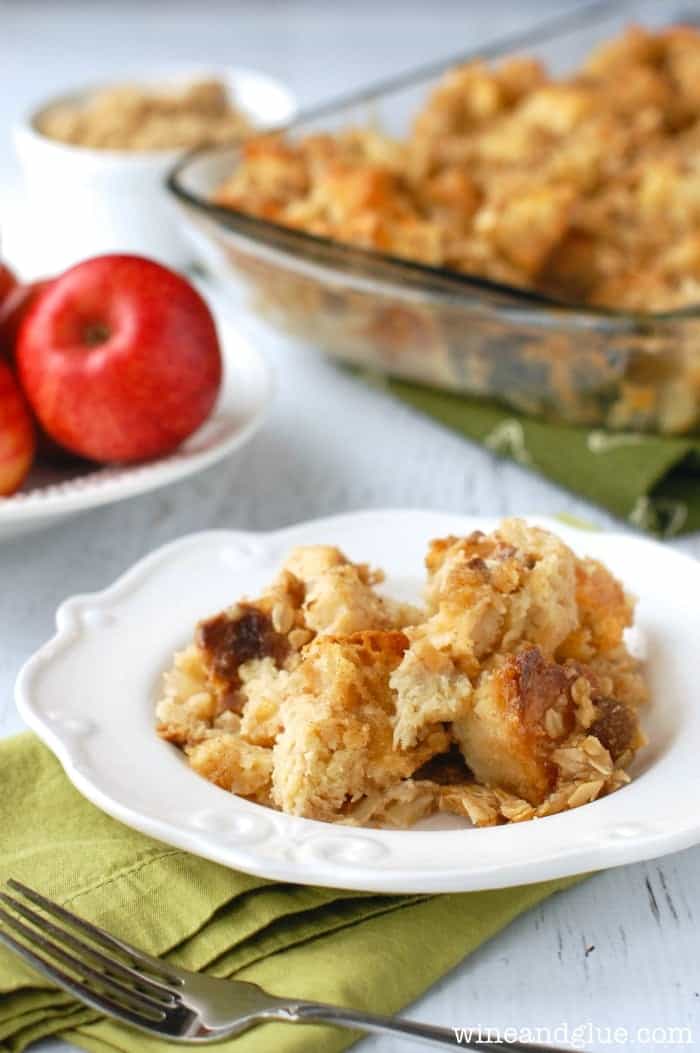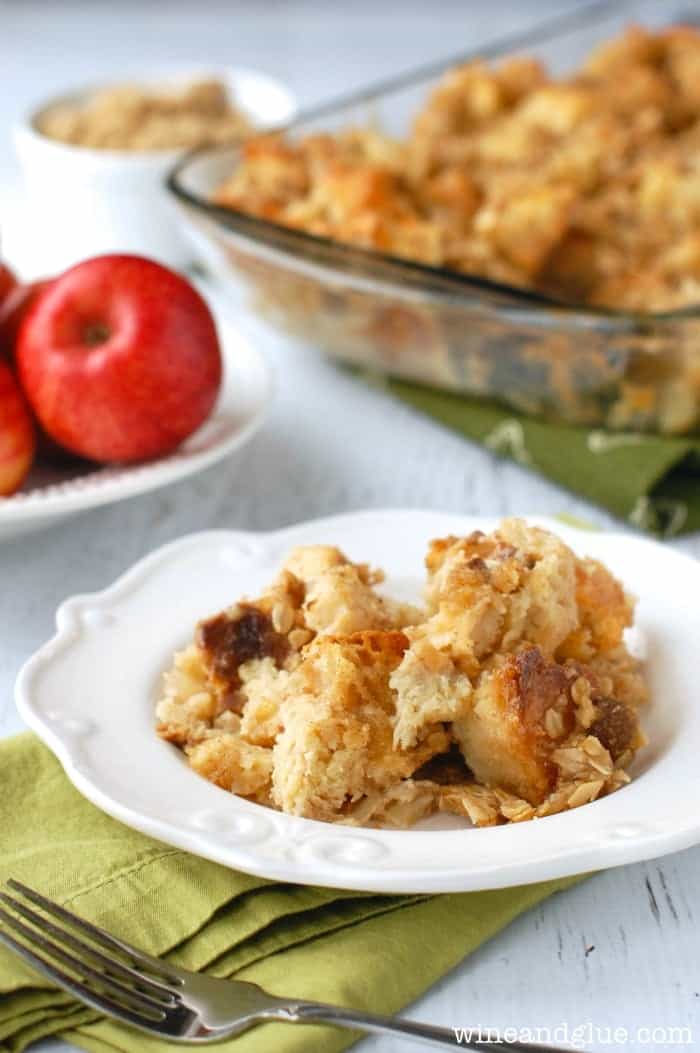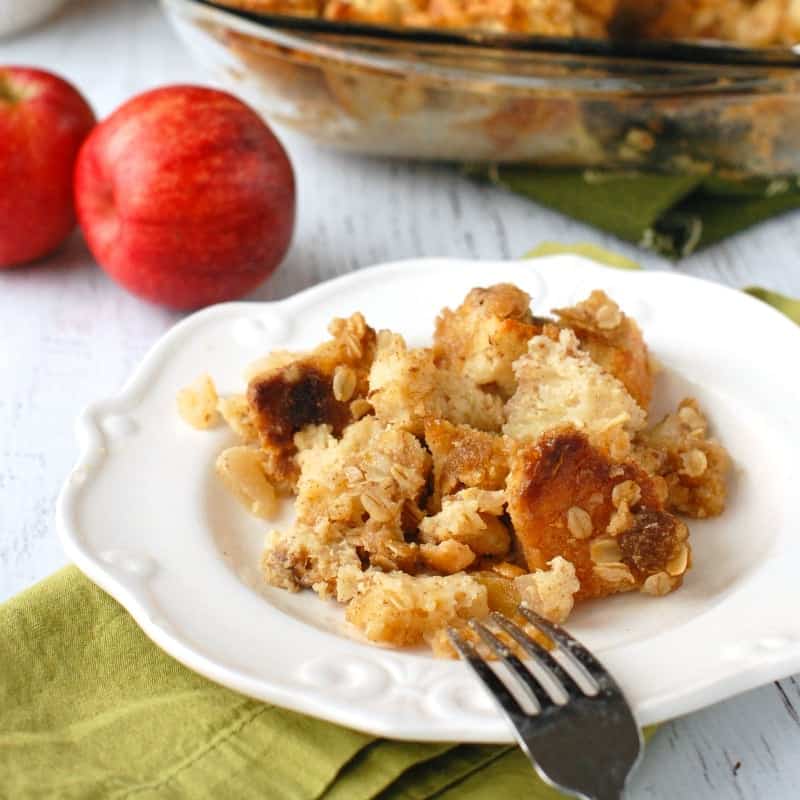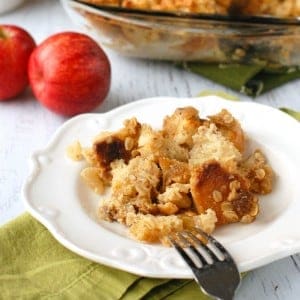 Apple Pie Overnight Stuffed French Toast
Ingredients
5

eggs

1 1/2

cup

milk

1/2

cup

heavy cream

I used fat free half and half

14

oz

apple pie filling

2

tsps

vanilla

1

tsp

cinnamon

8

cups

cubed dry bread

1

cup

cup brown sugar

1/2

cup

butter

softened

1/2

cup

quick cooking oats
Instructions
Whisk together the eggs, milk, cream, vanilla, and cinnamon.




Using a knife, cut up the apple pie filling while still in the can. Add the whole can to the egg mixture.

Stir in the bread. Mix well so that all the bread is coated in the egg mixture.

Spray 9 x 13 baking dish with cooking spray and pour in the whole mixture. Cover with tin foil and refrigerate overnight.

When ready to bake, preheat the oven to 350 degrees and remove the dish from the refrigerator.

Mix together the butter, oats, and brown sugar. Spread over the bread egg mixture.

Bake for 40 minutes or until the eggs set.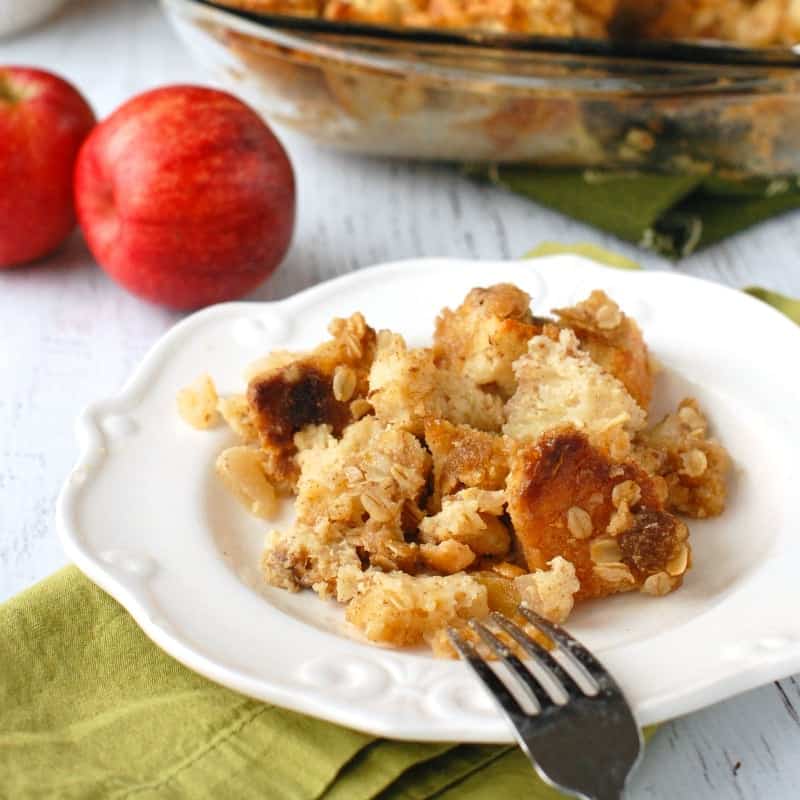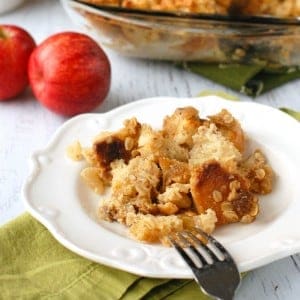 did you make this
Apple Pie Overnight Stuffed French Toast
You might also like
Stuffed Cranberry French Toast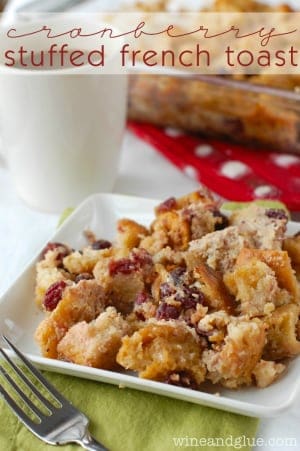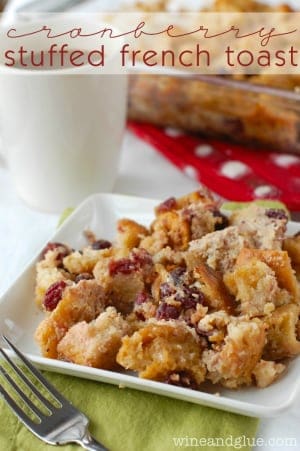 Orange Blueberry Fruffins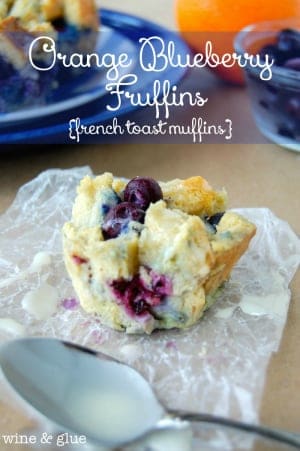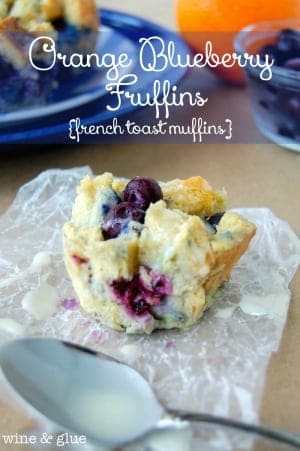 Nutella Banana French Toast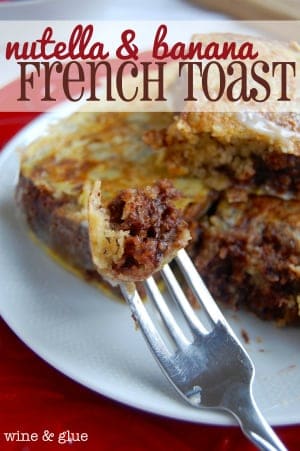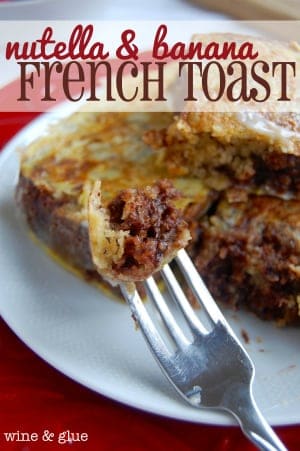 SaveSave