This easy Asian Cucumber Salad is the perfect side dish for so many recipes. Make it to go next to a chicken and rice dish or for the next time you bring home sushi.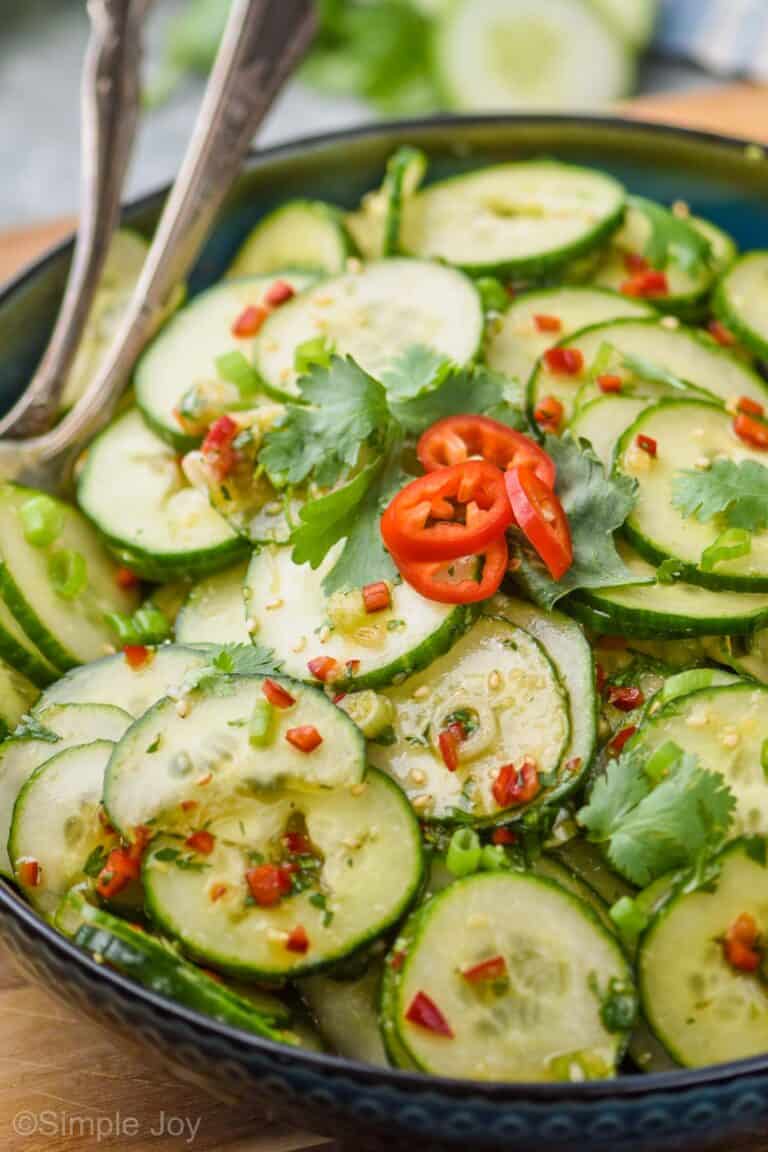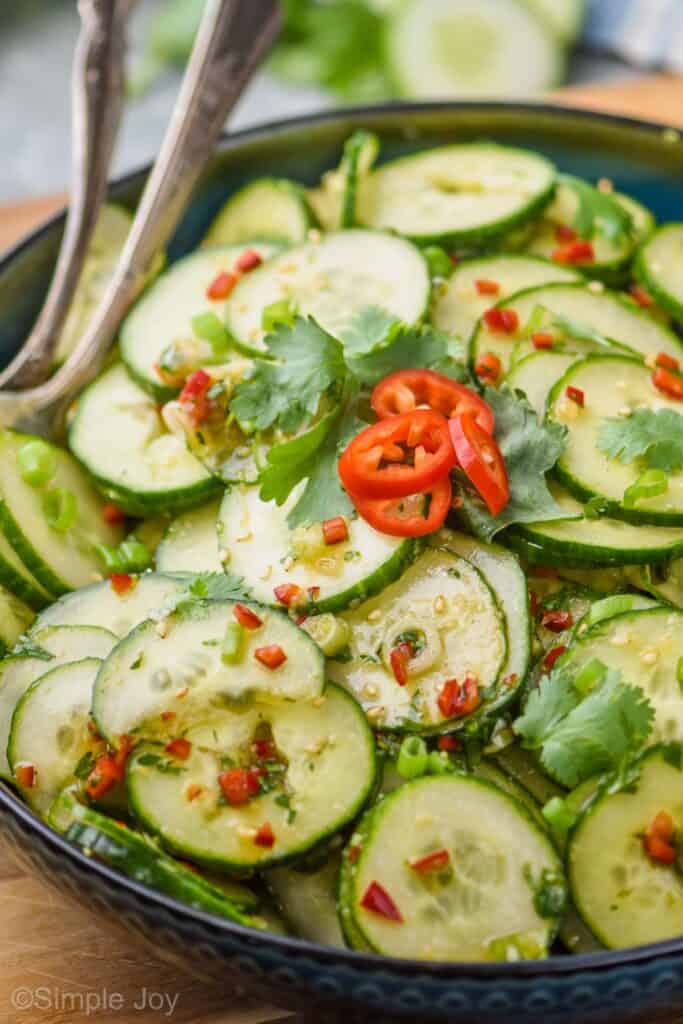 The other day I got a message from a reader who had seen my Creamy Cucumber Salad. He told me about his booming cucumber crop and asked if I had any other great cucumber recipes. I could eat endless amounts of cucumbers, and I'm so happy to share another great salad with you.
It seems like no matter what meal I'm having, I'd love to have a salad to go on the side. In fact, more often than not when out with Nathan, I will order a salad appetizer that is meant to share, and hog the whole thing.
This Asian Cucumber Salad tastes like something you would order out, but is so simple to make at home. Made with delicious ingredients that pull the ingredients together, this salad recipe is a homerun. Share it with the people you love, but I won't judge you if you hog it.
The Name Asian Cucumber Salad
The name itself is a bit ridiculous, as Asia is a huge continent that contains multitudes when it comes to cooking styles. The name reflects what Americans would call this type of salad.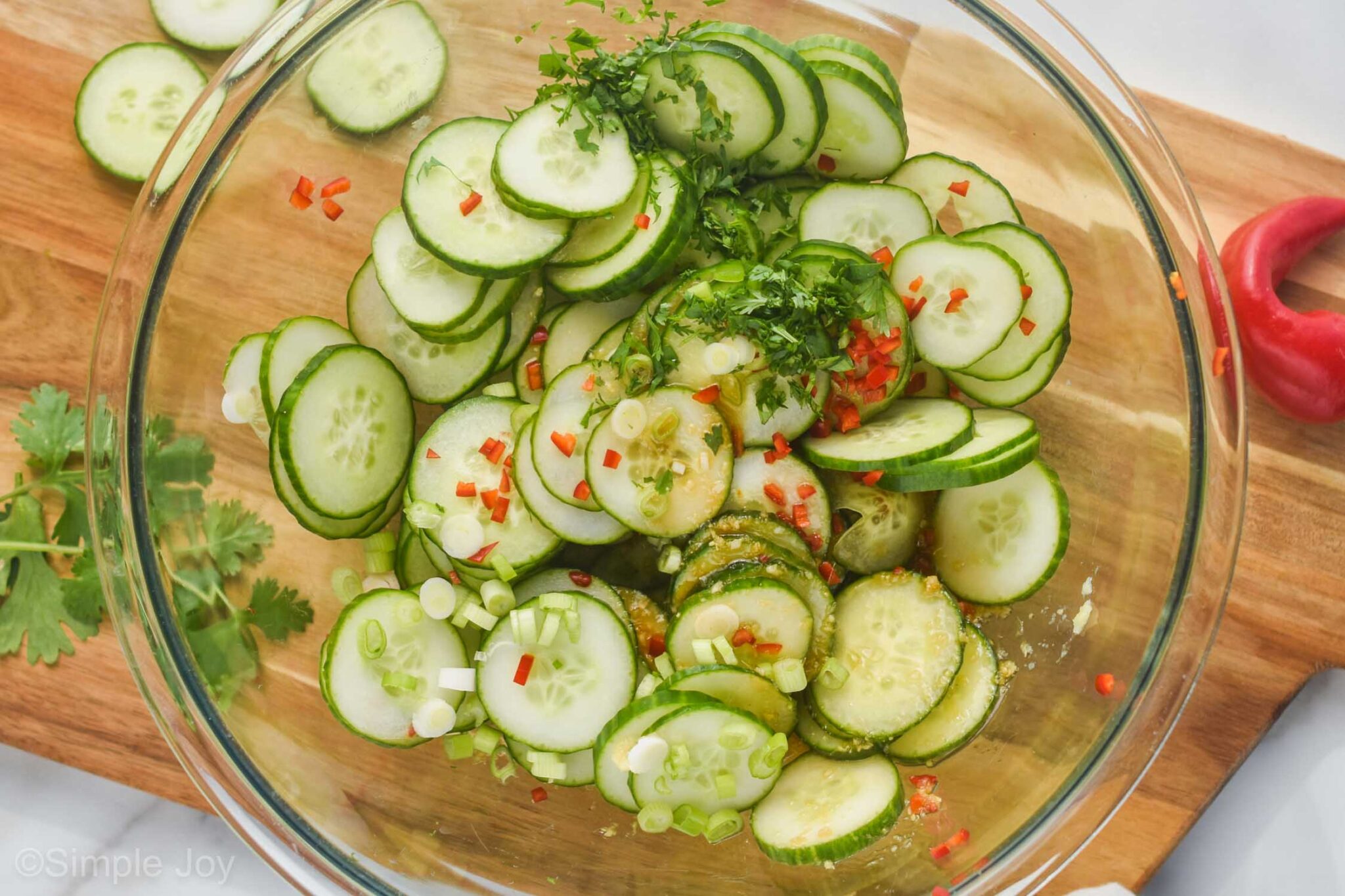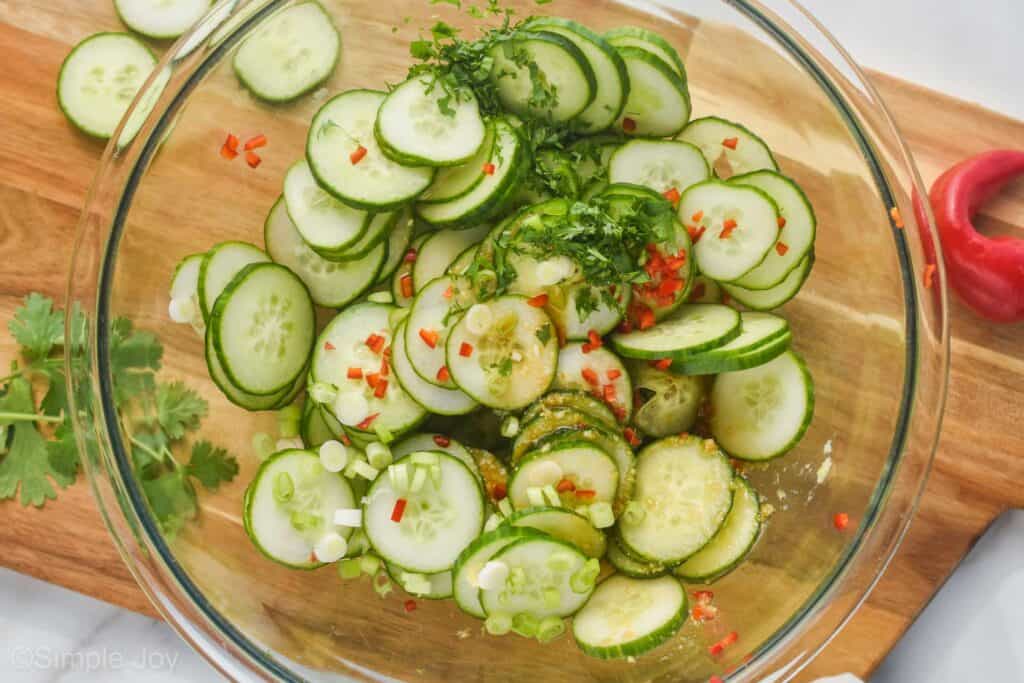 Ingredients
This recipe does require a few ingredients that you may not have on hand. I'll be sure to give you some other ideas to use them up.
Cucumbers: Please read below on what type of cucumber to buy.
Rice Wine Vinegar: This distinct form of vinegar provides a really unique flavor to this salad and I would suggest that you not replace it with a different type.
Sesame Oil: As with the vinegar, the sesame oil provides such a unique taste you will want to go with this over an olive oil.
Sugar: The small amount of sugar in this recipe is meant to balance the other flavors. If you are counting carbs, I would suggest not leaving it out but either cutting the amount in half or replacing it with a monk fruit substitute.
Garlic: You can't beat fresh garlic in a recipe like this.
Ginger: Consider buying a tube of minced ginger. It will keep in your refrigerator for ages and makes it so easy to make this and other recipes.
Cilantro: I love what the cilantro adds to this recipe. If your family tastes soap with cilantro just leave it out.
Green Onions: These add the perfect little bit of oniony tang to the recipe. If you have to replace them with something else, consider using shallots or red onions.
Red Jalapeño: You can read more about these below, but if you can't find one, just replace it with a green jalapeño. You will miss out on a little spice and some color, but you will still enjoy the recipe.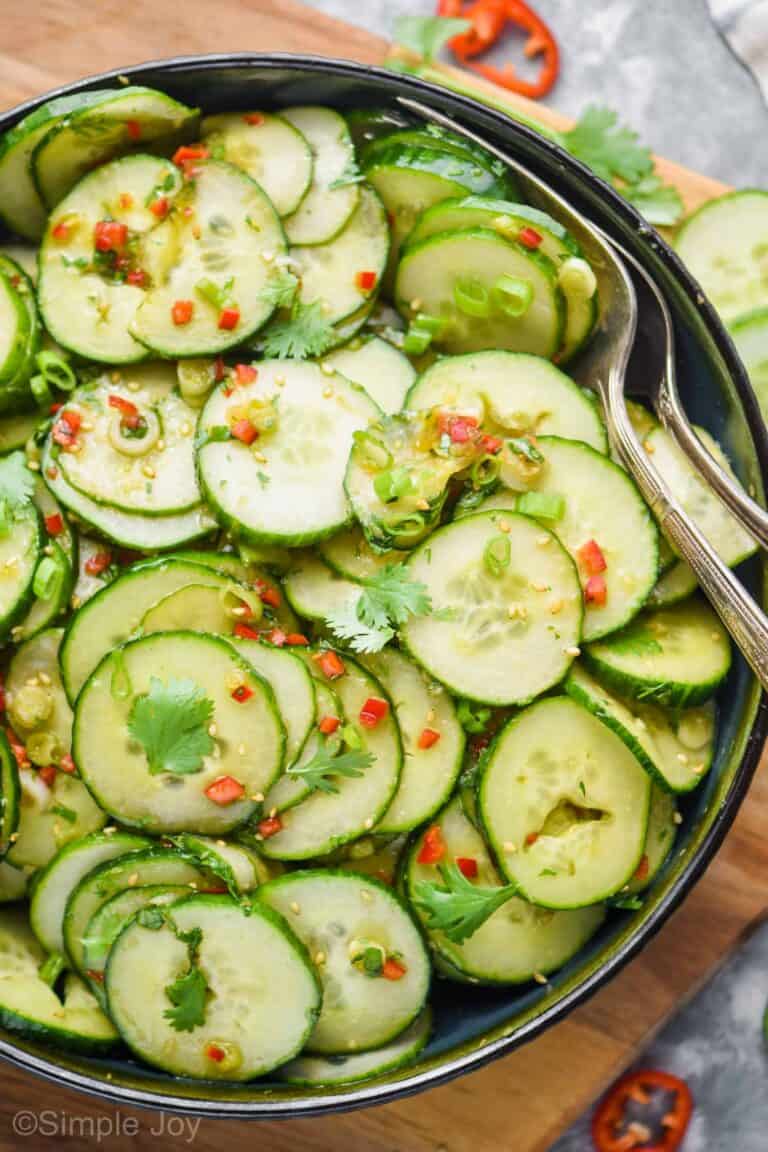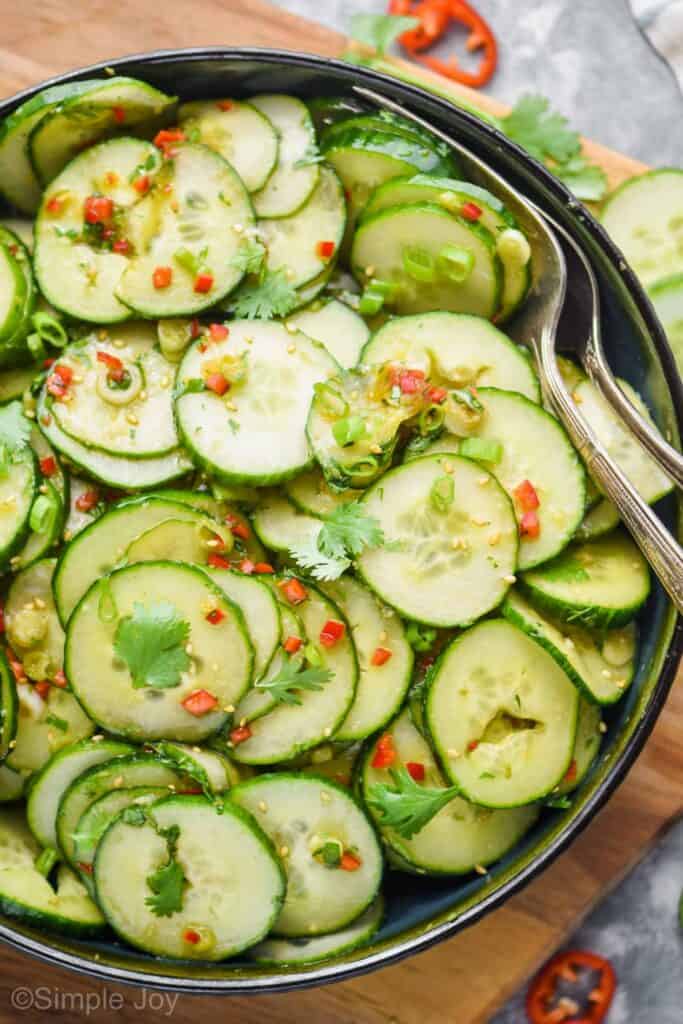 Types of Cucumber
Let's talk about types of cucumbers, because there are lots out there. There are three main types of cucumbers that can be broken down into more categories: Slicing, Pickling, and Seedless.
Obviously, for this salad we want to steer clear of pickling cucumbers. Beyond that, you can really use whatever type you like most. I would suggest that what is more important is that you use a skinnier cucumber, because those smaller pieces will be better for this salad.
Rice Wine Vinegar
Vinegar is a main ingredient in any salad since it is such a great base for a salad dressing. This is also true here, but we are using Rice Wine Vinegar. It lends a unique flavor that I think you will love in this dressing.
You can also use it in my Chicken Lettuce Wraps or my Teriyaki Chicken Sheet Pan Dinner. Both of those would go great with this salad too!
Sesame Oil
The Sesame Oil is another thing that really gives this recipe great flavor. It will keep in your pantry for a long time, so I suggest investing in a bottle.
It is also great in my easy Chicken Fried Rice and Edamame Salad. I do not recommend replacing it with a different oil for this recipe.
Spiciness
This recipe gets a little kick from the red jalapeño. A red jalapeño is just a green jalapeño that has been left to ripen longer on the plant. This means if you are growing jalapeños, you can get a red jalapeño from your own garden.
Red jalapeños tend to be a little spicier than green jalapeños. That said, they don't make this salad overly spicy. If you can't find a red jalapeño, you could substitute it with green.
Making Ahead
I don't recommend making this salad ahead of time. The water from the cucumbers will makes the dressing very thin. Given how quick it is, I would suggest making it right before serving. That said, I still do enjoy the leftovers of this salad.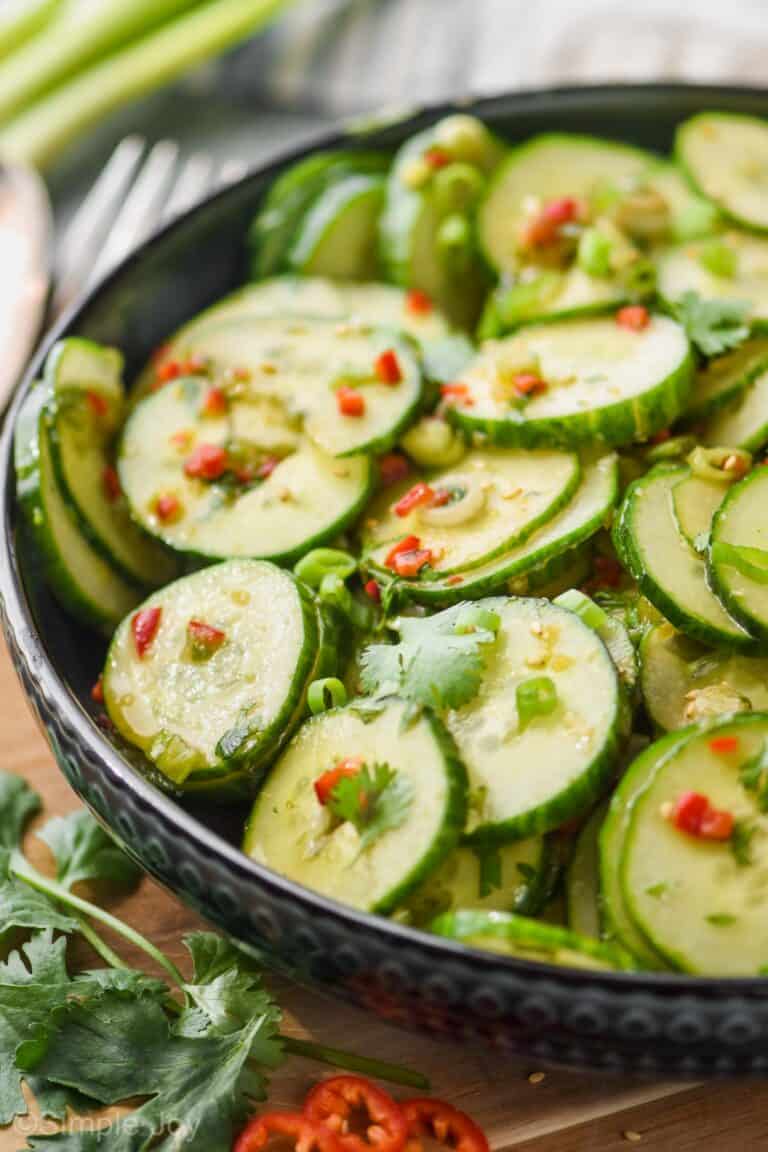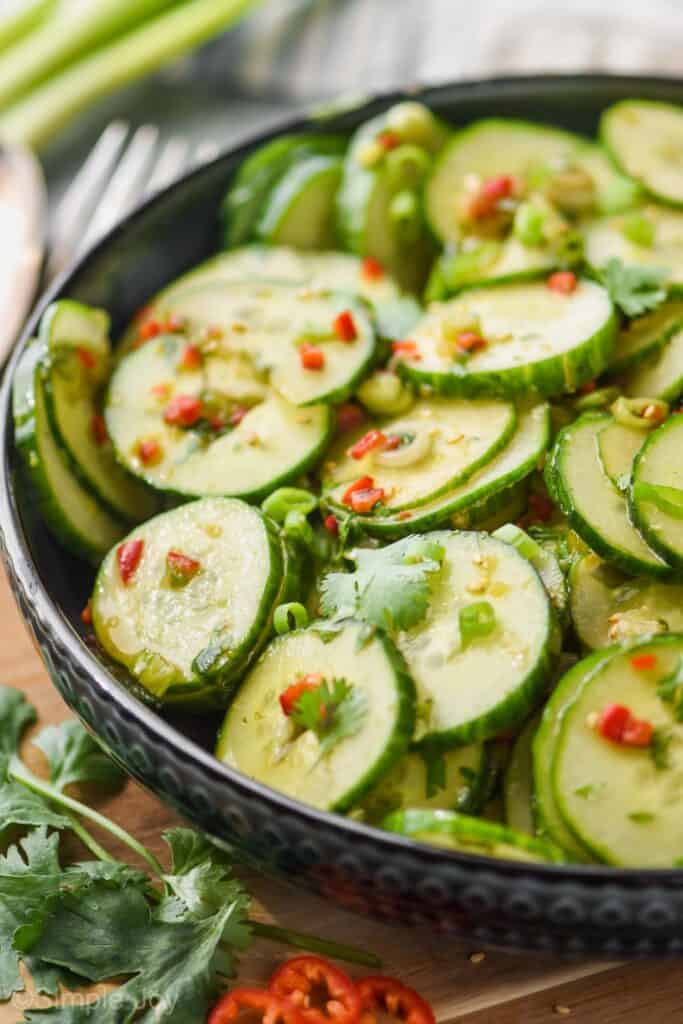 Asian Cucumber Salad is the Perfect Side
Here are some great main dishes that this cucumber salad will go with perfectly.
If you make this salad or any of my other recipes leave me a comment and let me know what you think.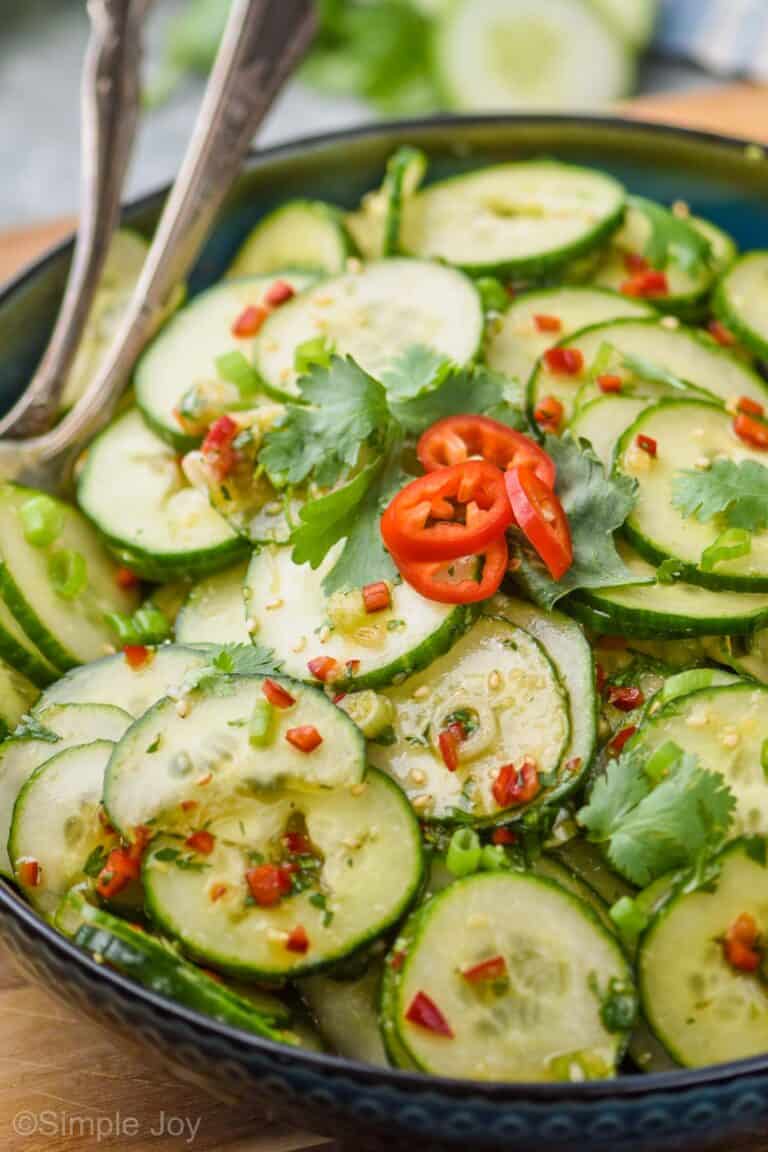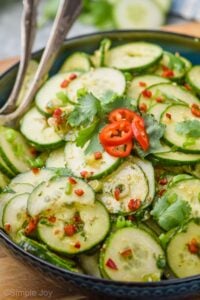 Asian Cucumber Salad
This easy Asian Cucumber Salad is the perfect side dish for so many recipes. Make it to go next to a chicken and rice dish or for the next time you bring home sushi.
Ingredients
3

medium cucumbers

sliced thin (about 20 ounces)

3

tablespoons

rice wine vinegar

2

tablespoons

sesame oil

1 1/2

tablespoon

soy sauce

1

teaspoon

sugar

1

garlic clove

minced

2

teaspoons

minced ginger

1/4

cup

cilantro

2

green onions

sliced

1

red jalapeno

seeds and ribs removed, and cut small (read more about red jalapenos here)
Instructions
In a small bowl or measuring cup whisk together the rice wine vinegar, sesame oil, soy sauce, sugar, garlic, and ginger.

Add the cucumbers to a large bowl. Mix in the dressing, cilantro, green oinons, and red jalapeno. Enjoy immediately.
Serving:
1
cup
Calories:
130
kcal
(7%)
Carbohydrates:
10
g
(3%)
Protein:
2
g
(4%)
Fat:
7
g
(11%)
Saturated Fat:
1
g
(6%)
Polyunsaturated Fat:
3
g
Monounsaturated Fat:
3
g
Sodium:
385
mg
(17%)
Potassium:
297
mg
(8%)
Fiber:
2
g
(8%)
Sugar:
5
g
(6%)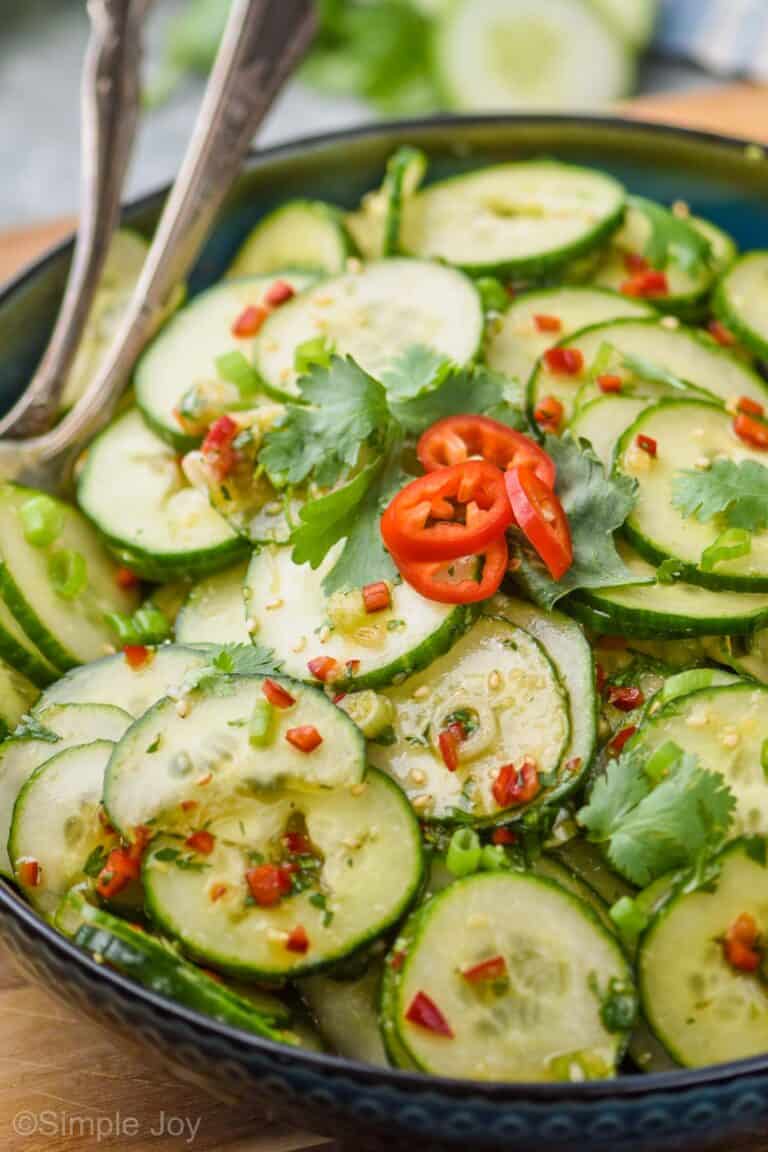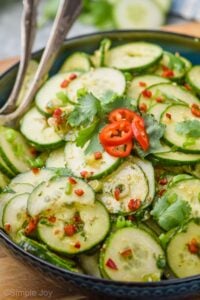 did you make this
Asian Cucumber Salad