Beef Stew is the ultimate comforting soup recipe. Between the mouth-watering beef and the tender, perfect vegetables you will fall in love.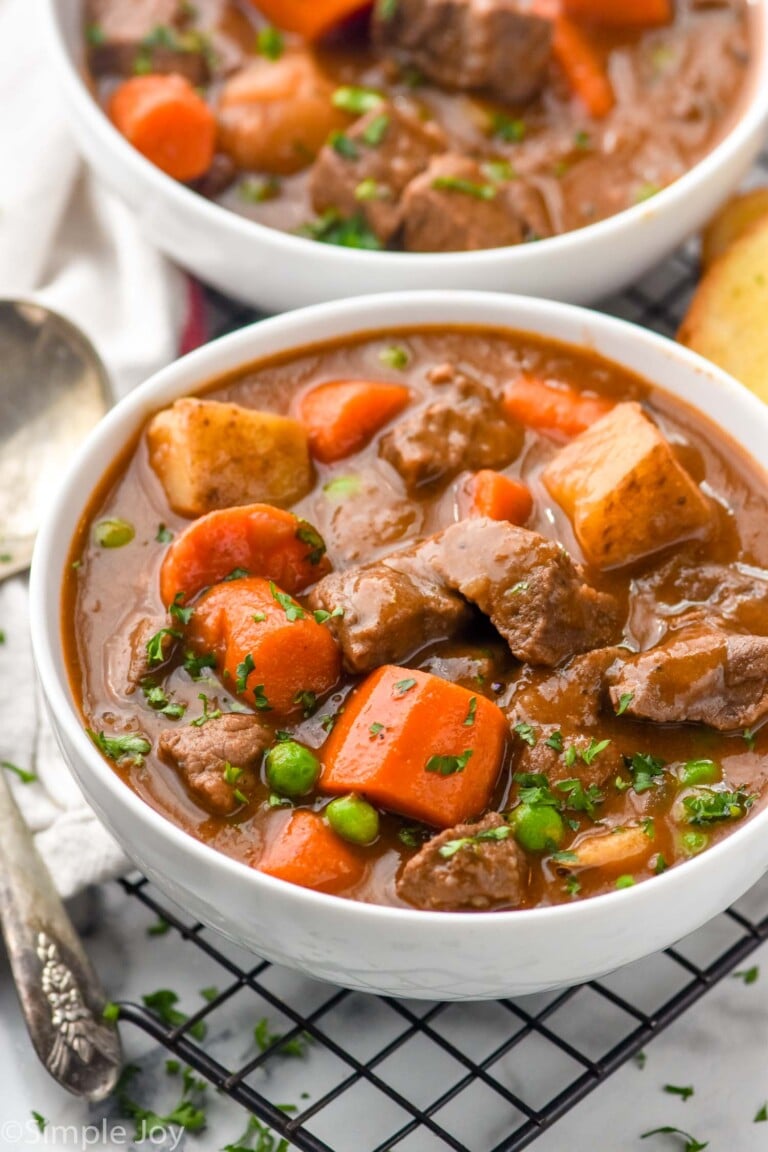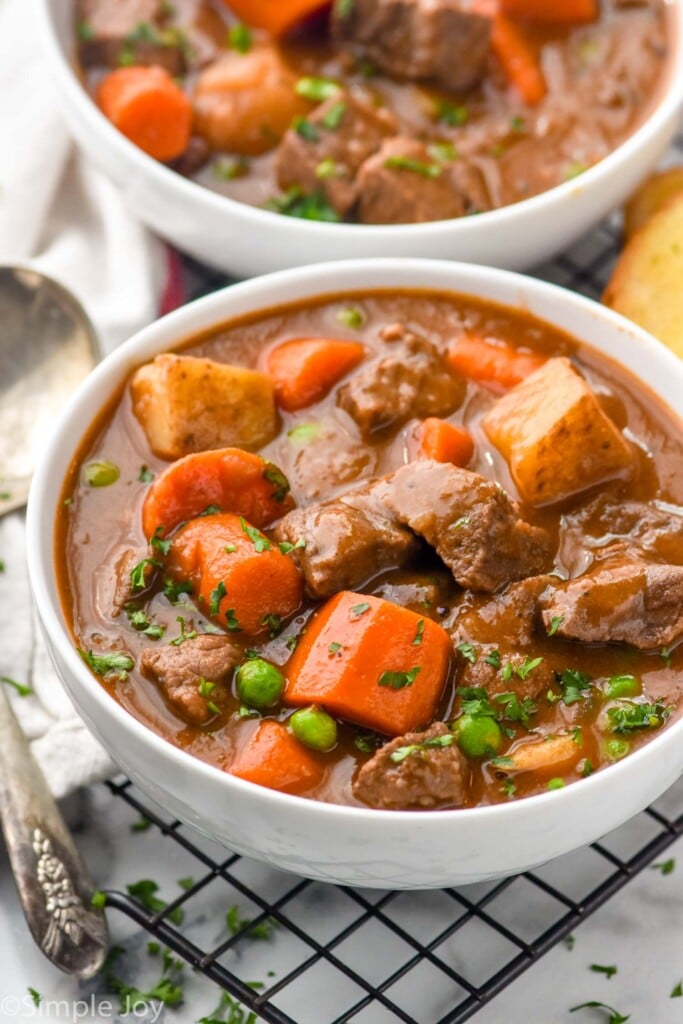 There aren't very many things I love more than soup. In fact, I literally have had to stop myself in winter from only posting soup recipes because I know not everyone has quite the love for it I do.
But let me just step onto my soap box for one second and tell you why it's so amazing: Soup almost always contains everything you need for a healthy dinner – a protein, some vegetables, and a carbohydrate. One-pot meals for the win!
This beef stew is no exception. It is full of everything you need for a great dinner, plus it's like your grandma is rubbing your back and telling you how awesome you are while you are eating it – pure comfort.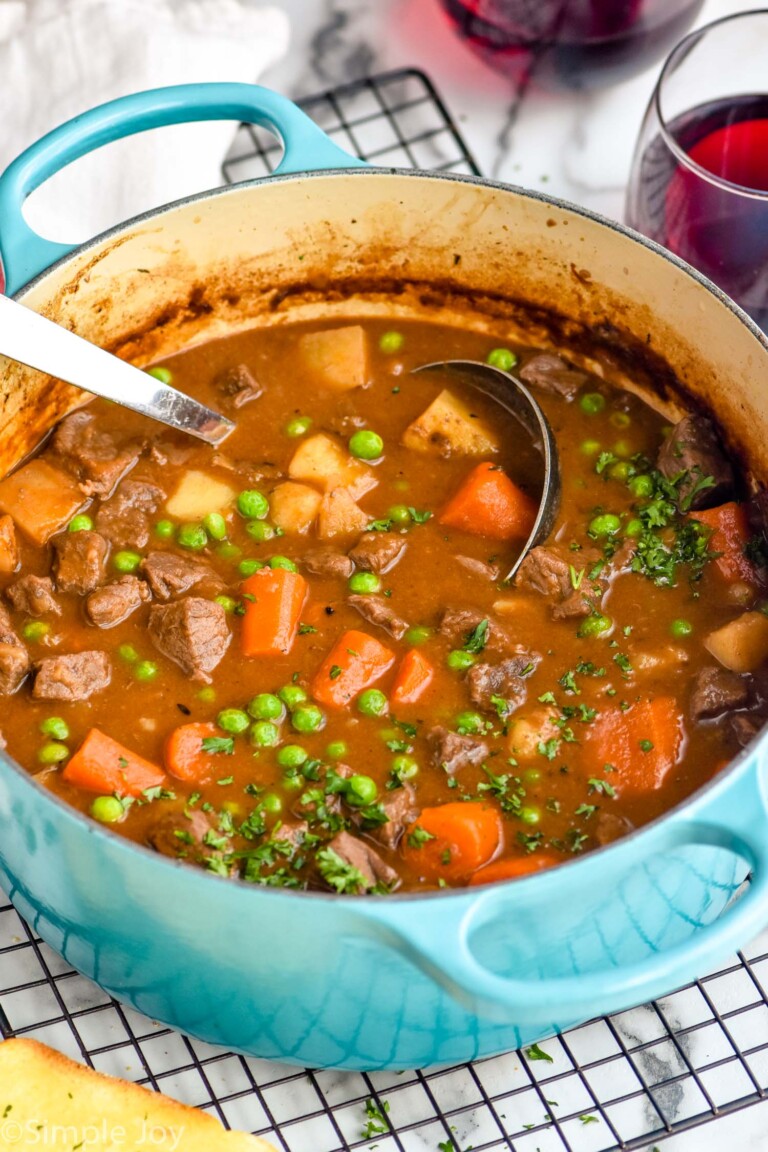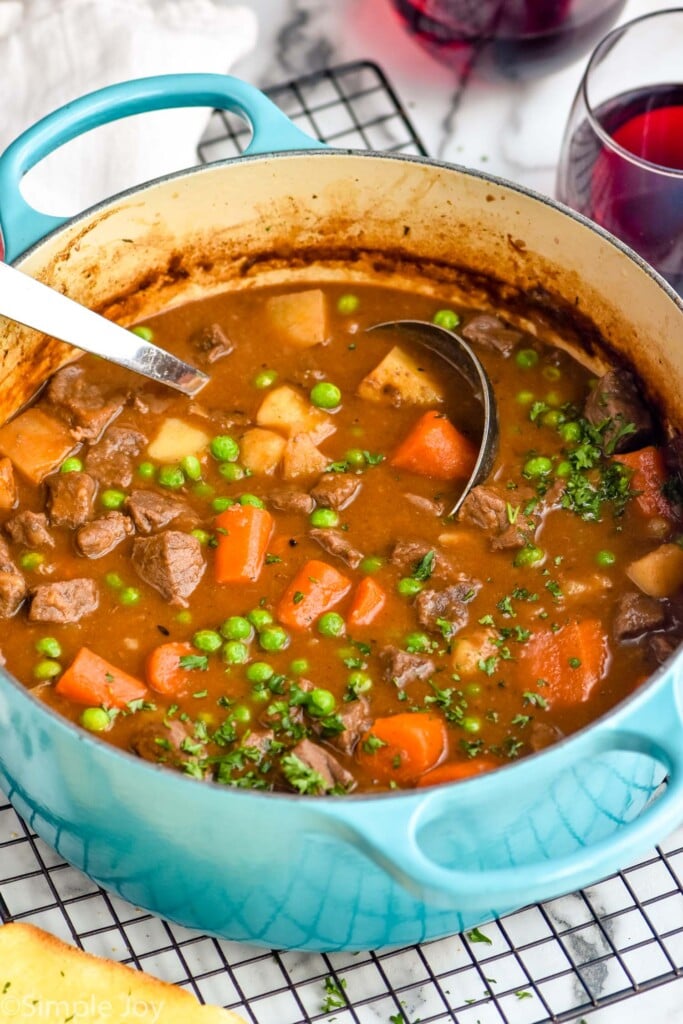 How to Make Beef Stew
Homemade beef stew is one of those recipes that makes your whole house smell wonderful as you make it. A steam-up-the-windows, make-the-house-filled-with-love kind of recipe.
This is a brief overview of how to make this delicious recipe. For the full recipe with all of the measurements, see the recipe card at the bottom of the post.
Sear the meat. In a heavy-bottomed large dutch oven with a little oil, sear the beef. Searing the meat caramelizes it and adds a deep rich flavor to the stew. Don't skip it!
Sauté the vegetables. We remove the meat from the pan so we can sauté the onion and garlic.
Add flour and deglaze the pan. Whisk in the flour, then use red wine to deglaze the pan. Scrape up all the browned bits from sautéing the vegetables; they add so much flavor to the stew.
Stir in the beef broth. To that we will add the tomato paste, seasonings, carrots, and potatoes. Bring the whole stew to a boil and then reduce it to a simmer and let it simmer for an hour and forty-five minutes. Simmering for a long time is key to making sure the beef is perfectly tender.
Finish off the stew. Finally, taste it and add more salt and pepper to taste. Then stir in your frozen peas.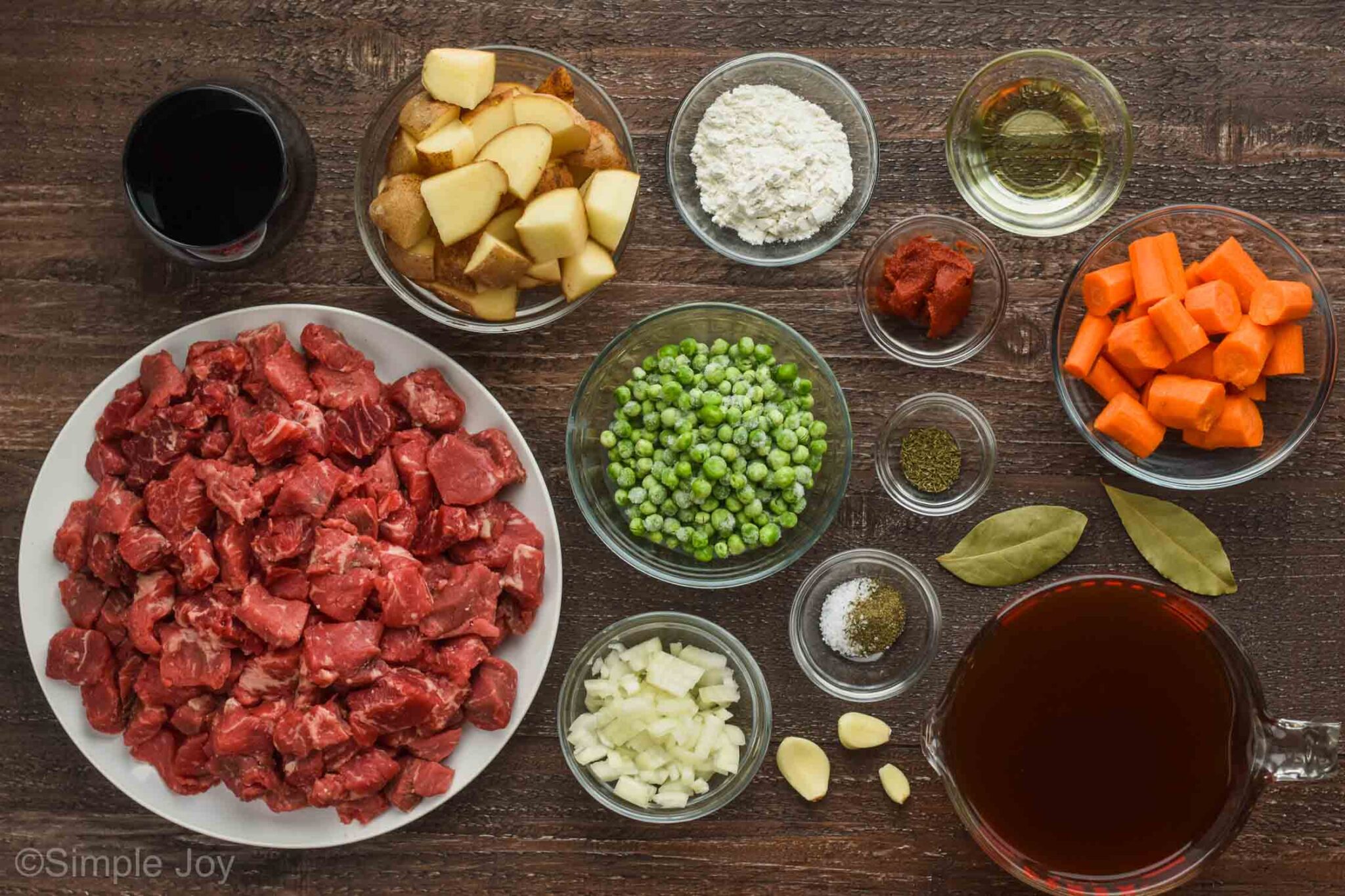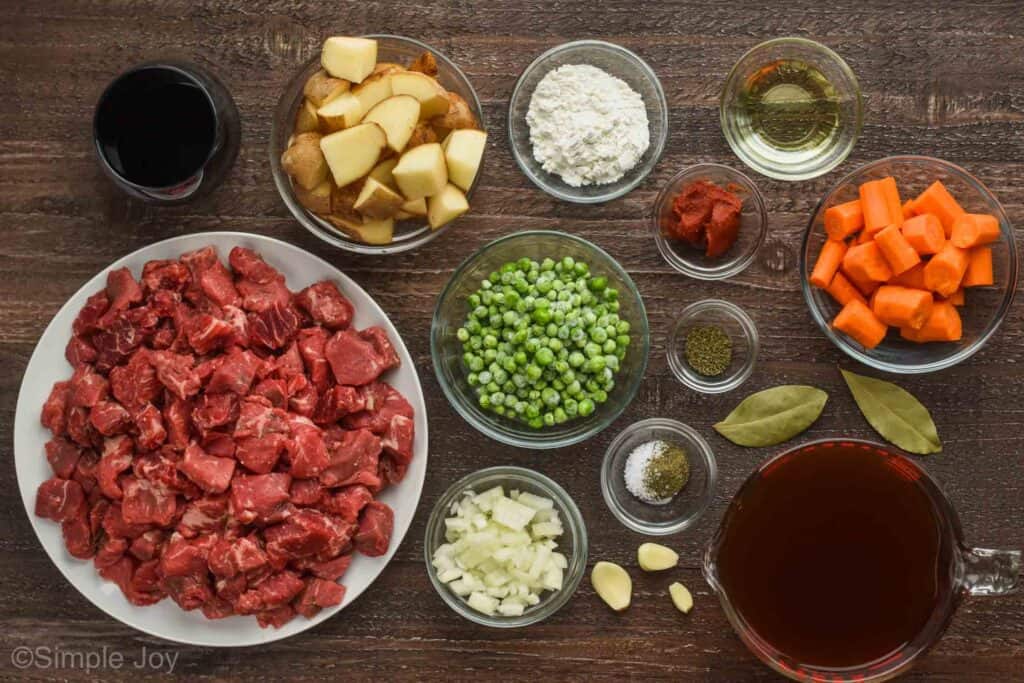 Beef Stew Ingredients
Well Marbled Stew Meat: We are starting with marbled beef. You want to look for chuck roast. The fact that it is marbled is absolutely key to this recipe. Read more on this below.
Seasonings: There is nothing bland about this delicious soup. There are so many ingredients that add flavor to this soup, but in addition to that we are using great beef stew seasoning in the form of thyme, garlic, bay leaves, salt, and pepper.
Flour: Many beef stew recipes call for lightly flouring the beef before searing it. In this recipe, we are searing the beef and then adding flour to the stew. The flour helps to thicken the stew like in the original method, while skipping the step of flouring the beef which I find a little tedious.
Vegetables: Like any good traditional vegetable beef stew, mine has onion, carrots, potatoes, and peas. We throw in the peas at the very end, frozen, so they don't overcook.
The Liquid: For this recipe, we are going to use a combination of red wine and beef stock. The red wine really deepens the flavors and is great for deglazing the pan and picking up all the brown bits after cooking the meat.
Tomato Paste: A little tomato paste thrown in after the wine helps give another layer of flavor to the stew.
Beef Stew Meat
The meat that you are purchasing for this recipe, can go by multiple different names in the meat case. Sometimes it is actually just labeled "beef stew meat" and it is cut into cubes. That will work great here and it is such a time saver to have it already cut up. If you can't find that, you can use chuck roast and cut it into pieces.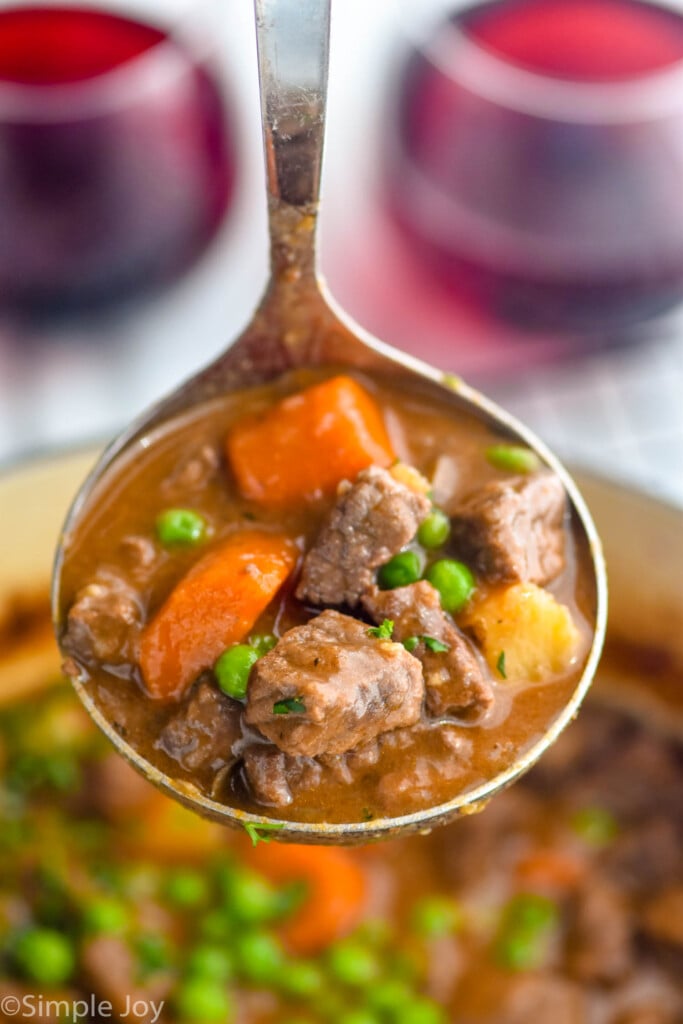 Cooking with Wine
I love cooking with wine. It helps deglaze pans nicely and adds a depth of flavor to the dish. In this recipe we are using red wine. I like to use a Cabernet for this dish, but really any red wine that you love will work. It's important that you like the taste of the wine on its own because cooking it will only enhance that flavor. I urge you to avoid using cooking wine, it has both added preservatives and added salt.
It takes almost three hours for alcohol to cook out of a dish. Since this dish will not be simmering for three hours, it is important to note that there will be some trace alcohol in your soup. If you are serving someone who is sober, I suggest replacing the wine with beef broth and a splash of lemon juice, about 1/2 a teaspoon.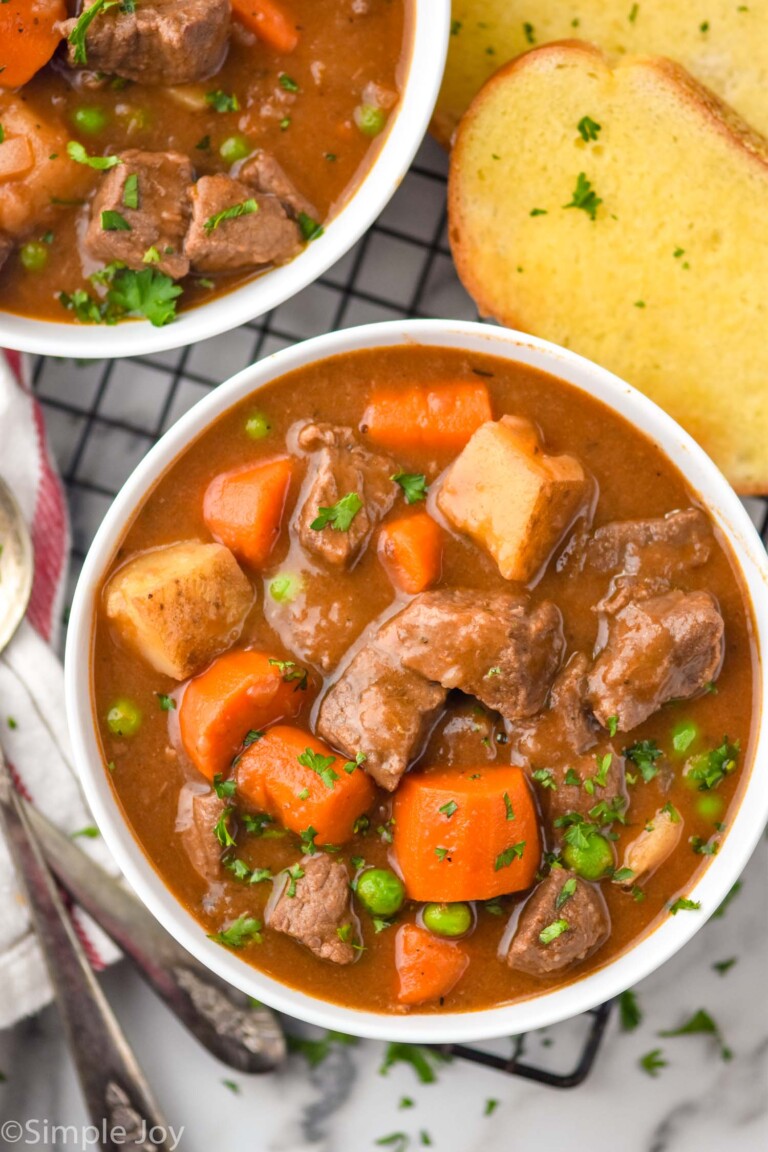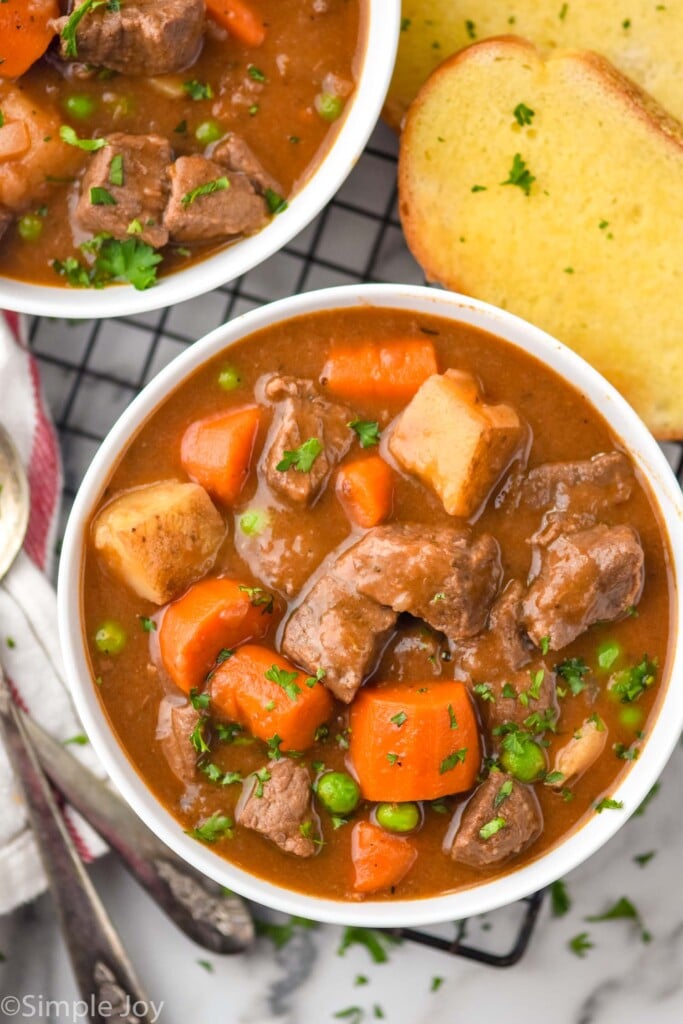 Storing Leftovers
The leftovers of this recipe are almost better than the soup fresh off the stove. This is perfect to bring with you to work the next day.
Store any leftovers in an airtight container for up to four days. As with all leftovers, only pull out and reheat what you are planning to eat at that moment. Don't reheat more than once.
Freezing Beef Stew
This is a great soup to freeze. Freeze in individual containers, being sure to leave room in the container (about an inch) for the soup to expand as it freezes. I like freezing in individual portions because that way you are only thawing the soup you plan on eating. Beef stew can be stored in the freezer for up to three months.
When you are ready to eat your frozen leftovers, thaw in the refrigerator overnight, or heat over low heat stirring often.
FAQ
What is the secret to tender stew?
Cooking the stew low and slow. This isn't a dish you can rush. It really needs that low simmer time for the beef to become tender and juicy.
What gives beef stew more flavor?
There are a few keys to a flavorful beef stew. The first is searing your beef. Second is wine to deglaze the pan. Third is the fresh veggies we are adding with the dried seasonings. Finally, the process of cooking, nice and slow over low heat, allows all of those flavors to really develop.
How to thicken beef stew?
This recipe for beef stew is naturally thickened by the added flour and the slow process of cooking which allows the excess liquid to evaporate over time.
What to Serve with Beef Stew
As I mentioned earlier, this really is a whole meal on its own. That said, if you would like to stretch this meal out, here are a few side dishes that would complement this very well.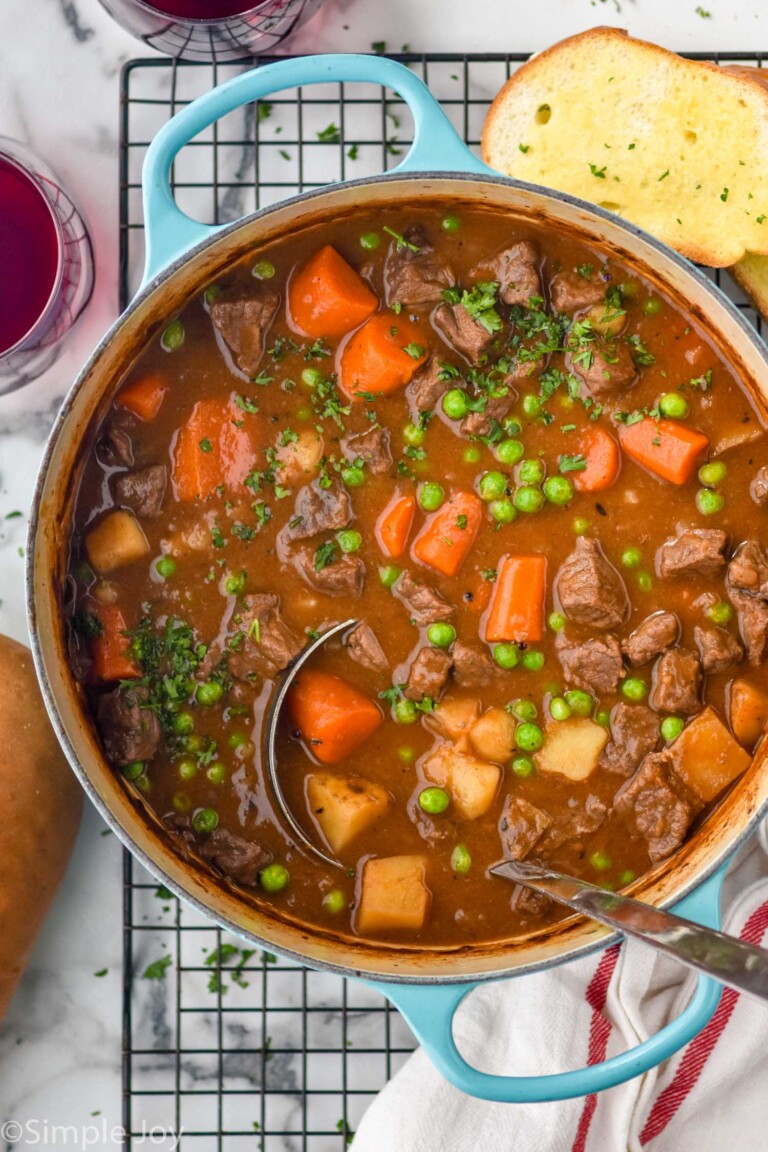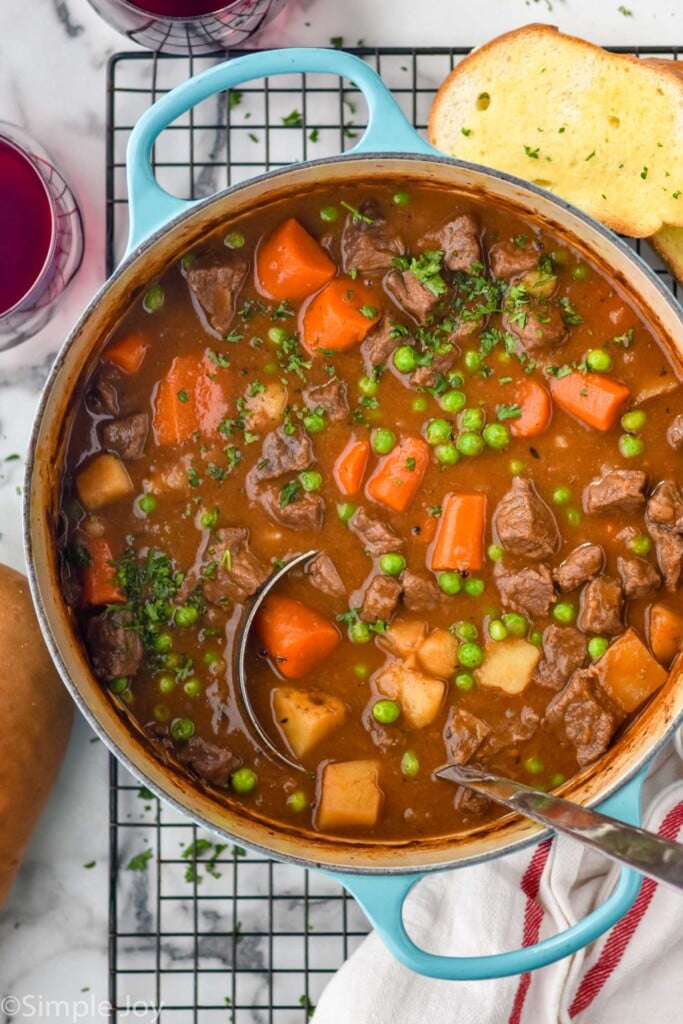 Other Great Soup Dinners
As I said, this is a one-pot wonder. A little crusty bread and you are good to go. If you are looking for other soups and stews that will serve you well, check out some of these:
If you make this easy beef stew or any of my other recipes please leave me a comment letting me know what you think!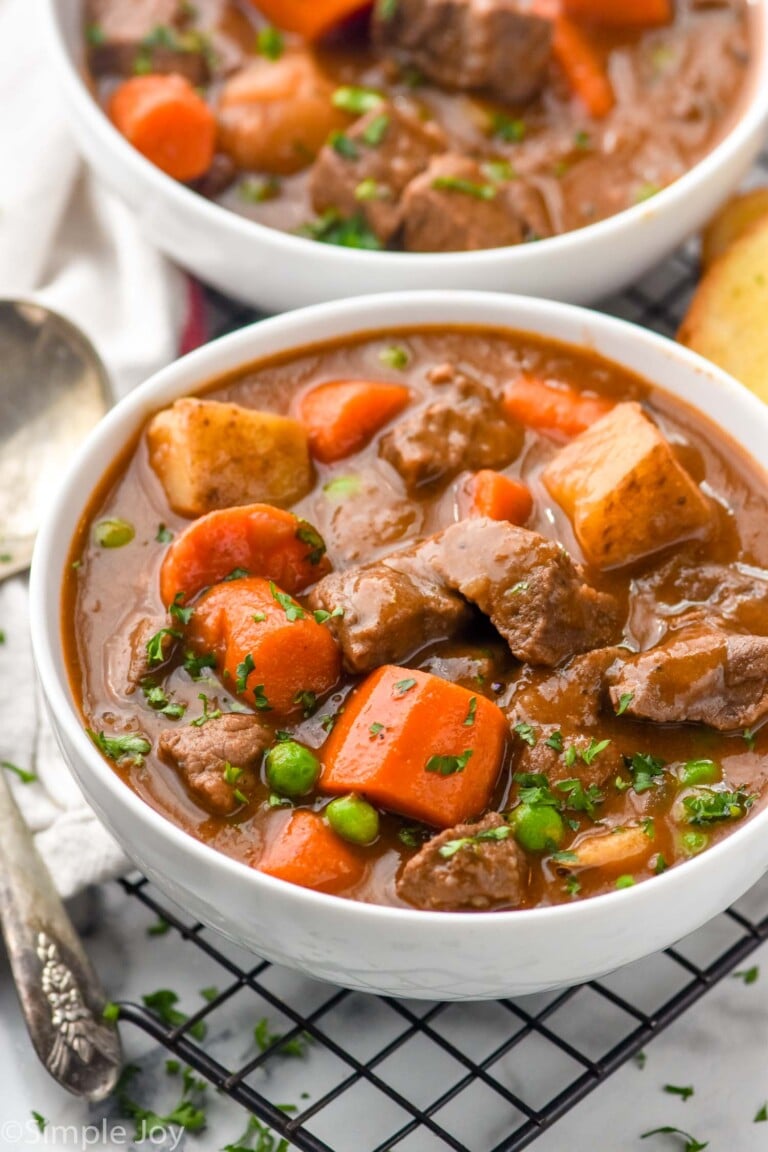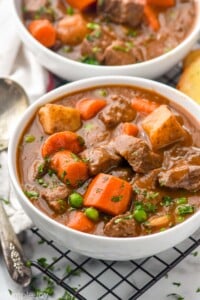 Beef Stew
Total:
2
hours
20
minutes
Beef Stew is the ultimate comforting soup recipe. Between the mouth-watering beef and the tender, perfect vegetables, you will fall in love.
Ingredients
1

teaspoon

kosher salt

1/2

teaspoon

black pepper

3

pounds

chuck roast

(well marbled and cut into 1 inch cubes, read more about beef stew meat here)

2

tablespoons

vegetable oil

1

yellow onion

diced

2

garlic cloves

minced

1/4

cup

all purpose flour

1

cup

red wine

2

tablespoons

tomato paste

4

cups

beef broth

2

bay leaves

1/2

teaspoon

dried thyme

4

medium carrots

peeled and cut into one inch pieces

1

pound

russet potatoes

unpeeled and cut into one inch chunks

1

cup

frozen peas

(keep in freezer until just before stirring in)
Instructions
Season the beef with salt and pepper.

1 teaspoon kosher salt,

1/2 teaspoon black pepper,

3 pounds chuck roast

Heat oil in the base of a large dutch oven until it is smoking. Brown the meat in batches, cooking for a few minutes on each side. Using a slotted spoon, remove the meat and set aside.

2 tablespoons vegetable oil

Add in the onion and garlic and sauté until the onion is translucent, about 5 to 7 minutes.

1 yellow onion,

2 garlic cloves

Whisk in the flour. Then slowly whisk in the red wine, scraping up the browned bits.

1/4 cup all purpose flour,

1 cup red wine

Whisk in the tomato paste. Return the beef to the dutch oven with any drippings. Then add in the beef broth, bay leaves, thyme, carrots, and potatoes and bring to a boil. Reduce to a simmer, and cook uncovered for 1 hour and 45 minutes, you should see occasional small bubbles.

4 cups beef broth,

2 bay leaves,

1/2 teaspoon dried thyme,

4 medium carrots,

1 pound russet potatoes,

2 tablespoons tomato paste

When the beef is tender, taste the stew and add more salt and pepper as needed. Stir in the frozen peas and allow them to cook through, about 1 minute.

Serve with fresh parsley and crusty bread and enjoy.
Serving:
1.5
cups
Calories:
397
kcal
(20%)
Carbohydrates:
19
g
(6%)
Protein:
43
g
(86%)
Fat:
14
g
(22%)
Saturated Fat:
4
g
(25%)
Polyunsaturated Fat:
2
g
Monounsaturated Fat:
1
g
Cholesterol:
113
mg
(38%)
Sodium:
1111
mg
(48%)
Potassium:
410
mg
(12%)
Fiber:
2
g
(8%)
Sugar:
3
g
(3%)
Vitamin A:
258
IU
(5%)
Vitamin C:
24
mg
(29%)
Calcium:
17
mg
(2%)
Iron:
26
mg
(144%)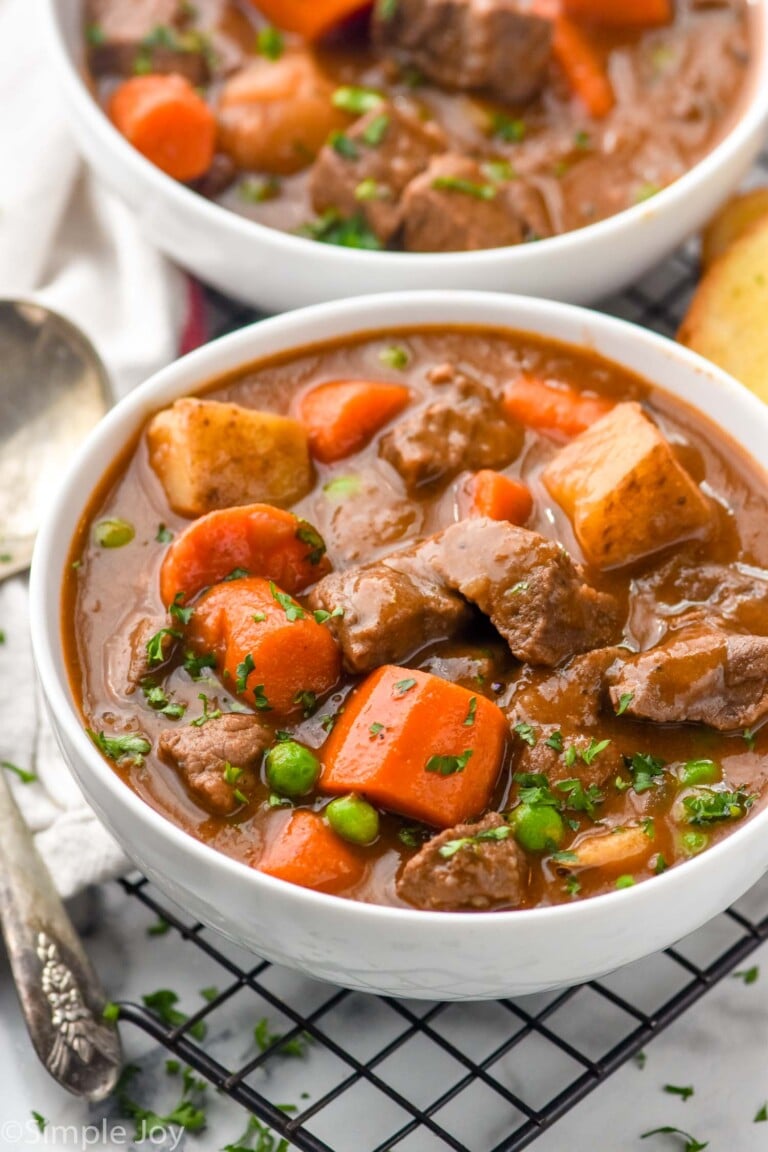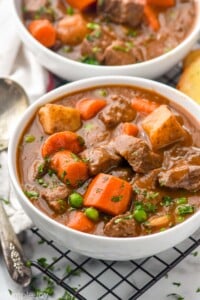 did you make this
Beef Stew