This Berry Swirl Cheesecake with waves of fresh strawberries and blueberries is so perfect for summer celebrations or anytime! Thank you so much to Ménage à Trois for sponsoring this post, we know how much I love a good wine and theirs are delicious!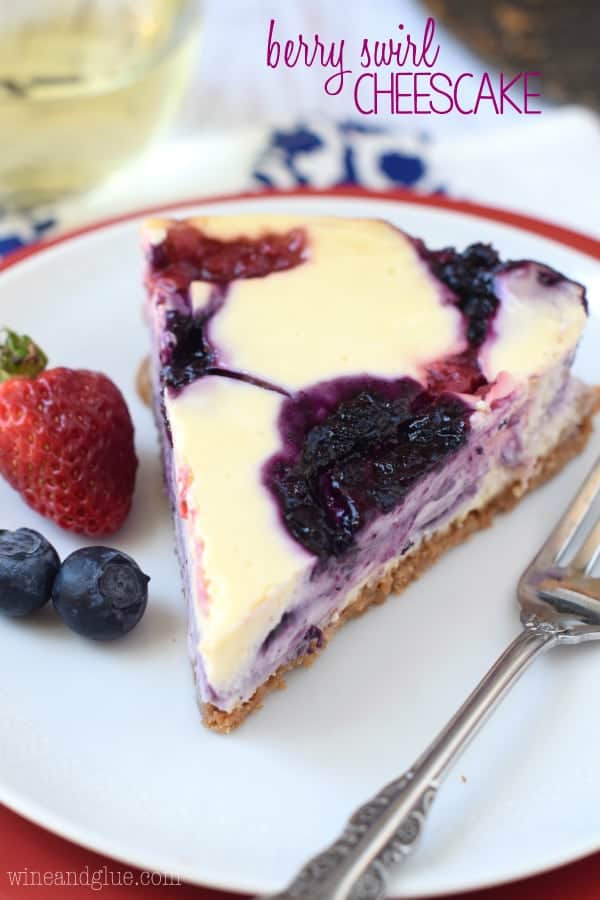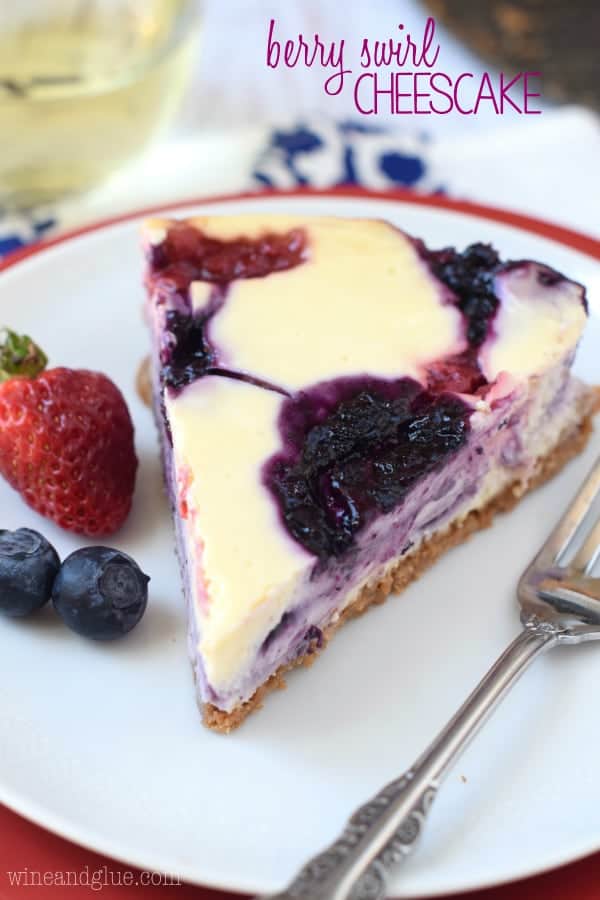 One of the highlights of the year for me, for sure, is celebrating the Fourth of the July. We love celebrating with our good friends. We go to the parade, watch the kids chase down candy, we get waaaaaaay too hot, and then we come home and the kids enjoy popsicles, the swimming pool, and their well earned candy.
And the adults get to sit back and watch summer through the kids' eyes and enjoy each other's company while having delicious food and tasty beverages! Wine is always a part of my summer get togethers, and Ménage à Trois wine is the perfect choice for the Fourth of July or any summer get together.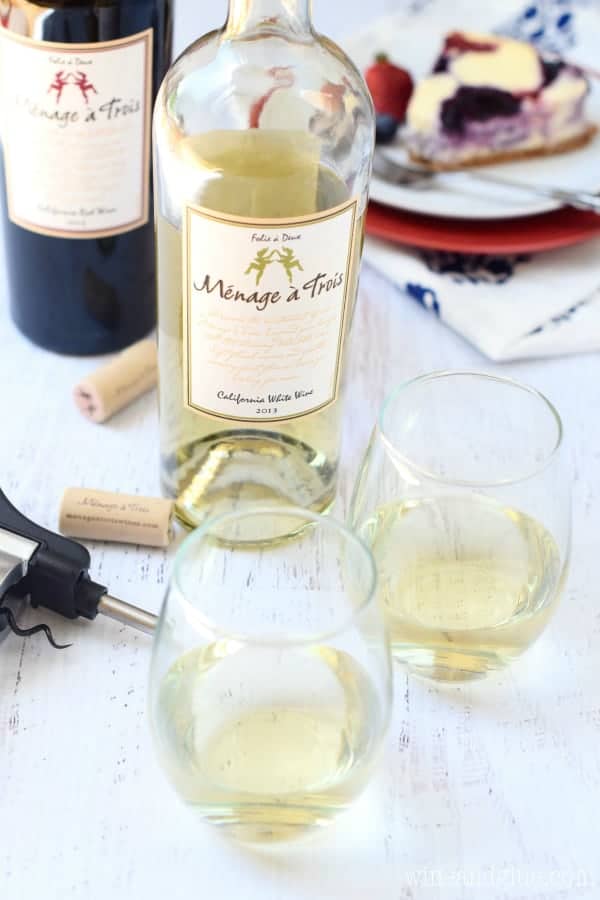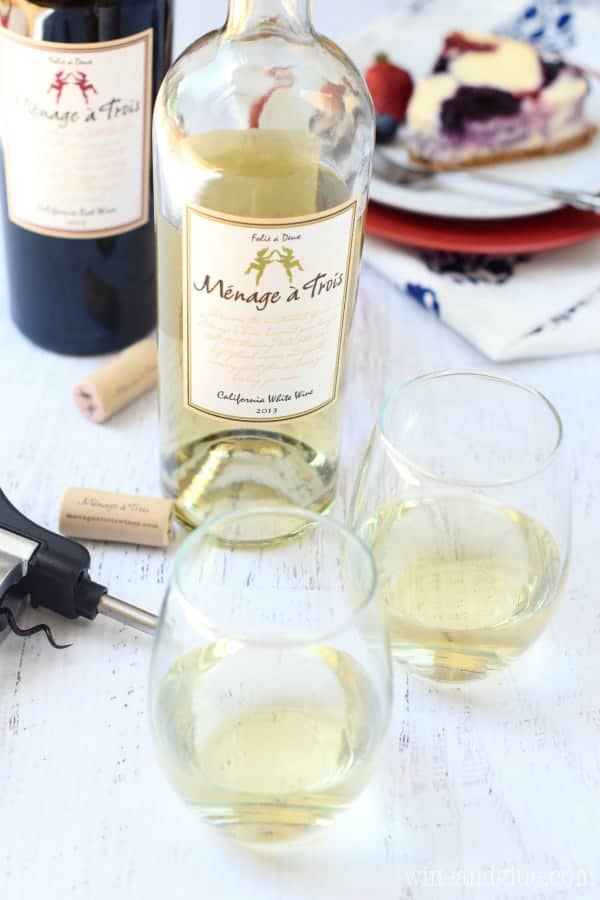 I personally really gravitate towards Ménage à Trois California Red. It is absolutely delicious. It is the taste of a really good wine at a super reasonable price. In other words it is perfect for this girl and perfect for entertaining. I can absolutely see this going so well with a summer evening party paired up with some grilled chicken.
And while I'm really drawn towards their California Red, I think it is their California White Wine that pairs perfectly with this Berry Swirl Cheesecake. Their California White is crisp, and sweet, but not overly so. So perfect for serving throughout a hot Fourth of July party or saving especially for going alongside this cheesecake. Its absolutely refreshing.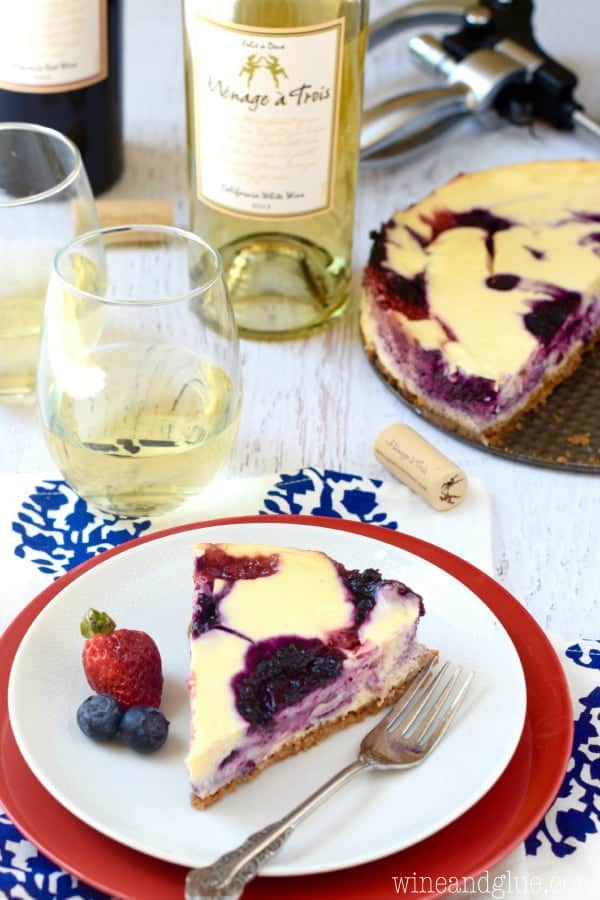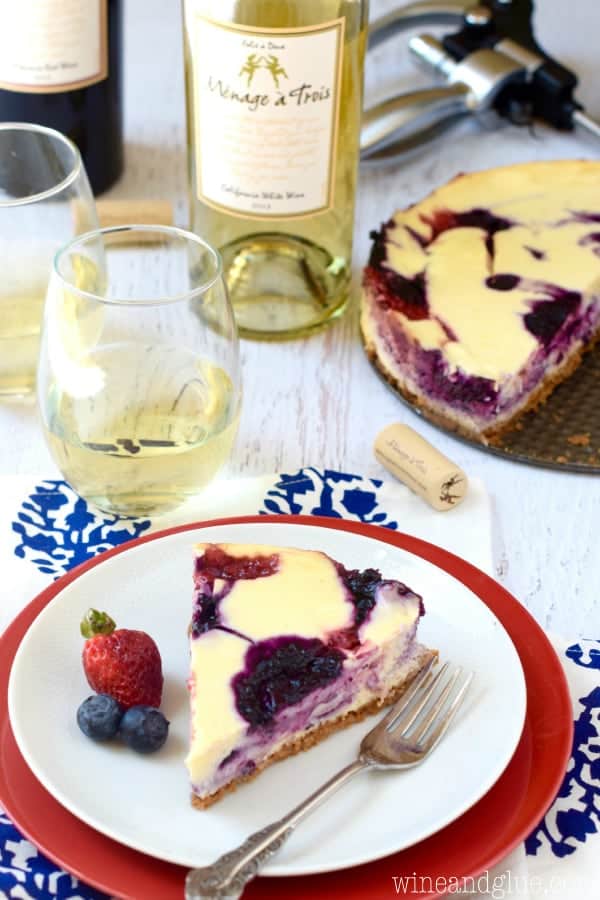 Or even better yet, you could combine their California White and Red (see where I'm going with this?) and top it off with some of their perfectly bubbly Prosecco. You know, like a red white and blue wine spritzer!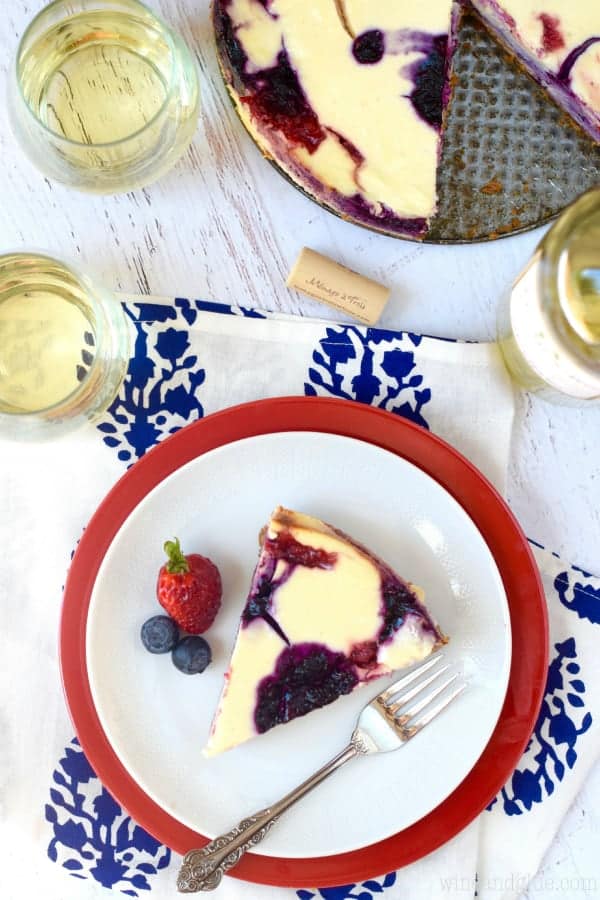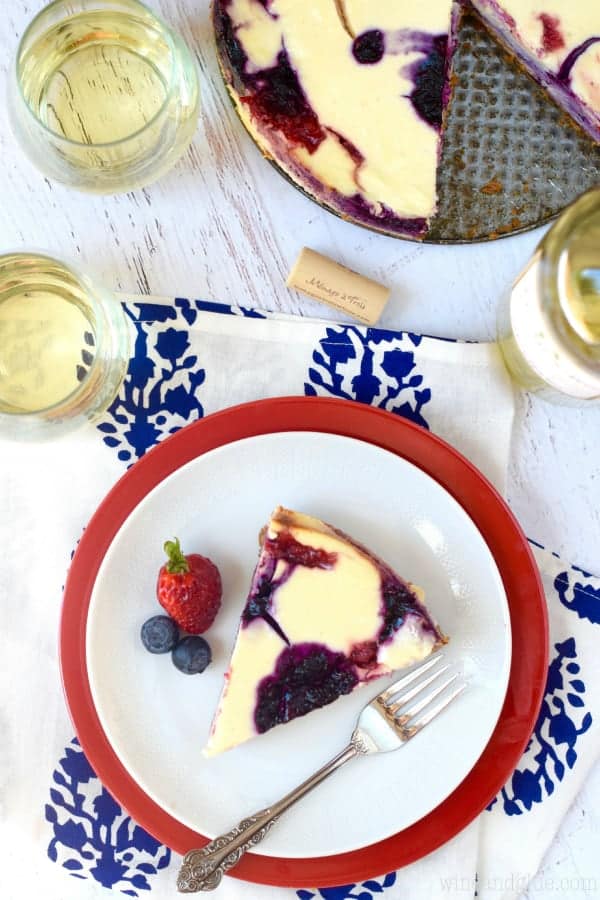 Ménage à Trois in Red and White makes the perfect addition to a party table. Which, if I'm being totally honest, I'm kind of obsessed with making perfectly themed party tables . . . . even if it's only our near and dear friends who are coming over.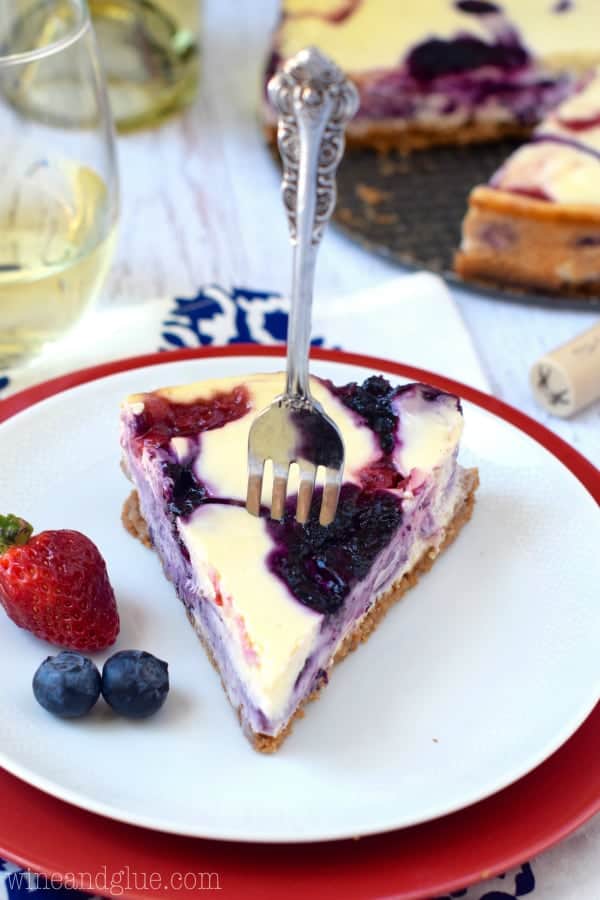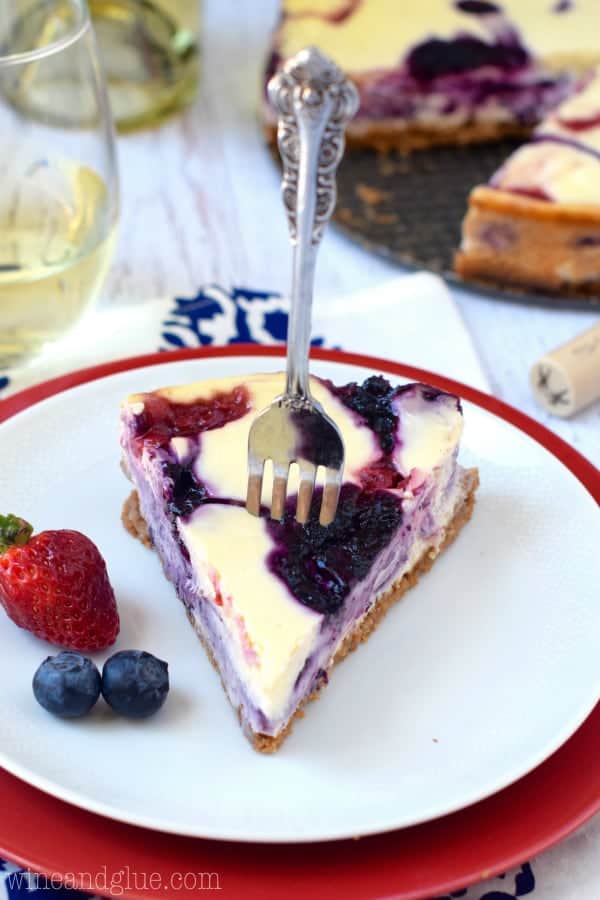 Guess what else makes the perfect addition to a July 4th party table? This Berry Swirl Cheesecake! It is made completely from scratch, and has perfect swirls of strawberry and blueberry in it that give it it's festive red, white, and blue look.
If you've never made a cheesecake before, give it a go! It is not as difficult as it may seem. And this cheesecake will be sure to wow your party guests!!
Be sure to check out Ménage à Trois on Facebook, Pinterest, Twitter, and Instagram for lots of fun summer entertaining ideasRemember to drink responsibly!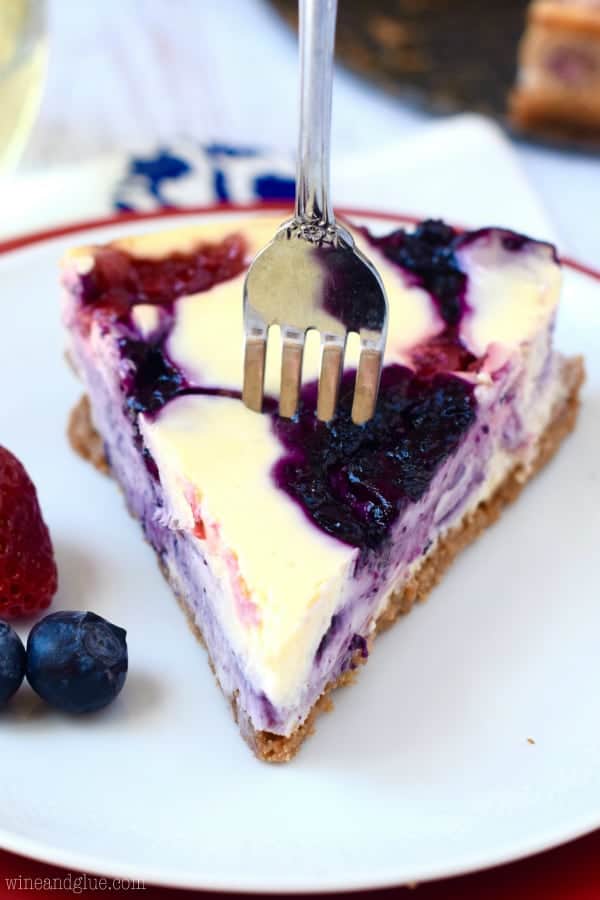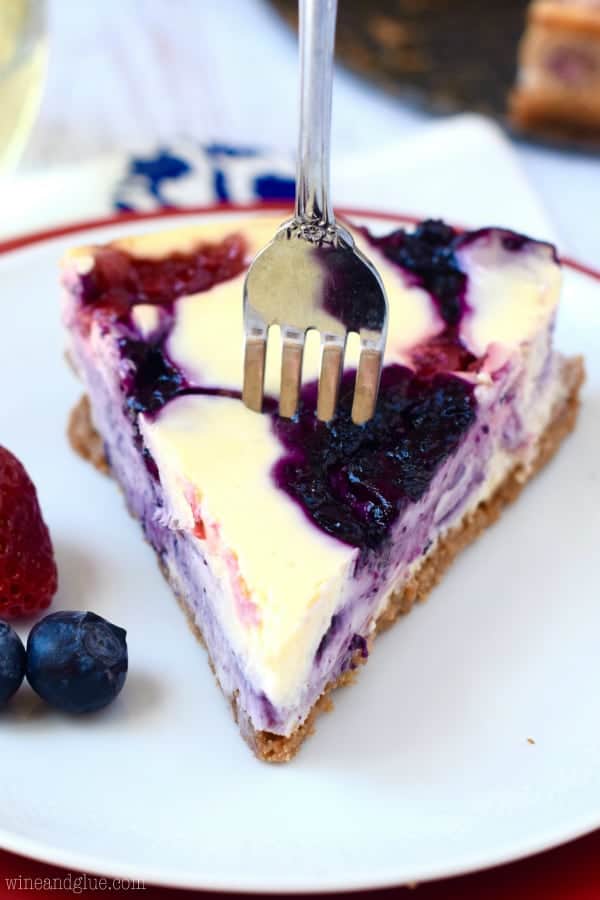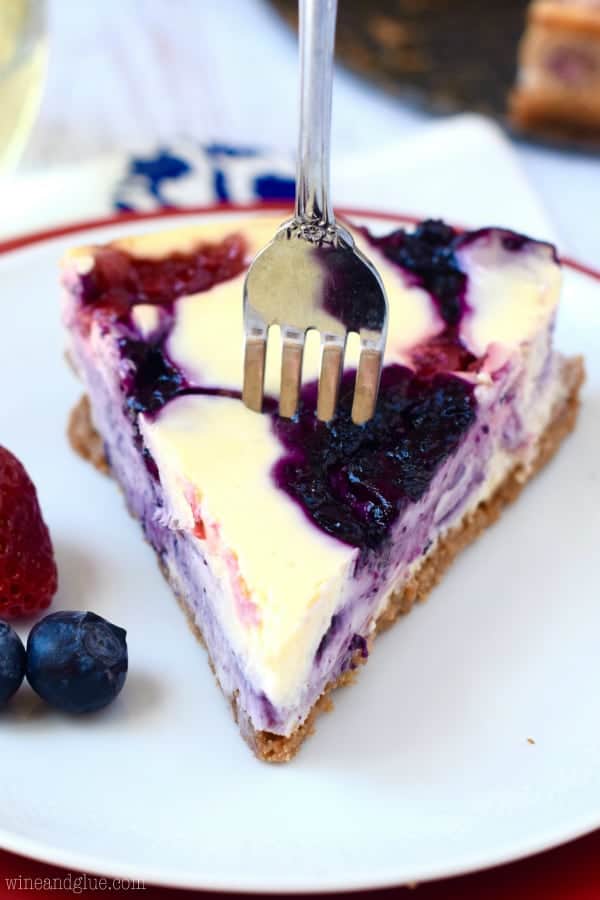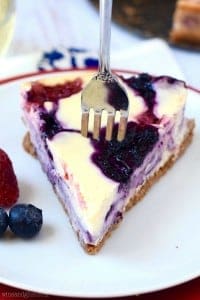 Berry Swirl Cheesecake
Ingredients
16

golden Oreos

4

TBSPs

butter

melted

1

cup

chopped strawberries

1

cup

blueberries

2

TBSPs

granulated sugar

divided

3 8

oz

bricks of cream cheese at room temperature

see note

3/4

cup

granulated sugar

2

tsps

pure vanilla extract

3

eggs room temperature
Instructions
IMPORTANT: Read all the instructions completely before beginning.

Preheat your oven to 325 degrees.

In the bowl of a food processor crush 16 golden Oreos (with the creme). Once crushed, add the melted butter, pulsing a few times to combine. Pour the mixture into the bottom of a 9 inch springform pan and press down gently. Bake at 325 degrees for about 15 minutes. Remove from the oven and cool in the refrigerator for about a half hour.

While the crust is baking, combine the chopped strawberries, 1 TBSP granulated sugar and 2 TBSPs water in a small sauce pan over medium heat. Stir consistently, breaking up the strawberries as you go, until the mixture has thickened, about five minutes. Pour into a glass measuring cup and put in the refrigerator to cool.

Add the blueberries, 1 TBSP granulated sugar, 2 TBSPs water to the same saucepan (no need to clean it first). Stir consistently, breaking up the blueberries as you go, until the mixture has thickened, about five minutes. Pour into a glass measuring cup and put in the refrigerator to cool.

While the crust and the berries are cooling, beat the cream cheese on medium low until broken apart and smooth. Add in the 3/4 cup granulated sugar and beat until combined. Add in the vanilla and eggs, one at a time, beating until combined and scraping up the bottom of the bowl to ensure it is all well combined.

Increase the temperature of the oven to 350 degrees.

Remove the crust and the berries from the refrigerator. Pour approximately a third of the cream cheese batter over the crust and gently spread. Add a few spoonfuls of each berry mixture. Pour the next third of the batter on top and gently spread to the edges of the pan. Add more berries, just plopping spoonfuls of it onto the batter. Add the rest of the batter and then spoon on any more berries you might have left.

Bake the cheesecake for 35 minutes or until the edges of the cheesecake have set and are just beginning to brown. The center will still be wobbly. Turn the oven off and leave in the oven with the door closed for an hour. Take the cheesecake out of the oven and set it on the counter top allowing it to cool completely before moving it to the refrigerator. Refrigerate at least four hours before serving.

When you go to serve, make sure that you cut completely through the crust when you cut the first piece.
Notes
It is absolutely vital that the cream cheese is at room temperature. Like it's been sitting out for at least two hours. If it isn't room temperature it will be very difficult to get a smooth consistency in the cheesecake and it will be difficult to cream it with the other ingredients. Additionally, it is very important that the eggs be room temperature (at least a half hour). If they aren't, they will drop the temperature of the cream cheese when they are added and make it get chunky.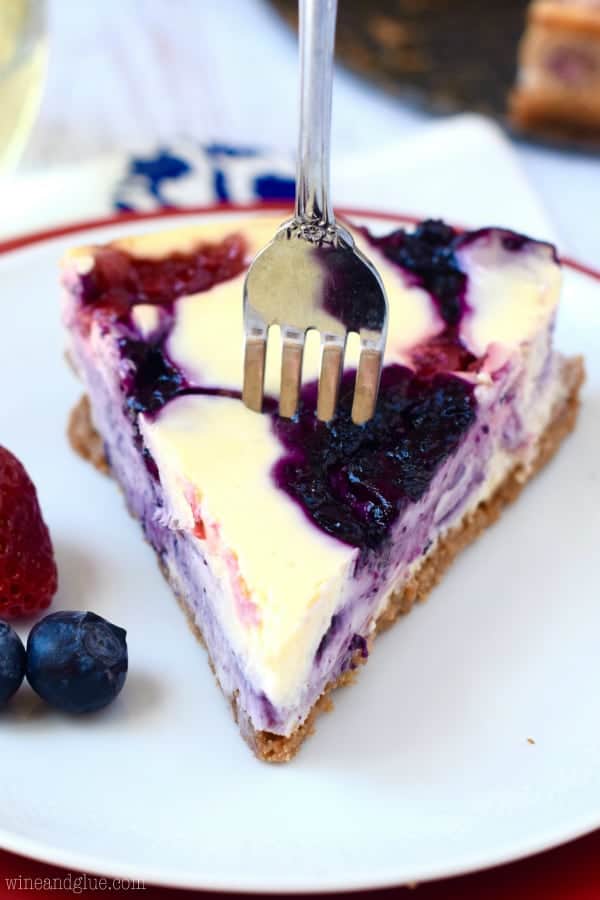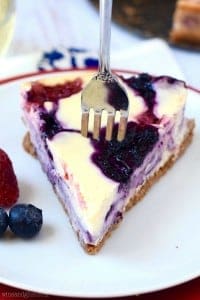 did you make this
Berry Swirl Cheesecake
This is a sponsored conversation written by me on behalf of Menage a Trois. The opinions and text are all mine.