This Buffalo Chicken Pizza is only SIX ingredients and makes a perfect easy dinner or a fun appetizer for game day!
This post is sponsored by Mirum, but opinions expressed are my own.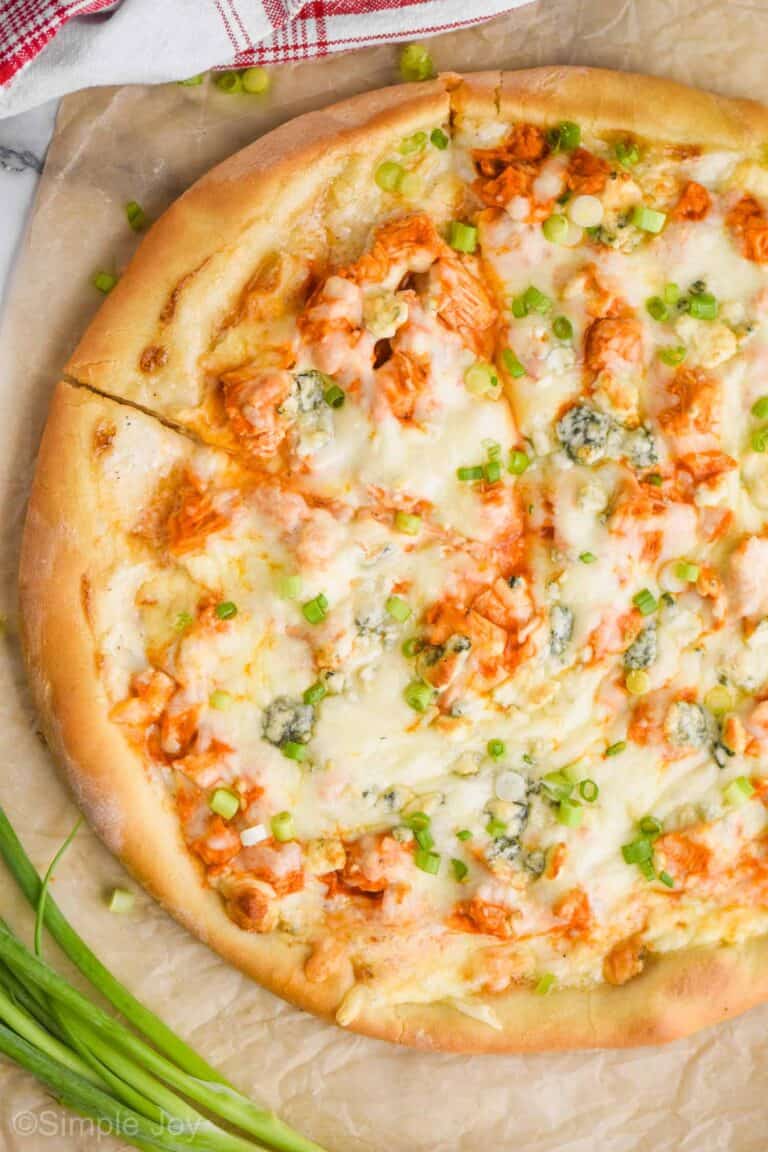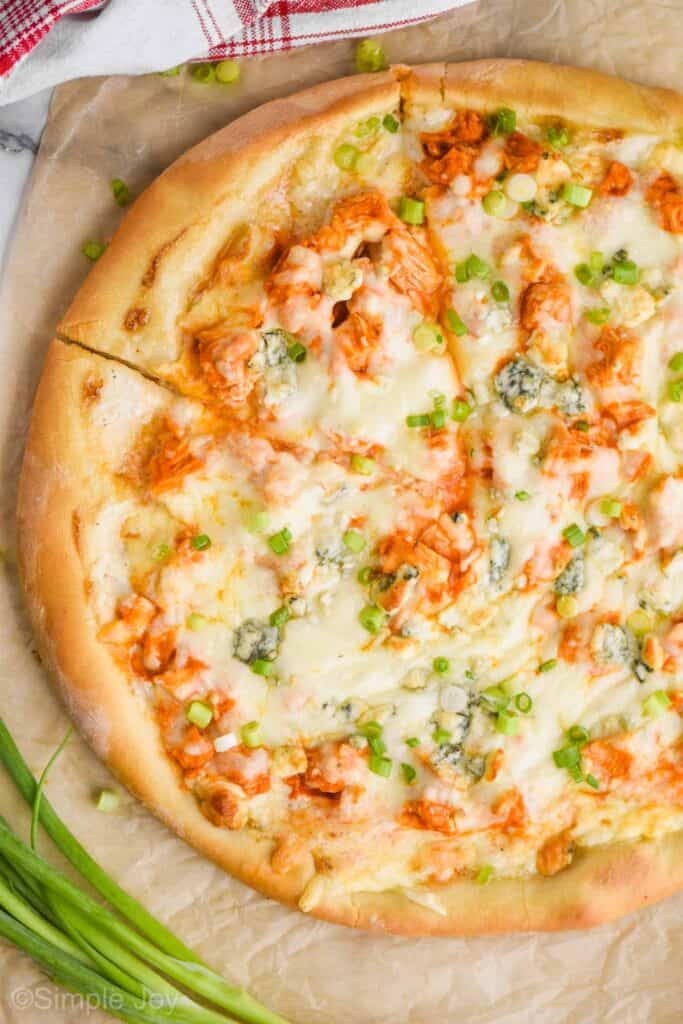 It's around football season every year that I try to fight the urge to make every single recipe that I post Buffalo flavored. It is safe to say that I am obsessed with all things Buffalo – especially when you combine it with Ranch Dressing.
I've decided to unleash my inner Buffalo lover on you, with this amazing Buffalo Chicken Pizza. It is a simple recipe that starts with my pizza dough, and then uses just five other ingredients to make a great easy dinner or appetizer recipe.
While I love this pizza, it's spiciness and cheese are enough to kick up my occasional heartburn. If you too have frequent heartburn, I suggest you try Omeprazole Orally Disintegrating Tablets (ODT).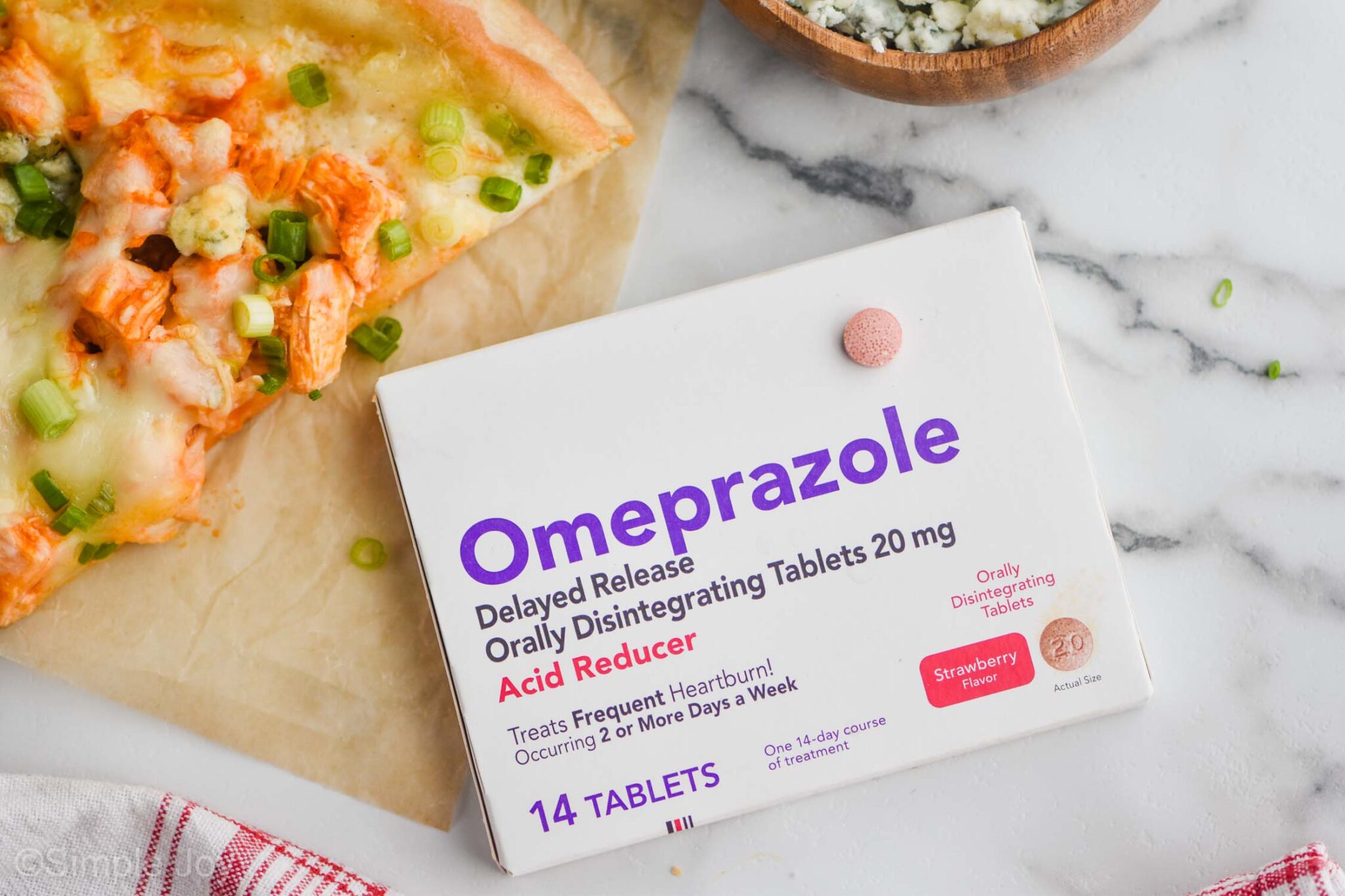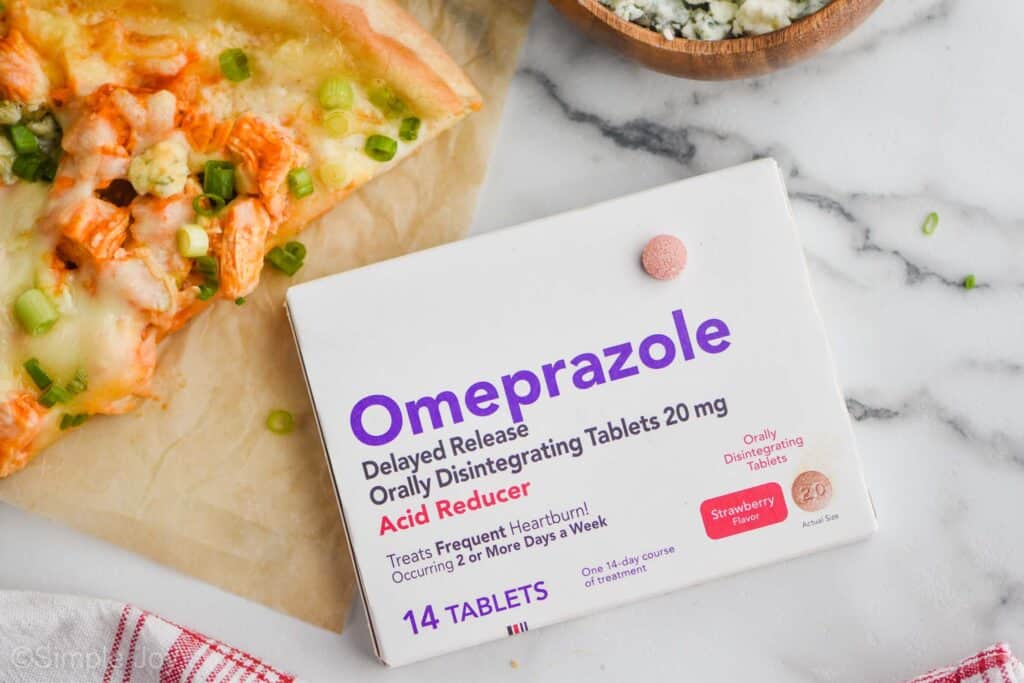 Omeprazole ODT, used to treat the symptoms of frequent heartburn, is so helpful. With a great strawberry flavor, they dissolve on your tongue, meaning you can take them without water. Using Omeprazole ODT is a great way to relieve heartburn and continue to enjoy all the Buffalo recipes, or whatever else you are always craving. Learn more here.
Use as directed for 14 days to treat frequent heartburn (occurring 2 or more days a week). May take 1-4 days for full effect. Not intended for immediate relief.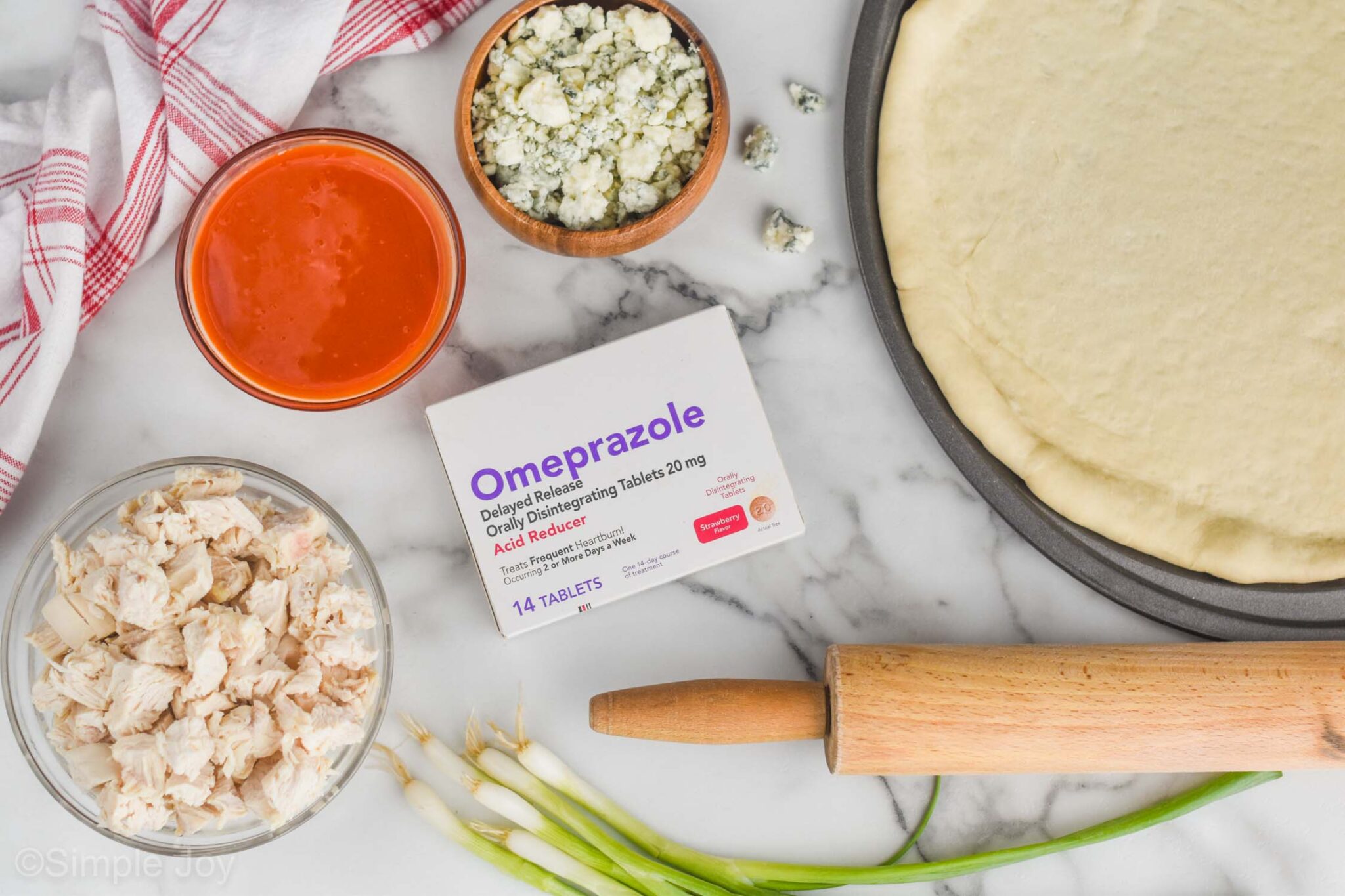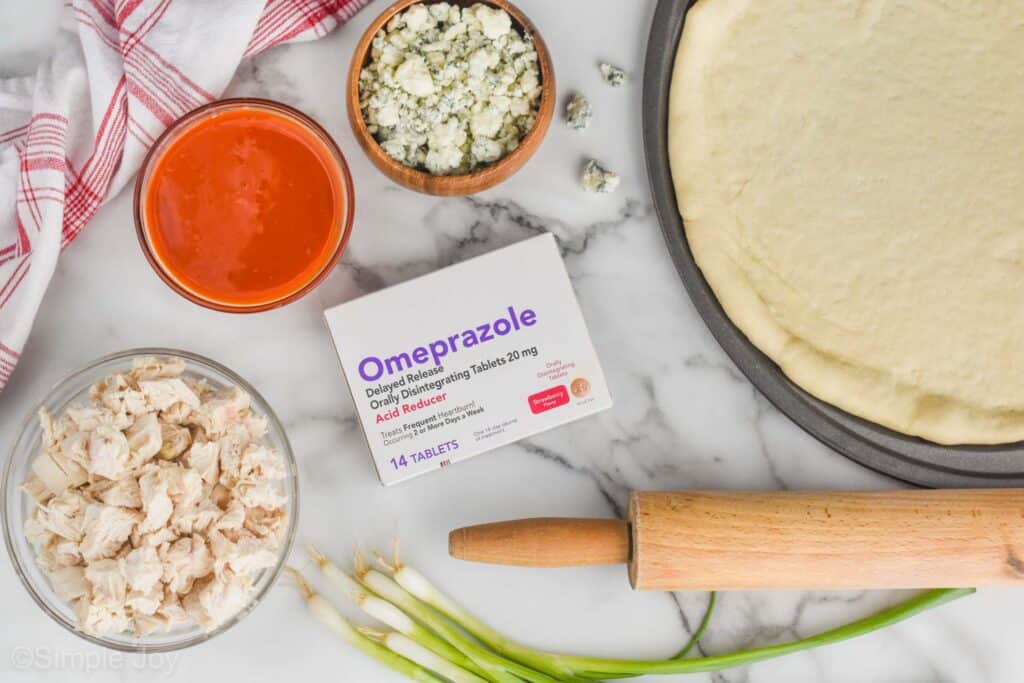 How to Make Buffalo Chicken Pizza
Roll out the pizza dough to 14 inches.
Prebake the dough for 10 minutes.
While the dough is baking, mix together buffalo sauce and diced chicken.
Spread ranch dressing on the pre baked crust. Top it with mozzarella cheese and blue cheese.
Bake and then top with diced green onions.
Homemade Dough
I think a great dough is the start to any amazing pizza recipe. My recipe is a fool proof recipe with a photo tutorial and a video. (You can find a link to my recipe right in the recipe card below.)
To save time with this recipe, I suggest making the dough the night before. It will sit on your counter all day and wait for you to turn it into pizza when you get home from work.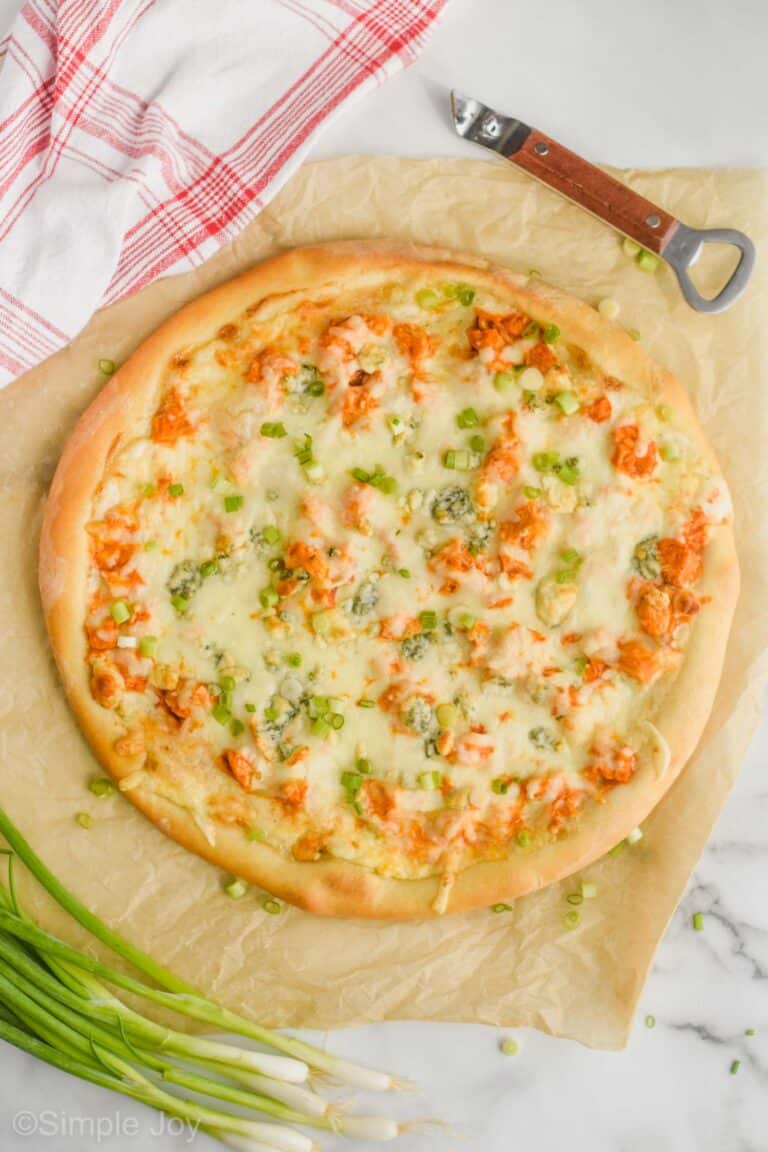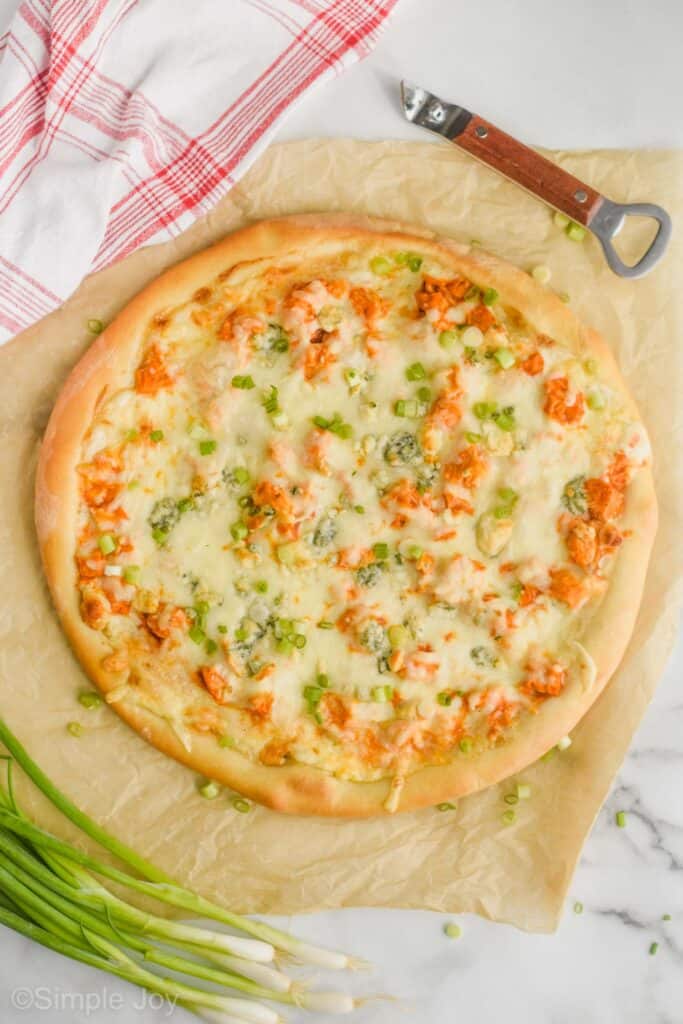 Cooking Chicken
Key to this Buffalo Chicken Pizza is chicken! You will need to cook and dice your chicken before making this pizza. You need 2 cups diced chicken, which is about a pound of raw chicken breasts.
There are three easy options:
Boiling Chicken Breasts
Place the boneless skinless chicken breasts in a pot and cover completely with water.
Bring the water to a boil.
Cook for 4 to 7 minutes.
How thick the chicken breasts are will determine how long they need to boil. The best course is to use an instant read thermometer and cook until the thickest part of the chicken registers 165 degrees.
Ranch or Blue Cheese
As mentioned above, the reason I went with ranch dressing in this recipe is because of how perfectly I think it pairs with Buffalo. That being said, some people really prefer the flavor of Blue Cheese.
I think Blue Cheese dressing is a bit overpowering in this recipe, but that's the beauty of recipes – you can make them your own. Feel free to use what you like or just stick with the blue cheese crumbles on the top.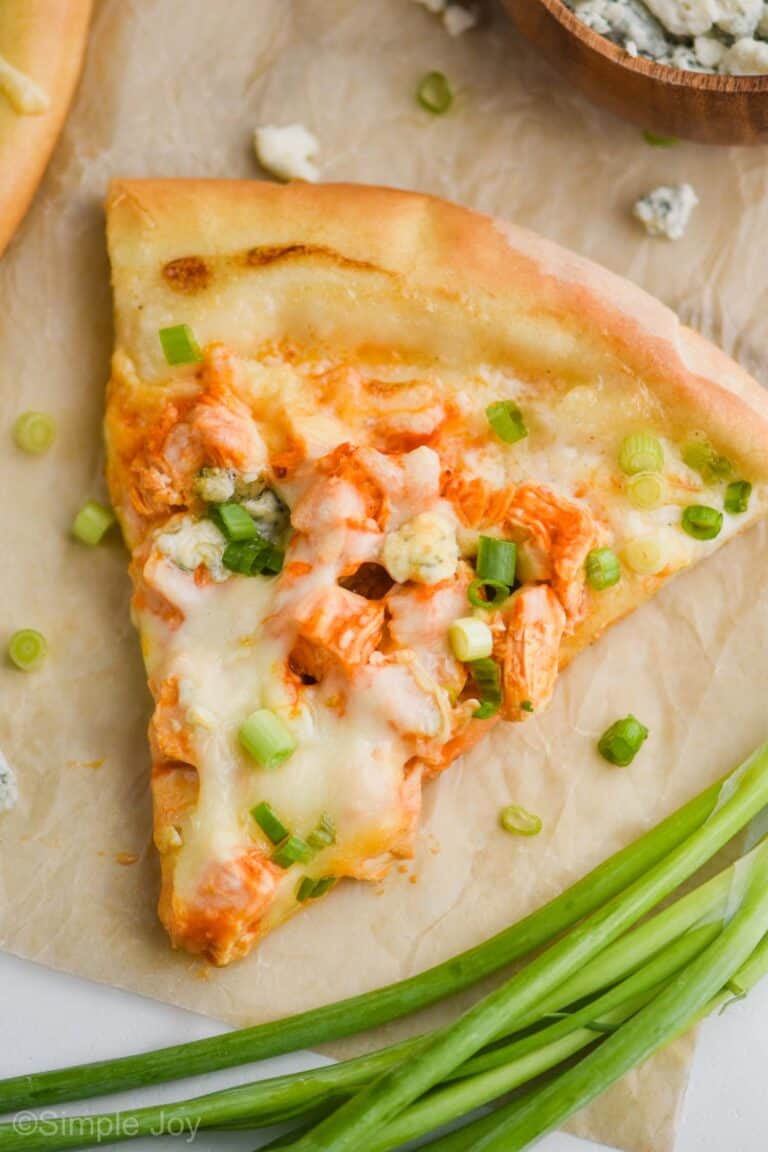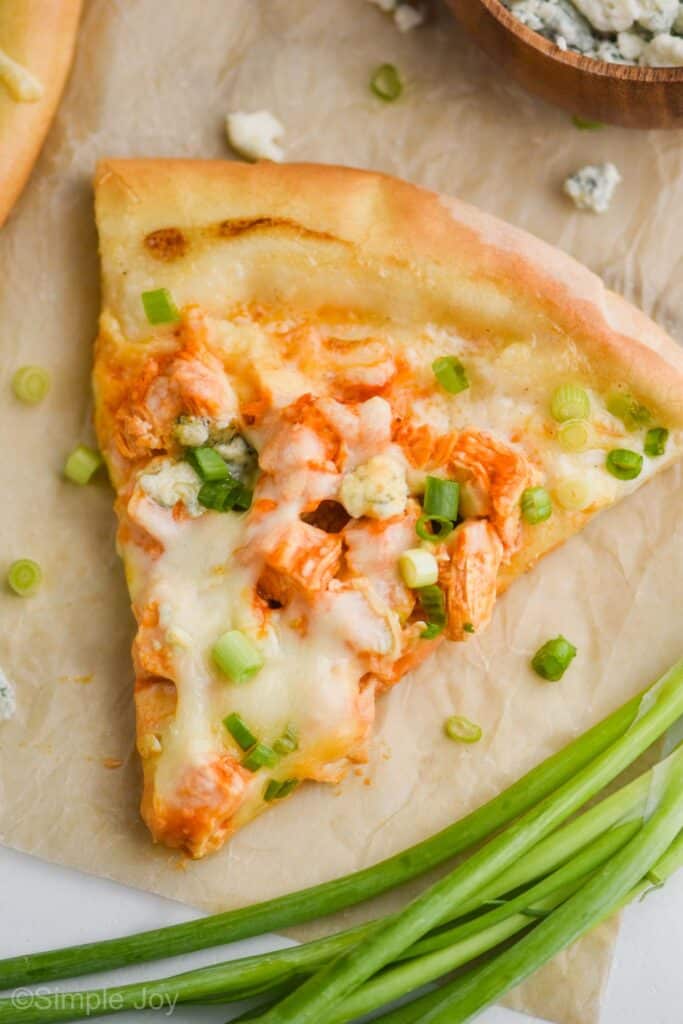 Other Great Buffalo Dishes
Here are some other great Buffalo dishes! Make sure to grab your Omeprazole ODT before you make them!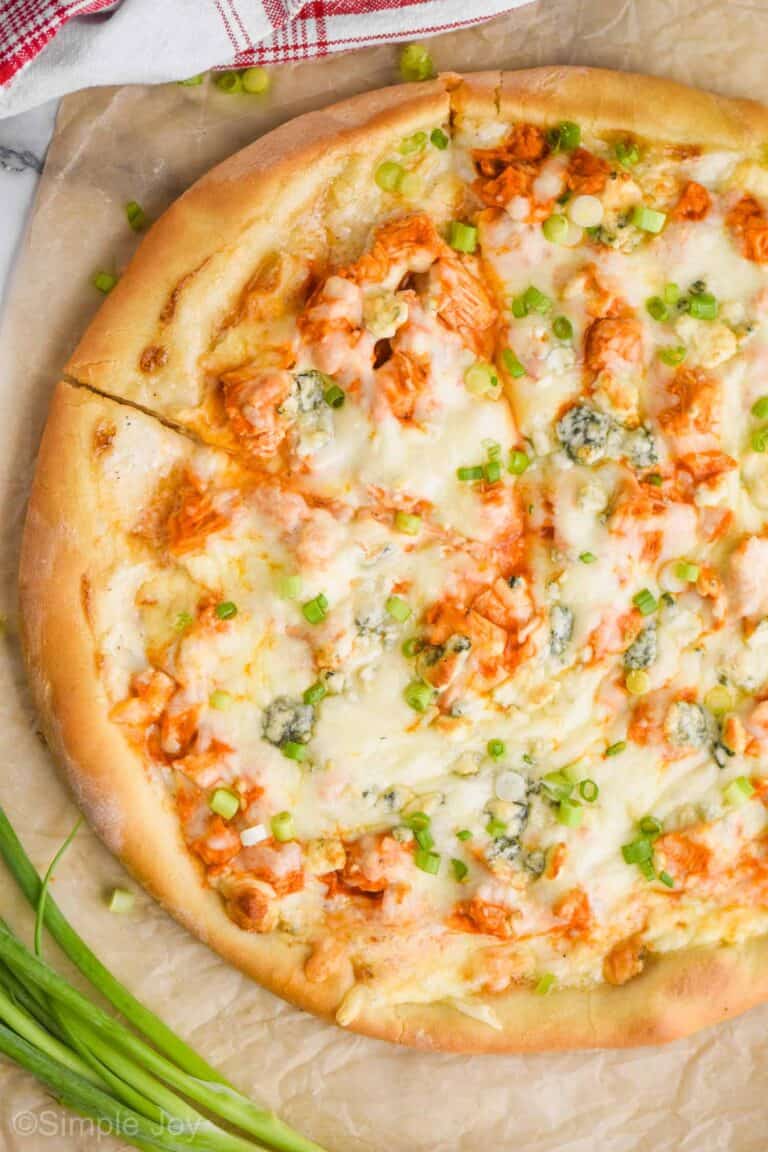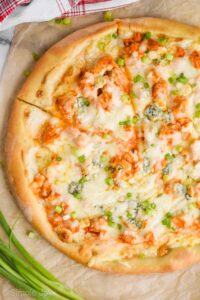 Buffalo Chicken Pizza
This Buffalo Chicken Pizza is only SIX ingredients and makes a perfect easy dinner or a fun appetizer for game day!
Ingredients
1

pizza dough recipe

(half of my homemade pizza dough recipe works great)

1

pound

chicken breasts

cooked and cubed

1/3

cup

buffalo sauce

1/2

cup

ranch dressing

8

ounces

mozzarella cheese

1/4

cup

blue cheese

2

scallions

diced (optional)
Instructions
Preheat the oven to 425 degrees.

Roll out the crust to be 14 inches in diameter. Bake on a baking sheet or pizza stone for 10 minutes.

While the crust is baking, toss the cubed chicken with buffalo sauce.

Remove the hot crust from the oven and spread the ranch dressing on top. Top with the chicken and buffalo sauce. Then top with the mozzarella cheese. Finally add the blue cheese.

Bake for 15 to 20 minutes until the cheese is melted and bubbly. Top with scallions and enjoy!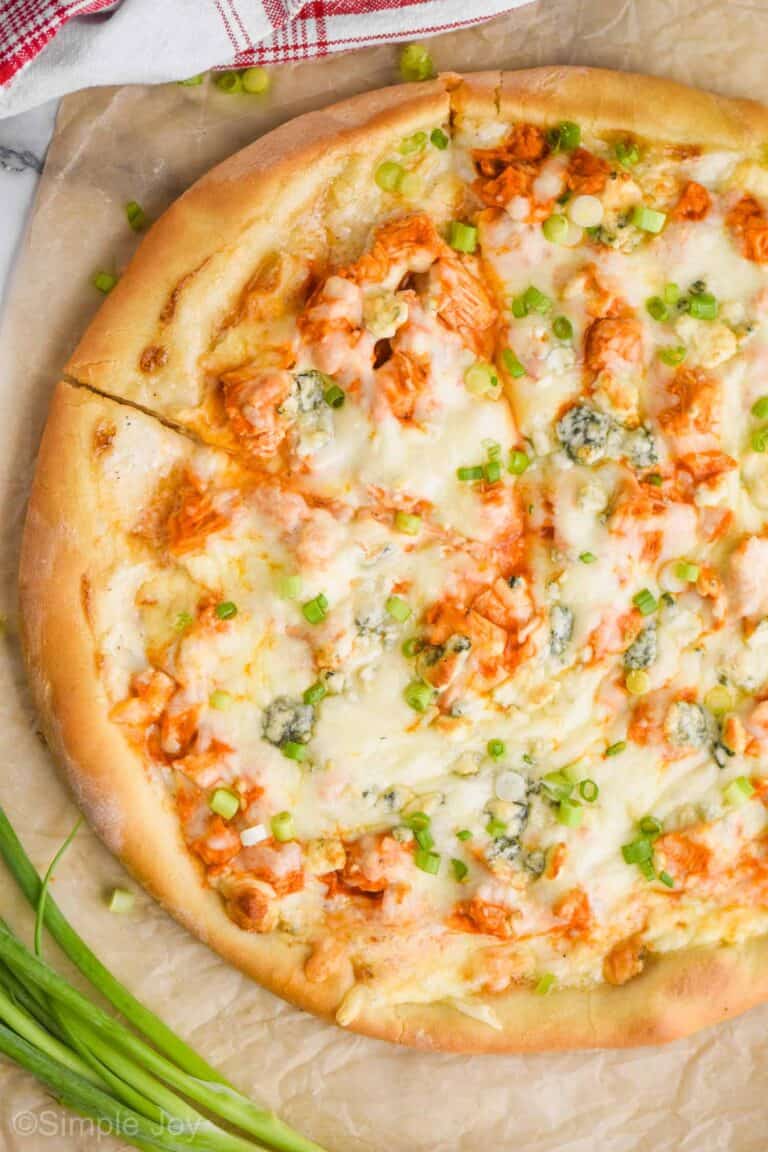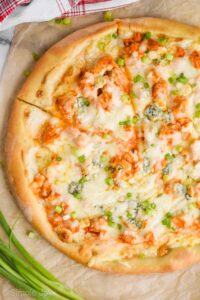 did you make this
Buffalo Chicken Pizza