Candied Walnuts is the perfect recipe for snacking, gifting, and adding to salads. This recipe is quick to make and is so good it will become a family treasure.
I can't get enough of this recipe!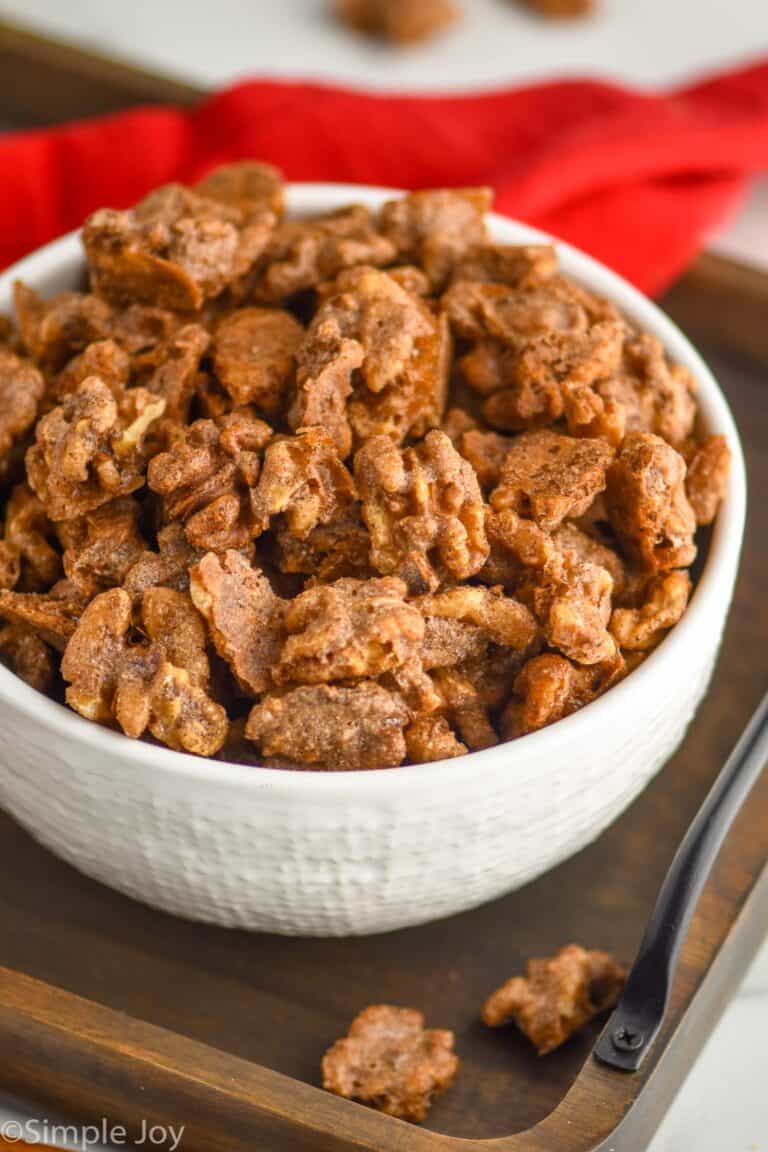 I can't tell you how much I love this recipe. It came from my grandmother's church cookbook. As with a lot of recipes in there, I had to make a few tweaks to perfect it. Now, it is the only thing I want to snack on for the rest of my long happy life.
This recipe comes together with just a few simple steps. You will be surprised by how easy and low maintenance this recipe is. Once you make a batch for yourself, make another for gifting. This is a great recipe to give around the holidays.
My very favorite way to eat this candied walnuts recipe is on a salad. I have a great salad recipe coming next week that I know you will love.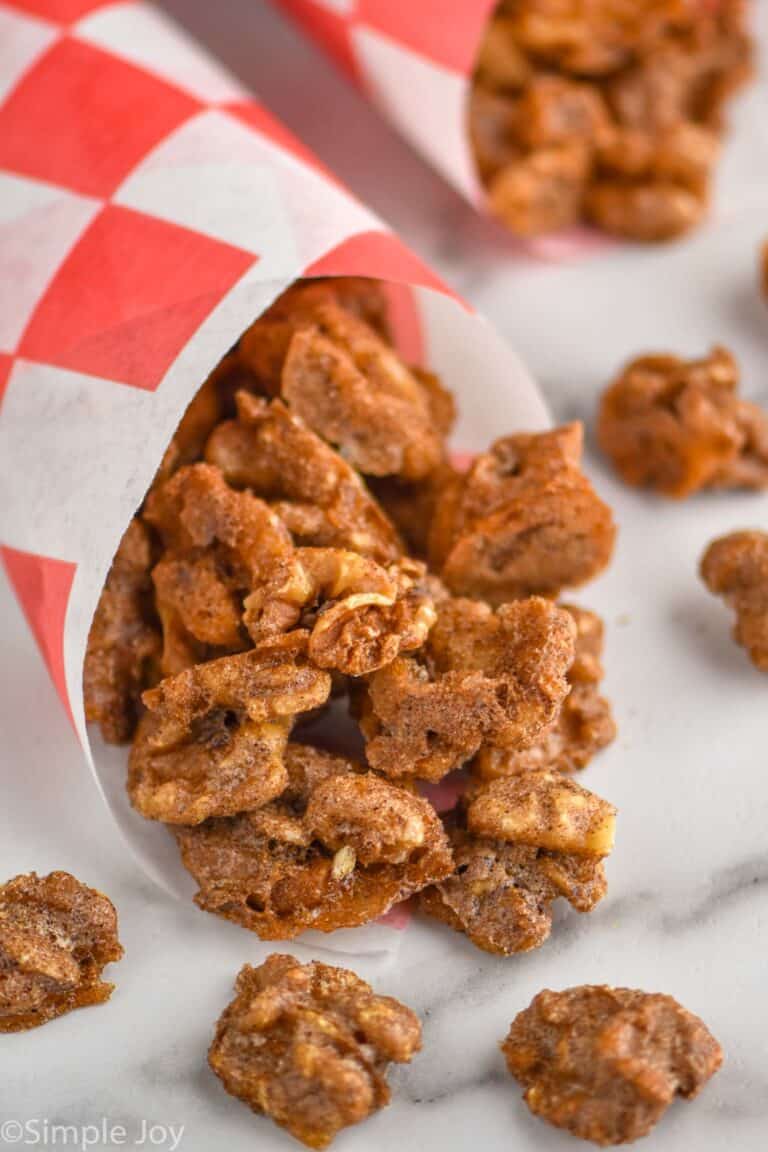 How to Make Candied Walnuts
Make a huge batch of this candied walnuts recipe and use them for dozens of recipes, or just for snacking! Be sure to check out the recipe card for exact measurements, but here's all you need to do:
Make Sugar Mixture: Whisk together sugar, cinnamon, salt and nutmeg.
Beat Egg Whites: Whisk together egg whites and water until it's nice and foamy and until it doubles in volume.
Mix in Walnuts: Toss walnuts in the egg whites to coat evenly and then sprinkle the sugar mixture over the top.
Bake: Make the walnuts for 30 minutes, then cool, break apart and enjoy!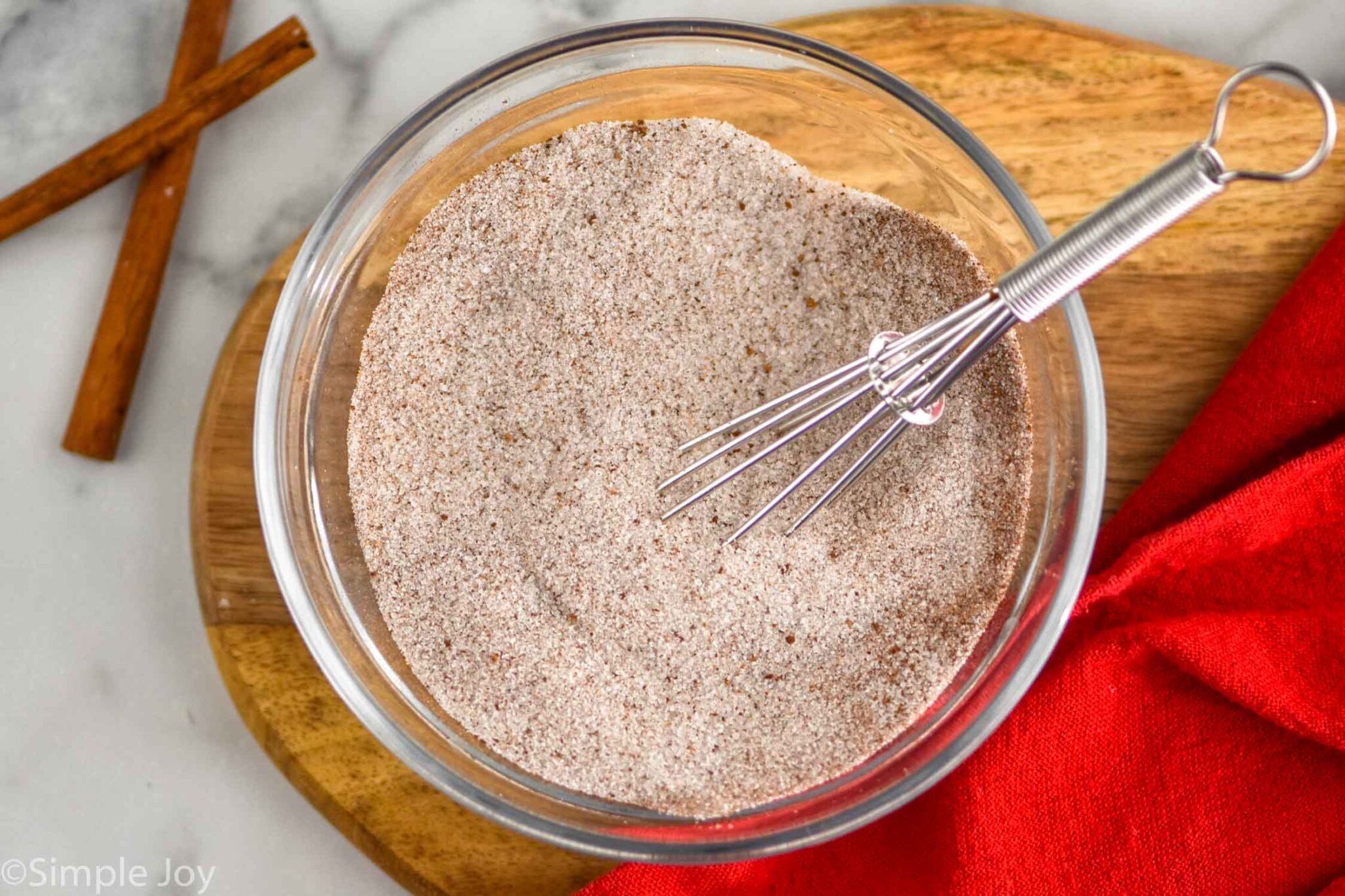 Candied Walnuts Seasoning
The flavor from this recipe comes from the sugar mixture that the nuts get tossed in right before baking. It is made of:
sugar
cinnamon
salt
nutmeg
cloves
If you are averse to cloves, just leave it out. The taste will be different but you will still love this recipe.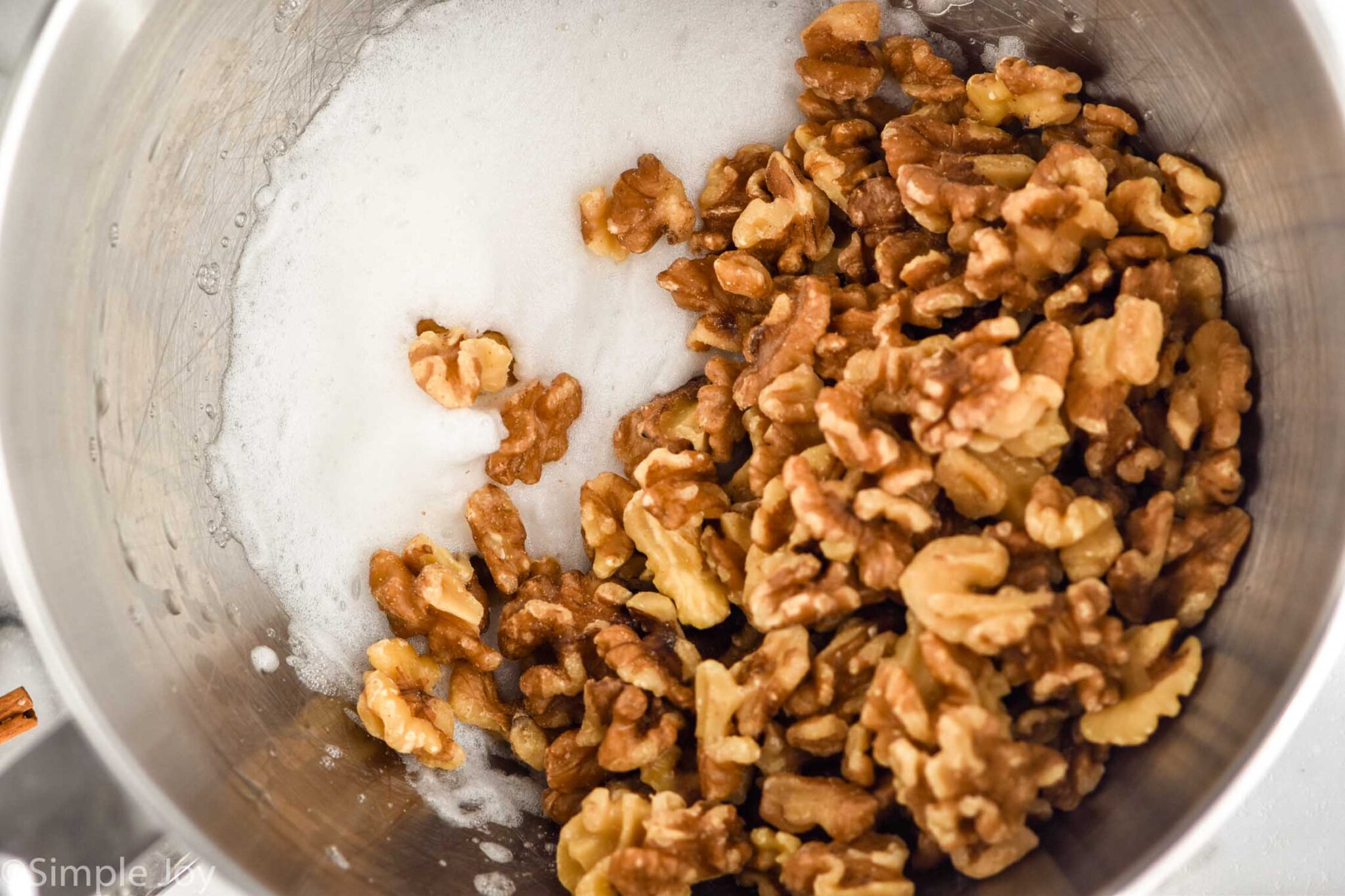 How to Beat Egg Whites
A really important step in this recipe is beating the egg whites until they are nice and foamy. To accomplish this you are going to add a little water to them, and then beat them until they are foamy and soft peaks form. You can see what they should look like in the photo above.
You want to make sure that you beat the eggs until they are past the point of just being foamy and liquidy. This is the point when soft gentle peaks form. You can pull up the whisk and the eggs will hold their shape.
However, you want to stop beating the eggs before they become a deep white glossy color and stiff peaks form. If you have hit this point, you want to start over with some fresh egg whites.
Using a Hand Whisk
If you don't have a mixer you can still make this recipe using a whisk. You will just need to really work those eggs to get them the correct consistency.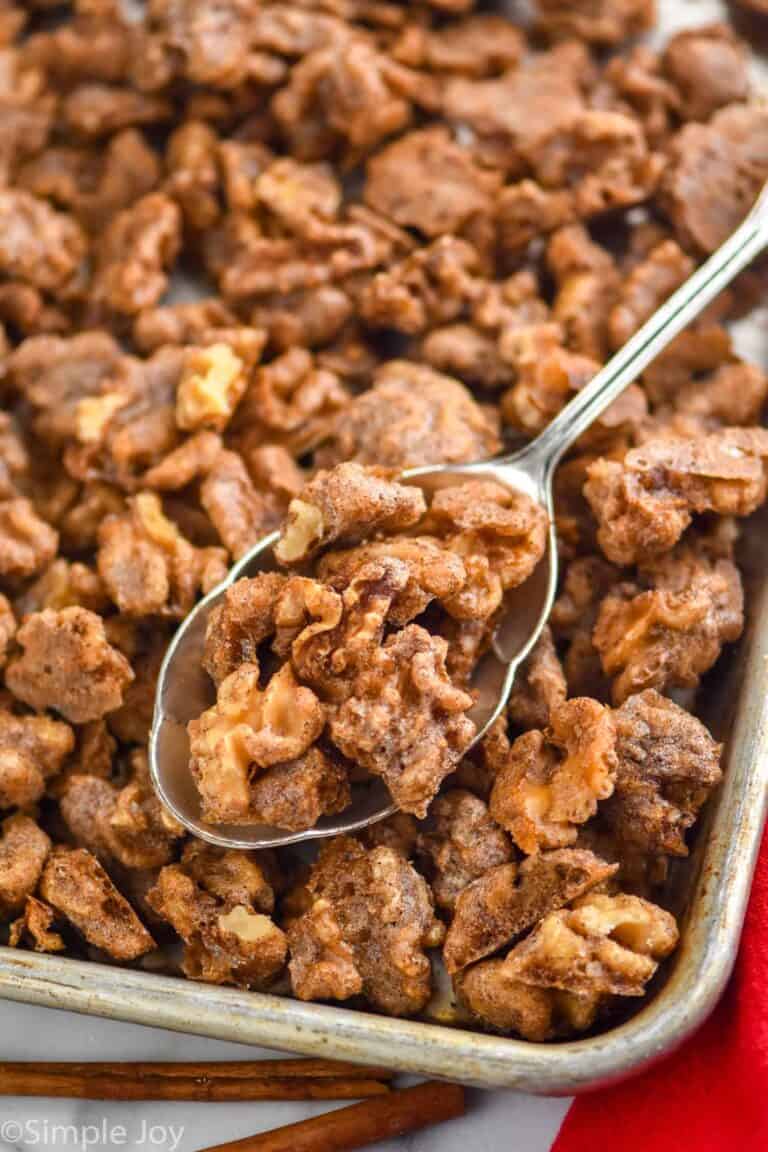 What Type of Walnuts to Buy
This recipe works best with raw walnut halves. They don't need to be pre roasted.
That being said, if you are only able to find walnut pieces, go ahead and get those. Those smaller pieces will be perfect for salads. (Did I mention how obsessed I am?)
Other Nuts
If you aren't a fan of walnuts or only happen to have pecans on hand, go ahead and use those for this recipe. You could also use cashews. Or, if you want to make a mix you could use a little of all three.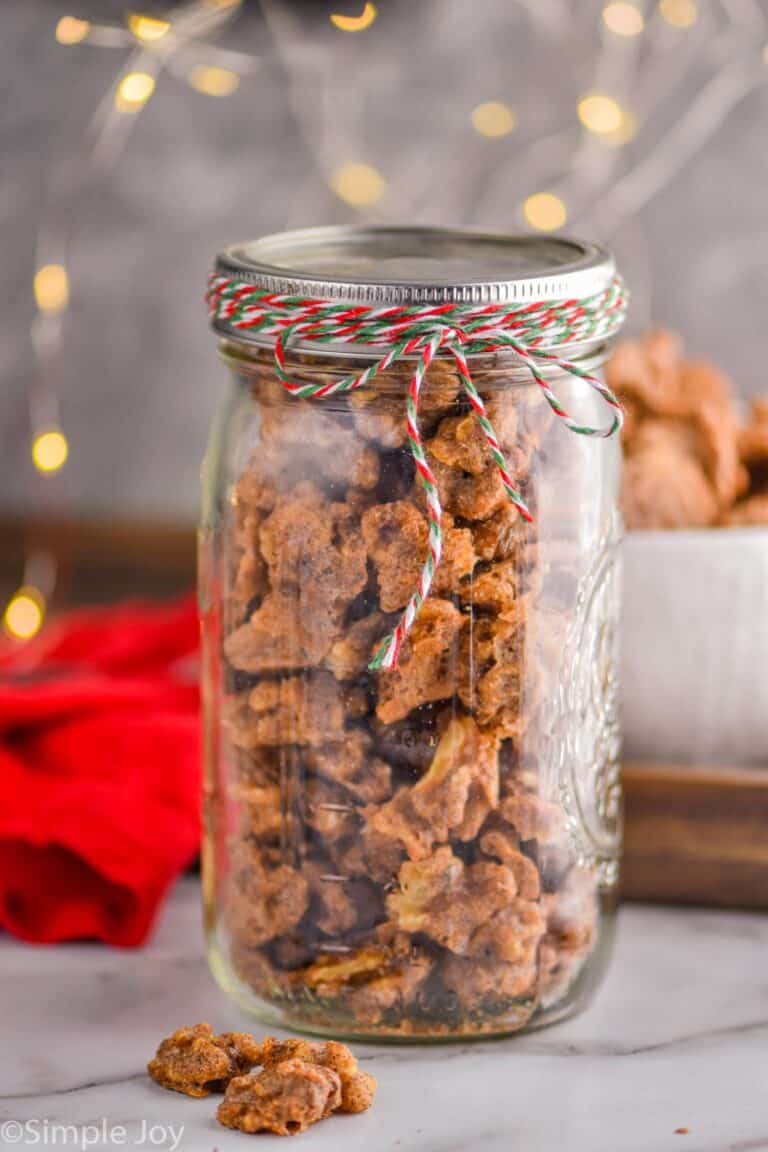 FAQ
Do candied walnuts have gluten?
Nope! This snack is completely gluten-free.
How long do candied walnuts last?
Store in a cool, dry place in an airtight container for up to a week.
Can you freeze candied walnuts?
You bet! Keep them in a Ziploc baggie or a freezer-safe container for up to three months. They're so delicious frozen!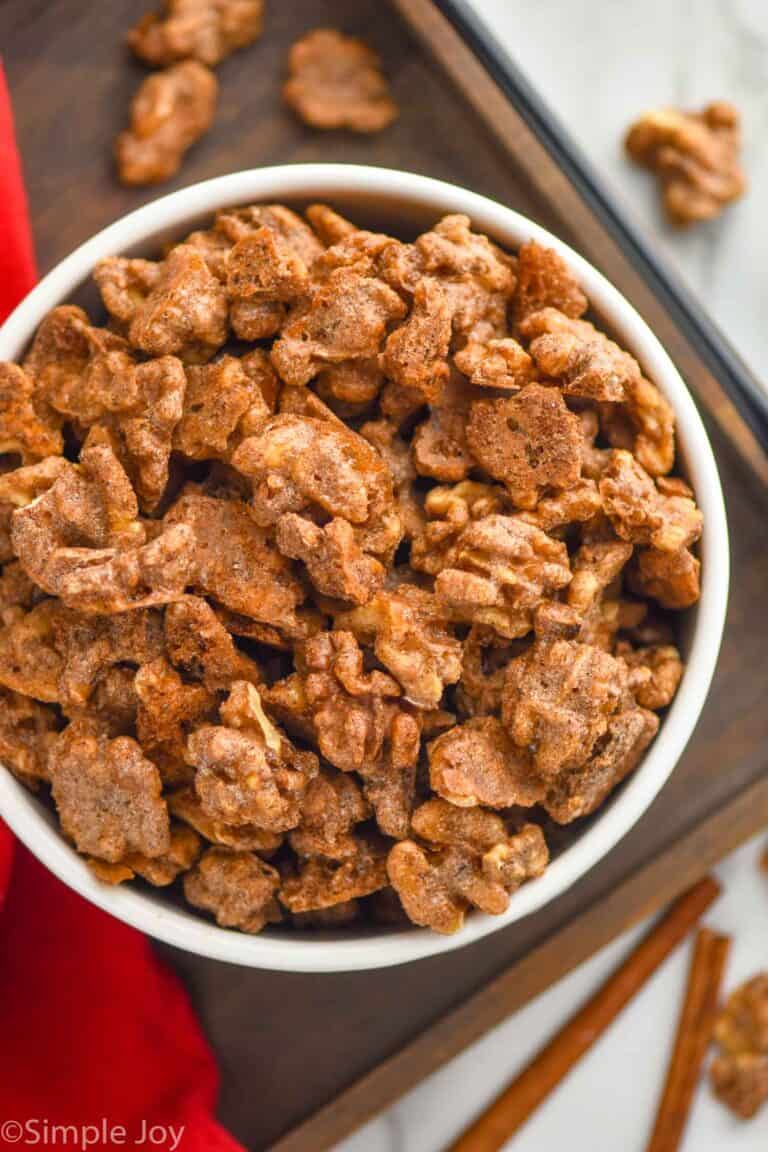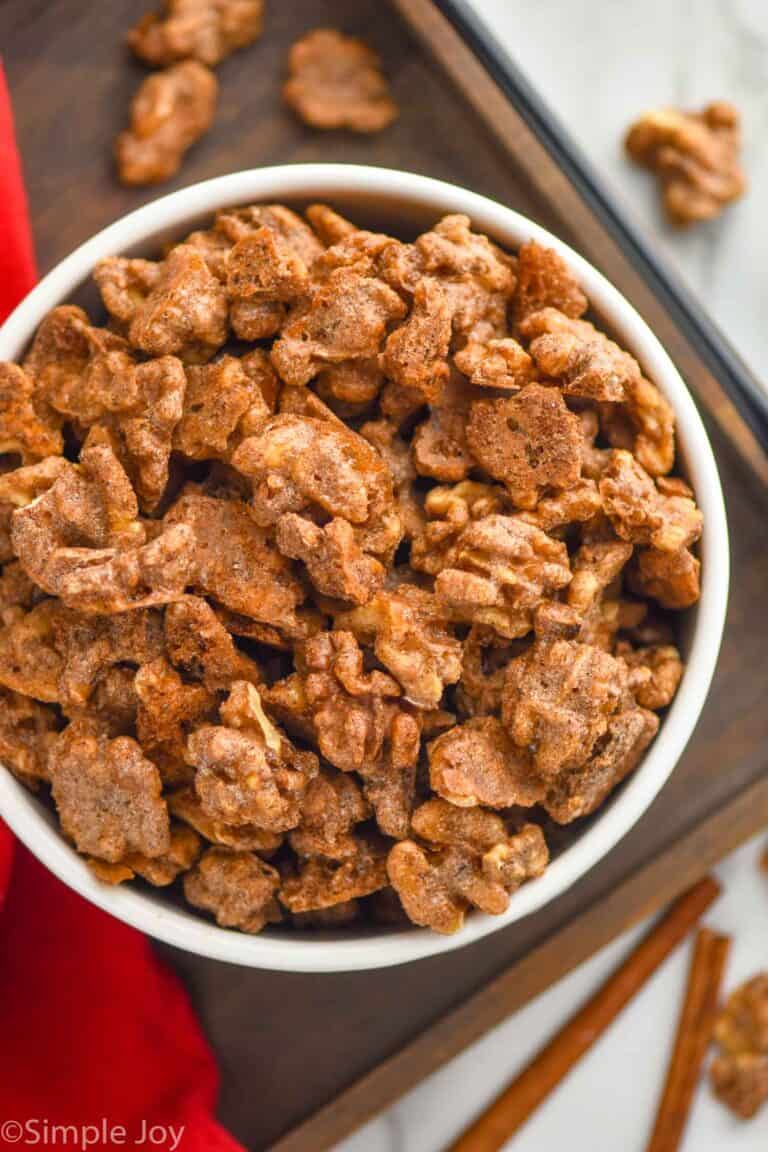 Candied Walnuts
Candied Walnuts is the perfect recipe for snacking, gifting, and adding to salads. This recipe is quick to make and is so good it will become a family treasure.
Ingredients
1

egg white

1

tablespoon

water

4

cups

walnuts

1/2

cup

granulated sugar

1

teaspoon

cinnamon

3/4

teaspoon

salt

3/4

teaspoon

cloves

3/4

teaspoon

nutmeg
Instructions
Preheat your oven to 300 degrees. Line a rimmed baking sheet with parchment paper and set aside.

In a small bowl whisk together the sugar, cinnamon, salt, cloves, and nutmeg. Set aside.

In a medium bowl beat the egg white and water together until faomy and it doubles in volume.

Mix in the walnuts and toss them to coat completely. Now add the sugar mixture. Mix throughly. Spread onto the prepared pan in a single layer. Bake for 30 minutes.

Remove from the oven. Once nuts cool, break apart and enjoy! Store in an air tight container for up to a week.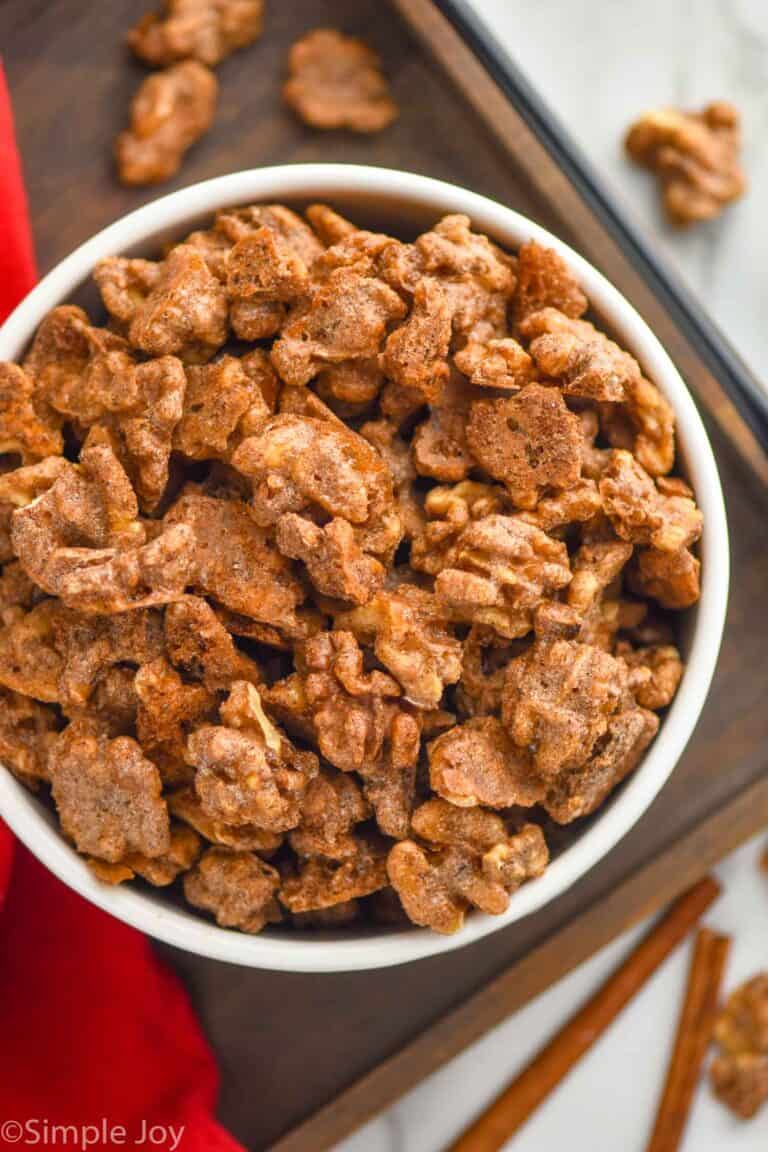 did you make this
Candied Walnuts