This Burrito Bowl is such a great lunch or dinner option. This recipe is fantastic because you can use it for meal prep, making a whole week of lunches with one recipe.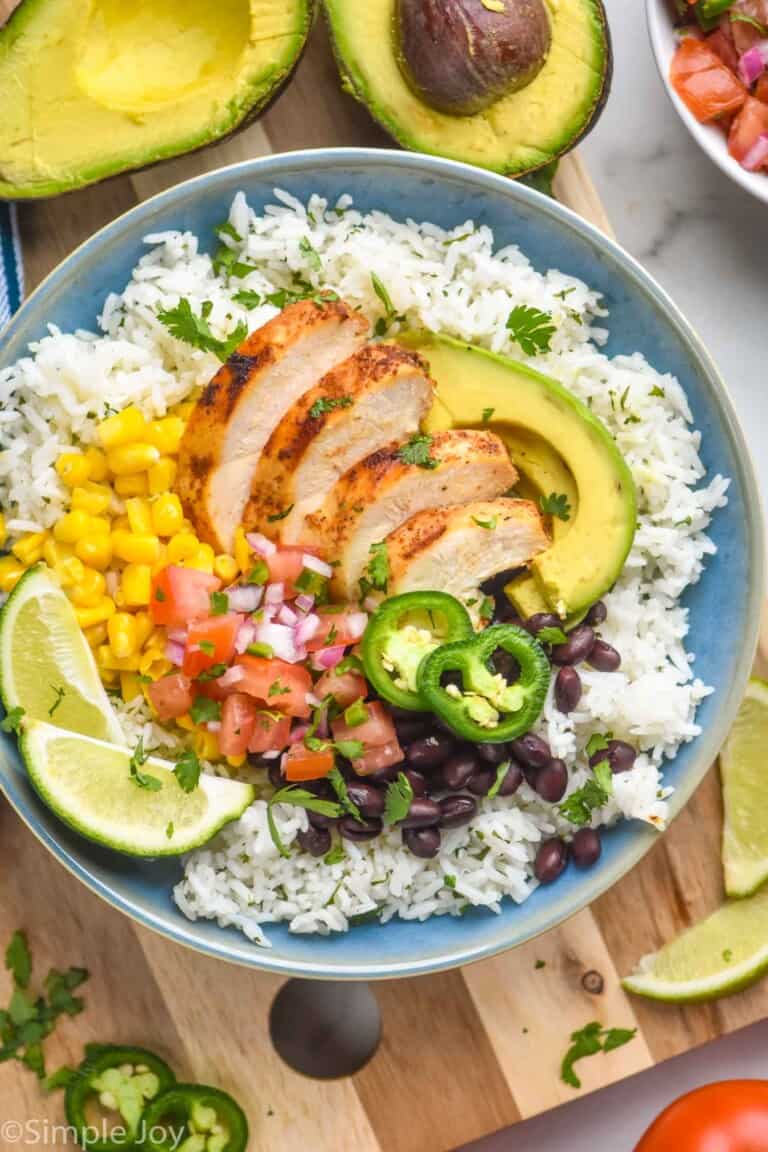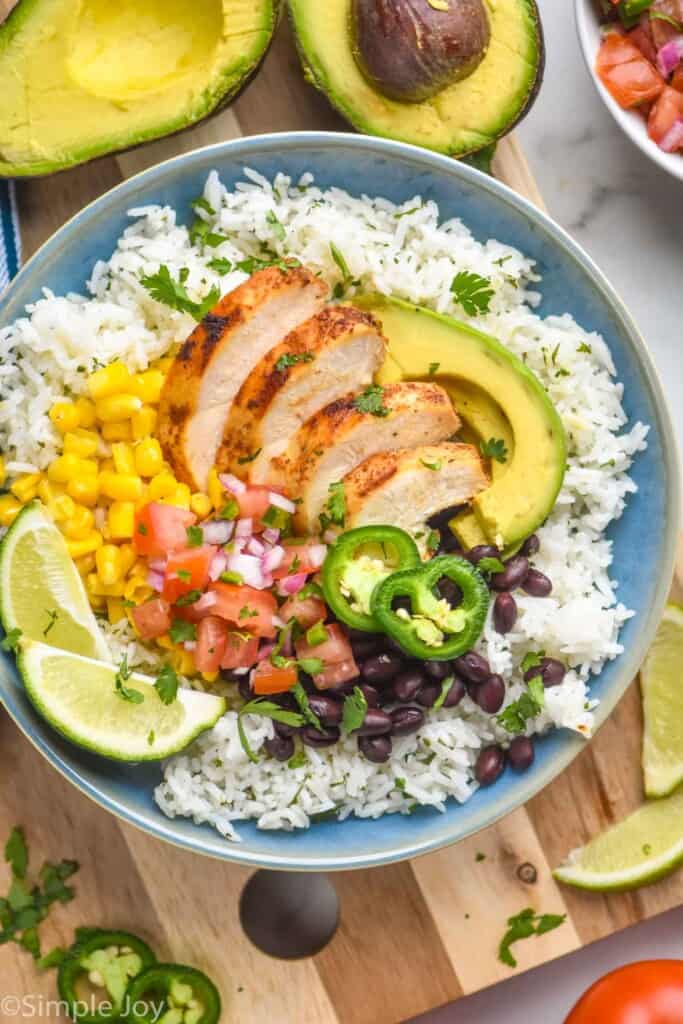 Meal prep is such a smart way to make sure that you eat healthy lunches all week long. Even if you work from home, Sunday meal prepping is such a great idea.
Meal prepping just got a little bit easier with this Burrito Bowl recipe. This recipe has all of my favorite things, and I could easily eat it every day for lunch. The chicken is flavorful, moist, and tender. The cilantro lime rice is perfection and the Pico de Gallo has the perfect blend of flavors. Everything in these chicken burrito bowls come together in the most amazing way.
Burrito Bowl Ingredients
See the full list of ingredients and measurements in the recipe card at the bottom of the post.
Marinated and Grilled Chicken: Oil, lime juice, and some seasonings make this such a simple marinade that leads to the most tender chicken.
Cilantro Lime Rice: My homemade recipe is simple and delicious.
Black Beans: I just use canned beans to add to this recipe. Make sure to wash and drink them well.
Corn: Thawed frozen or canned corn work perfect in this recipe.
Pico de Gallo: I love my homemade Pico de Gallo, it is so simple to make. That being said, most grocery stores sell it pre-made which can be a nice short cut.
Avocado: I love the added avocado in this recipe, but you could also swap it for my homemade guacamole.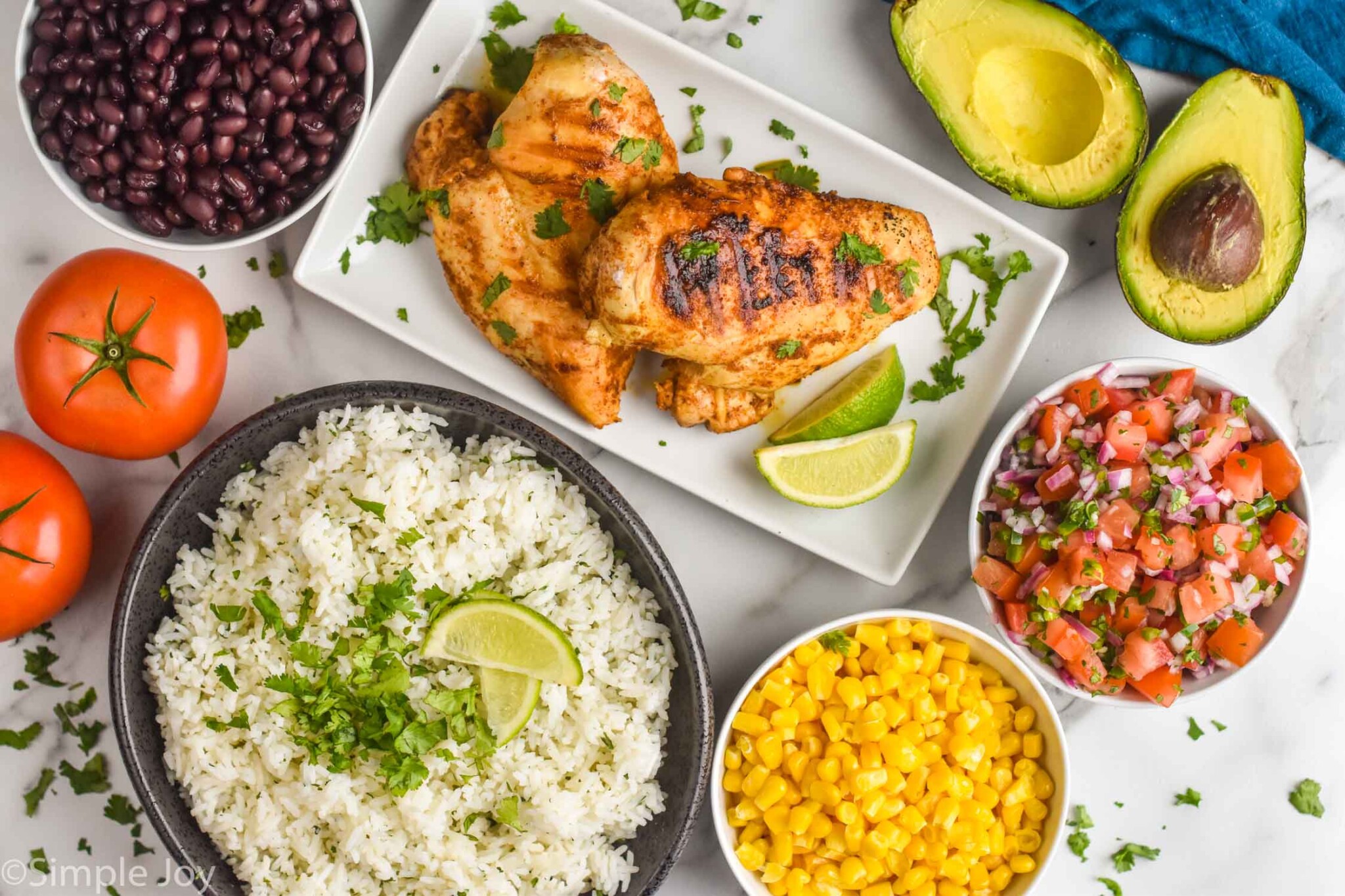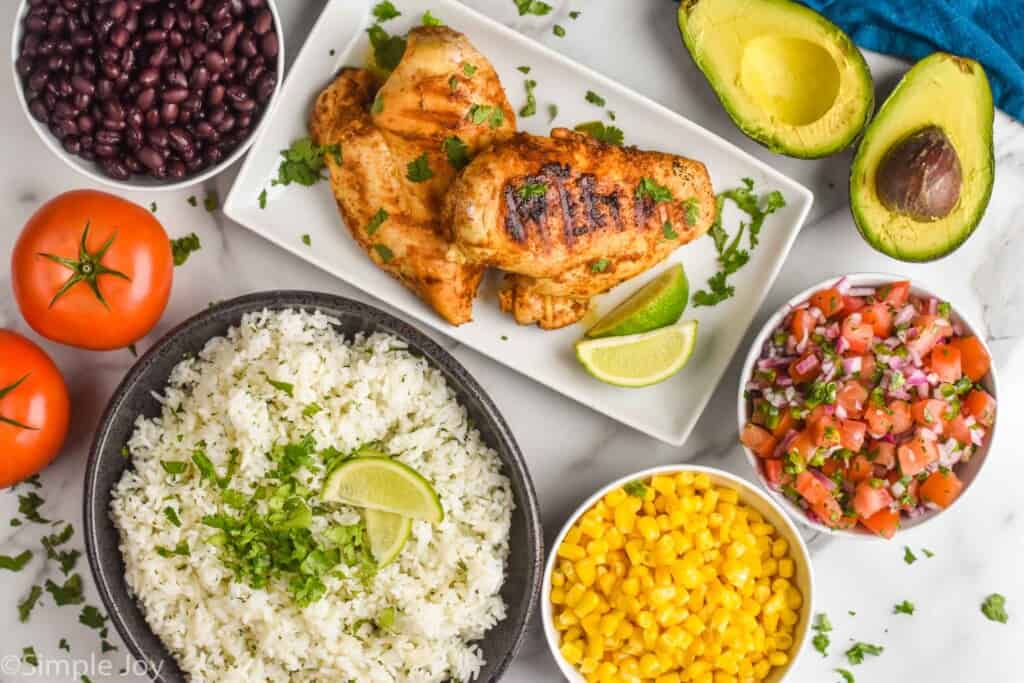 How to Make a Burrito Bowl
This is a brief overview of how to make this delicious recipe. For the full recipe with the measurements, see the recipe card at the bottom of the post.
Marinate the chicken. We have a very simple marinade for the chicken breasts that is a slight spin on the marinade we use with our chicken tacos. It's made with easy ingredients and just needs to sit with the chicken for 2 to 24 hours.
Make the cilantro lime rice. Before you start grilling your chicken, start the rice for your cilantro lime rice. If you own an instant pot, use a ratio of 1 cup rice to 1 1/4 cup water and set it to "Rice" for 12 minutes. Let the pressure valve release on it's own. It's great to have the pressure cooker do the work for you.
Grill the chicken. While the rice is cooking, put the chicken on a preheated grill. I sometimes use this indoor grill if I don't feel like stepping out of the kitchen.
Make the Pico de Gallo. This is an easy recipe that just needs some dicing and can be done in about 10 minutes. It is perfect to do while the chicken and rice are cooking.
Construct the Chicken Burrito Bowls. After everything is made, you can add in the corn, beans, and any extra toppings you would like. These are great to put together for the week ahead, just keep in mind you will want to separate out the Pico de Gallo and add avocado the day you plan on eating it.
TOP PICK
Grill Pan
I love this grill pan so much! It is perfect for making grilled recipe all year long.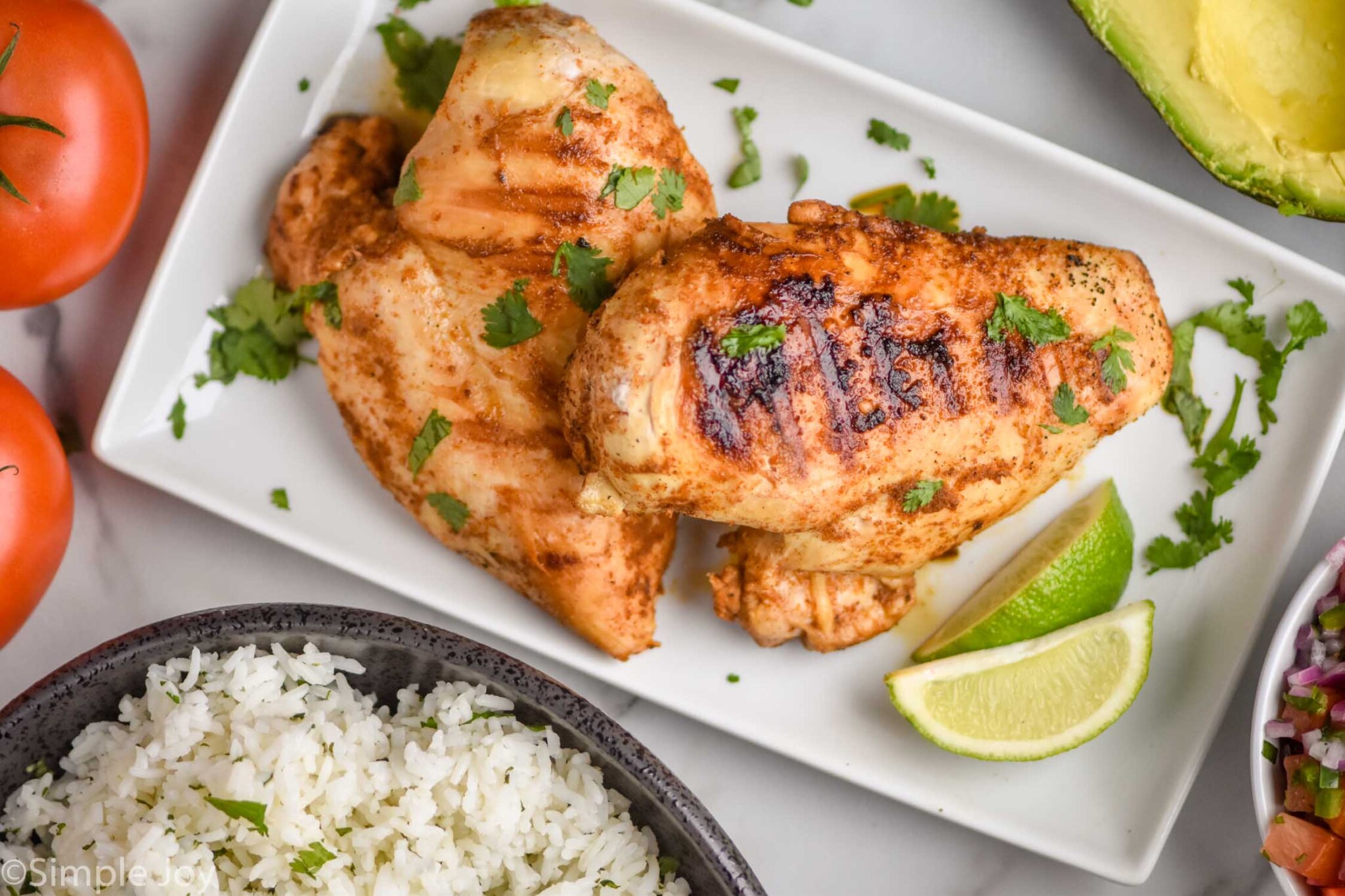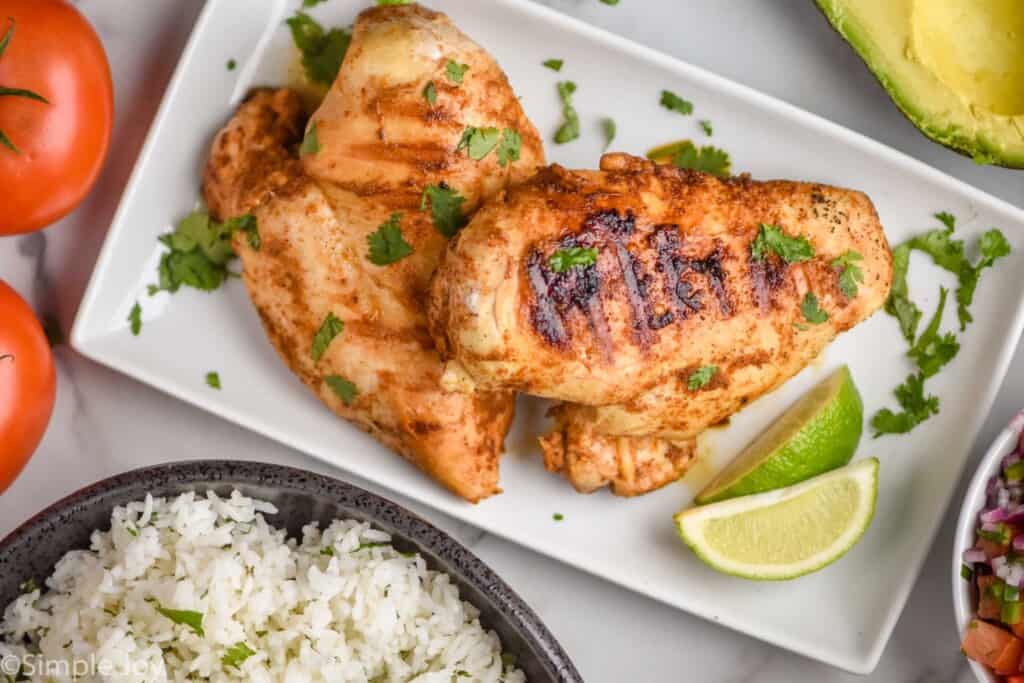 Marinating Chicken
Chicken is one of my favorite things to cook with because it is like a blank canvas that can take on the ingredients of whatever you mix it with. This very simple chicken marinade is made with ingredients I bet you already have on hand and makes the chicken so tender.
The key to marinating chicken is to make sure you have an acid in the marinade and to marinate for the correct amount of time. Here we are using lime to help break down the outer layer of the chicken so the flavor really gets in there. Marinate for between 2 and 24 hours so that the chicken is tender, but not mushy.
Baking or Grilling
We call to grill the chicken in this recipe, but you can definitely bake it. To do that, put the chicken and it's marinade in a baking dish, cover and bake at 400 degrees Fahrenheit for 20 to 25 minutes or until the chicken reaches 165 degrees Fahrenheit with an instant read thermometer.
TOP PICK
Instant Read Thermometer
I love this instant read thermometer. It is perfect for leaving in meat while it cooks in the oven or you leave it on the grill.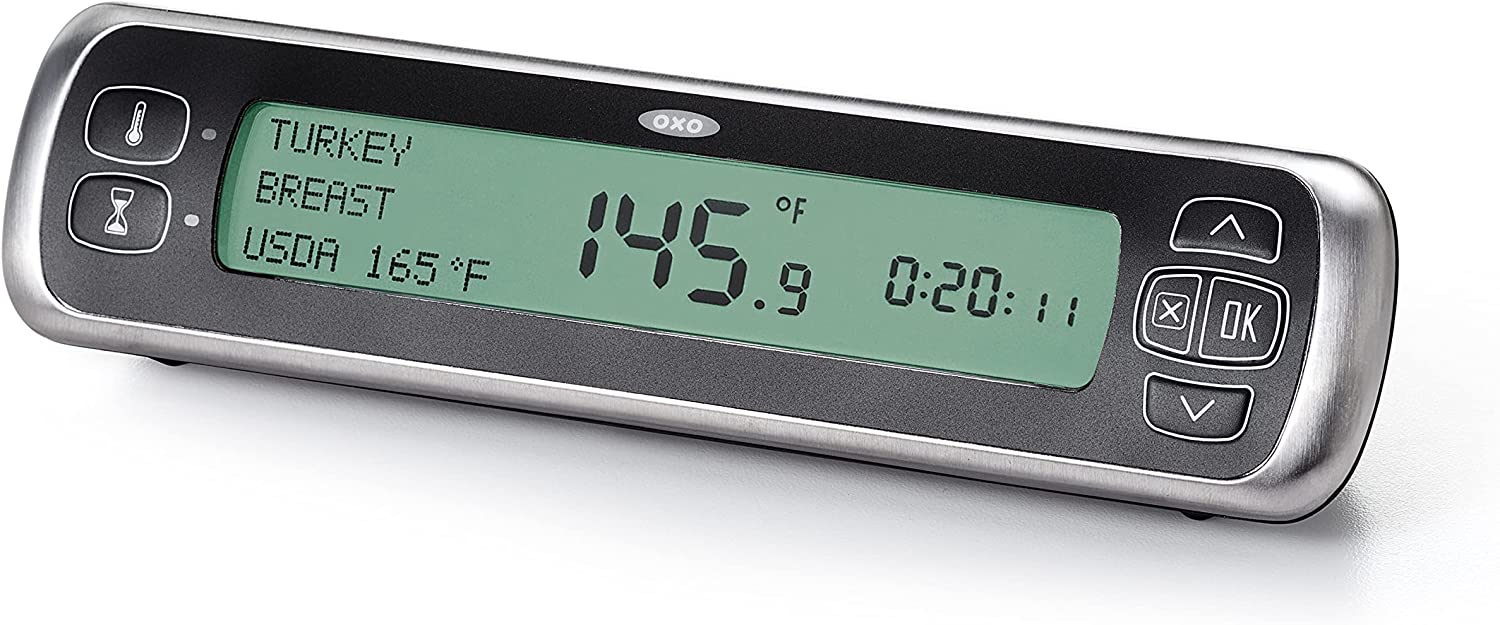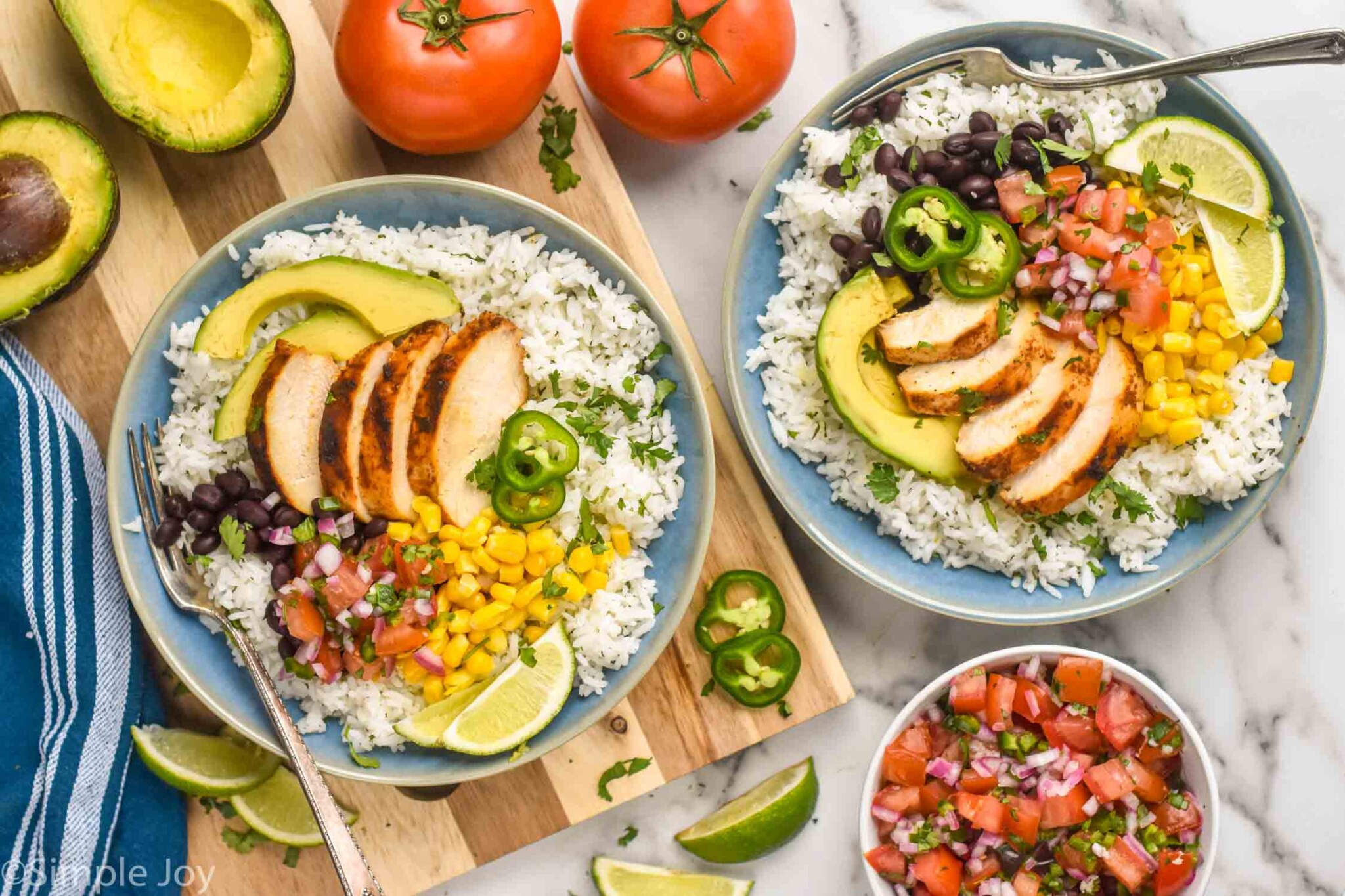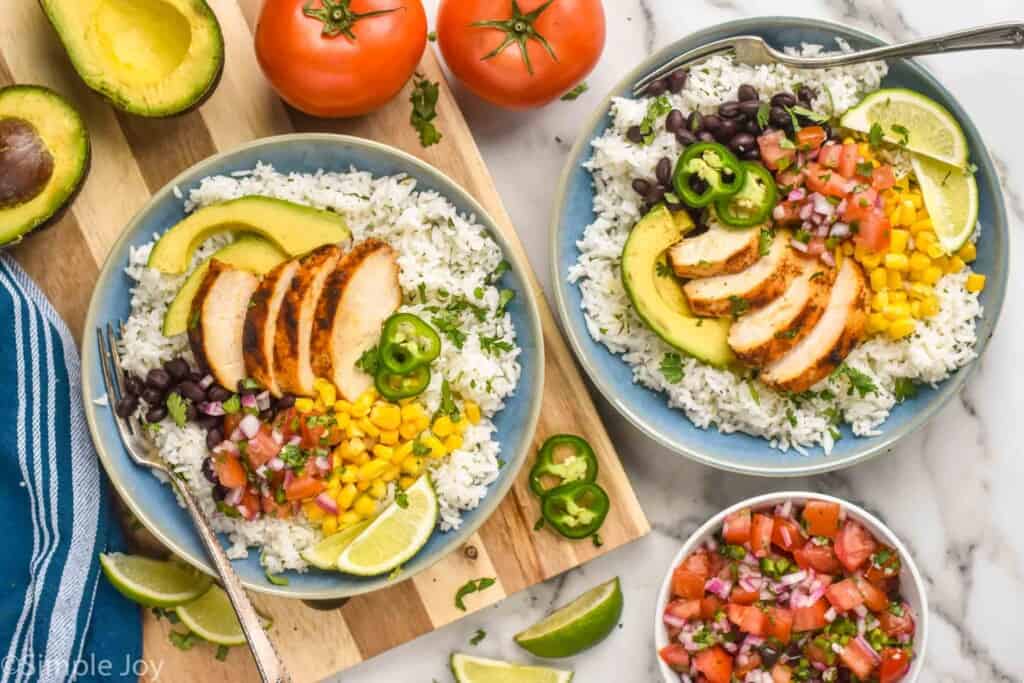 Cilantro Lime Rice for Burrito Bowls
I think the heart of any great burrito bowl is some cilantro lime rice. We have a whole post outlining how to make it, but you can find the instructions below as well. Top tips for this recipe are:
Rinse the rice until the water runs clear before cooking it. It will prevent it from being too sticky.
Use fresh cilantro and fresh lime juice. Since there are only three ingredients we really want to make it pop.
Cilantro Lime Rice
This Cilantro Lime Rice recipe is fresh, flavorful and tastes just like what you get at your favorite Tex Mex restaurant. And with just three ingredients, you can easily make it at home!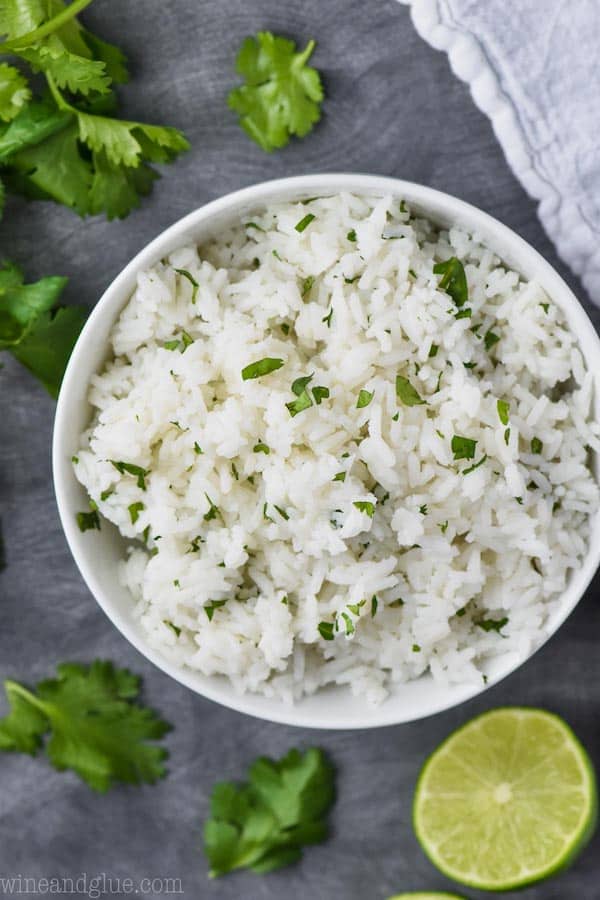 Pico de Gallo
Like my rice, I have a whole post with details on making the perfect Pico de Gallo. It is such a delicious recipe that I hold near and dear to my heart and use all the time. That post has tricks for how to store cilantro and how to cut jalapeños.
Pico de Gallo
Whether it's Taco Tuesday or Taco Any day, you need The Best Pico de Gallo recipe!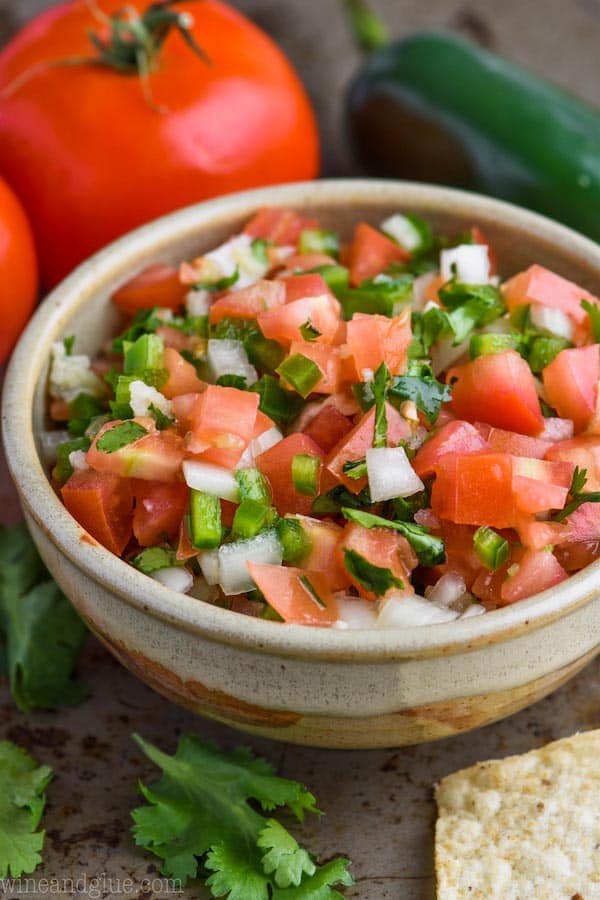 Other Burrito Bowl Additions
Some other great options to add in here would be:
Shredded Cheese
Sour Cream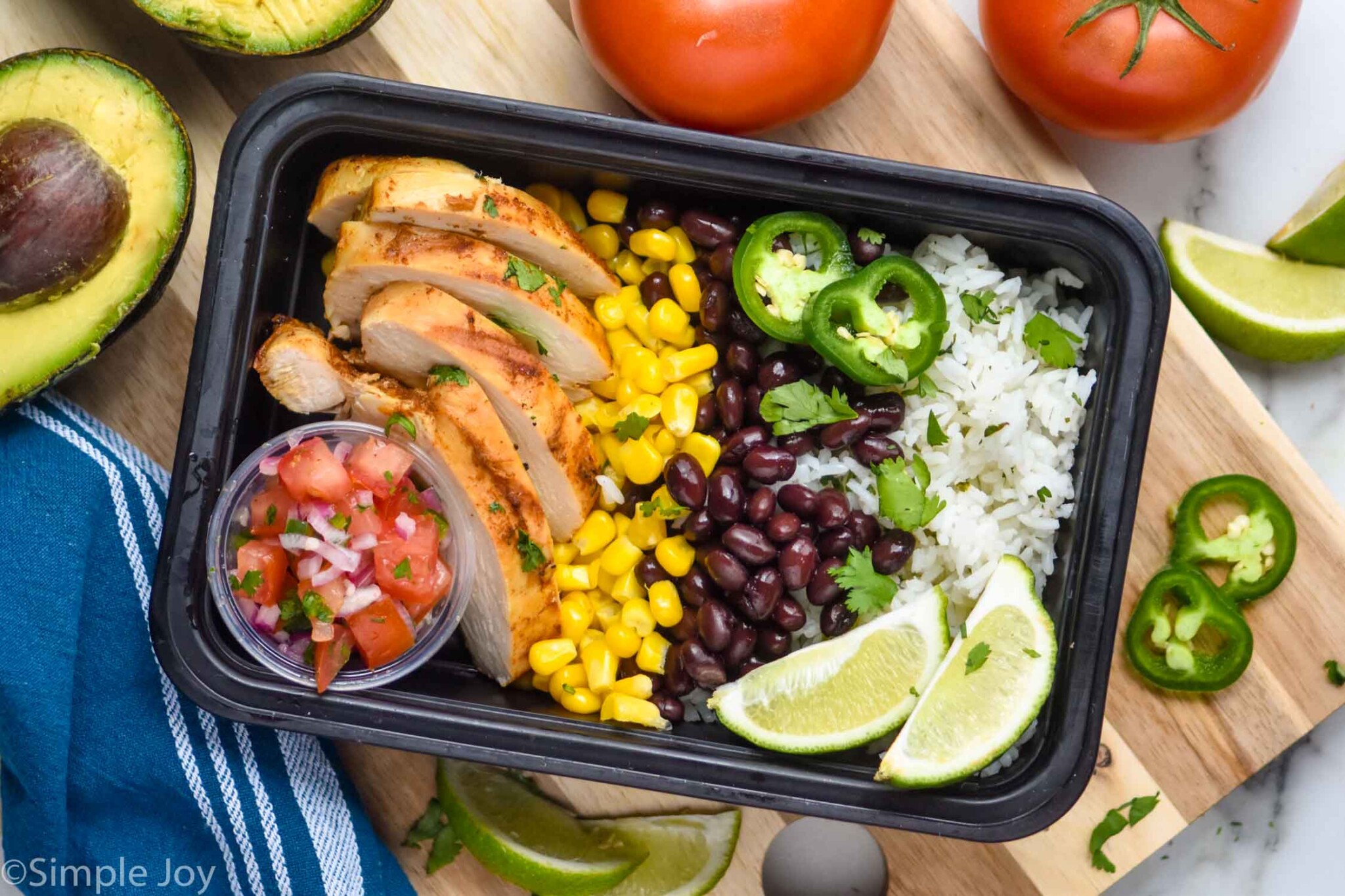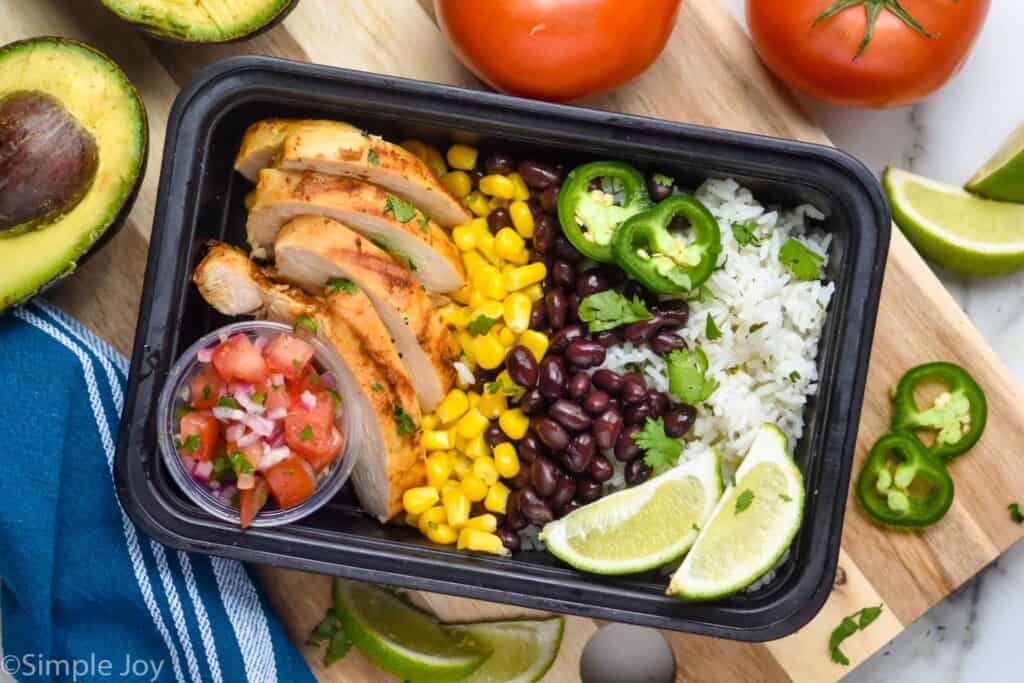 Burrito Bowl Meal Prep
While this makes a delicious dinner, as I've mentioned, this recipe is perfect for meal prep. This recipe easily makes four servings, but could be stretched out into five if you want to fill an entire week. Here are our tips and tricks:
Use these reusable containers with these salad dressing cups. They will hold all of your ingredients and keep your pico separate from everything else.
Skip the avocado. Because it browns so fast, I wouldn't recommend adding avocado if you are making a whole week's worth of this.
Make sure the beans are drained and rinsed. Not only does this control the flavor of the recipe and the amount of sodium you eat, it will keep beans from making everything else mushy.
Buy a few limes. In the morning before you take this with you to work, slice a lime and add two fresh lime slices. Give it a squeeze over everything before eating to freshen it all up a bit.
Eat these warm or cold. Everything in this burrito bowl is delicious warm or cold. The only ingredient you might not like as much once it has cooled is the rice. If that is the case, before eating, remove the Pico de Gallo and reheat the bowls for a few minutes at half power in the microwave. Then top with the pico and enjoy.
FAQ
Can I make burrito bowls with steak?
Absolutely! I would suggest using the cooking method we take in our Southwestern Steak Salad. It would accompany the rest of these ingredients perfectly.
Can I make this recipe with chicken thighs?
Yes! This marinade will work just as well with chicken thighs.
How can I make this burrito bowl recipe healthier?
We like to think this recipe is pretty healthy as is, but if you want to make it a little bit more nutritious, I would swap out the Cilantro Lime Rice for Cilantro Lime Quinoa. It will give you the same idea, but quinoa is full of great nutritional value.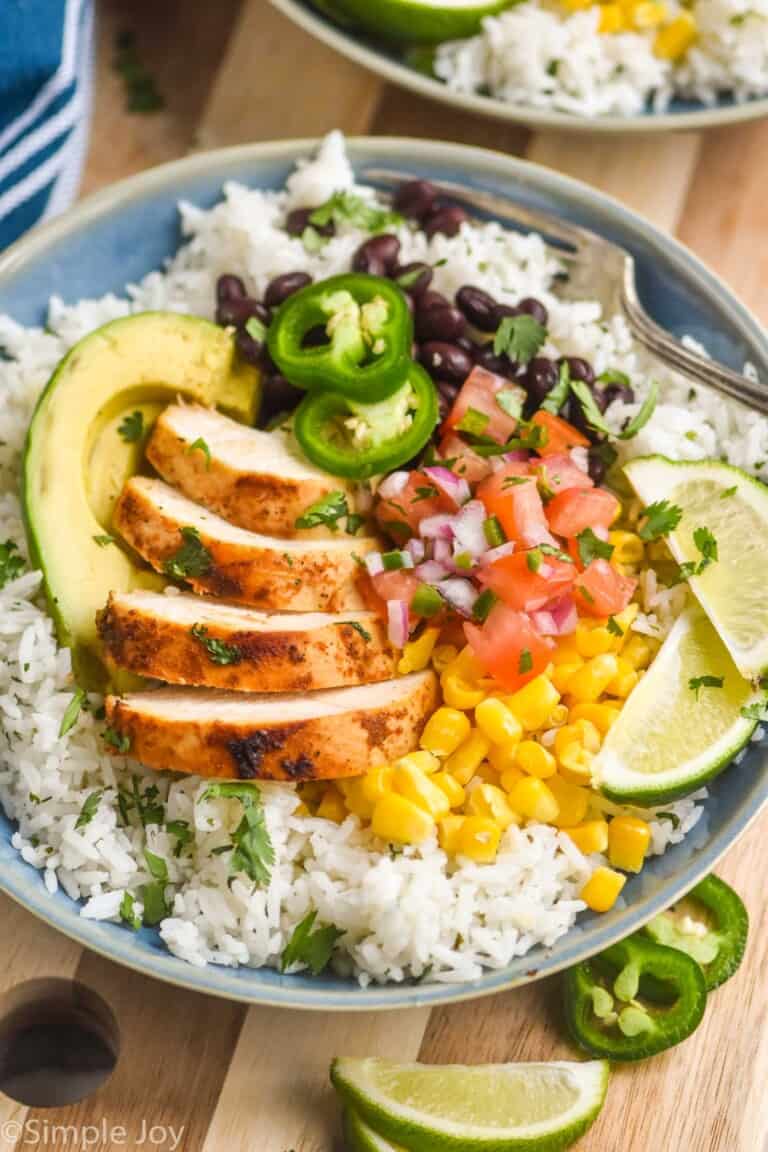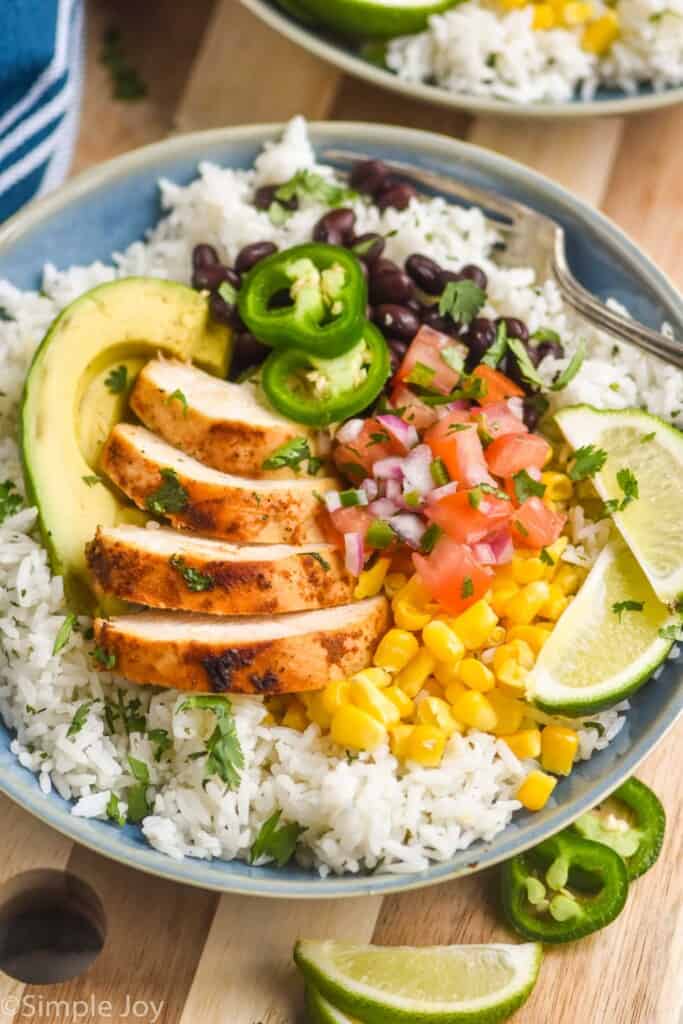 Other Lunch Ideas
If you need other great lunch ideas, we have some great ideas for you!
If you make this burrito bowl or any of my other recipes, leave me a comment and let me know what you think!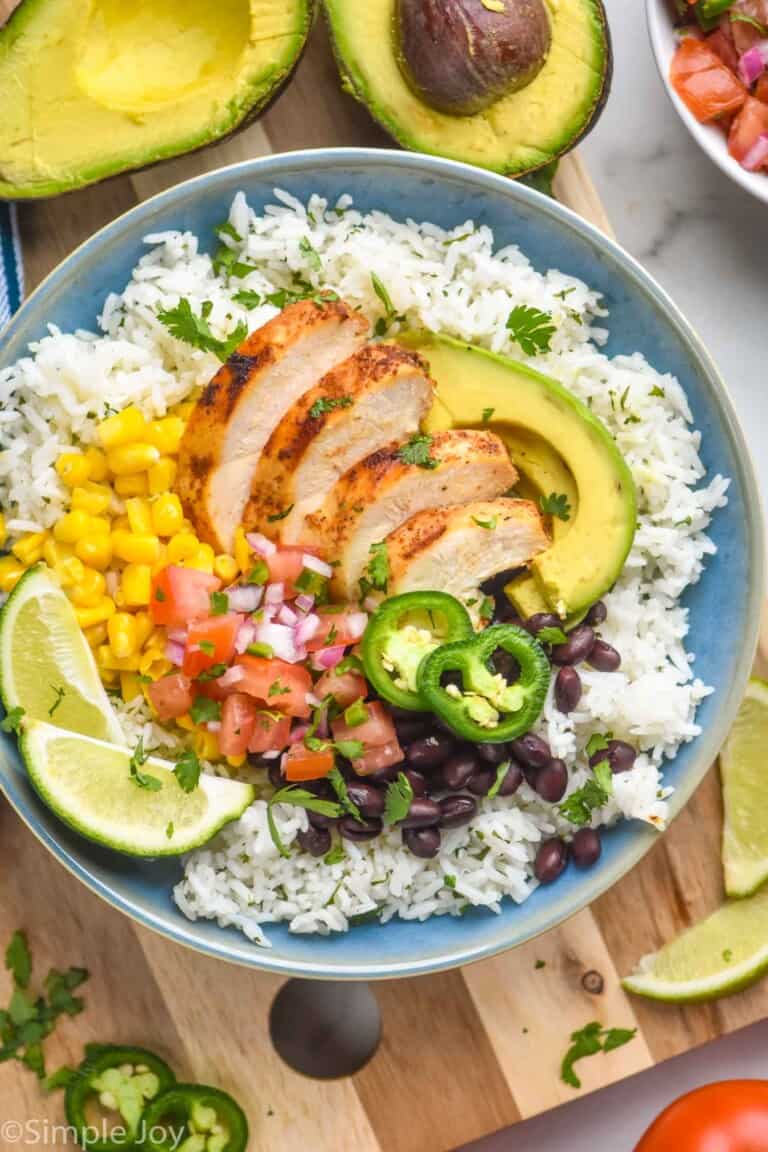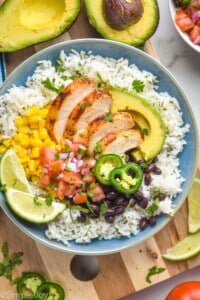 Burrito Bowl
Total:
2
hours
40
minutes
Burrito Bowls are such a great lunch or dinner option. This recipe is fantastic because you can use it for meal prep, making a whole week of lunches with one recipe.
Ingredients
1

pound

boneless skinless chicken breasts
Chicken Marinade
1/4

cup

olive oil

2

tablespoon

lime juice

1

tablespoon

chili powder

2

teaspoons

kosher salt

1

teaspoon

paprika

1

teaspoon

onion powder

1

teaspoon

garlic powder
Cilantro Lime Rice
2

cups

white rice

rinsed

4

cups

water

2

tablespoons

lime juice

(juice of 1 lime)

1/4

cup

cilantro

chopped
Pico de Gallo
2

Plum tomatoes

seeded and diced

1

jalapeño

seeds and ribs removed and diced small

1/4

large red onion

diced small

1

clove garlic

minced

2

tablespoons

cilantro

diced

1

tablespoon

lime juice

1/2

teaspoon

kosher salt
Other Ingredients
15

ounces

black beans

drained and rinsed

1

cup

frozen corn

thawed

2

avocados

sliced
Instructions
Chicken
Mix together the ingredients for the chicken marinade. Marinate the chicken for 2 to 24 hours.

1 pound boneless skinless chicken breasts,

1/4 cup olive oil,

2 tablespoon lime juice,

1 tablespoon chili powder,

2 teaspoons kosher salt,

1 teaspoon paprika,

1 teaspoon onion powder,

1 teaspoon garlic powder

When ready to make the recipe, preheat a grill to 350 degrees. Cook the chicken for 7 minutes on each side or until it reaches 165 degrees.

Let rest for 10 minutes and then slice into strips.
Cilantro Lime Rice
Rinse the dry rice until the water runs clear.

Bring the rice and water to a boil. Reduce to a simmer and cover for 20 minutes or until the rice is tender and the water is absorbed.

Stir in the lime juice and the cilantro.

2 tablespoons lime juice,

1/4 cup cilantro
Pico de Gallo
Combine all of the ingredients. Taste and add more salt as needed.

2 Plum tomatoes,

1 jalapeño,

1/4 large red onion,

1 clove garlic,

2 tablespoons cilantro,

1 tablespoon lime juice,

1/2 teaspoon kosher salt
To Put Together Bowls
Divide the rice and chicken between four bowls.

Serve warm, and allow guests to top with remaining ingredients.

1 cup frozen corn,

2 avocados,

15 ounces black beans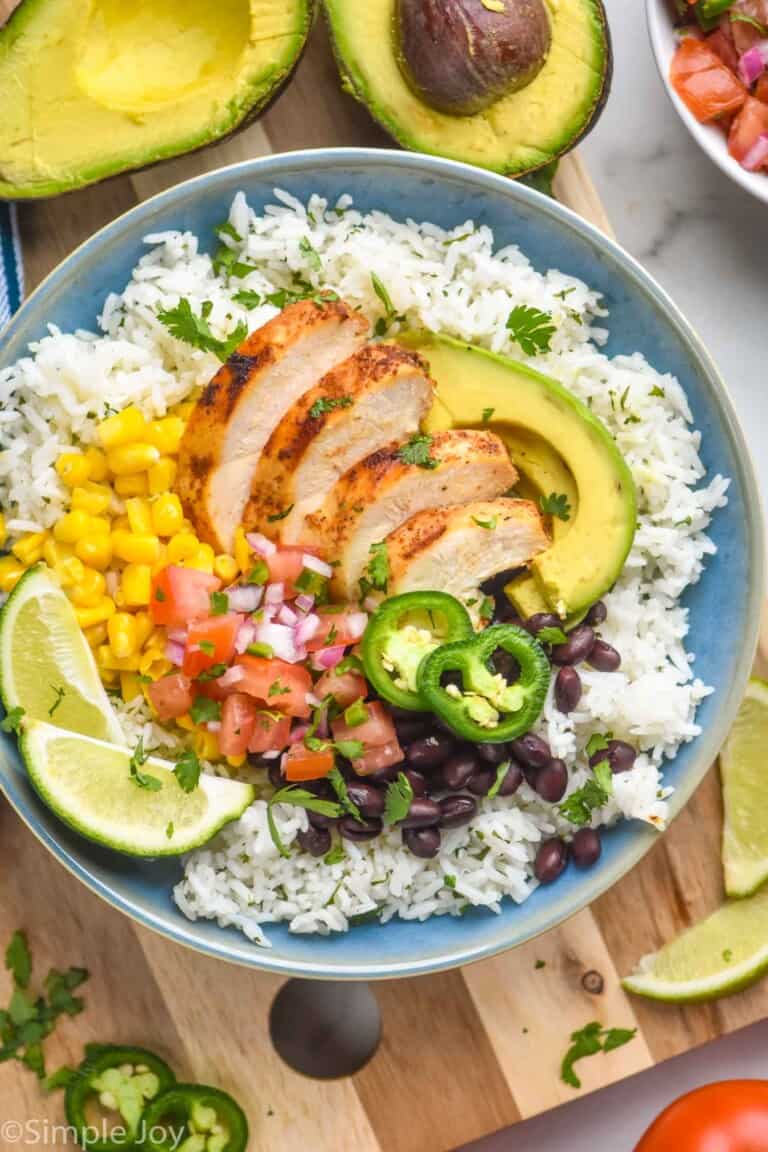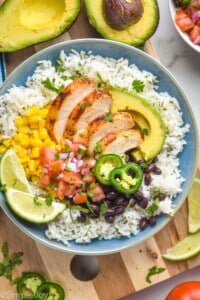 did you make this
Burrito Bowl
you might also like . . .