This Beef Curry is full of delicious flavor and melt in your mouth pieces of beef. My family loves this recipes so much, and I know yours will too!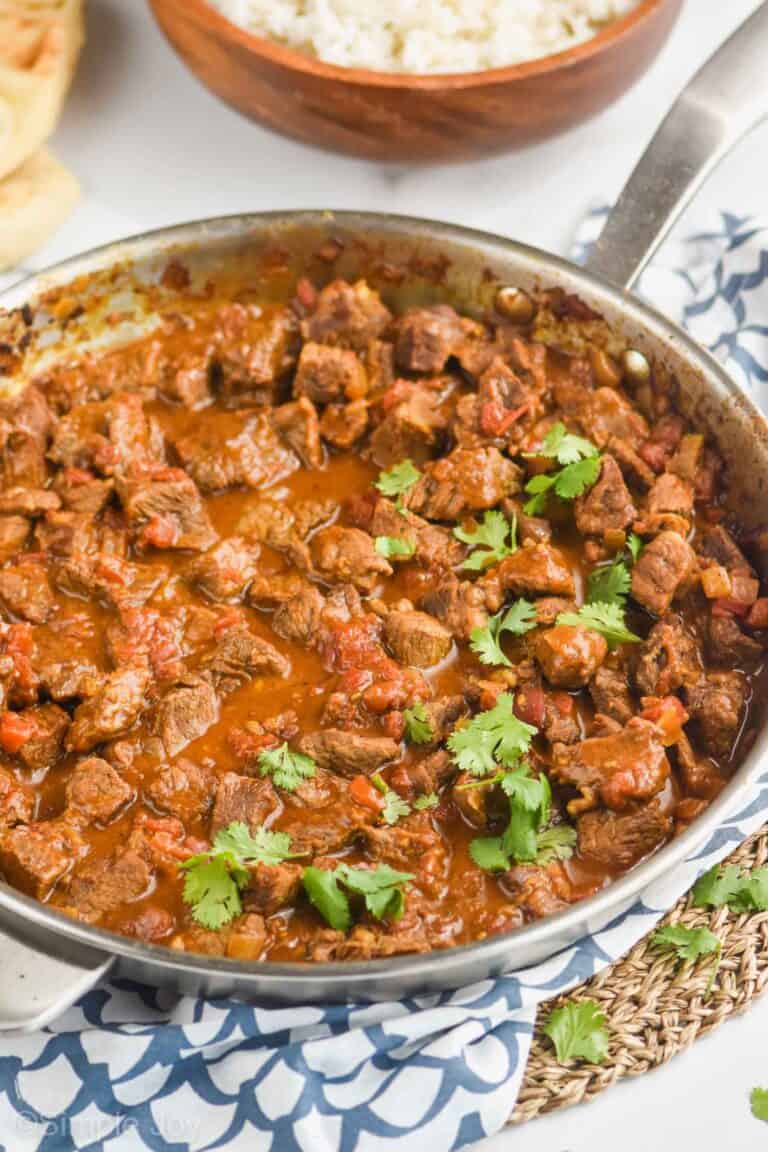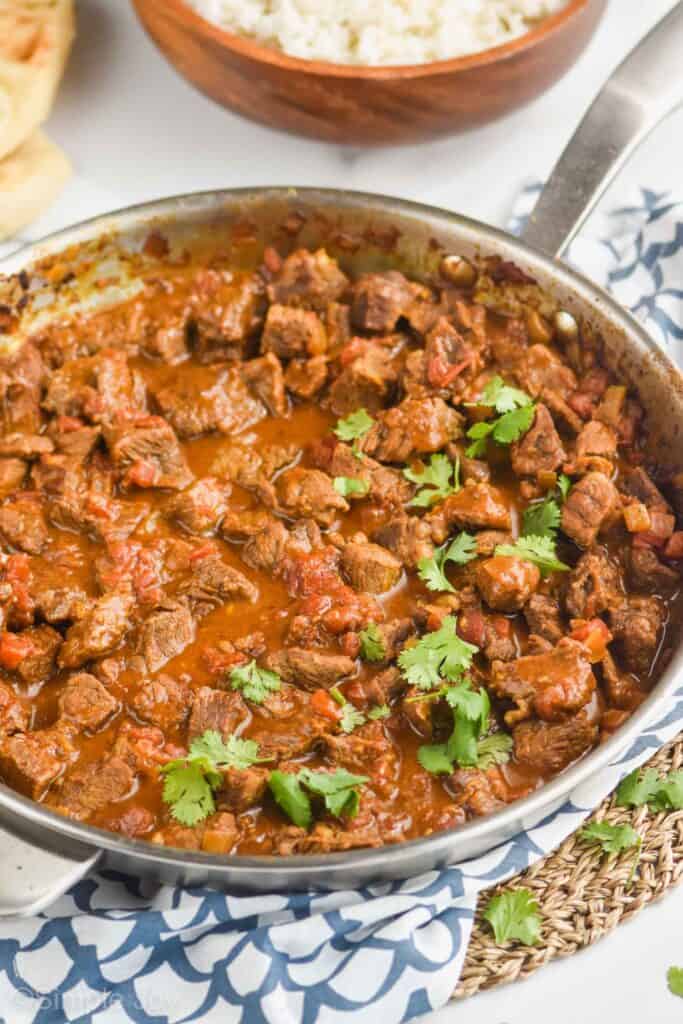 This Beef Curry recipe is going to knock your socks off. It went through so many rounds of testing because I want you to eat it and say, "That is going into our regular rotation."
My whole family loves this recipe. I love the delicious sauce and simple ingredients. My middle kid can't get enough beef recipes, and devours this. Everyone else loves how the beef melts in your mouth and how the delicious sauce combines with white rice in the best way.
Beef Curry Ingredients
You know how much I love recipes with simple ingredients, and this one is no exception.
Chuck Roast
Canned Tomatoes
Onion
Garlic
Ginger
Curry Powder
Lemon Juice
Vegetable Oil
Salt and Pepper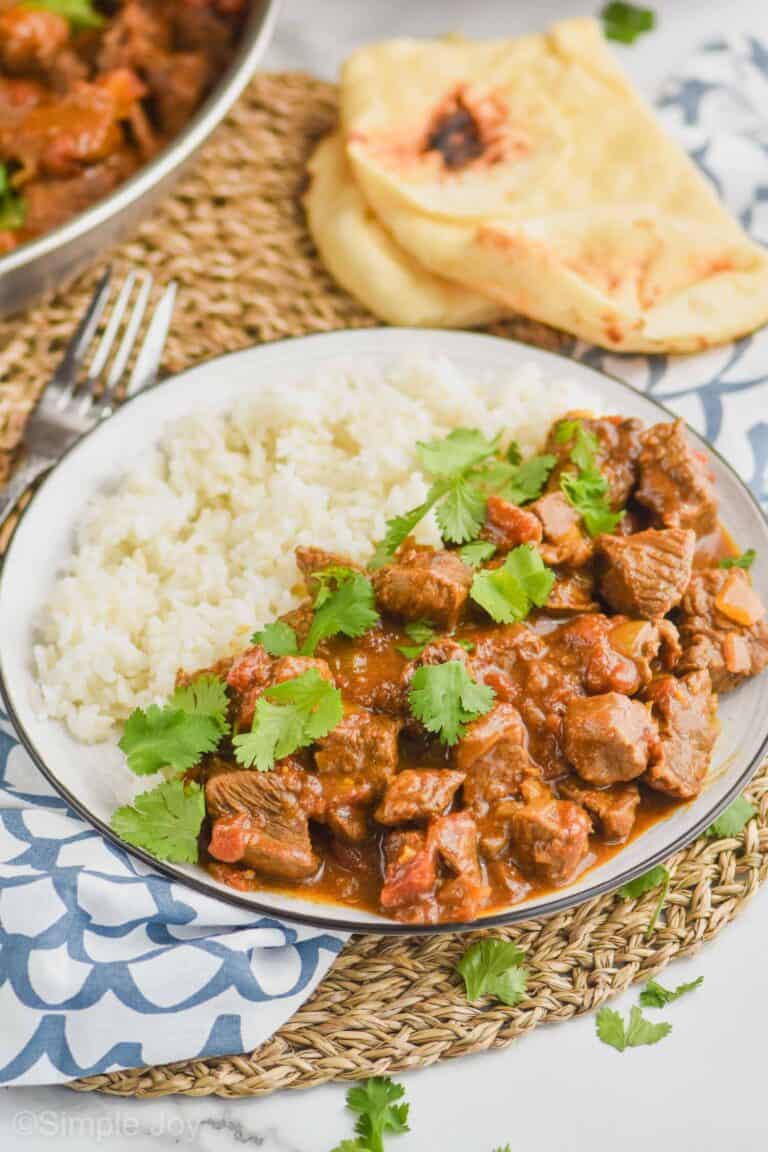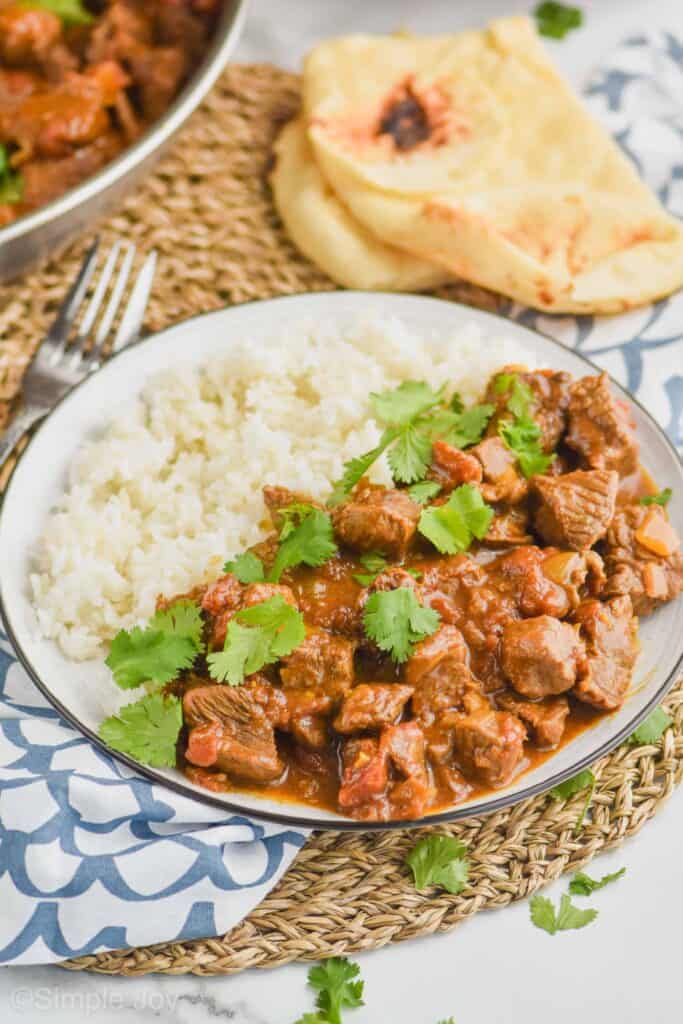 What Type of Beef to Buy
The best cut of meat for this recipe is chuck roast. Chuck roast is nicely marbled, and that combined with the simmering leads to the perfect pieces of beef.
I can't stress enough how important the simmering is to this recipe. There were rounds of this recipe where I didn't simmer long enough and the added time is more than worth it.
Why Brown the Beef
You will notice that we start this recipe by searing the pieces of beef. This may seem like a tedious step. We are putting the beef in, searing it, and taking it back out in batches.
This step isn't a make or break step. You could make this recipe and skip it and like it just fine. You will just fall in love with the recipe by browning the meat.
The point of this step is to add a depth of flavor to the recipe. I would make the argument that that is well worth the added 10 minutes in this recipe.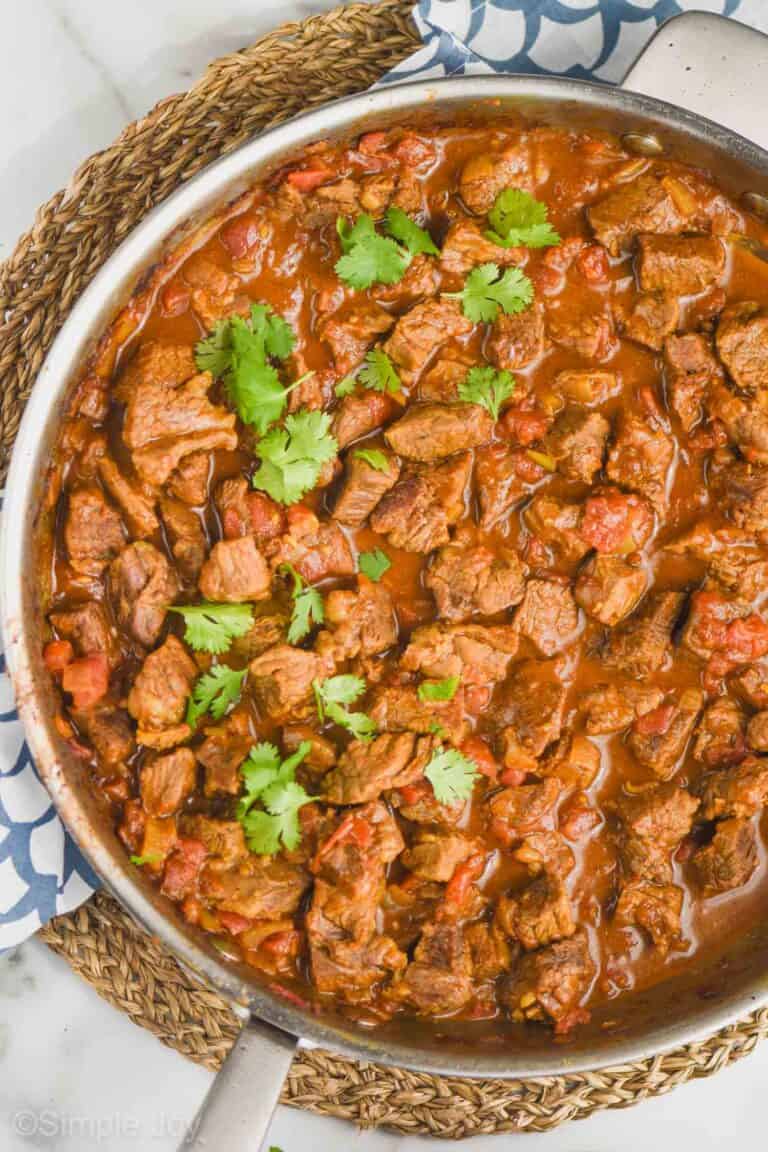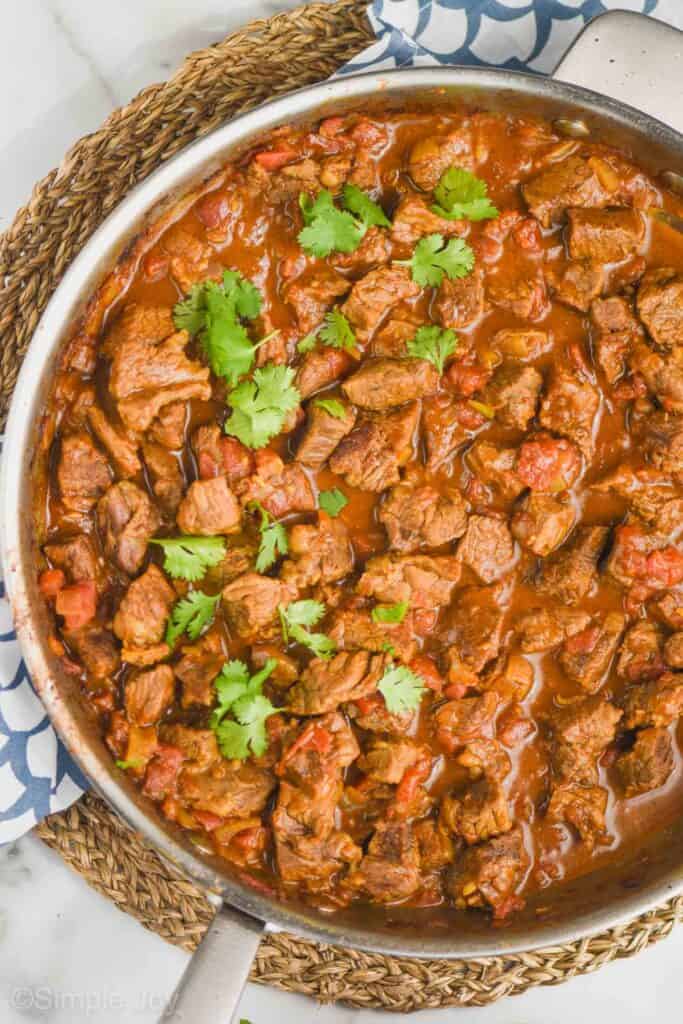 Cooking Time
You will note that there is 45 minutes of simmering time in this recipe. After playing around with this recipe quite a bit, I discovered that 45 minutes was the perfect time to make the beef deliciously tender and flavorful.
If you must cut the recipe short, I would suggest either cutting 15 minutes off the simmering time or cutting out the browning time. You will lose either tenderness in meat, or depth of flavor, but you will still enjoy the dish.
What is Curry Powder
Curry powder is a mix of different spices in the same way that taco seasoning is. Mine has in it:
Tumeric
Coriander
Cumin
Salt
Ginger
Fenugreek
Cayenne
Cinnamon
Cloves
Nutmeg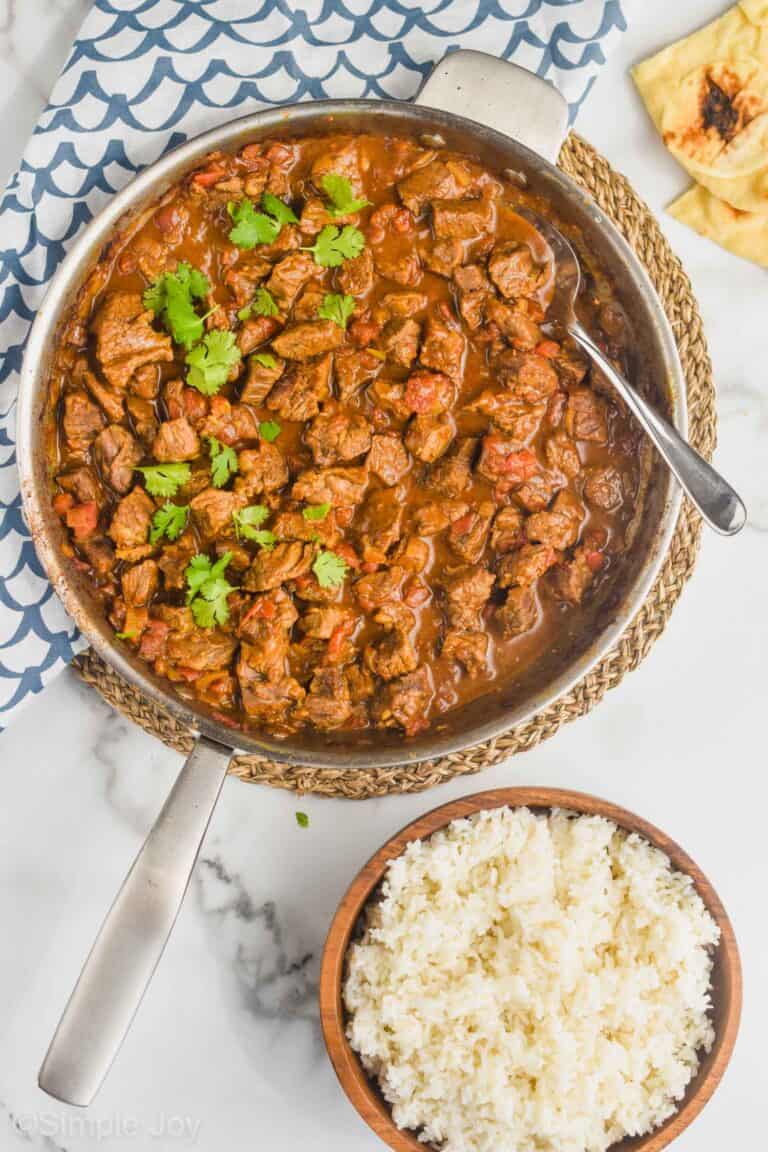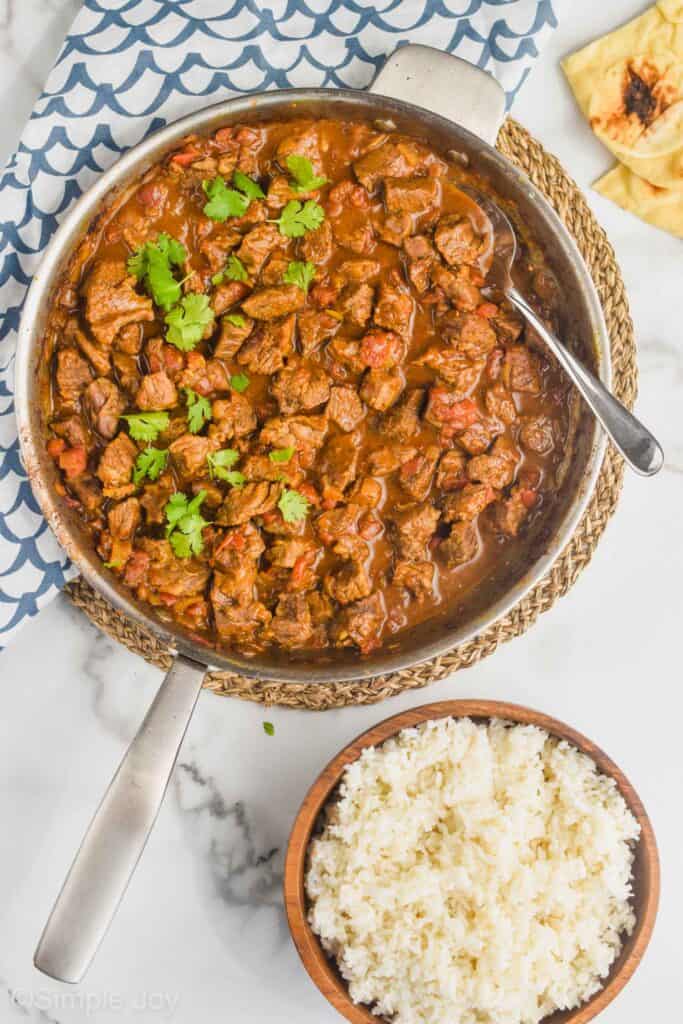 Is Beef Curry Spicy?
You might read this recipe and be worried about the 2 tablespoons of curry powder in it. The only thing adding spice to curry powder is cayenne pepper, and it is very little.
What brings more spice to a beef curry recipe is the amount of black pepper added. We salt and pepper the beef generously, but that adds only about 1/4 teaspoon black pepper. My kids, who are very averse to spice, didn't find it spicy at all.
Can This Be Made In the Slow Cooker?
Yes! I have a great Slow Cooker Beef Curry recipe. It is a little different than this recipe but very delicious.
You could also make this exact recipe a crockpot recipe by browning the beef and then adding it, the pan drippings, and all the other ingredients to a slow cooker. You would need to cook on low for 6 to 8 hours.
What to Serve with Beef Curry?
My kids love this recipe most with rice and naan. I really like it with half the amount of rice and some roasted cauliflower. It's perfection.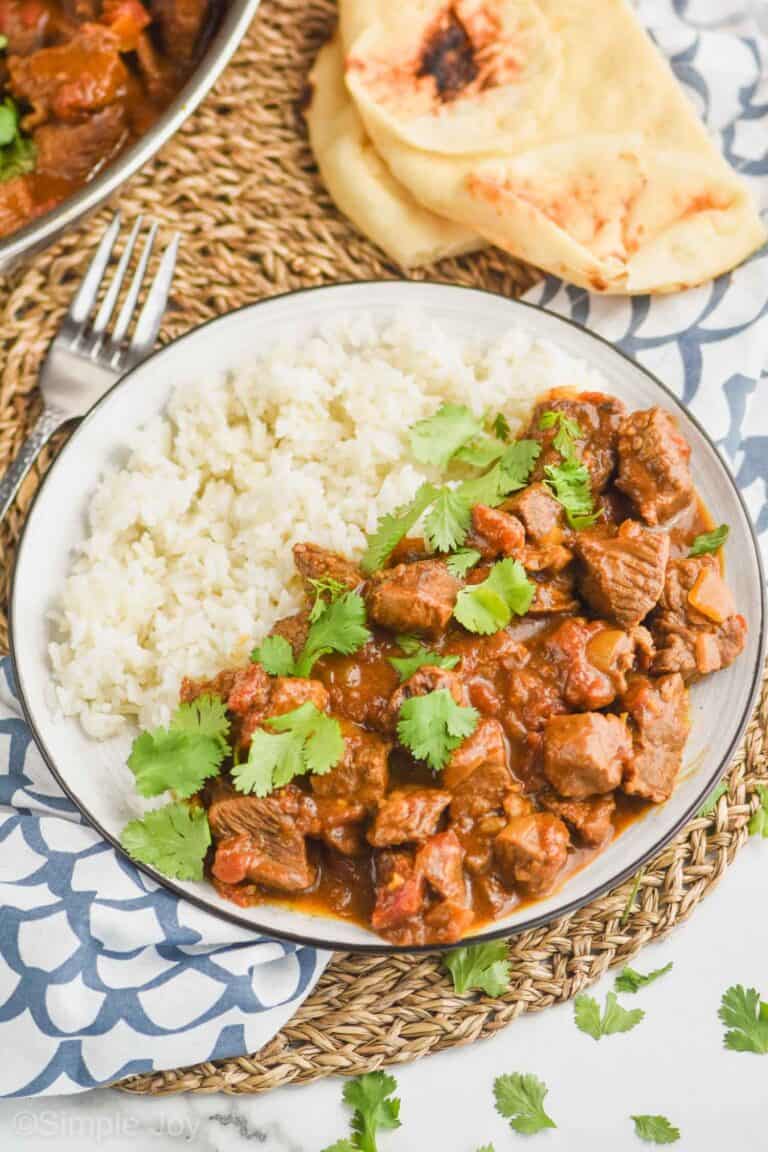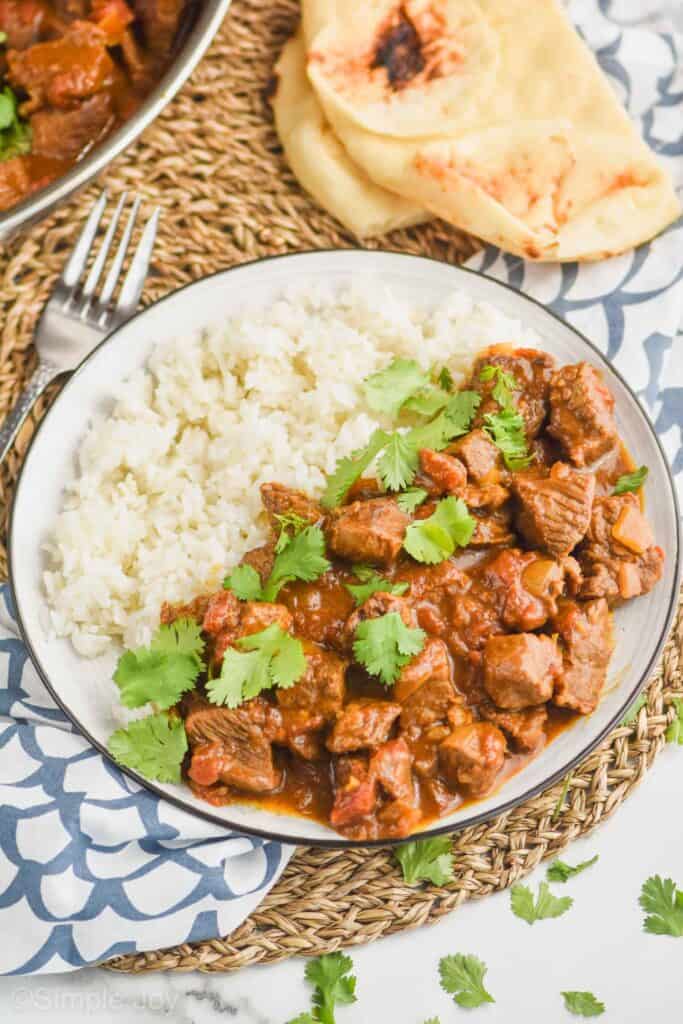 Other Delicious Dinners
If you like this beef curry recipe then I think you are going to also love the flavors of my Butter Chicken.
My kids loved this recipe and they also gave two thumbs up to my Crockpot Chicken Enchiladas.
Finally, I think you will also really like my Stovetop Lasagna. It's quicker than the traditional but just as delicious.
If you make his beef curry or any of my other recipes, please leave me a comment and let me know what you think!
Recommended Tools
Skillet: I'm currently obsessing over this Ikea Skillet (pictured here). It just cooks things perfectly.
Garlic Press: Belive it or not I've had a few garlic presses and this is my favorite because it scrapes the garlic off itself.
Measuring Spoons: I love that these spoons are double sided. Perfect for a recipe that requires measuring a tablespoon of something wet and. then something dry.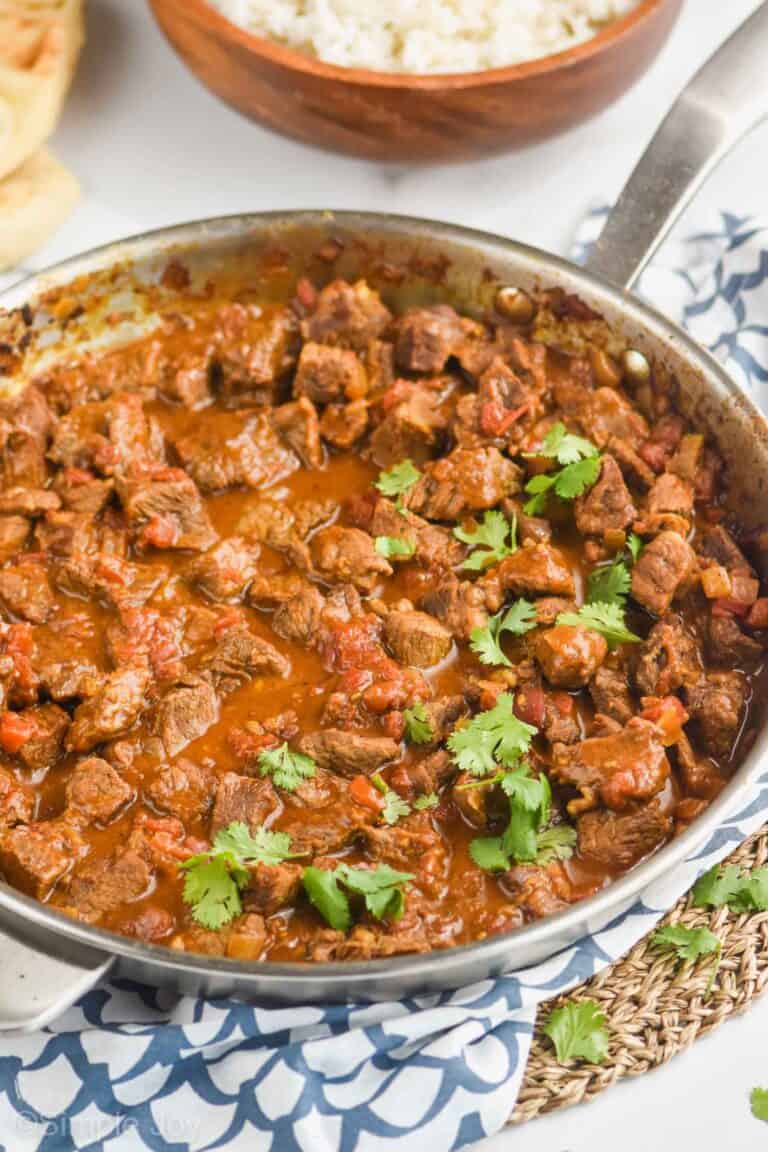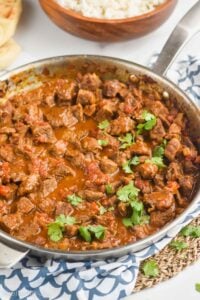 Beef Curry
This Beef Curry is a delicious and easy weeknight meal. Serve it over rice and have a dish that your family will come back to over and over all year long.

Ingredients
3

tablespoons

vegetable oil

divided

2 1/2

pounds

chuck roast

cut into bites sized pieces

kosher salt and freshly ground black pepper

1

large yellow onion

diced

2

garlic cloves

minced

2

tablespoons

of ginger

minced

2

tablespoons

curry powder

28

ounces

diced tomatoes

2

teaspoons

lemon juice
Instructions
Heat the oil in a heavy bottomed pot until it just begins to smoke.

Generously salt and pepper the chuck roast, then add the chuck roast and brown in batches. Remove from the pan and set aside.

Add the onions and sauté until translucent, about 5 minutes. Add the garlic, ginger, and curry powder. Cook until fragrant, about 30 seconds.

Add in the diced tomatoes and the lemon juice, scraping up the browned bits.

Return the browned beef to the pan. Bring to a simmer and cook covered for 45 minutes. (If you are making with rice, now is the time to start your rice.)

Serve over rice and enjoy!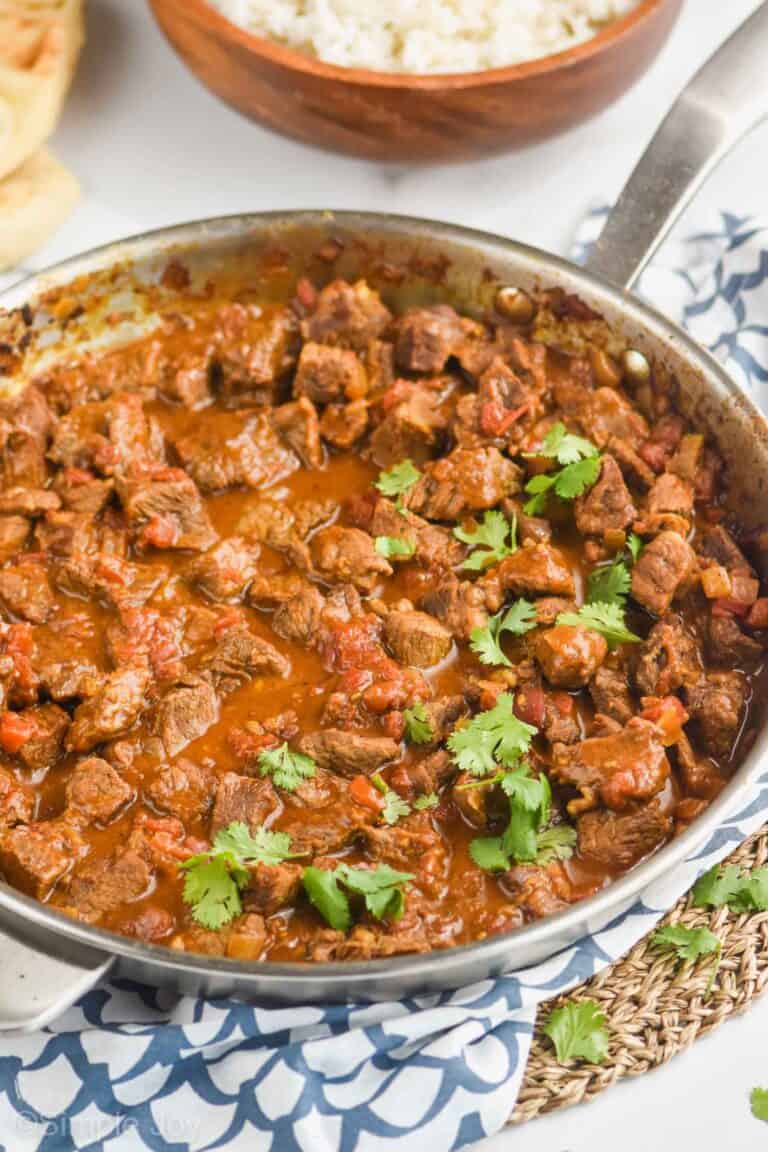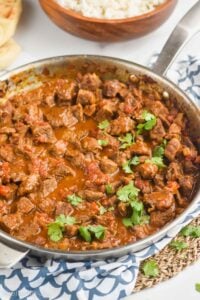 did you make this
Beef Curry