This Chicken Broccoli Noodle Casserole is absolutely delicious. Simple ingredients come together in the best way to make the ultimate comfort food.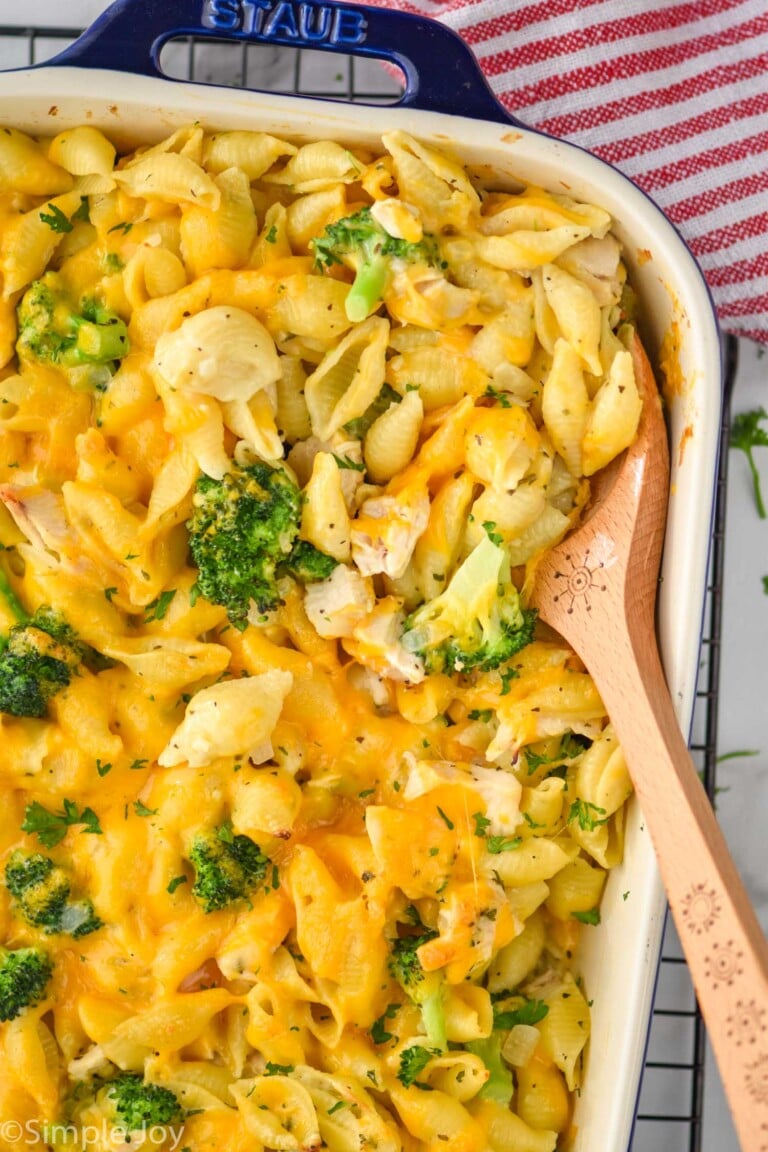 This delicious Chicken Noodle Casserole with Broccoli is a fun spin on my Chicken Noodle Casserole. The flavors of chicken, broccoli, and cheddar cheese were made for each other. They combine in the best way in this creamy noodle casserole. It leaves you with a comforting casserole that is delicious, and make ahead and freezer friendly!
How to Make Chicken Noodle Casserole With Broccoli
Here is a brief overview of how to make this delicious chicken broccoli noodle casserole. For the full recipe including all ingredients and measurements, scroll to the recipe card at the bottom of the page.
Cook the pasta. Salt your water and cook the pasta following the directions on the box. Reserve one cup of the pasta water before draining.
Sauté the garlic and onion. You want to make sure they are both soft and the onion is translucent.
Make a roux. Whisk in the flour and cook until there is no white in the pan. Then slowly whisk in the chicken stock.
Add milk and pasta water. Mix well along with the seasonings. Bring to a boil and then add the broccoli. See more options for broccoli below.
Combine it all. Add your cooked pasta, cooked chicken, cheese, and sauce mixture to a baking dish. Stir and top with remaining cheese.
Bake. Remove from the oven once the cheese is melted and bubbly, about 10 minutes.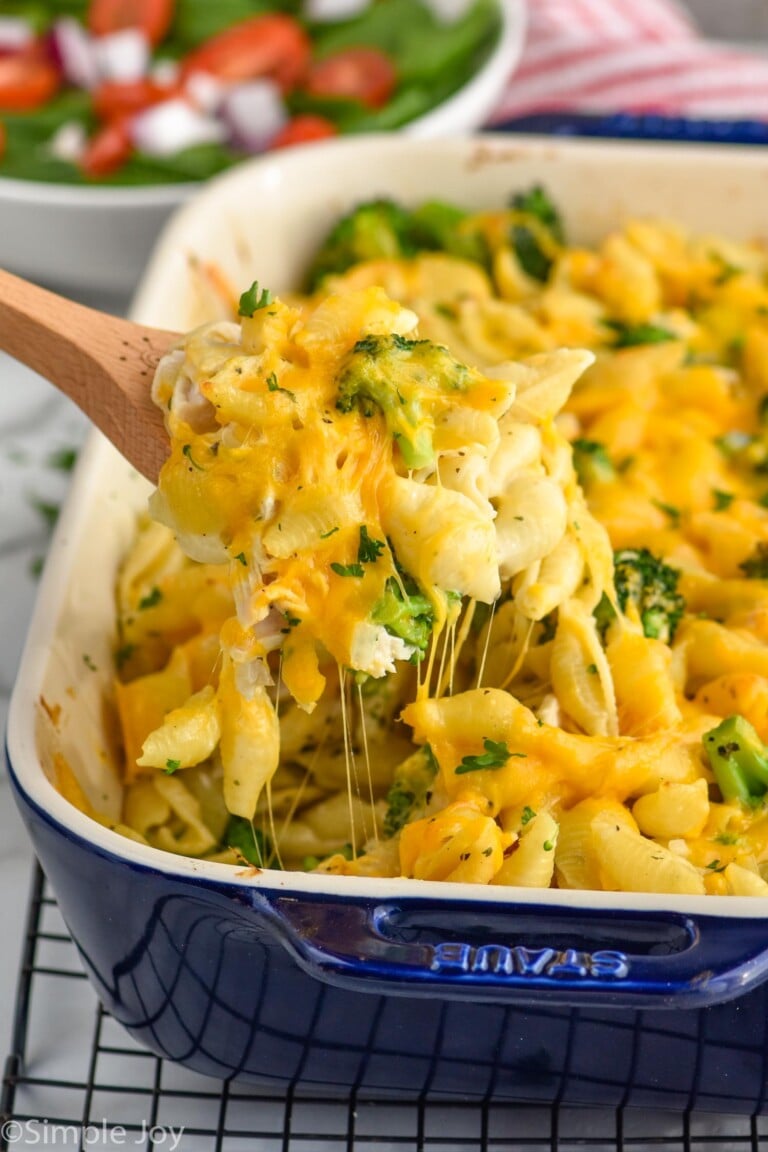 Reserving Pasta Water
Reserving a bit of the liquid from the liquid that the pasta is cooked in is a great way to take your recipes up a notch. The water is full of both flavor and starch, making it a great base for the sauce in this casserole recipe.
Making Roux For Chicken Broccoli Noodle Casserole
The key to making a rich creamy base for this casserole is making a roux. A roux is the combination of a fat (in this case butter) and all purpose flour. The flour coats the fat keeping it evenly suspended when you add in liquid. All of this prevents the creamy sauce from separating.
I always emphasize that a roux will work best if you add the liquid (in this case chicken stock) slowly after the butter and flour are fully combined. Start with a few tablespoons at a time and only add more once what you just added is fully whisked in. The whole process should take less than a minute.
Using Cream of Chicken Soup
The sauce we are making in the recipe is essentially a homemade condensed cream of chicken soup. You can use two cans of store-bought cream of chicken soup instead of making the sauce. Simply skip the flour, chicken stock, and pasta water. Add the two cans of soup to the pan with the sautéed garlic and onion, season it with the parsley and basil. Add the broccoli, and let it cook in the sauce for 5 minutes. Proceed with step six on the recipe card.
Homemade Condensed Cream of Chicken Soup
Make this Homemade Condensed Cream of Chicken Soup to replace that can from the grocery store. If you want a completely from scratch dinner, this recipe will replace that can with the exact same amount.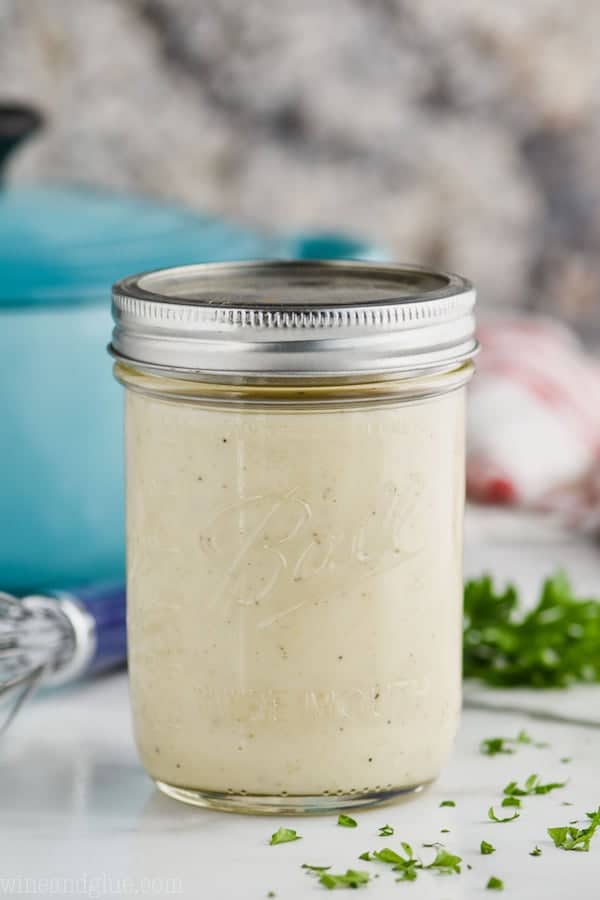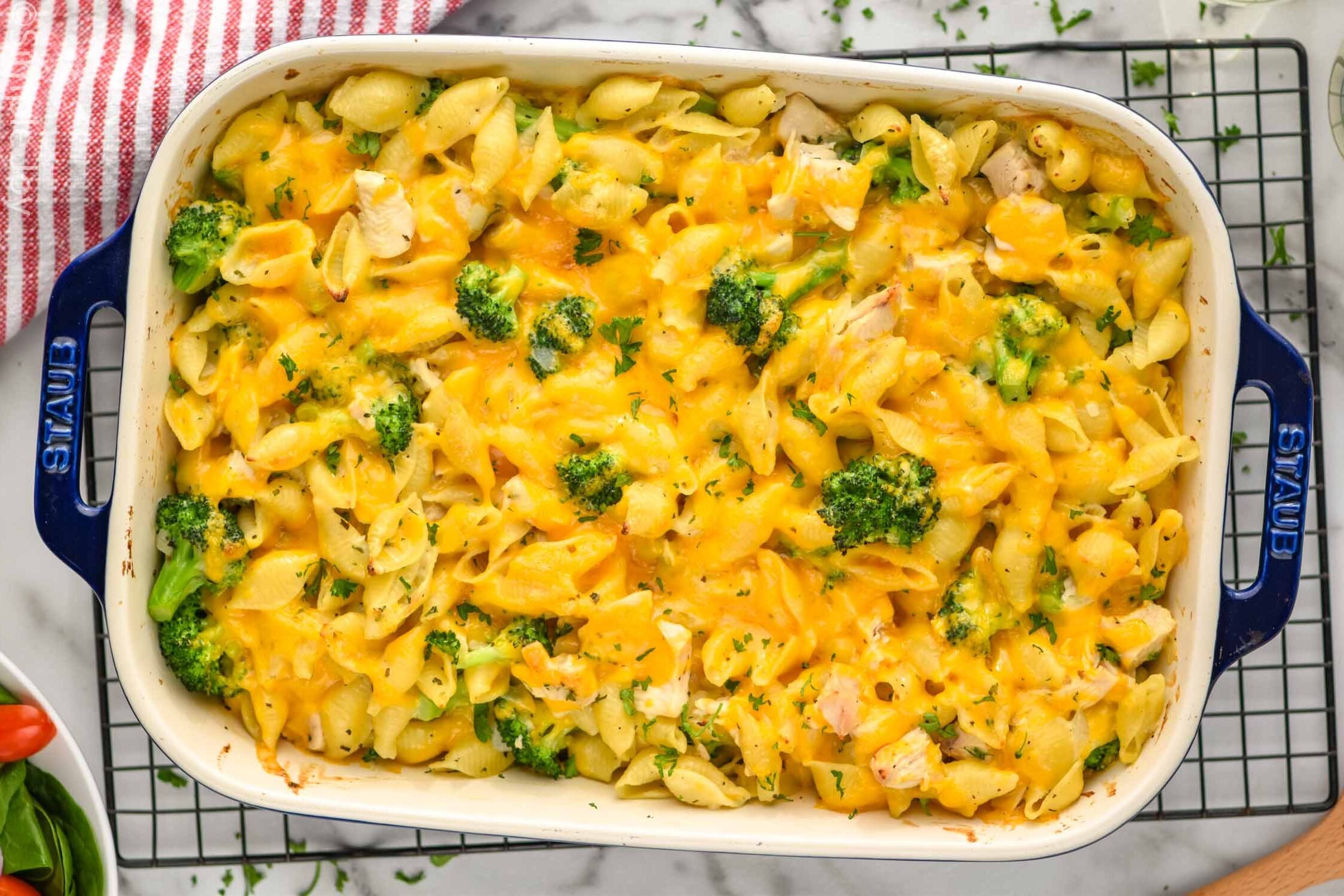 Cooked Chicken For Casseroles
This chicken and noodle casserole recipe calls for cooked chicken, which can be done in a few different ways. You can use a rotisserie chicken from your local grocery store or use cooked chicken that you've frozen. Freeze cooked chicken to keep on hand for the perfect shortcut for dinners during a busy weeknight! You can add it right to this noodle casserole frozen since it is already cooked.
Another option is to boil the chicken for the casserole before making it. You will need about 1 pound of raw boneless skinless chicken breasts to make 3 cups of shredded chicken.
Add the chicken to a sauce pan. Cover it with water.
Bring the water to a boil. Then reduce the water to a simmer.
Simmer the chicken until it reaches 165 degrees Fahrenheit. This will take between 4 and 10 minutes depending on the size of the chicken breast. I like using an instant read thermometer so that I can take the chicken out as soon as it hits 165.
Shred the chicken. I like using my stand mixer with the paddle attachment to make quick work of this. It is totally worth dirtying another bowl.
Freezing Cooked Chicken
An easy way to have chicken that is cooked and measured for a simple shortcut for any recipe that calls for cooked chicken!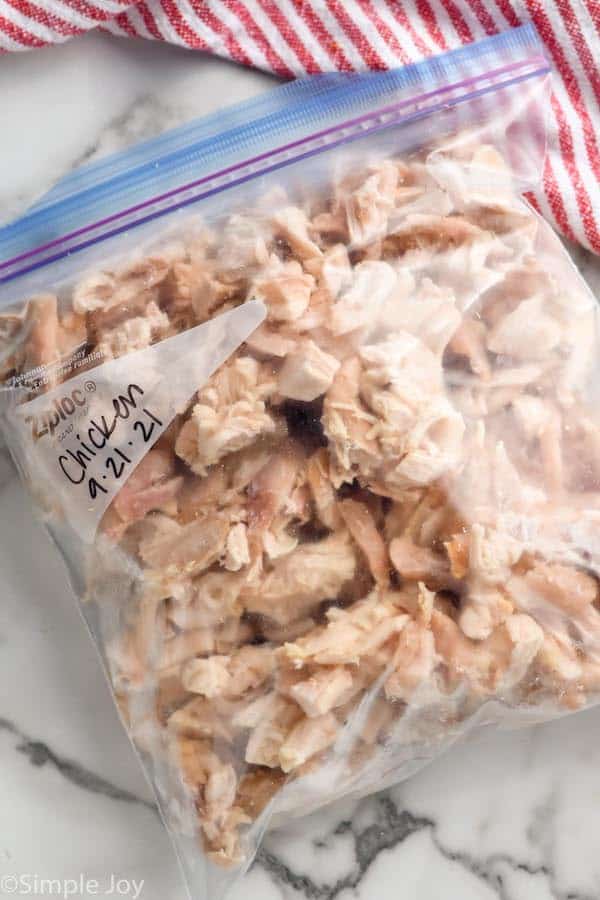 Cheese Variations
This recipe is delicious topped with any good melting cheese. The recipe card calls for Cheddar, but any cheese that melts well and that you enjoy the flavor of will work. For the best and freshest results, shred your cheese right from the block. It will taste and melt better than pre-shredded cheese that is covered in preservatives. Here are other options:
Colby: An American cheese with a mild flavor and creamy texture, it is perfect for topping a casserole.
American Cheese: Walk away from the slices in plastic. You can get great American cheese that is perfect for melting.
Monterey Jack: There is a reason that this is the cheese I reach for in my Sour Cream Chicken Enchiladas.
Tips and Tricks
Casserole recipes are dependable and comforting dinners for any season or day of the week. Here are a few tips and tricks to make the best chicken casserole with noodles and broccoli.
Use any pasta that you like. Use your favorite pasta or egg noodles. Make sure to cook it according to the directions on the package so that it doesn't get overcooked and mushy in the oven.
Add the liquid slowly. When you come to the step of making the roux after sautéing the garlic and onion, add the chicken stock slowly. It should take about a minute to add all the liquid and will make the roux come together better.
Use fresh or frozen broccoli. If you use frozen broccoli, add it when you combine everything in the baking dish.
Reserve the starchy water the noodles are cooked in to make a great base for this casserole and give in an extra creamy quality.
Use other vegetables. You can use other vegetables instead of or in addition to broccoli. Peas, carrots, corn, or mushrooms would all work well in this recipe.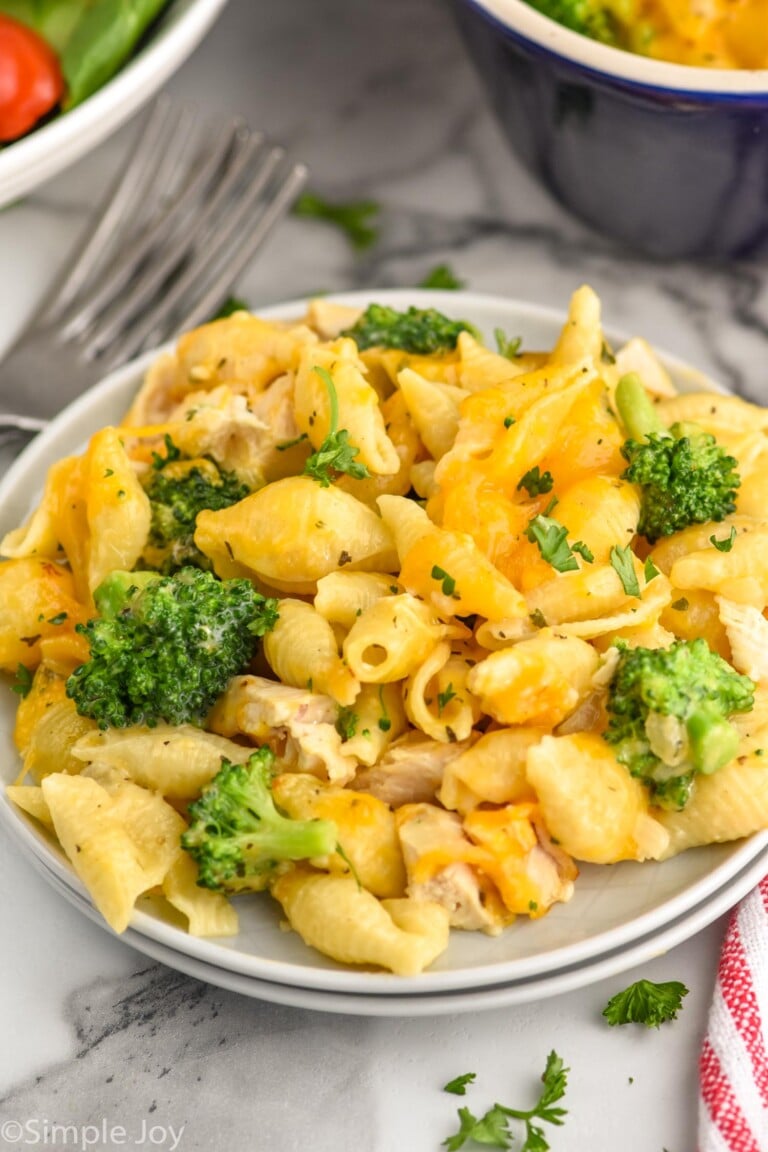 Storing Leftovers
Store your leftover casserole in an airtight container in the refrigerator for up to three days. Reheat only the portion you are eating, as leftovers should never be reheated more than once. Always use your best discretion with leftovers.
Make Ahead
This chicken noodle casserole with broccoli recipe is also amazing because it can be made ahead. Whether you are making it the night before for an easy weeknight meal or bringing it to a gathering or a new mom, I have you covered.
Follow the recipe up to the point of putting it in the casserole dish.
Cover and refrigerate for up to 24 hours.
When you are ready to bake, take it out of the refrigerator, preheat the oven, and top it with the remaining 1 1/2 cups of cheese.
Bake, covered, at 425 for 20 to 25 minutes. Uncover and continue cooking until the cheese on top is bubbly.
When you make this the night before, it turns it into a 30 minute meal the next day!
Freezing Chicken Broccoli Noodle Casserole
This recipe works great for freezing. You can even make a double batch and freeze the second one. Stop at step six, wrap the casserole dish three times in aluminum foil, and freeze for up to three months.
When you are ready to bake, unwrap two layers of aluminum foil. Bake right from frozen at 375 degrees for 1 hour.
I also suggest that you freeze it in a disposable baking dish, as frozen baking dishes made of glass or ceramic often crack or shatter in hot ovens.
FAQ
Can you make this recipe gluten free?
We've only tested this casserole as written, but I think replacing the noodles with gluten-free noodles and the flour with almond flour would work well.
Does chicken noodle casserole freeze well?
Yes! It can both be made ahead and frozen. You can find instructions for both listed above.
Is it better to freeze casseroles cooked or uncooked?
This depends on what is in it. For this chicken broccoli noodle casserole, I recommend freezing it before it is cooked since the chicken is already cooked. Casseroles with raw protein should be fully cooked before freezing.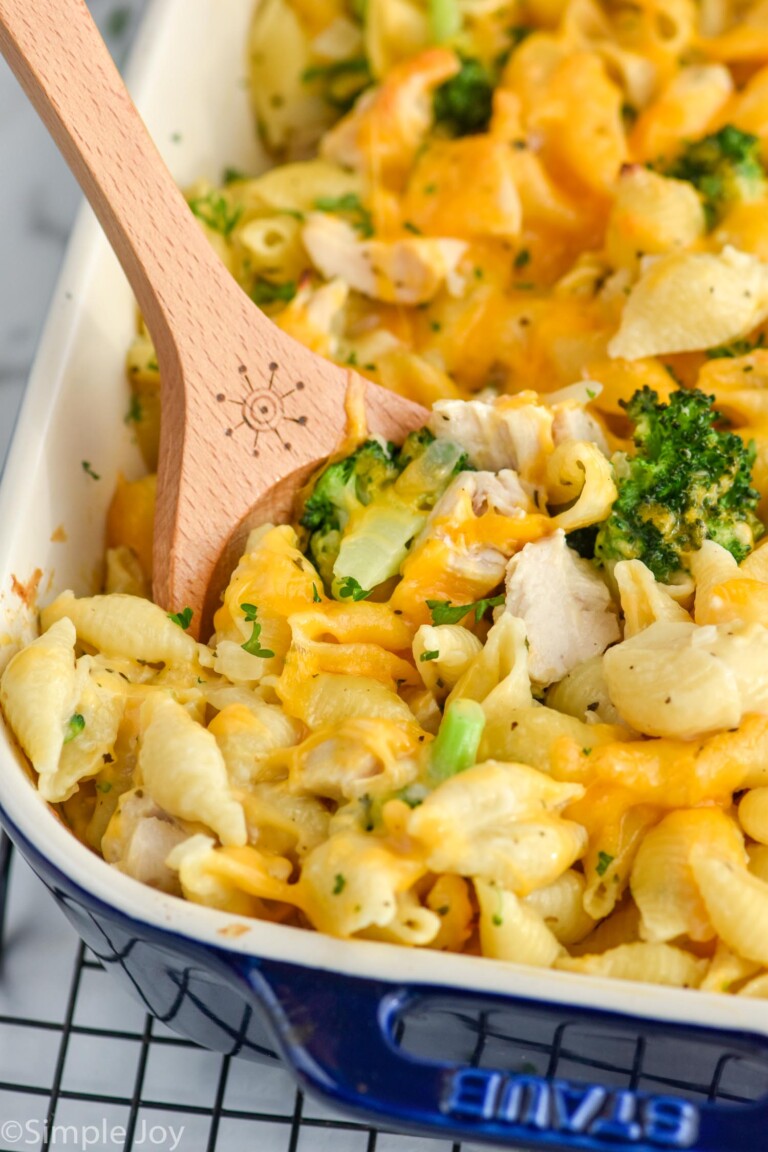 Other Easy Casserole Recipes
Casseroles are the ultimate comfort food and usually can be made ahead of time and tweaked to fit what you and your family like. Here are a few of my family's favorites:
If you make this Chicken Casserole with Noodles and Broccoli or any of my other recipes please be sure to leave me a comment and let me know what you think!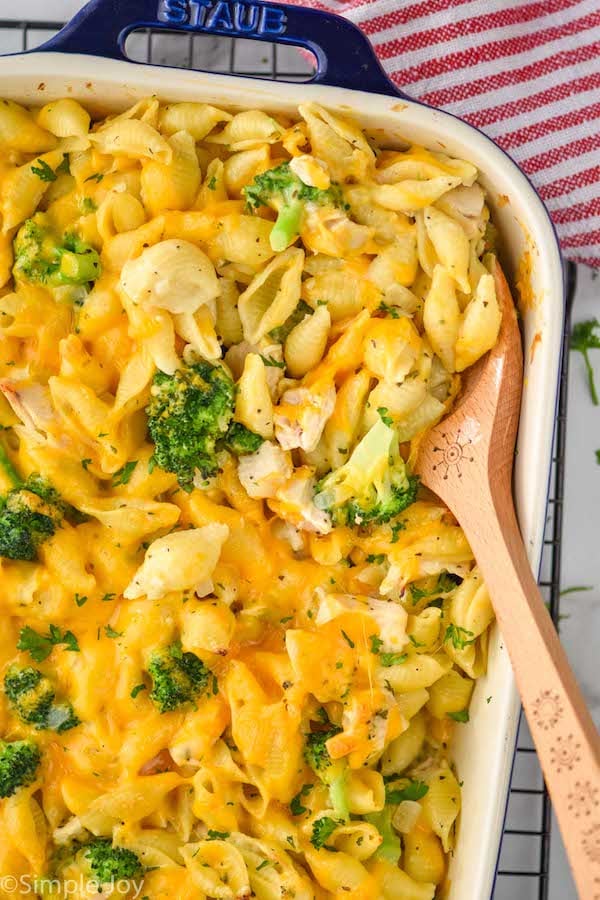 Chicken and Broccoli Noodle Casserole
This Chicken Broccoli Noodle Casserole is delicious. Simple ingredients come together in the best way to make the ultimate comfort food.
Ingredients
16

ounces

small shell pasta

(1 cup pasta water reserved)

6

tablespoons

unsalted butter

1

small yellow onion

diced

3

garlic cloves

minced

1/3

cup

all purpose flour

1

cup

low sodium chicken stock

1

cup

milk

(I used skim, but a higher fat content milk could also be used)

1

teaspoon

kosher salt

1

teaspoon

dried parsley

1

teaspoon

dried basil

1/4

teaspoon

black pepper

4

cups

broccoli florets

(about 1 large head)

3

cups

cooked chicken

(about 1 pound of raw chicken)

3

cups

cheddar cheese

shredded
Instructions
Preheat your oven to 425 degrees Fahrenheit. Spray a 9 by 13 inch baking dish with cooking spray. Set aside.

Bring a large pot of water to a roaring boil. Salt the water with 1 teaspoon kosher salt. Add the pasta and cook according to the time indicated on the box, boiling for the shorter amount of time on the box if there is a range. Reserve 1 cup of pasta water before draining.

16 ounces small shell pasta

Melt the butter in a large skillet over medium low heat. Add the garlic and onion, and saute until both are soft, 5 to 7 minutes.

6 tablespoons unsalted butter,

1 small yellow onion,

3 garlic cloves

Whisk in the flour. Cook until there is no white from the flour visible to ensure that you cook out the flour taste. Slowly whisk in the chicken stock. I like to whisk in about 2 tablespoons at a time to start, adding more after what you just added was absorbed. The more you add the faster you can add it. The whole process should take less than 1 minute.

1/3 cup all purpose flour,

1 cup low sodium chicken stock

Whisk in the pasta water and the milk. Season with salt, parsley, basil, and pepper. Bring to a boil. Add in the broccoli and then reduce the sauce to a simmer, cooking for 5 minutes. Stir occasionally to prevent the sauce from burning. Taste the sauce and add more salt and/or pepper to taste.

1 cup milk,

1 teaspoon kosher salt,

1 teaspoon dried parsley,

1 teaspoon dried basil,

1/4 teaspoon black pepper,

4 cups broccoli florets

Add the cooked pasta, cooked chicken, 1 1/2 cups of cheese, and sauce mixture to the baking dish. Stir to combine. Top with the remaining cheese.

3 cups cooked chicken,

3 cups cheddar cheese

Bake for 10 minutes (uncovered) or until the cheese is melted and bubbly.
Serving:
2
cups
Calories:
611
kcal
(31%)
Carbohydrates:
54
g
(18%)
Protein:
34
g
(68%)
Fat:
29
g
(45%)
Saturated Fat:
15
g
(94%)
Polyunsaturated Fat:
2
g
Monounsaturated Fat:
7
g
Trans Fat:
0.3
g
Cholesterol:
108
mg
(36%)
Sodium:
648
mg
(28%)
Potassium:
531
mg
(15%)
Fiber:
3
g
(13%)
Sugar:
5
g
(6%)
Vitamin A:
1043
IU
(21%)
Vitamin C:
42
mg
(51%)
Calcium:
390
mg
(39%)
Iron:
2
mg
(11%)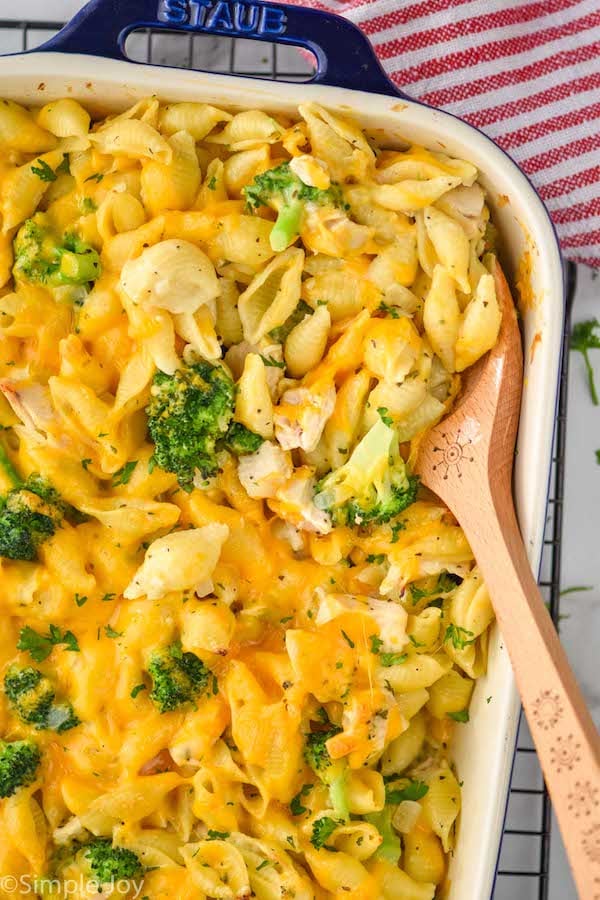 did you make this
Chicken and Broccoli Noodle Casserole