This Chicken Pot Pie Casserole is amazing comfort food in an easy to make casserole. My perfect from scratch sauce really puts this recipe over the top.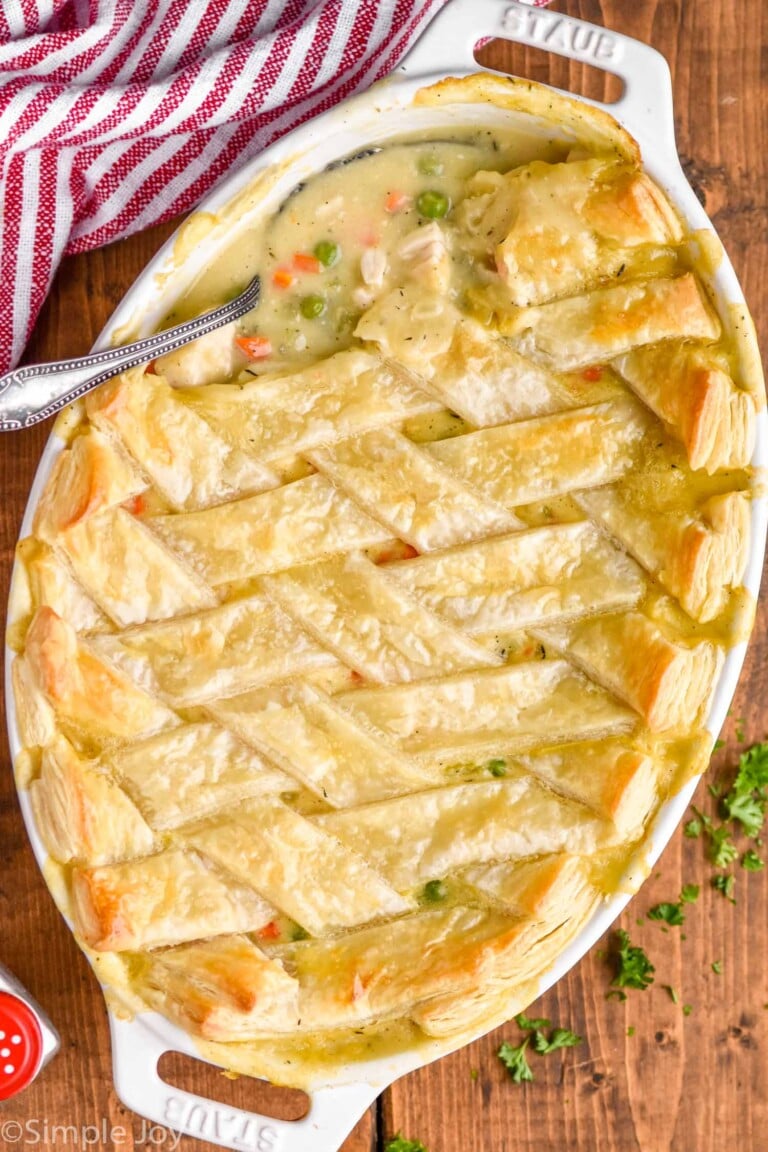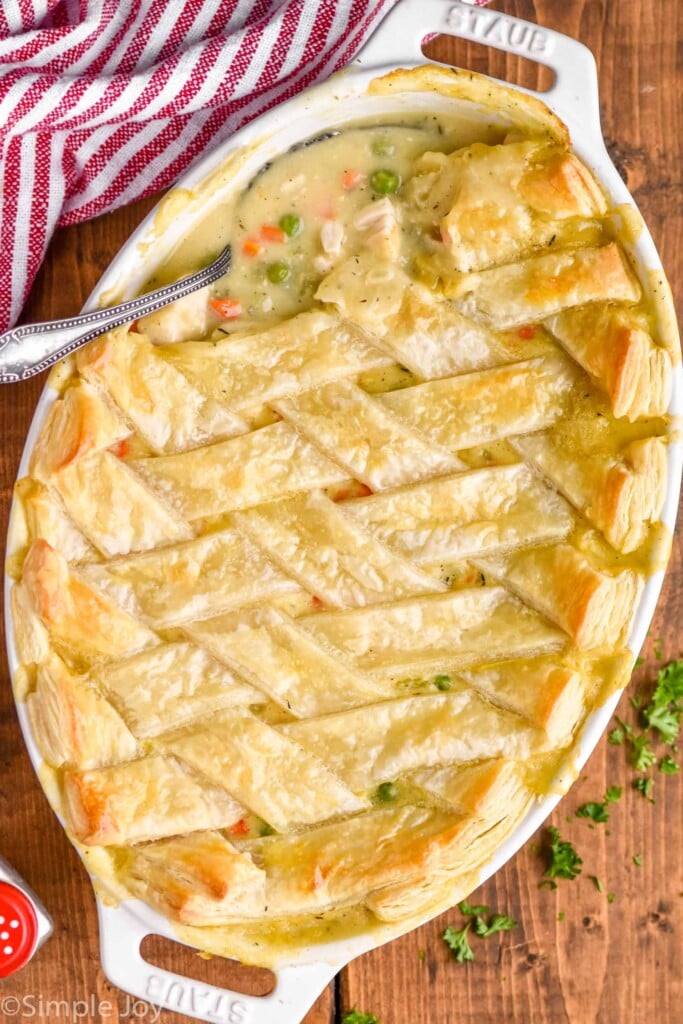 When you want all the great taste of a Chicken Pot Pie, but don't want the hassle of dealing with pie crust, make this amazing Chicken Pot Pie Casserole. In this recipe, we are taking the basics of chicken pot pie and then pouring it into a casserole dish. We take the help of some store-bought puff pastry to make a gorgeous lattice top that is sure to impress.
Reader Review
Delicious! Made no changes! Keep up with the good recipes, Lisa!! This 87 year old great, great grandma enjoys them. Some new ways of doing stuff, and better, after cooking since I was 9 yrs old.
How to Make Chicken Pot Pie Casserole
Sauté the vegetables in butter. After melting butter, cook the celery, onion, carrots, and garlic until they are soft.
Make the sauce. We are going to whisk in some flour to make a roux, and then we will add in milk, chicken stock, and seasonings to make a delicious creamy sauce.
Cook the chicken. While the sauce is simmering to thicken, we add in the diced chicken so it cooks along with the sauce. Then just before removing it from the heat we toss in some frozen peas.
Put together the casserole. Pour the mixture into a casserole dish and then top with puff pastry. You can either just put the whole sheet on top or you can cut strips to make a lattice top.
Bake the casserole. This great chicken casserole bakes in just 30 minutes.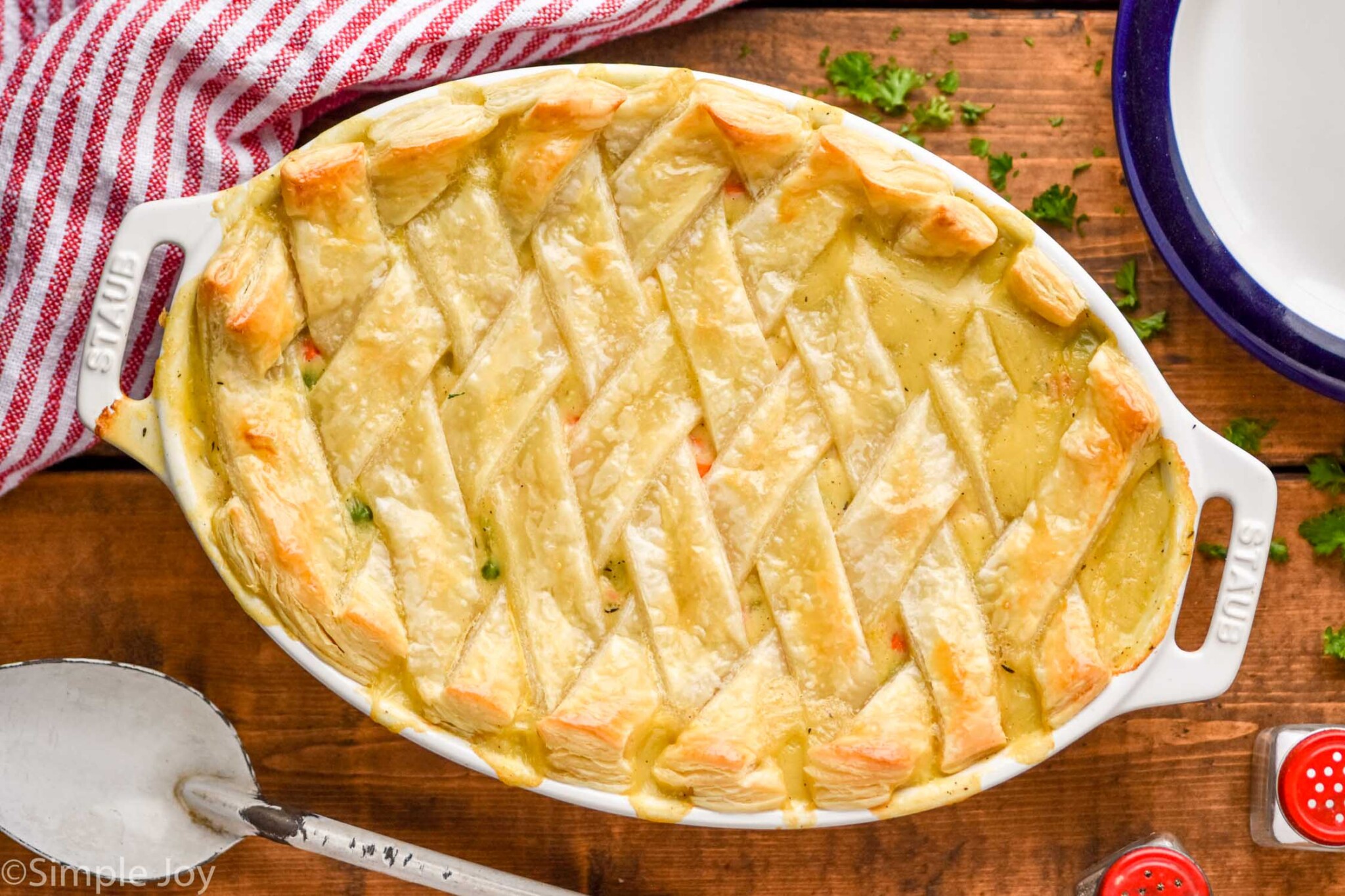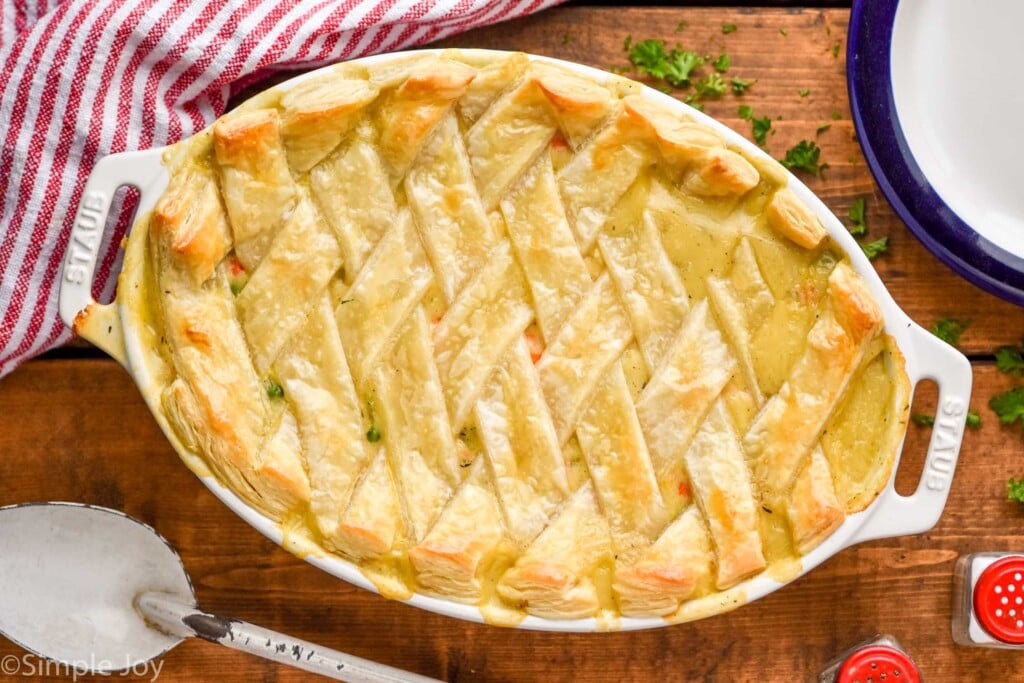 Making a Roux
A roux is a combination of a fat (in this case butter) and all purpose flour. The fat coats the flour molecules, keeping them evenly suspended in the liquid, which is what keeps your creamy sauces together.
In this recipe, we are using the butter we used to sauté the vegetables to make the roux. You will notices that things are pretty gummy at the start of adding liquid, but just keep plugging along and you will end up with a delicious and smooth sauce.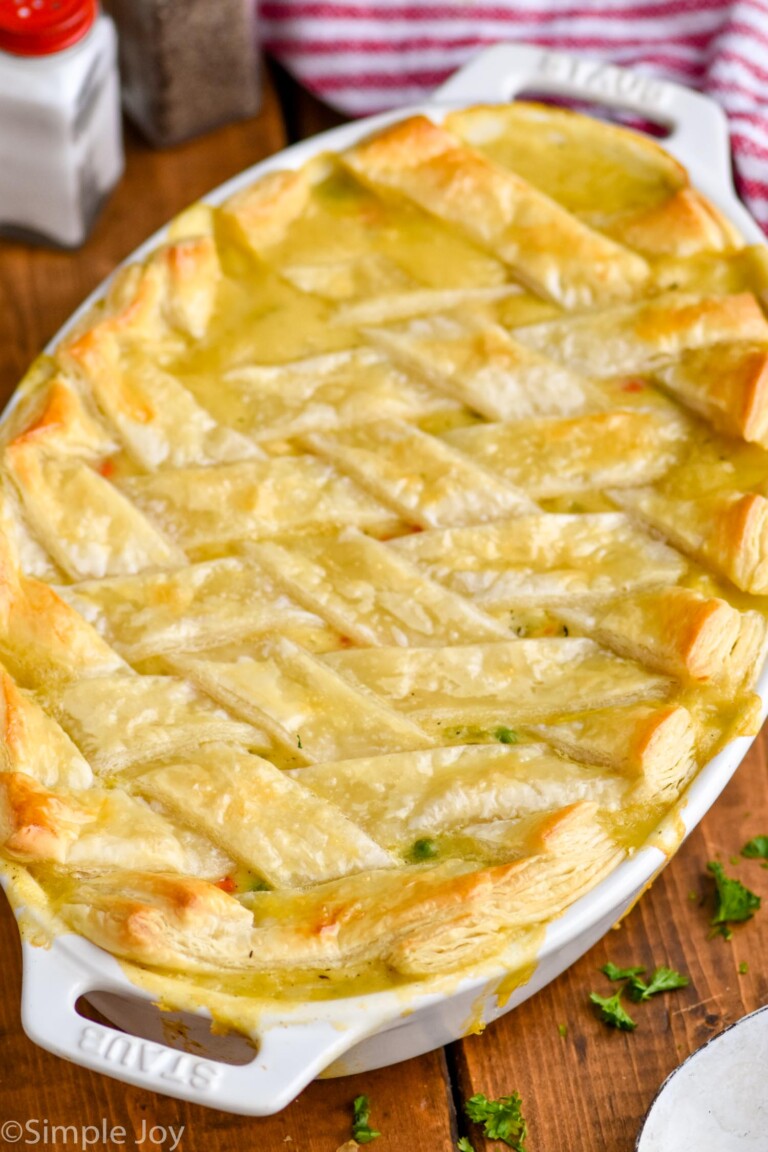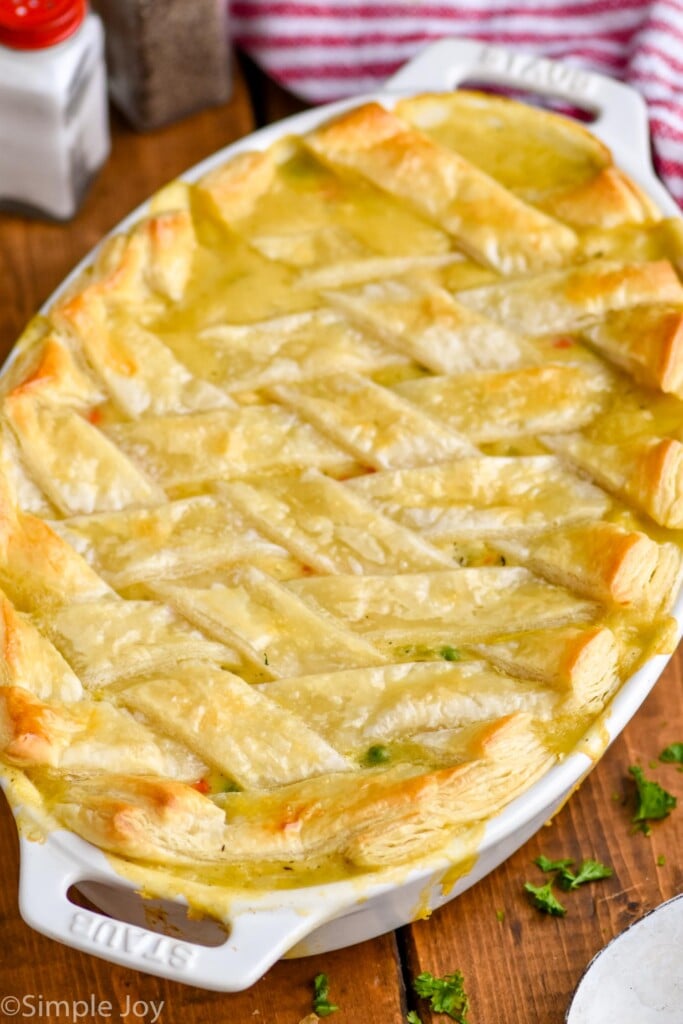 Tips for Making a Lattice Top
If you need visual help, check out this post. It has both step by step photos (towards the bottom) and a video.
Using an oval casserole dish and doing the lattice on an angle (as seen here) makes it really easy to do this one one sheet of puff pastry.
If you are making this in a 9 by 13 inch casserole dish, you will want to use two pieces of puff pastry (knowing you will have a lot left over). You can cut one lengthwise and then cut the other width wise. Then you will have the correct size pieces for that pan.
Wait a few minutes after pouring the hot filling in the casserole dish to put on the lattice top. If you do it right away the dough will become hot and sticky and difficult to weave.
Brush the top with a whisked egg to give it that shiney golden look.
If you want to skip the lattice top, cover the dish with the whole piece of puff pastry and cut a few holes for venting.
Making Chicken Pot Pie Casserole Ahead
This casserole can be made up to 24 hours in advance. Follow the steps up to the point of putting on the puff pastry. Wrap it and put it in the refrigerator. Right before baking add the puff pastry.
Leftovers
Leftovers of my creamy chicken pot pie casserole can be stored in the refrigerator for 3 to 4 days. Reheat in the oven, at 350 degrees Fahrenheit, covered. Take off the cover for a few minutes at the end to crisp up the puff pastry.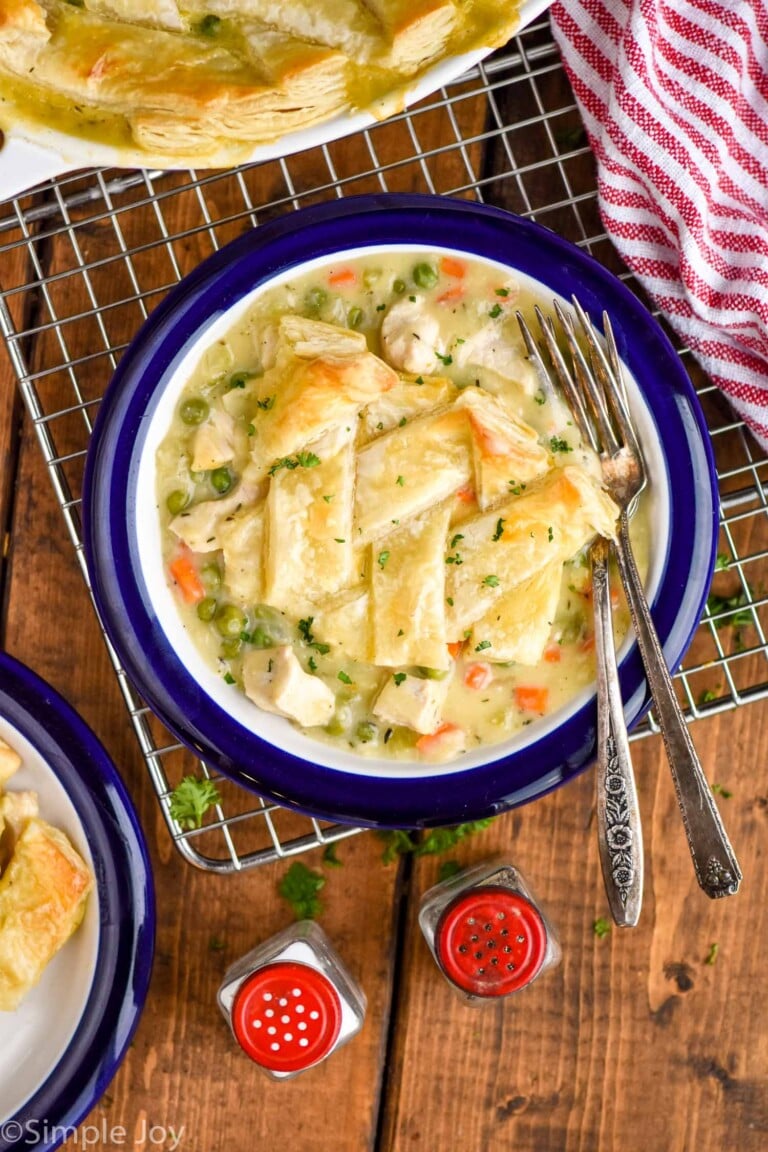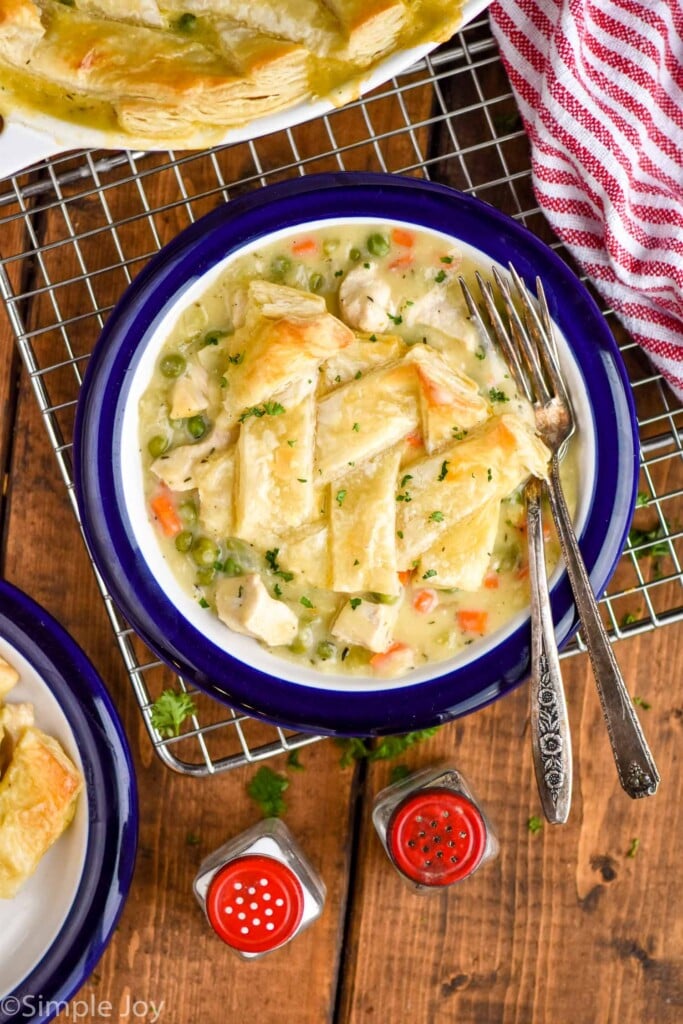 What to Serve with Chicken Pot Pie Casserole
This is one of those dishes that I don't think necessarily needs a side dish. But here are a few things I would consider adding to the table.
These Dinner Rolls are fantastic and I actually think they would be amazing with casserole poured over them.
If we are putting the casserole over things, I think these Three Ingredient Mashed Potatoes would be perfect for it too.
And if you want to add some green to dinner, think about making my Arugula Salad. It is so easy to make but really delicious.
If you make my Chicken Pot Pie Casserole recipe or any of my other recipes, please leave me a comment and let me know what you think.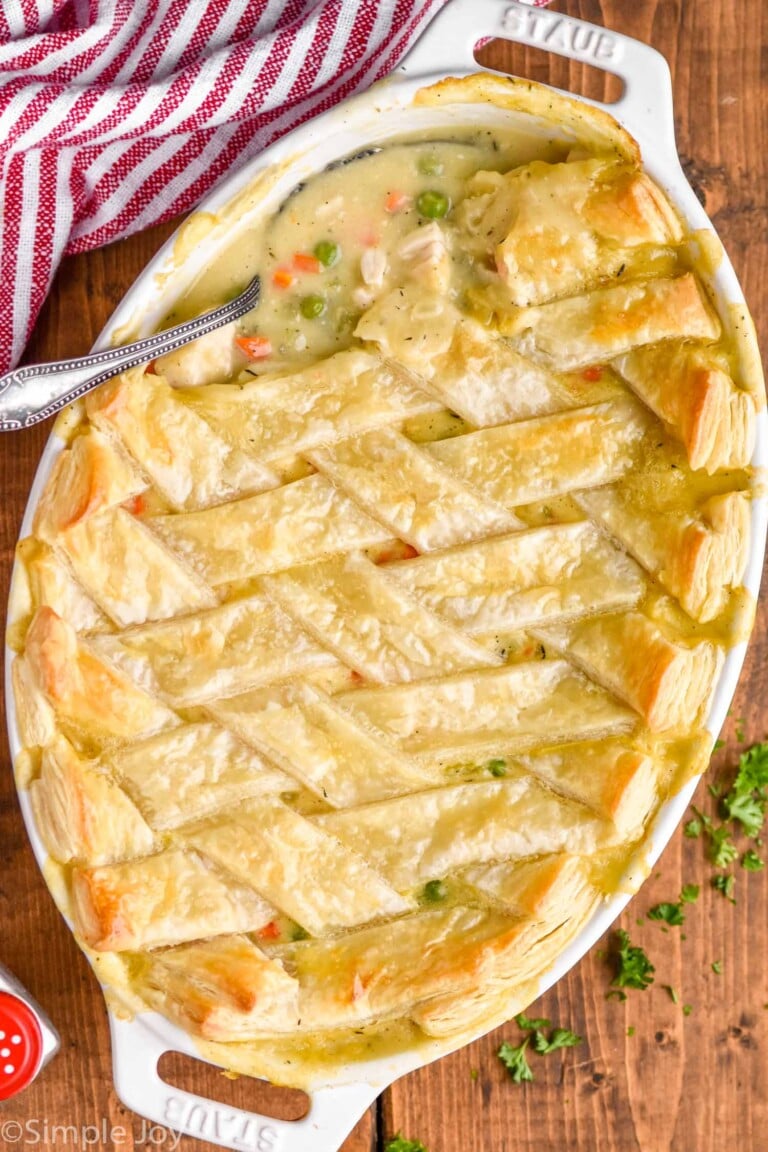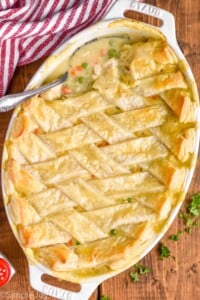 Chicken Pot Pie Casserole
This Chicken Pot Pie Casserole is the most amazing comfort food, in an easy to make casserole. The perfect from scratch sauce really puts this recipe over the top.
Ingredients
4

tablespoons

unsalted butter

2

large carrots

peeled and sliced

2

celery stalks

diced

1

small yellow onion

diced

2

cloves garlic

minced

1

teaspoon

salt

1/2

teaspoon

black pepper

1/2

cup

all purpose flour

2 1/2

cups

chicken stock

1

cup

milk

1/2

teaspoon

dried thyme

2

bay

leaves

1

pound

boneless skinless chicken breasts

cut into bite sized pieces

1

cups

frozen peas

1

sheet puff pastry

thawed

1

egg

whisked
Instructions
Preheat your oven to 375 degrees. Spray a 2 quart casserole dish with cooking spray.

Melt the butter in a large skillet or a dutch oven. Add the carrots, onion, celery, and garlic. Season with salt and pepper and sauté until the vegetables are soft, about 5 to 7 minutes.

Whisk in the flour. (It will look very gummy, but you are on the right track.) Then slowly whisk in the chicken stock, scraping up any browned bits. Whisk in the milk, thyme, and add in two bay leaves. Bring to a simmer.

Add in the chicken and cook for 10 minutes or until the chicken is cooked through. Discard the bay leaves and stir in frozen peas. Pour into the prepared casserole dish.

Top the casserole dish with the puff pastry. Then brush the puff pastry wth the egg wash. (Read here for tips about doing a lattice top.)

Bake for 25 to 35 minutes or until the puff pastry is golden brown. Allow to cool for 10 minutes before dishing up.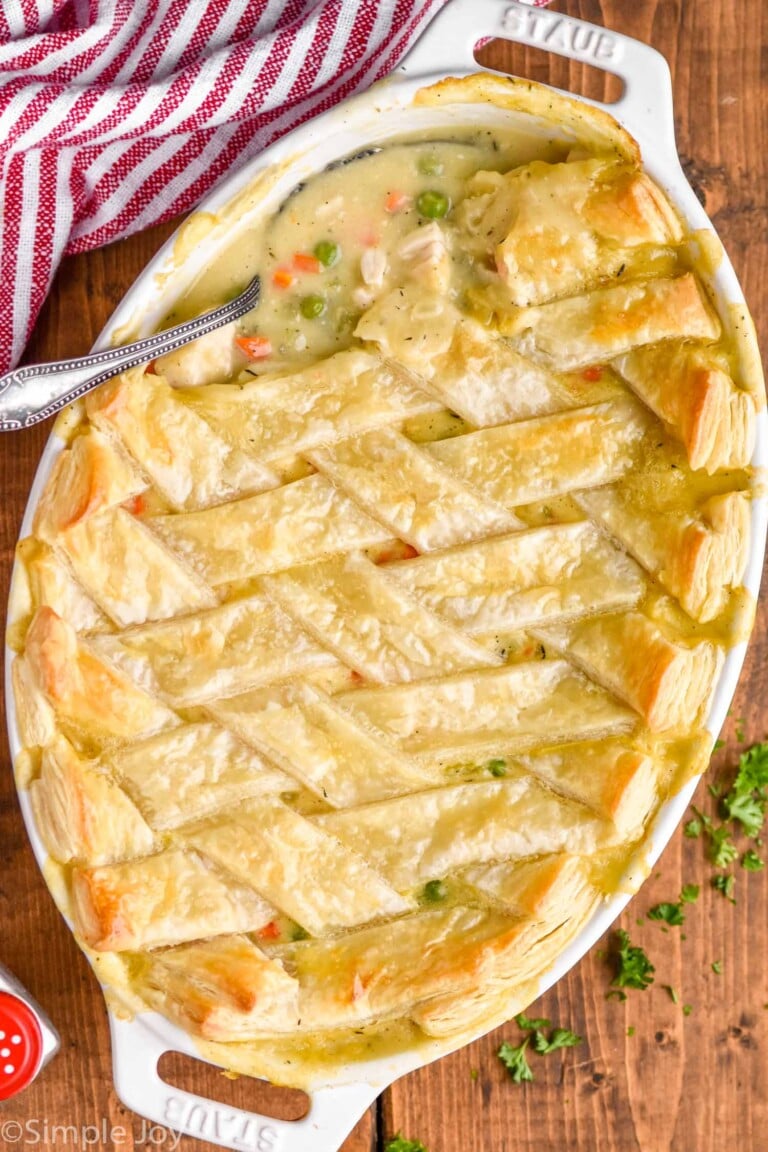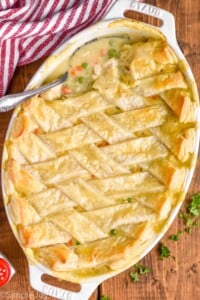 did you make this
Chicken Pot Pie Casserole