Creamed Corn is the perfect easy side dish recipe. It is easy enough for a weeknight meal, but delicious enough to grace your holiday table.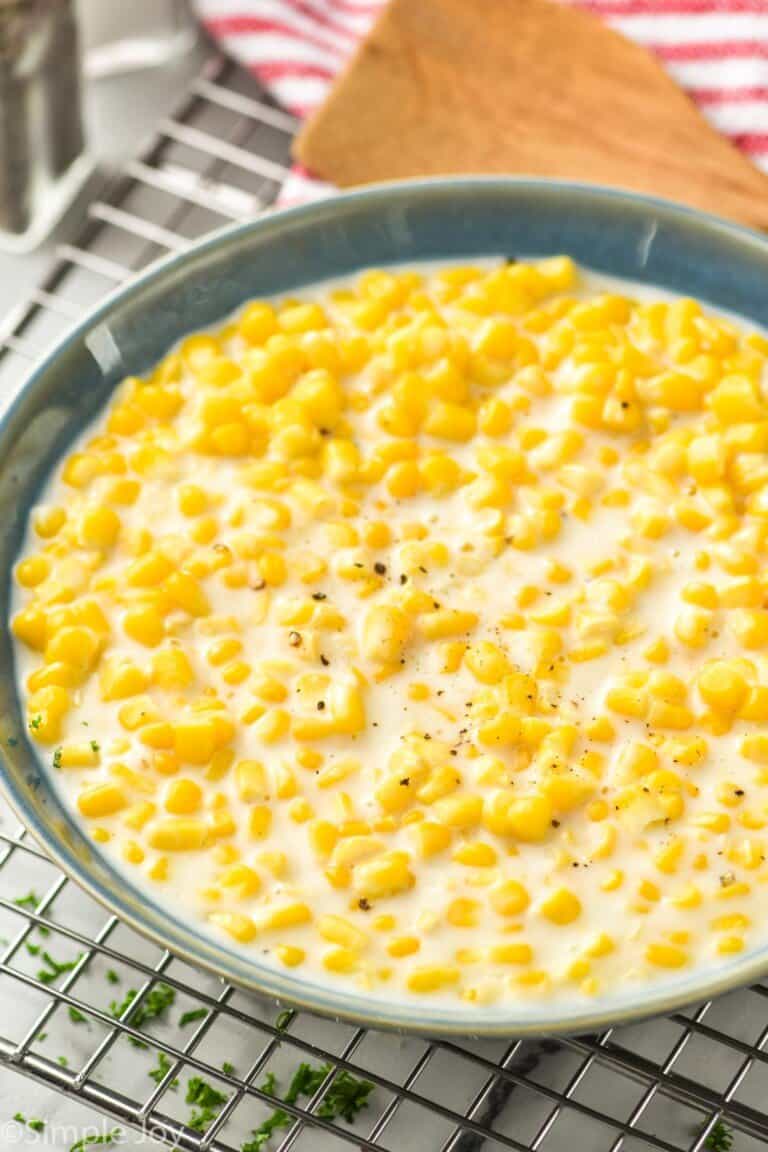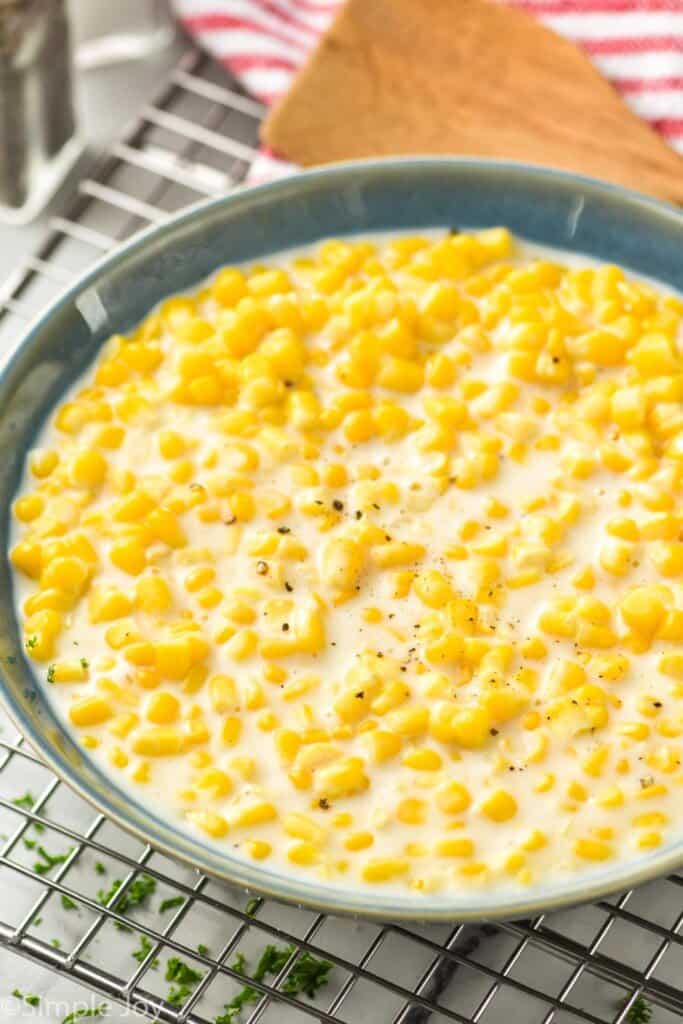 I think one of the things that makes Thanksgiving special – besides the obvious coming together with your loved ones – is the vast selection of comfort foods. The weather just starts to get cold, and then you get together with those you love most for an entire table full of comfort food. Doesn't it just warm your heart thinking about it?
One comfort food that really needs to grace your Thanksgiving table is this amazing and easy Creamed Corn recipe. It comes together on the stovetop in about 15 minutes, making it the perfect addition to the table.
Not only that, but with how easy and delicious this recipe is, you could pop it on your dinner table on a busy weeknight. Your family will love it.
How to Make Creamed Corn
Start by melting some butter. When the butter is fully melted, add in some frozen corn. Cook the corn in the butter until it is thawed and soft, about five minutes.
Add flour to make a roux. This is the foundation of your cream sauce. I'm going to talk about it in depth below, but you will need to add flour to the butter and corn mixture. Things will seem really gummy, and that is okay.
Add in the whole milk. Slowly whisk in some whole milk. When all the whole milk is added, stir in 1/2 a cup of heavy cream.
Bring everything to a boil. Reduce the heat to low and simmer for five minutes. If after the five minutes, it is too thick, add more heavy cream.
Stir in some sugar. We use 1 tablespoon of sugar in this recipe to really pull together all the flavors. It does wonders.
Season with salt and pepper. Start out slow on the salt and pepper – just 1/2 teaspoon of kosher salt and 1/8 teaspoon of freshly ground black pepper. Taste it and decide if you need more.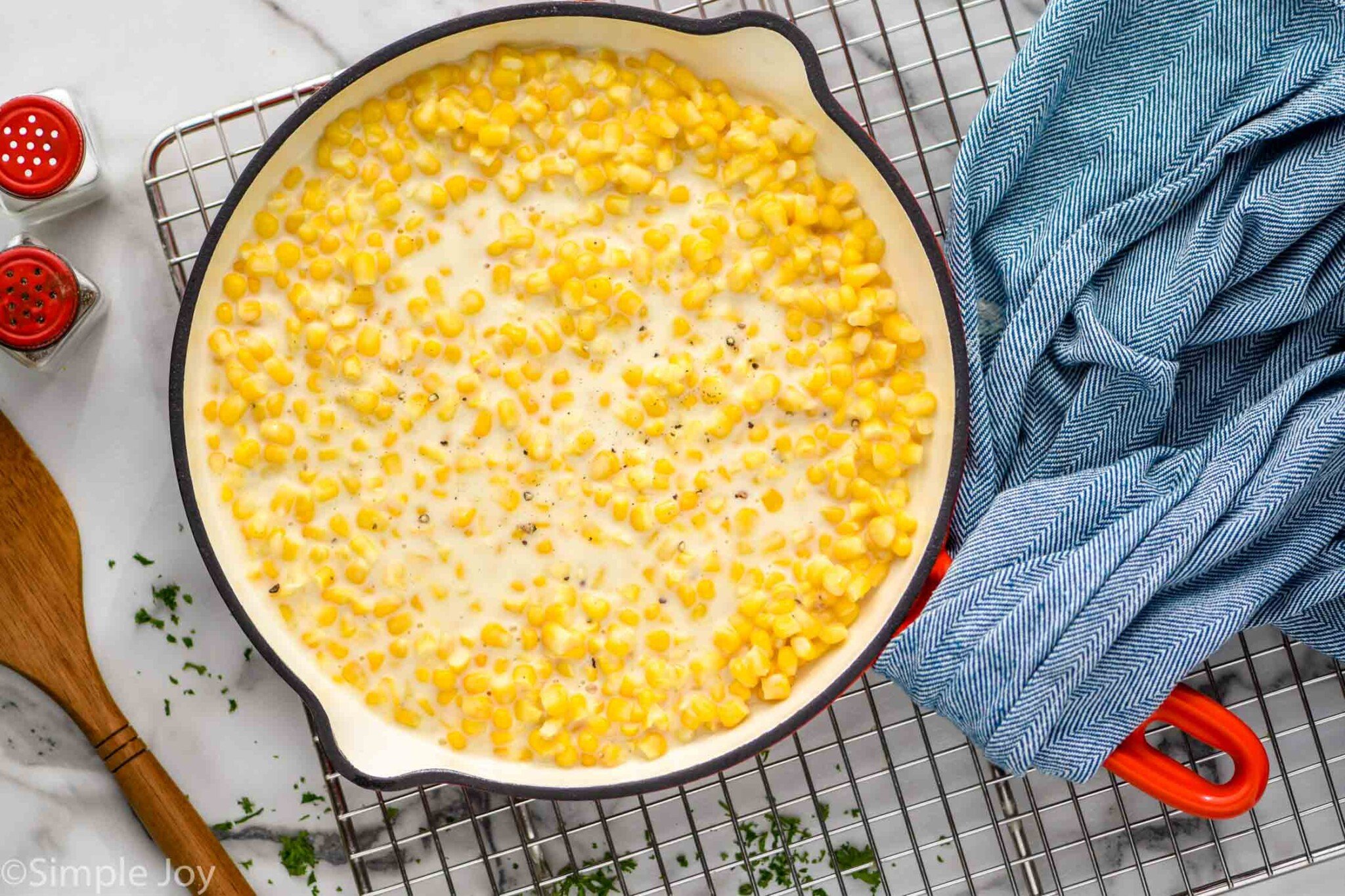 Making a Roux
A roux is made whenever you combine a fat and flour. In my Bacon Jalapeño Creamed Corn (also amazing!) we use the rendered fat from the bacon to make the roux. In this recipe we use butter.
When you fully combine butter and flour the fat molecules coat the starch molecules, allowing them to disperse evenly in your sauce and thicken it. The key to a roux is two fold. First, you need to cook the butter and flour together to cook out the raw taste of the flour. Second, you need to slowly add your liquid (in this case whole milk) to the roux. Doing so will let the roux do its job properly and thicken up your sauce.
Unlike a traditional roux, we are adding butter, then corn, then flour. While it makes it a little trickier to combine everything, it will totally work and you will have a great creamy sauce.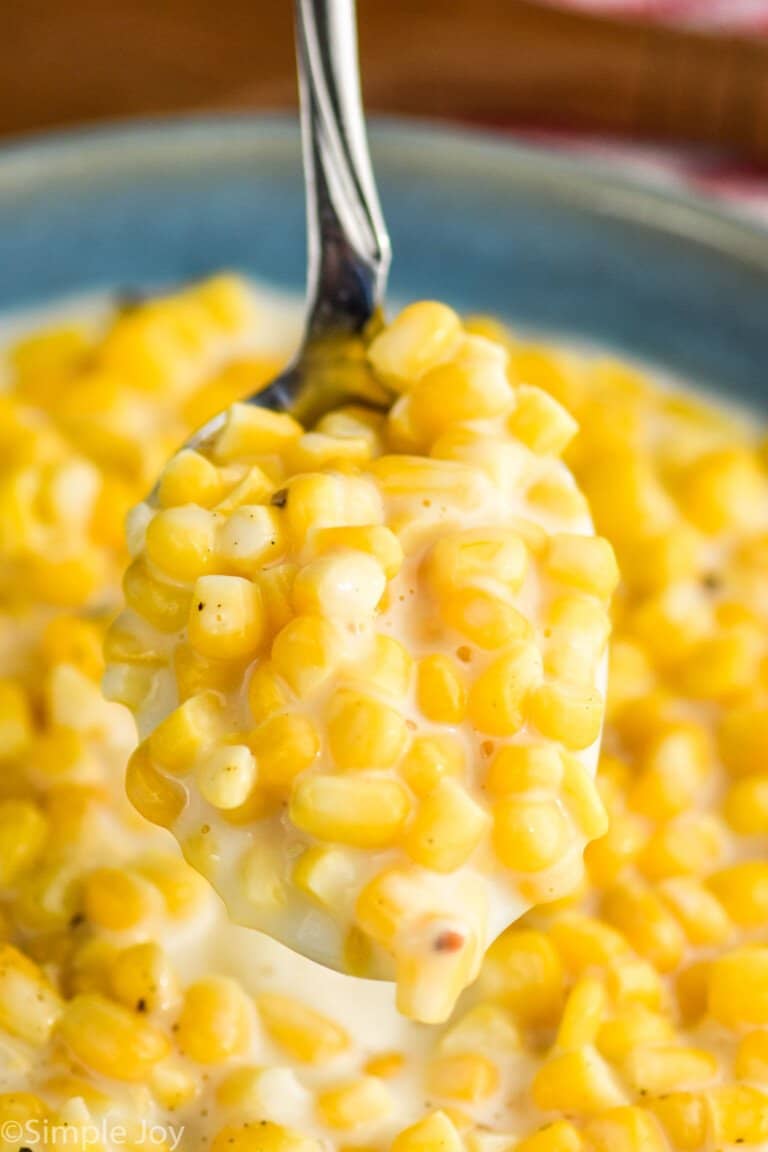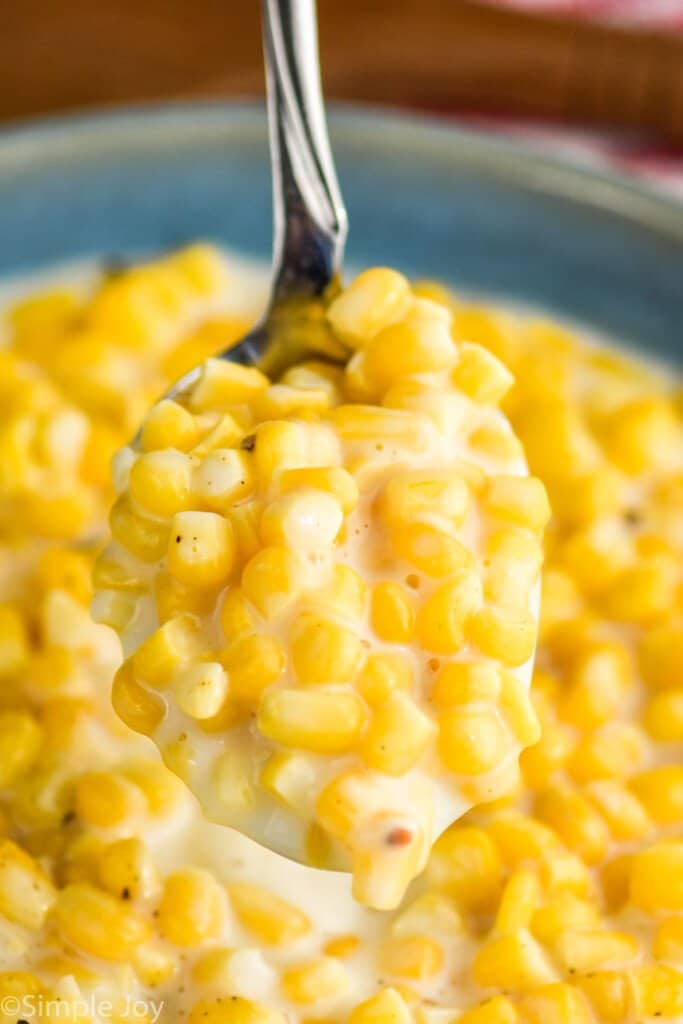 Frozen Corn or Fresh Corn
For the sake of convenience, I'm calling for frozen corn in this recipe. But, just like my Corn Chowder, the corn taste is significantly better when you are able to use fresh corn. The sauce and the corn combine better and that great sweet corn taste is perfectly distributed throughout the dish.
If you use fresh corn, you will need 3 cups or about 4 medium corn cobs. You will want to use the bundt pan trick to cut the kernels off the cobb. Put the stalk of the corn through the hole in a bundt pan, and then using a sharp knife, cut down the length of the cob. The corn kernels will fall right into the bundt pan.
FAQ
Corn is sweet enough, why did you add sugar?
Traditionally, homemade creamed corn is on the sweet side. You can certainly leave out the sugar, but you might find that it is missing something without it. I suggest trying it without and then adding a teaspoon at a time (for a max of 3 teaspoons) until you get a flavor you like.
Is creamed corn gluten free?
Unfortunately, it is not because we are using flour to make a roux. I've successfully made a roux with almond flour and that would be a great substitute to make this gluten free. That being said, always double check all of your ingredients to ensure they are gluten free.
Is creamed corn vegan?
It is not vegan. This recipe contains butter and whole milk. You could make this vegan using a soy butter and soy heavy cream in place of the whole milk and heavy cream.
Can creamed corn be frozen?
This is not my favorite thing to freeze, but the answer is yes. When thawing, my advice would be to thaw overnight in your refrigerator. To reheat, place it in a small saucepan over low heat and stir often.
How much does this make?
The corn in this recipe cooks down and you end up with 2 cups of creamed corn.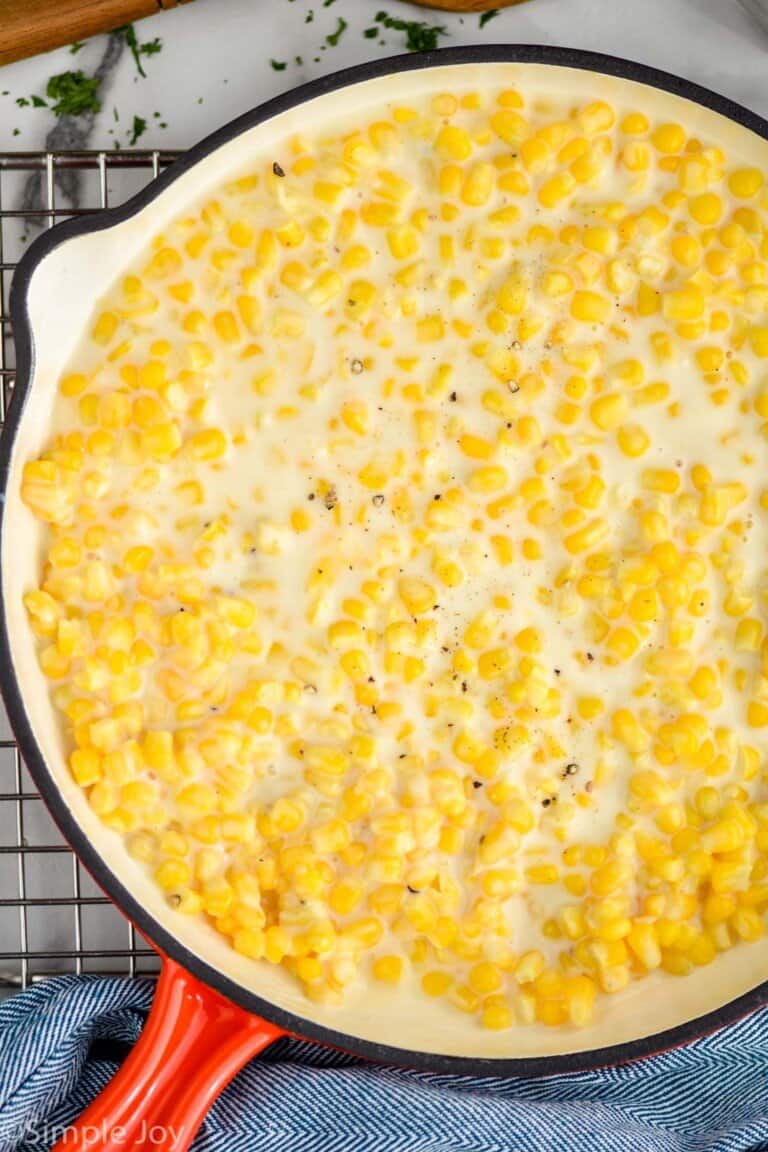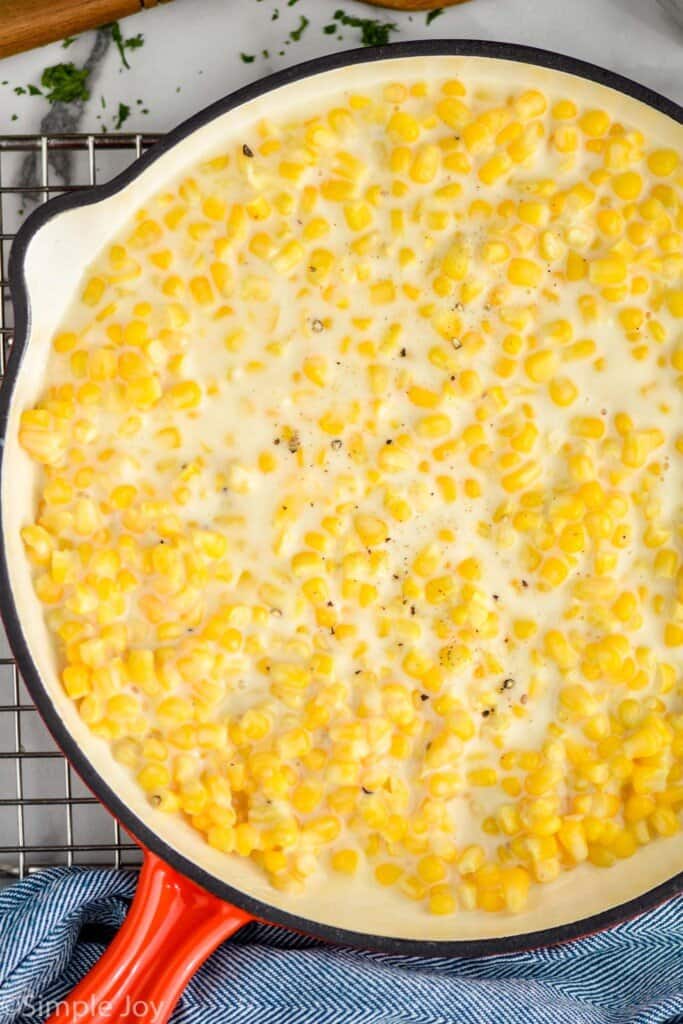 Other Great Side Dishes
If you make this amazing Creamed Corn recipe or any of my other recipes, leave me a comment and let me know what you think!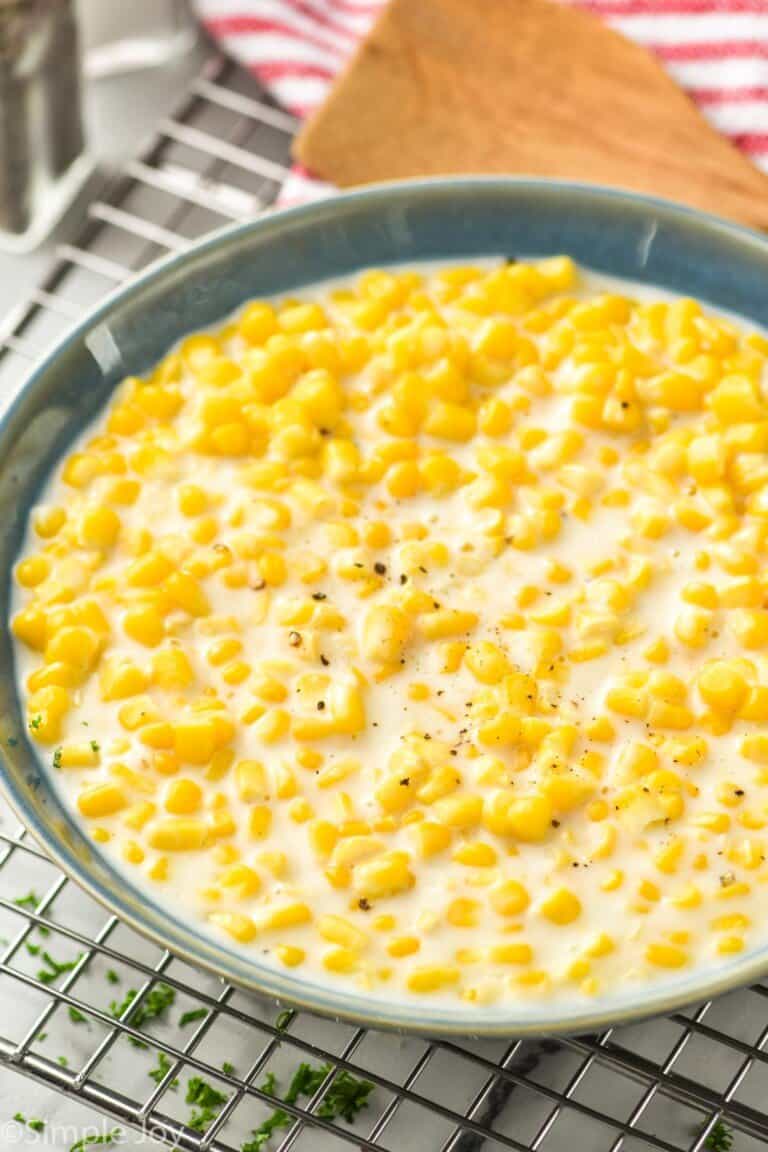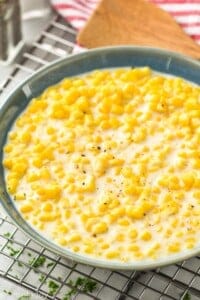 Creamed Corn
Creamed Corn is the perfect easy side dish recipe. It is easy enough for a weeknight meal, but delicious enough to grace your holiday table.
Ingredients
16

ounces

frozen corn

or 3 cups fresh corn or four cobs – read my thoughts on fresh vs. frozen corn here

3

tablespoons

unsalted butter

1/4

cup

flour

1/2 – 1

cup

heavy cream

1

tablespoon

sugar

1/2

teaspoon

kosher salt

plus more to taste

1/8

teaspoon

fresly ground black pepper

plus more to taste
Instructions
In a large skillet over medium heat, melt the butter.

Add in the frozen corn and cook until it is thawed and soft, about five minutes. (If you are using fresh corn, cook until it is tender.)

Whisk in the flour. This will make things a big gummy, but that is okay. Cook for about 30 seconds. Slowly whisk in the whole milk. You should add a little bit, allow it to get fully combined with the flour and butter before adding in more. It will get easier to add the further along you go and you can addit more quickly.

Add in 1/2 a cup of heavy cream. Bring everything to a boil and then turn to a simmer for five minutes. If after simmering it is too thick, add another 1/4 cup to 1/2 cup of heavy cream.

Stir in the sugar, taste, add in the salt and pepper. Taste and add more salt and pepper as needed.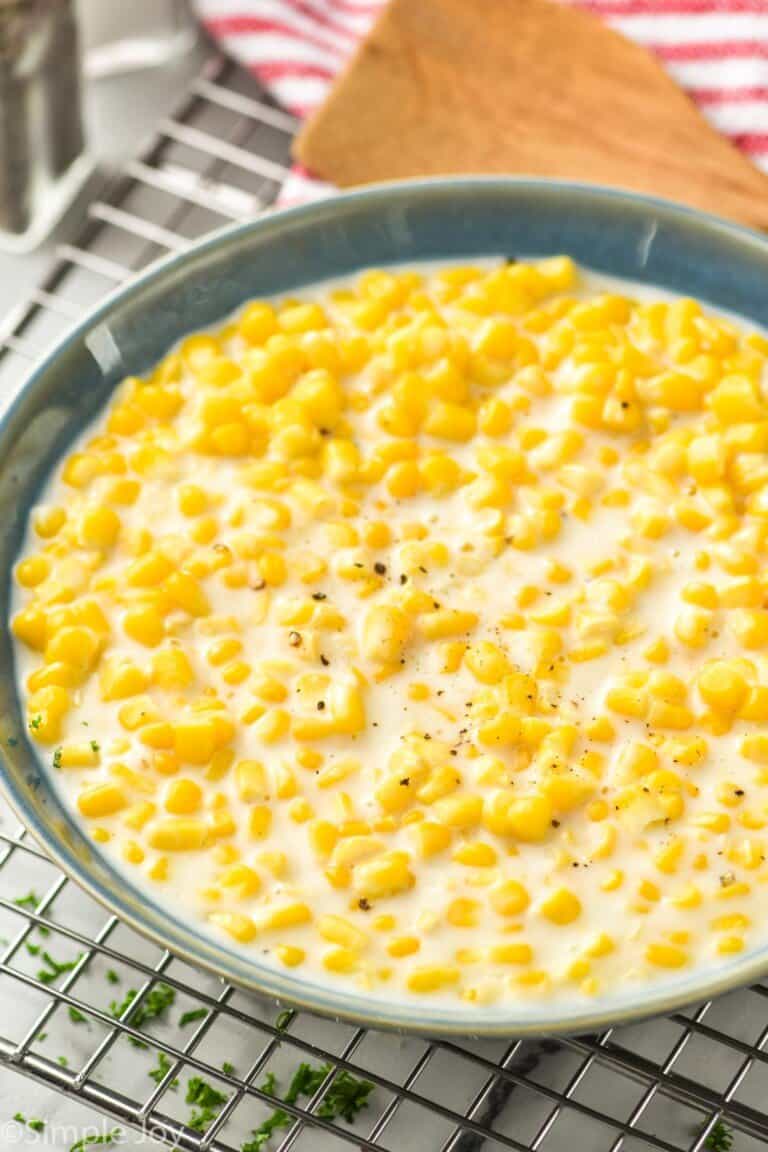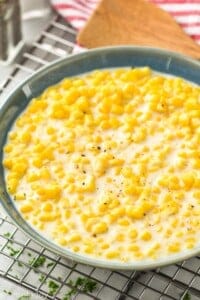 did you make this
Creamed Corn