This Crockpot Spaghetti Sauce isn't just easy to make. It is also absolutely delicious, and makes your house smell amazing.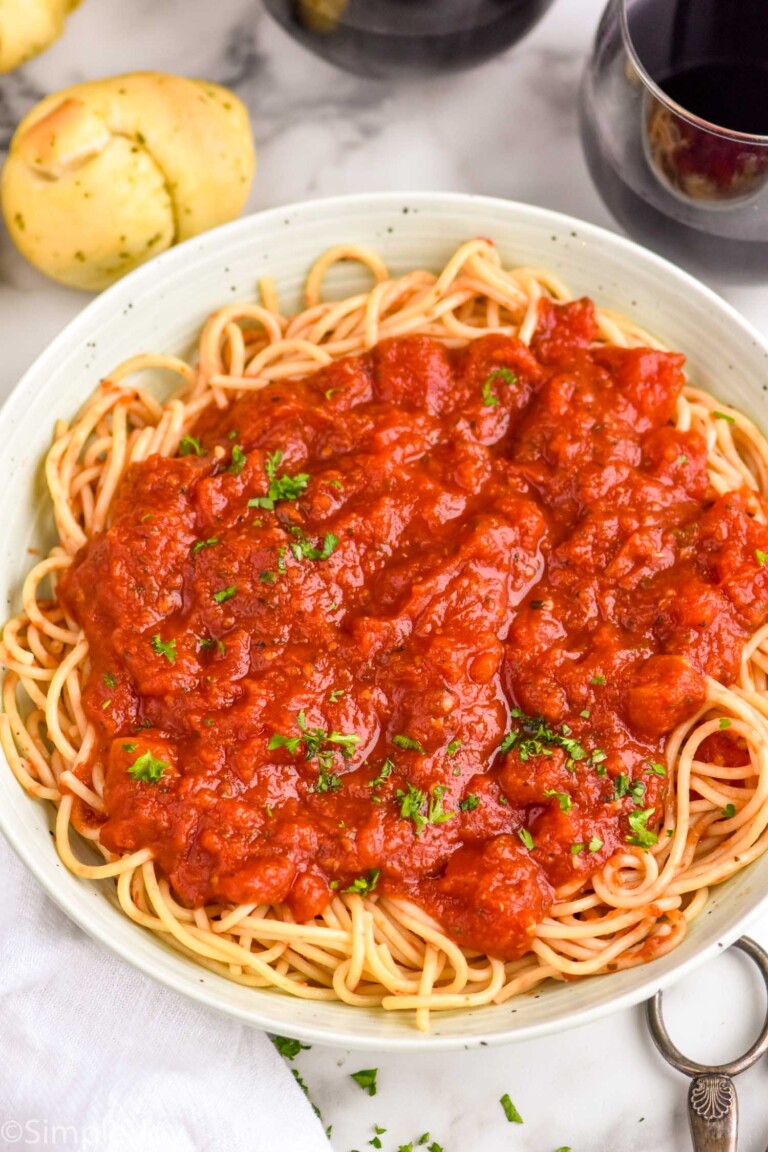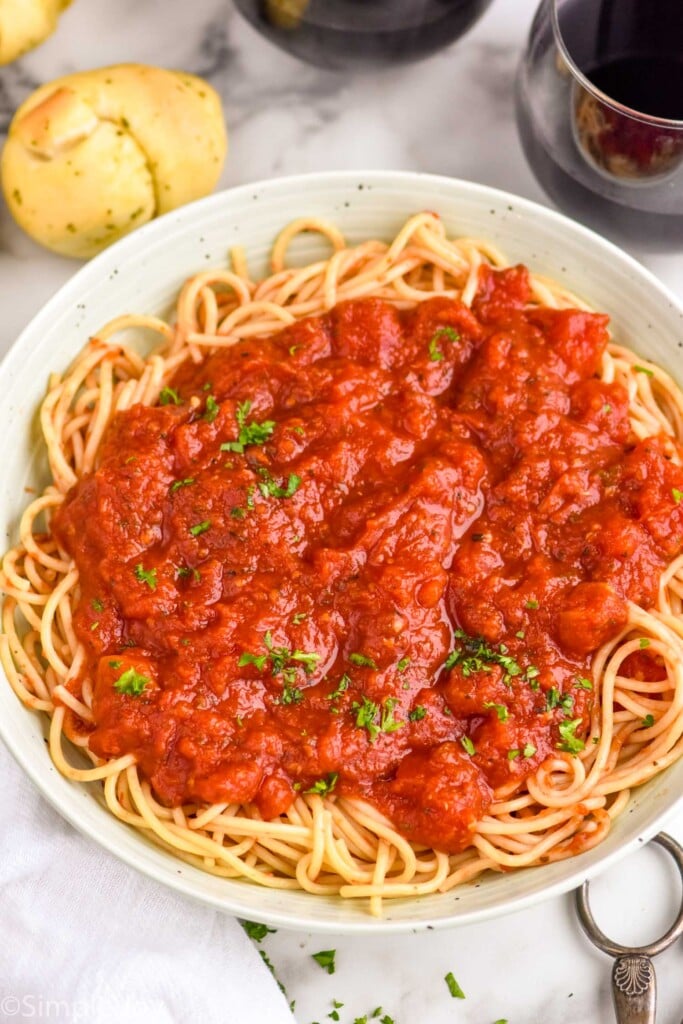 I remember going to my grandparents' house and walking in to the amazing smell of a simmering sauce. It was made with tomatoes they had grown in their garden and was bubbling away most the day.
In a world where I want something reminiscent of my grandparents' sauce but where the time to make it doesn't exist for me, this Crockpot Spaghetti Sauce is the perfect answer. It simmers away in the slow cooker, allowing me to come and go, but it is has that deep rich flavor.
How to Make Crockpot Spaghetti Sauce
This is just a brief overview of how to make this delicious sauce. For the full recipe with all of the measurements, see the recipe card at the bottom of the post.
Combine all of the ingredients in the slow cooker. Cook on low for three to four hours.
Taste and adjust. At the end of the cooking time, taste your sauce and decide if it needs more salt, pepper, sugar, or red pepper flakes.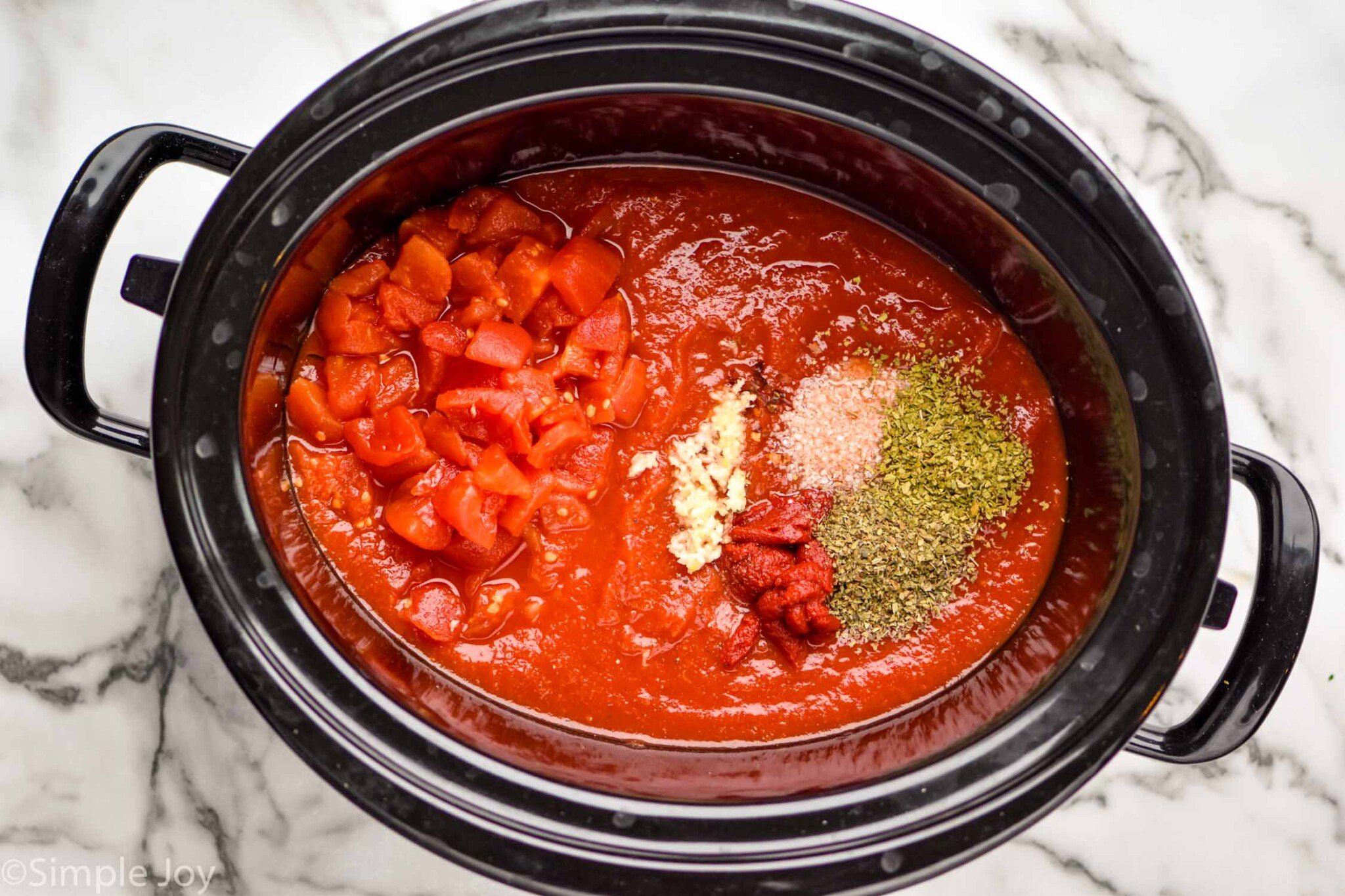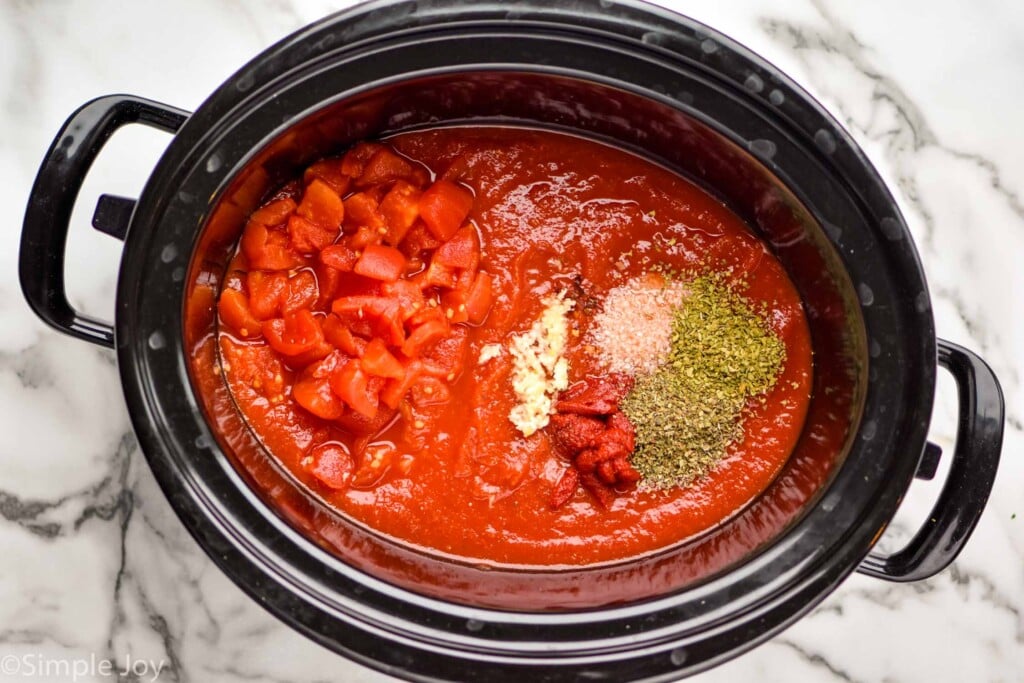 Sugar in Spaghetti Sauce
I often get asked why I put sugar in my spaghetti sauce. Tomatoes, by nature, have a lot of acidity to them. This is especially noticeable with canned tomatoes. Just a little bit of sugar helps to balance the acid.
Try to think of it like the scale that Lady Justice is holding. One one side is the acidity of the tomatoes – almost a bitterness. We are adding just enough sugar to the other side of the scale so that both sides are level with each other. Too much sugar and it will weigh down the sugar side and make the sauce sweet. Not enough sugar, and the acidic tomatoes win out. When you add just the right amount, you don't taste sweetness or acidity, just the wonderful flavors of the sauce.
This recipe calls for 2 teaspoons of sugar, but if at the end of the cooking time you still taste that bitterness from the tomatoes, add another 1/2 teaspoon in.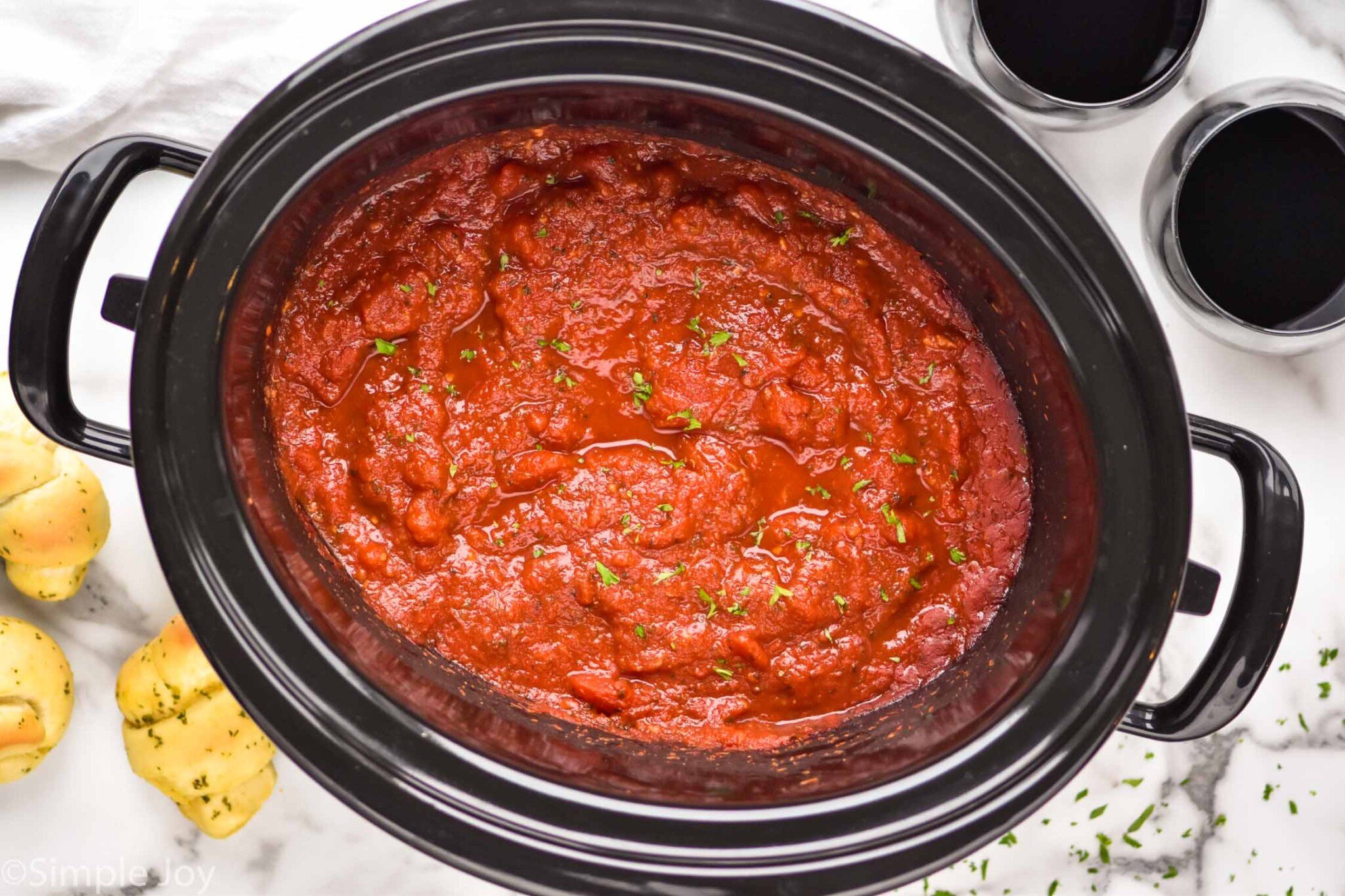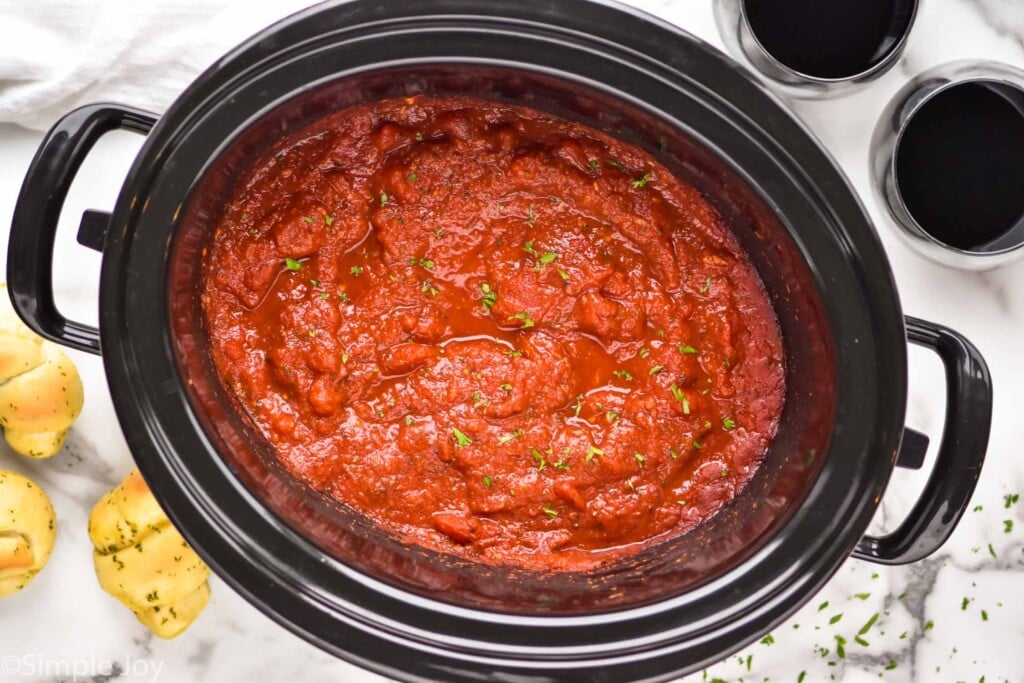 Using Canned Tomatoes
We are using canned tomatoes in this recipe. While I do not believe they are as good as fresh tomatoes from my garden, I think they can still make a delicious sauce. And using canned saves so much time.
Draining Diced Tomatoes
You will notice that in this recipe we are draining the diced tomatoes. This is different from my easy Homemade Spaghetti Sauce, where nothing gets drained. The reason behind this difference is that in the slow cooker there will be much less moisture lost. So we want to start the recipe with less.
If your family doesn't like chunky tomato sauce, consider that the pieces of tomato break down quite a bit during cooking. If it is still too chunky, you could transfer the finished sauce to a blender or use an immersion blender.
Variations on Crockpot Spaghetti Sauce
Add in onions. Most spaghetti sauce has a diced onion in it. It's just that it was in my marriage vows not to use onions. But simply add one at the beginning. A raw onion will cook away in the sauce and come out perfectly.
Add other vegetables. In addition to onion, you could add other great vegetables. I would consider adding carrots and red bell peppers. Keep in mind that vegetables like zucchini will add a lot of water to the recipe. You may want to sauté it before adding it.
Make it a meat sauce. You can brown some ground beef or Italian sausage before making this and add it to the crockpot at the beginning of the cook time for a great spaghetti meat sauce.
Spice up the spaghetti sauce. We are already calling for 1/8 of a teaspoon of red pepper flakes. I you want to take it up a notch you could add more.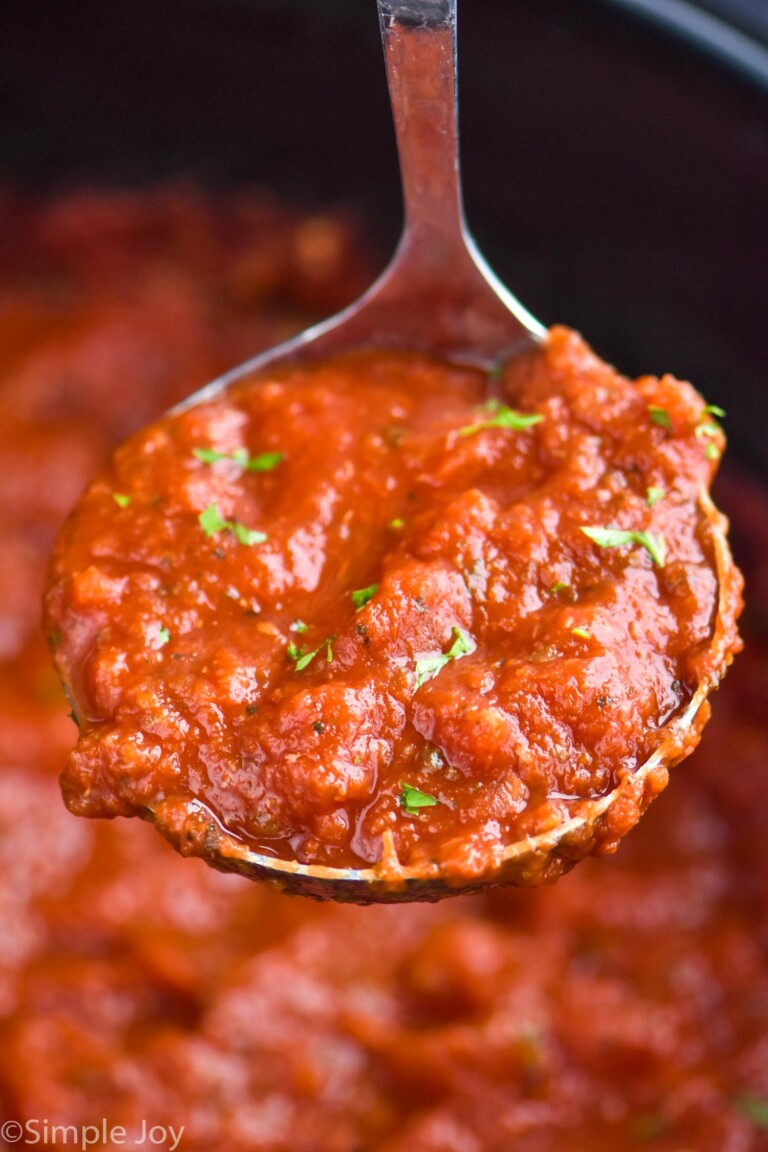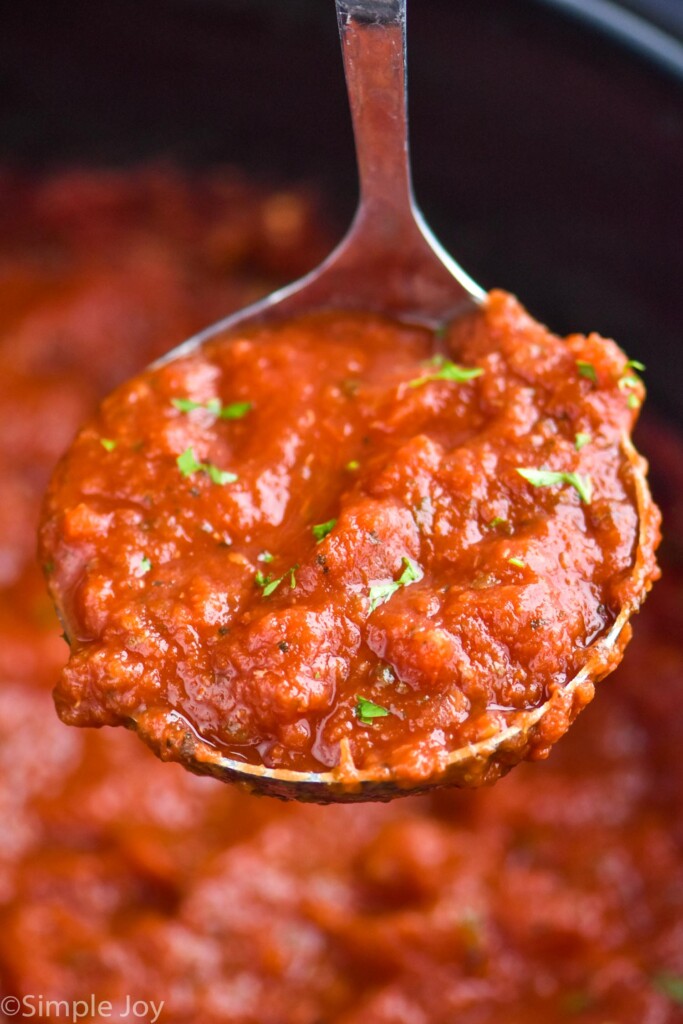 FAQ
How do you thicken spaghetti sauce made in the crockpot?
This sauce was specifically designed to be as thick as sauce made on the stovetop. Since we don't have the simmering to remove liquid, we are starting with less by draining the diced tomatoes.
Can this recipe be doubled?
Yes! Double all of the ingredients, drain the diced tomatoes well, and add one hour to the cooking time.
How much spaghetti sauce does this recipe make?
This recipe makes 3 cups.
Can I make this spaghetti sauce in my Instant Pot?
Honestly, I tried so many times to make this in the Instant Pot, and I just wasn't satisfied with the taste. The tomato sauce scorches so easily leaving the whole sauce with a very bitter taste.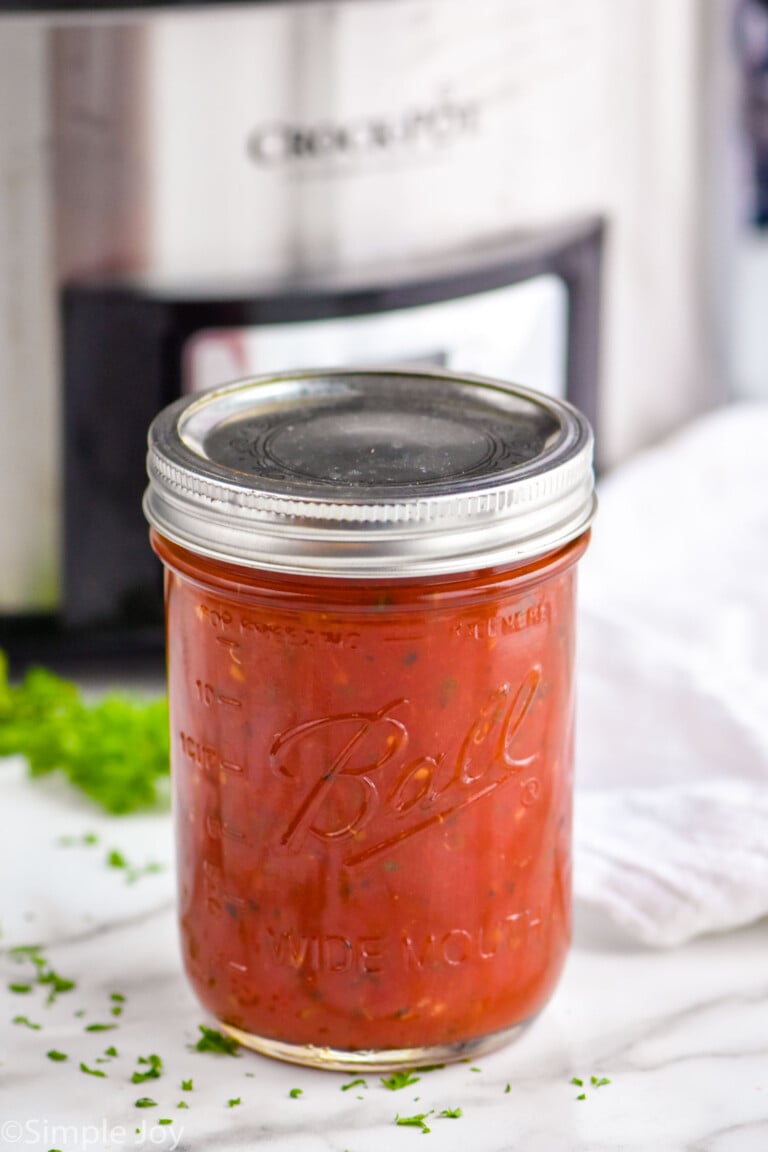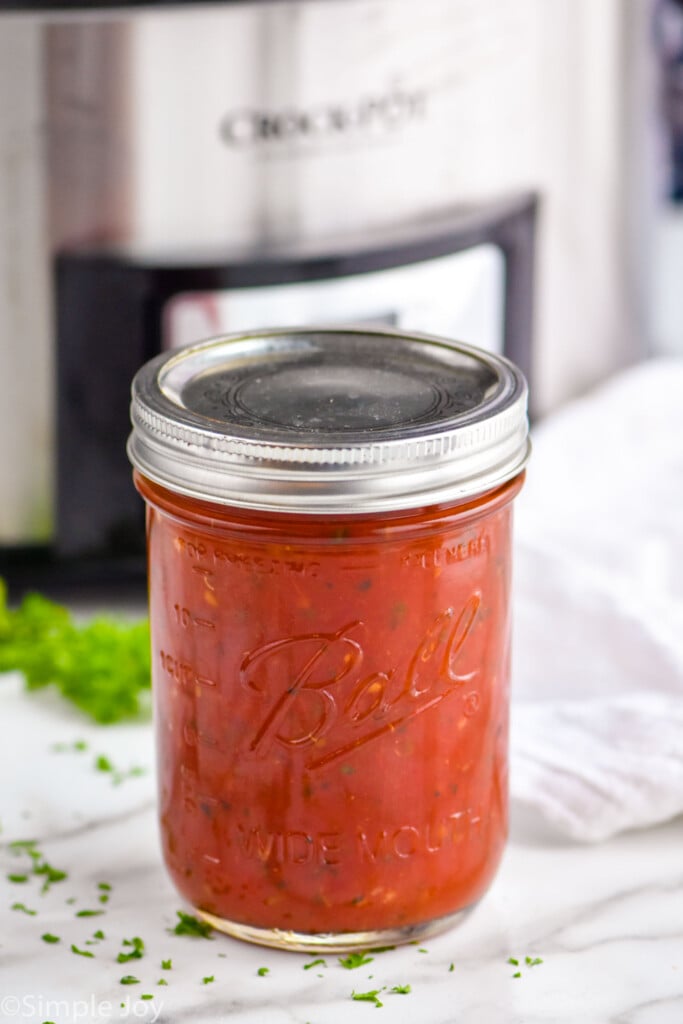 Recipes to Use Slow Cooker Spaghetti Sauce
If you make this Crockpot Spaghetti Sauce recipe or any of my other recipes, leave me a comment and let me know what you think.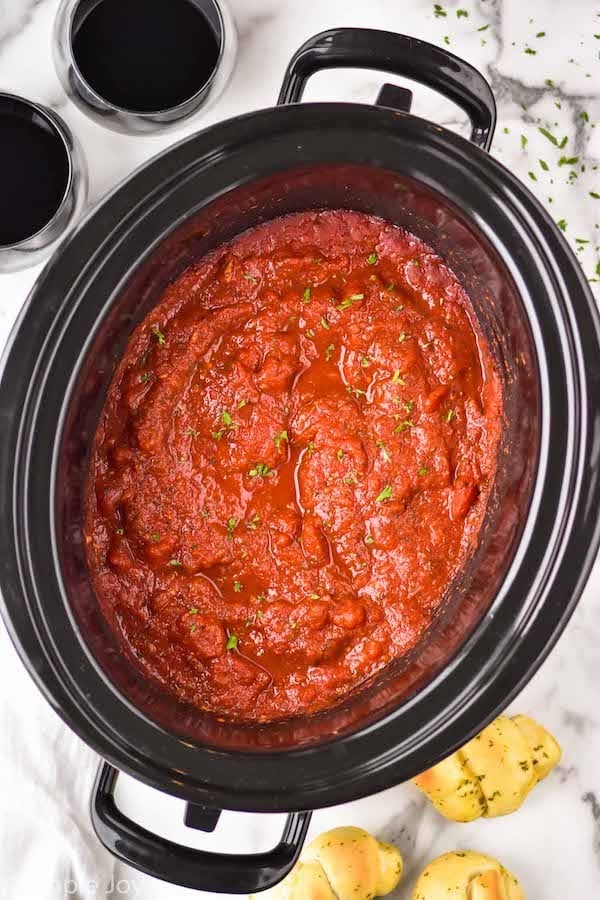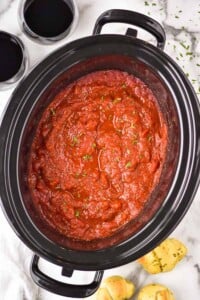 Crockpot Spaghetti Sauce Recipe
This Crockpot Spaghetti Sauce isn't just easy to make. It is also absolutely delicious, and makes your house smell amazing.
Ingredients
4

garlic cloves

minced

28

ounces

crushed tomatoes

15

ounces

diced tomatoes

drained

2

tablespoons

tomato paste

2

teaspoons

granulated sugar

read here about why we add sugar to spaghetti sauce

1

teaspoon

kosher salt

1

teaspoon

dried oregano

1

teaspoon

dried basil

1/8

teaspoon

crushed red pepper flakes

optional

dash of freshly ground black pepper
Instructions
Combine all of the ingredients in your slow cooker and cook on low for three to four hours. Taste at the end and adjust the sugar, salt, or pepper as needed.

Use immediately or store in the refrigerator for 4 to 5 days.
Notes
The diced tomatoes make for a nice chunky sauce.  If your family doesn't dig on chunks, replace the diced tomatoes with a second can of crushed tomatoes.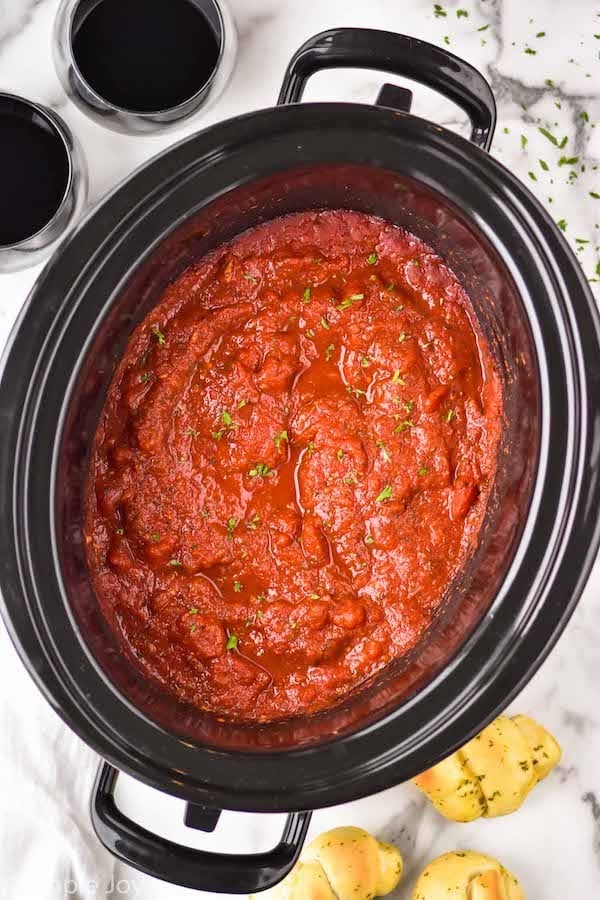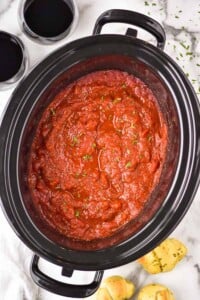 did you make this
Crockpot Spaghetti Sauce Recipe