This Baked Chicken Parmesan comes together easily and is a great comforting dinner.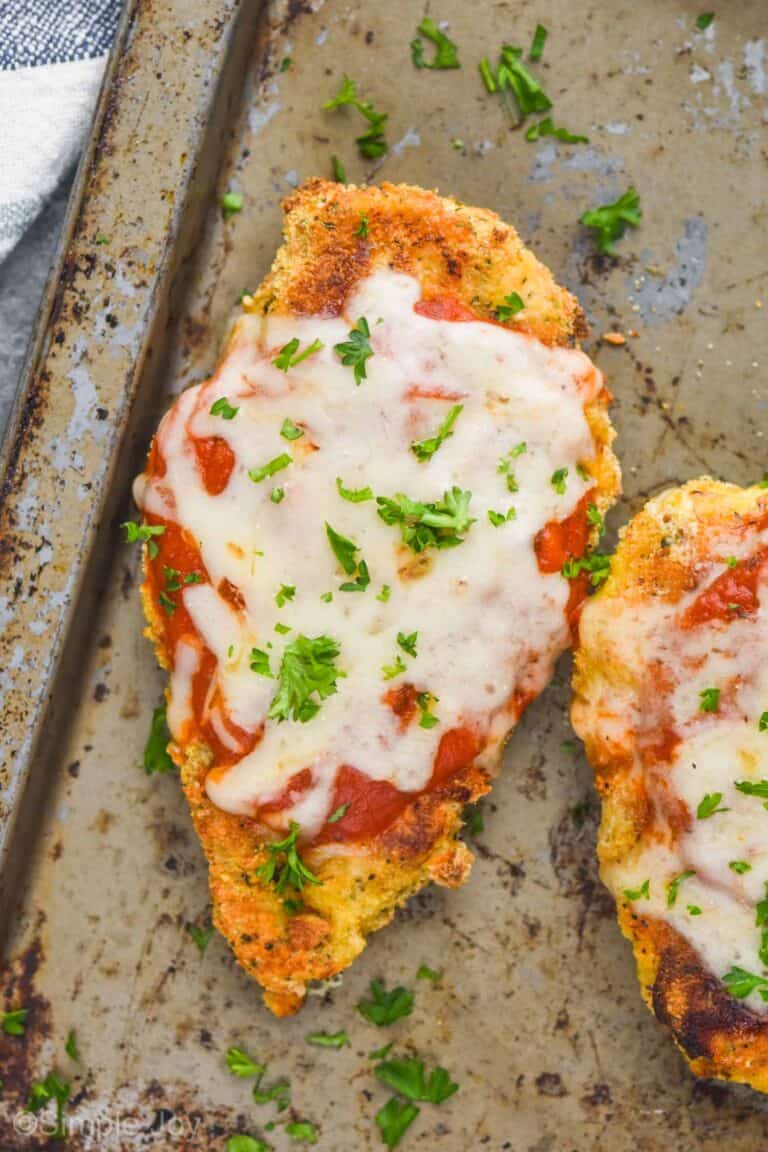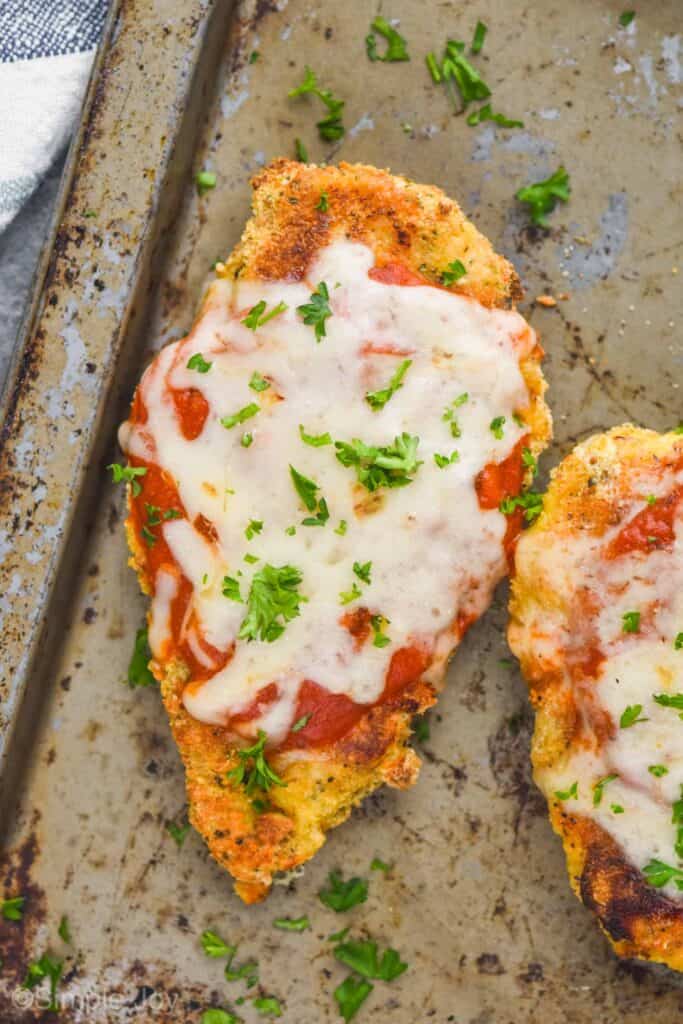 In the quest to find easy delicious dinners for you, I have another winner! This delicious and easy to throw together Baked Chicken Parmesan is perfect for a weeknight meal.
One of my picky eaters looked at this dinner like the ultimate skeptic she is. And then she proceeded to devour it. She was looking over my shoulder as I edited photos and said, "Oh that was YUMMY!" The ultimate seal of approval.
You will love skipping the frying of the chicken, and you will still be impressed with the deep flavor and moist chicken. This is a perfect family dinner meal; one that everyone will love.
HOW TO MAKE BAKED CHICKEN PARMESAN
While a lot of chicken parmesan recipes require some pan frying, we are skipping that step all together and throwing these bad boys right in the oven.
BUTTERFLY THE CHICKEN
We are cutting out the step of pounding the chicken thin. With how thick chicken breasts are coming these days, it feels safe to say that we can butterfly them open and be ready to bread them up.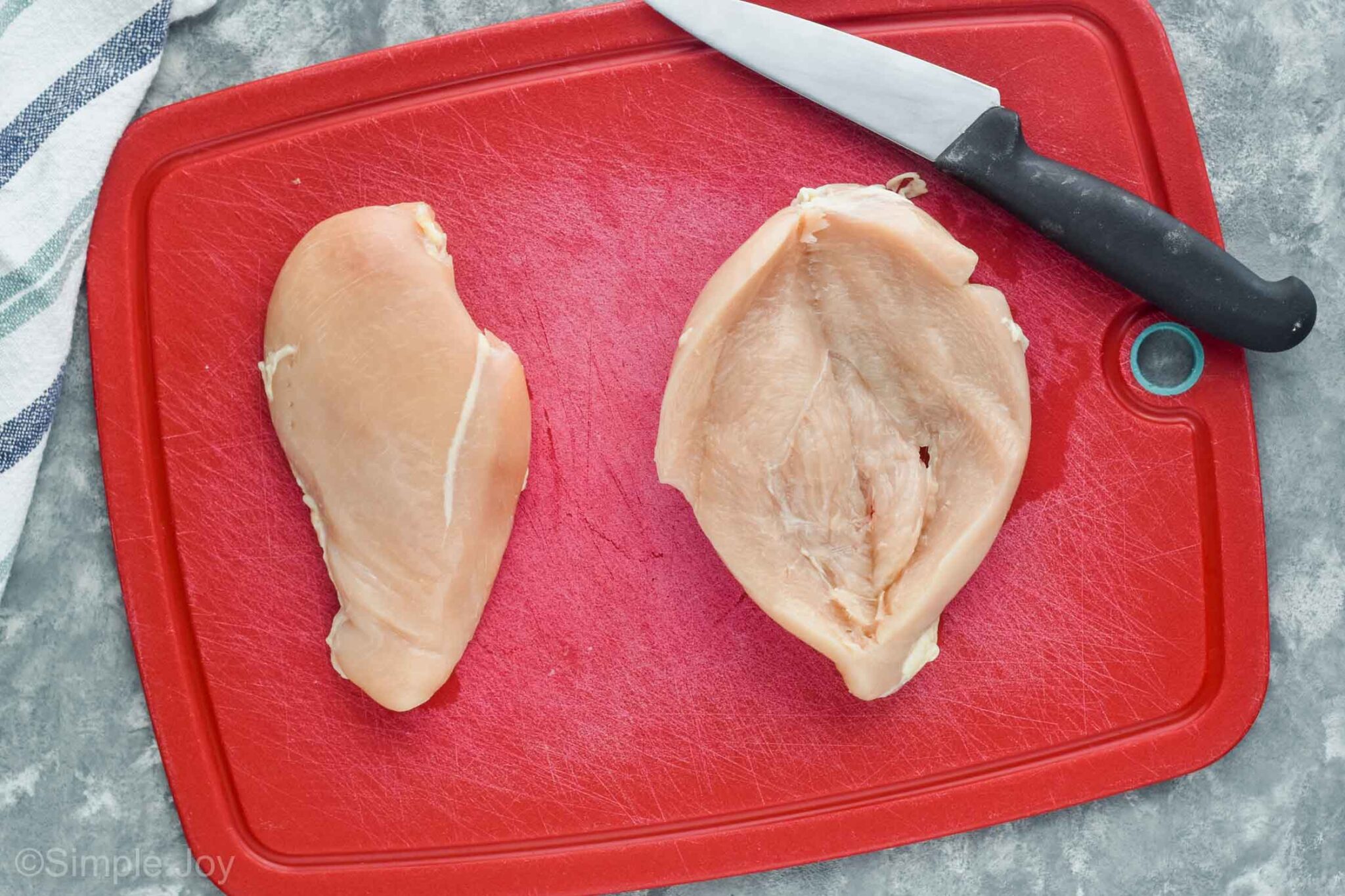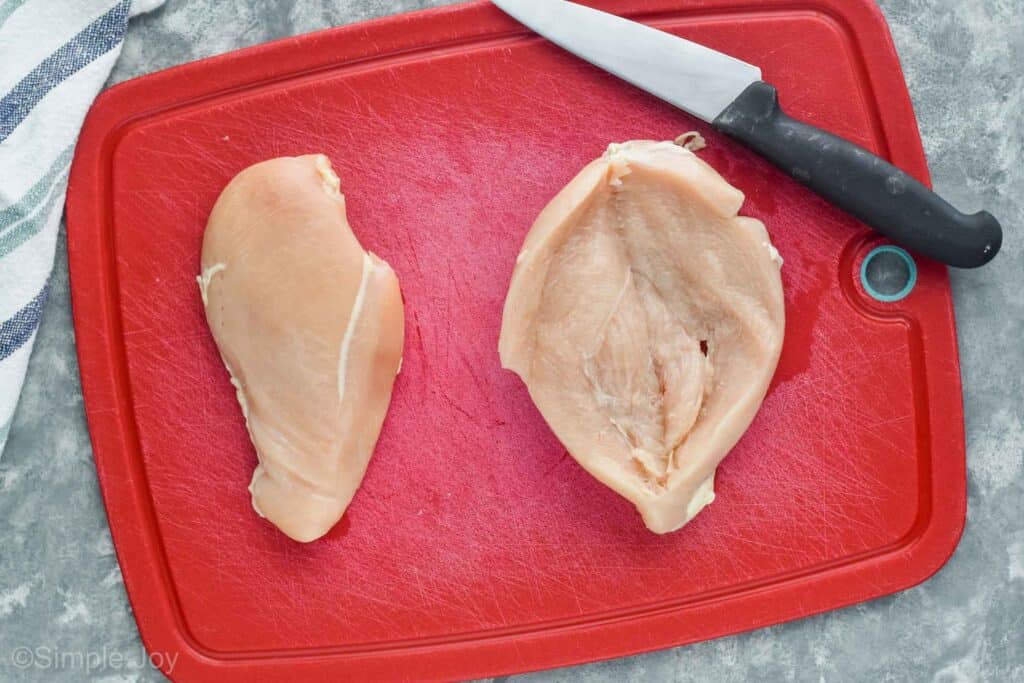 If after you butterfly your chicken, you find that there are still parts that are too thick (over half an inch thick), place the chicken between two pieces of plastic wrap. Use a meat mallet or a rolling pin to pound it so the entire piece is half inch thickness.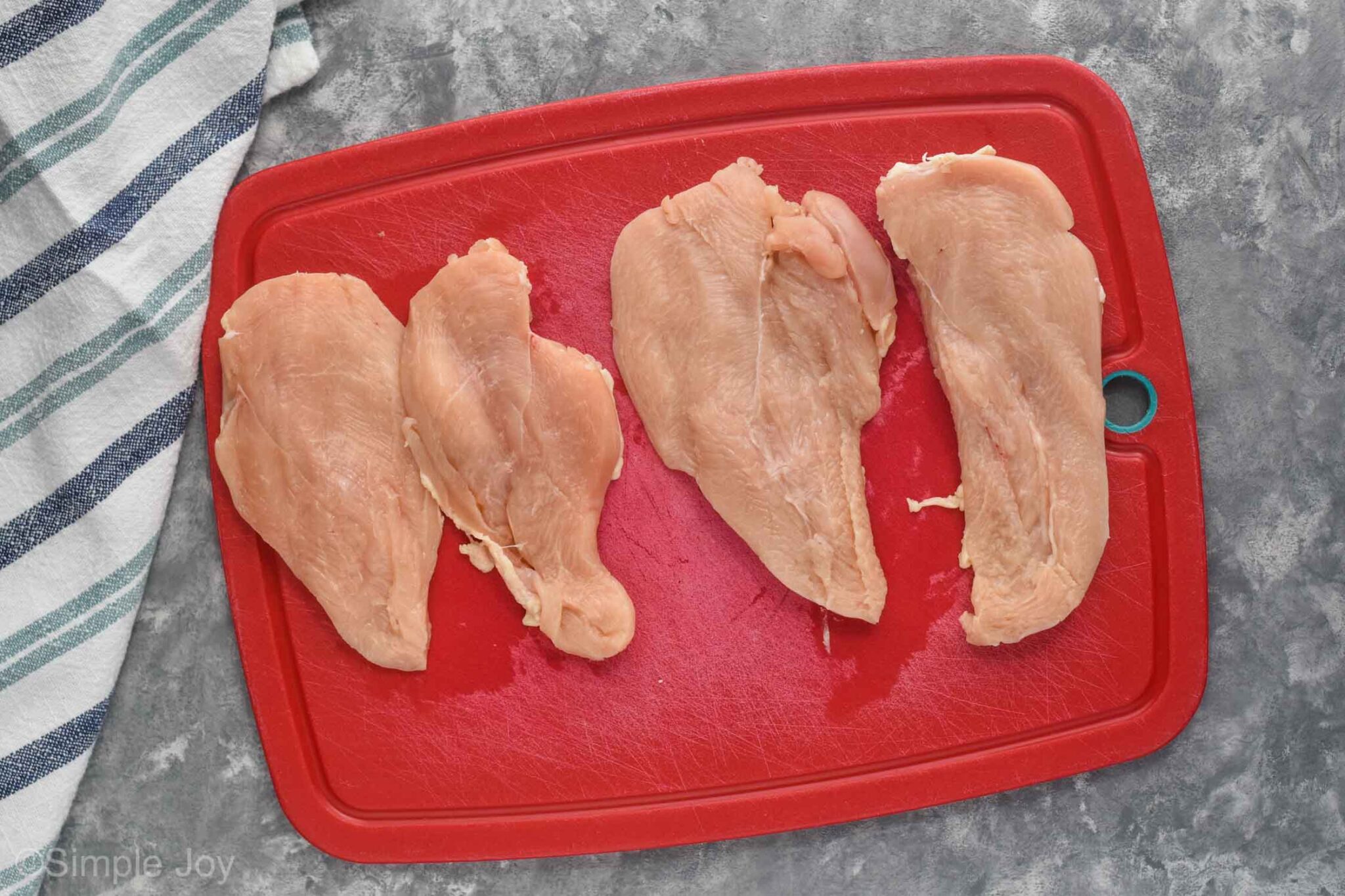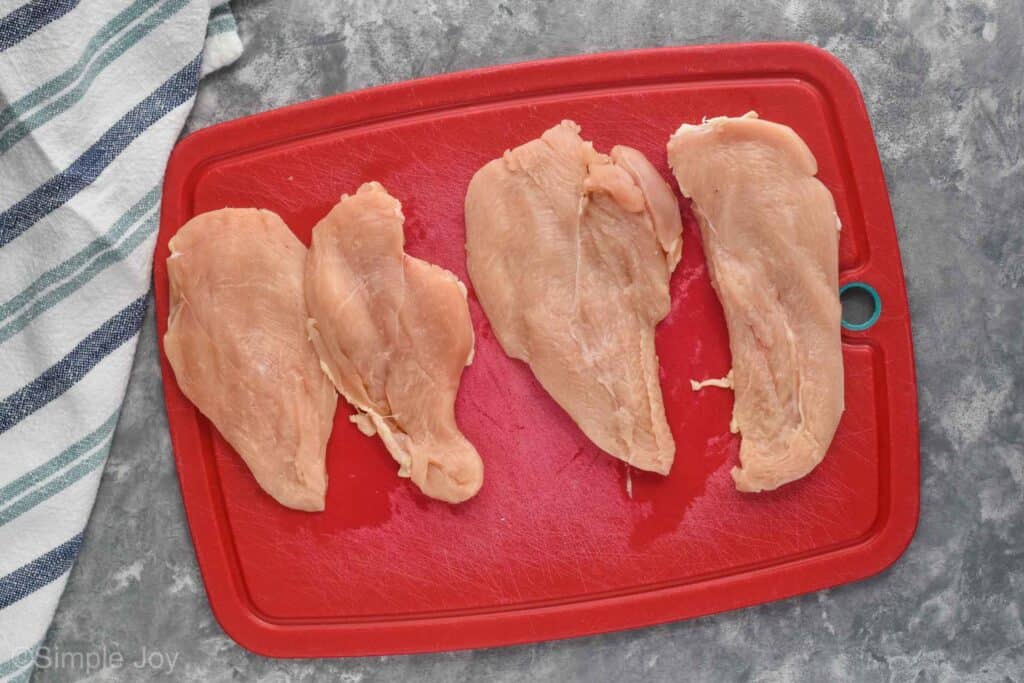 Now season the chicken on both sides with kosher salt and freshly ground black pepper.
DIP IN FLOUR
We use all purpose flour to lightly coat our chicken. The flour sticks to the wet chicken and helps the egg wash stick in the next step.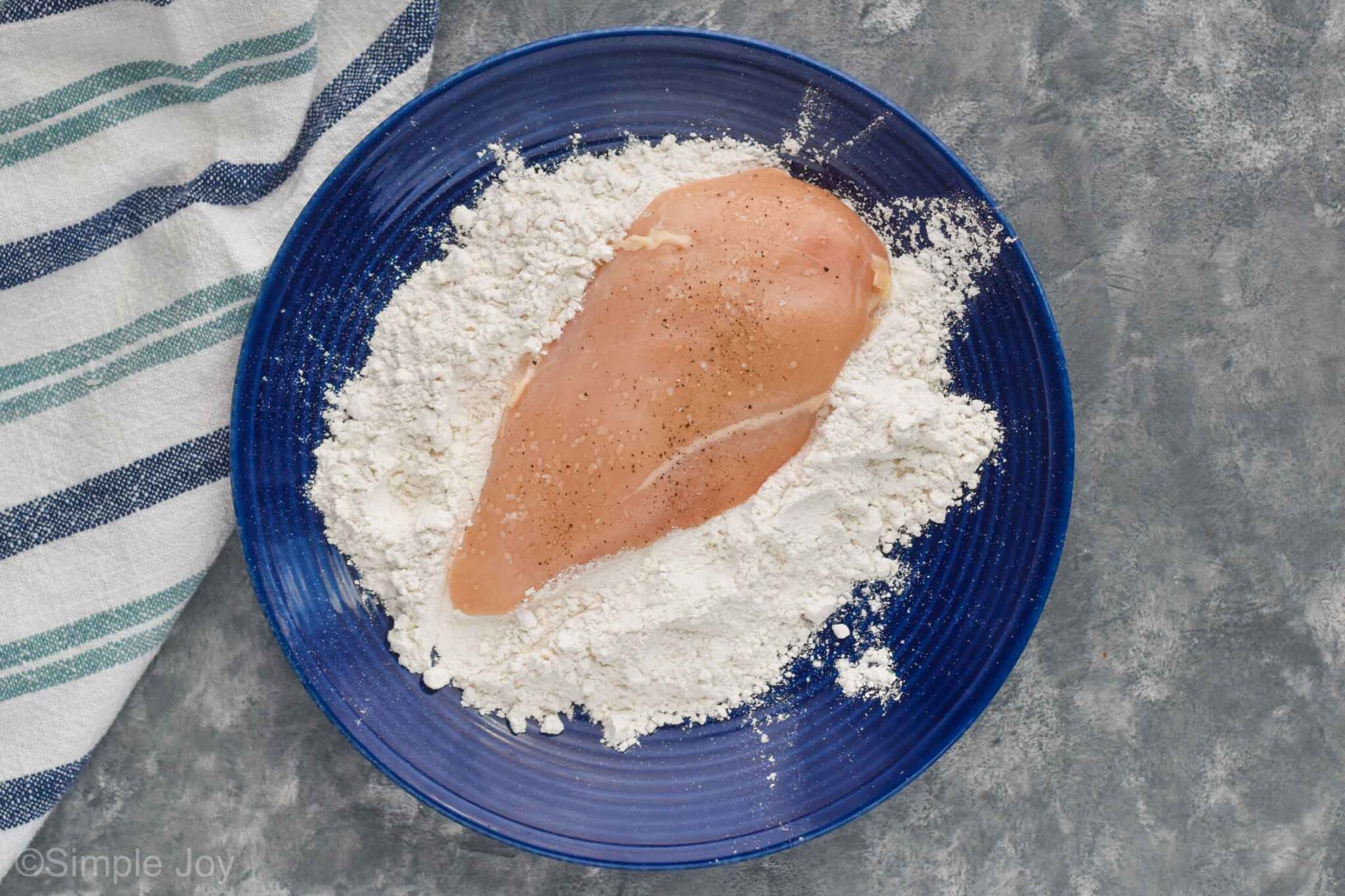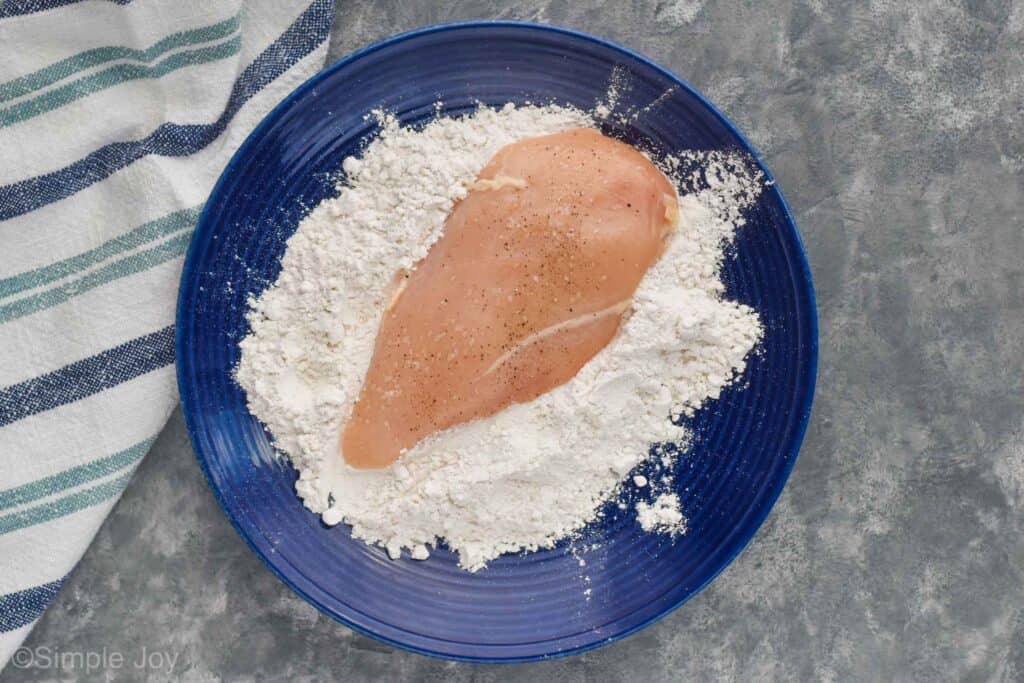 DIP IN EGGS
Now the floured chicken goes into an egg bath made of whisked eggs and milk. The egg mixture is what will keep the breadcrumbs on in the following step.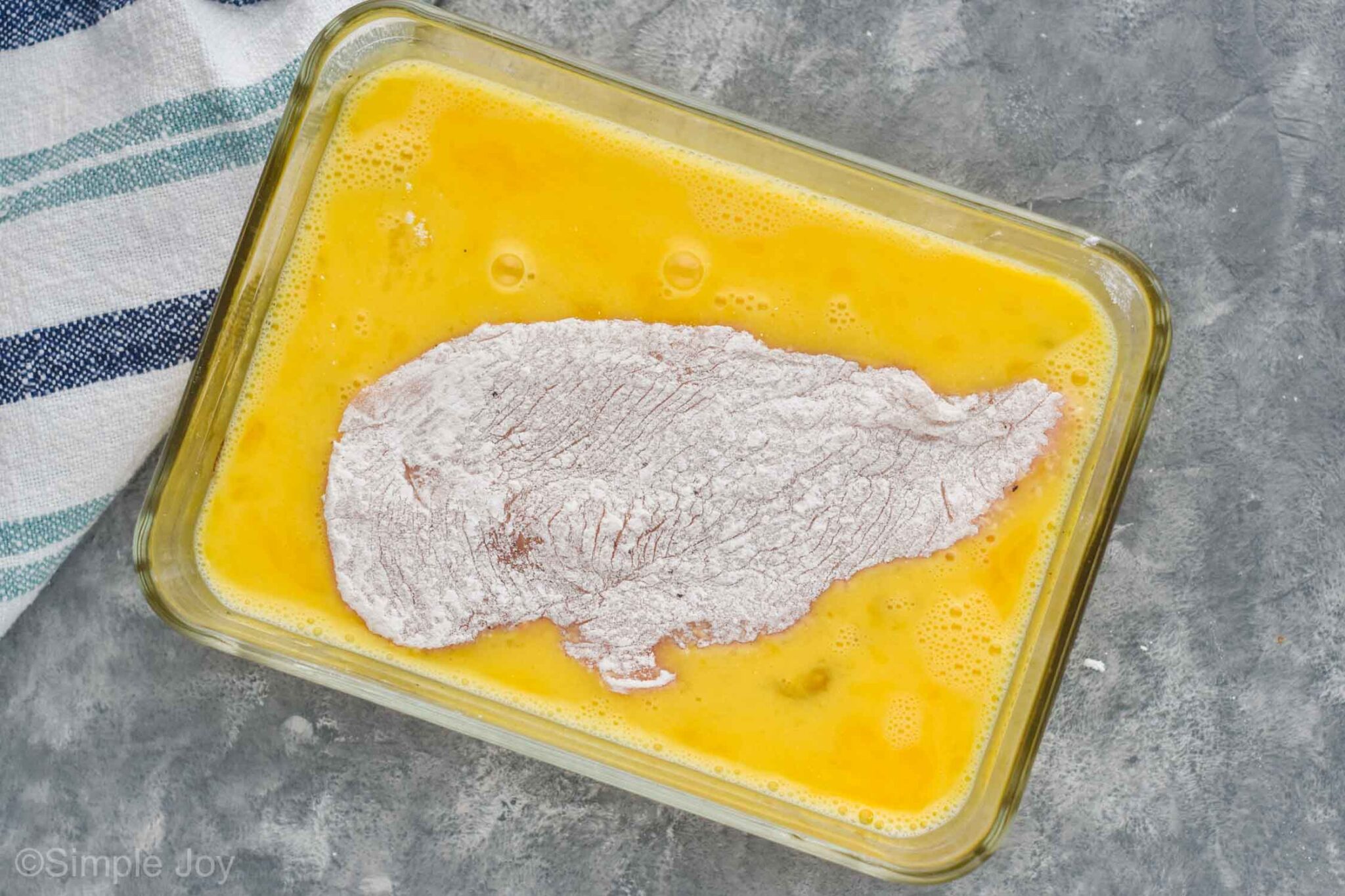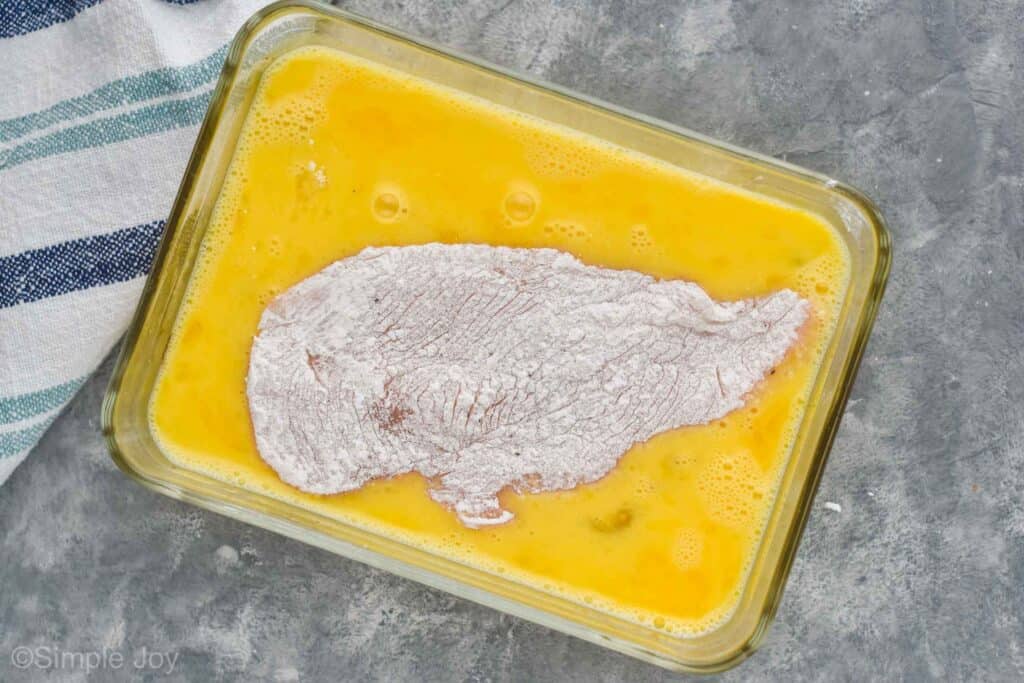 DIP IN SEASONED BREADCRUMBS
Finally we take the chicken from the egg wash to the seasoned bread crumbs. If you desire, you can do one dip of breadcrumbs, return to the egg bath, and then a second dip in the breadcrumbs for a really thick breading.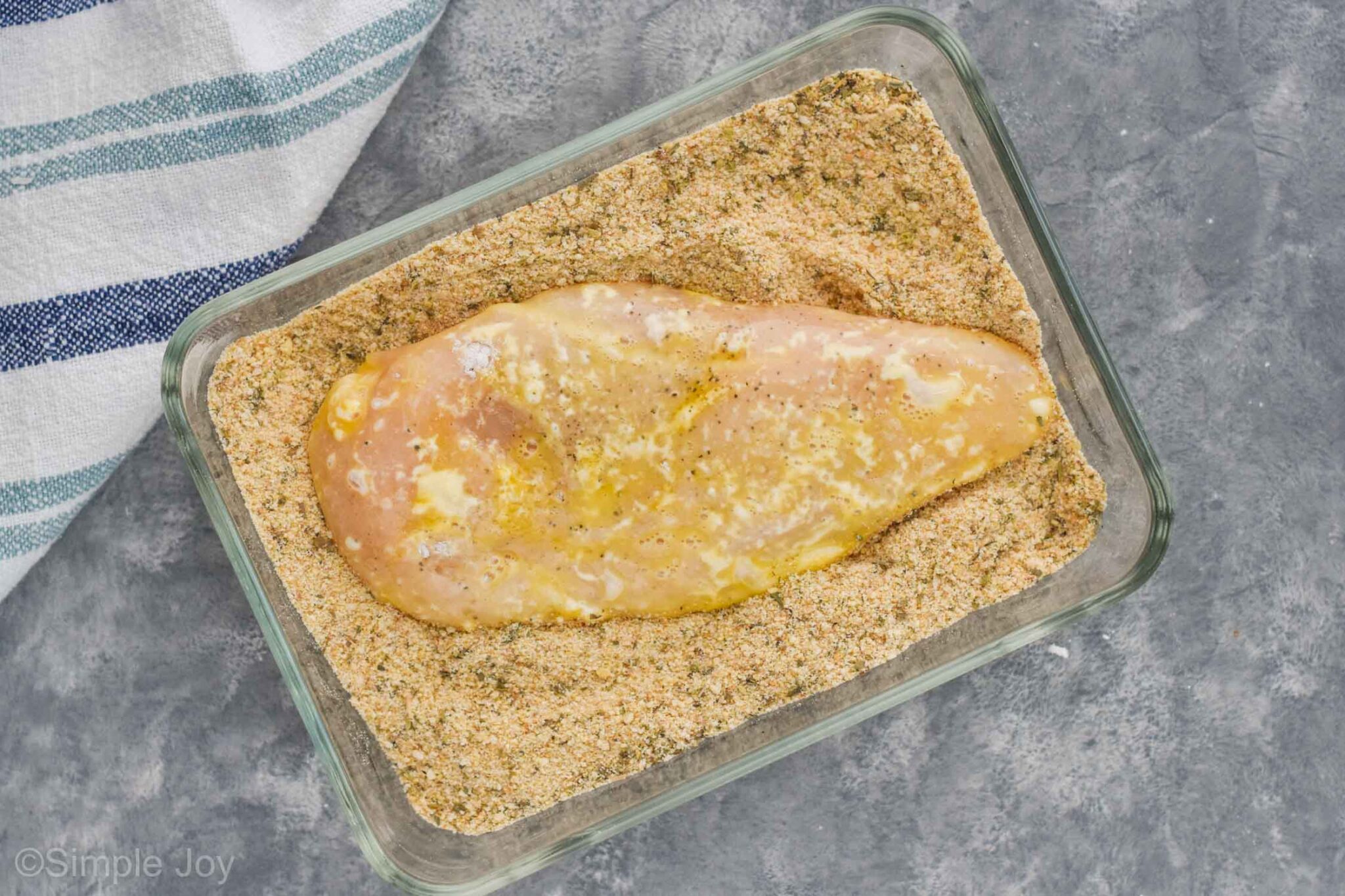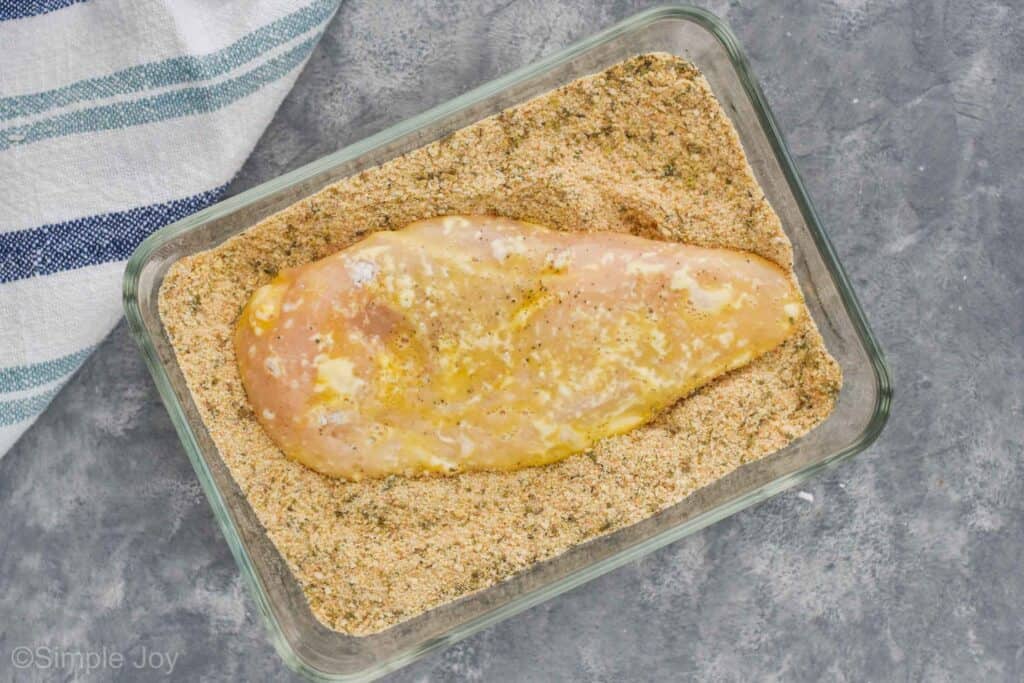 HOW TO SEASON YOUR BREADCRUMBS
I decided to forgo using Italian Bread Crumbs for this recipe. I opted to use regular breadcrumbs and then season them to make sure that regardless of what you can find at the store, you can make this.
That being said, you could use Italian Seasoned Bread Crumbs, add in some parmesan cheese, and you will be all set.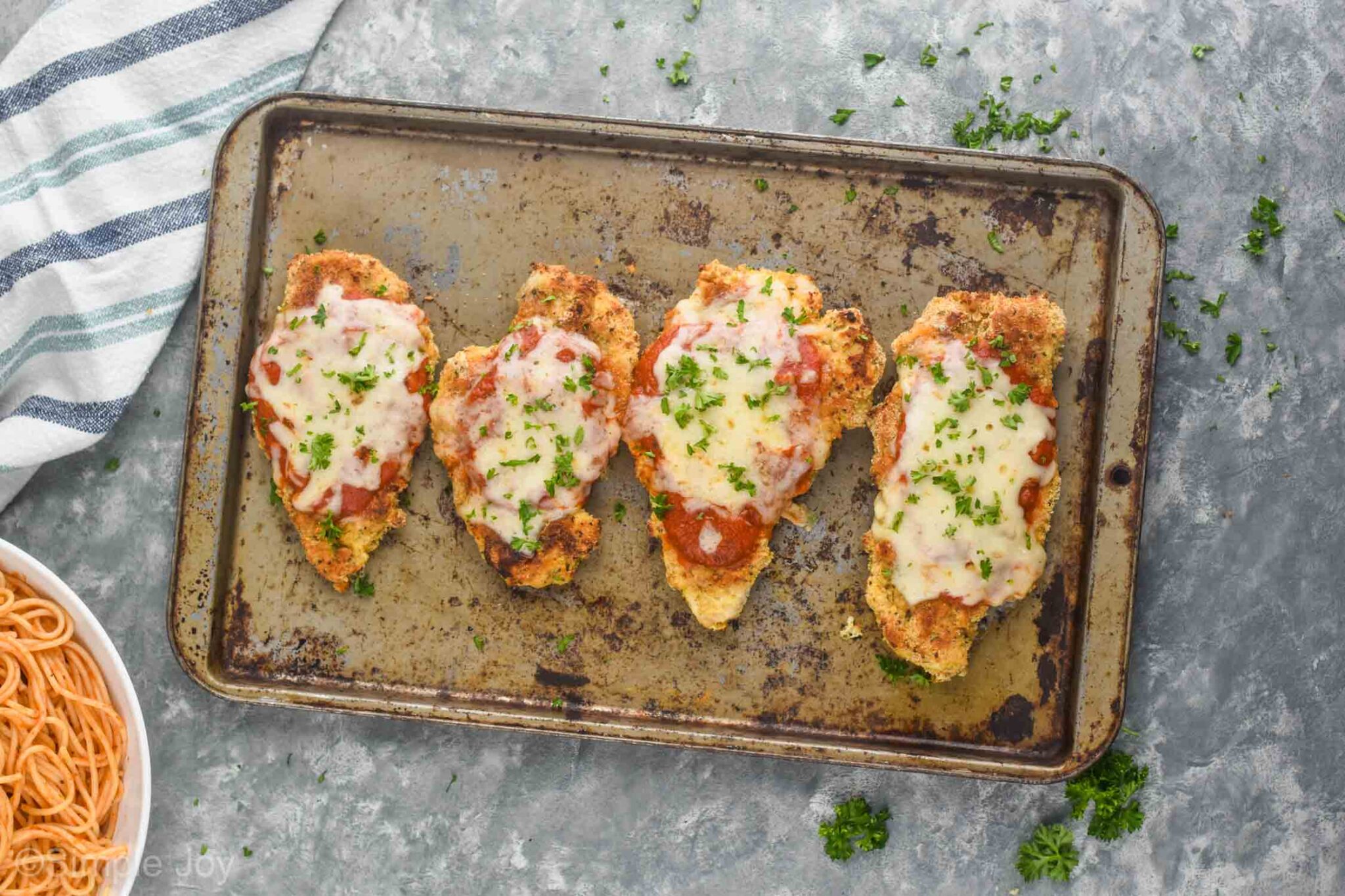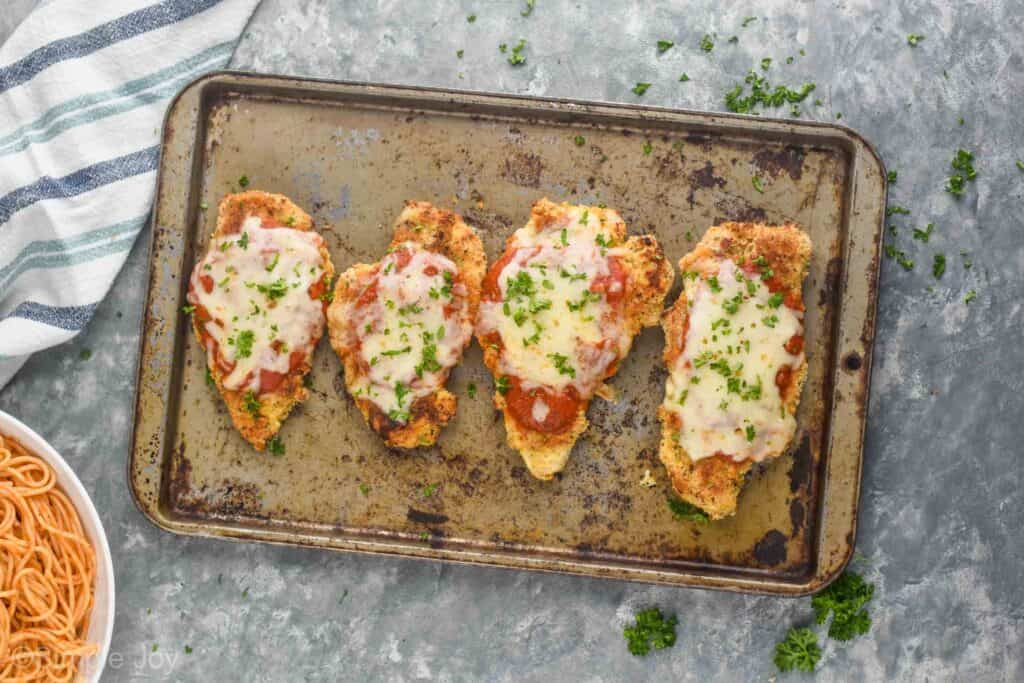 COOKING OVEN BAKED PARMESAN CHICKEN
After breading the chicken, it is ready to cook in the oven. I love that we skip pan frying it. The breadng still turns out delicious and crisp and we avoid the calories, time, and smell of frying.
Bake the chicken and then remove from the oven to top with a small amount of spaghetti sauce and some cheese. Return to the oven under the broiler.
USING A MEAT THERMOMETER
Just like in my Pork Chop recipe from the other day, I highly recommend investing in a meat thermometer. I have one that can stay in the meat in the oven, so I can pull it out at the exact right temperature.
Pull out your chicken when it hits about 160. Top it with sauce and cheese and put it under the broiler. It should come to the right temperature around the same time the cheese is ready.
This is the thermometer I have and love, but there are a lot of great options on the market.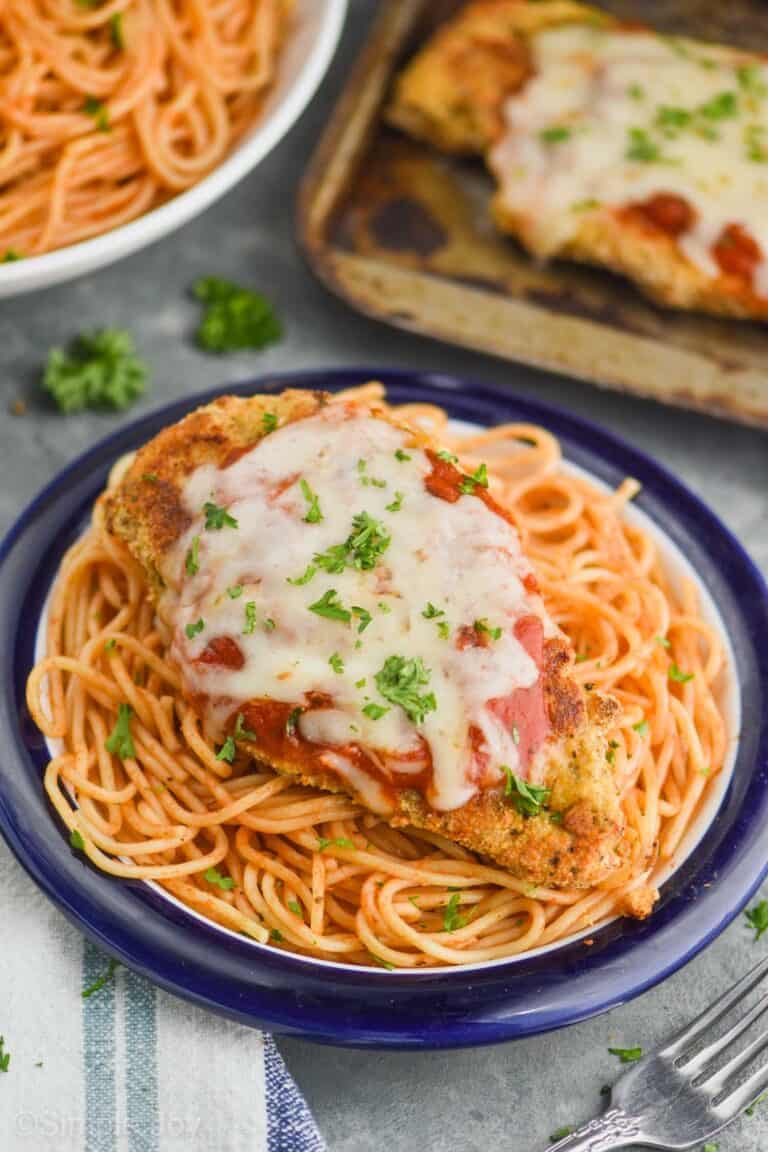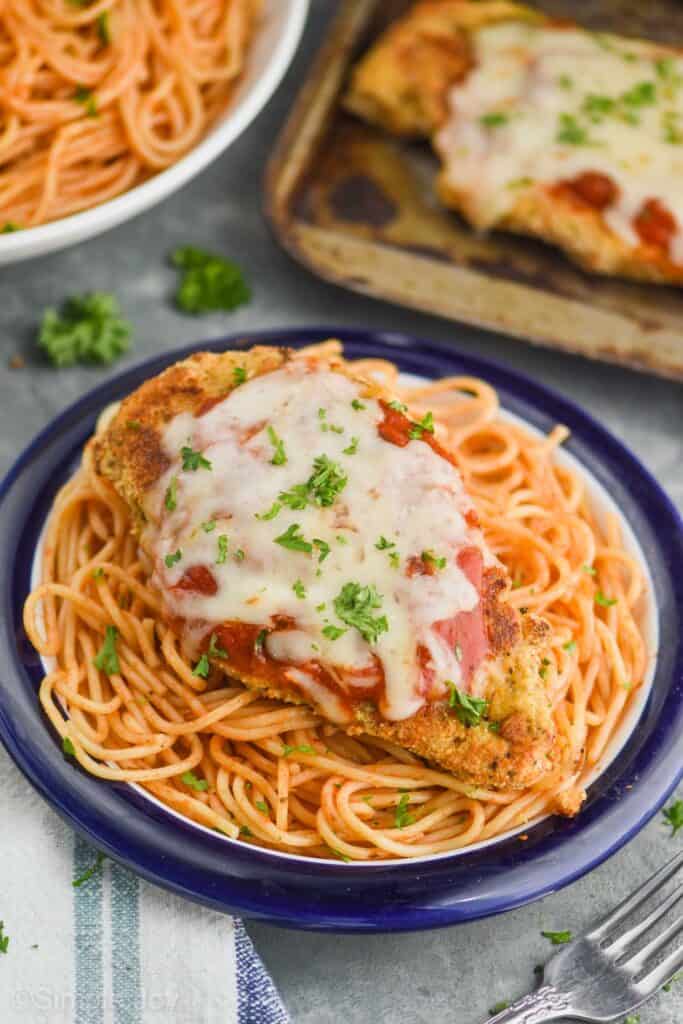 SERVING
I love serving this with spaghetti, but if you are looking for a lighter meal, you could just serve with with some vegetables. Here are a few great options.
If you make this easy baked chicken parmesan or any of my other recipes, I would love to know! Leave me a comment and let me know what you think!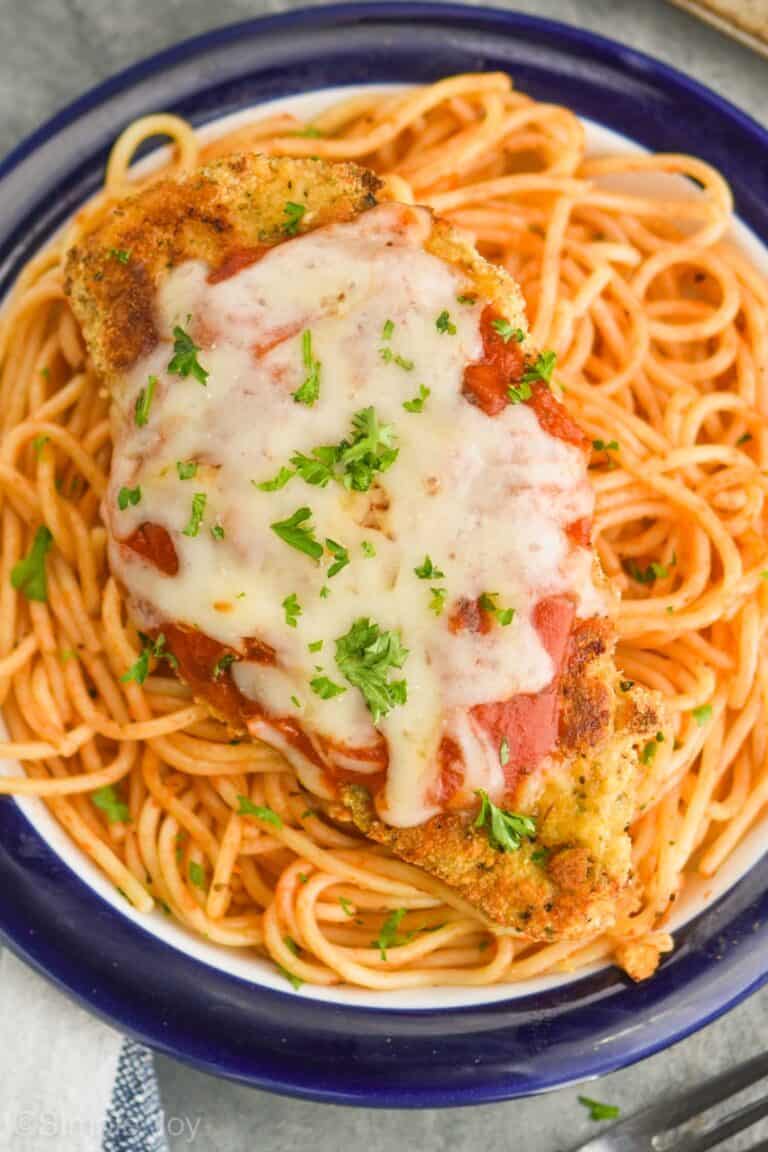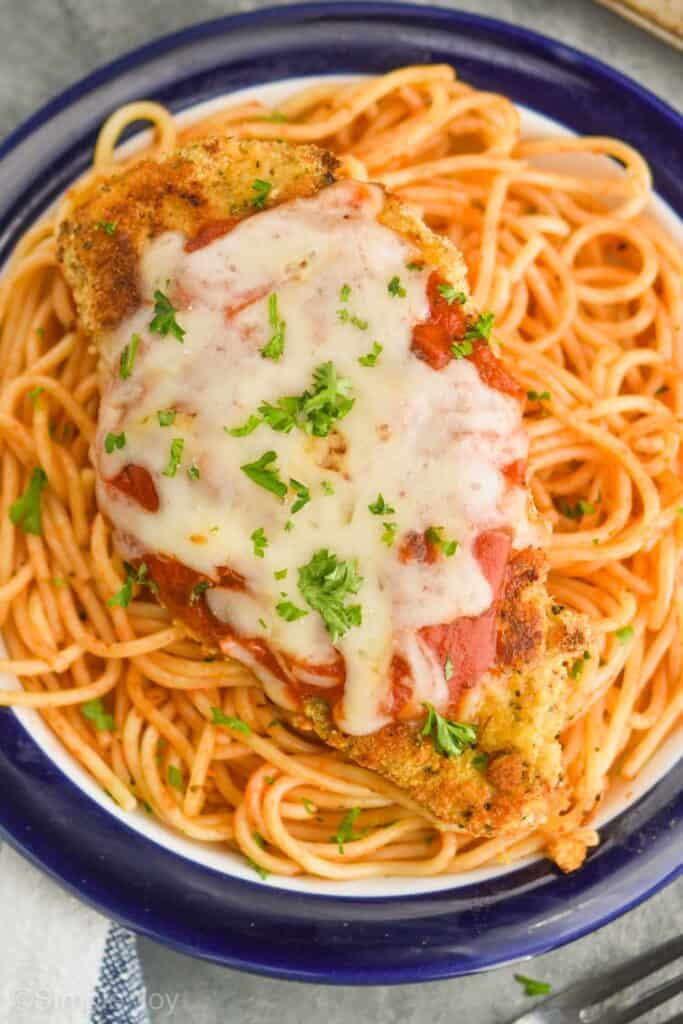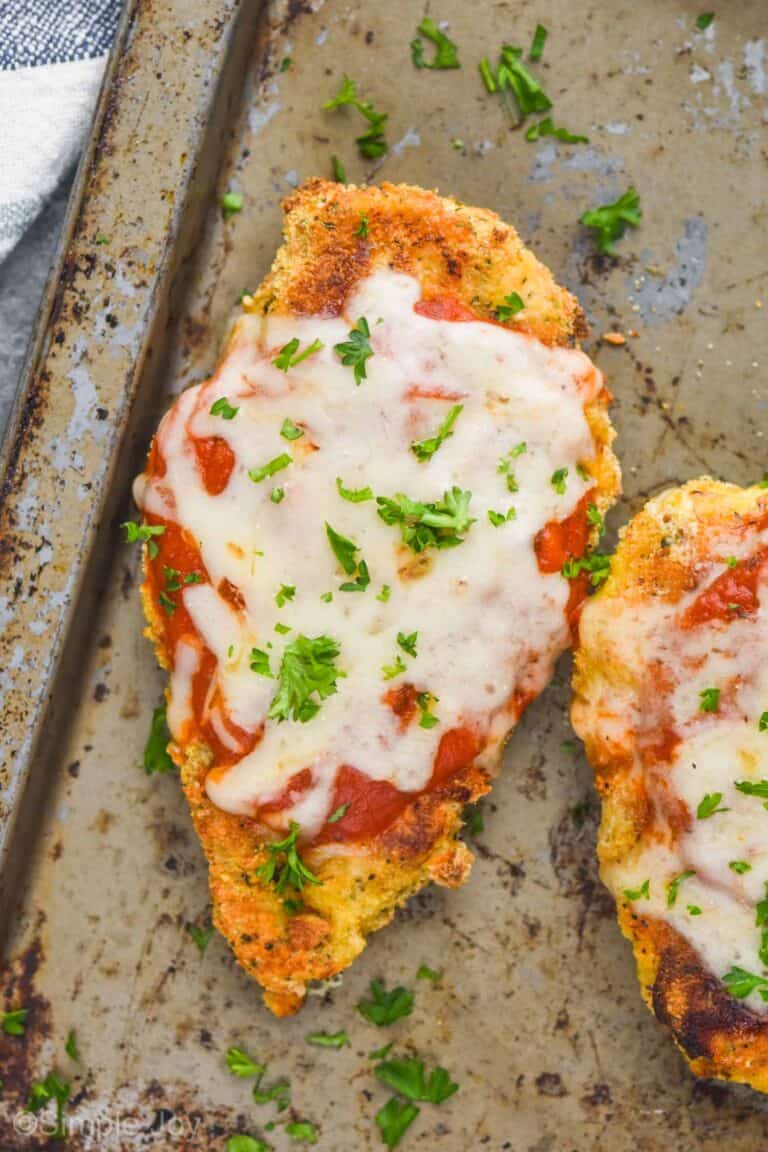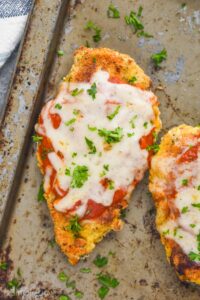 Baked Chicken Parmesan
This Baked Chicken Parmesan comes together easily and is a great comforting dinner.
Ingredients
1

pound

boneless skinless chicken breasts

cut in half (butterfly style), and pounded 1/2 inch thick if necessary

salt and pepper

1

cup

all purpose flour

3

large eggs

1

tablespoon

milk

1

cup

bread crumbs

1/4

cup

grated parmesan cheese

1/2

tablespoon

dried basil

1/2

tablespoon

dried oregano

1

teaspoon

garlic powder

cooking spray

1/3

cup

spaghetti sauce

(store bought or homemade)

1/2

cup

shredded mozzarella
Instructions
Preheat the oven to 425 degrees. Line a rimmed baking sheet with aluminum foil.

Slice the chicken breasts in half, butterfly style (see photos in the post for more details). If any part of the chicken is stil more than half an inch thick, pound them thin by placing the chicken between plastic wrap and using a rolling pin or meat mallet. Pound to 1/2 inch thickness.

Lightly salt and pepper the chicken breasts on both sides.

Add the flour to a plate. Whisk the eggs and milk in a shallow dish. Add the breadcrumbs to a shallow dish and stir in the parmesan cheese, basil, garlic powder, and oregano.

Dip the chicken breasts in the flour, then the eggs, and then the seasoned bread crumbs. Place on the prepared pan. Repeat with all of the chicken.

Lightly spray the chicken with cooking spray and bake for 20 to 25 minutes or until the chicken registers 165 degrees with an instant read thermometor.

Remove the chicken from the oven, add a small amount of spaghetti sauce (about a tablespoon and a half) to the top of each piece of chicken, top with shredded mozzarella, and place under the broiler for about 3 minutes or until the cheese begins to very lightly brown.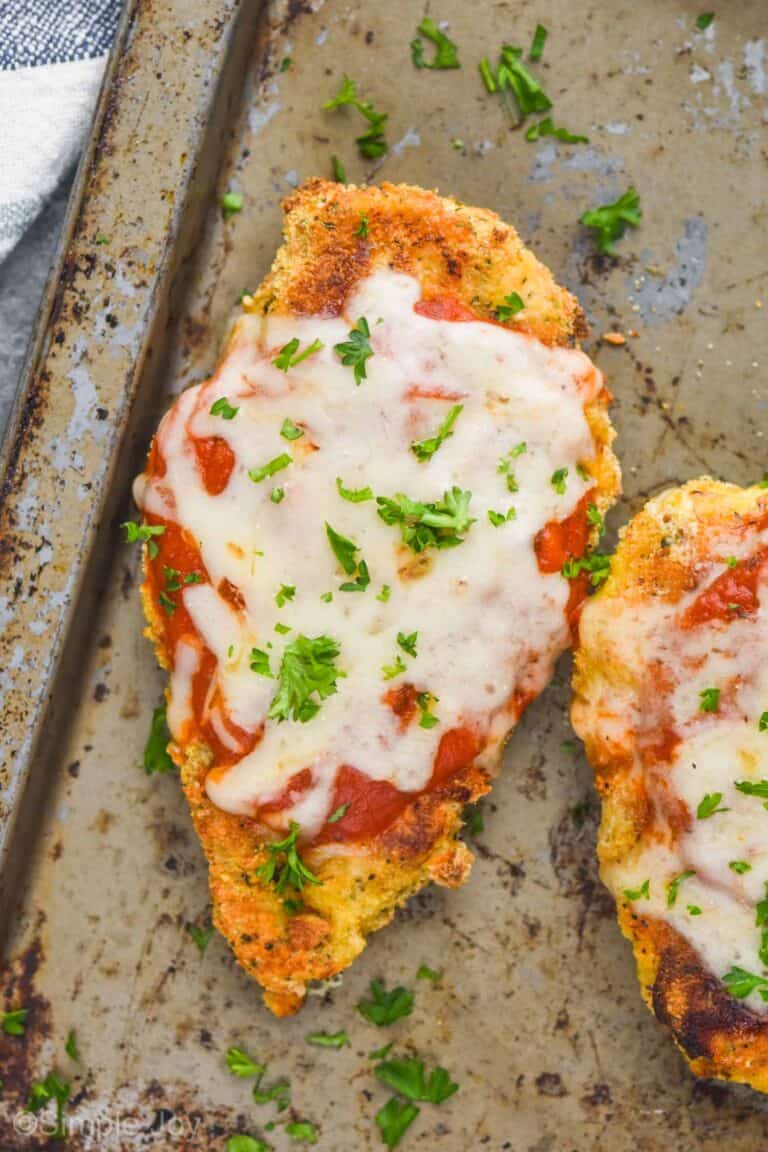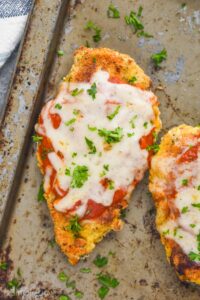 did you make this
Baked Chicken Parmesan