Quiche Lorraine is the perfect centerpiece for brunch. It can be made the night before and has the best combination of flavors and ingredients!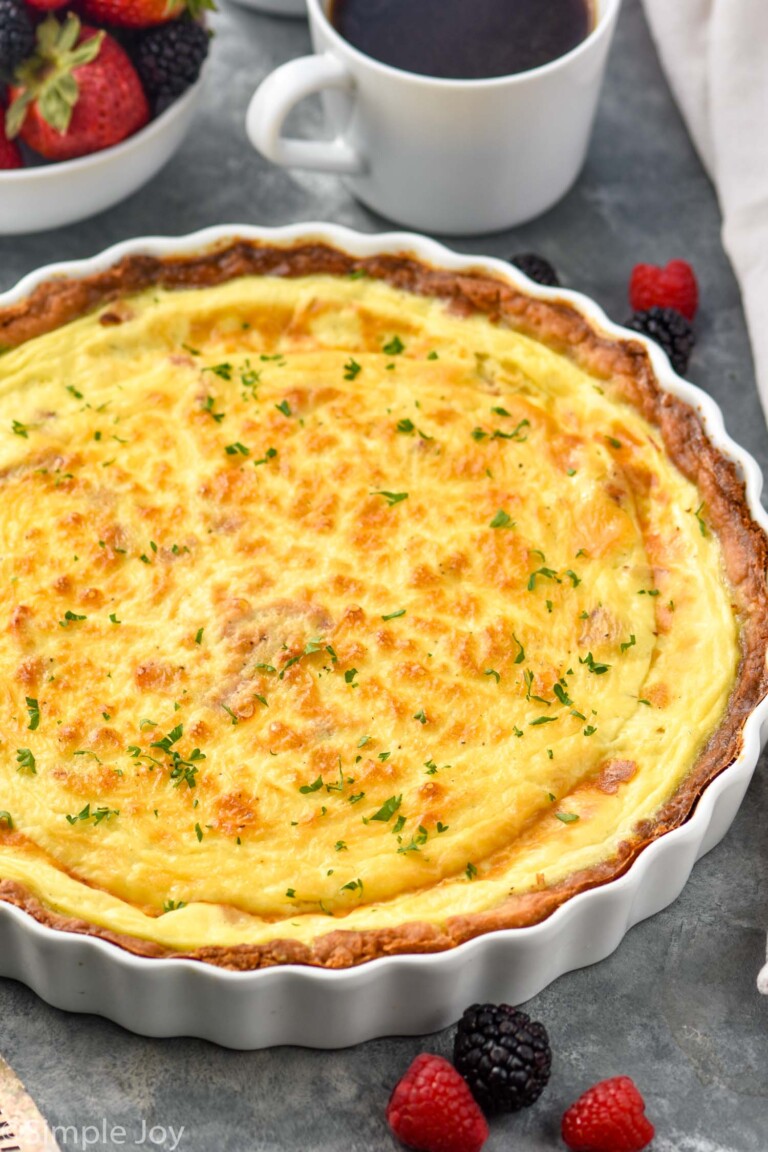 Next to Game Day Food, Brunch is my favorite food group. Bakes that are made up of bread soaked with eggs and cream, Bloody Marys, Mimosas, and amazing quiches like this make up the best spreads.
Most of my brunch recipes can be made the night before, and this classic Quiche Lorraine recipe is no exception. Serve it warm or cold, and enjoy every single flavorful bite. This is bound to be requested at all of your family holidays.
Key Ingredients for Quiche Lorraine
Pie Crust: Whether you make it from scratch or buy it, you will need a pie crust. I strongly suggest making it from scratch because it enhances the overall flavor. Additionally, you can make the crust weeks in advance and store it, well wrapped, in your freezer, pulling it out the day before you make this.
Bacon: One of the signature flavors of Quiche Lorraine is the bacon. Cook it before tossing it in there, and enjoy how the smoky flavor permeates the dish.
Eggs: You will need five large eggs for this recipe.
Swiss Cheese: Another signature flavor of this quiche recipe, is this perfect melty cheese. See some of my other suggestions towards the bottom of the post for other cheeses you could use.
Heavy Cream: I always use a mixture of heavy cream and milk in quiche recipes. The combination makes it rich without making it overwhelming.
How to Make Quiche Lorraine
This is a brief overview of how to make this delicious brunch recipe. For the full recipe with all of the measurements, please see the recipe card at the bottom of the post.
Make the pie crust. You can absolutely buy a store-bought crust, but I love our fool proof easy pie crust recipe. It's perfectly flakey. It is helpful to make the crust the day before you are making your quiche since it needs an hour in the refrigerator before rolling.
Chill the pie crust. After you roll out the pie crust, you will want to wrap it in plastic wrap and chill it in the refrigerator for 30 minutes.
Make the bacon. A key part of this recipe is the delicious bacon. It is helpful to make it while waiting for the crust to chill.
Pre-bake the pie crust. After chilling the crust, you will need to line it with aluminum foil and fill that with something heavy to hold it in place while baking. I like to use the pie weights linked below, but coins and dry beans work as well.
Make the quiche filling. Whisk together the eggs, milk, cream, seasonings, cheese, and bacon.
Bake the quiche. Pour the filling into the warm pie curst and bake. Allow it to cool for an hour before slicing.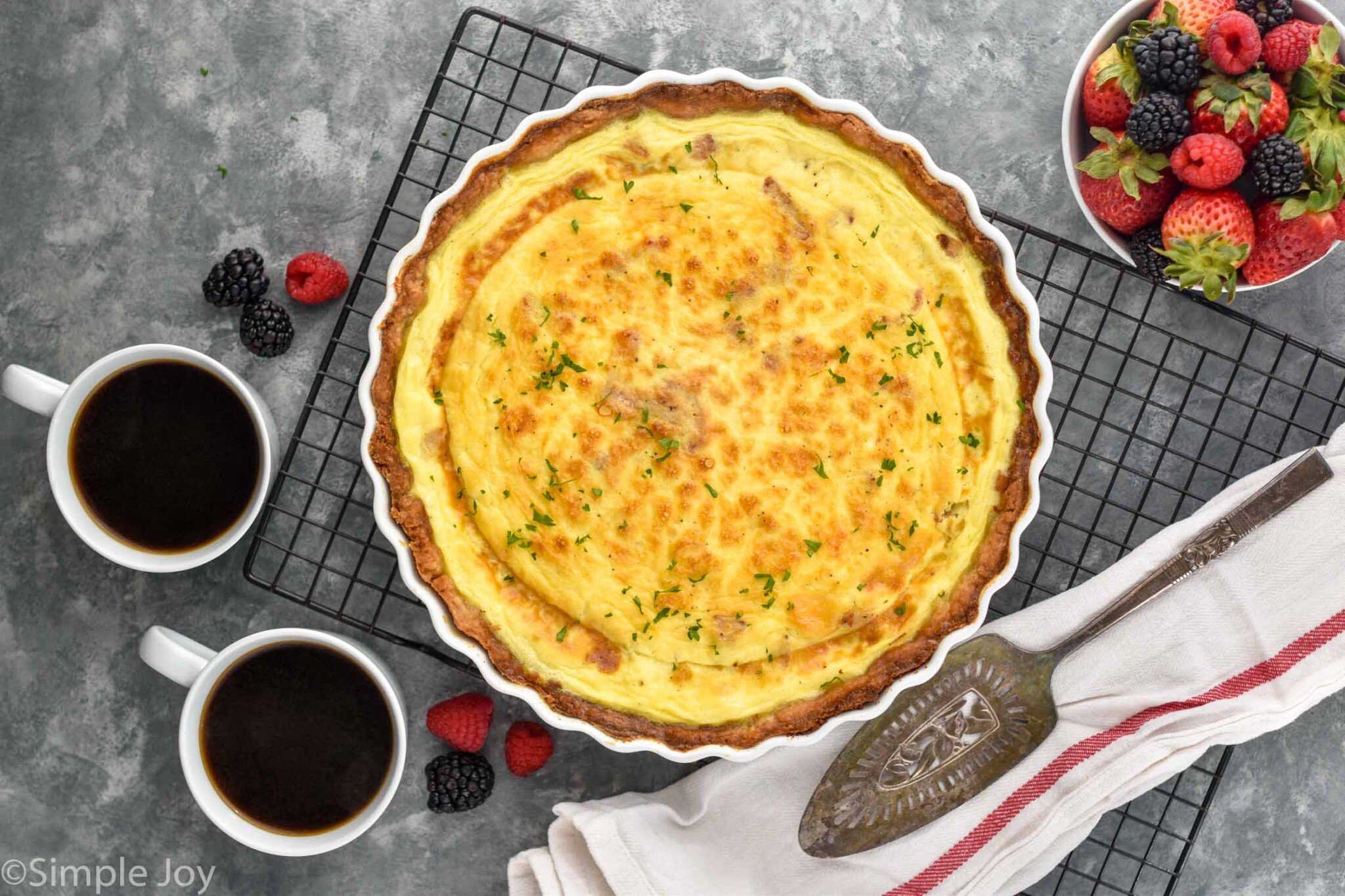 TOP PICK
Pie Weights
These weights work perfectly to keep the pie crust in place while it pre bakes.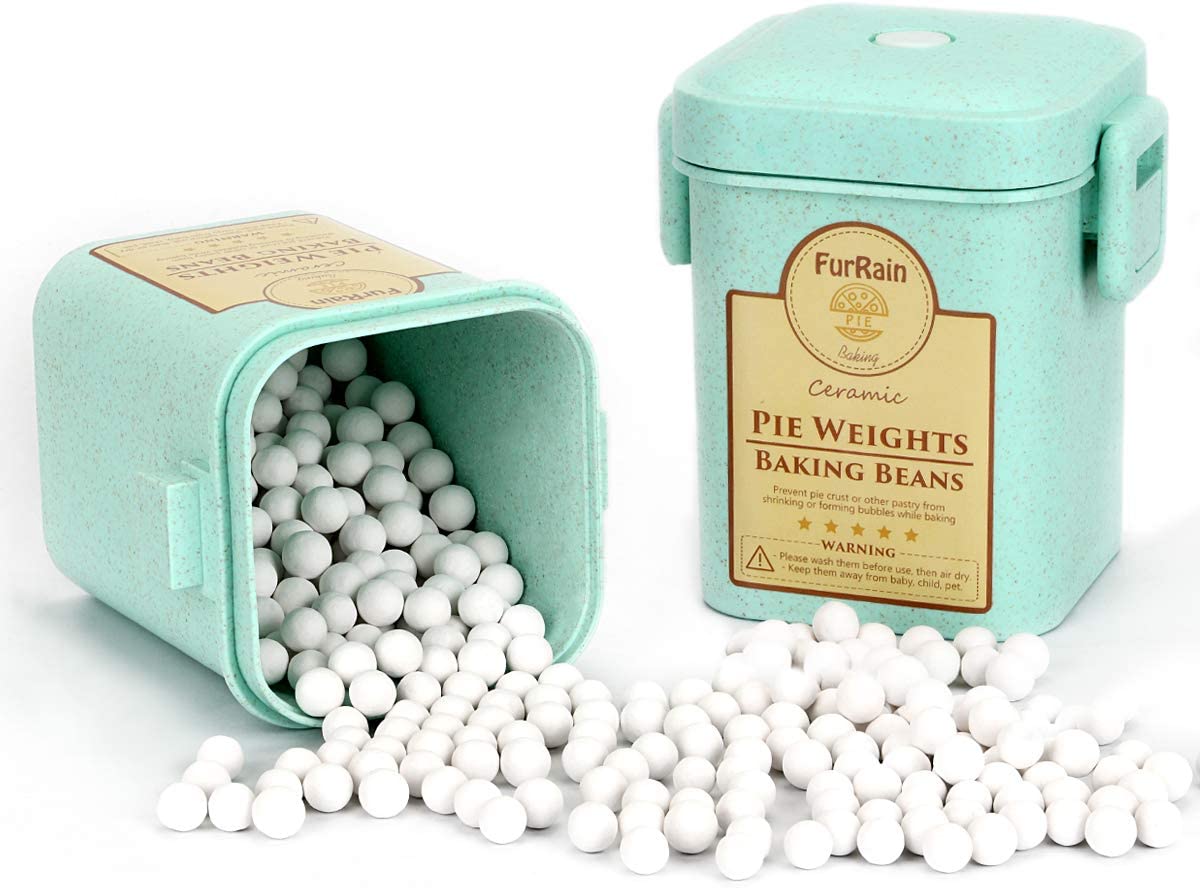 Pre Baking Pie Crust
There are lots of recipes that require pre baking a pie crust. The reason for this is that some filings take less time than the pie crust itself. This is a method we use for our pumpkin pie. It ensures that the pie filling is cooked perfectly while the pie crust is still flakey and delicious.
The important piece to prefacing pie crust is to use weights. This will keep the pie crust from melting into the bottom of the pie pan. You can use loose change or dry beans, as mentioned above, but you might want to invest in pie weights.
It can also be really helpful to keep a pie shield on hand, so that the crust doesn't burn. If your crust comes out of pre baking nice and golden, you can add the shield before baking the quiche. You can also hold off and check on the quiche throughout baking to see if you should add it.
TOP PICK
Pie Shield
This is a great way to keep your crust from burning during baking.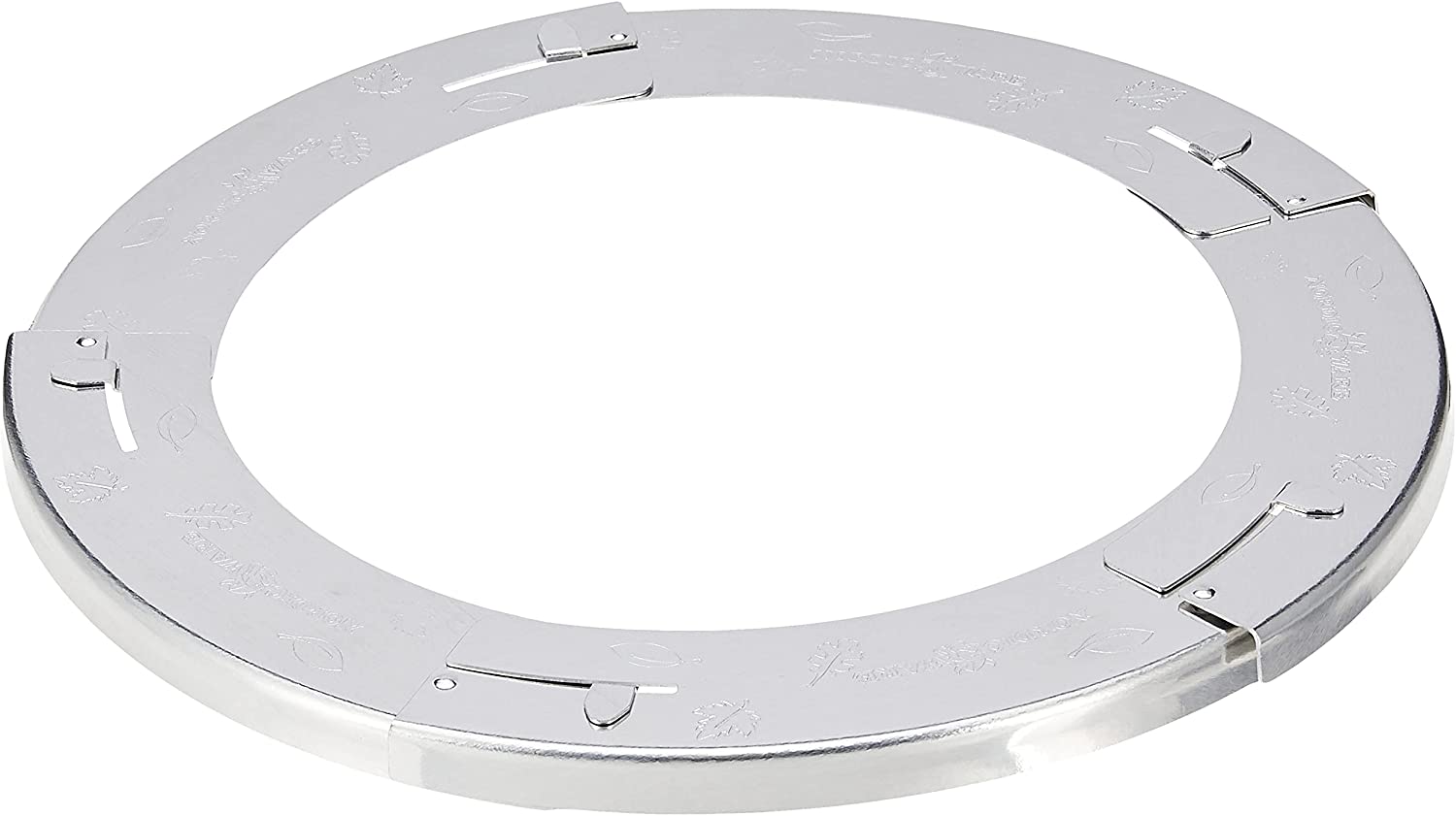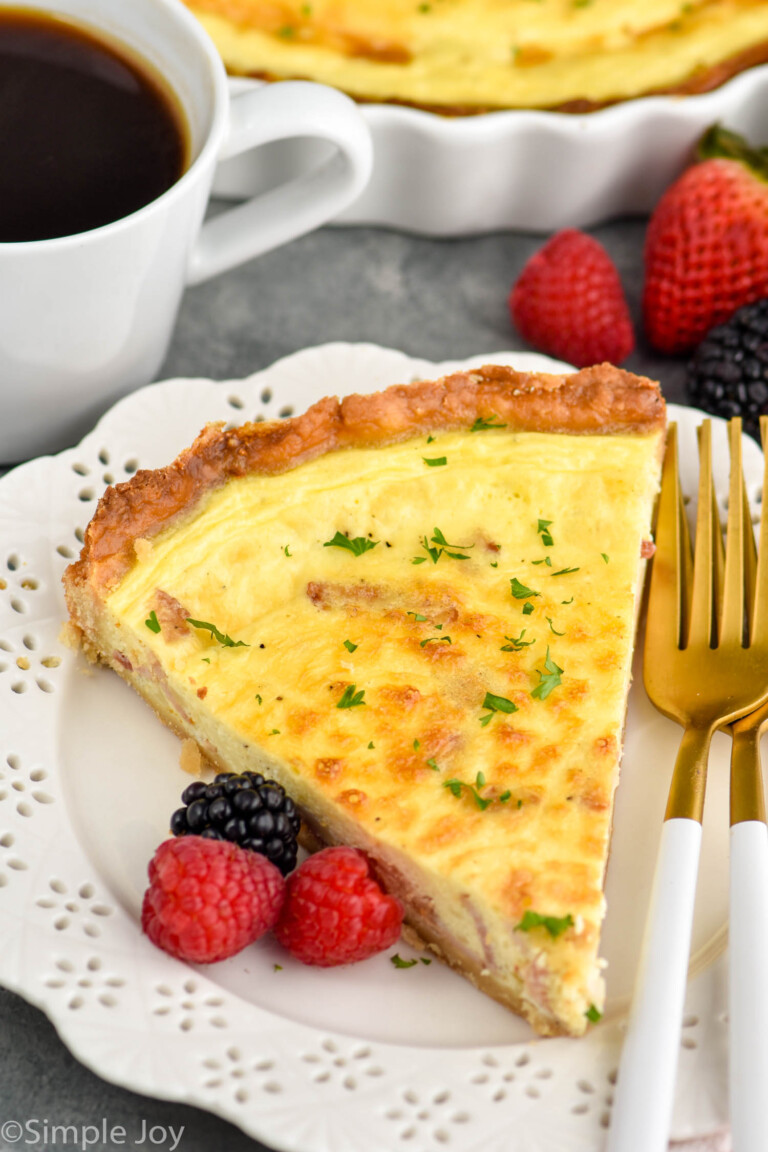 Homemade Pie Crust for Quiche
I'm going to give you the hard sell on making a pie crust from scratch because I think it makes this recipe that much better. This pie crust recipe is easy to make and I have a full tutorial with step by step photos. If you think you don't know how to make pie crust, I urge you to try this recipe.
All of that being said, if making your own pie crust will keep you from making this recipe, use a store bought crust! The most important thing in my book is spending time around the table with those you love.
Easy Pie Crust Recipe
This Pie Crust Recipe is easy to make, but more importantly it tastes delicious. The combination of butter and shortening help the pie keep its shape without sacrificing any flavor.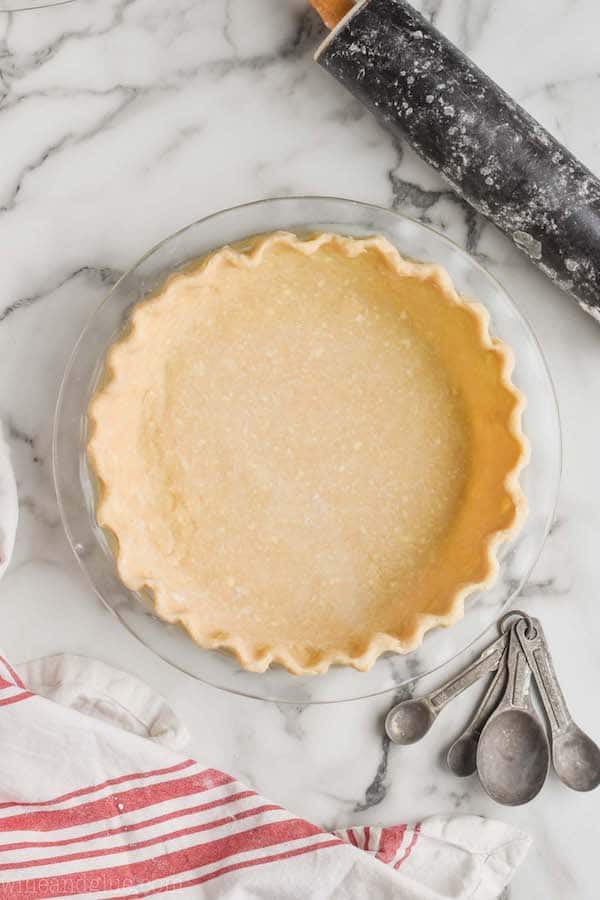 Cheese for Quiche Lorraine
In this particular version of Quiche Lorraine, we are using Swiss Cheese. But really, you could use any good melting cheese in this recipe. Some other good options would be:
Gruyere
Smoked Gouda
Fontina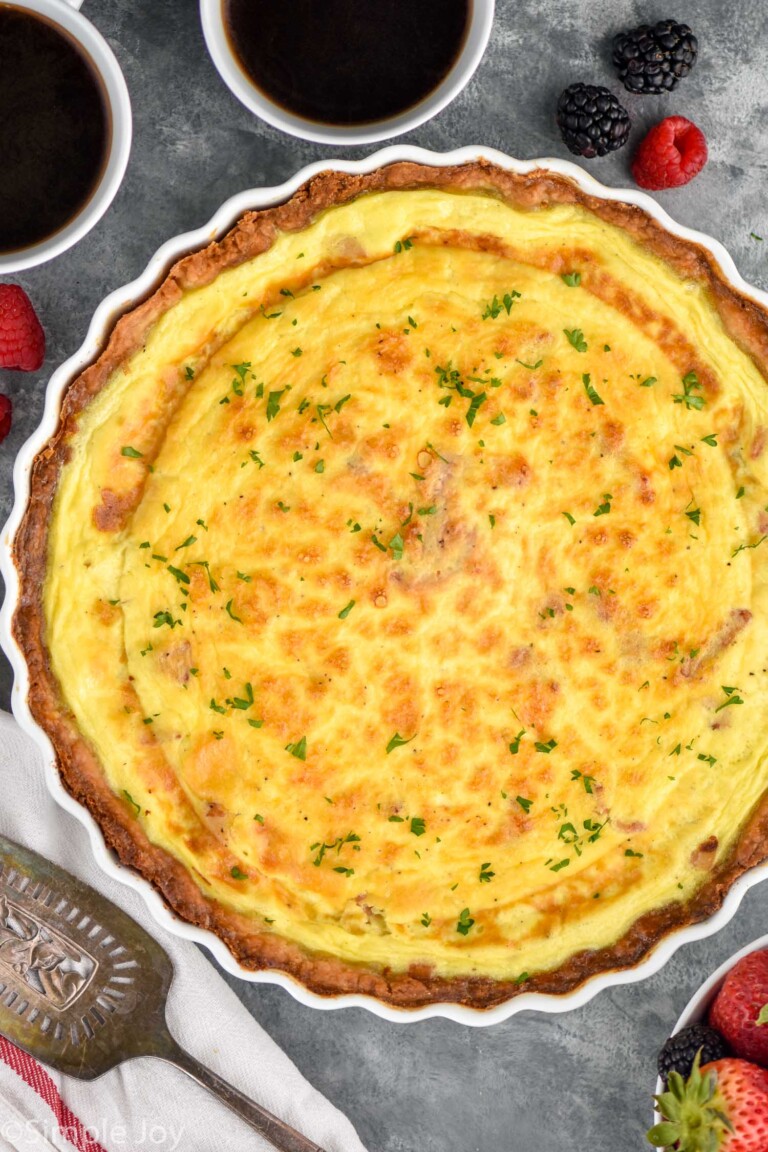 Reheating Quiche
This recipe does need to sit for an hour before slicing. This ensures that all of the filling stays put and you get the nice clean slices you see here. This also makes it a great recipes to make the night before.
Quiche can be served warm or at room temperature. Both ways are delicious. If you would like to reheat your quiche, you will need to bake it, covered, at 350 degrees for about 20 minutes.
Storing and Freezing
Leftover quiche can be stored in the refrigerator for three to four days. As with every recipe, use your best discretion when it comes to eating leftovers.
This quiche also freezes really well. I suggest slicing leftovers before freezing them so that you can pull out just what you want to eat. Store the frozen slices in an air tight container for up to three months. When you are ready to eat them, thaw them in the refrigerator overnight.
FAQ
What is in Quiche Lorraine?
This is a quiche that originated in France and the bacon or ham added to it is the signature flavor. After time, it became common place to also add cheese to the dish.
Is Quiche Lorraine gluten free?
No, we are using a traditional crust here that has all purpose flour in it. If you were to replace that with a gluten free crust, this could be a gluten free breakfast recipe.
Is Quiche Lorraine low carb?
No. As written, the crust adds quite a few carbs to this recipe. I suggest baking this without a crust, like we do with my Crustless Spinach Quiche, if you would like a low carb version.
Is quiche served warm or cold?
Both! Quiche is delicious both warm and at room temperature. If you would like to reheat this quiche, see our instructions in the section above.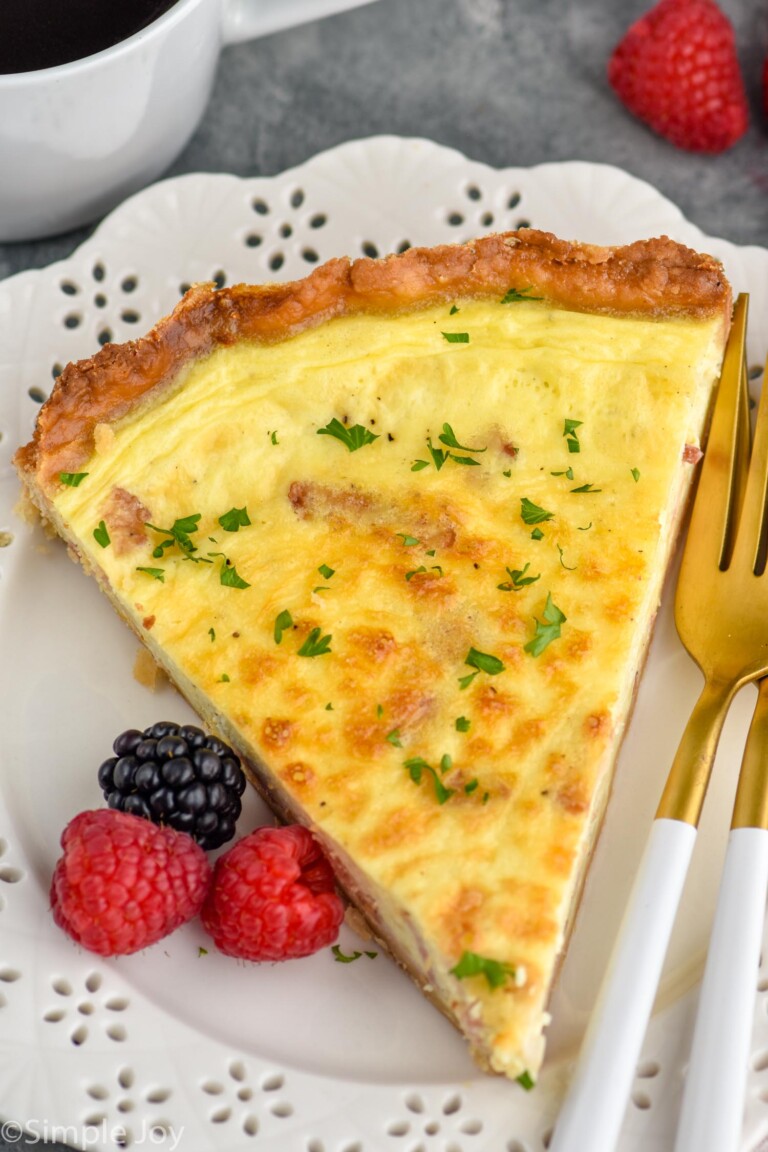 Other Brunch Recipes
If you are filling out your brunch table here are some other great ideas:
If you make this Quiche Lorraine recipe or any of my other recipes, please leave me a comment and let me know what you think.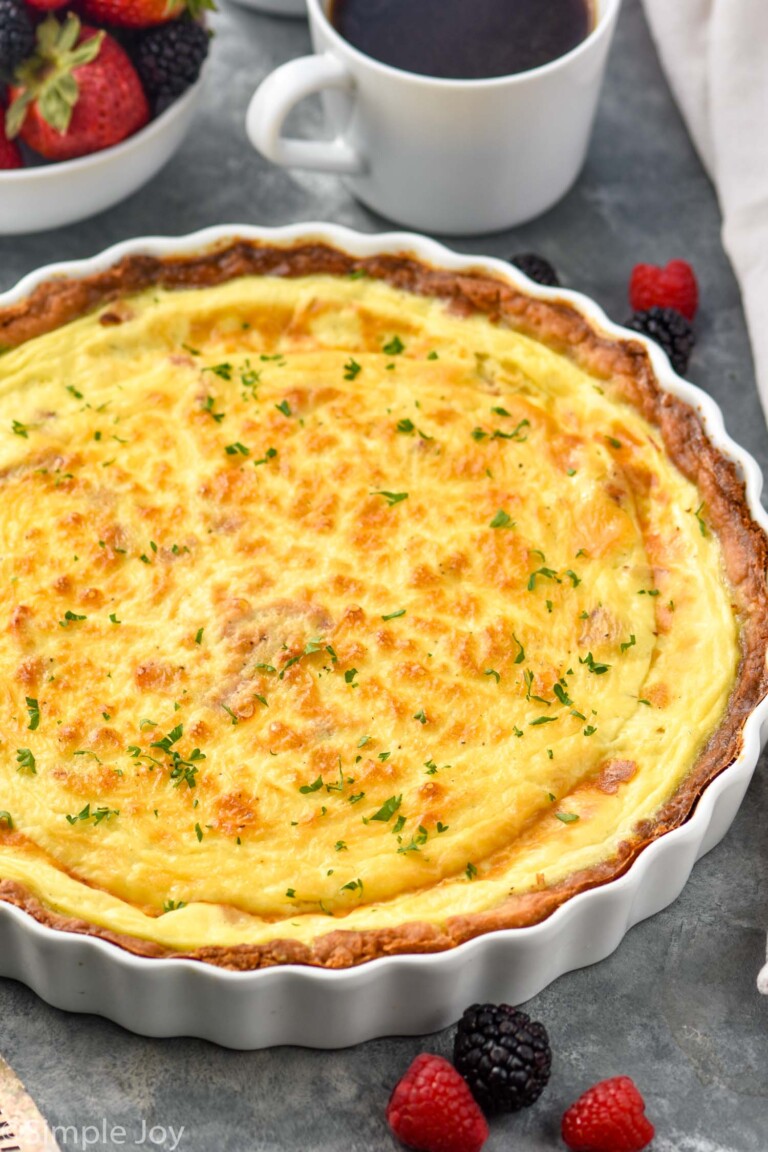 Quiche Lorraine
Quiche Lorraine is the perfect centerpiece for brunch. It can be made the night before and has the best combination of flavors and ingredients!
Ingredients
pie crust

(store bought or homemade, see note)

6

slices of thick cut bacon

diced, cooked, and drained

5

large eggs

1

cup

milk

I used 1%, but you could use skim as well

1

cup

heavy cream

1/2

teaspoon

kosher salt

(if using table salt, cut the amount in half)

1/2

teaspoon

onion powder

1/2

teaspoon

garlic powder

1/4

teaspoon

black pepper

1

cup

Swiss cheese

(read here about other cheese options – gruyere)

1/4

cup

Parmesan cheese
Instructions
Roll out the pie crust and put in a 10 inch pie pan, wrap with saran wrap and put in refrigerator for 30 minutes. Preheat the oven to 400 degrees.

While the pie crust is chilling, cook the bacon.

6 slices of thick cut bacon

Take out the pie crust, take off the plastic wrap. Line the pie crust with two sheets of aluminum foil. On top of the aluminum foil, place pie weights or loose coins.  Bake the pie crust for 25 minutes. Lower the oven temperature to 350 degrees.

While the pie crust is cooking, prepare the filling. In a large bowl whisk together the eggs, heavy cream, milk, salt, onion powder, garlic powder, and pepper until there are no streaks of eggs left. Stir in the cheeses and cooked bacon.

5 large eggs,

1 cup milk,

1 cup heavy cream,

1/2 teaspoon kosher salt,

1/2 teaspoon onion powder,

1/2 teaspoon garlic powder,

1/4 teaspoon black pepper,

1 cup Swiss cheese,

1/4 cup Parmesan cheese,

6 slices of thick cut bacon

Remove the foil and loose change from the pie crust. While it is still warm, pour the filling into the pie crust, until it is just full (you might have a little filling left). Place on a baking sheet and bake for 45 minutes or until a knife inserted in the quiche comes out clean. The center will be set but soft.

Let the quiche set for at least an hour before slicing.
Notes
Please note that the nutritional information is based on using my pie crust recipe. If you use a store bought crust, skip the pre-baking and the chilling of the crust in the dish, skipping to step four.
Serving:
1
slice
Calories:
555
kcal
(28%)
Carbohydrates:
20
g
(7%)
Protein:
16
g
(32%)
Fat:
45
g
(69%)
Saturated Fat:
22
g
(138%)
Polyunsaturated Fat:
5
g
Monounsaturated Fat:
15
g
Trans Fat:
1
g
Cholesterol:
195
mg
(65%)
Sodium:
605
mg
(26%)
Potassium:
206
mg
(6%)
Fiber:
1
g
(4%)
Sugar:
4
g
(4%)
Vitamin A:
1044
IU
(21%)
Vitamin C:
0.2
mg
Calcium:
238
mg
(24%)
Iron:
2
mg
(11%)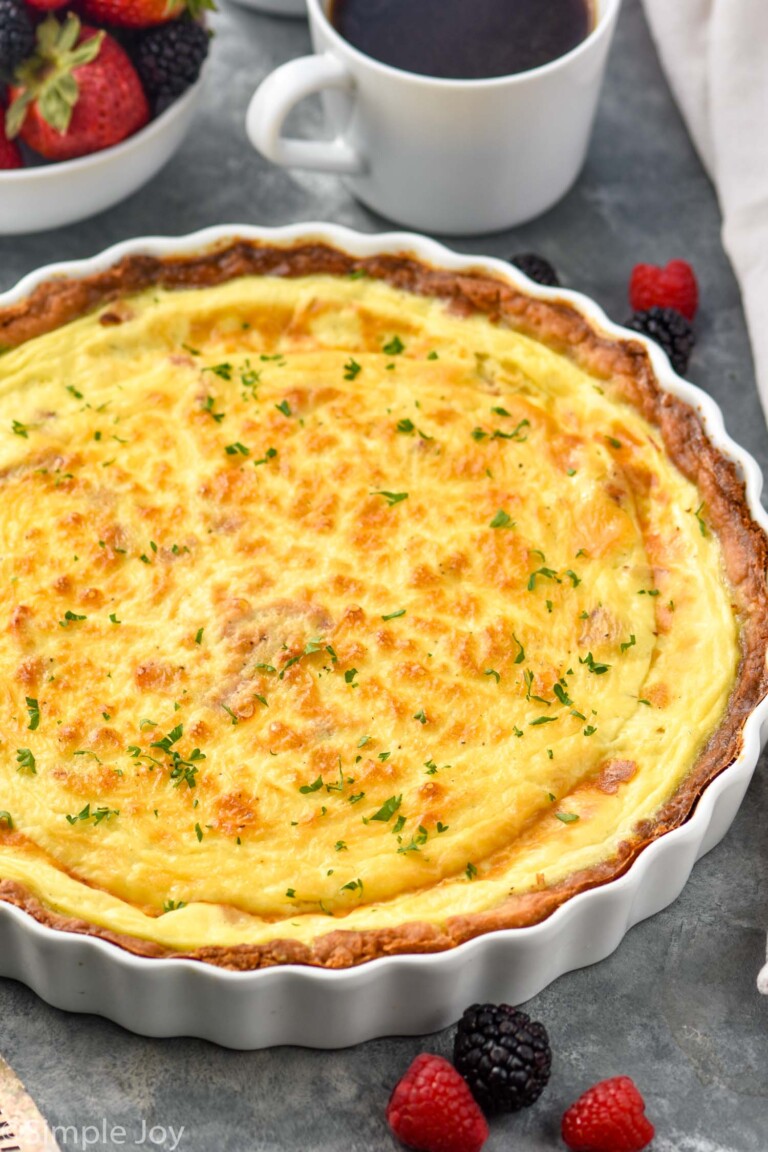 did you make this
Quiche Lorraine