Easy Chicken Fettuccine Alfredo that contains only a few ingredients and comes together in under 30 minutes! Winner winner chicken dinner!

I'm so excited to be partnering with Classico® to bring you this crazy easy dinner!
Be sure to click HERE for your chance to win a trip to Italy!
Did you guys know that Rome is the birthplace of Alfredo? Mmmmm, Alfredo? Seriously. Just typing the word makes my mouth water.
Back in the stone age, just after Nathan and I got married we went on a *three week* honeymoon to Europe. I know. I mean, we kind of bankrupted ourselves in the process (not really) and we haven't traveled since (not really) but it was TOTALLY.WORTH.IT.
One of the places that we went to was Rome. We honestly should have spent a lot more time there because there is so much to see. But in the short two and a half days there we saw all the big things, Colluseum, Vatican, beautiful pieces of art . . . And we also saw . . . wait for it . . . the birth place of Fettuccine Alfredo. It's this restaurant that supposedly invented Fettuccine Alfredo and they come and make it table-side.
You guys.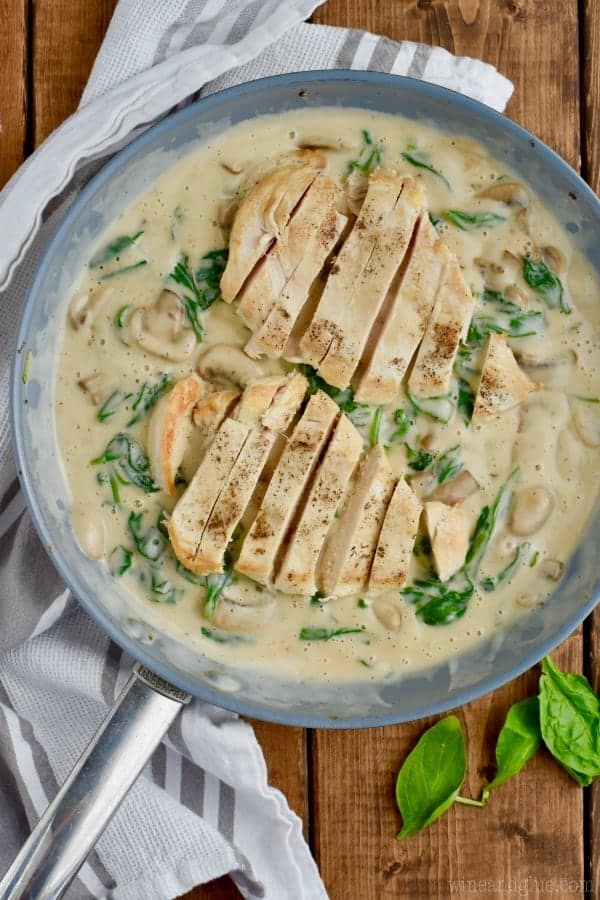 Totally amazing. I mean, I can still picture in my mind them standing next to our table mixing the sauce with the noodles. Doing those loooong noodle pulls and totally making us drool. It did not disappoint.
Chicken Alfredo At Home
And here we are, four kids later, and we aren't heading back to Rome any time soon. Some day. But until then we will have to enjoy the amazing Alfredo flavors from Classico®. We have long been fans of Classico®. The Italian-style flavors of their sauces are so authentic and amazing. Their Classico® Creamy Alfredo is so close to that original that it will keep you happy until you can get to Rome yourself.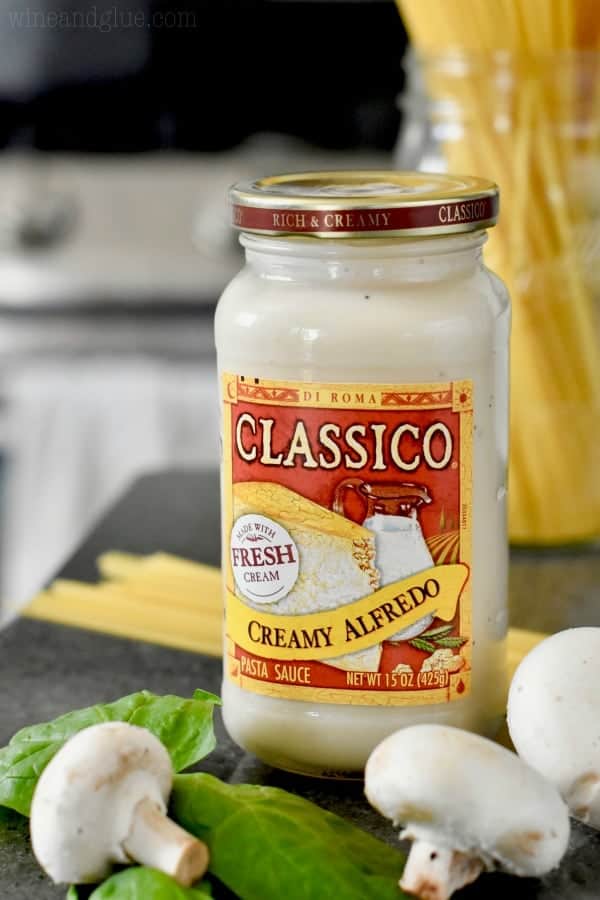 I used it to make this super Easy Chicken Fettuccine Alfredo. It comes together in under 30 minutes, and you need just about nothing to make it. Grab some chicken, spinach, mushrooms, fettuccine, and of course Classico® Creamy Alfredo at the grocery store and you will be ready to roll. Their sauce is so perfect in flavor, with its high quality ingredients, that you don't really need much to make it into a perfect dinner! Like the rest of their sauces, Classico® Creamy Alfredo uses fresh ingredients that are so reminiscent of the flavors of Rome.
This would be a perfect dinner for a family, or even better to split with a few friends over a nice bottle of wine while sharing stories and dreams of travel.
And of course, make sure to head over and ENTER TO WIN a trip for two to Italy!
Easy Chicken Fettuccine Alfredo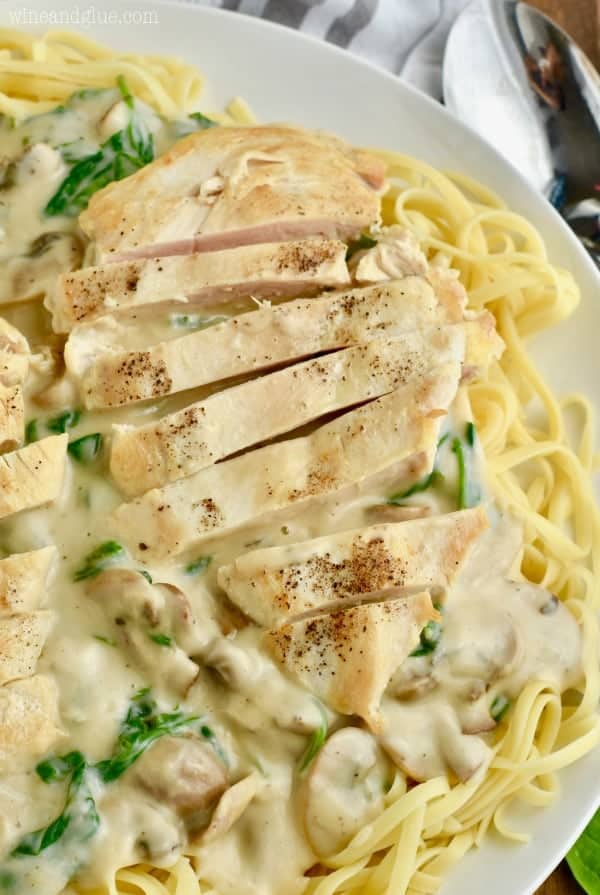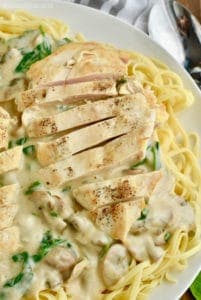 Easy Chicken Fettuccine Alfredo
Ingredients
8

ounces

fettuccine

cooked according to package instructions

1

pound

of chicken

pounded thin

2

TBSPS

olive oil

2

TBSPs

unsalted butter

8

oz

mushrooms

sliced

5

ounces

baby spinach washed

15

ounces

Classico® Creamy Alfredo
Instructions
While the fettuccine is cooking, heat the oil in a large skillet over medium heat. Season the chicken with salt and pepper on both sides. Add the chicken to the skillet and cook about three to four minutes on both sides or until an instant read thermometer inserted in the thickest part of the chicken registers 165 degrees. Remove the chicken from the pan, tent with foil, and set aside.

Without cleaning the skillet, add the butter to it and melt completely. Add the mushrooms to the pan, and cook until soft and tender. Add the spinach to the pan and cook until wilted.

Stir in the Classico® Creamy Alfredo. Cook until heated through.

Pour the sauce with the mushrooms and spinach over the fettuccine and serve the with the chicken.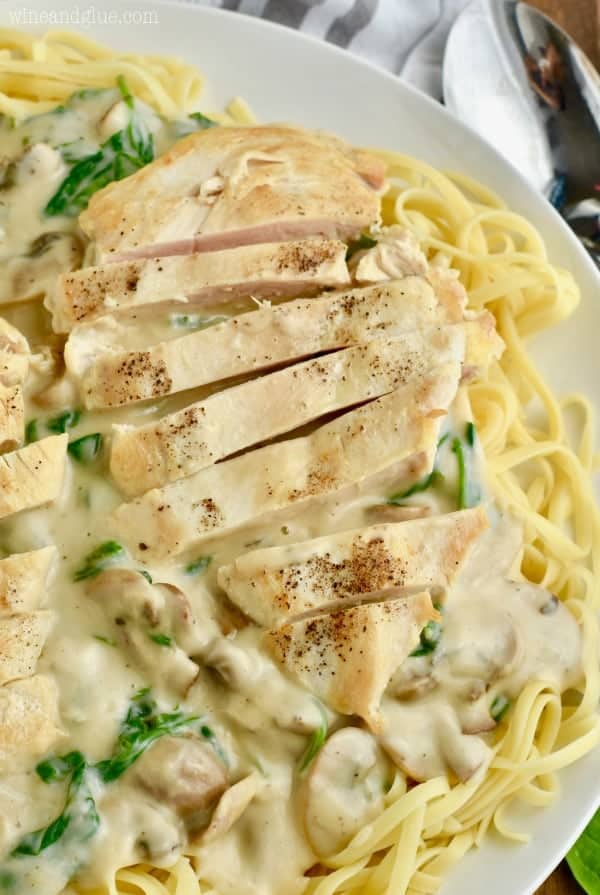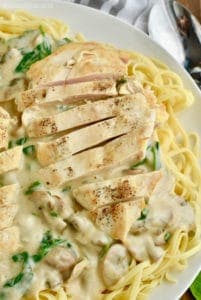 did you make this
Easy Chicken Fettuccine Alfredo

This is a sponsored conversation written by me on behalf of Classico. The opinions and text are all mine.