Crock Pot Chicken Marsala takes everything you love about Chicken Marsala and turns it into an easy slow cooker dinner. This is a fast chicken recipe to come back to over and over.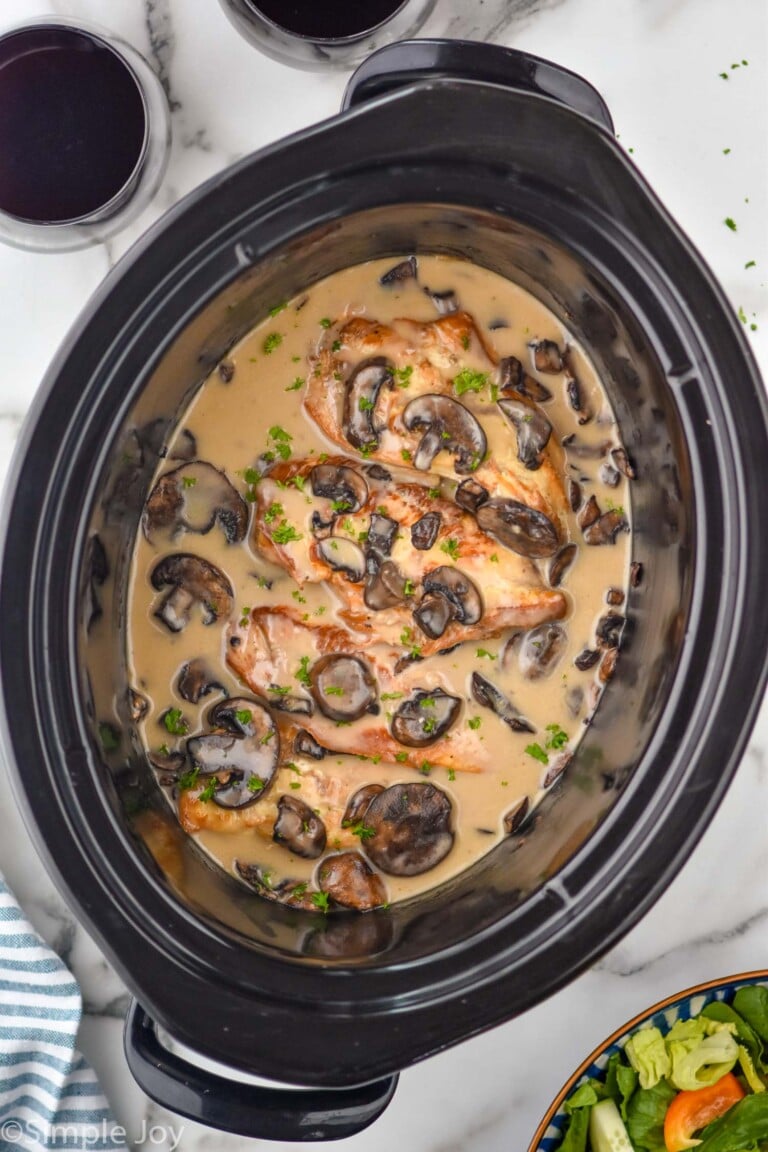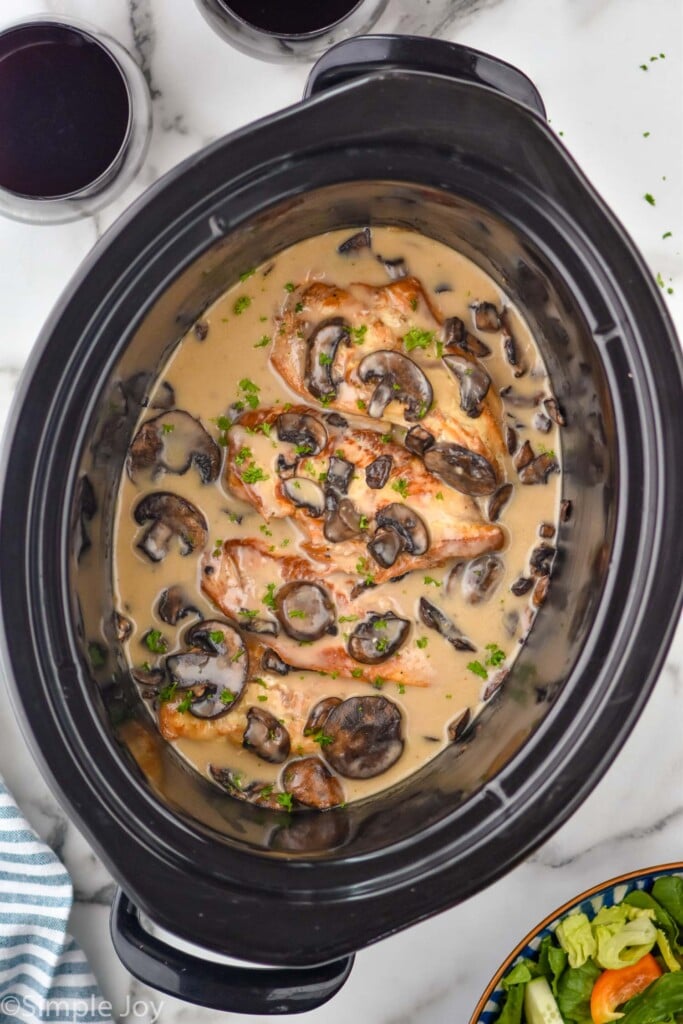 Chicken Marsala is one of my family's favorite dinners. Even my pickiest kiddo, who hates mushrooms with the fiery passion of hell, loves this recipe. Like capital L loves this recipe. She eats around the mushrooms and is a happy camper.
If you need a recipe that you can just walk into and enjoy, this Crock Pot Chicken Marsala is a dream come true. It has very little prep to it and still gives you that amazing creamy marsala taste at the end.
How to Make Crock Pot Chicken Marsala
This is a brief overview of how to make this easy Slow Cooker Chicken Marsala. As with any of my recipes, please find all of the measurements and more detailed instructions in the recipe card at the bottom of the post.
Brown the chicken cutlets. To do this, heat some olive oil in a skillet and brown the chicken for a few minutes on each side. This step is absolutely optional. I love the look that the browning gives the chicken, but it is definitely not necessary.
Make the sauce in the bottom of the slow cooker. Combine chicken stock, Marsala wine, and garlic.
Add the chicken and mushrooms. Add the chicken to the slow cooker and then top with mushrooms.
Make a slurry. Once the chicken is done cooking, remove it from the slow cooker. Combine water and cornstarch to make a slurry. Add it to the sauce, and allow to thicken for five minutes with the slow cooker on high.
Finish and serve. Add some heavy cream to the sauce (if using), taste the sauce and add more salt and pepper if necessary. Then return the chicken to the slow cooker, spooning the sauce over it. Serve over fettuccine and enjoy.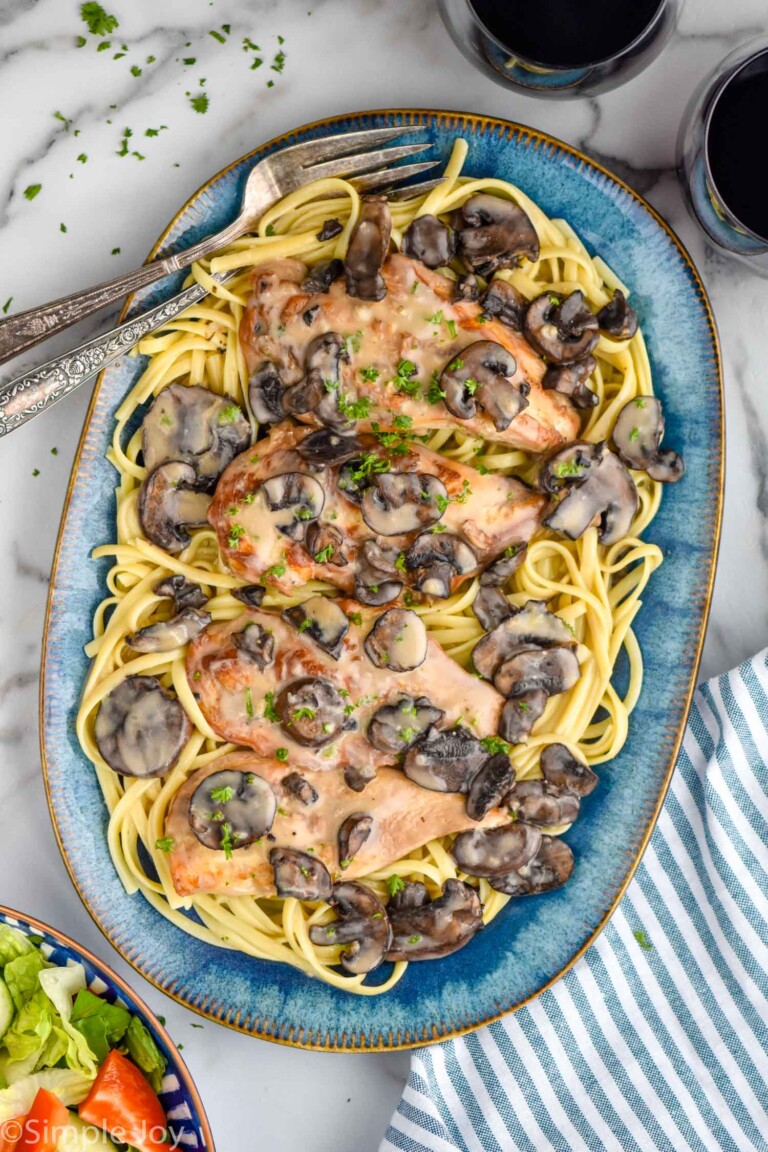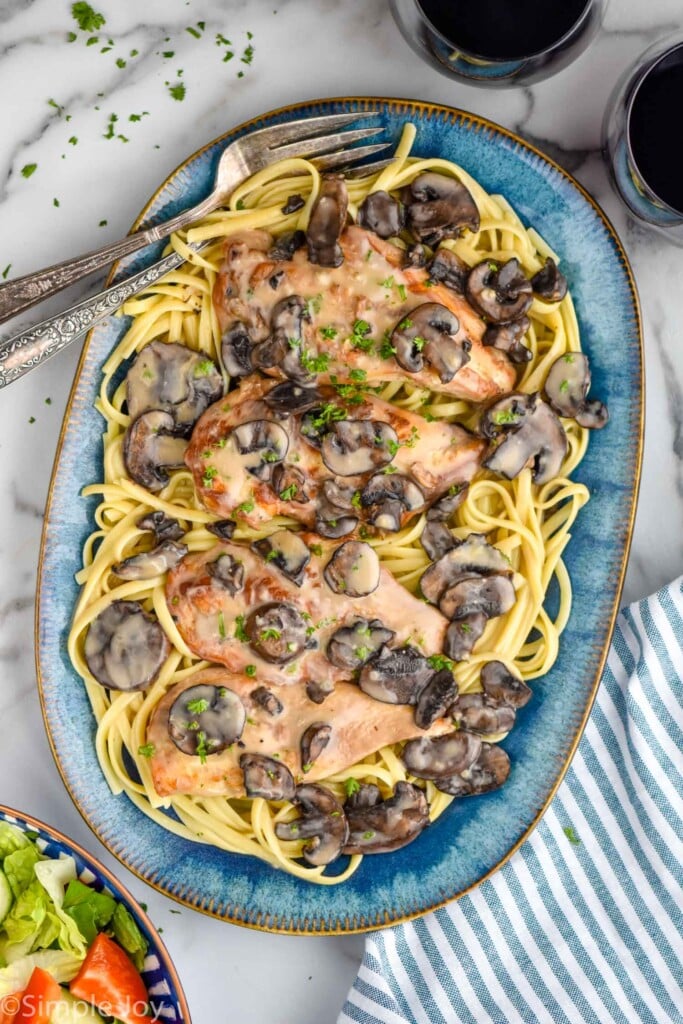 Cooking with Marsala Wine
I normally only recommend cooking with a wine that you would want to drink and shy away from anything labeled "cooking wine." Marsala wine is the exception to that rule. It isn't always easy to find, can be expensive, and isn't something everyone enjoys drinking. Because of that, this is the one and only time I suggest you go with the cooking wine version.
A key ingredient to this Chicken Marsala in the crock pot, as you can imagine, is Marsala wine. It brings the signature dish to this recipe. In many recipes, I give alternatives to wine in the recipe. Unfortunately, in this particular recipe, there is no replacement for the Marsala wine. If you are cooking for someone who is sober, I encourage you to search for a different recipe they will enjoy. My Mushroom Chicken is delicious and wine-free.
Cutting Chicken Breasts into Cutlets
Chicken breasts are so large now that it works best to cut the breasts into four cutlets. This makes for quick cooking and an easy-to-serve dish.
To cut the chicken into cutlets, place hand on top of the chicken breast. Using a very sharp knife, cut the chicken breast in half as seen below.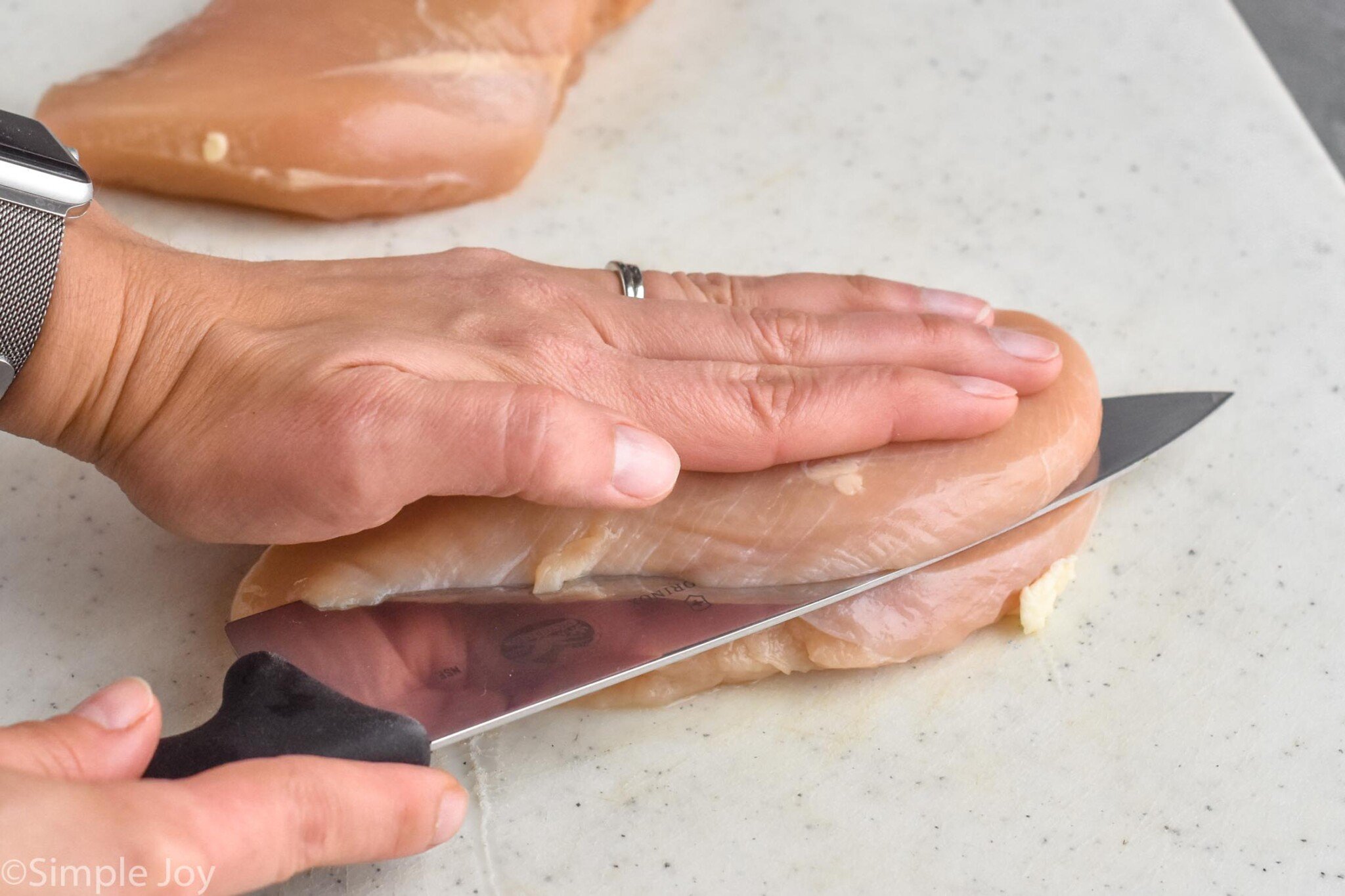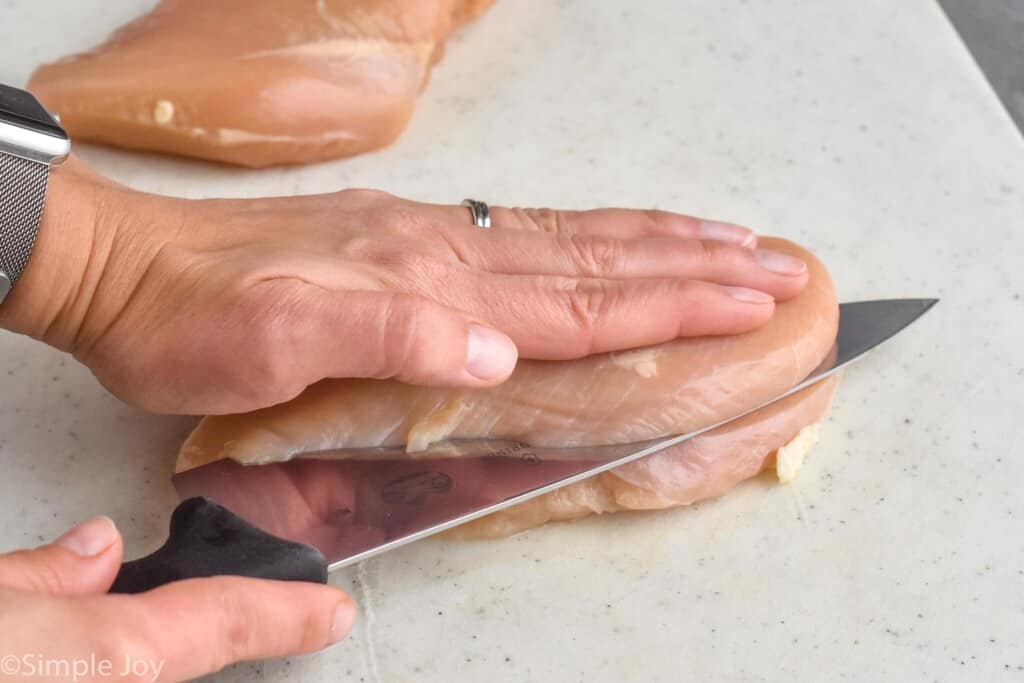 Cut all the way through the chicken breast.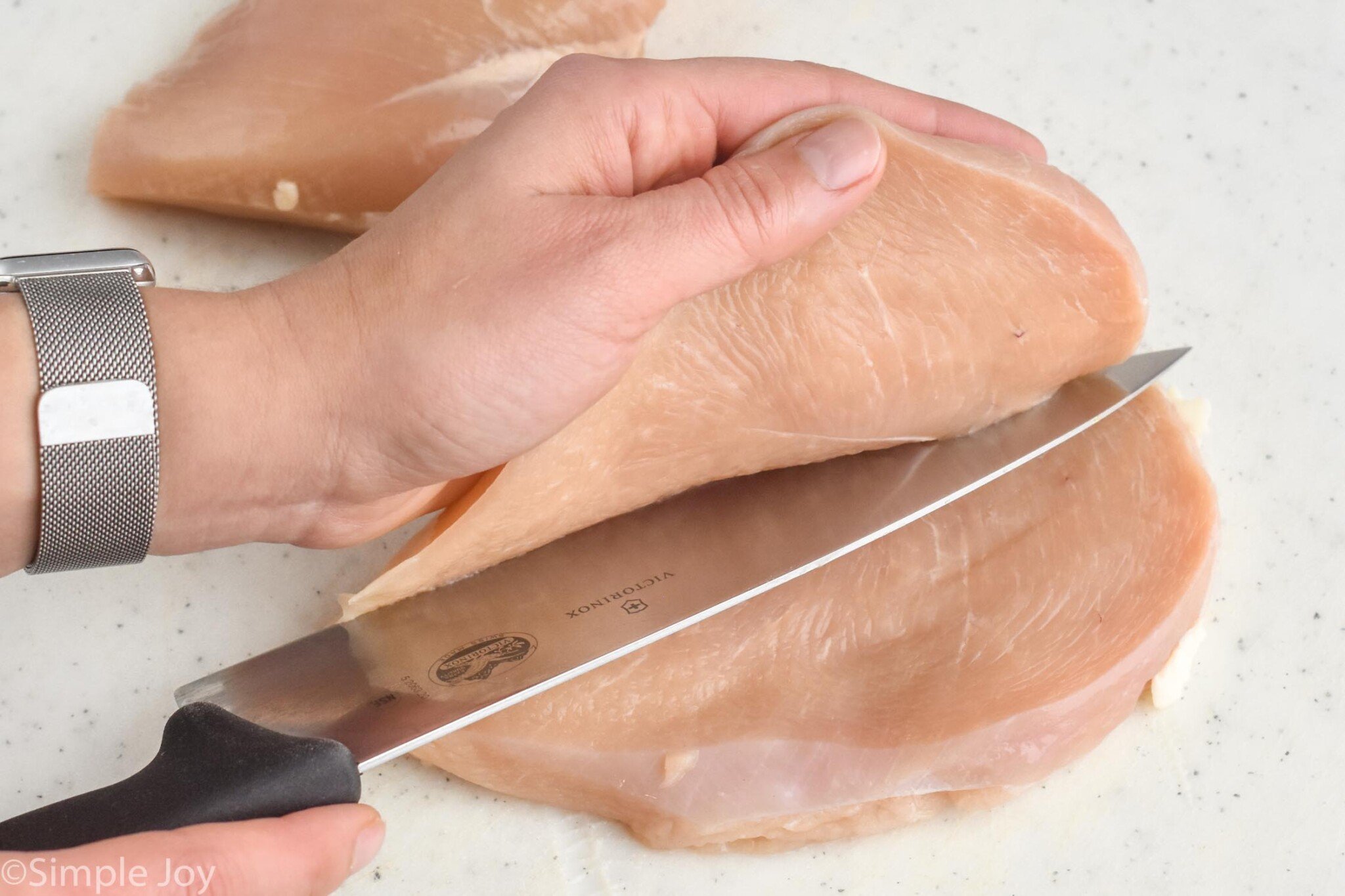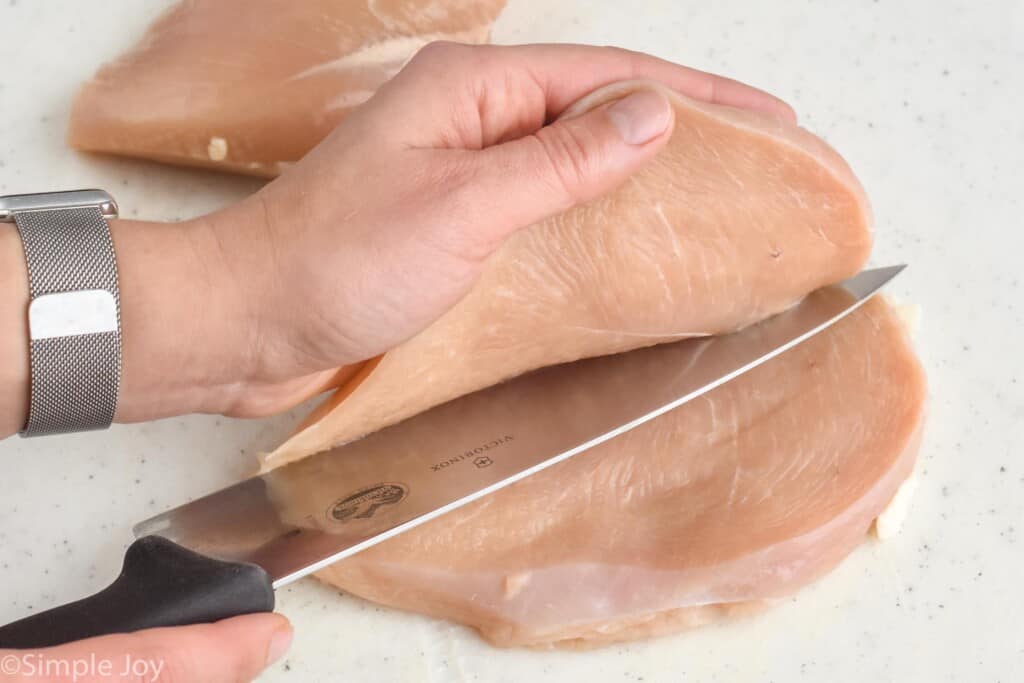 Now you should have four thin chicken cutlets that are about a half-inch thick.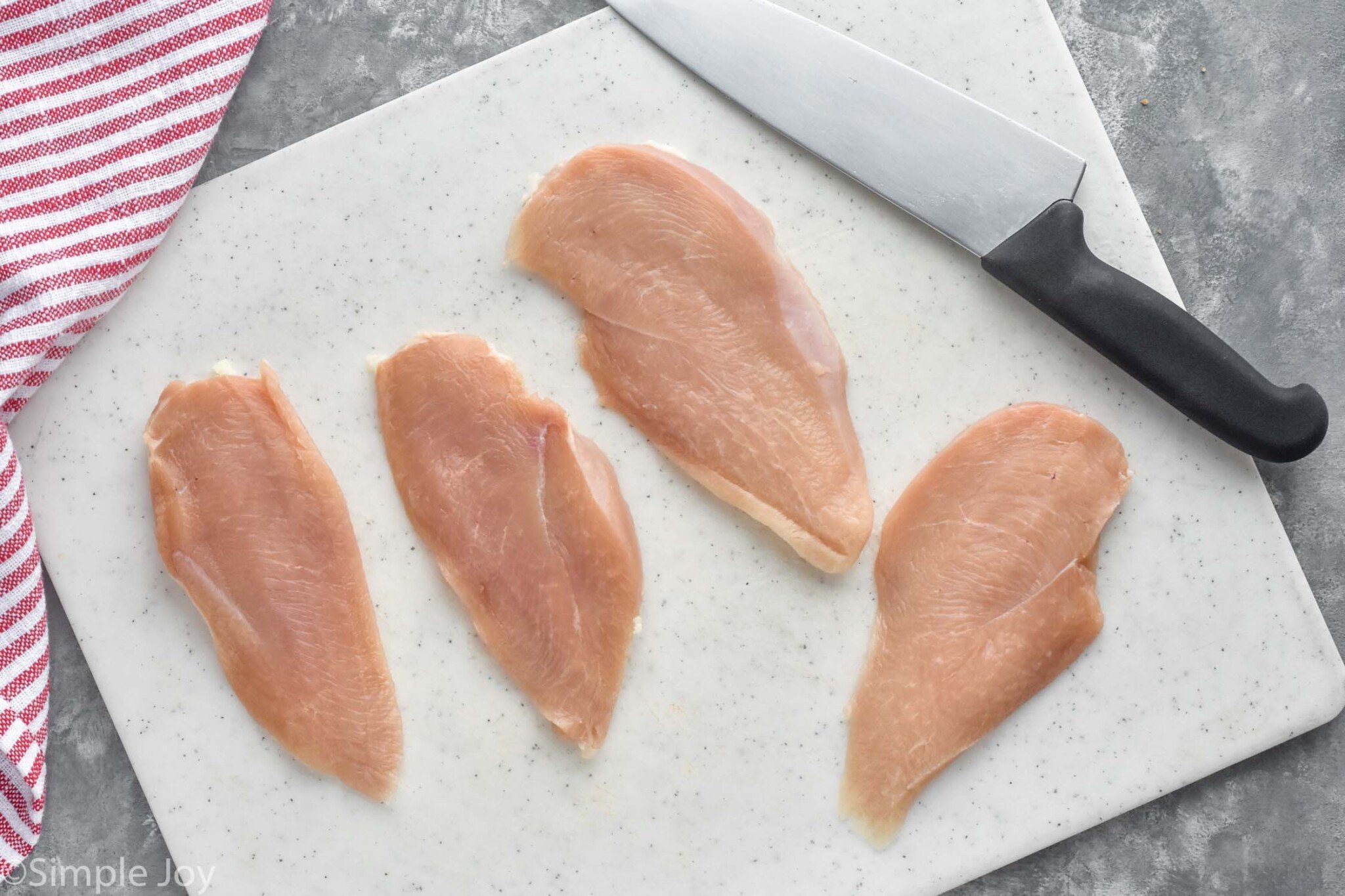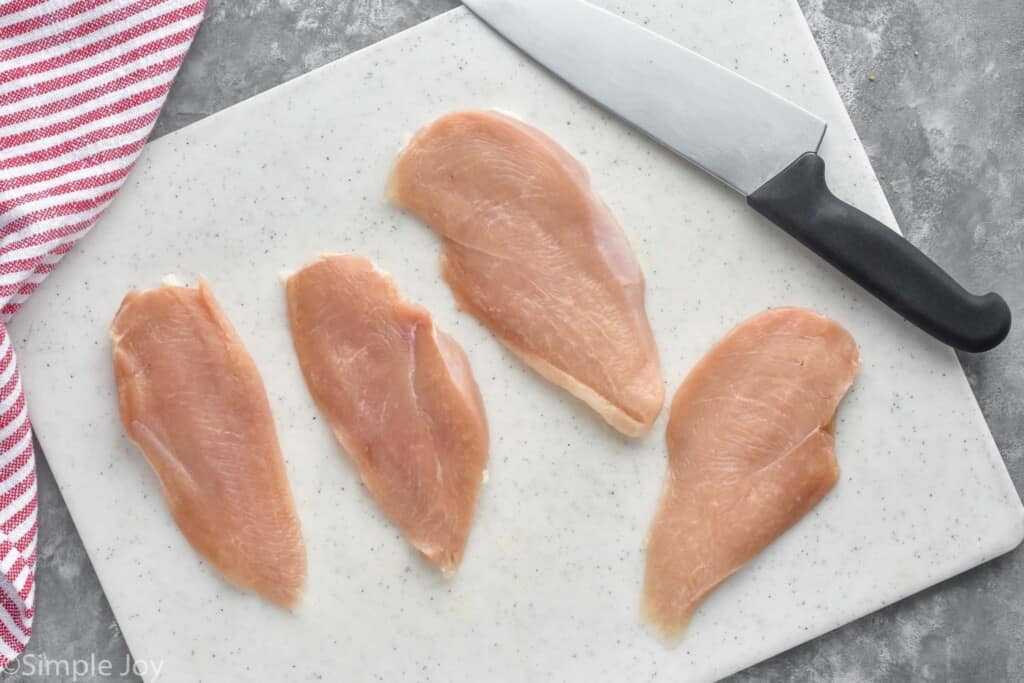 Monitoring the Temperature of Chicken in a Slow Cooker
There is nothing worse than dried-out chicken. In fact, I know a lot of people who refuse to make chicken in the slow cooker for this very reason. I get it. But! There is a really simple solution.
Because the temperatures of crockpots and slow cookers can vary so greatly, I think when you are cooking chicken, relying on temperature rather than time can yield great results. This thermometer is meant to be left in the meat while in the oven. It works perfectly to monitor the temperature of chicken in slow cooker recipes like this one.
Making a Slurry with Cornstarch
I often make a roux on the stovetop to thicken a sauce in the crock pot or make it creamy. It works amazingly in my Crock Pot Broccoli Cheddar Soup.
However, for this recipe, we have minimal liquid that we are working with. After several different attempts at the perfect creamy marsala sauce, making a slurry with cornstarch worked best.
To thicken sauces in the slow cooker with a cornstarch slurry, you will want to mix one part warm water with one part corn starch until the mixture is smooth. Then, stir it into the liquid in the slow cooker. Give it some time to thicken and have a beautiful sauce with minimal effort.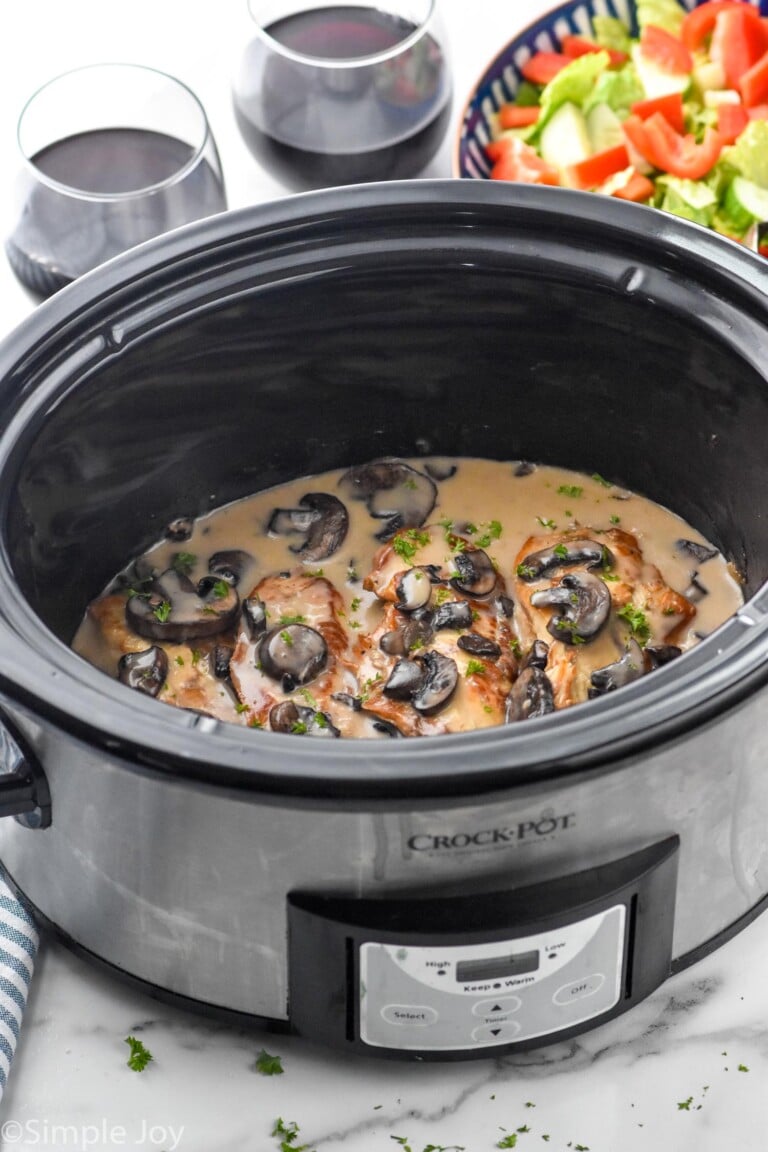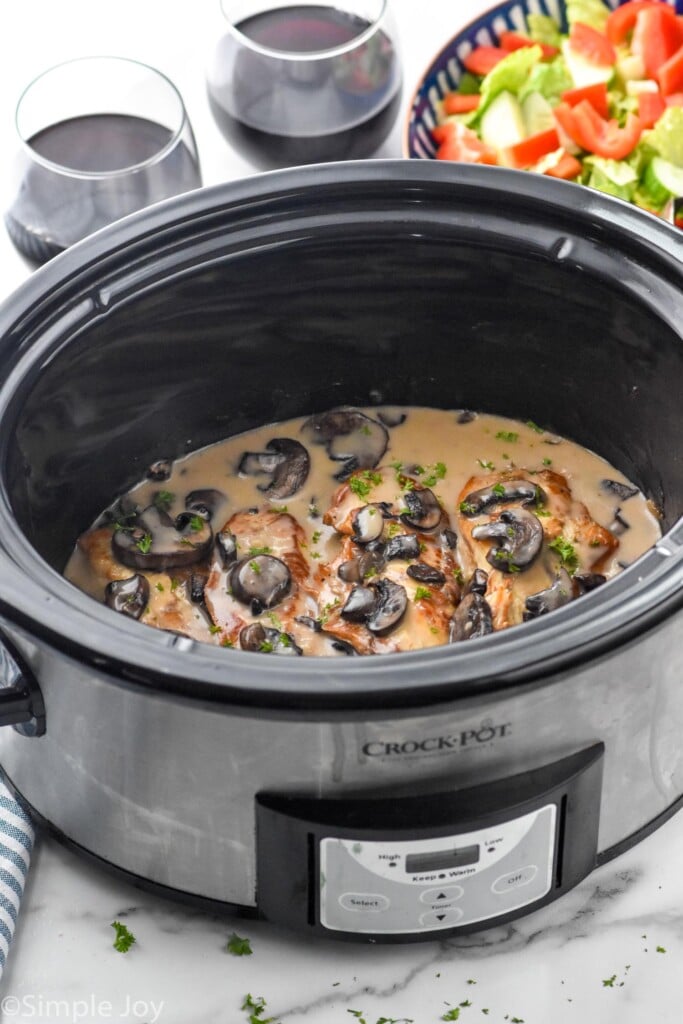 Low Carb Chicken Marsala
On its own, this Chicken Marsala recipe is low carb. It is when we pair it with fettuccine that we run into problems. If you are eating low carb, I would suggest that you pair this with my Mashed Cauliflower instead. The Marsala sauce will be amazing over the Mashed Cauliflower and it will keep the whole dish low carb.
Mashed Cauliflower
Mashed Cauliflower will blow your mind. It is low carb, but tastes like decedent mashed potatoes. This easy swap will become your new favorite side dish.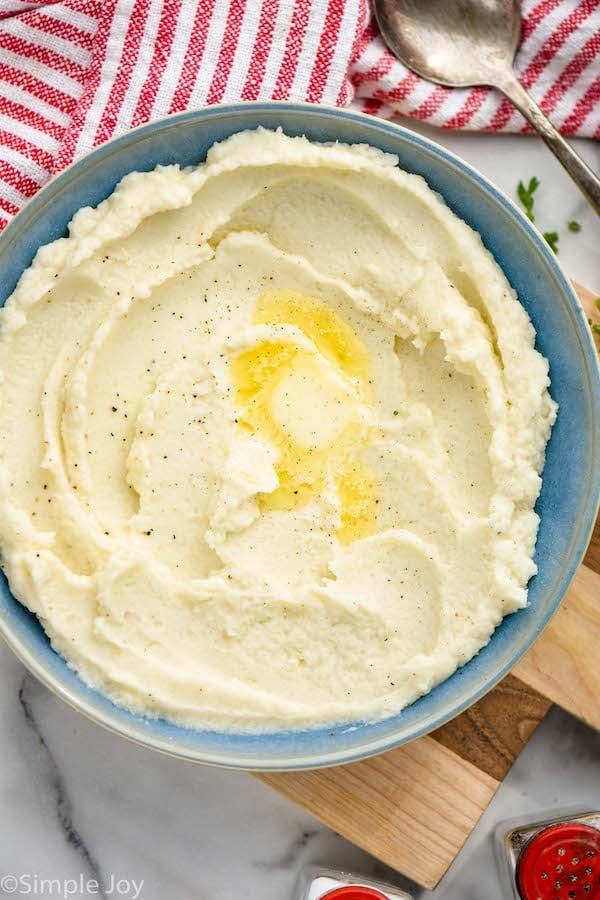 Storing and Reheating Leftovers
Any leftover Chicken Marsala should be stored in the refrigerator for up to four days. As with any recipe, use your best discretion when it comes to leftovers.
To reheat, put the chicken breasts you plan on eating, some of the mushrooms, and some of the sauce in a shallow skillet over low heat. Stir often, and simmer for about 20 minutes or until the chicken is warmed through.
FAQ
Is Crock Pot Chicken Marsala gluten free?
Yes! Unlike my original Chicken Marsala recipe, the sauce in this recipe is thickened with cornstarch, making it a great gluten-free dinner.
Can you make Chicken Marsala without wine?
Unfortunately, no. The Marsala wine is what gives Chicken Marsala its signature taste. You can read more about this above.
Can you make this recipe dairy free?
Yes! The heavy cream in this is delicious, but it is great without it too.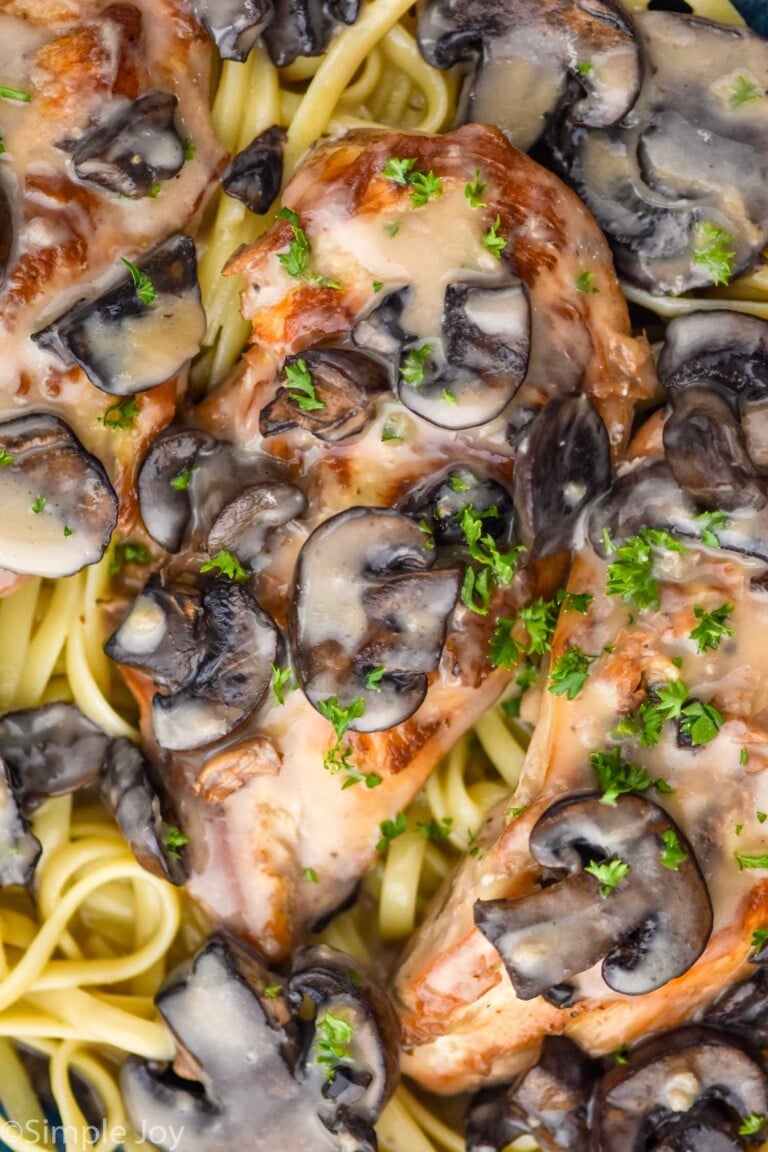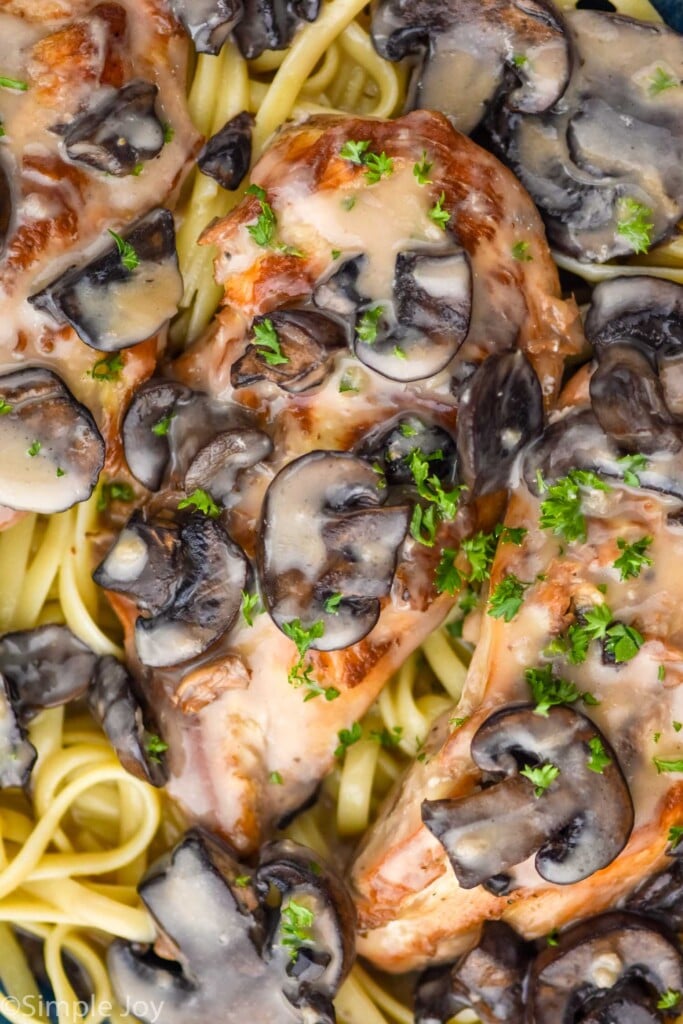 What to Serve with Crock Pot Chicken Marsala
As mentioned above, you can serve this over fettuccine or if you are eating low carb, Mashed Cauliflower. Some great side dishes are:
You can get more great delicious side ideas here: Side Recipes.
If you make this Slow Cooker Chicken Marsala or any of my other recipes, please leave me a comment and let me know what you think!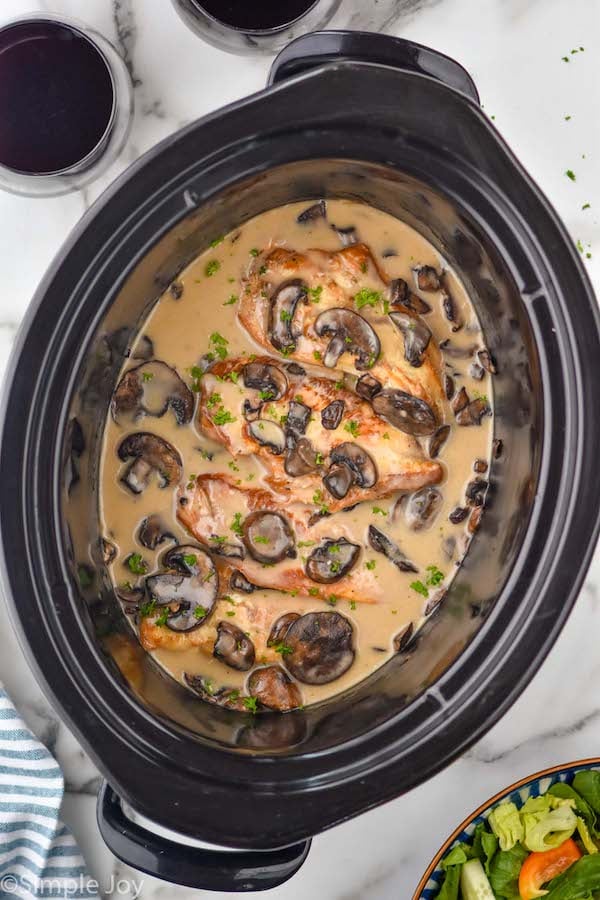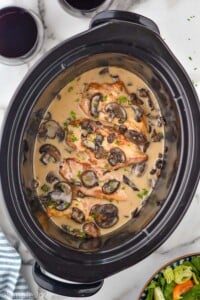 Crockpot Chicken Marsala
Total:
3
hours
15
minutes
Ingredients
1

tablespoon

olive oil

Salt and pepper

1

pound

chicken

cut in half lengthwise to make cutlets

1/2

cup

chicken stock

1/2

cup

Marsala wine

(read about cooking with Marsala wine here)

2

cloves garlic

minced

8

ounces

sliced mushrooms

(I used baby portobellos)

2

tablespoons

corn starch

2

tablespoons

heavy cream

8

ounces

fettuccine

cooked according package instructions (to serve with)
Instructions
Heat the olive oil in a large skillet over medium heat. Season the chicken with salt and pepper and brown on both sides in the skillet. (This step is absolutely optional. It adds a bit of good flavor and texture, but if you are in a hurry, skip it.)

In the base of the slow cooker, combine the chicken stock, Marsala wine, and garlic.

1/2 cup chicken stock,

1/2 cup Marsala wine,

2 cloves garlic

8 ounces sliced mushrooms

At the end of the cooking time, remove the chicken and tent with foil.

Whisk together 2 tablespoons warm water and 2 tablespoons corn starch. Stir it into the liquid in the crockpot so it is fully combined. Turn the crockpot to high and let cook (with the top off) for 5 minutes.

Stir in the heavy cream if using, and taste the sauce. Add more salt and pepper if necessary and then add the chicken back to the slow cooker, spooning the sauce over the top. Serve over fettuccine and enjoy.

2 tablespoons heavy cream
Calories:
274
kcal
(14%)
Carbohydrates:
12
g
(4%)
Protein:
26
g
(52%)
Fat:
10
g
(15%)
Saturated Fat:
3
g
(19%)
Polyunsaturated Fat:
1
g
Monounsaturated Fat:
4
g
Trans Fat:
0.02
g
Cholesterol:
82
mg
(27%)
Sodium:
185
mg
(8%)
Potassium:
698
mg
(20%)
Fiber:
1
g
(4%)
Sugar:
4
g
(4%)
Vitamin A:
145
IU
(3%)
Vitamin C:
2
mg
(2%)
Calcium:
18
mg
(2%)
Iron:
1
mg
(6%)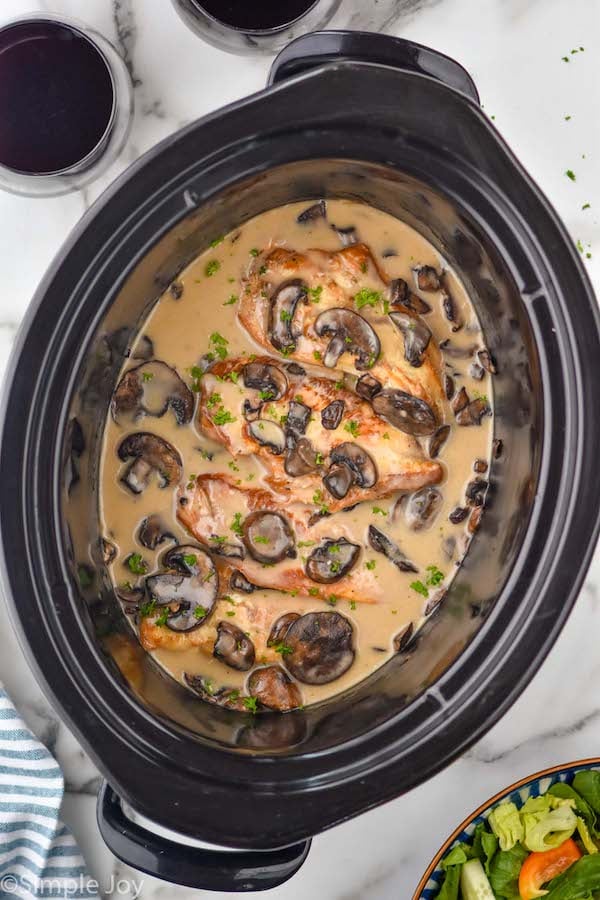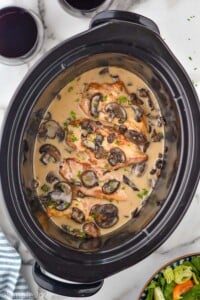 did you make this
Crockpot Chicken Marsala