This easy Cream of Mushroom Chicken is made completely from scratch with instructions for a great short cut!
The creamy sauce that smothers the chicken has is rich and deep, despite coming together in just over 30 minutes.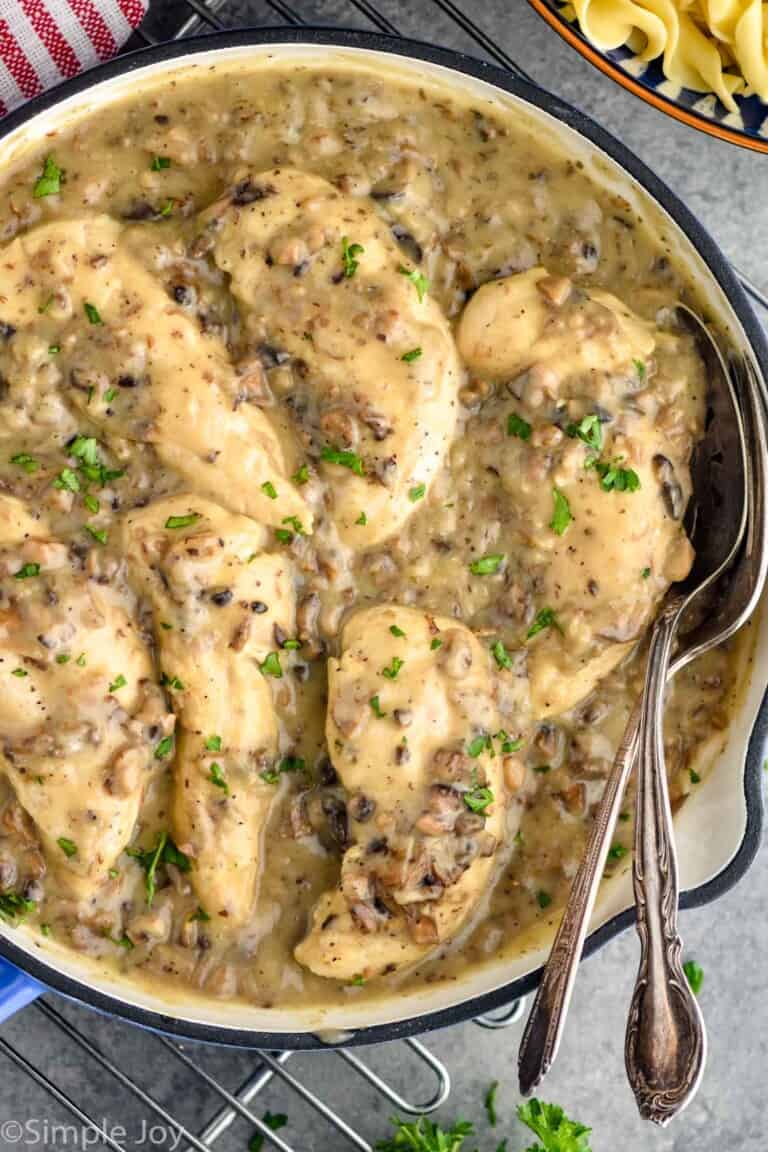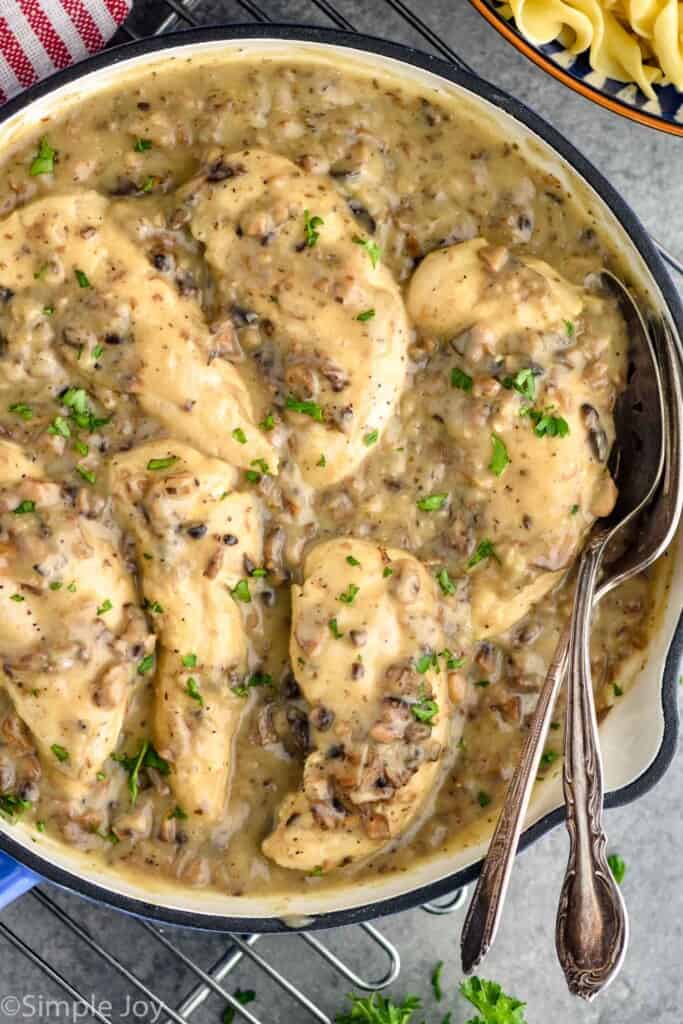 The other day on Twitter someone was encouraging others to not look down on people for using jarred minced garlic. And I found it so refreshing. She pointed out that not everyone can afford fresh ingredients and some people physically can't peel garlic. Let people cook how they are able!
It spoke to me.
In the course of giving you recipes, I will always make my recommendations for what I think works best, but you should feel free to do what works right for you in your kitchen.
This Cream of Mushroom Chicken is a perfect example. The classic version of this recipe uses canned cream of mushroom soup – a great shortcut in the kitchen! In this version we are making condensed cream of mushroom soup from scratch and the total recipe takes 35 minutes.
Do what works for you!
READER REVIEW
I made your cream of mushroom chicken recipe tonight, it was delicious and very easy to make. Thank you for the wonderful recipe!
How to Make Cream of Mushroom Chicken
This recipe is really simple and perfect on a bed of noodles, so I will add in that step too. For the complete list of measurements, as always, see the recipe card at the bottom.
Prepare your mushrooms. For this recipe we want the mushrooms chopped very small. If you purchase pre sliced mushrooms you will have a head start on this and it will go fast.
Start the noodles. Bring a large pot of water to a boil to make noodles to go with this recipe. When it boils, add in your noodles and allow to cook while you make the rest of the meal.
Brown the chicken. We are going to very lightly brown the chicken in some melted butter before removing it from the pan.
Make the sauce. Start by sautéing the mushrooms and then make a roux and add in some milk and seasonings.
Bring back the chicken. Add the chicken back to the skillet to finishing cooking through.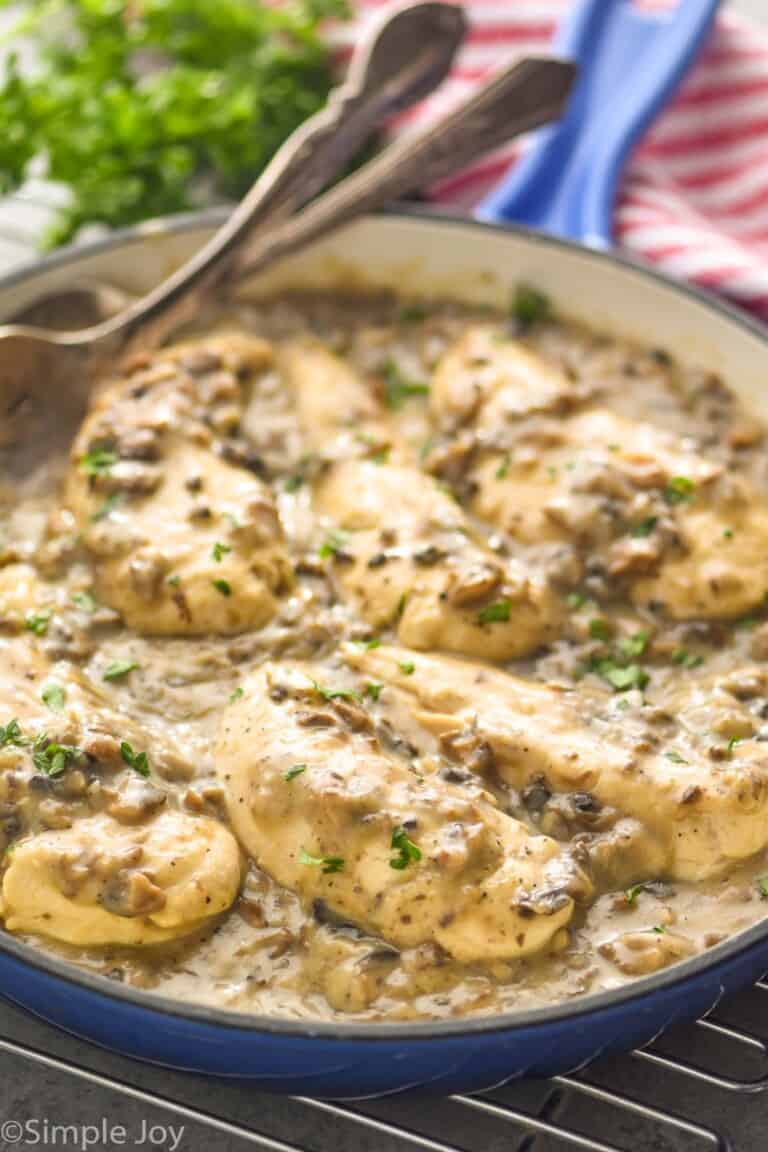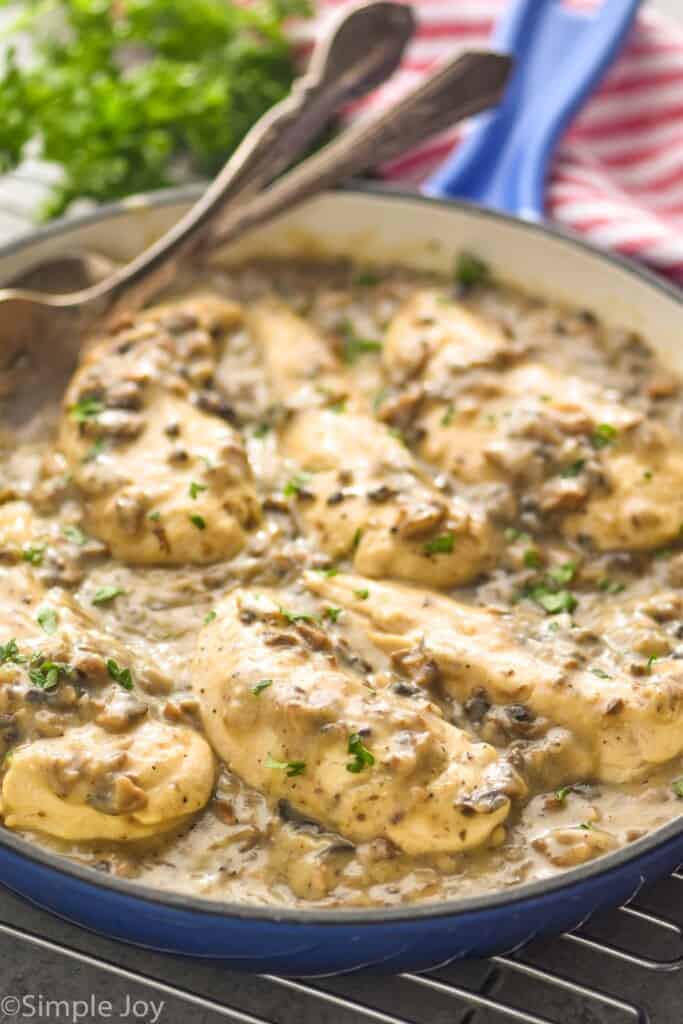 Making a Roux
A roux is the combination of a fat – in this case butter- with flour. It is what thickens creamy sauces and soups. The key is to allow the flour to completely absorb the fat, and then slowly mix in the liquid. In this way you don't taste the flour at the end and you end up with a thick creamy sauce.
Using Canned Condensed Cream of Mushroom Soup
As I mentioned above, this recipe originally was made using the canned soup. You can absolutely replace the mushrooms and everything for the sauce with the canned soup.
When you use the canned soup, brown the chicken in two tablespoons of butter instead of four. Keep an eye on things and if it thickens too much add a splash of milk.
Why Chicken Tenderloins
I picked chicken tenderloins for this recipe because they cook faster than chicken breasts. Chicken cutlets would be thin enough to make this recipe work, but it would be difficult to fit an entire pound worth in a skillet.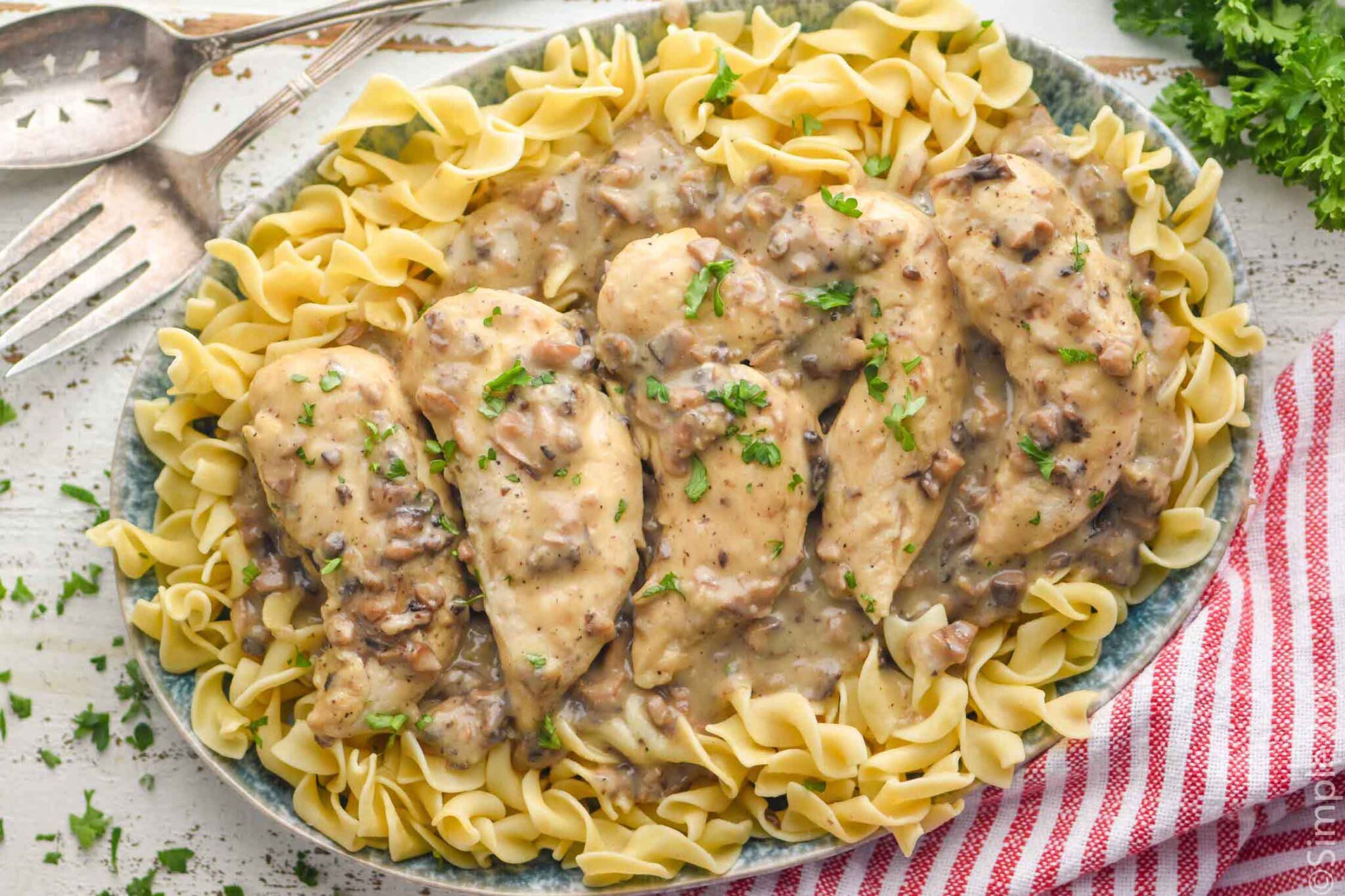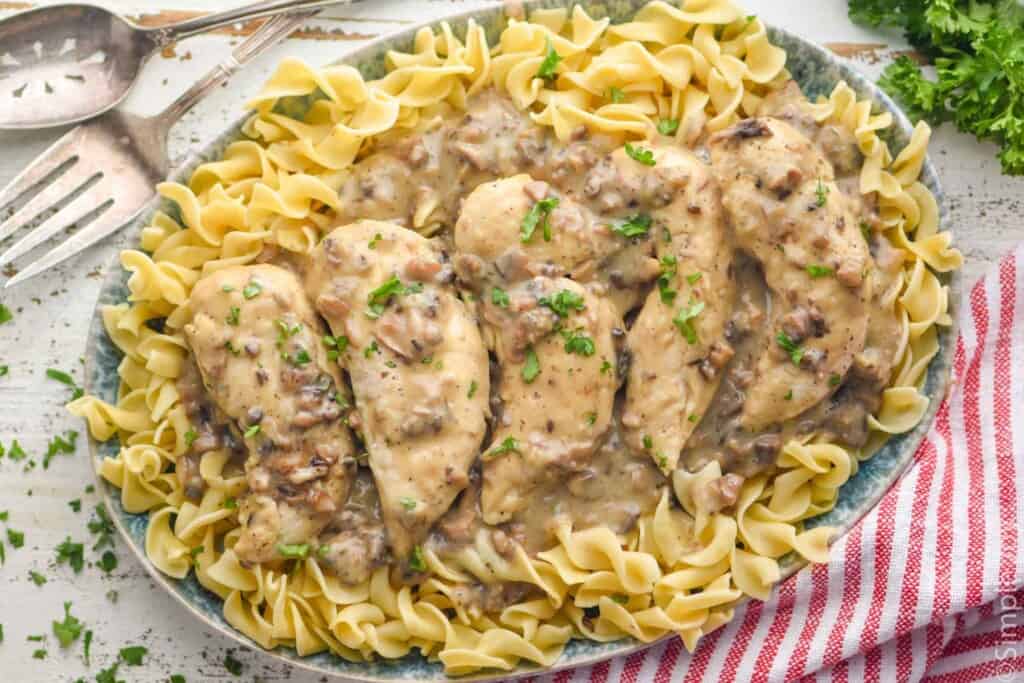 What Type of Mushrooms to Buy
For this recipe I recommend pre sliced baby portabella mushrooms. They tend to be just slightly more expensive than whole white button mushrooms for example. But the flavor difference and ease of working with prepped mushrooms is worth it to me.
I can't believe I didn't like mushrooms as a kid, they are so earthy and delicious. I am the proud mom of two out of three kids who likes mushrooms and one who is tolerant. It feels like the biggest win.
What Milk to Use
Use whatever milk your family drinks for this recipe. I used skim and it worked perfectly. Going higher in fat content, even to half and half, will only make this recipe creamier.
How to Serve Cream of Mushroom Chicken
We love this recipe over noodles, but it would be great over rice or mashed potatoes too. Certainly if you are eating low carb you could eat it on it's own or with a side of my roasted broccoli. Keep in mind that this is a great high protein dish, but you do have carbohydrates from the flour in the sauce.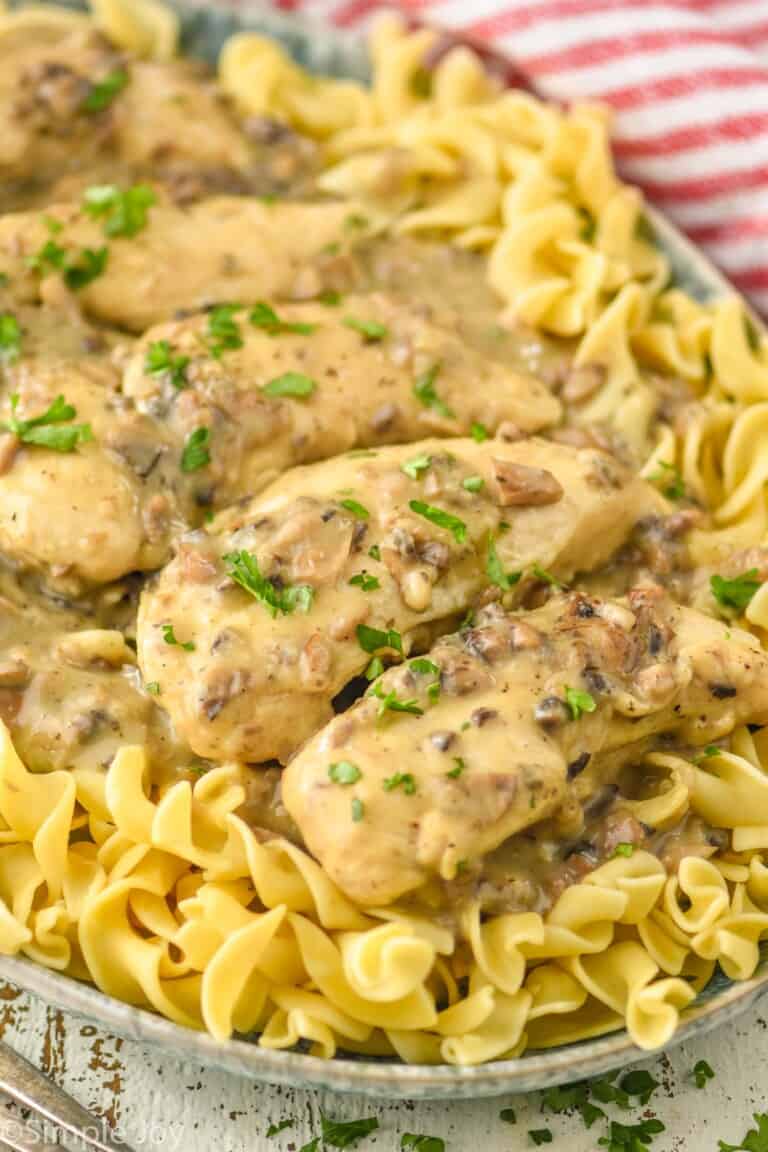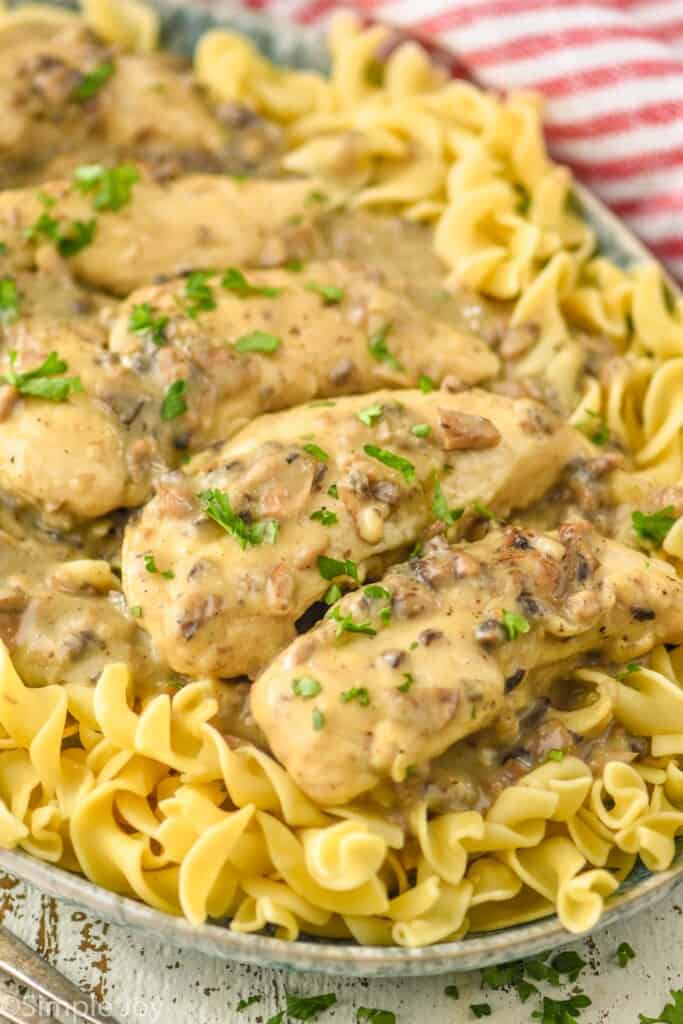 What to Serve with Cream of Mushroom Chicken
I have a lot of great side dishes that would compliment this chicken dinner.
If you make this great Cream of Mushroom Chicken please be sure to leave me a comment and let me know what you think. I love hearing from you.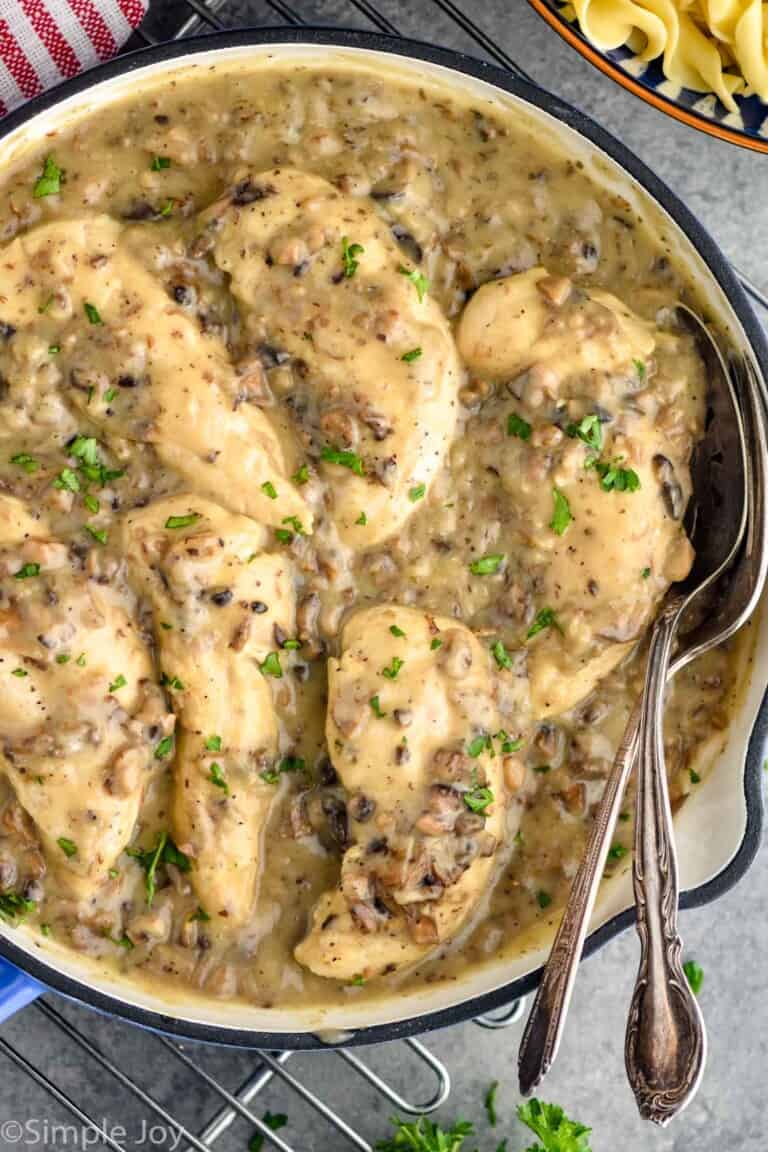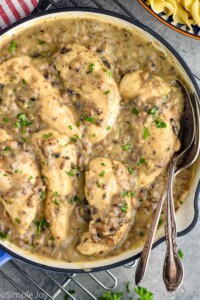 Cream of Mushroom Chicken
This easy Cream of Mushroom Chicken is made completely from scratch with instructions for a great short cut!
Ingredients
1

pound

chicken tenderloins

seasoned with salt and pepper

4

tablespoons

unsalted butter

8

ounces

mushrooms

chopped small

3

tablespoons

all purpose flour

(read how to use condensed cream of mushroom soup instead here)

1

cup

chicken stock

3/4

cup

milk

1/2

teaspoon

garlic powder

1/2

teaspoon

onion powder

1/2

teaspoon

kosher salt

1/4

teaspoon

black pepper
Instructions
In a large skillet melt the butter. Add the chicken and brown for 2 minutes on each side. Remove from the skillet and tent loosely with foil.

Add the mushrooms and saute until they are soft, about 4 to 6 minutes.

Whisk in the flour and then very slowly whisk in the chicken stock. Add just a few tablespoons at a time, whisking to combine it, until it is completely added.

Whisk in the milk, garlic powder, onion powder, salt and pepper.

Add the chicken back to the skillet.

Bring to a simmer, and cook, stirring often, over low heat for 13 to 15 minutes or until the chicken reaches 165 degrees with an instant read thermometer.
Calories:
319
kcal
(16%)
Carbohydrates:
12
g
(4%)
Protein:
30
g
(60%)
Fat:
17
g
(26%)
Saturated Fat:
9
g
(56%)
Polyunsaturated Fat:
1
g
Monounsaturated Fat:
5
g
Trans Fat:
0.5
g
Cholesterol:
110
mg
(37%)
Sodium:
539
mg
(23%)
Potassium:
802
mg
(23%)
Fiber:
2
g
(8%)
Sugar:
4
g
(4%)
Vitamin A:
460
IU
(9%)
Vitamin C:
2
mg
(2%)
Calcium:
94
mg
(9%)
Iron:
8
mg
(44%)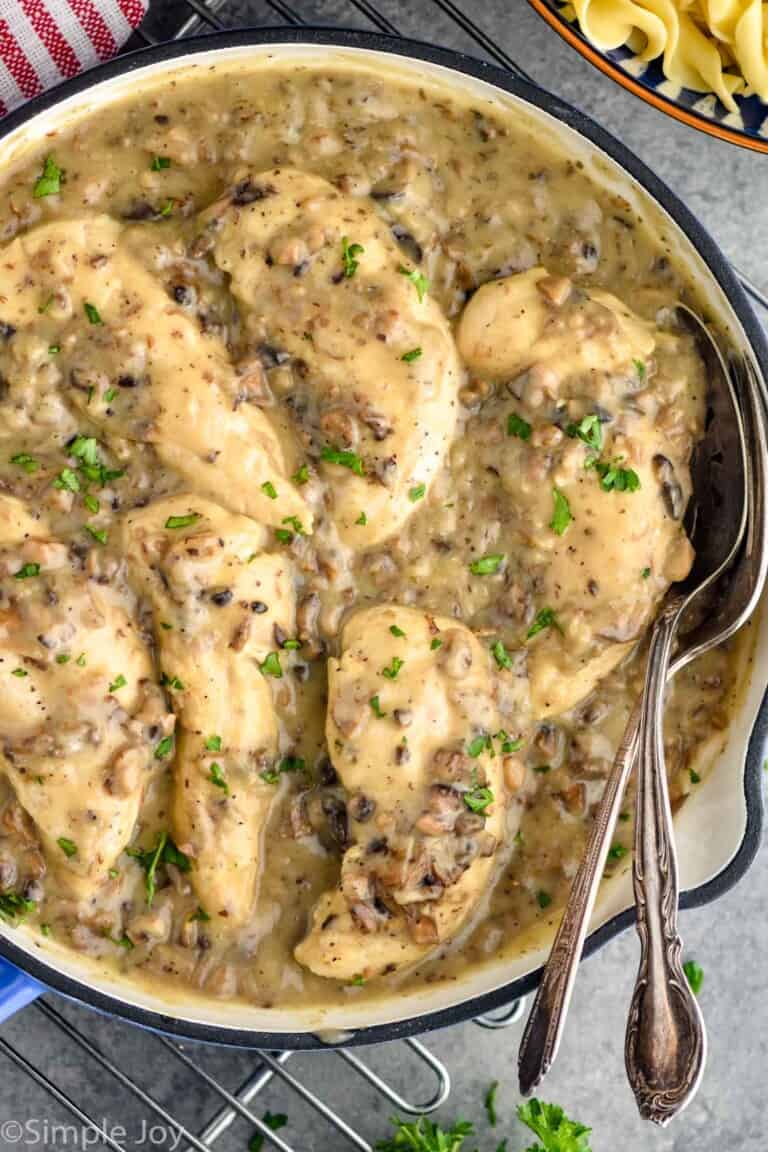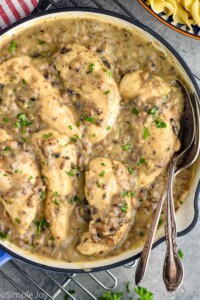 did you make this
Cream of Mushroom Chicken