This French Bread Pizza makes such an easy weeknight dinner! Throw it together in 10 minutes with your favorite toppings.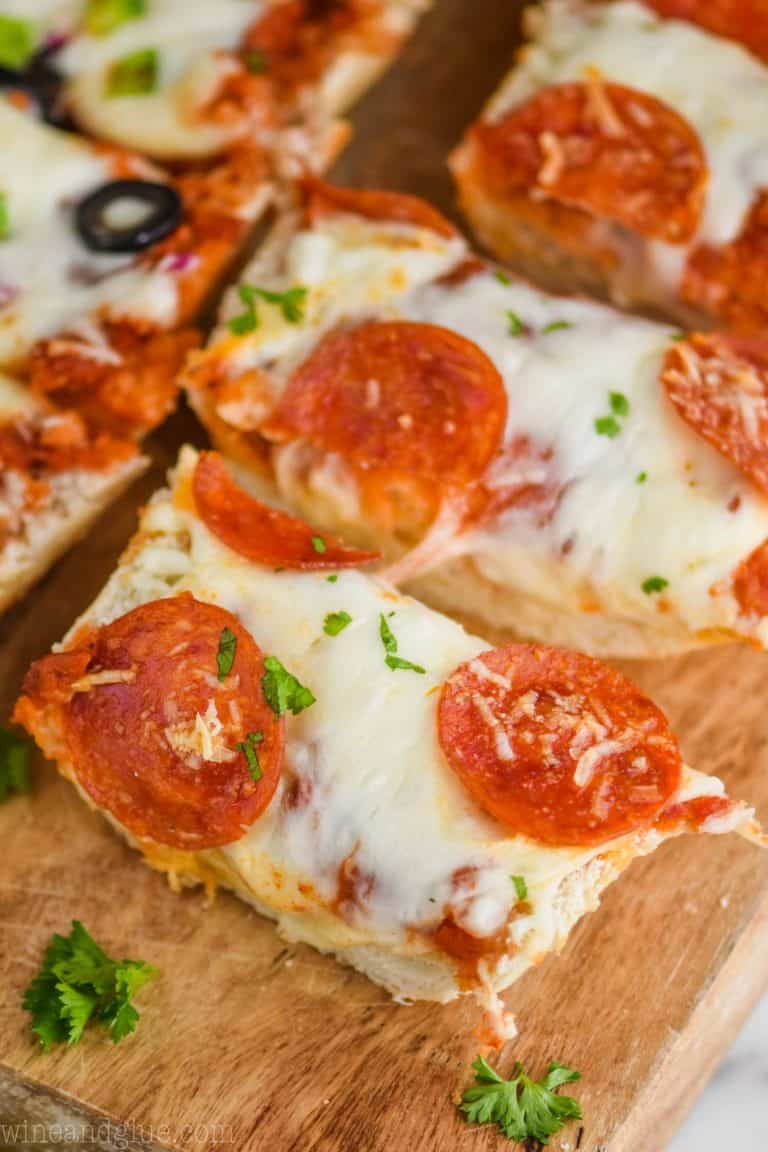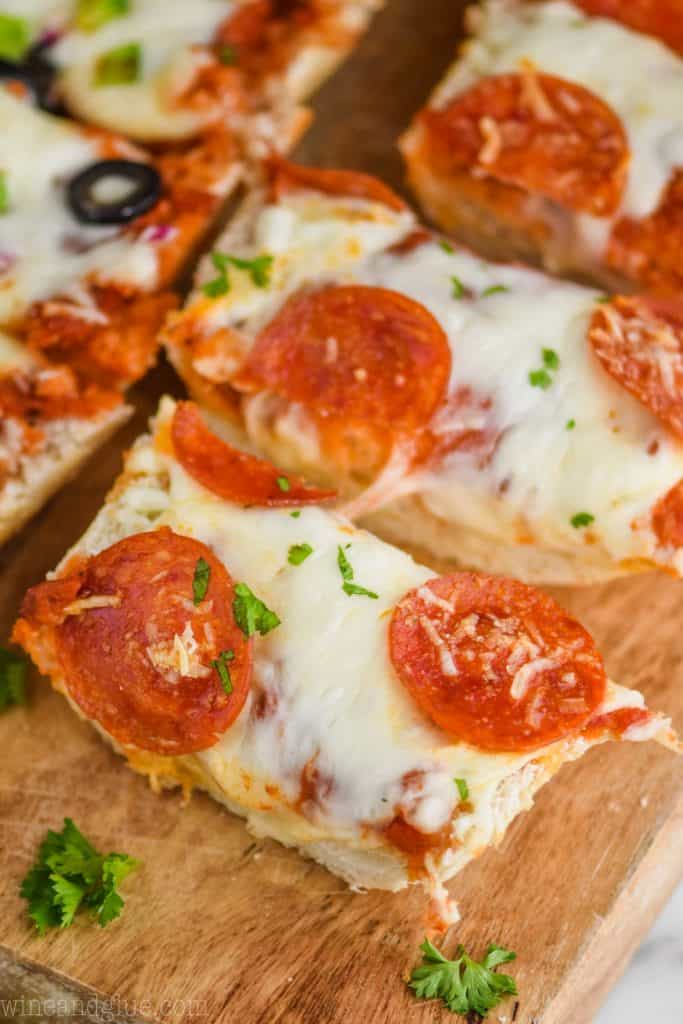 This is our favorite date night recipe!
For our kids.
So often people point out to me how often Nathan and I go out on date nights. It's true, we try to make it out at least once or twice a month, sometimes more. Date night has been the best gift we've ever given our marriage.
But! It means that we have to come up with something for our kids to eat before we head out. Enter this French Bread Pizza recipe! It comes together so quickly and my kids gobble it up!
How to Make French Bread Pizza
This french bread pizza recipe could not be easier.
Start with a 16 ounce loaf of french bread. You are looking for a nice soft loaf, not a crusty baguette for dipping in soup.
Make sure to preheat your oven before you start prepping. It needs to be pretty hot.
Cut the loaf in half and top each side generously with my pizza sauce recipe. (Real talk: No judgement if you use store bought.)
Then top generously with freshly grated mozzarella cheese (more on that in a moment) and all of your favorite pizza toppings.
Bake for 15 minutes, slice up, and enjoy!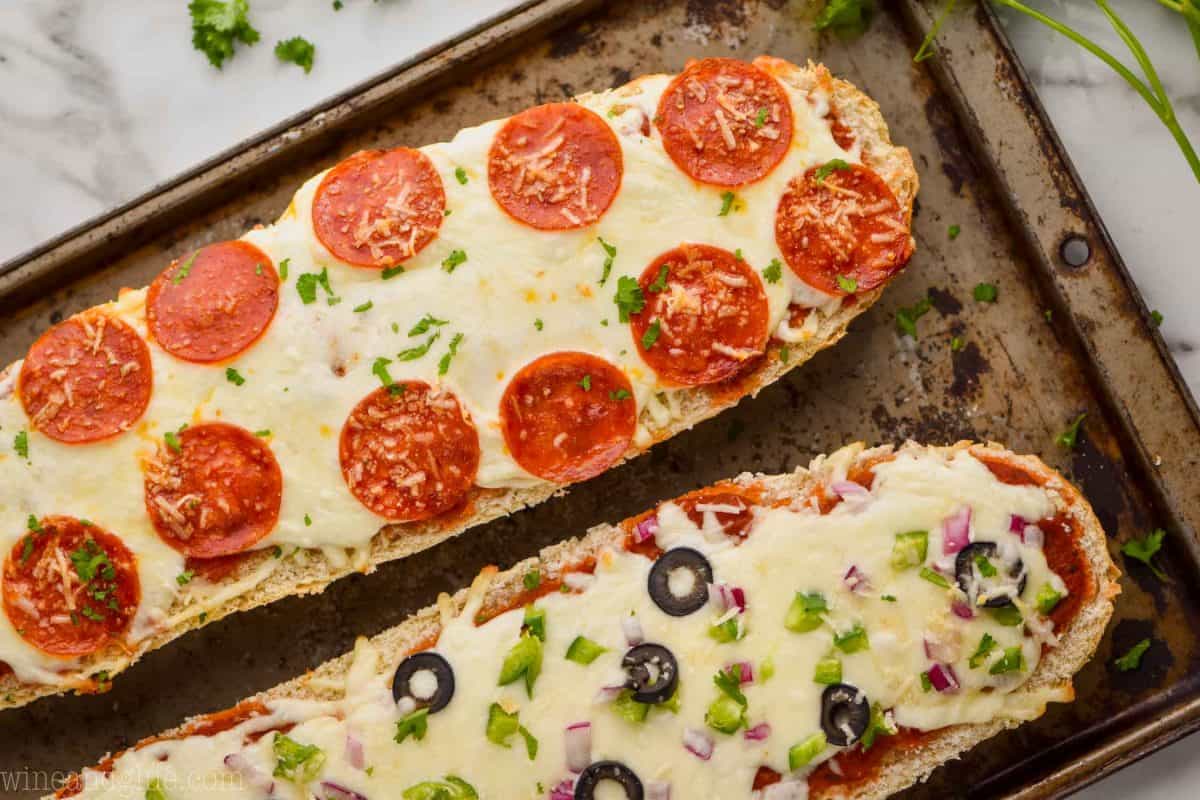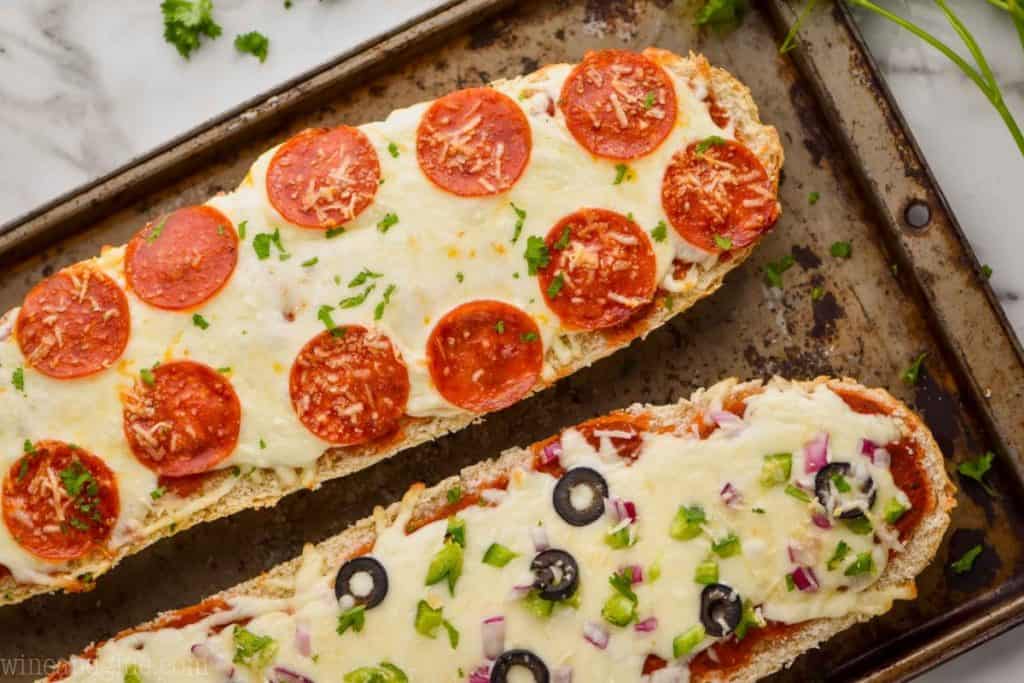 Why We Love French Bread Pizza
Homemade french bread pizza has become a new staple around here.
The main reason I love it is because it is so simple to make. You just can't beat only 10 minutes of prep time and a quick 15 minutes in the oven.
When we have no idea what else to make, this french bread pizza recipe comes to the rescue.
Skip the Pre-Shredded Cheese
I've said it before and I will keep saying it until I convert the world.
Okay, maybe not.
Look. I really think you should do you. If your life is easier using shredded cheese, use it.
But please know that you will take your recipe up a notch when you take those extra few minutes to grate your own. Make your kid do it! I promise it melts so much better.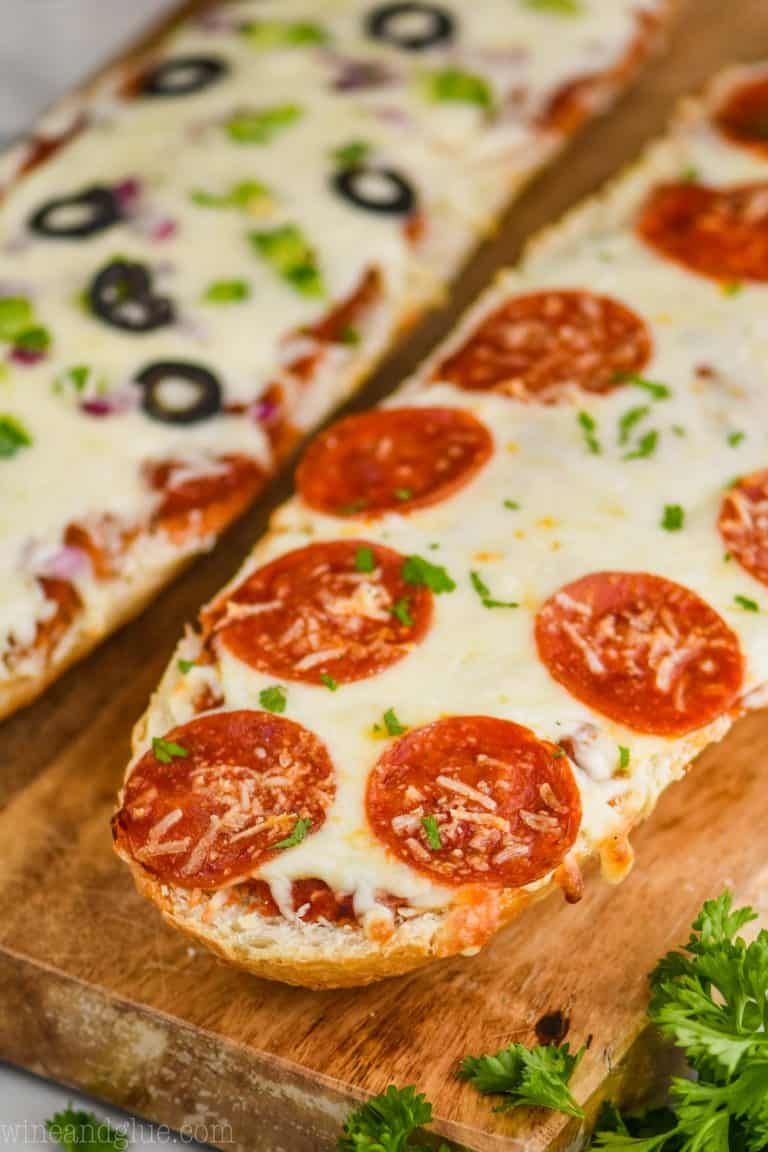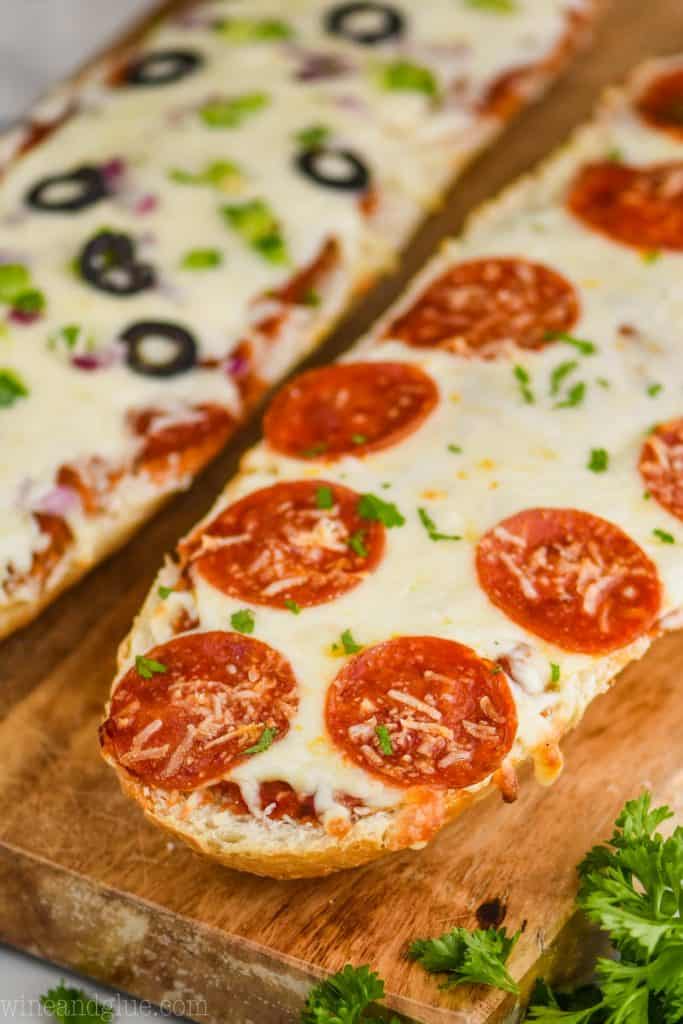 Freezing French Bread Pizza
With how easy this recipe is to make, you might want to just make it fresh. But I know how great it is to have meals you can pull out of the freezer too.
To freeze this french bread pizza:
Prepare the pizza as though you were going to bake it.
Instead put it in the freezer for two hours.
Once completely frozen, put in an airtight container and freeze up to three months.
Heating Frozen French Bread Pizza
When you are ready to make your french bread pizza, bake the pizza for an extra 15 minutes or until the cheese is bubbly and golden. (Still at 400 degrees.)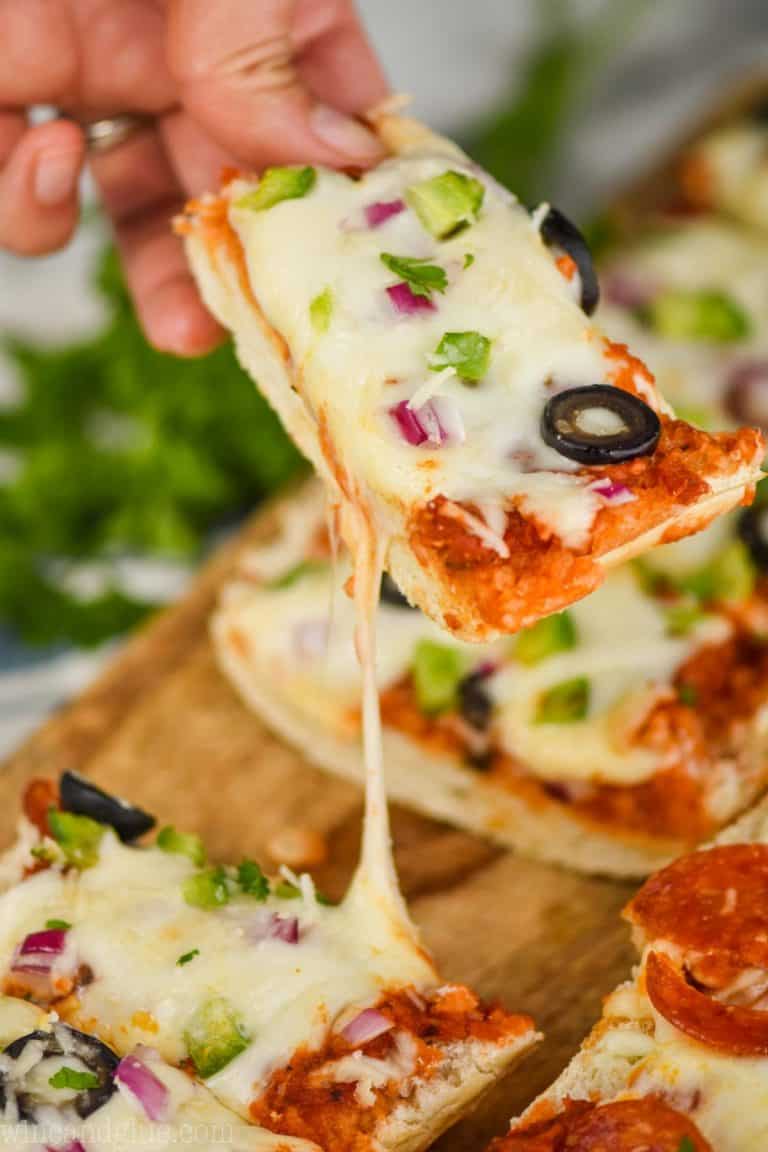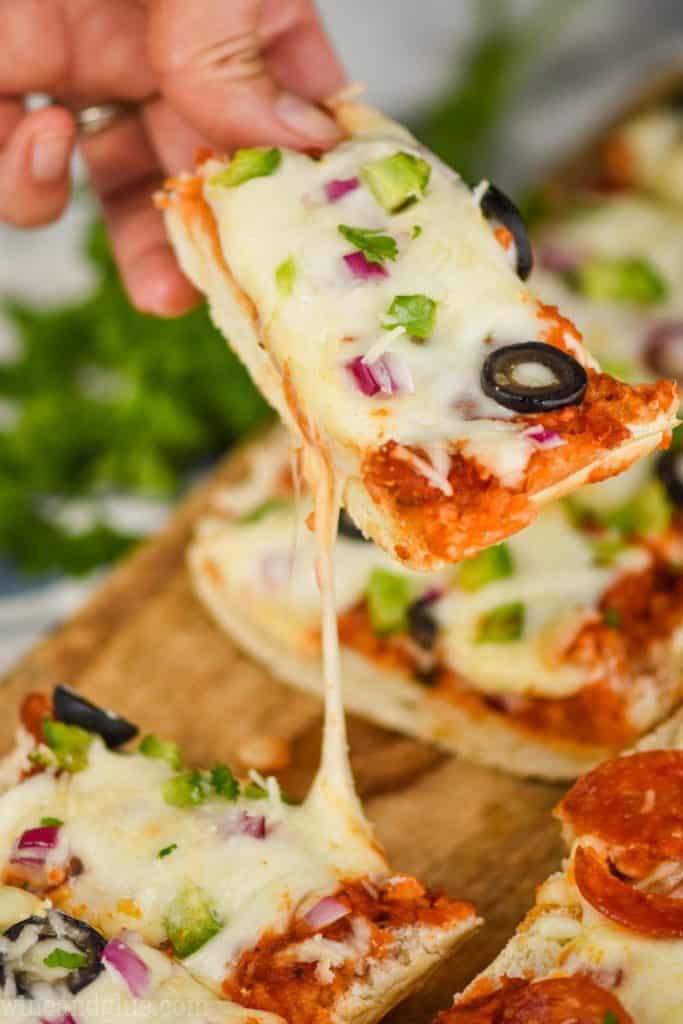 What to Serve with French Bread Pizza
There are so many great sides that would go perfectly with this recipe.
If you make this French Bread Pizza recipe or any of my other recipes leave me a comment and let me know what you think!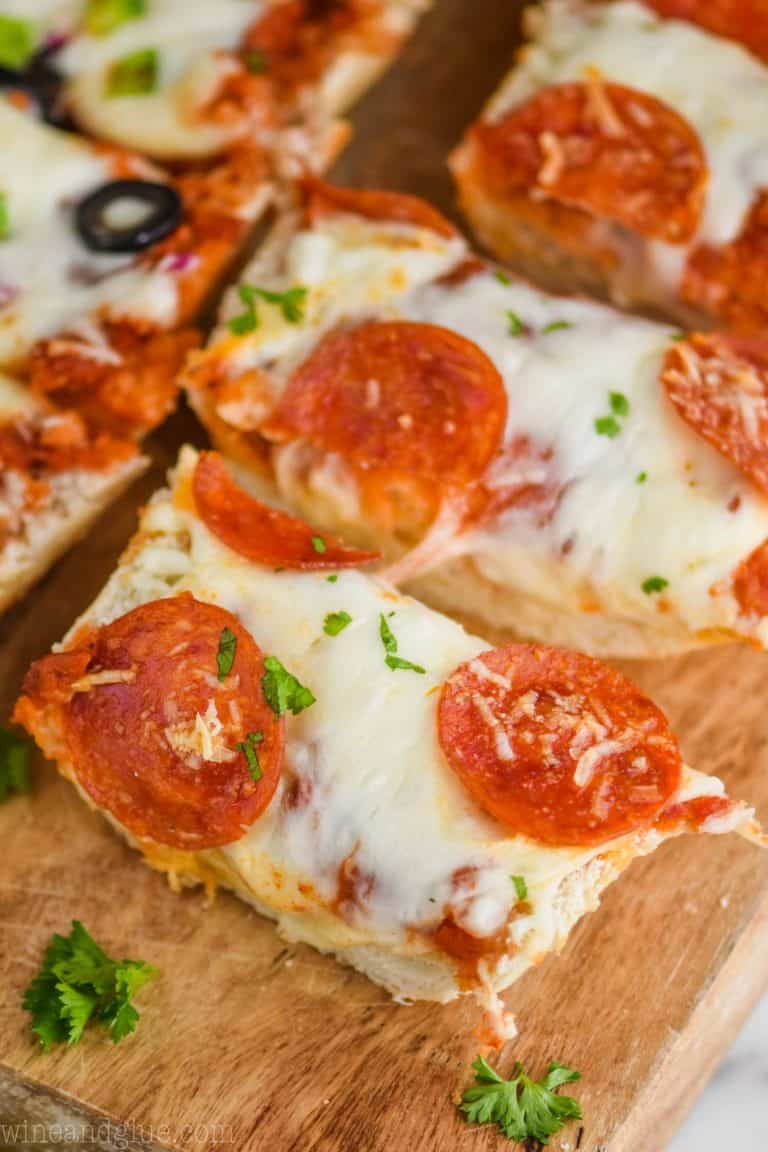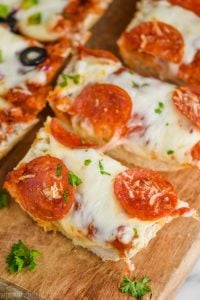 French Bread Pizza
This French Bread Pizza makes such an easy weeknight dinner! Throw it together in 10 minutes with your favorite toppings.
Ingredients
16

ounces

French Bread

Cut in half

1

cup

pizza sauce

8

ounces

mozzarealla cheese

shredded (about 2 1/2 cups)

2

ounces

pepperoni

1/4

cup

parmesan cheese
Instructions
Preheat the oven to 400 degrees. Line a baking sheet with parchment paper and set aside.

Slice the french bread in half. Cover each half with pizza sauce. Be careful not to over sauce it, you may not need to use the full 1/2 cup on each side.

Top each side with half the total amount of cheese (about 1 1/4 cups).

Add your favorite pizza toppings and then top with parmesan cheese.

Bake for 15 minutes, rotating half way through, or until the cheese is melty and the edges are golden brown.
Notes
The ingredients listed are for two big pieces of french bread pizza as you see pictured. Though the ingredients here are for both being covered in pepperoni. Please use the toppings you love most!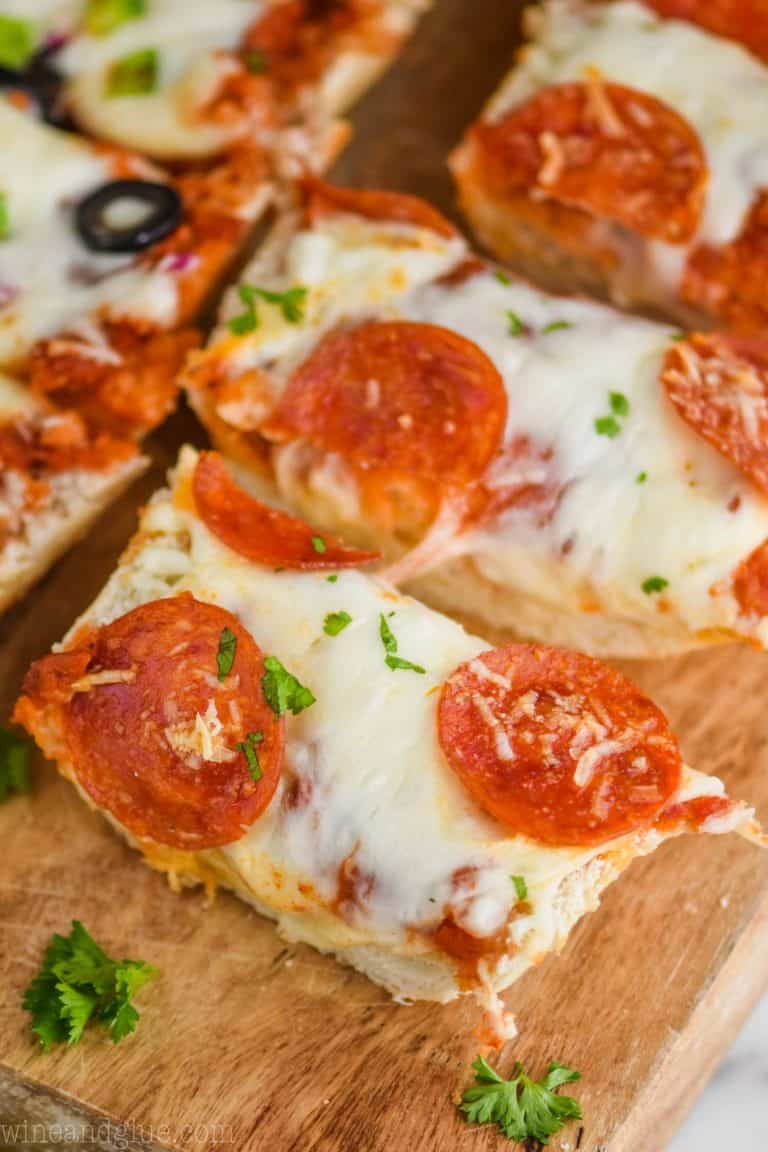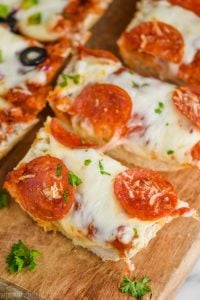 did you make this
French Bread Pizza